These delicious Pumpkin Scones with Chai Glaze is the perfect breakfast recipe for a yummy fall treat on a chilly morning. They are so light, fluffy, and moist, none of those hard, dry coffee shop scones that leave you gasping for your coffee! Basically, these delectable little treats have everything you'll want in a scone recipe and more!
Have you tried my Blueberry Lemon Scones? Another winner for a fruit-filled scone!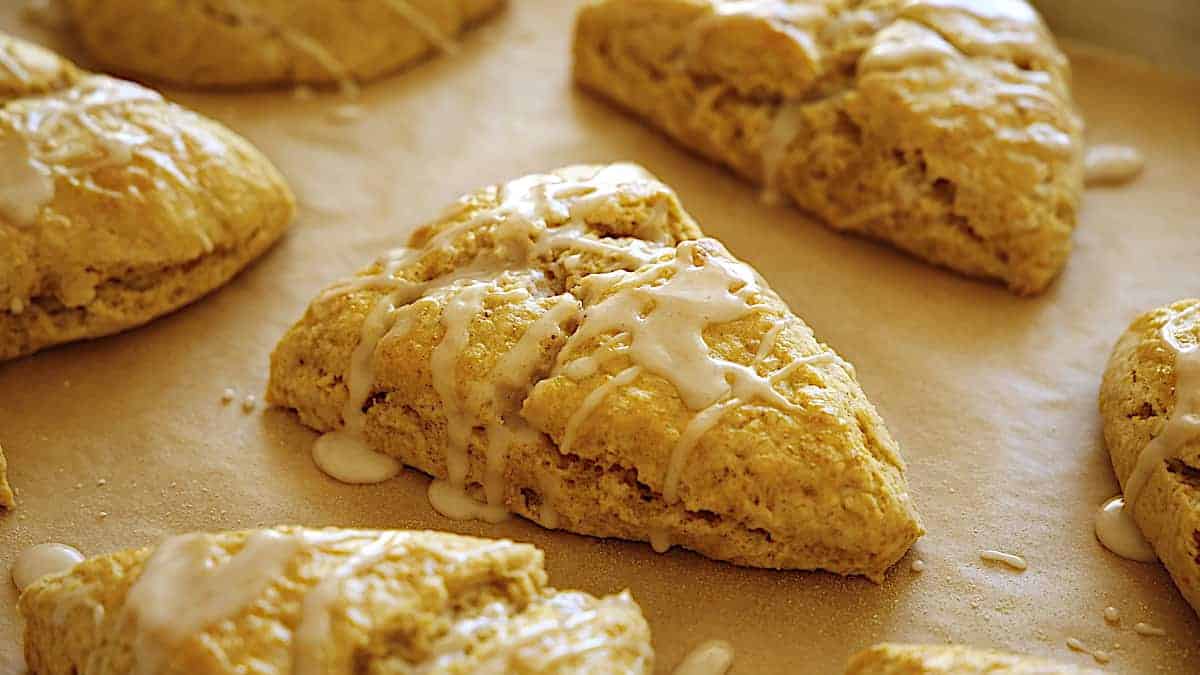 The Chai tea glaze is so simple to do, it's basically just powdered sugar and steeped tea. But if you don't have Chai tea you could also use orange juice to make a citrus glaze which would pair beautifully with the pumpkin and the spice, or worst case scenario you could make an even easier glaze with just powdered sugar and water.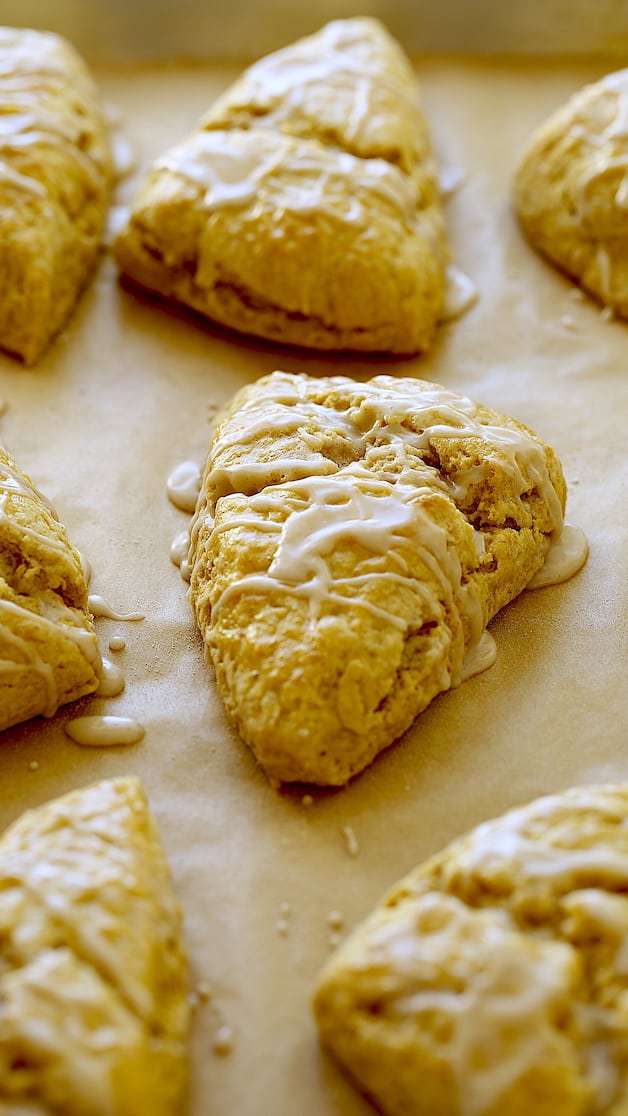 The interior has a delicious combination of spices and flavors coming from the pumpkin pie spice. No pumpkin pie spice? No problem! Learn how to make my homemade pumpkin pie spice blend. You probably have all the spices you need sitting in your pantry!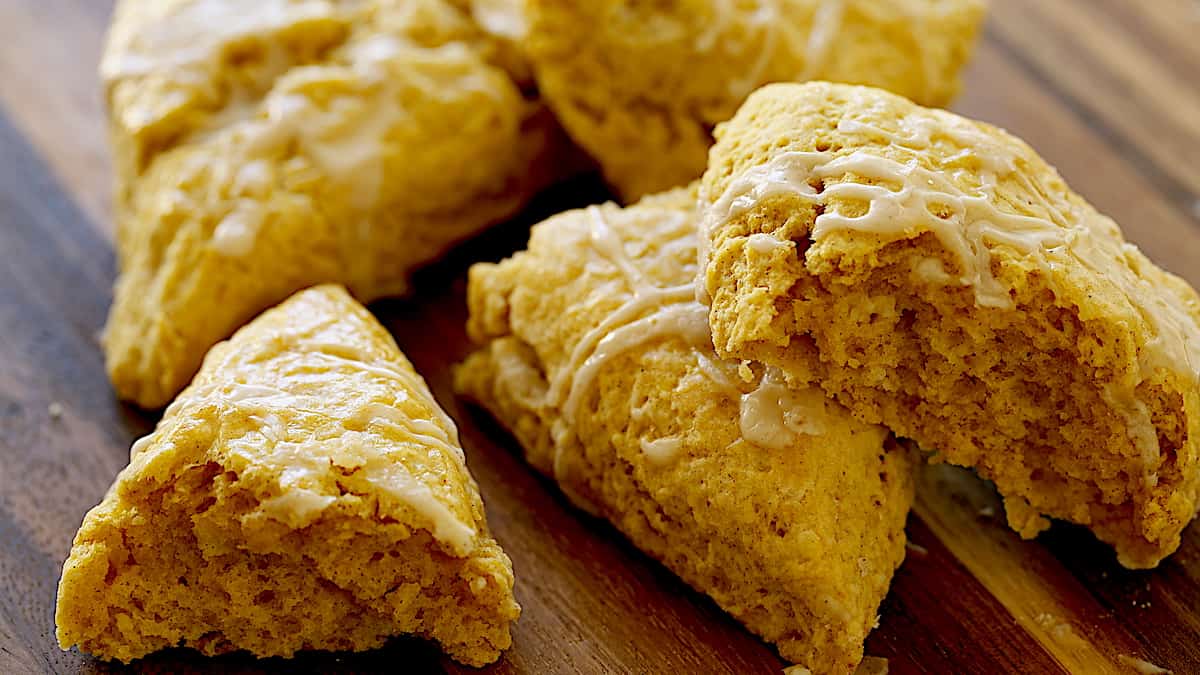 The pumpkin pie spice is worth seeking out of making from scratch since it gives the scones such a beautiful warming flavor that is just perfect for the changing season! It's also great for putting to good use in my Pumpkin Bread Recipe, Pumpkin Cinnamon Loaf, or my Pumpkin Chocolate Cheesecake too!
Watch My Live Demo of This Recipe Below!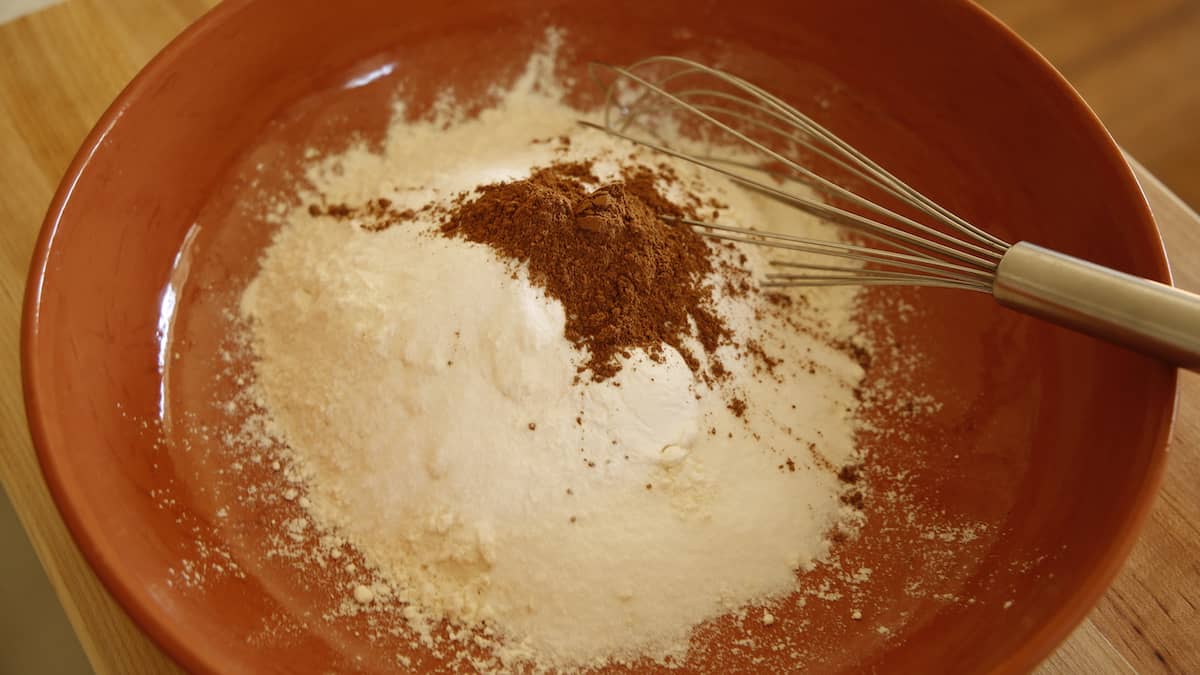 Scones Need Chilled Butter
Before you begin, be sure your butter is well-chilled, otherwise, it will not create a crumbly texture once combined with the flour. It's this crumbly texture that ultimately creates a light and flakey scone. Since as the butter melts, while baking in the oven, these crumbles leave air pockets and these pockets are what creates that flakey scone texture.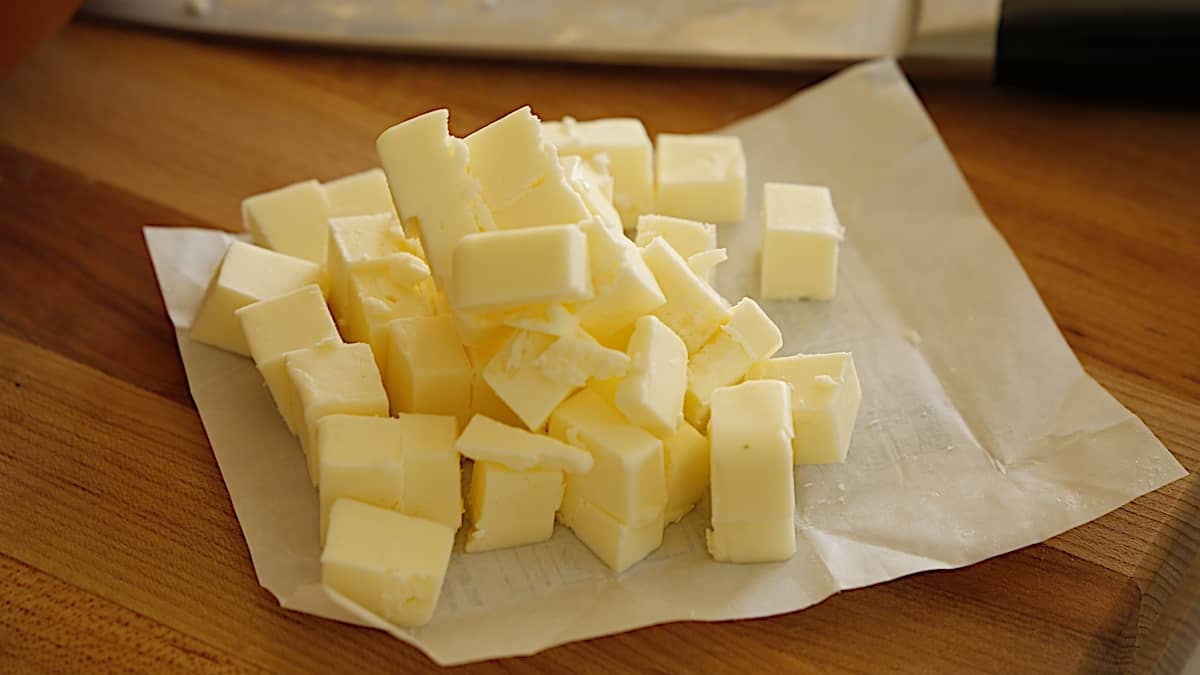 Avoid the Food Processor for Scones
Use your hands instead! The food processor is great for pie and tart recipes when you are making the dough from scratch, and want a uniform, fine crumble that will be easy to roll out into dough.
But that fine uniform crumble is not great for scones, because it processes the butter too much and doesn't create those air pockets the way a scone dough mixed by hand will do. So if you want a flakey scone use your hands!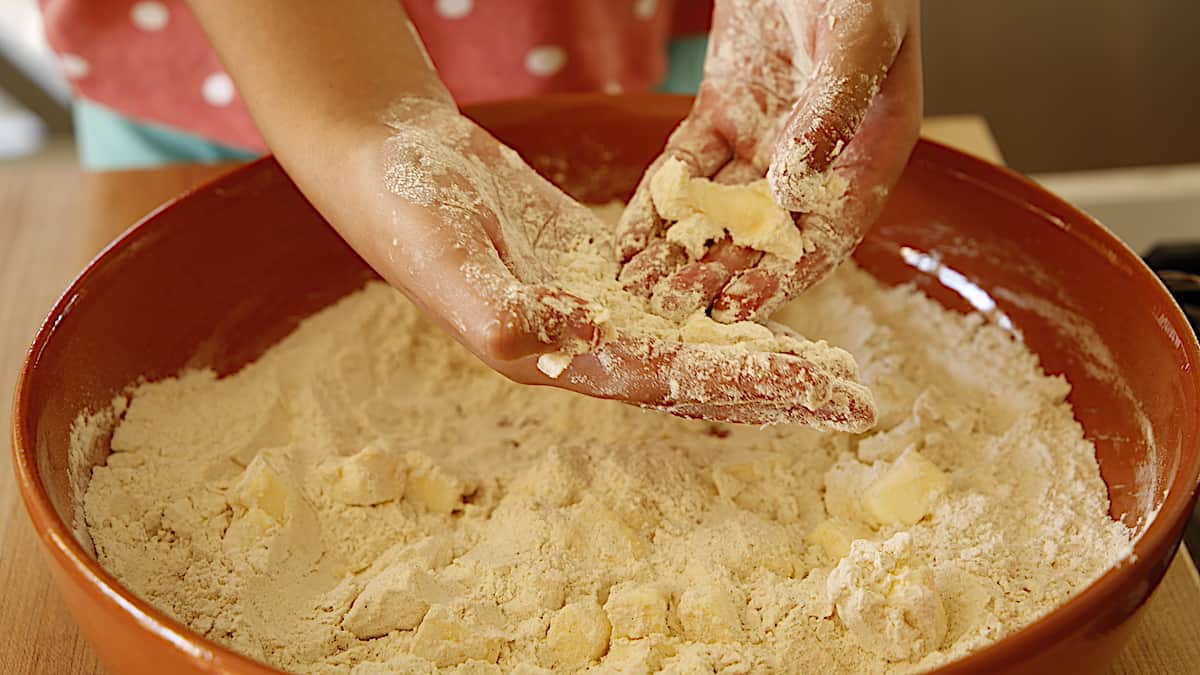 The idea is to work the butter into the flour with your fingertips until crumbs form. This is also a great project for kids who want to get their hands dirty while in the kitchen! They love this part and really there's nothing they could do that would harm it, so let them have it!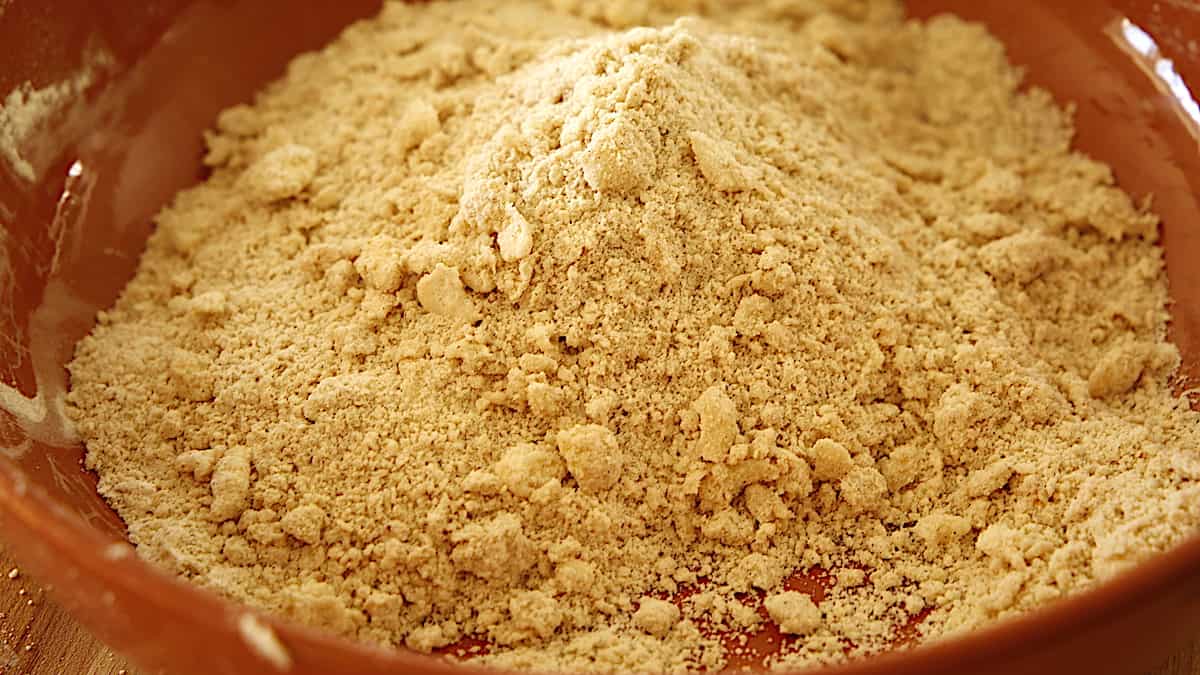 The crumble is ready when it looks like this. A coarse meal that also has a few larger chunks of butter here and there.
Add-Ins for Pumpkin Scones
At this point, if you wanted to add chocolate chips, dried cranberries or candied ginger this would be the place to do it! Just after the butter is worked in and before adding the wet ingredients. See recipe notes below for quantities.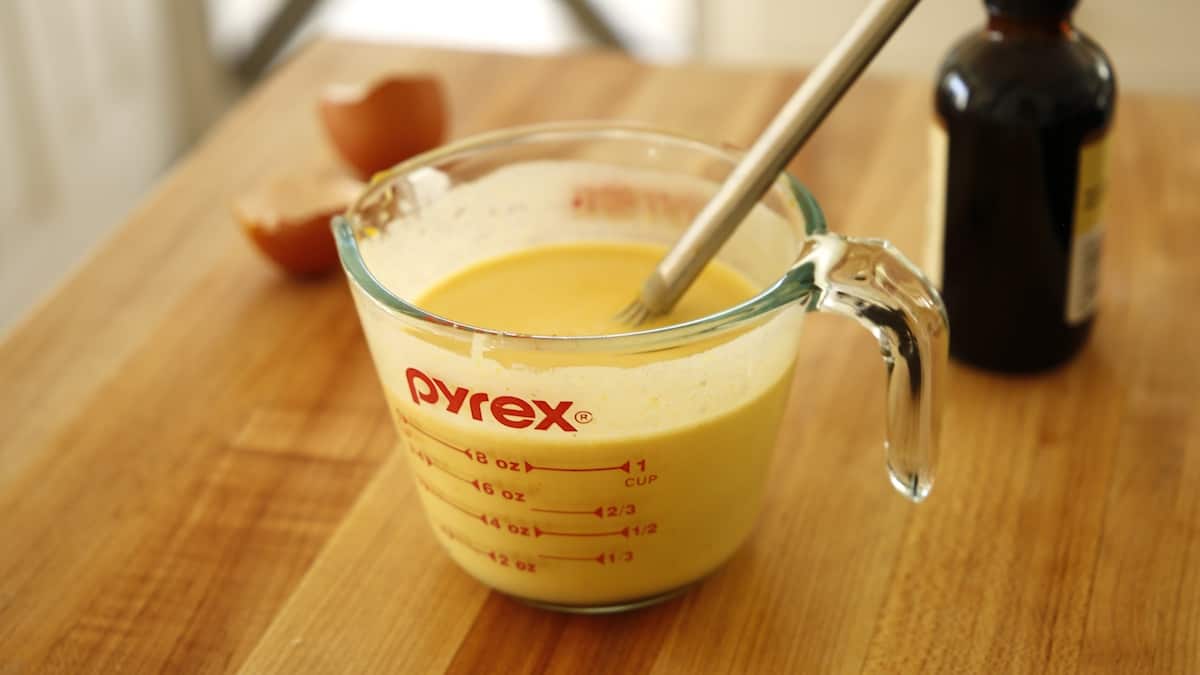 Pumpkin Puree vs Pumpkin Pie Filling
For the pumpkin be sure to buy "pure pumpkin puree" not pumpkin pie filling. Pumpkin pie filling is basically pumpkin puree with sugar and spices added. The pumpkin puree is better for this recipe so you can control the amount of sugar and spices. If you have a choice look for Libby's Brand. I think it will give you the best color, texture, and flavor for pumpkin scones.
Use a Pitcher for the Wet Ingredients
For the wet ingredients, I find it's easiest to whisk it up in a small pitcher, that way it will be easy to pour it into the well you'll create with the dry ingredients. The "well concept" helps to prevent the dough from being overworked when adding the wet ingredients.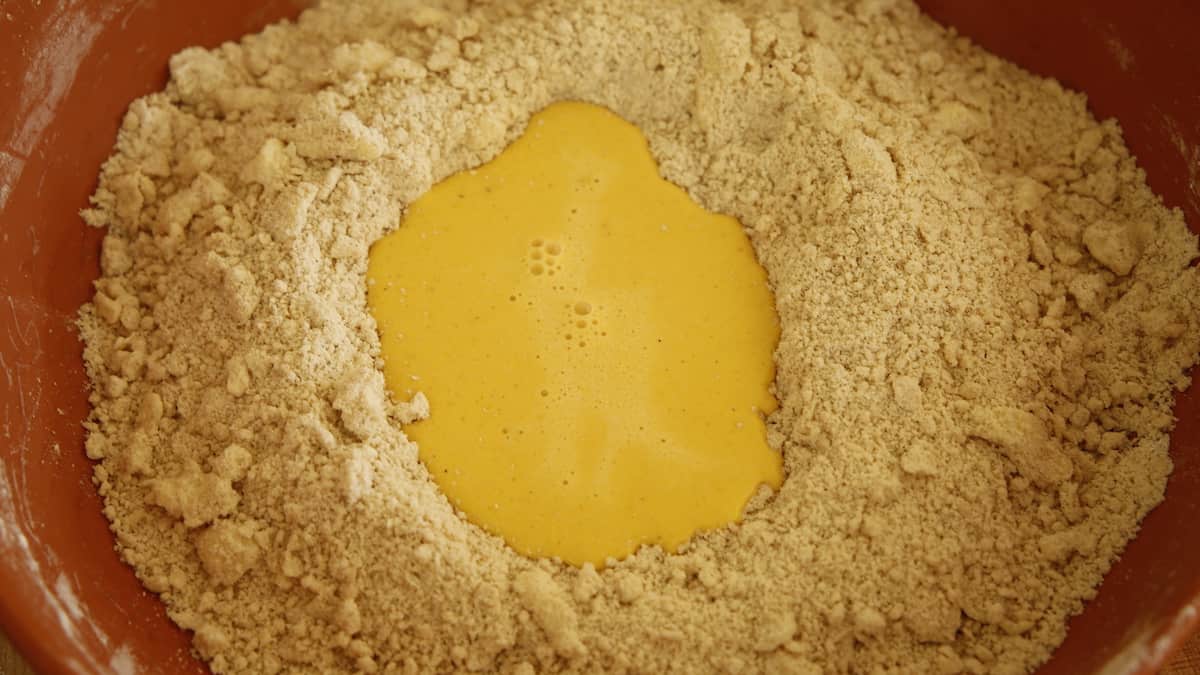 Don't Over Mix
Scone dough is fragile! Work it carefully, by stirring just as long as you need to form a rough dough ball. You do not want to overwork it or your end up with a tough scone.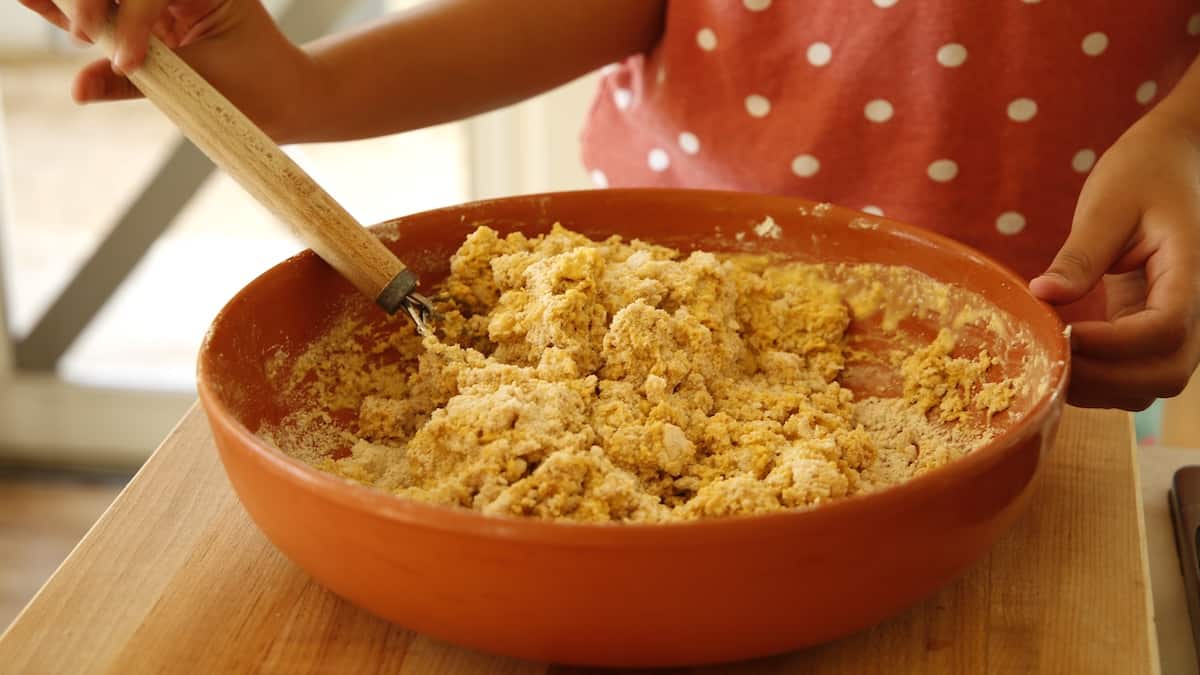 Is Your Scone Dough Too Crumbly or Too Sticky?
The dough ball should look like this. It doesn't need to be perfect, just combined. If at this point it feels too crumbly and is not sticking together, add more cream in 1 tbsp/15ml increments. If it feels too sticky add a little bit more flour in 1 Tbsp/7g increments.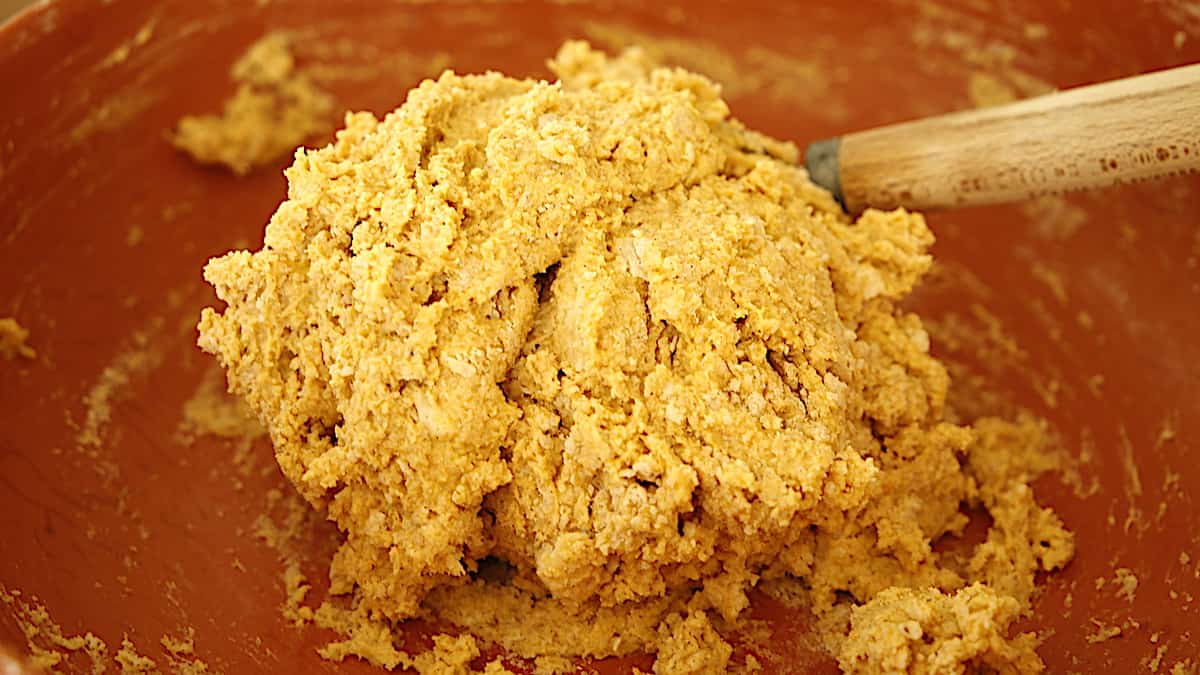 Shaping The Scones
Roll your scone dough gently on a floured surface and turn it into a ball. Be sure to add some extra flour to your board which will come in handy when you start to cut the scones. It's helpful to have that extra flour for dipping your knife in to so the scones don't stick.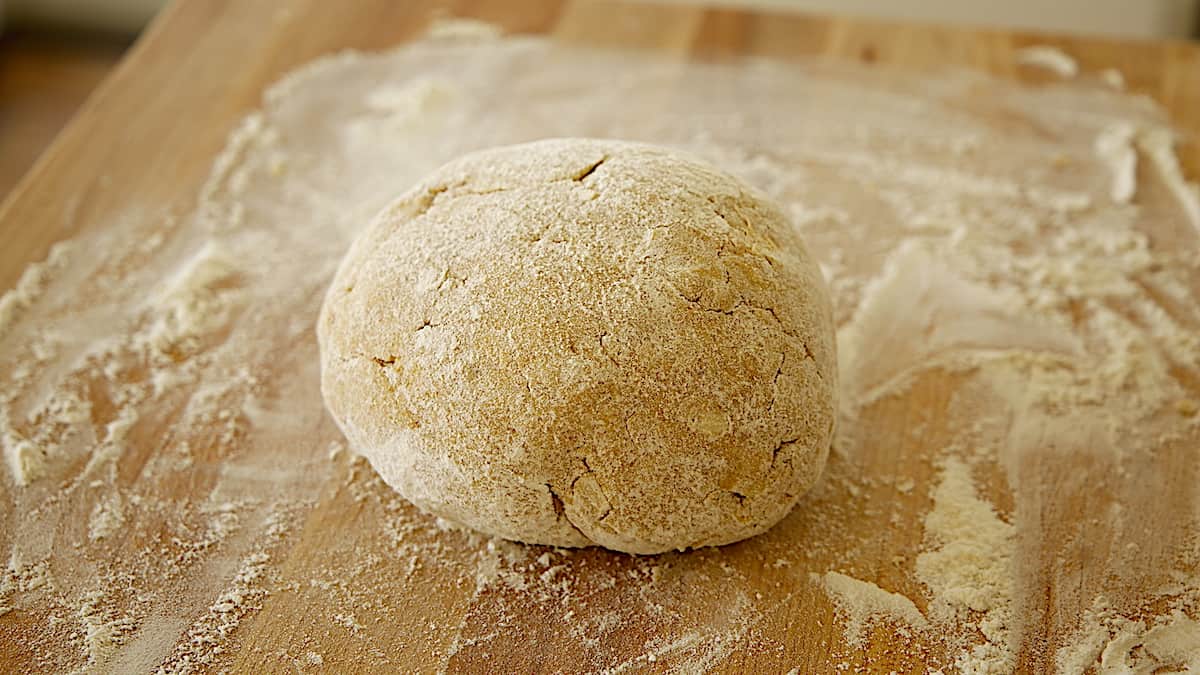 Roll Gently
Press the scone dough into a square and gently roll the top of it to get it to a uniform thickness of about ½ inch. The rolling pin also helps seal up any cracks in your dough.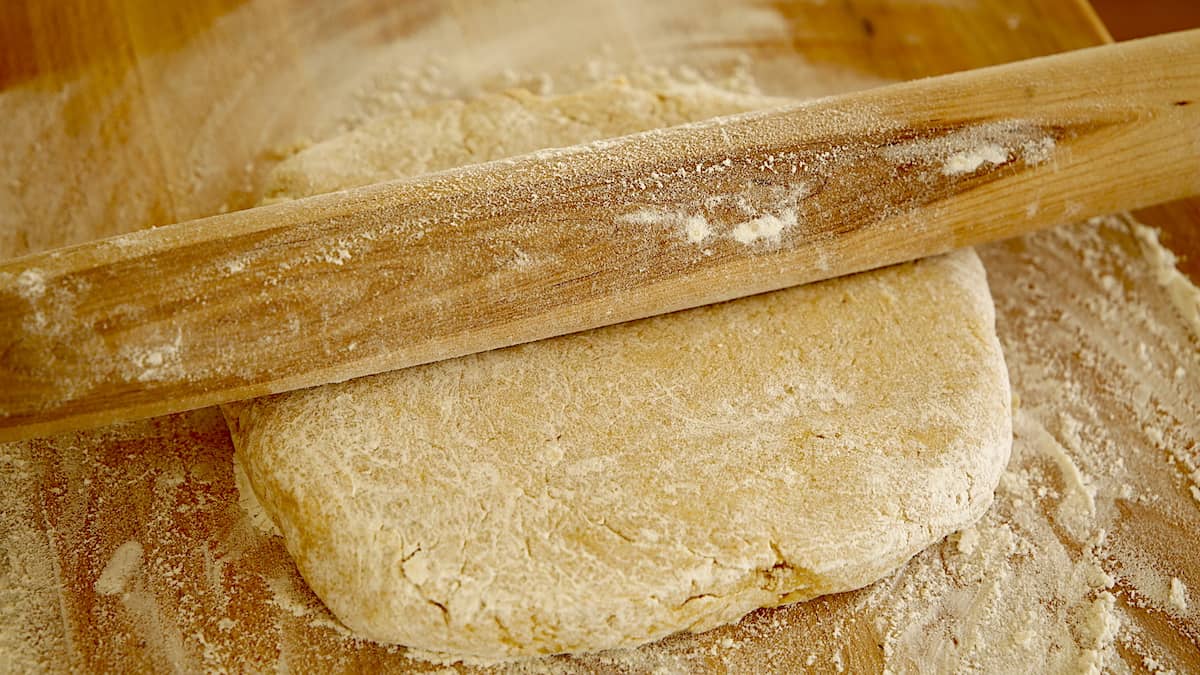 Tighten the Edges
Use a chef knife to tighten up the sides and the corners of your scone dough square. This will help to create uniformity in your scone triangles which will help them bake at the same rate.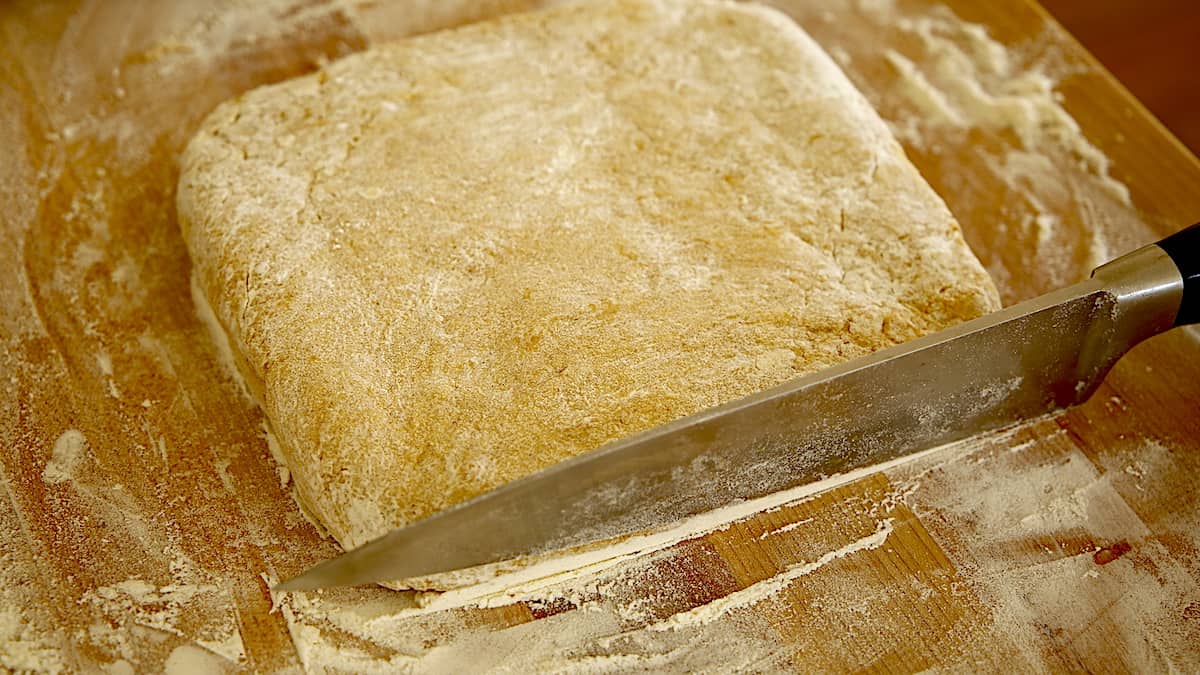 Cut the square in half, then each half into smaller squares. Dipping the knife in flour on both sides as needed.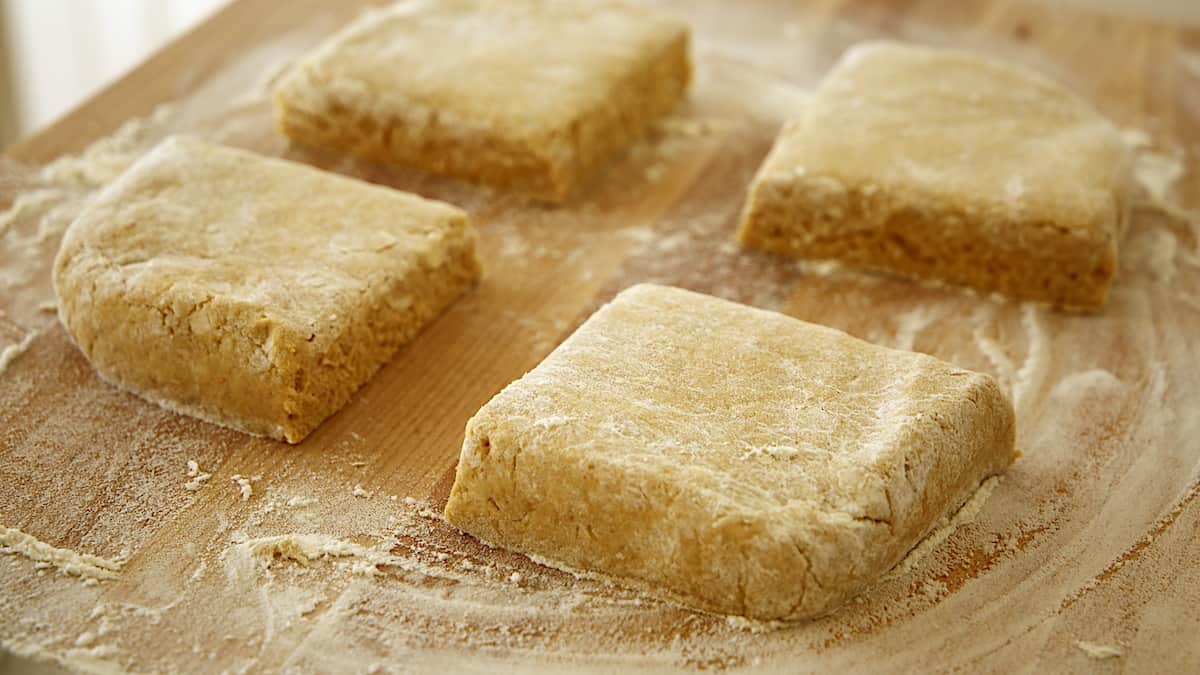 Then cut each square diagonally to create triangles. I really like cutting scones into triangles because it prevents having to re-roll out the scone dough. Minimum handling of scone dough is key for a flakey scone!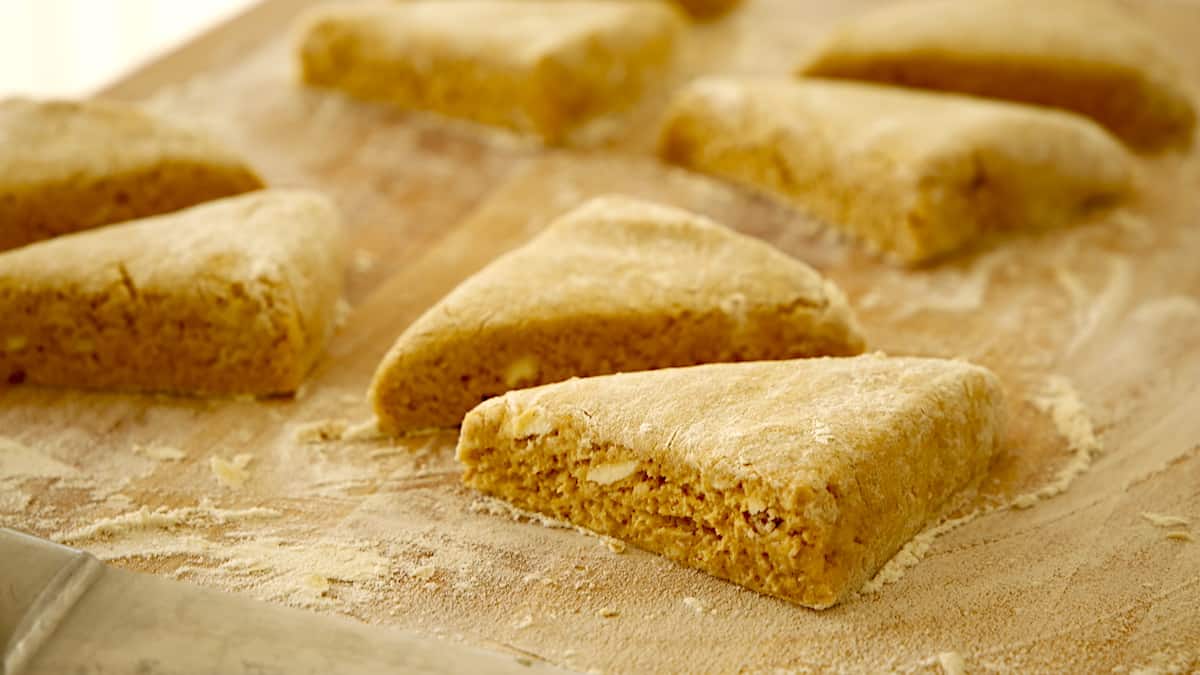 Use Parchment Paper
Place your scones on a parchment-lined cookie sheet. This will prevent their bottoms from burning and becoming hard. Wax paper, unfortunately, isn't the same thing and some wax papers aren't safe for baking so it's best to seek out parchment paper. Then gently brush each scone with the egg wash.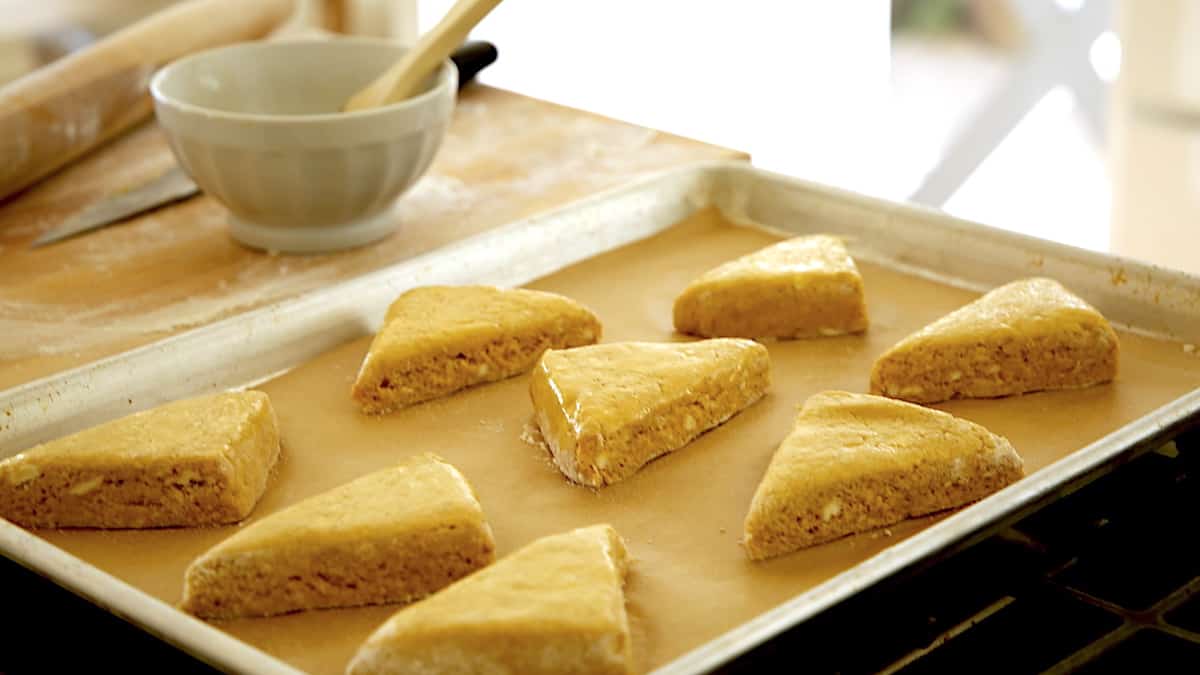 Bake and Cool
Bake the scones for 14-15 minutes and they'll rise up and become golden brown and a bit crackly. Allow them to cool slightly while you prepare the glaze. Keep them on the baking sheet for the glazing since the parchment paper will catch the excess glaze and make for easier cleanup.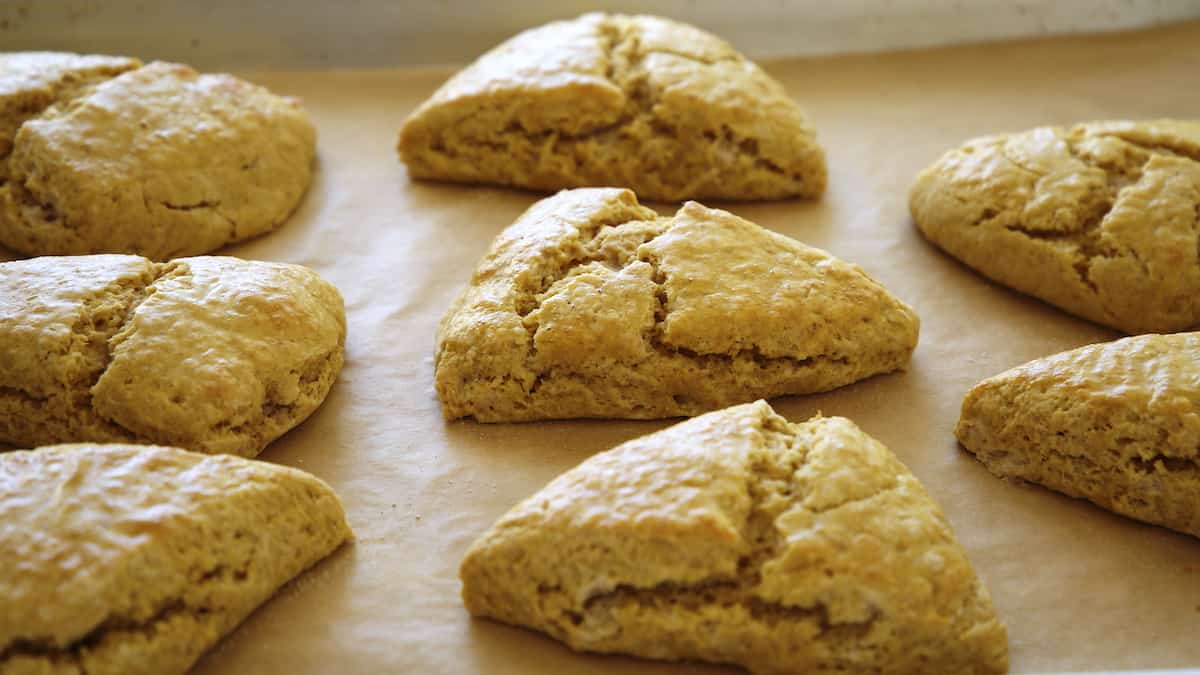 For the Chai Glaze
Chai tea is a wonderful spiced tea that has been trendy in the States for the last few years so it's readily available in most supermarkets. I like to use at least 2 tea bags to 1 cup of hot water to get a strong brew. If you can't get the Chai tea you can also use orange juice which pairs beautifully with the pumpkin and spices. Instructions are in the recipe card below.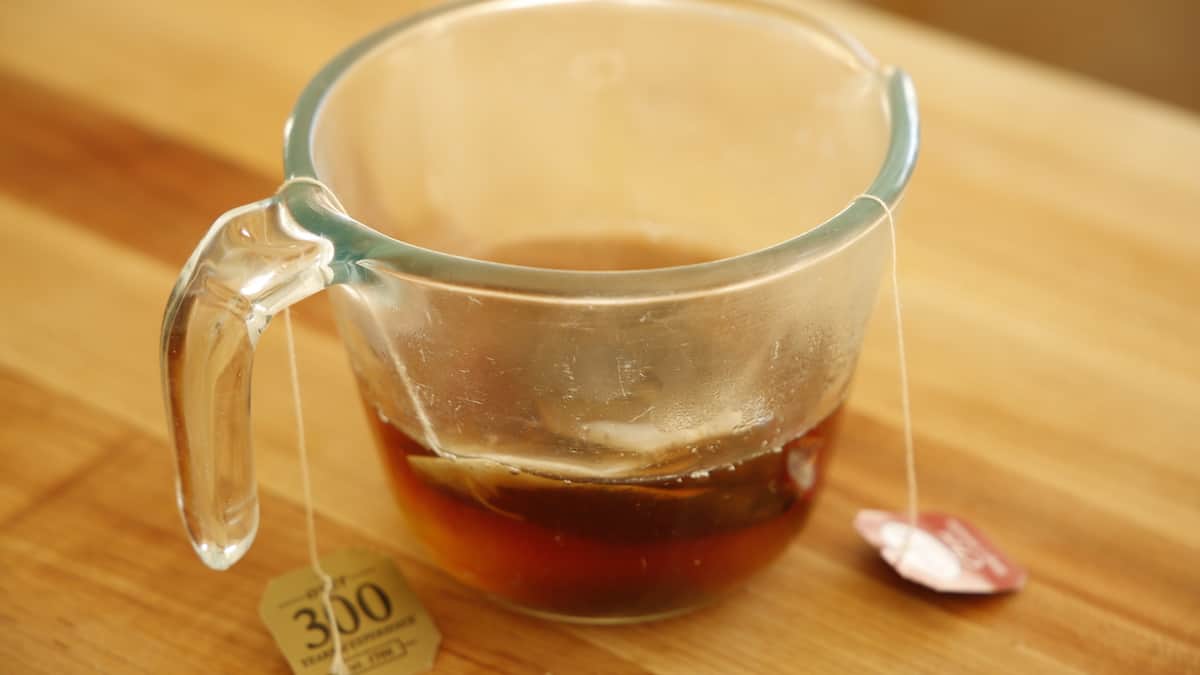 How-To Create the Drizzle
To get a nice subtle drizzle on your pumpkin scones, dip a fork into the glaze and then working from one end of the scone wave your hand back and forth across the scone as you work towards the other end. This is the easiest way to get a nice pretty glaze on your scone.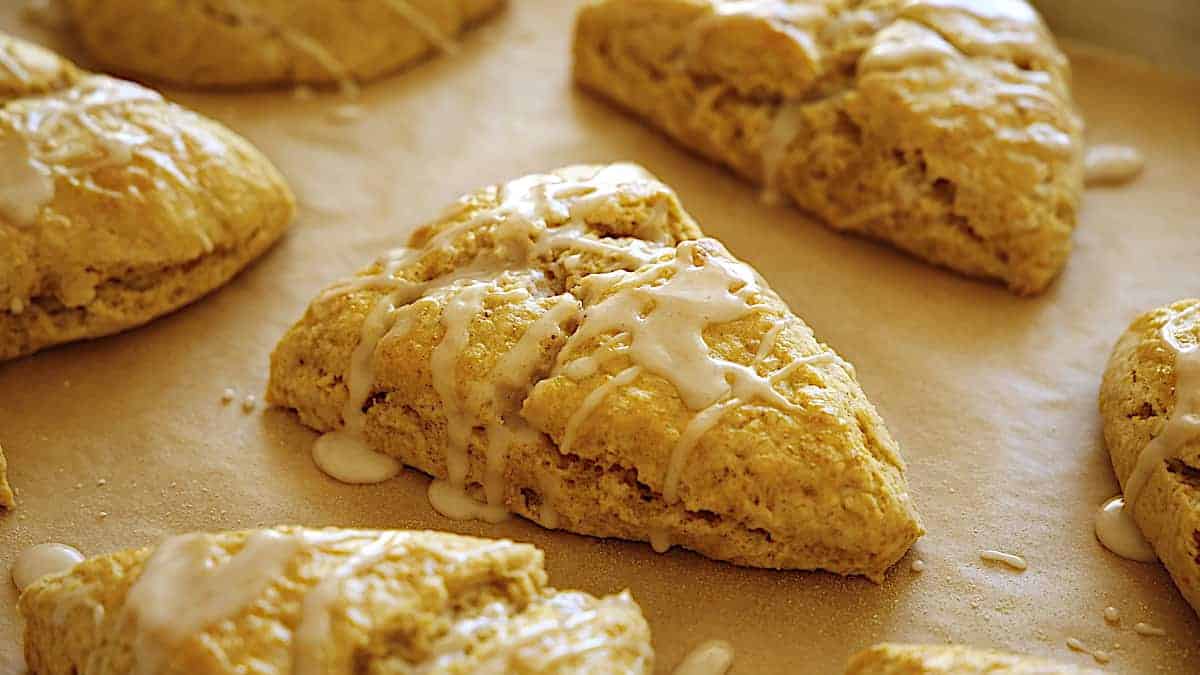 MORE BREAKFAST TREATS YOU'LL LOVE!
If You Enjoyed This Scone Recipe
Please Leave a Comment and Review Below!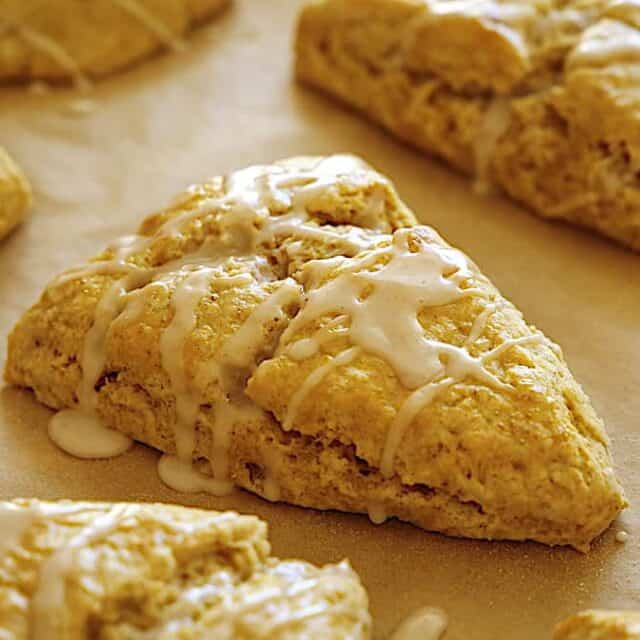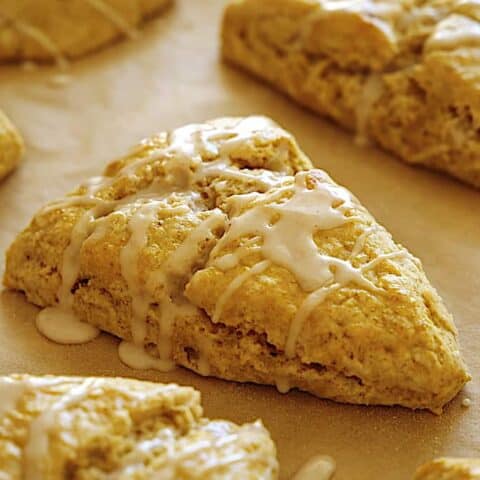 Pumpkin Scones with Chai Glaze
These pumpkin scones with chai glaze is an easy fall treat on a chilly autumn morning! Light, fluffy buttery, and moist everything you want in a scone and more! And so delicious too!
Ingredients
2 cups (240g) flour
½ cup (100g) sugar
2 teaspoon (10ml) baking powder
¾ teaspoon (3.75ml) salt
1 tablespoon (15ml) pumpkin pie spice
10 tablespoon (150g) butter, very cold and diced into small cubes
¼ cup (60ml) of heavy cream
2 teaspoon (10ml) vanilla
1 egg
½ cup (120ml) pure pumpkin puree
EGG WASH:
CHAI GLAZE:
½ cup (50g) powdered sugar
1 tablespoon (15ml) strong chai tea
Instructions
Preheat oven to 400F (200C).
In a large bowl whisk together the flour, sugar, baking powder, salt and pumpkin pie spice.

Then work the butter cubes into the flour with your hands until a coarse meal develops.
In a separate small bowl add the heavy cream, egg, pumpkin and vanilla and whisk with a fork until combined.

Create a small well in the center of the flour mixture. Pour the cream mixture into the well, and stir with a fork until a rough dough ball forms.
Turn the dough out onto a floured surface. Form it into a round ball, then flatten with hands into a square. Roll gently with a rolling
pin until ½" (13mm) thick. Tighten up edges with the side of a chef knife to create a tight square shape.

Cut the square in half, then each half into small squares. (dipping knife in flour as needed to avoid scones sticking to the knife. Cut squares
down the diagonal in half to form triangles.

Then place the scones on a parchment-lined cookie sheet
Then whisk 1 whole egg in a small bowl, then with a pastry brush lightly glaze the tops of the scones with the egg wash.
To assure your scones retain their shape after they are baked pop your tray into your fridge for 15 mins before baking or 5 minutes in
the freezer This will re-chill the dough and allow them to bake up in a more uniform fashion.

Bake for 14-15 mins until risen, cracked and golden brown. Set aside to cool.
Meanwhile, make the glaze. Boil 1 cup (240ml) of water and steep 2 chai tea bags inside until a dark amber color forms. Then discard tea bags. Allow the tea to cool slightly.

Then place powdered sugar in a bowl, add 1 tablespoon (15ml) of the tea and mix with a fork until a thick glaze forms. Add the glaze to the
scones, by dipping a fork in the glaze and running it back and forth over the scone while they are on the baking sheet, that way the parchment paper will catch the excess glaze.
Enjoy with a cup of coffee or the remaining Chai tea!
Notes
You could also add 1 cup dried cranberries or 1 cup candied ginger or 1 cup semi-sweet chocolate chips too and to the dry ingredients after the butter has been worked in!
If using the chocolate chips, skip the chai tea and use 1 tablespoon (15 ml) of fresh orange juice. The orange and chocolate with the pumpkin will be a delicious combination!
Recommended Products
As an Amazon Associate and member of other affiliate programs, I earn from qualifying purchases.
Nutrition Information:
Yield:

8
Serving Size:

1
Amount Per Serving:
Calories:

74
Total Fat:

4g
Saturated Fat:

1g
Trans Fat:

0g
Unsaturated Fat:

2g
Cholesterol:

71mg
Sodium:

59mg
Carbohydrates:

7g
Fiber:

1g
Sugar:

3g
Protein:

3g