If you have been searching for the perfect pumpkin bread recipe, I must admit, this one is to-die-for! It's so light and fluffy and extra moist! It's definitely one of my favorite quick bread recipes!
It's similar in texture to the Starbucks Pumpkin Bread recipe but WAY less sweet! But if you have a sweet tooth, and like your pumpkin bread on the sweet side, this recipe is easily adaptable by adding more sugar in ¼ cup increments to get the sweetness to your liking. But try it this way first, I find the sweetness is perfect, I don't think you'll be disappointed!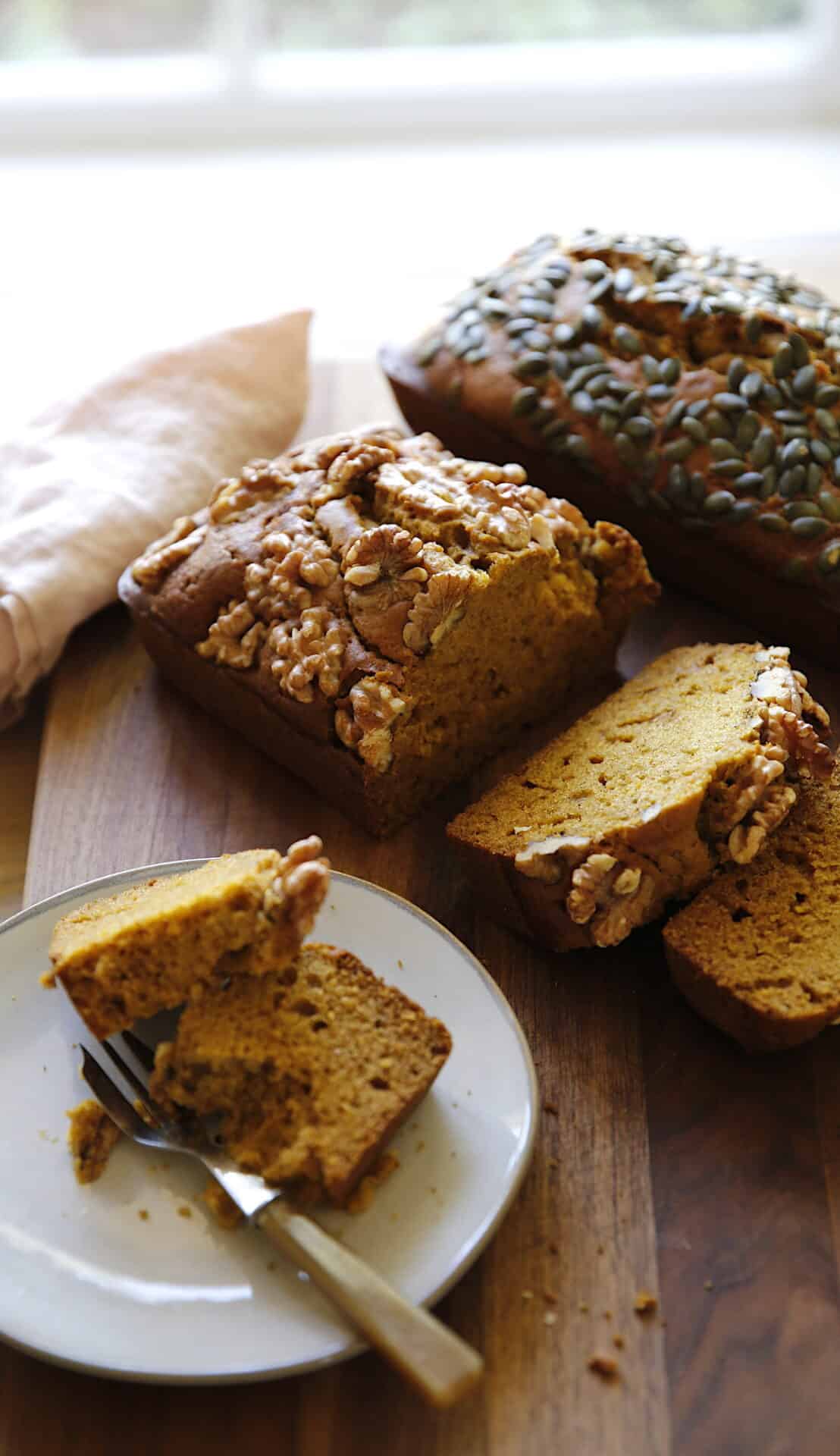 Why You'll Love This Recipe:
This pumpkin bread is extra moist thanks to the use of oil over butter (more on that below!)
It's flavored with just the right amount of pumpkin pie spice to give it a beautiful fall flavor
It uses pantry staples most of which you probably already have on hand
You can whip it up with just 2 bowls and a whisk, no need to drag out the electric mixer!
It makes two loaves, which you can either freeze the second or gift it as a holiday food gift.
More quick bread recipes!
Watch My Video Demo on this Recipe Below
Use the Canned Pumpkin
Pumpkin bread is best made with canned pumpkin otherwise labeled as "pumpkin puree". It's just pure pumpkin. Stay away from "Pumpkin Pie Filling" which has added sugar and spices mixed into it.
The benefit of using canned pumpkin is that you do not have to let it dry out before using it for pumpkin bread. It's already a thickly, condensed puree and ready to use for baking.
If you have extra pumpkin puree try it in my Pumpkin Cinnamon Roll Loaf or my Pumpkin Spiced Waffles.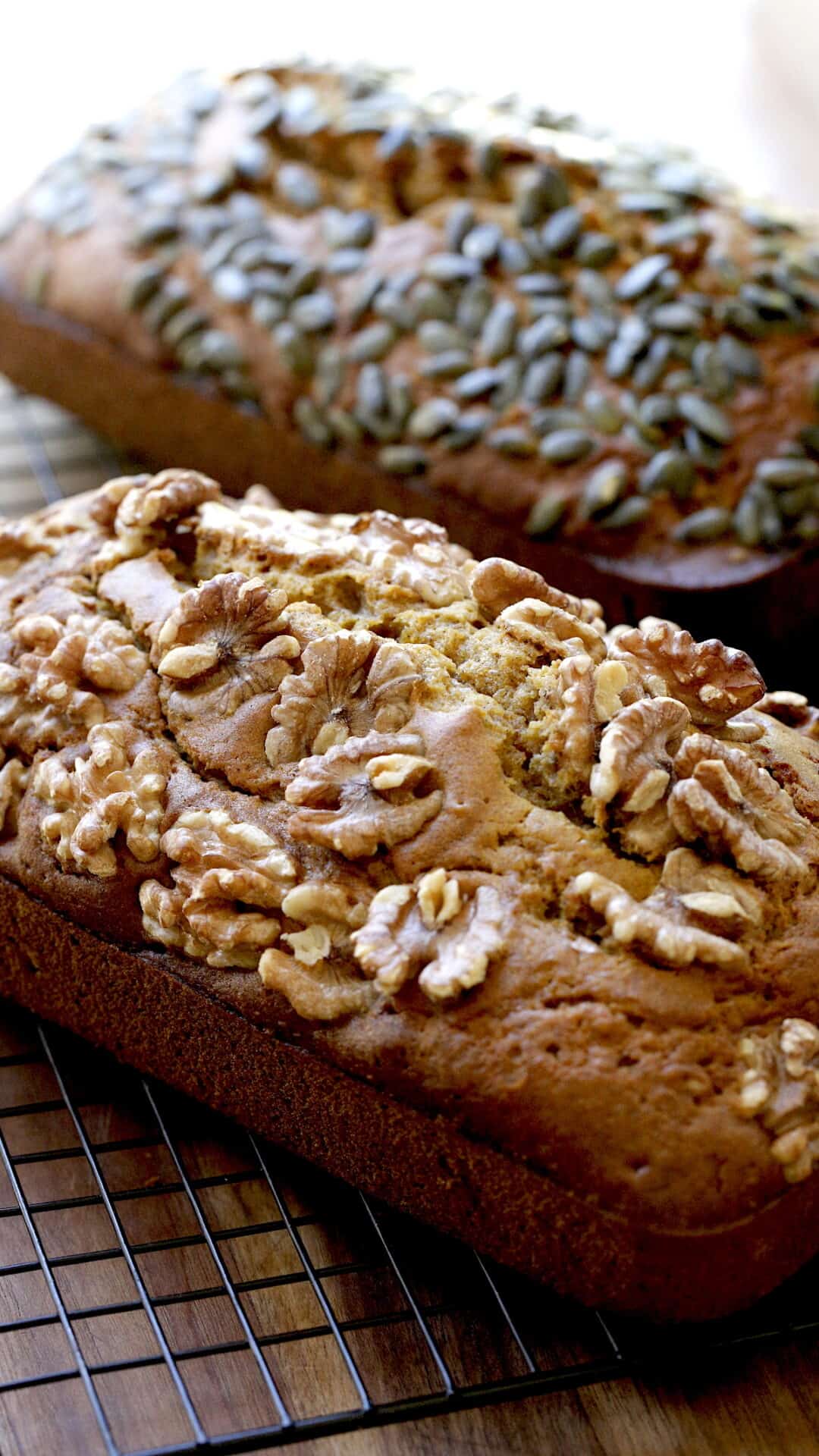 Butter vs. Oil
This recipe calls for vegetable oil. I like to use oil, over butter because oil is pure fat and will create a lighter, more moist bread.
Butter is only about 80% fat, 16 % water, and 4% milk solids.
I've found the milk solids weigh down your bread and will create a denser, heavier bread.
Pumpkin Pie Spice is Key
Pumpkin Pie Spice is a combination of cinnamon, ground ginger, ground nutmeg, and ground cloves. If you live outside the United States and can't get Pumpkin Pie Spice, not to worry you can make your own!
Try my recipe for Homemade Pumpkin Pie Spice. It really adds all the flavor and feels like a taste of fall in every little bite! It only takes a few ingredients you probably already have in your spice cabinet. You can then store it in a small mason jar and place it in your cabinet to use for all your holiday baking.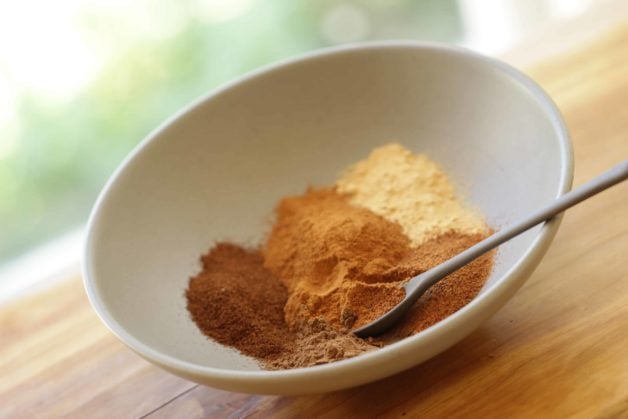 The Toppings
Pumpkin Bread is pretty versatile and you can use a variety of toppings or mix-ins to add great flavor and texture to your bread.
I like to use walnuts for one loaf and pumpkin seeds for the other. But you could also use these ideas too either as a topping or mixed into the batter!
chocolate chips
dried cranberries
pecans
sunflower seeds
granola
coconut flakes
raisins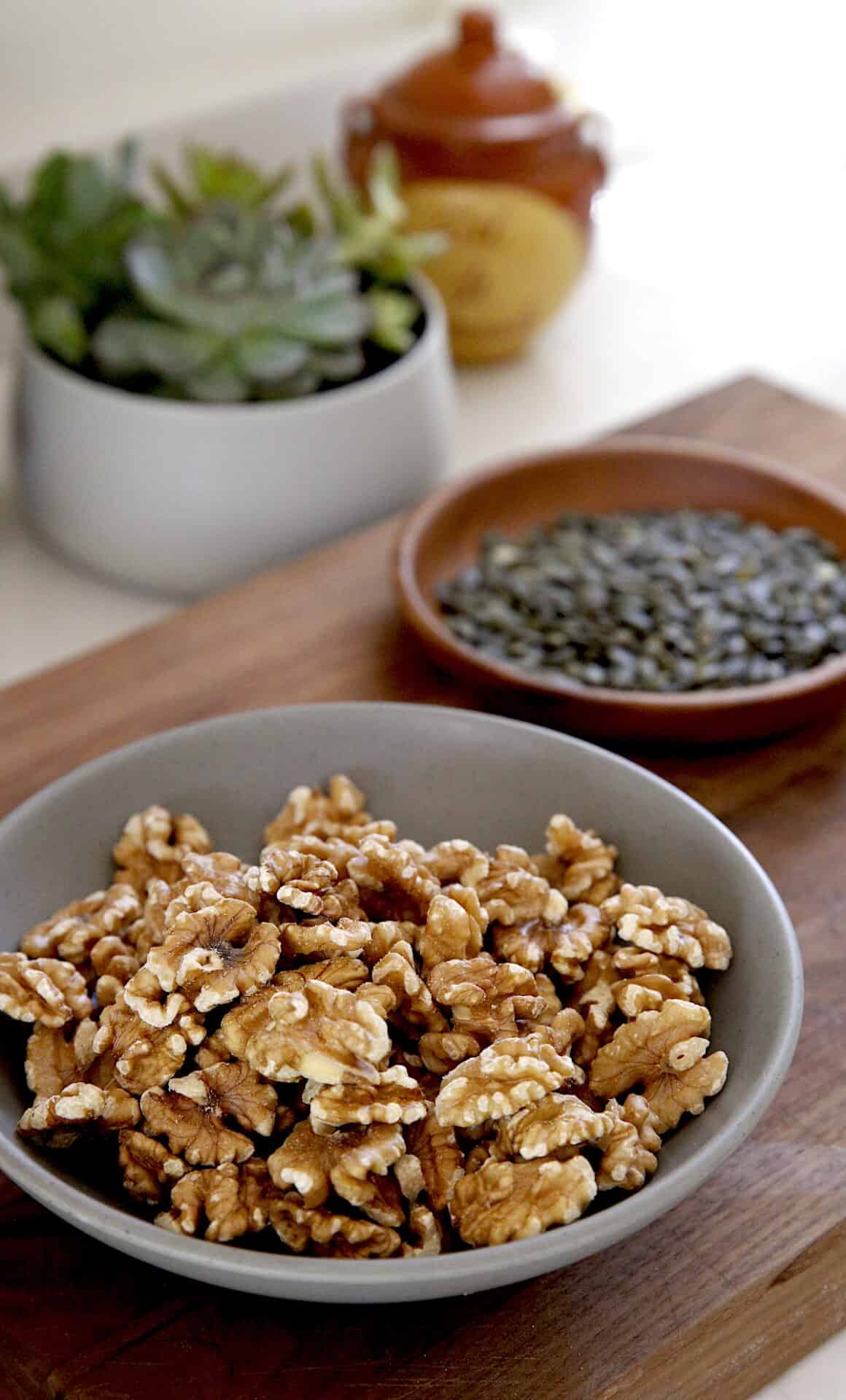 Baking Time
Pumpkin Bread takes a fair amount of time to bake, mostly because loaf pans are narrow and deep. For this recipe, you should allow at least 40-50 minutes for both loaves to bake in a 9 x 5-inch loaf pan. But it could take up to 1 hour depending on your oven.
Be sure a long toothpick is inserted to make sure your bread is fully baked in the middle. It's really hard to rebake it after the fact!
Making Pumpkin Muffins
You can also use this batter for pumpkin muffins as well, depending upon the size of your muffin tin, you could create 12-24 muffins. Which also freeze well too! Just wrap tightly in a ziplock bag and freeze. Then microwave for :45-1:00 to reheat.
Great for Gifting
This recipe makes two loaves, which makes it great for keeping one and gifting the other! Package it up in a plastic loaf sleeve, tie some raffia and faux berries around it. Then place it in a basket lined with burlap, add some coffee, and jams to create a thoughtful breakfast basket.
Assembling a Breakfast Basket
I like to include store-bought Bonne Maman jams because they already come in cute vintage-inspired jelly jars.
To continue the old-world charm, cut some linen fabric squares with pinking shears to create a decorative edge, then affix it to the jars with raffia for a homemade look.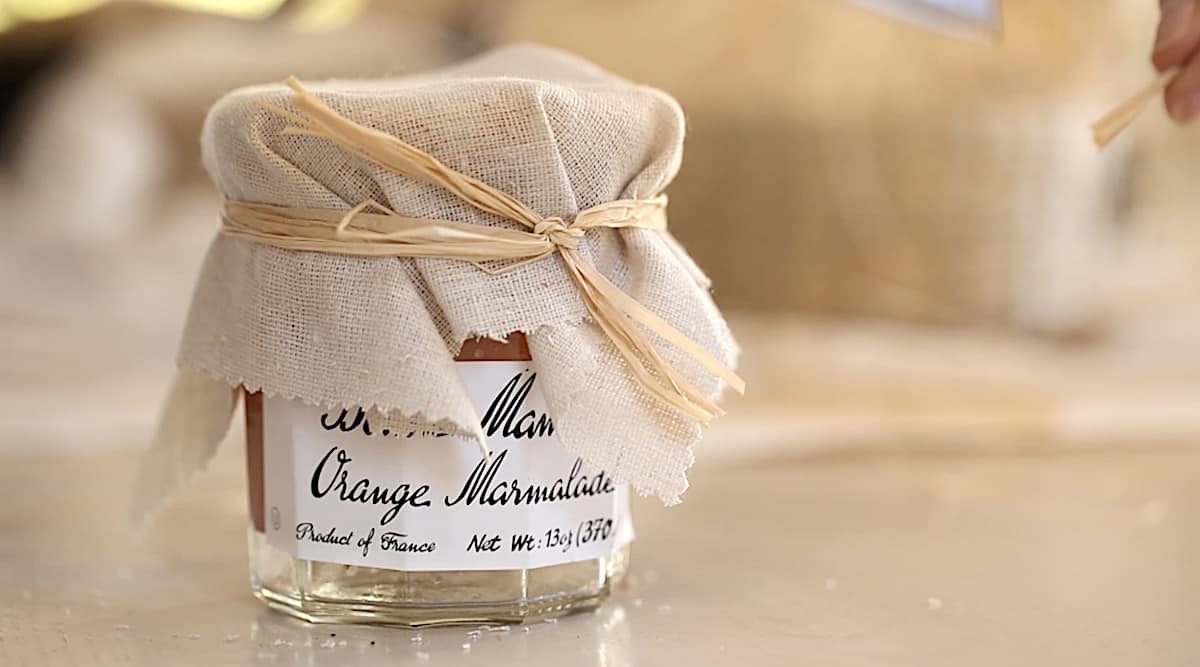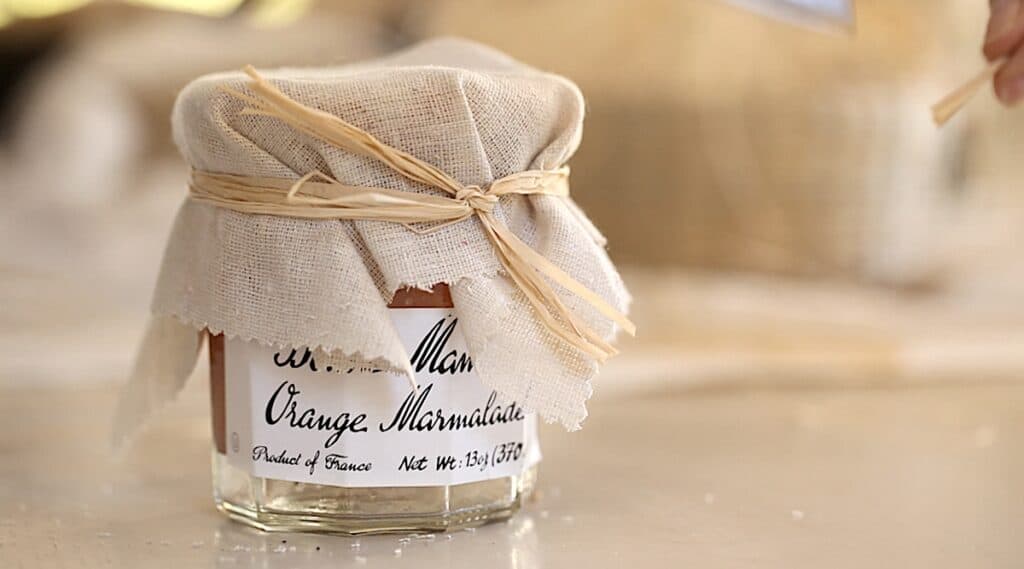 The Gift That Keeps on Giving
It will create a wonderful basket of treats to bring to a neighbor or friend or to present as a hostess gift during the holidays. Your guests can dig into it the next day and be reminded of your thoughtfulness as they nibble on it throughout the week!
You can also switch up the bread and add my Spiced Pear Cake or my Banana Bread as well. Two other great recipes for gifting!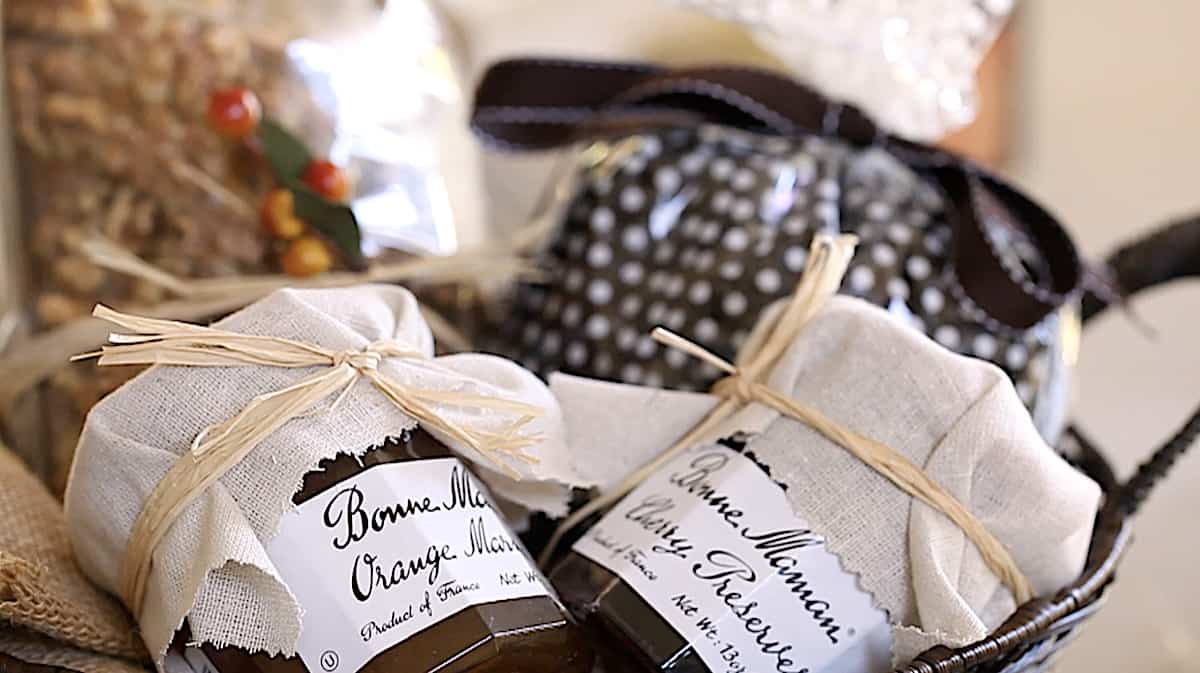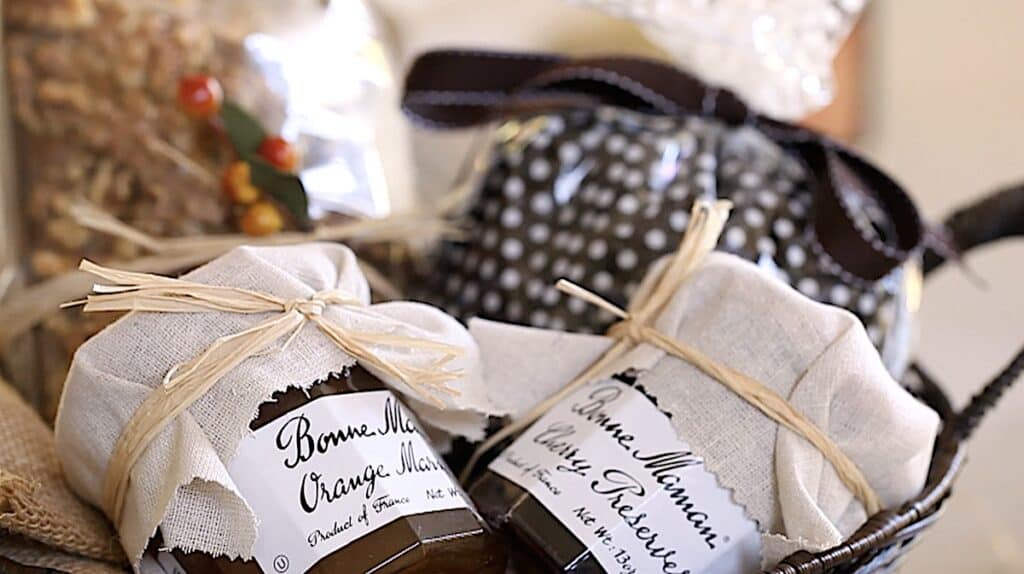 Storing the Bread After It's Baked
Allow the pumpkin bread to fully cool, and then wrap it tightly in tin foil and refrigerate.
It will last longer in the refrigerator and stay fresher than way too.
Freezing The Bread
This bread freezes beautifully.
If you decide to freeze it for individual portions it's best to slice it ahead of time wrap it in wax paper and then place the slices in a large freezer-safe container of Ziploc Bag and freeze for up to 2 months.
Alternatively, you could wrap the entire loaf in wax paper, then foil and freeze for up to 2 months.
The day before serving, defrost the loaf in the refrigerator overnight, and then slice and serve.
To reheat, remove the wax paper, re-wrap in the foil and reheat in a 300F oven for 20-25 minutes
More Pumpkin Recipes!
If You Enjoyed This Recipe Please
Leave a rating and review below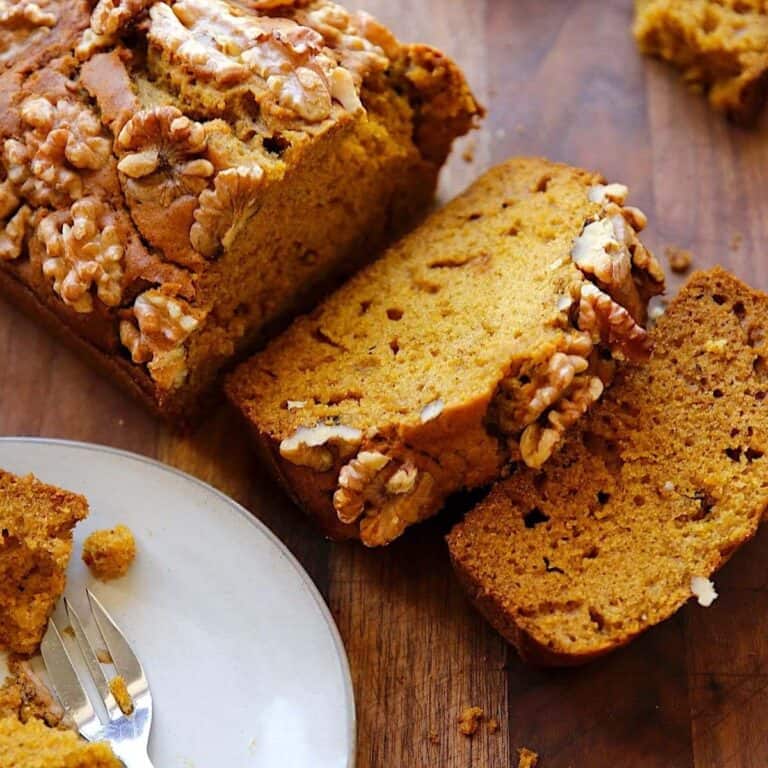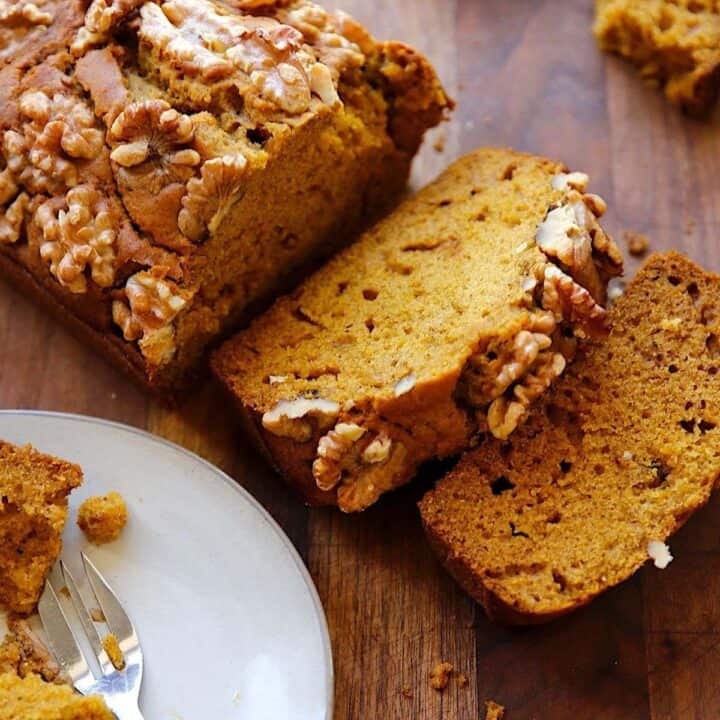 Beth's Extra Moist Pumpkin Bread Recipe
Yield:
makes 2 9x5 loaves
Total Time:
1 hour
10 minutes
This is the best pumpkin bread recipe. Extra moist and delicious! No electric mixer is needed. Great for Halloween or Thanksgiving parties! 
Ingredients
5 eggs
1 ½ cups (300 g) of sugar
1 (15-oz can) (424 g) of pure pumpkin puree (about 1 ¾ cup)
1 cup (240 ml) of vegetable oil
½ cup (120 ml) of water
3 ½ cups (420 g) of flour
3 teaspoon (45 g) of pumpkin pie spice (or 2 teaspoon cinnamon, ¾ teaspoon nutmeg, ⅛ teaspoon cloves, ⅛ teaspoon ground ginger)
2 teaspoons (10 ml) baking soda
1 ½ teaspoon (7.5 ml) salt
Optional
1 cup (240 ml) of raisins or chocolate chips
1 cup (240 ml) of walnuts
1 cup (240 ml) of Pepitas (Toasted Pumpkin Seeds)
Instructions
Preheat oven to 350F (176C) degrees.
Grease two 9" x 5" (23 cm x 13 cm) loaf pans with baking spray.
In a medium bowl whisk together the dry ingredients and set aside.
In a large bowl whisk together the eggs, sugar, pumpkin puree, oil, and water.
Add the dry ingredients, into the wet ingredients, ⅓ at a time, being careful not to over mix! (Or you will have tough bread!)
Add the raisins or chocolate chips if using.
Distribute batter equally across two prepared loaf pans. Top one with walnuts and top the other with Pepitas.
Bake until a toothpick inserted into the center comes out clean, about 45-50 mins
Transfer to a wire rack to cool completely before packaging up for gifting
Notes
Use baking spray over butter and flour, it will provide an easier release from the loaf pans.
Don't replace the water with milk, or skip it, the water adds wonderful moisture to this bread! It's the secret ingredient!
Keep pumpkin bread moist by keeping it tightly wrapped in foil and refrigerated
This bread freezes beautifully! Just allow to cool completely, wrap in wave paper and then wrap in foil. Thaw in the fridge overnight or place in microwave to reheat.
Nutrition Information:
Yield:

16
Serving Size:

1
Amount Per Serving:
Calories:

271
Total Fat:

9g
Saturated Fat:

2g
Trans Fat:

0g
Unsaturated Fat:

6g
Cholesterol:

65mg
Sodium:

87mg
Carbohydrates:

40g
Fiber:

3g
Sugar:

12g
Protein:

8g