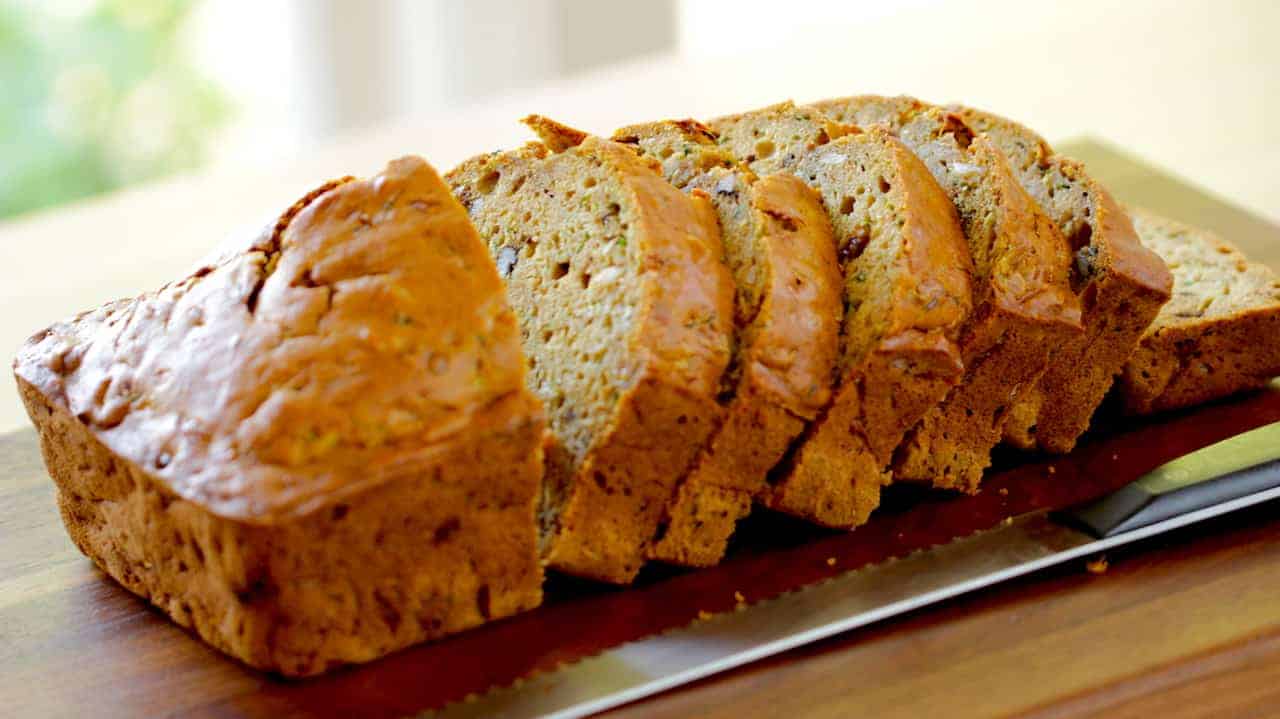 This time of year the zucchinis begin to take over my garden!  There are only so many ways to sauté, grill and fry it 🙂 that's when I turn to this, my homemade zucchini bread recipe that everyone fights over, it's that good! Light and moist, and flavored with just the right amount of spices, this is a great bread to have for breakfast or a light snack.  Moms: this bread also makes for a great lunchbox treat or after school snack!
For a step-by-step tutorial you can watch my video demo below. Subscribe to my YouTube Channel and never miss a recipe! (not to worry subscription is free!)
The secret with this bread is to allow it to bake for 55 mins or just until it begins to crack at the top, that will give you the height and lightness.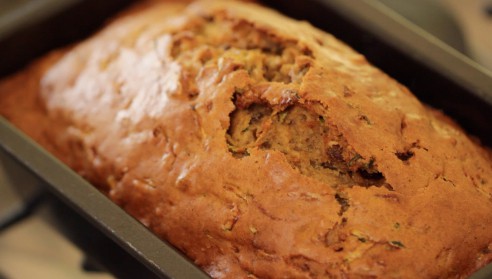 It also freezes really well too, so you can slice it up, wrap in paper towels and pop in a ziplock bag.  Then all you have to do is microwave it for :20-:30 seconds and you have homemade bread in a snap!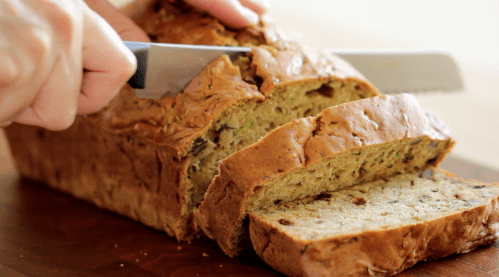 One thing to note is to make sure you blot the zucchini dry before mixing into your batter.  As a vegetable it retains a lot of moisture (you'll be surprised how much!) so it's important after grating it to remove some of that with a paper towel. I hope you enjoy this recipe as much as we do! xx Beth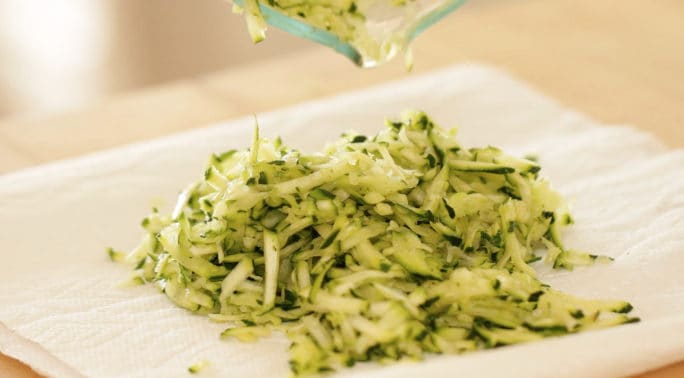 PRODUCTS USED IN THIS RECIPE: (These links go to Amazon where I am an affiliate)
9″ x 5″ Loaf Pan, 4-cup Pyrex Pitcher (a great way to measure out how much zucchini you have while grating!) Grater,  Boos Walnut Cutting Board, Bread Knife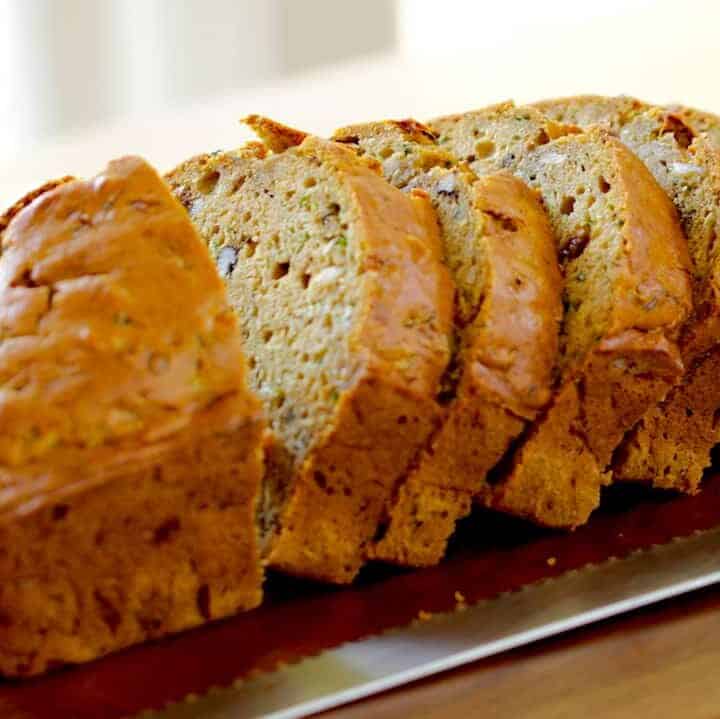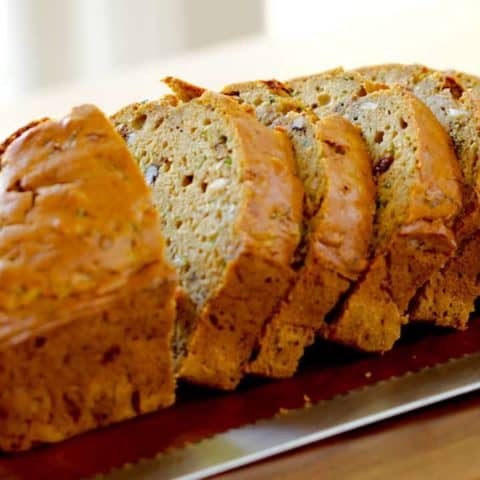 Beth's Zucchini Bread
Total Time:
1 hour
25 minutes
Looking for a great zucchini recipe? This one cannot be beat. My homemade zucchini bread recipe is light and moist and flavored with a great combination of spices! A recipe you will turn to time and time again.
Ingredients
3 eggs
½ cup (120ml) pure pumpkin puree
3/4 cup (150g) of sugar
1/2 cup (120 ml) of canola or vegetable oil
¼ cup (60 ml) of water
1 tsp (5 ml) vanilla
2 ½ cups (300 g) of flour
2 teaspoons (10 ml) baking soda
1/2 teaspoon (2.5ml) salt
1 tsp (5 ml) ground cinnamon
½ tsp (2.5 ml) ground ginger
½ tsp (2.5ml) nutmeg
¼ tsp (1.25ml) ground cloves
1 ½ cups (350 ml) of zucchini, grated and drained of moisture
¼ cup (60 ml) golden raisins
¼ cup black (60 ml) raisins
½ cup (120 ml) chopped walnuts
Instructions
Preheat oven to 350F (176C) degrees.
Grease and flour a 9" x 5" loaf pan.
In a large bowl mix the eggs, pumpkin, sugar, oil, water and vanilla until combined.
In a medium bowl whisk together the dry ingredients.
Combine the dry into the wet, 1/3 at a time, being careful not to over mix! (Or you will have tough bread!)
Fold in the zucchini, raisins and walnuts, mix until combined. Pour into a loaf pan that has been sprayed with baking spray.
Bake for 55 mins or until a toothpick comes out clean and bread is cracked at top. If bread starts to brown too much on the top, cover with foil and continue to bake until cooked through.
Slice into thick slices and serve. Enjoy!
Nutrition Information:
Yield:

12
Serving Size:

1
Amount Per Serving:
Calories:

1933
Total Fat:

35g
Saturated Fat:

7g
Trans Fat:

0g
Unsaturated Fat:

23g
Cholesterol:

558mg
Sodium:

263mg
Carbohydrates:

349g
Fiber:

17g
Sugar:

94g
Protein:

57g