Beth's Spiced Zucchini Bread Recipe
This time of year zucchini takes over the home garden! Yet, there are only so many ways to sauté, grill, and fry it! That's when I turn to my homemade zucchini bread; a recipe everyone fights over, it's that good!
Light and moist, and flavored with just the right amount of spices, this is a great bread to have for breakfast or a light snack. And, if you slice it into 12 pieces it's only 161 calories per slice!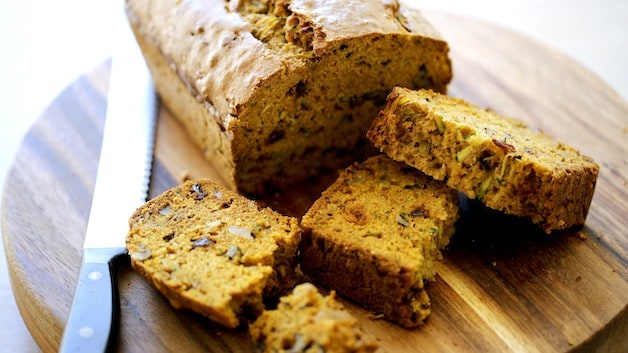 What Makes this Zucchini Bread Recipe Lower in Calories?
You can thank the pumpkin puree for this lower-calorie bread! It helps alleviate the need for excess fat which reduces the calorie count by quite a lot.
Subscribe for weekly recipes
and new videos!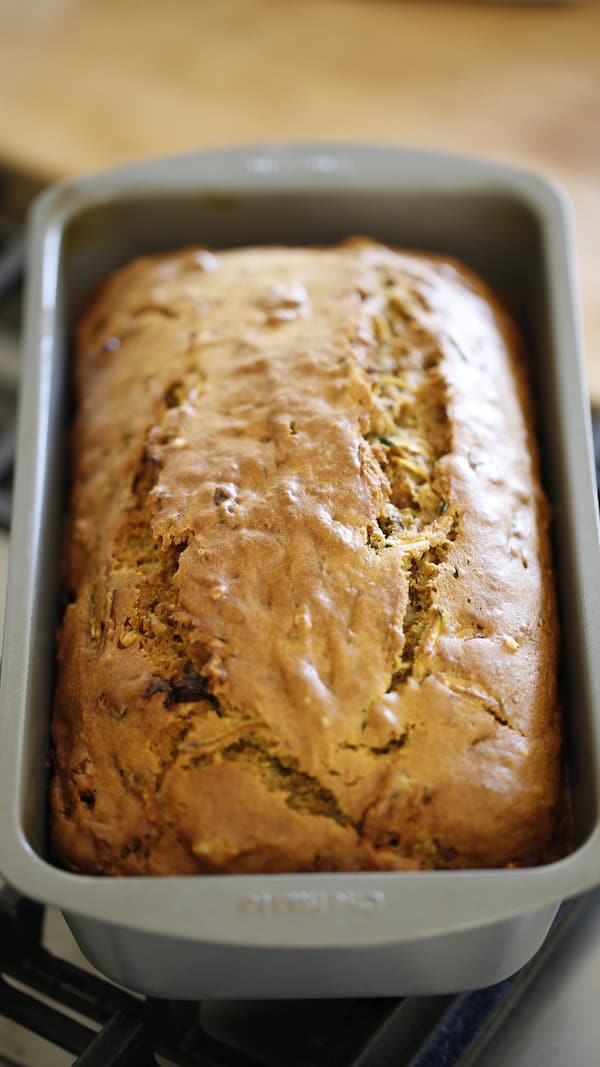 Watch My Video Demo on this Recipe Below
A Quick Bread Recipe for All Seasons
This is a quick bread that should be in your yearly rotation! If you've enjoyed my Ultimate Banana Bread Recipe in the winter or my Pumpkin Bread Recipe in the fall, then you will absolutely love this zucchini bread recipe for the summer!
How To Prepare the Zucchini for Bread
You do not need to peel the zucchini. Simply grate it with a box grater or food processor fitted with the grating attachment.
But you do need to pat it dry with a paper towel before baking with it to absorb the moisture.
I think the best side of the box grater to use for grated zucchini for this bread, is the wide grate side.
This will provide the best texture for bread. The smaller side is too small to make an impact.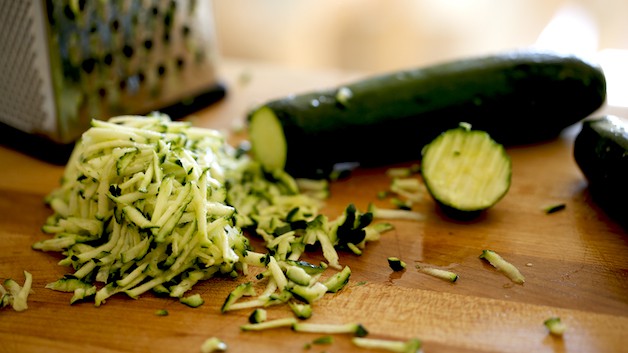 Why Do You Need to Pat the Zucchini Dry First?
Zucchini is a watery vegetable and it will continue to release moisture while baking. Patting it dry first, reduces some of this moisture that could lead to a mushy texture otherwise.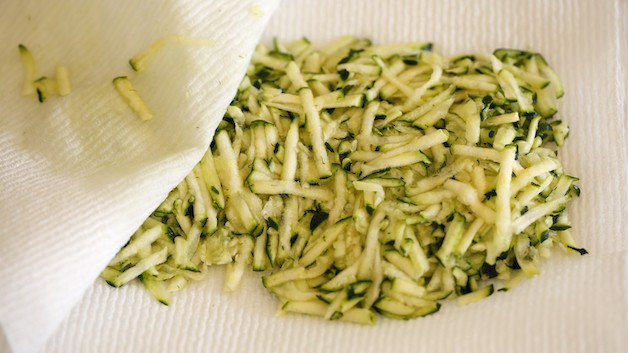 How Many Zucchini is in 1 ½ Cups?
For this recipe, you will need 1 ½ cups of shredded zucchini which is approximately 2 good-sized zucchini.
Have extra zucchini on hand? Try my equally delicious Baked Zucchini Gratin Recipe

! This is another fantastic way to use up extra zucchini in the garden!
The Secret to a Moist Bread?
Personally, I feel the best combination of ingredients for moist and fluffy zucchini bread is:
A little bit of pumpkin puree. This lessens the amount of fat you will need in this recipe
Vegetable oil over Butter. Oil is pure fat, whereas butter is only 80% fat due to its water content. The oil will always create a lighter and more moist bread. You can use other oils like coconut oil or grapeseed oil, but I wouldn't use olive oil, as it's too heavy to produce a light and fluffy quick bread.
Water over Milk. The water will add moisture and lightness without weighing your bread down the way milk can do.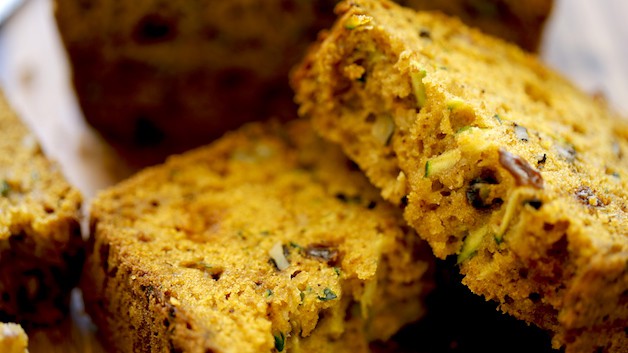 The Mix-Ins!
Personally, I find a combination of chewiness and crunch is ideal and is one of the reasons zucchini bread is so good! In addition to the spices.
I love to use traditional raisins and golden raisins, mixed with the buttery texture of walnuts.
This creates the best flavor combination against the spices in the bread and compliments the hint of the pumpkin as well!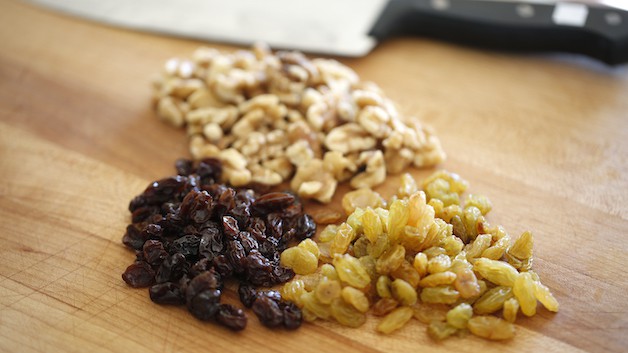 Mix-Ins For Additional Sweetness
You could certainly add in a few chocolate chips, unsweetened shredded coconut, or crushed pineapple too, for the ultimate, fully-loaded zucchini bread!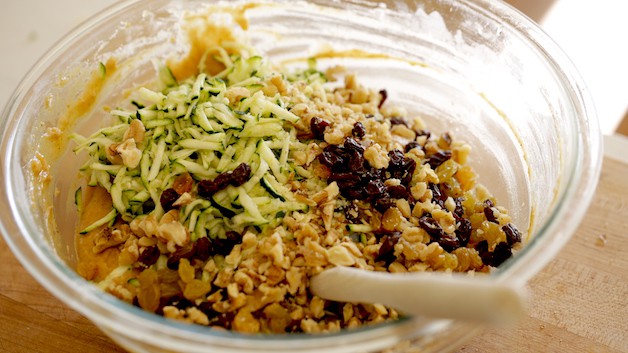 Why Does My Bread Fall Flat?
The secret with most quick bread recipes is to use enough baking soda (at least ¾ teaspoon for every 1 cup of flour) and to allow it to bake long enough to where the center cracks.
Loaf pans are deeper than cake pans and while your quick bread may be golden brown and "look" done, it's best to insert a skewer over a toothpick to double-check!
A skewer will go deeper to verify it's in fact fully baked all the way through. If it is not when it starts to cool it will sink and collapse.
I find the cracking at the top is a good indication that your bread is ready to take out!
How to Store and Reheat?
This bread will freeze beautifully if you allow it to cool completely, cut it into slices then wrap it in wax paper and place the slices in large ziplock bags.
Then when it's time to reheat, wrap the slice in a paper towel, to allow it to stay moist, and microwave it for :30 and it will taste freshly baked!
If You Enjoyed this Recipe
Please leave a Rating and a Review Below!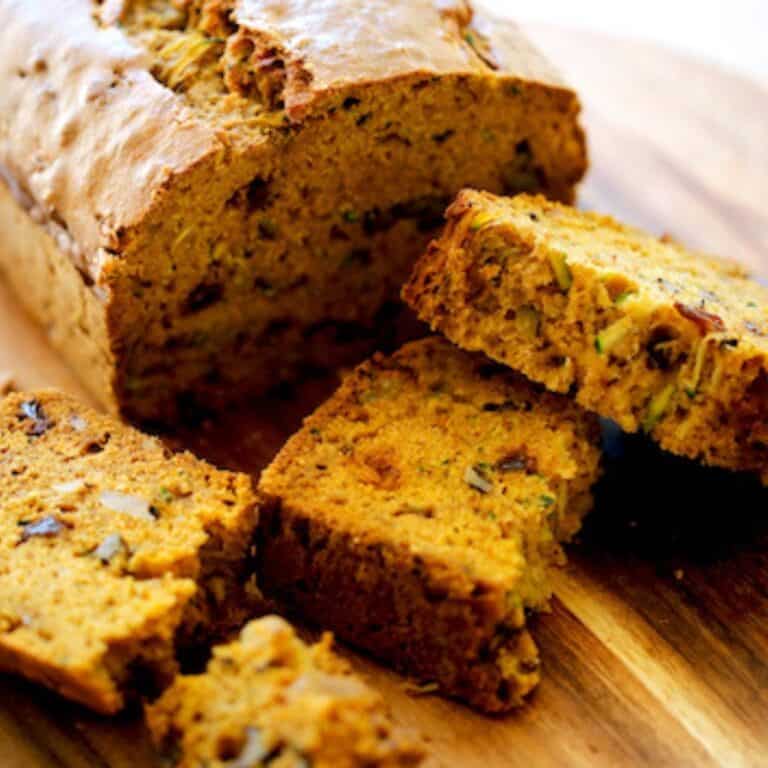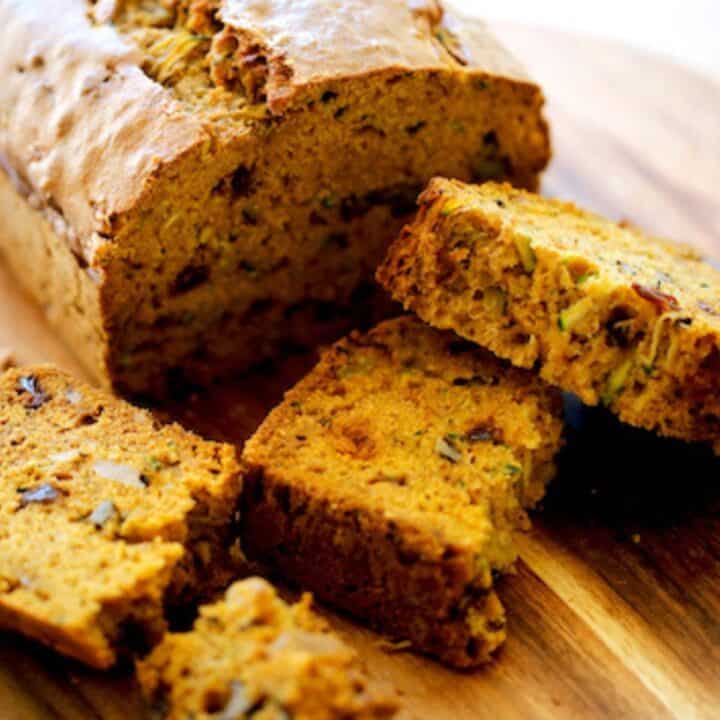 Beth's Spiced Zucchini Bread Recipe
Total Time:
1 hour
25 minutes
Looking for a great zucchini recipe? This one cannot be beat. My homemade zucchini bread recipe is light and moist and flavored with a great combination of spices! A recipe you will turn to time and time again.
Ingredients
3 eggs
½ cup (120ml) pure pumpkin puree
¾ cup (150g) of sugar
½ cup (120 ml) of canola or vegetable oil
¼ cup (60 ml) of water
1 teaspoon (5 ml) vanilla
2 ½ cups (300 g) of flour
2 teaspoons (10 ml) baking soda
½ teaspoon (2.5ml) salt
1 teaspoon (5 ml) ground cinnamon
½ teaspoon (2.5 ml) ground ginger
½ teaspoon (2.5ml) nutmeg
¼ teaspoon (1.25ml) ground cloves
1 ½ cups (350 ml) of zucchini, grated and drained of moisture
¼ cup (60 ml) golden raisins
¼ cup black (60 ml) raisins
½ cup (120 ml) chopped walnuts
Instructions
Preheat oven to 350F (176C) degrees.
Grease and flour a 9" x 5" loaf pan.
In a large bowl mix the eggs, pumpkin, sugar, oil, water and vanilla until combined.
In a medium bowl whisk together the dry ingredients.
Combine the dry into the wet, ⅓ at a time, being careful not to over mix! (Or you will have tough bread!)
Fold in the zucchini, raisins and walnuts, mix until combined. Pour into a loaf pan that has been sprayed with baking spray.
Bake for 55 mins or until a toothpick comes out clean and bread is cracked at top. If bread starts to brown too much on the top, cover with foil and continue to bake until cooked through.
Slice into thick slices and serve. Enjoy!
Nutrition Information:
Yield:

12
Serving Size:

1
Amount Per Serving:
Calories:

161
Total Fat:

3g
Saturated Fat:

1g
Trans Fat:

0g
Unsaturated Fat:

2g
Cholesterol:

47mg
Sodium:

22mg
Carbohydrates:

29g
Fiber:

1g
Sugar:

8g
Protein:

5g