Zucchini Gratin with Homemade Breadcrumbs
Zucchini gratin is one of my most favorite summer side dish recipes! It's a combination of the velvety smooth zucchini and bechamel sauce, mixed with the gooey Gruyere cheese and crunchy breadcrumbs.
The results are so fantastic it will become your new favorite thing! Have extra zucchini in the garden? Try my Spiced Zucchini Bread Recipe or my Chicken Brochettes with Grilled Zucchini Salad. Two other great zucchini recipes!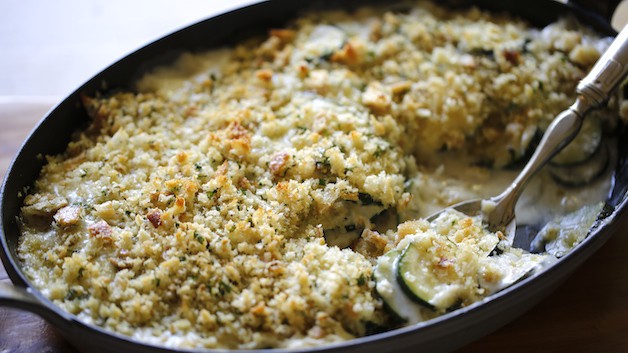 It's a classic French dish that works beautifully as a vegetarian main course, or as a side dish. You can also make it ahead of time and reheat when ready to serve! I'll show you how below!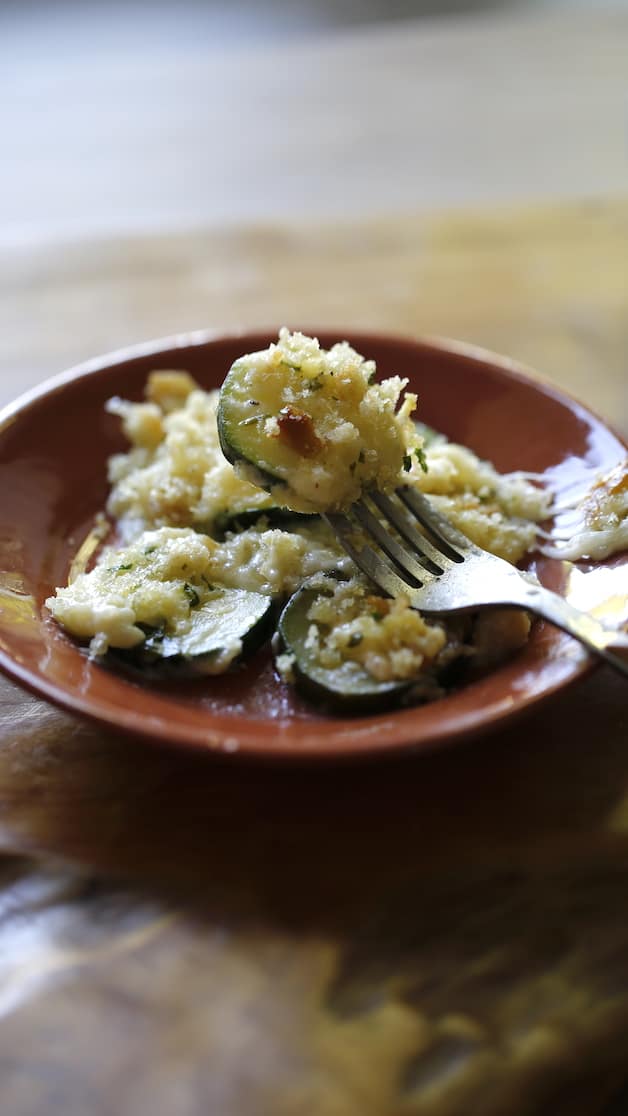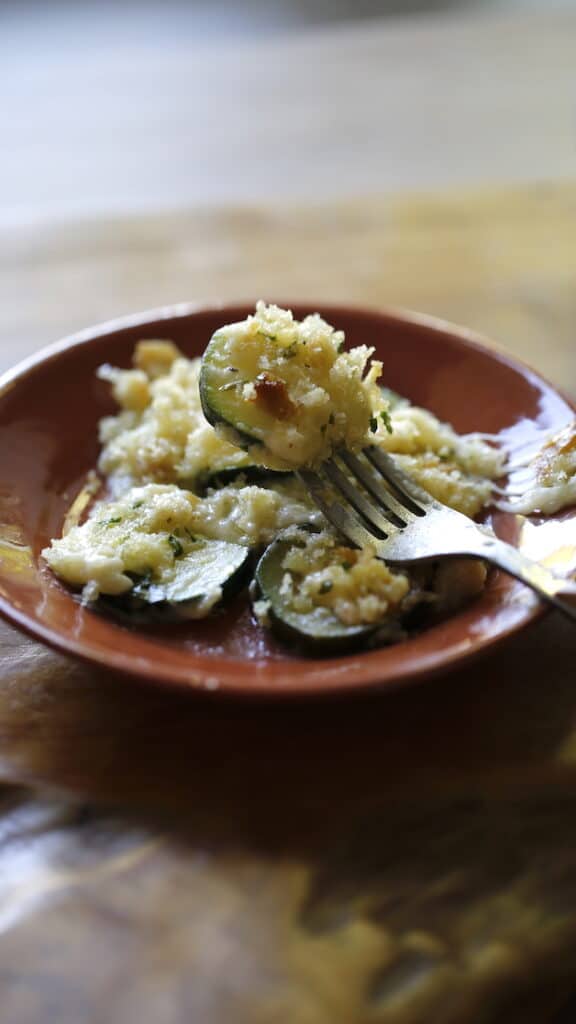 Watch my Video Demo of This Recipe Below!
Step#1: Slice the Zucchini
This recipe calls for 7 cups of zucchini sliced into ¼" rounds. You certainly could slice them by hand, but I find the easier way to do it is with a mandoline.
They are a good investment to make if you make a lot of recipes that call for uniformly cut vegetables. I use it a lot in the summertime for things like my cucumber dill salad.
Step#2: Make the Bechamel Sauce
Bechamel sauce is a classic French sauce made by making a "roux" or paste-like texture with melted butter and flour and then slowly adding milk. As it simmers it will thicken and become the basis of so many delicious recipes.
It's easy to master and once you do you can use it for things like my Easy Baked Mac and Cheese, Chicken and Mushroom Crepes or my Sundried Tomato Pasta.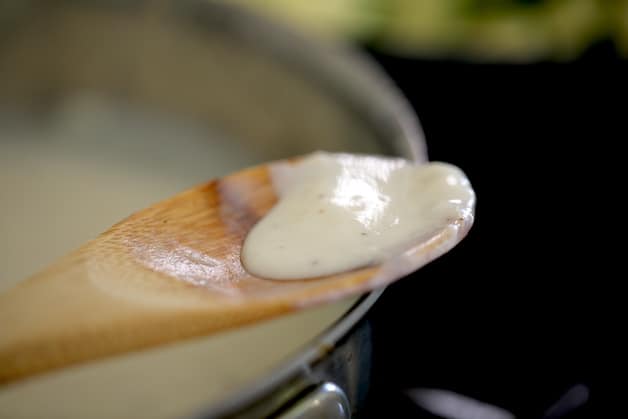 How-To Know When the Bechamel Sauce is Done?
The thickness of the bechamel sauce really depends on the recipe! For this recipe, you will want to keep it simmering until it's thick enough to rest on a spoon. This is because the zucchini will release their juices as they bake in the oven, and then thin down the sauce, resulting in a perfectly silky texture.
Whereas, with my Baked Mac and Cheese recipe I keep the sauce thinner, knowing it will thicken as the pasta starches soak up the sauce.
But with a zucchini gratin, if you start off with too thin a sauce, once those juices start to release in the oven, it will create a watering texture.
So it's best to overcompensate a bit knowing it will be thinned out later as your gratin bakes.
Step#3: Make the Homemade Breadcrumbs
The thing that really makes this recipe sing is the homemade bread crumbs! Their garlicky, crunchy texture is such a fantastic match against the gooey cheese and velvety smooth bechamel sauce.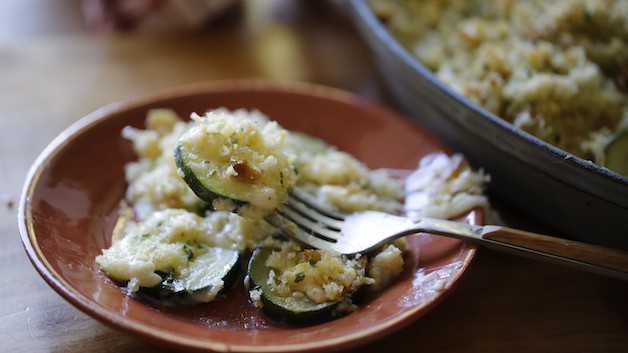 Sourdough bread works best since the texture is durable enough to withstand the blade of a food processor and its subtle nooks and crannies provide a nice vehicle for holding the melted butter!
Just don't over-process the bread crumbs, to assure they will stay light and crunchy. A few pulses will do the trick.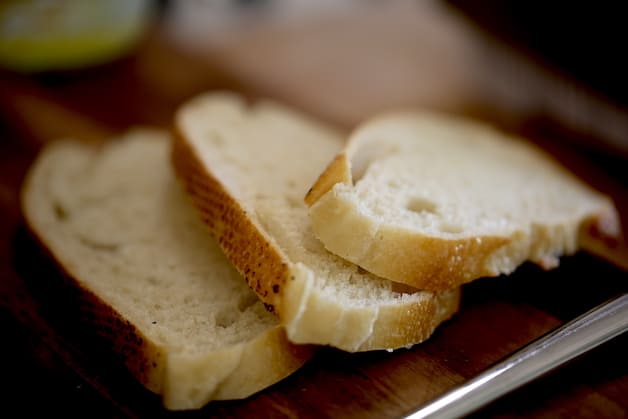 How Long to Cook the Gratin?
Personally, I think the best method is a two-step process. First, sautee the zucchini in a skillet with the onion to take the rawness out. Then cover and steam them for about 10 minutes.
The zucchini should start to become soft and look a bit transparent, that's when you know it's ready!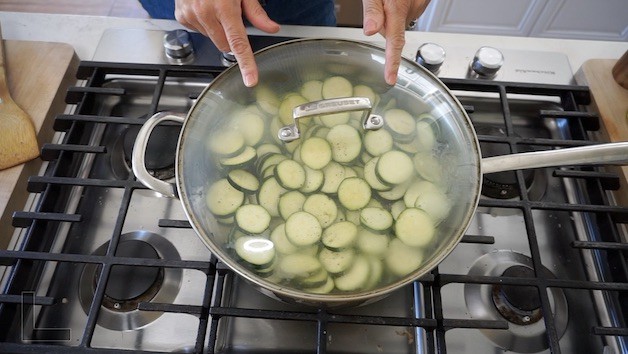 Since this gratin only needs 30 minutes in the oven to melt the cheese and toast the bread crumbs, it needs a "head-start" otherwise it will still be a bit raw and crunchy if you don't cook it first. I think this two-step method will give you the best texture.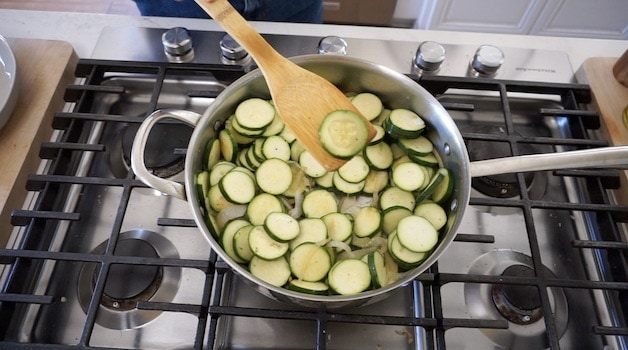 Then you can place it in your gratin dish while you work on the rest of the recipe. It should fill up the dish, but allow a little bit of room for the bechamel sauce, cheese and bread crumbs. A 9"x13" gratin pan works perfectly.
Can You Make This Recipe Ahead of Time?
Yes! This gratin reheats beautifully. All you need to do is complete all the steps, bake it, and then allow it to cool completely, cover, and refrigerate.
Then when it comes time to serve, place it in a 350F oven, covered with foil for 20 minutes, then remove the foil and bake for another 7-10 minutes until the bread crumbs have crisped back up and the sauce is bubbling!
What to Serve with Zucchini Gratin?
Zucchini gratin goes beautifully with a roast chicken or my white wine chicken. You could also add some shredded rotisserie chicken to the bechamel sauce and make the gratin the main meal.
I also find it's filling enough for vegetarians too as the main course, and would make a nice meatless option for your Thanksgiving table.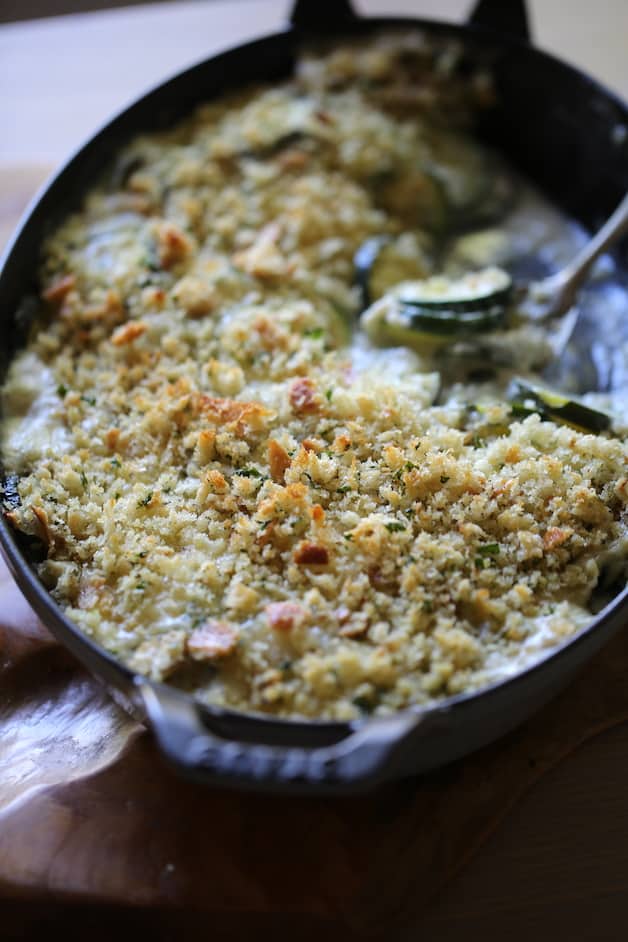 More Great Recipes You'll Enjoy!
If You Enjoyed this recipe
please leave a rating and a review below!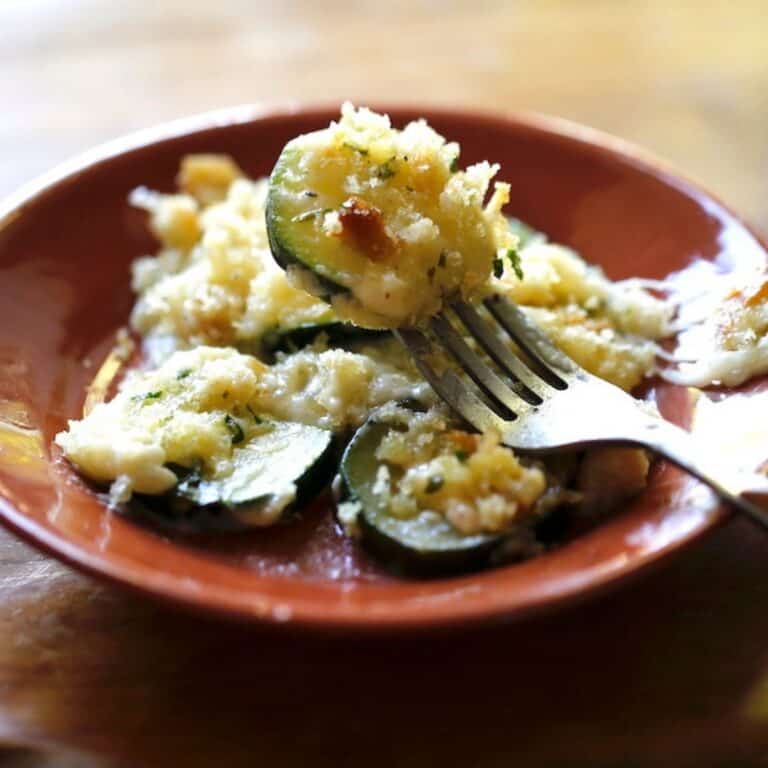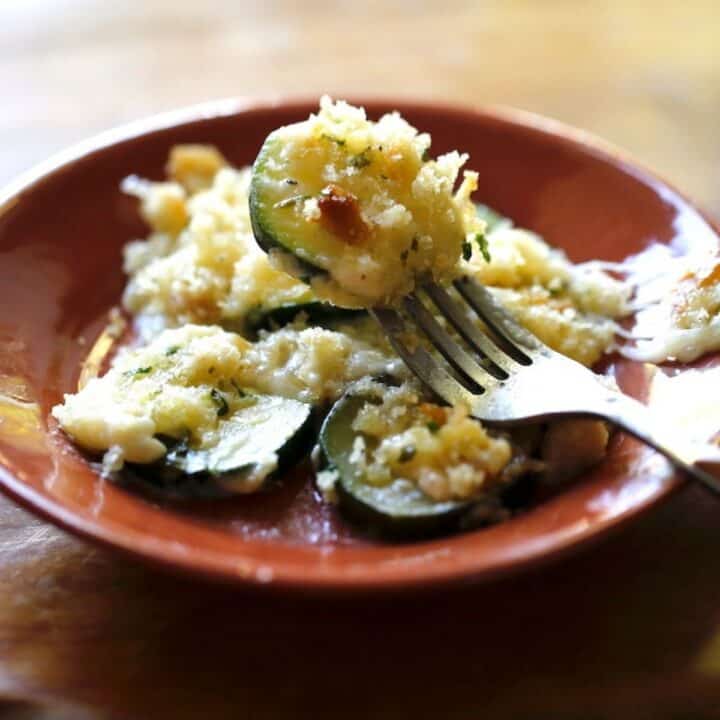 Zucchini Gratin Recipe with Homemade Breadcrumbs
Total Time:
1 hour
30 minutes
A summer side dish! This zucchini gratin is covered is velvety smooth bechamel sauce, gooey gruyere cheese, and crunchy breadcrumbs!
Ingredients
1 tablespoon (15g) butter for greasing
7 cups (1057g) of zucchini sliced into ¼" rounds
1 cup (150g) of white onion, sliced into half-moons ¼" thick
2 tablespoon (30ml) olive oil
salt and pepper to taste
1 cup (150g) Gruyere Cheese, grated
BREAD CRUMBS:
3 slices sourdough bread
2 tablespoon (30ml) butter, melted
1 garlic clove, minced
2 tablespoon (30ml) fresh parsley
salt and pepper to taste
BECHAMEL SAUCE:
3 tablespoon (45g) butter
2 tablespoon (15g) flour
2 cups (475ml) of milk
pinch of nutmeg
¼ teaspoon (1.25ml) salt
freshly cracked pepper to taste
Instructions
Preheat the oven to 375F (190C). Grease a 9" (23cm)x13" (32.5cm) gratin pan with butter and set aside.
Heat the olive oil in a deep skillet. Saute the onion until soft and translucent. Season with salt and pepper. Add the zucchini and saute for 3-5 minutes then cover and allow them to "steam" for 10 minutes, shaking the skillet occasionally to toss the vegetables.
Transfer the vegetables into the gratin pan and set aside.
To prepare the breadcrumbs, tear the bread and place it in a food processor with the butter, garlic, parsley, salt, and pepper. Pulse until a coarse crumb develops. Set aside.
For the bechamel sauce, melt the butter in a large skillet. Then whisk in the flour and cook for 1 minute. Slowly add the milk, whisking all the while until smooth. Add nutmeg, salt, and pepper. Simmer until sauce thickens and coats the back of a wooden spoon.
Pour the bechamel sauce over the zucchini and shake the pan slightly to distribute well. Add the Gruyere cheese on top, then add the breadcrumbs.
Bake for 30 minutes. The sauce will be bubbling and bread crumbs will be golden brown. Serve oven-to-table.
Notes
For the bechamel sauce, it should look like a thick Alfredo sauce. I take it a bit further in the thickening stage than I normally would for bechamel sauce because zucchini is watery and will release its juices and thin the sauce a bit as it cooks. So don't be afraid to make sure it's on the thick side.
To make ahead, bake the gratin, allow it to cool completely. Cover and refrigerate. Then reheat, covered at 350F for 20 minutes, and remove the foil for another 5 minutes to crisp up the bread crumbs.
Nutrition Information:
Yield:

8
Serving Size:

1
Amount Per Serving:
Calories:

177
Total Fat:

7g
Saturated Fat:

2g
Trans Fat:

0g
Unsaturated Fat:

5g
Cholesterol:

8mg
Sodium:

280mg
Carbohydrates:

22g
Fiber:

3g
Sugar:

5g
Protein:

8g