Pesto Chicken Bake Recipe
In a bit of a chicken rut? Well then, you must try my cheesy Pesto Chicken Bake, it's a wonderful summer main course recipe especially if you are cooking for two!
What makes this chicken bake recipe so delicious is the combination of flavors. You have grilled marinated chicken resting in a pool of rich pesto sauce, baked with mozzarella cheese and topped with sauteed tomatoes and fresh basil. It's bursting with summer flavor in every bite!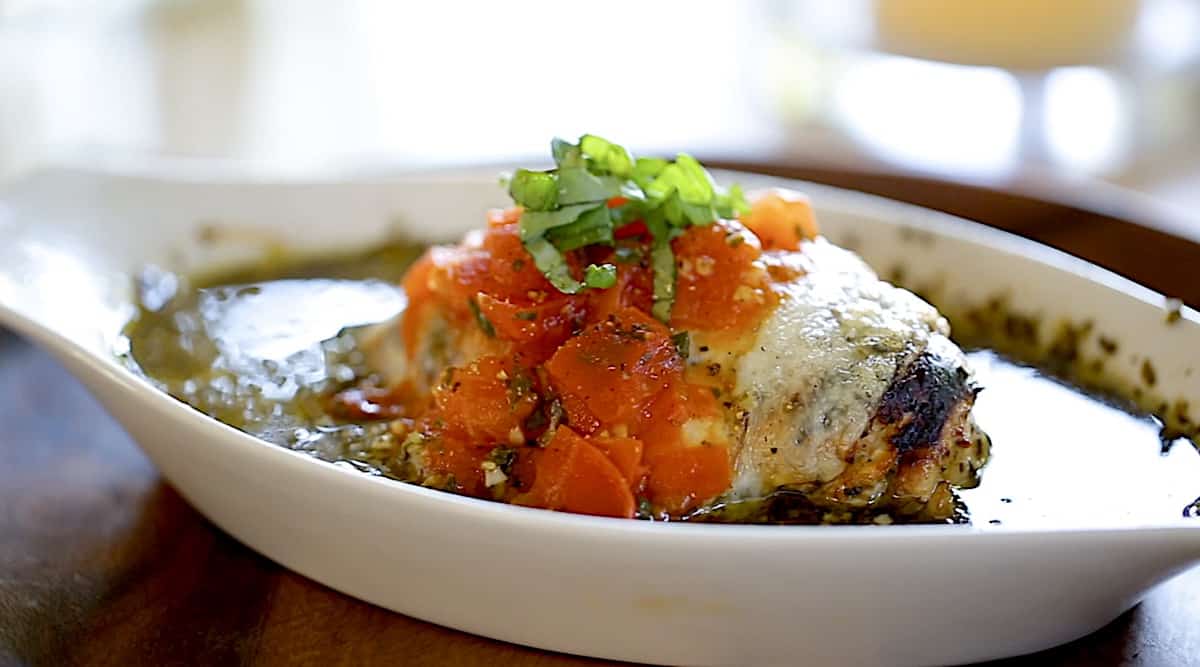 Watch Video Demo of this Recipe Below
Step#1: Create the Chicken Marinade
To get the juiciest, most flavorful chicken, it helps to marinate it first in a quick and easy marinade. It only needs to rest for about 15-20 minutes in the marinade for it to do its thing.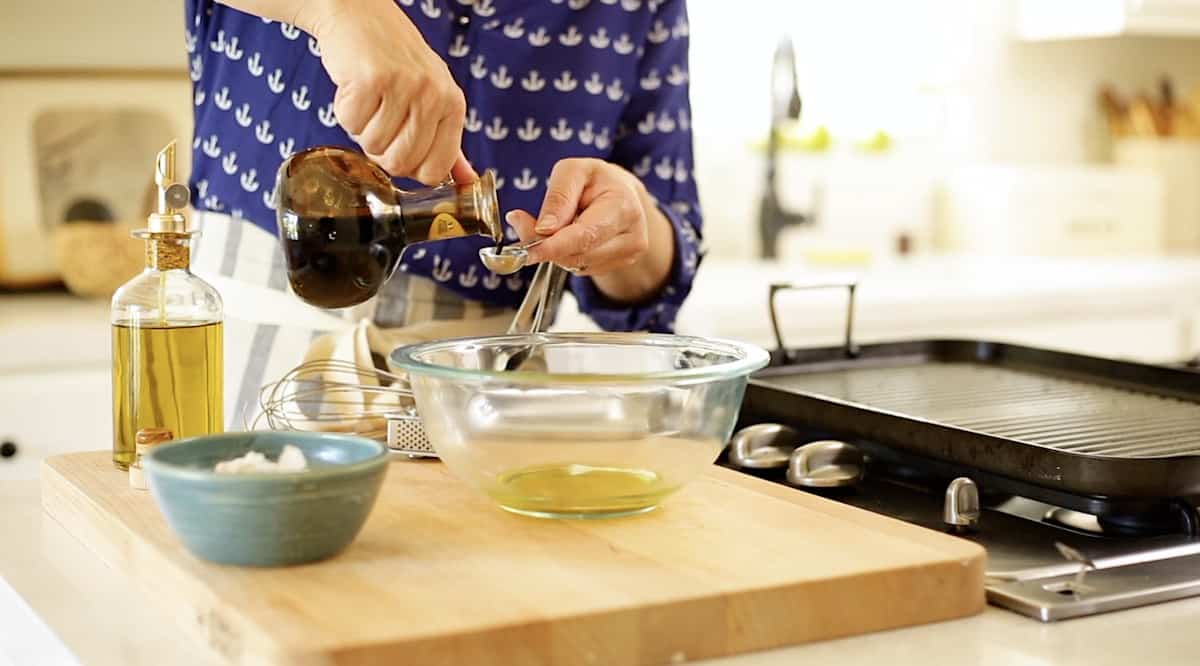 Preventing a Dry Chicken Breast
Since the chicken cooks twice, on the grill and in the oven, the marinade keeps the chicken tender and juicy and prevents it from drying out. I typically whip up the marinade while my grill pan is heating up.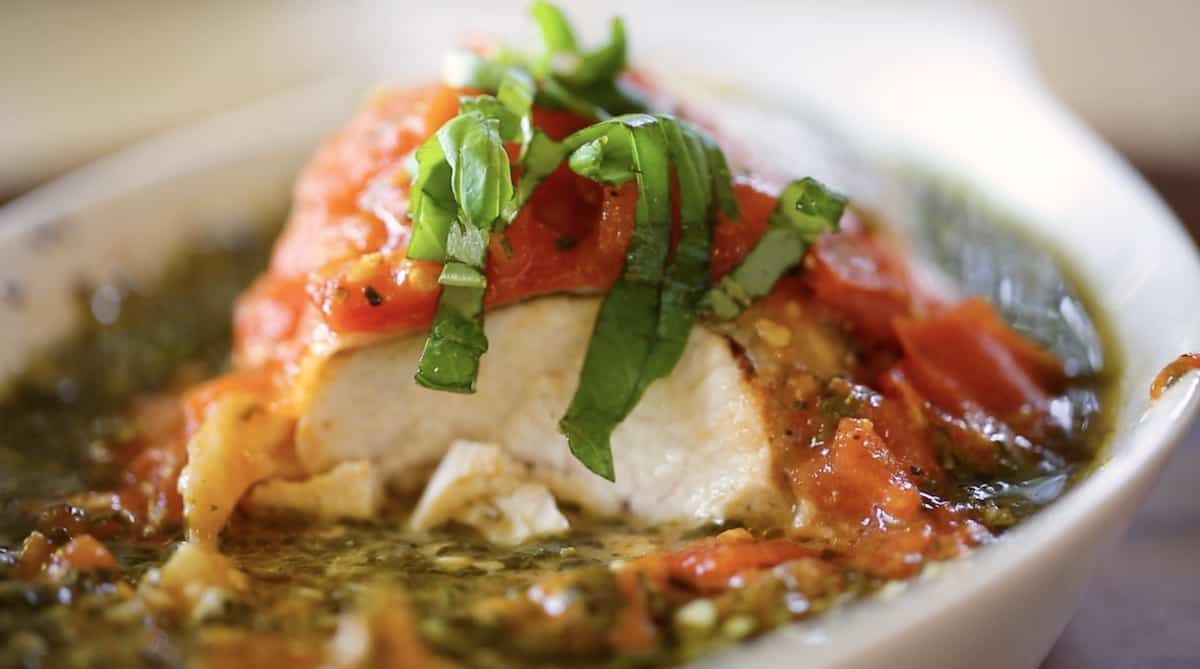 Step#2: Make the Tomato Sauce
When tomatoes are in season there's nothing like a homemade tomato sauce with ripe tomatoes. This is a really easy and simple sauce that's also great on pasta!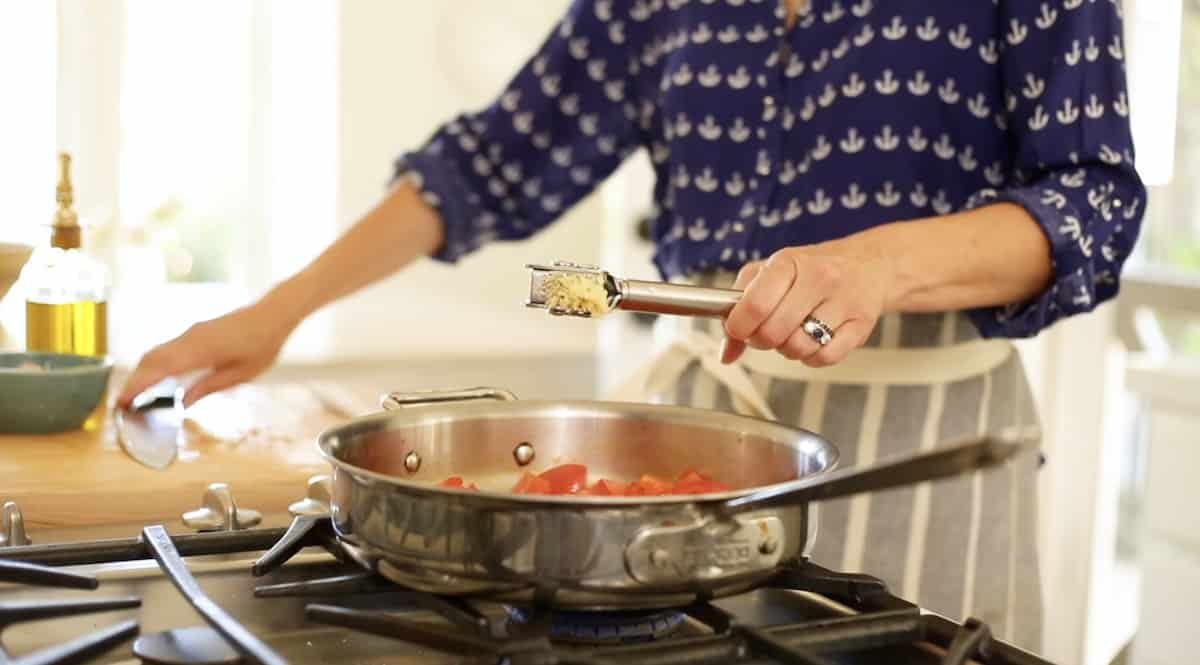 Substituting the Wine
The tomato sauce calls for a splash of wine. But if you don't drink a squeeze of fresh lemon juice is a great substitution. It just needs a little acid to give it a bit of a tang and depth of flavor.
Then cook it down so the alcohol of the juice mellows out as the sauce reduces. This will also thicken the sauce too.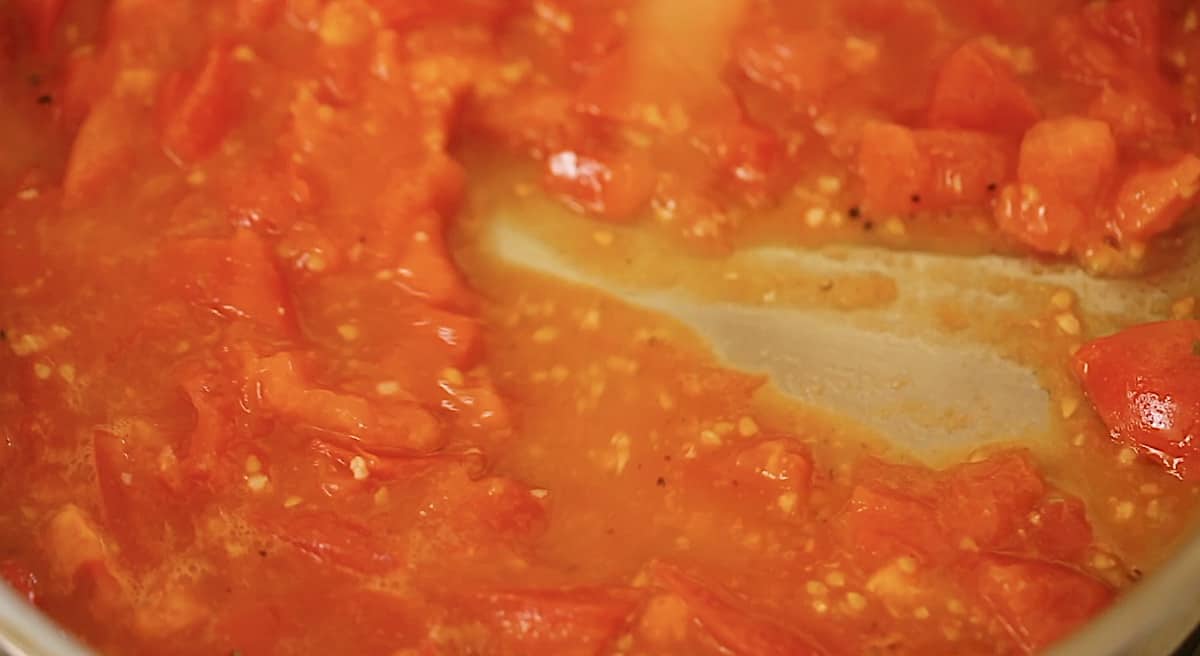 Step#3: Grill the Chicken Before Baking
I use a grill pan for this part since I think it's a bit easier. You can also use an outdoor grill if you prefer.
But I find the grill pan is easier since you only need to lock in the flavor and create the grill marks. The chicken doesn't get cooked through at this stage. You'll do that in the next stage while it bakes in the oven.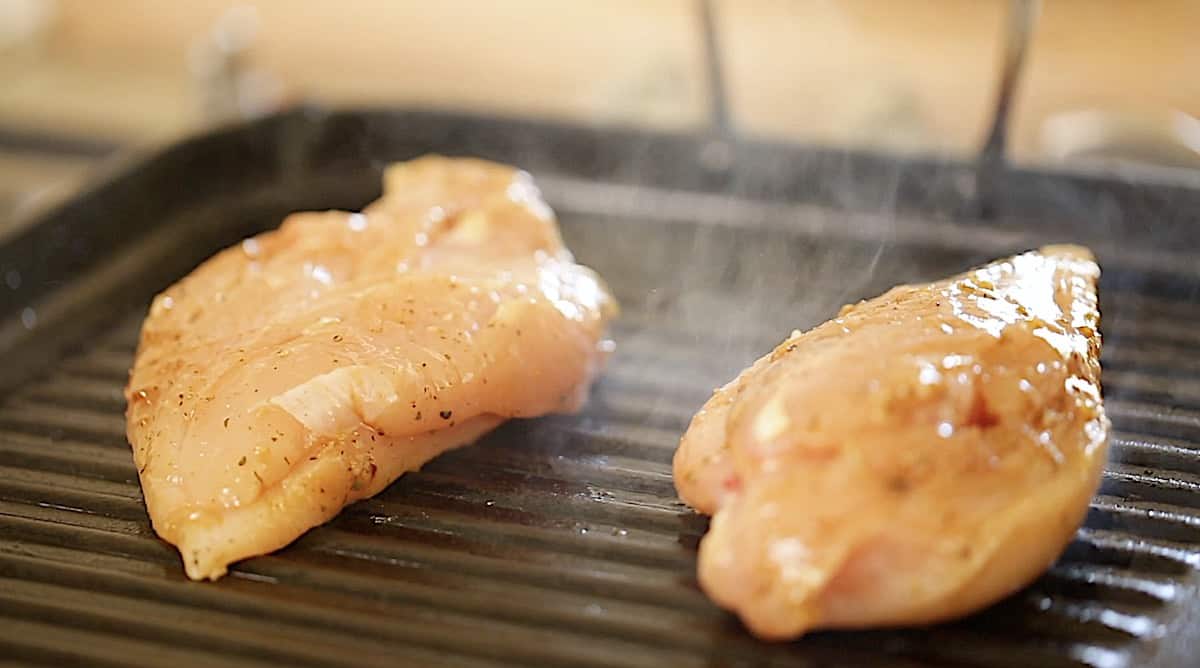 Preventing Dried Out Chicken
If you cooked the chicken all the way through on the grill, it would become dried out while it's in the oven waiting for the pesto to heat and the cheese to melt. This way it cooks halfway on the grill and then finishes in the oven. This assures a juicy piece of chicken done to perfection.
Step#4: Add the Pesto and Chicken
I love to serve these chicken bakes as individual portions, in oven-safe gratin dishes. I think it adds a touch of elegance to the dish and makes it feel extra special.It also keeps all the juices intact and prevents this meal from getting too messy!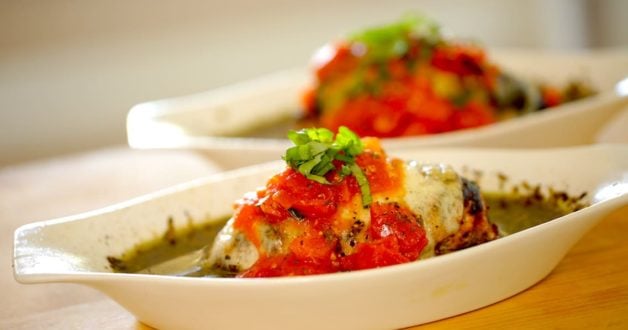 Substituting the Gratin Pans
If you don't have gratin pans any oven-safe casserole dish will do. Just be sure it's small enough so that the pesto doesn't dry out in the oven, which it can do if the pan is too wide or large.
Using Store-Bought Pesto Sauce
This recipe works great with store-bought pesto sauce, but if you would like to make your own my Homemade Pesto recipe comes together quickly and easily! Especially if you have a lot of basil growing in the garden.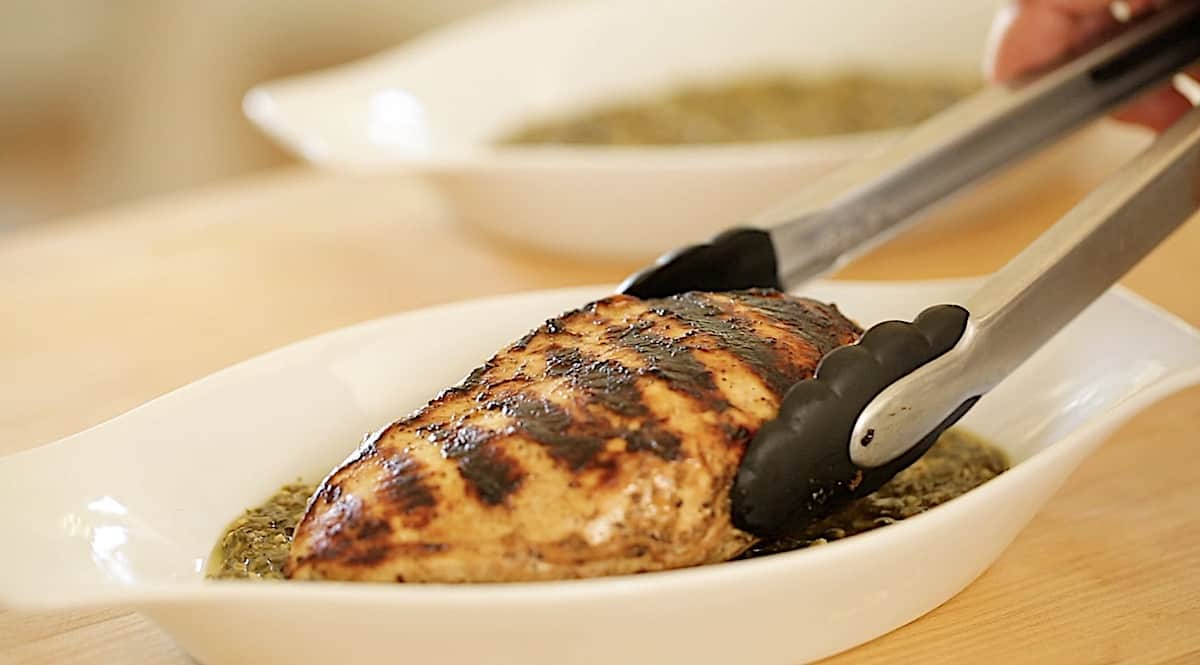 Step#5: Add the Cheese and Bake
I like to use fresh mozzarella slices for this recipe and top it overlapping on the chicken so that it completely covers the chicken as it melts.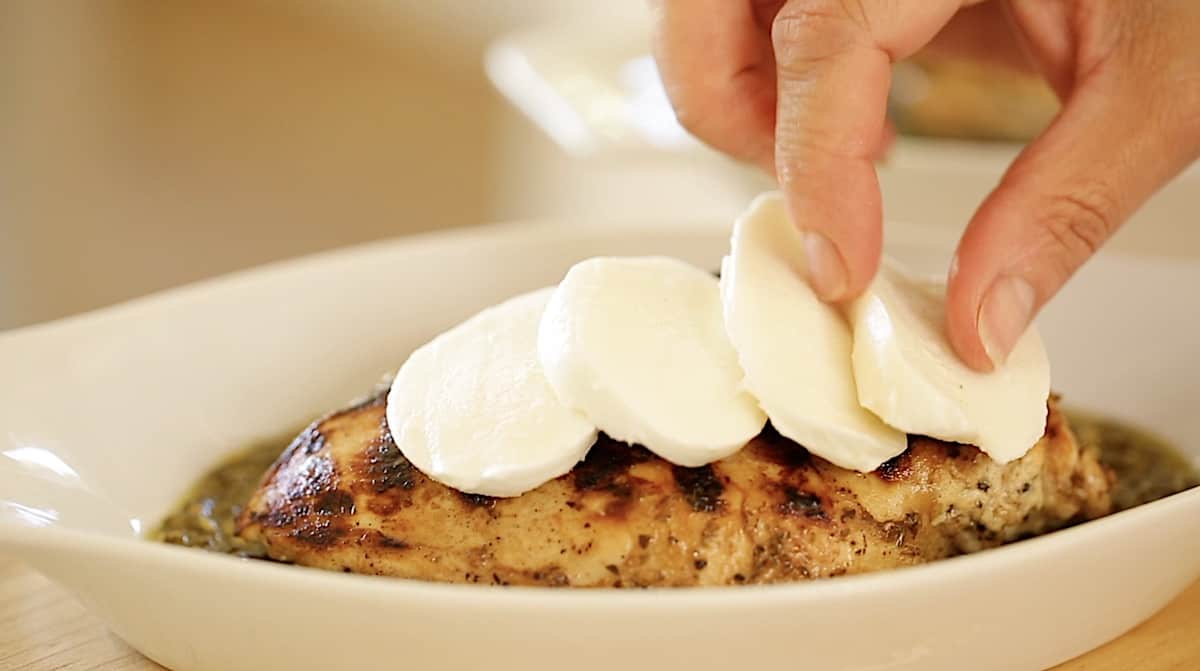 Assuring the Chicken Is Cooked Through
At this stage, you'll bake the chicken long enough so that it's cooked inside (reaching 165F with a meat thermometer) and the cheese is melted and bubbling.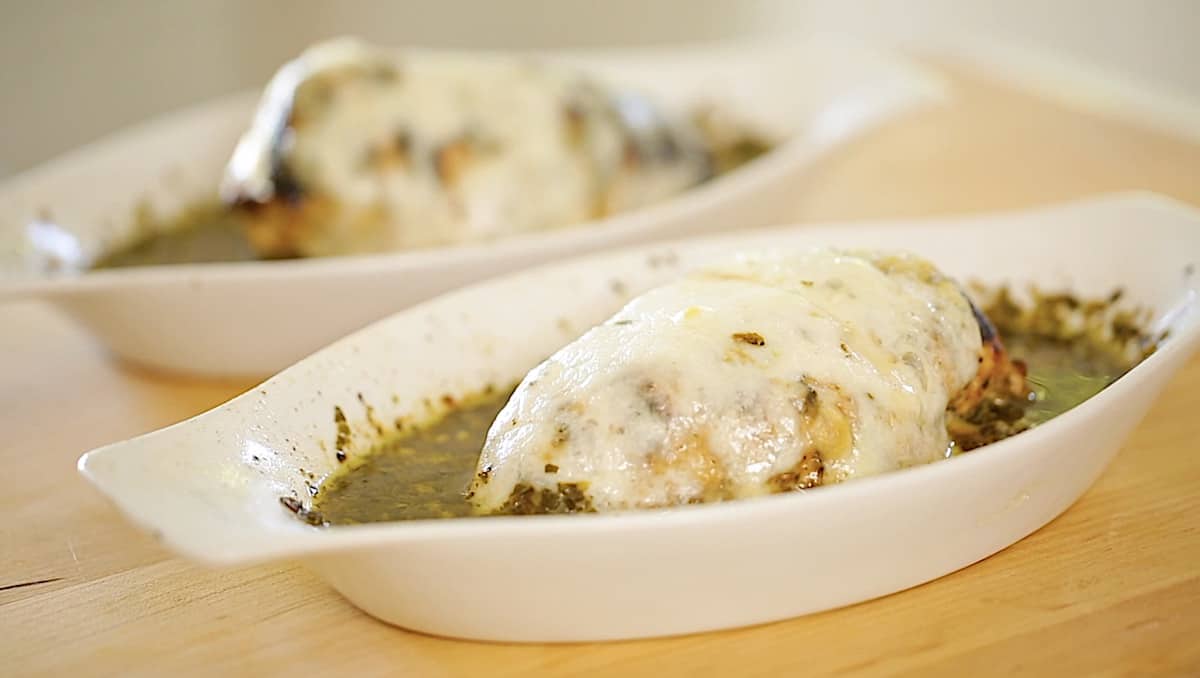 Step#5: Add the Tomato Sauce and Basil
Then spoon over the delicious tomato sauce. I serve the tomato sauce just a room temperature since everything else will be so hot underneath. And then top with some freshly chopped basil to add a fresh taste of summer.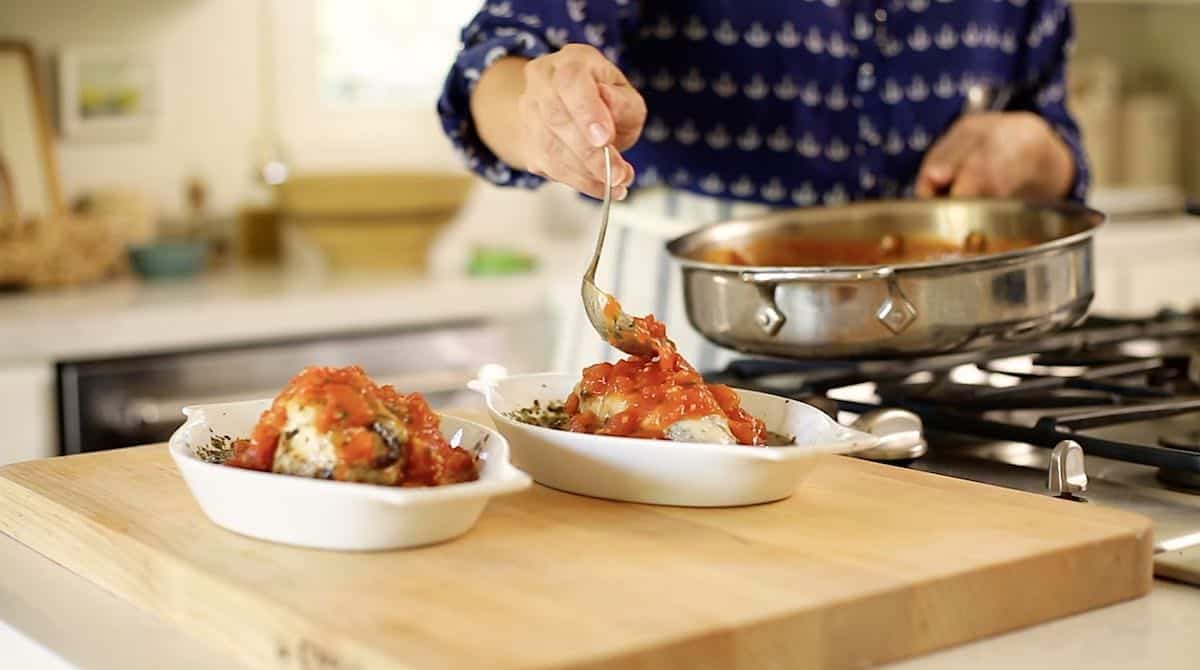 Step#5: Serving Suggestion
Place the gratin dish on a wooden charger to prevent guests from burning themselves or from marking your table.
You could also serve a side of angel hair pasta or buttered gnocchi for soaking up the extra sauce underneath.
This meal pairs well with a crisp glass of Sauvignon Blanc or Chardonnay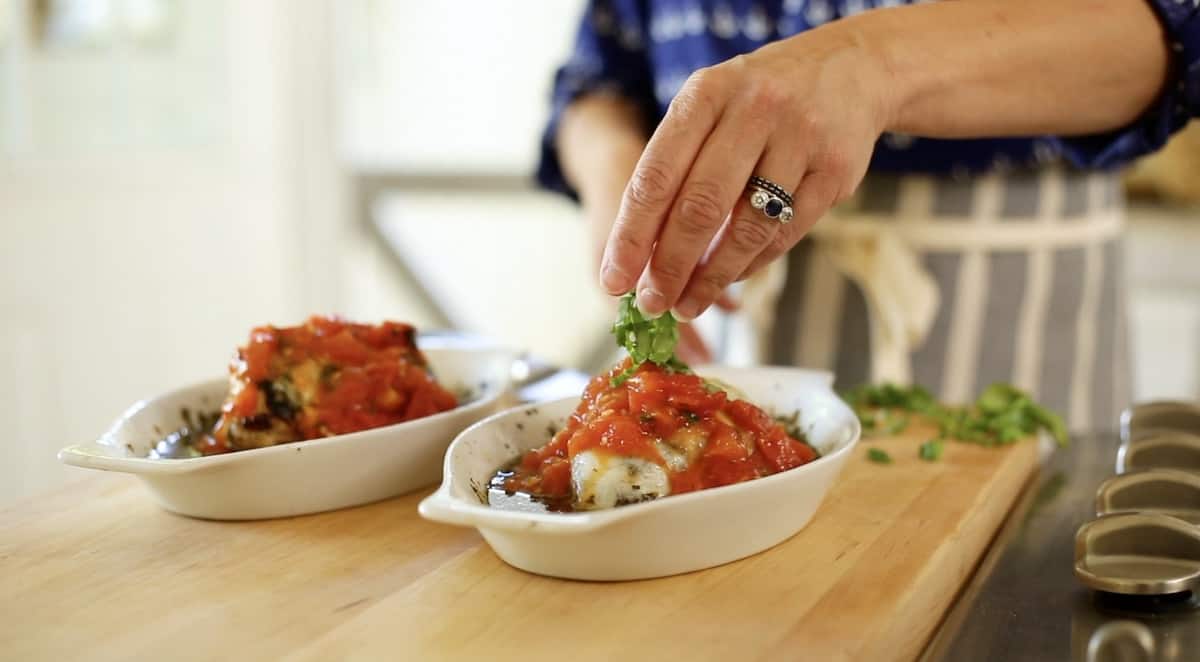 More Great Summer Recipes!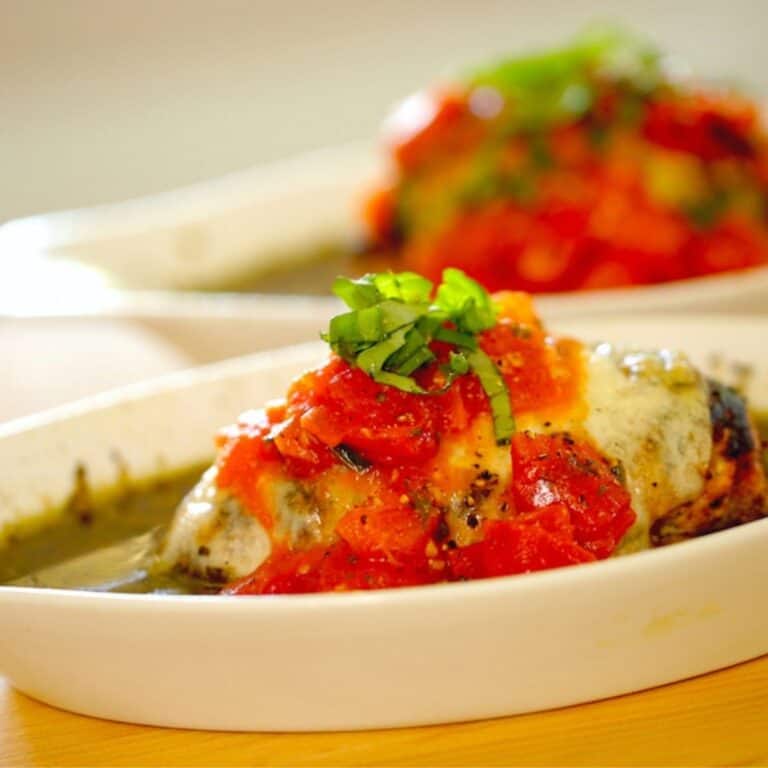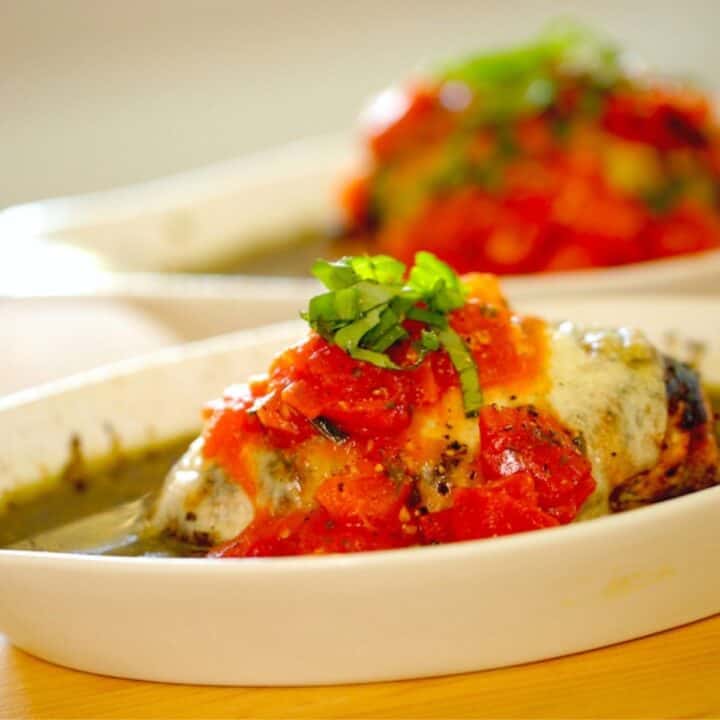 Pesto Chicken Bake
In a bit of a chicken rut? Well then, you must try my Cheesy Pesto Chicken Bake, it's a great Sunday night dinner idea, especially if you are cooking for two! It's fresh and easy with just the right amount of cheesy decadence.
Ingredients
2 boneless, skinless chicken breasts
2 tablespoon (30 ml) olive oil
1 teaspoon (5 ml) balsamic vinegar
1 clove garlic, minced
salt and pepper to taste
½ teaspoon (2.5ml) Italian Seasoning (or dried basil)
For Tomato Sauce:
1 tablespoon (15 ml) olive oil
3 small tomatoes, diced
1 garlic clove, minced
salt and pepper to taste
2 tablespoon (30 ml) white wine, or lemon juice
2 tablespoon (30 ml) fresh basil, chopped
6 tablespoon (90 ml) store-bought pesto
6 slices of fresh mozzarella (packed in water)
Instructions
Mix together the olive oil, vinegar, garlic clove, salt and pepper and Italian Seasoning. Place chicken breasts in marinade for 10-15 mins while you prep the tomato sauce.
For the tomato sauce, heat olive oil in a pan, add tomatoes and cook down, add garlic, salt and pepper and cook a bit more. Add wine (or lemon juice) cook until more liquid is evaporated and sauce is forming. Add fresh basil and stir and remove from heat and set aside.
For chicken grill breasts on an indoor grill pan on each side until nice grill marks form 4-5 mins each side. Transfer to a place to rest.
Prepare 2 heat safe dishes (I like to use individual gratin dishes for these) place 3 tablespoon (45ml) of pesto in the bottom of each gratin dish. Place chicken breasts on top.. Layer 3 slices of fresh mozzarella on top of chicken. Bake at 400F (200C) for 10-15 mins or until chicken is cooked through.
Reheat tomato sauce slightly if needed. Dollop sauce on top of melted cheese. Garnish with freshly cracked pepper and more basil and serve!
Recommended Products
As an Amazon Associate and member of other affiliate programs, I earn from qualifying purchases.
Nutrition Information:
Yield:

4
Serving Size:

1
Amount Per Serving:
Calories:

862
Total Fat:

68g
Saturated Fat:

15g
Trans Fat:

0g
Unsaturated Fat:

49g
Cholesterol:

101mg
Sodium:

935mg
Carbohydrates:

14g
Fiber:

2g
Sugar:

3g
Protein:

38g