This recipe for canelés is a great weekend baking project. Canelés are a delectable French recipe that you won't find in many American bakeries. They are delicious when served with a cup of coffee and can make any occasion feel special. In fact, they are best eaten fresh the day they are made which is why they are even better when made at home.
Their caramelized exterior provides a delicious sugary crunch against their soft, custardy interior. These two textures, combined with their vanilla and rum flavoring, are a taste sensation worth achieving!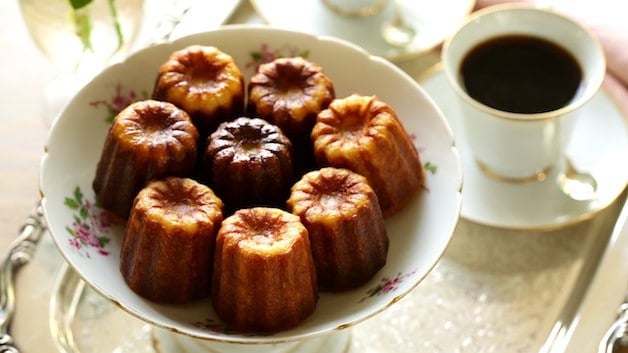 How-To Pronouce Canelé?
The correct pronunciation of Canelé has three syllables, CAN-Nell-LAY. The word varies in spelling, sometimes with one "n" and sometimes with two, yet both are considered correct and the pronunciation remains the same.
The word canelé comes from the French word for fluted, which is the hallmark of their design. The fluting is typically achieved through the use of a fluted copper mold. But more on that below!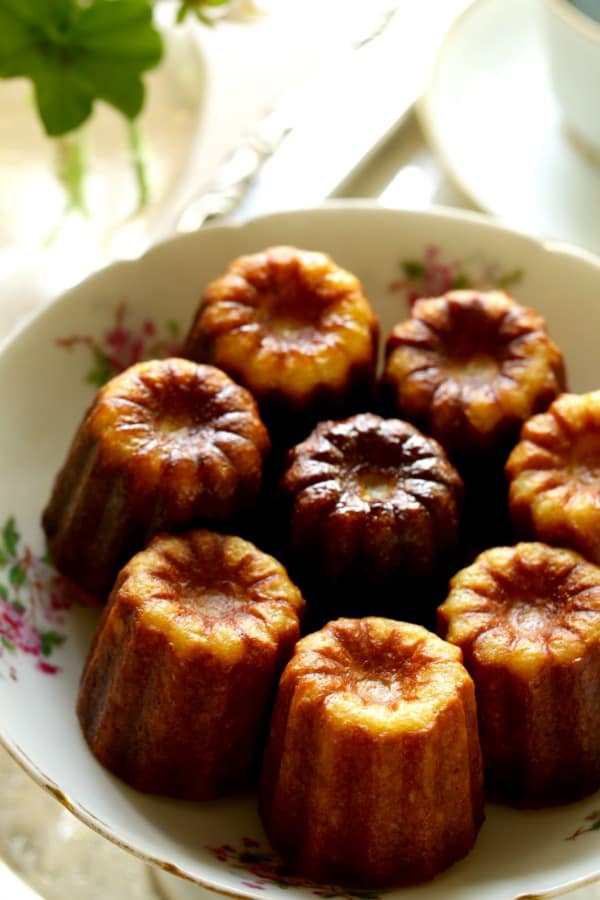 What are the Origins of the Canelé
Canelés originate from the city of Bordeaux in southern France, a region known for its winemaking. In fact, the story goes that winemaking factored into the creation of the canelé since the winemakers would use eggwhites in the winemaking process, apparently to clarify the wine.
This left them with excess egg yolks they would then give to the nuns in the local convents to use to feed the poor children in their care. And this is how the canelé was born. This is why you'll see that the covenants are typically credited with their creation going back as far back as the 15th century.
Watch My Video Demo of This Below!
Subscribe to My YouTube Channel and Never Miss a Recipe!
STEP#1: Pick Your Pan
There are lots of choices for canelé molds out there and everyone has their favorites. But for this recipe, I found there was a clear winner!

Copper: The Traditional Mold
They are perfectly lovely, but I found they were too inconsistent! They didn't always create that beautiful crusty exterior so closely associated with a traditional canelé.
They are also expensive! My copper molds were $50 for a set of four. This was the cheapest I could find! Some were as much as $60 apiece?!
I also found they were really hard to clean! So, NEXT...!

Silicon Molds: The Promise of Easy Release Has Its Price
While in theory, this looks like a great idea, in reality, it was a no-go for me.
I found they never created a crusty exterior.
They were all squishy to the touch
They didn't achieve the caramelized, crunchy exterior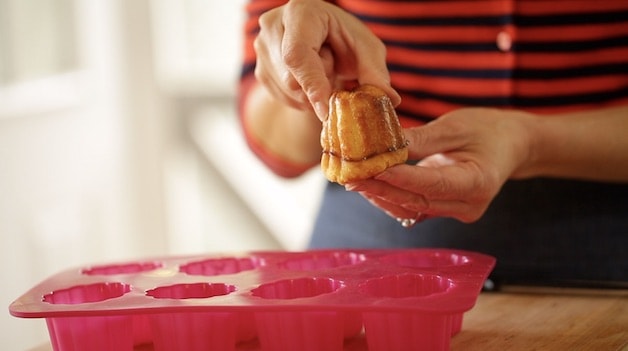 They even bent when I tried to slice them open....NEXT!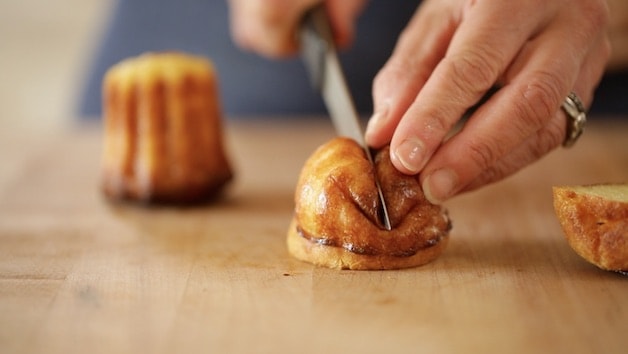 The Carbon Steel Pan: The Clear Winner!
This was the one pan that did create that glorious, crusty exterior was a non-stick, carbon steel pan
It also created nicely shaped canelés that were beautifully caramelized on the outside but delicately custardy on the inside
It also released easily. It was like magic!
It creates a wonderful hard shell that is beautiful and shiny just like the traditional caneles you see in the windows of Bordeaux bakeries.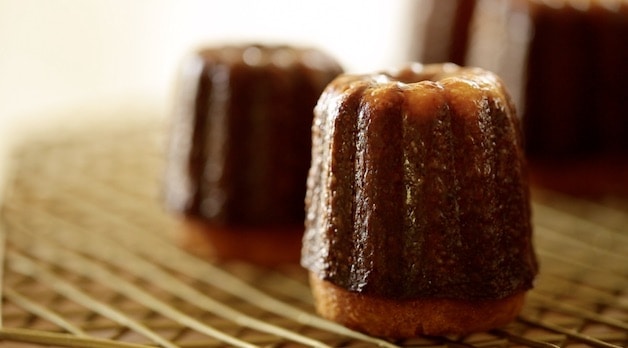 The insides were so light and custardy with impressive air bubbles!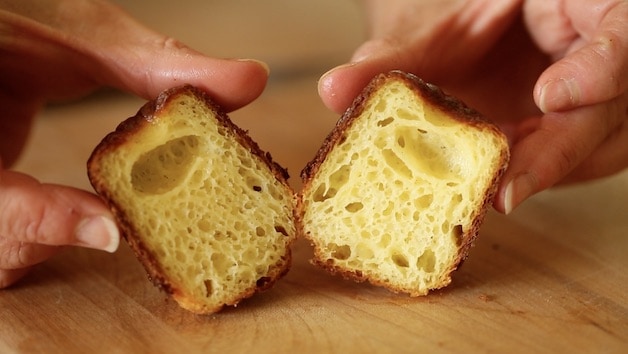 Step#2: Make the Batter
The batter is really easy to make and uses ingredients you probably already have on hand. Milk, butter, flour, eggs. The one exception would be the rum extract.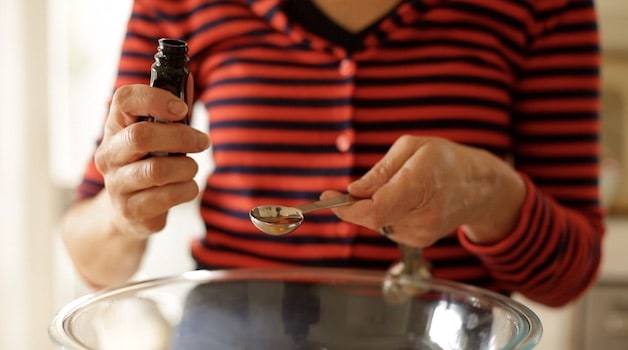 Rum Extract vs. Rum
I think you get better flavor from the extract and it's a lot cheaper than buying a full bottle of rum. Be sure to strain your batter through a fine-mesh sieve for the smoothest interior texture. You can also pop those vanilla beans back in with the batter. This will make the vanilla flavor even more pronounced.

Do You Really Have to Rest the Batter?
In a word. Yes.
What Happens If You Don't Rest the Batter?
Well, then you'll have more of a "popover" effect. The batter is not dense enough at this stage to form a proper canelé since the gluten in the flour hasn't had a chance to develop.
The result will be really weird, misshaped Canelés that look like this. Tasty, but strange!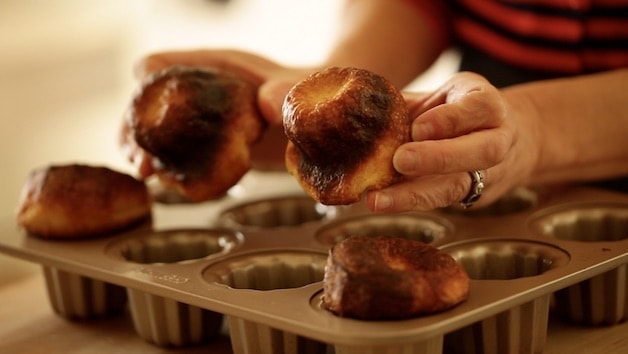 Step#3: Rest The Batter
Ideally, you should rest your batter for 48 hours. you'll get the best texture, shininess, and flavor this way. But if you can't wait that long, 24-hours will also yield good results.
Step#4: Spray The Pan
Even though the pan is non-stick, it also helps to spray it with baking spray. It creates a nice shiny exterior and will allow for easy release of the caramelized sides.

Fill to ¾ of the way for 6-8 large canelés. Fill halfway for smaller canelés. If making smaller ones adjust the baking time by about 5-8 minutes in the second wave of baking at 375F.

Step#5: Cool and Serve
Take the pan out of the oven, once the tops puff up and are golden brown. Then allow them to cool in the tin.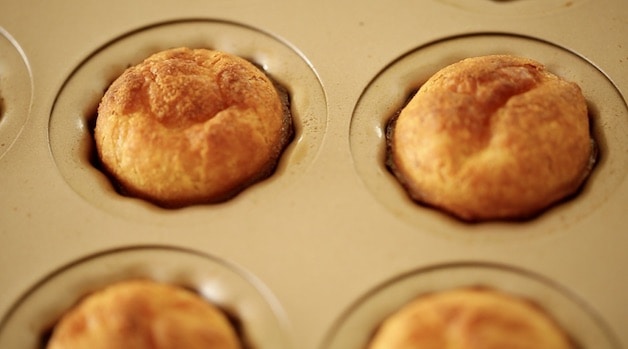 Then transfer the canelés to a cooling rack. They need at least 30 minutes to cool in order for their custardy interiors to set up.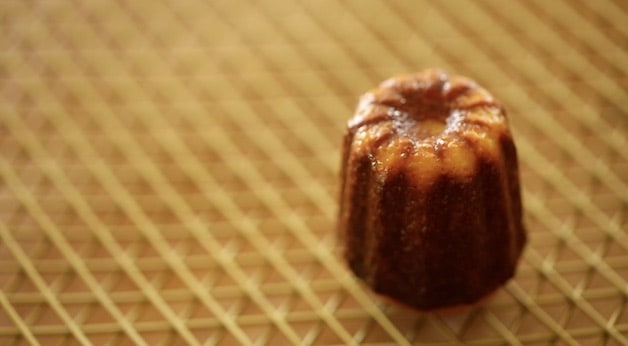 Serve on a pretty cake stand with coffee or tea! Enjoy!
More French Desserts!
Please let me know if you make this recipe
by leaving a rating and review below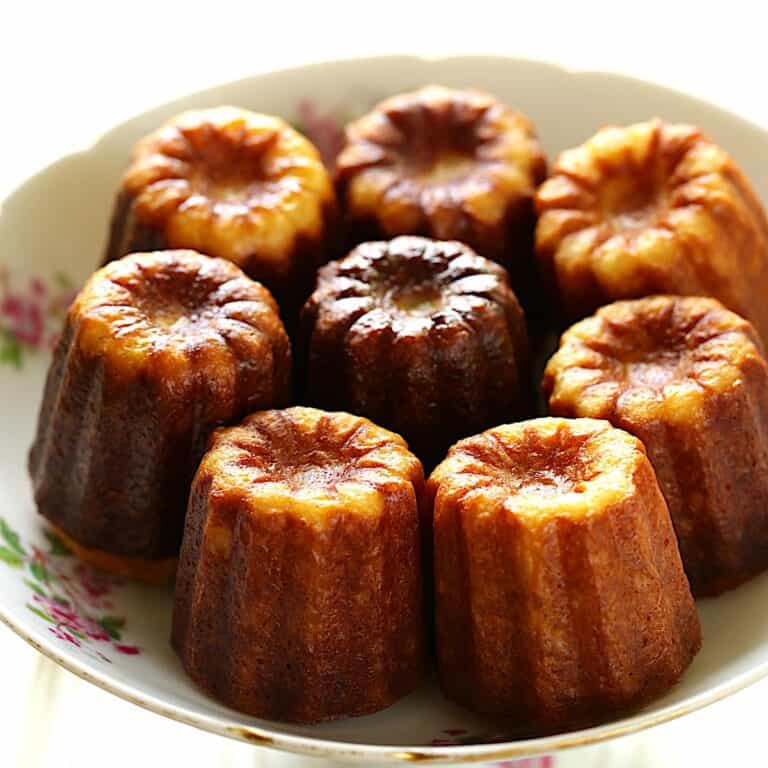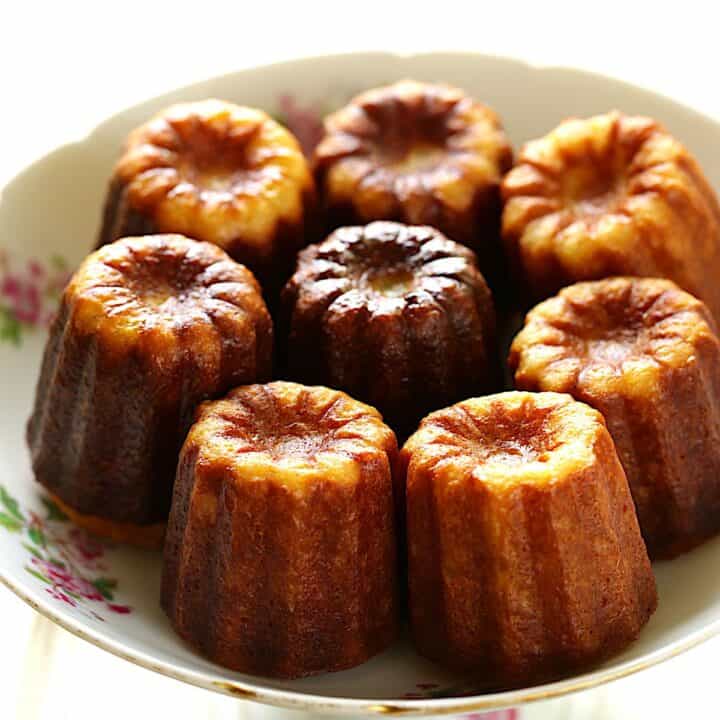 Canelé Recipe
Total Time:
1 day
1 hour
45 minutes
A delicious French dessert that is crunchy on the outside and custardy on the inside! A perfect sweet treat for afternoon tea or coffee.
Ingredients
2 cups (475ml) milk
1 vanilla bean
3 tbsp.(45g) butter (use salted butter inside The United States. Unsalted Outside the States)
½ cup (100g) sugar
3 egg yolks
½ teaspoon (2.5g) salt (increase to ¾ tsp/3.75ml if using unsalted butter)
1 ½ teaspoon (7.5ml) rum extract
1 cup (120g) of all-purpose flour
Instructions
In a large sauce pot combine the milk, the vanilla bean paste and pod, butter and sugar. Heat until butter is melted and vanilla seeds rise to the top. Remove vanilla pod and set aside.
In a large mixing bowl whisk together the egg yolks, salt and rum extract. Slowly temper the eggs by pouring a small amount of the warm mixture into the eggs whisking all the while, combining more milk gradually until all milk has been combined.
Slowly whisk in the flour just a little at a time, until all the flour has been incorporated. Strain mixture through a fine mesh sieve into a 4-cup Pyrex Pitcher. Add back in the vanilla pod for a deeper vanilla flavor. Cover and refrigerate for a minimum of 24 hours, but 48 hours is even better!
Pre-heat oven to 450F(232C). Spray the canelé pan with baking spray, distributing it well with a pastry brush.
Pour batter into canelé ¾ of the way full. Bake at 450F (225C) for 10 minutes. Then reduce heat to 375F(190C) and bake for 30-35 minutes more until tops are a rich golden brown.
Remove from the oven, allow to cool and then remove the canelés from your pan and flip upside down. Allow to cool completely before serving, this will set the centers.
Notes
These are best eaten the day they are made.
You'll get much better browning and release from the baking spray than butter. No need for the beeswax! I found it really hard to source and to know which variety was food safe.
These can be made ahead and frozen in an air-tight container or zip lock bag, then reheated in a 300F(148C) oven for 10 minutes to de-thaw and crisp back up.
Allow the batter to rest! This allows the gluten in the batter to develop. If you do not allow the batter to rest your batter will puff up to to point that you'll have more of a popover or like a Yorkshire pudding!
 The longer you allow the batter to rest, the shinier the exterior will also be on your canelés and the denser and more custardy your interiors will be also.
Nutrition Information:
Yield:

12
Serving Size:

1
Amount Per Serving:
Calories:

52
Total Fat:

1g
Saturated Fat:

0g
Trans Fat:

0g
Unsaturated Fat:

1g
Cholesterol:

46mg
Sodium:

2mg
Carbohydrates:

8g
Fiber:

0g
Sugar:

0g
Protein:

2g