As far as French recipes go, the chocolate soufflé is not as intimidating as it looks. They just require a few tips and tricks, and once you know the "road map" it's seriously smooth sailing! This is an easy chocolate souffle recipe because most of it can be made hours in advance.
And once you master the chocolate souffle, my Cheese Souffle Recipe is even easier! Or try my Egg Souffle Recipe for a fantastic brunch dish!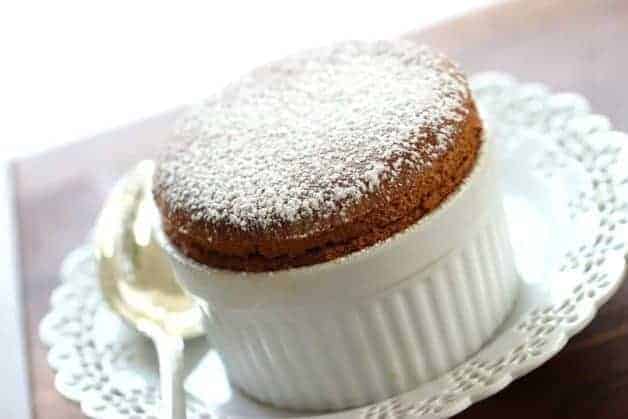 Do take the time to make the homemade whipped cream, the recipe is below. Store-bought whipped cream will be too sweet and is not pourable. I promise homemade whipped cream is so easy to make and tastes WAY  better. Once you make it yourself, you'll never go back to that stuff in a can.
Watch My Video Demo of this Recipe Below!
Subscribe to my YouTube Channel for more recipe videos!
Before You Begin:
In my opinion, the best soufflé dish for this recipe is an individual soufflé ramekin that is 8 oz/1-cup. This will get you the best portion size and assure they rise up to a nice height.
STEP#1: Grease and Sugar the Ramekins
This is an important step that should not be overlooked! The greasing of the ramekin helps release the soufflé after its baked. Otherwise, all that yummy chocolate will be baked onto the ramekin and it will be hard to get off.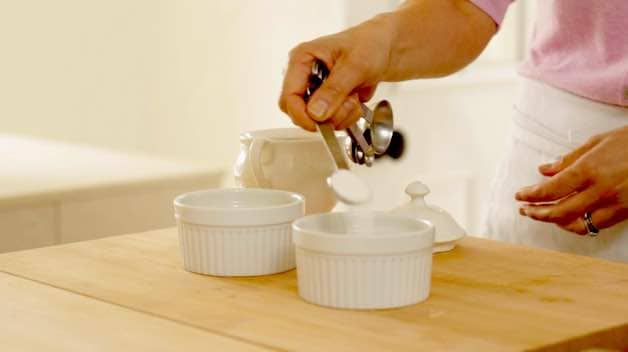 Add the sugar to the prepared ramekins and distribute it all around the base so that it's fully coated. The butter helps the sugar stick. The sugar gives the soufflé something to "grip" on to as it rises up.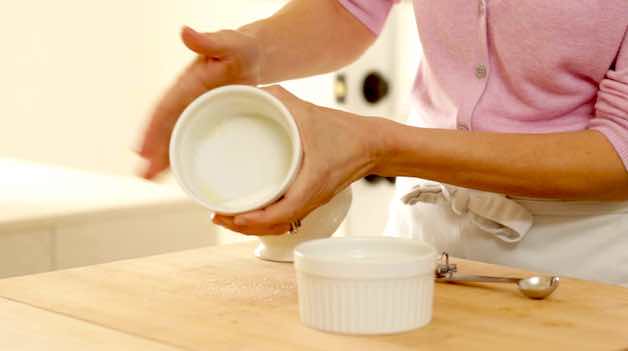 STEP#2: Make The Chocolate Mixture
The chocolate base is a mixture of bittersweet chocolate and butter, which you can melt together in a double boiler or in the microwave in a microwave-safe bowl.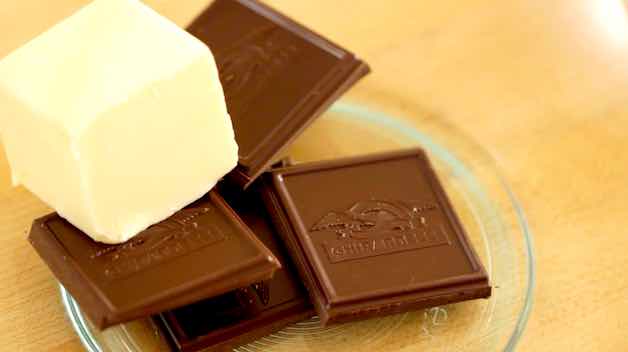 To the chocolate mixture, you'll add vanilla extract, salt, and 1 egg yolk.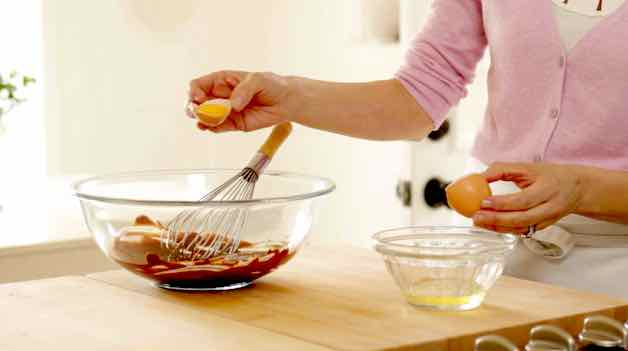 Can You Make a Souffle Batter In Advance?
Yes, the chocolate base of the souffle batter can be made in advance up to 1 hour before. Keep covered and rest at room temperature.
If it's going to be more than 1 hour, cover and place the chocolate base in the refrigerator until 30 minutes before you plan to bake. Then take it out to get to room temperature.
NOTE: See the recipe card below for specific instructions on how to time the other steps for optimal advanced planning!
STEP#3: Whip the Egg Whites
Place the egg whites in the bowl of a stand mixer (or in a large bowl and use an electric mixer).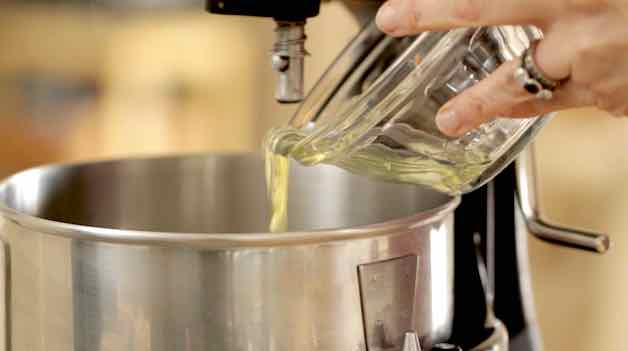 Once the egg whites become foamy and opaque, add the cream of tartar and slowly begin to add the sugar.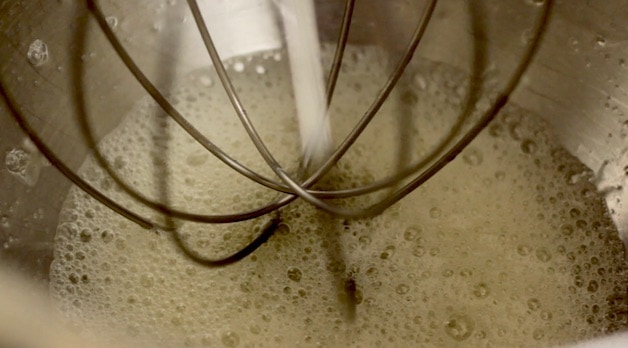 The sugar should be added a little at a time and while the machine is running. This will allow the egg whites to become stiff and glossy.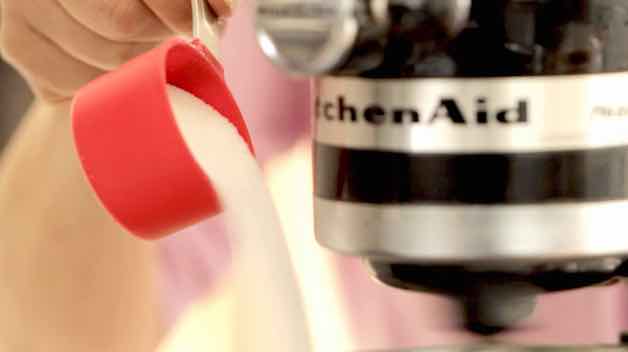 You'll know your egg whites have reached the ideal stiffness when they can hold a peak on their own, without drooping over.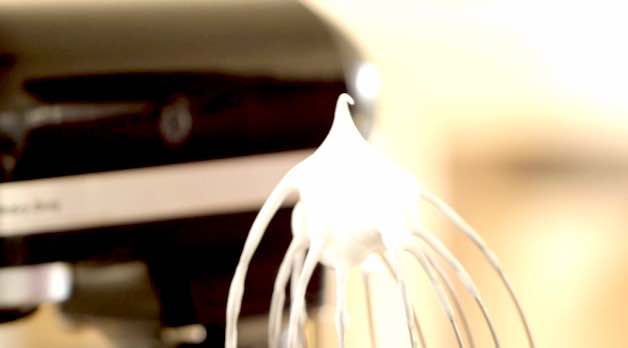 STEP#4: Fold the Egg Whites into the Chocolate Base
Add the egg whites, a little at a time, folding them in to "lighten" the weight of the chocolate base.
TIP: Folding can look like a figure-8 pattern. This helps you concentrate on gentle mixing which will help prevent your egg whites from falling.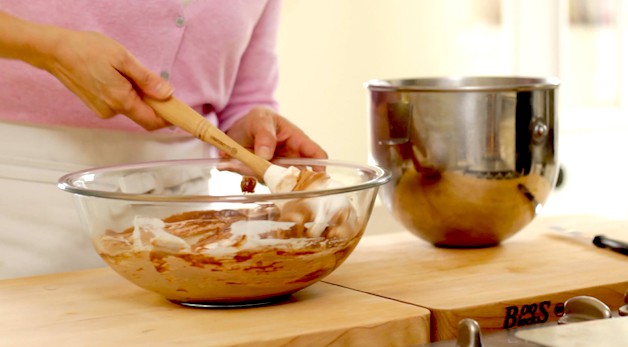 STEP#5: Fill the Ramekins
Scoop your soufflé batter into the prepared ramekins and go all the way up to the top.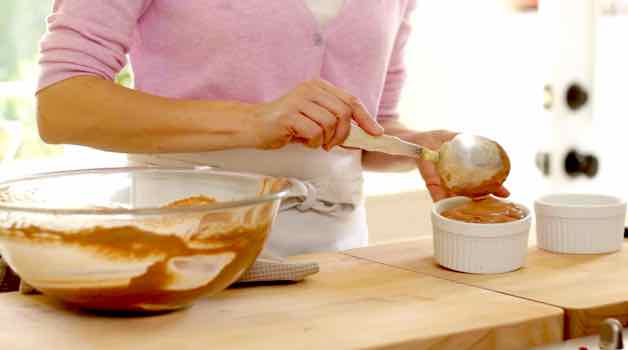 Level the batter out with a thin spatula.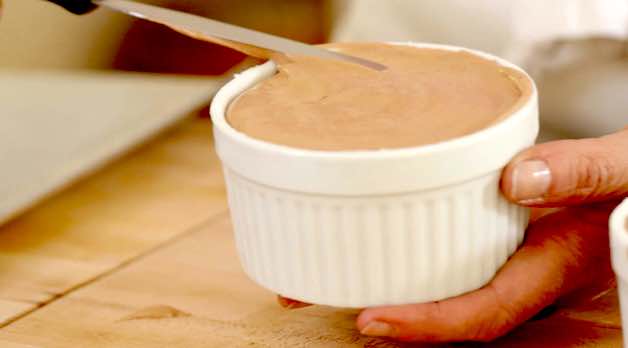 Here's the REAL tip to assure a great rise for your soufflé. Take your thumb and run it along the perimeter of the ramekin, turning the ramekin as you go. This will create a channel between the batter and the ramekin.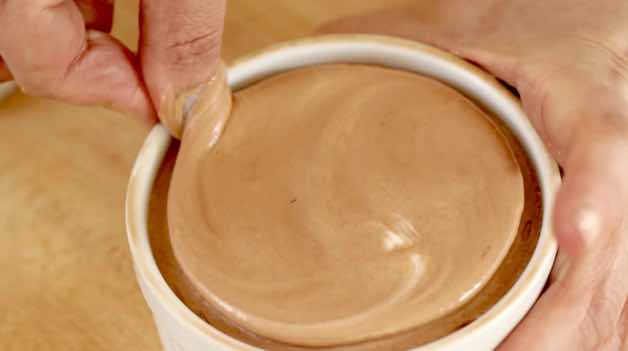 This channel will force the soufflé to rise up, creating a nicely risen top that is uniform in height.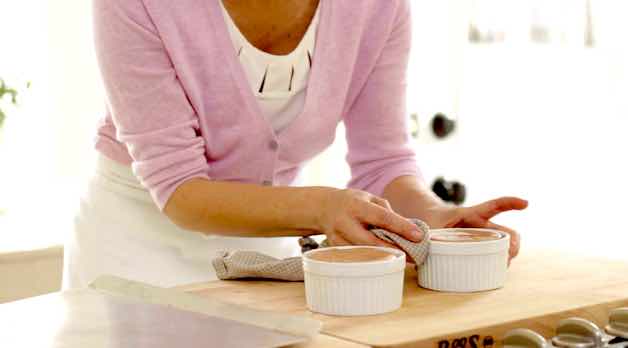 Clean the edges of your soufflé ramekin with a dishtowel. Remember your soufflés will be served oven-to-table so presentation counts!
How Long Does it Take for a Soufflé to Rise?
For this recipe, it can take anywhere from 13-15 minutes in a pre-heated oven at 400F. It goes quickly because there are only two soufflés you are baking and the oven temperature is high.
TIP: It's a good idea to place an oven thermometer in the back of your oven to assure your oven is in fact running at temperature and is truly heated to 400F.
How Do You Know When a Soufflé Is Done?
DO NOT OPEN THE OVEN DOOR to check and poke it with a toothpick! This will deflate your soufflé and ruin all your hard work! Instead, turn on your oven light and look at them. They should look like this picture below. Risen at least an inch above the ramekin with nice smooth tops.
TIP: Do not go over 15 minutes or the soufflés will keep rising, crack, split apart, and flop over. So timing is everything!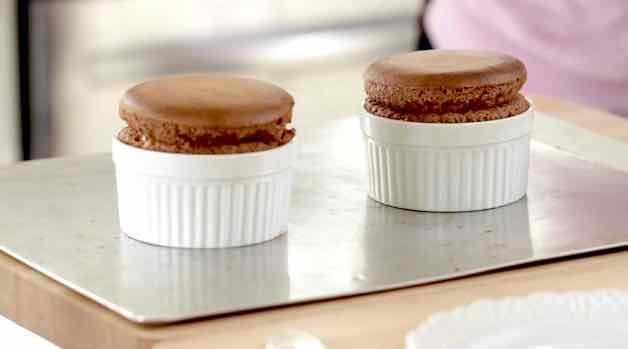 Why Did My Chocolate Soufflé Fall? 
Well, there could be a few reasons. Here are the most common reasons below.
Someone opened the door to the oven! Use your oven light to spy on them, no door opening!
Not using the cream of tartar. Cream of tartar is an acid that helps to stabilize your egg whites and prevents them from falling. Yes you can substitute it for another acid like fresh lemon juice, but I find the cream of tartar is more consistently "foolproof"
You didn't whip your egg whites into stiff enough peaks. They were more like soft peaks. So they didn't have enough enough "strength" to withstand the folding stage
You stirred too much in the folding stage. Remember gentle figure-8 patterns and no streaks
Your oven was set for 400F but wasn't running at 400F. This is a little known issue about ovens. Very rarely are home ovens calibrated correctly. Meaning you set it for 400F but inside it actually only reaches 350F. I know?! Right?! Don't worry, this can be fixed with an oven thermometer. If your oven runs cool, just set it for a few degrees higher (whatever degrees it's off) until you see your oven thermometer registering at 400F.
You waited too long to serve them. Speed in serving is the name of the game. So, 5 minutes before they will be done, get everyone to the table. Have your plates, whipped cream, and powdered sugar out and be ready to go. That way when they come out of the oven, there is no delay, straight to the table they go!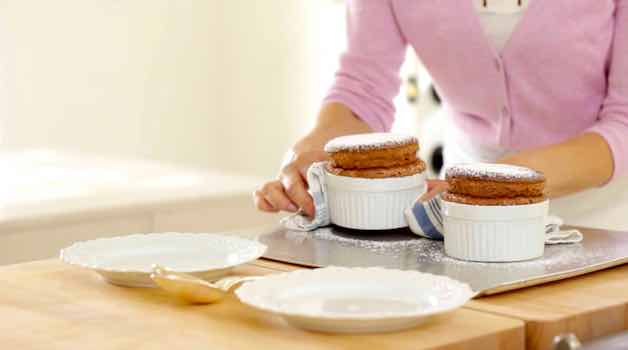 TIP: The best way to transfer your hot soufflé from the baking sheet to a plate is with a clean, dry dishtowel. This method allows for greater precision in transferring without damaging the tops of your soufflé.
I've damaged too many tops with clumsy oven mitts!
STEP#7: Make the Whipped Cream
Make my homemade whipped cream to go with this. It's SO easy to do, and way better than store-bought! Homemade whipped cream also provides the right consistency, which for a soufflé should be pourable.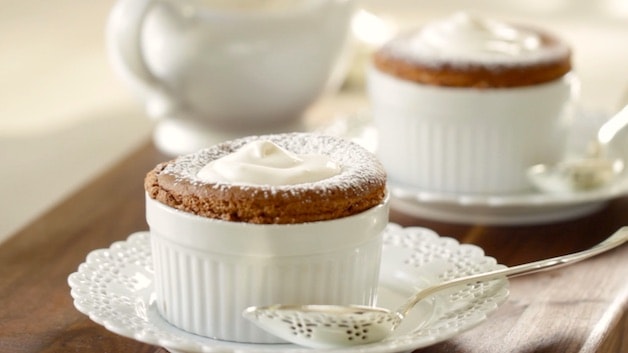 How To Serve a Chocolate Soufflé
The best way to serve a soufflé is to gently pull apart the center with two spoons to create a little crater in the center.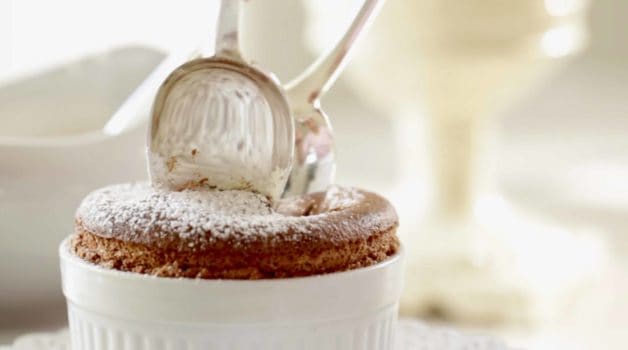 Then pour the homemade whipped cream inside. The cool whipped cream is a wonderful compliment to the piping hot soufflé underneath. It also balances out the richness of the chocolate.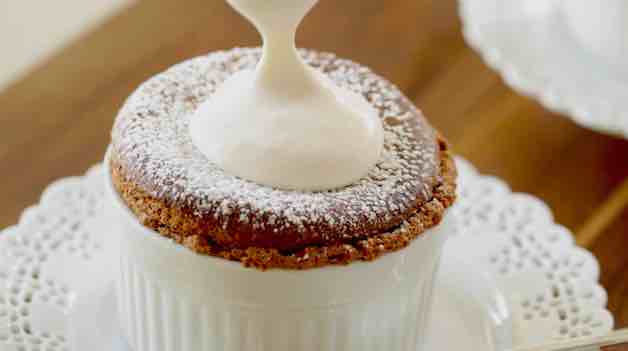 This makes one fantastic Valentine's Day dessert that really isn't that hard to master if you take the time to break down the prep and follow my tips! Happy Valentine's Day everybody! xx
More Great Valentines Desserts! 
Please let me know if you make this Souffle Recipe
by leaving a rating and review below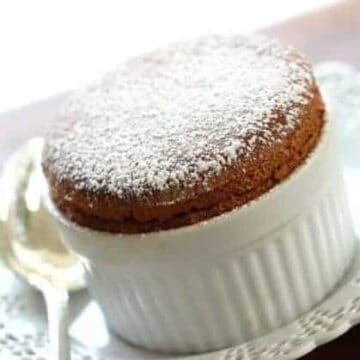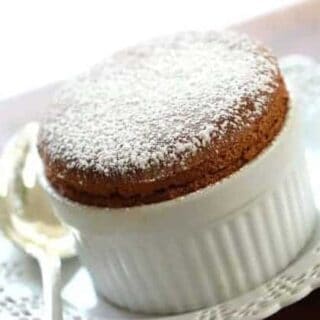 Foolproof Chocolate Soufflé
A foolproof chocolate souffle recipe that can be made ahead of time!  This easy chocolate souffle recipe is a great dessert idea for Valentine's Day or a special anniversary dinner!
Ingredients
1 tablespoon (15 g) butter, melted
4 teaspoon (20 ml) sugar
For Base:
1 egg yolk
2 oz (56 g) bittersweet chocolate
3 tablespoon (45 ml) butter
½ teaspoon (2.5 ml) vanilla extract
Large pinch of salt
For Meringue:
2 egg whites
¼ cup (50 g) sugar
½ teaspoon (2.5 ml) cream of tartar or 1 teaspoon (5 ml) white vinegar
For Whipped Cream:
1 cup (240 ml) heavy cream
1 teaspoon (5 ml) vanilla extract
1 tablespoon (7 g) powdered sugar (icing sugar or confectioner's sugar)
Instructions
Brush each ramekin with the melted butter. Then place the 2 teaspoon of sugar in each ramekin, covering all sides. Pop in the fridge.
Melt chocolate and butter in a microwavable bowl until melted. Whisk to combine. Then add 1 egg yolk, vanilla and salt. Whisk until combined. Keep on counter at room temperature. If you need to make it more than 1 hour ahead, do so but pop in the fridge until ready to bake.
Preheat oven to 400F (200C) While the oven preheats, whip the egg whites. Once foamy add cream of tartar. Once opaque slowly add the sugar while the whites whip to stiff peaks and glossy.
Then place one dollop of whites into the base and fold to lighten the base. Then fold the rest of the whites in thirds, folding the whites being careful not to over mix and deflate your whites.
Remove ramekins from the fridge and using a large spoon dollop the mixture into each ramekin filling all the way to the top. Smooth off with a spatula so you have a flat consistent top.
Run your thumb along inside of the ramekin, all the way around, creating a little channel around the soufflé. This will allow your soufflés to rise higher in the final baking stages and prevent tops from cracking. Then clean the edges off with a dish towel.
Place soufflés on a cookie sheet and pop in the oven. Bake for just 13-14 mins until soufflés have risen and tops are slightly browned.
Meanwhile while soufflés bake, whip together heavy cream, vanilla and sugar until soft peaks form and cream is still pourable. Transfer to a serving bowl.
When soufflés are done remove from oven, dust with powder sugar and serve immediately.
Poke holes in the center of the soufflé with a spoon and serve a dollop of whipped cream inside.
Notes
Make the base ahead. If using in less than an hour, leave on counter. If it will be more time, pop in fridge. When sitting down to dinner, remove and allow to come to room temp.
Don't skip the sugar coating. Coating each ramekin with the sugar, allows the egg mixture something to cling to as it rises up in the oven. It also gives a nice crunchy sweetness to the soufflés after it's baked.
Position oven rack on the lowest rung position. This will allow for your soufflés to bake a bit longer and rise up more, while making sure the tops don't burn in such a hot oven.
Right before you sit down to dinner do these 3 things:
1.) remove the base from the fridge rest on counter to allow it to come up to room temperature if you've refrigerated it.
2.) Place egg whites in a bowl so they come to room temperature and will be ready to be whipped.
3.) Measure out your sugar and have cream of tartar ready (or vinegar)
After dinner is over, preheat oven to 400F (200C).
It's a good idea to to place an oven thermometer in the back of your oven to assure your oven is running at temperature and is in fact heated to 400F.
The whipped cream should be pourable so it's easy to pour into the soufflés. If you've over whipped it, just add more heavy cream to loosen it.
Nutrition Information:
Yield:

2
Serving Size:

1
Amount Per Serving:
Calories:

144
Total Fat:

10g
Saturated Fat:

6g
Trans Fat:

0g
Unsaturated Fat:

4g
Cholesterol:

111mg
Sodium:

135mg
Carbohydrates:

8g
Fiber:

0g
Sugar:

6g
Protein:

6g