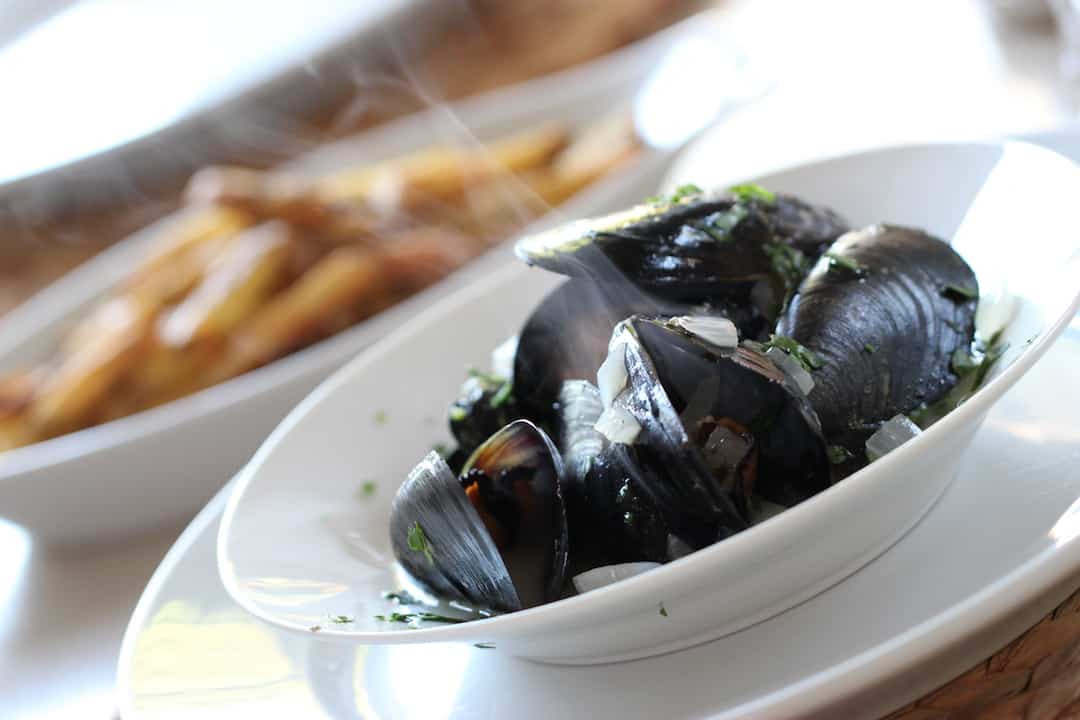 I fell in love with "Moules Frites" one chilly Christmas break when my husband and I spent a few days in Brussels. I have never felt cold like that before! And we took refuge in these little restaurants that specialized in serving these delicious briny morsels piled high with hand cut fries.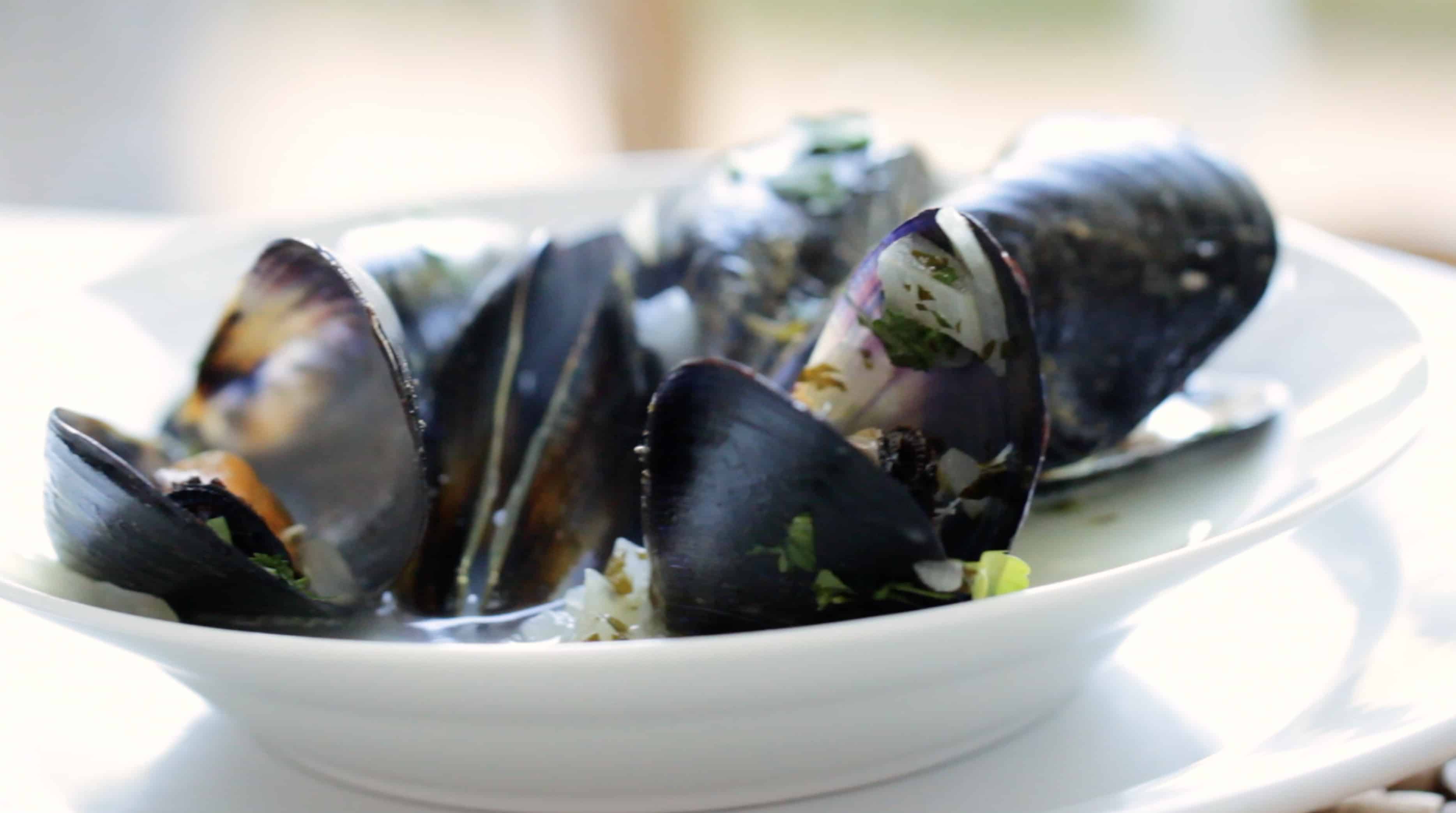 Most people think of mussels as a summer treat to enjoy, but really mussels are best served October through March since that's when they are in season and you can typically find them readily available at your fish counter. I think they also make a lovely dish to serve for a special occasion like New Year's Eve.
Moules Frites is actually an easy recipe to make at home, especially if you go the route of the "Cheater French Fry".  Just look for the "hand cut" frozen fry, doctor them up with olive oil, sea salt and Herbs de Provence before baking et voila! Instant French Fry success without all the time, effort and let's face it, mess.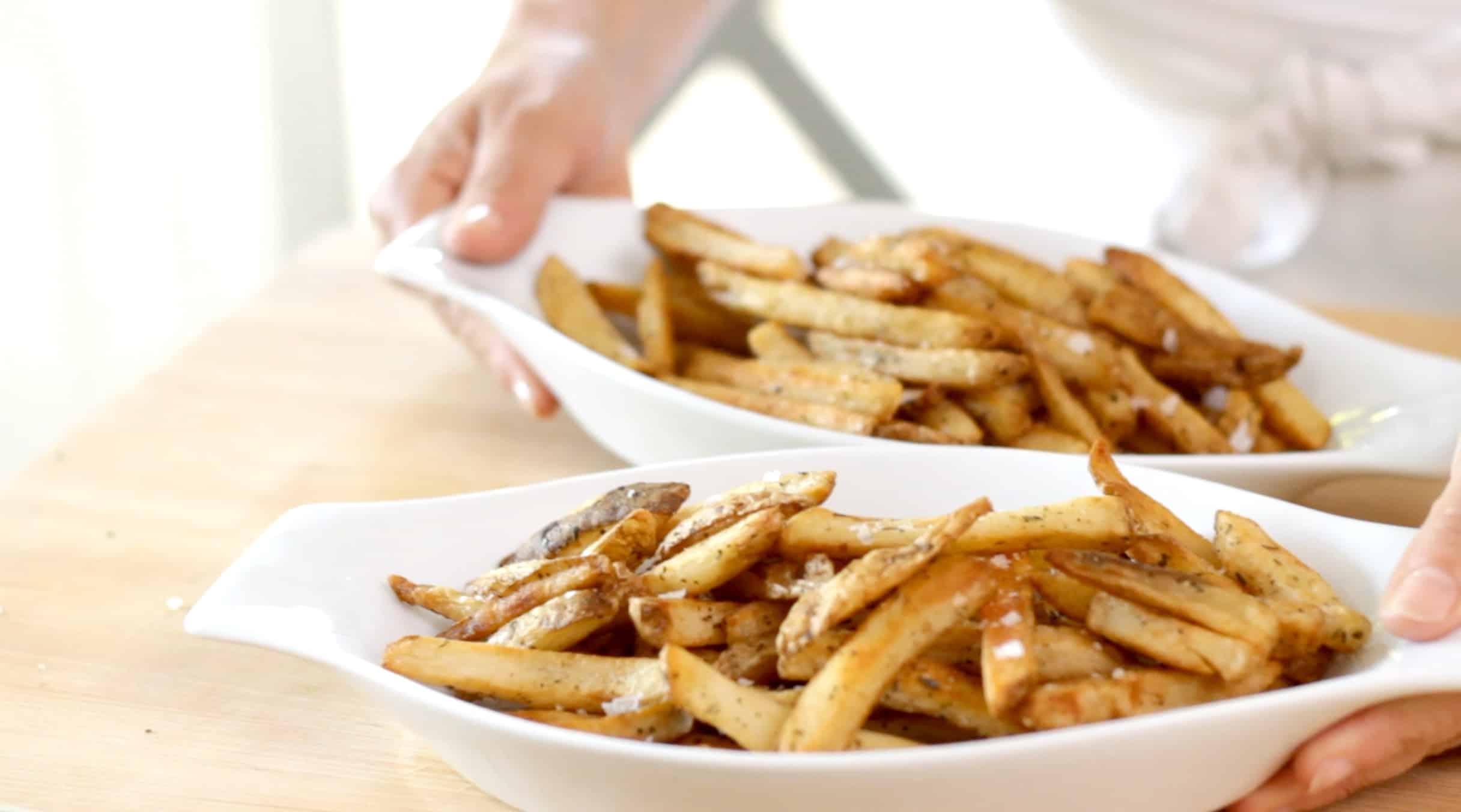 I really love these Simply Fries by Ore Ida, they are really pretty convincing!  And the best frozen fry I've found. I also love how they still have some potato skin on them which makes them even more believable! Look for the Olive Oil and Sea Salt variety, I think they are the best.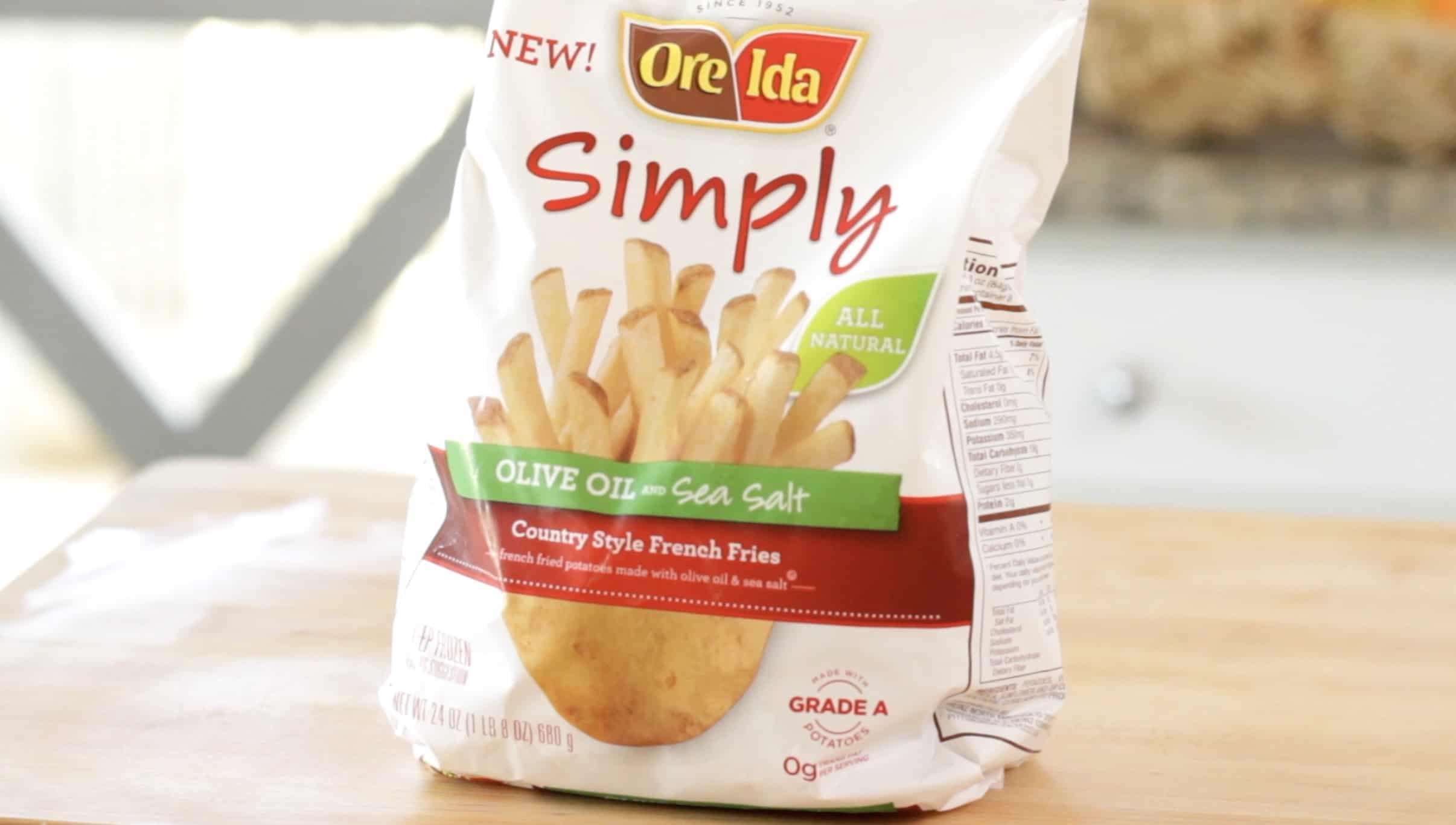 Eating Moules Frites can be a bit messy, but that's also part of the fun!  I like to set the table with brand new blue and white dish towels, as I think they make the perfect napkins for this.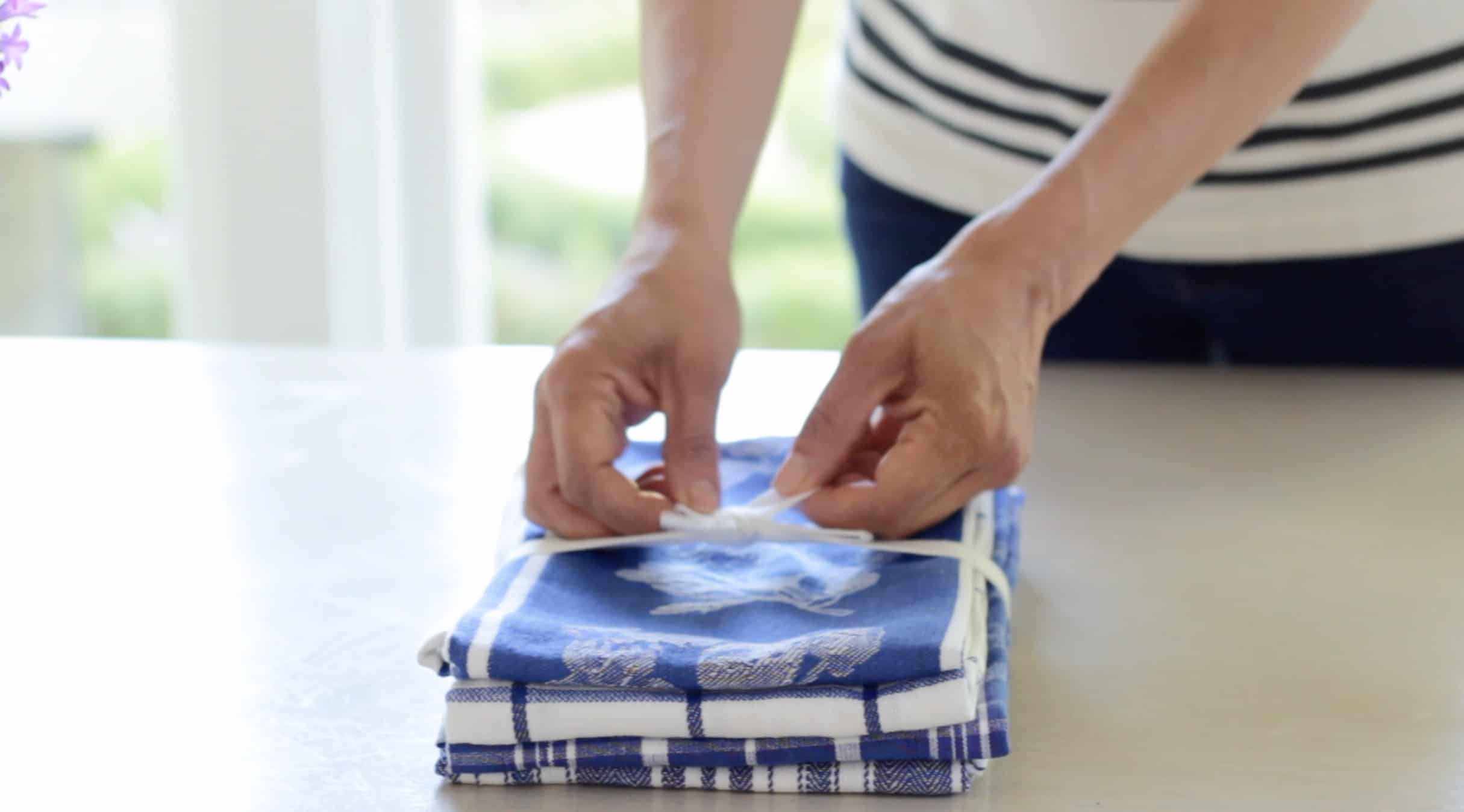 The blue and white mis-matched designs will add a fun "nautical theme" to your table and after the party you can wash them and use them as dish towels.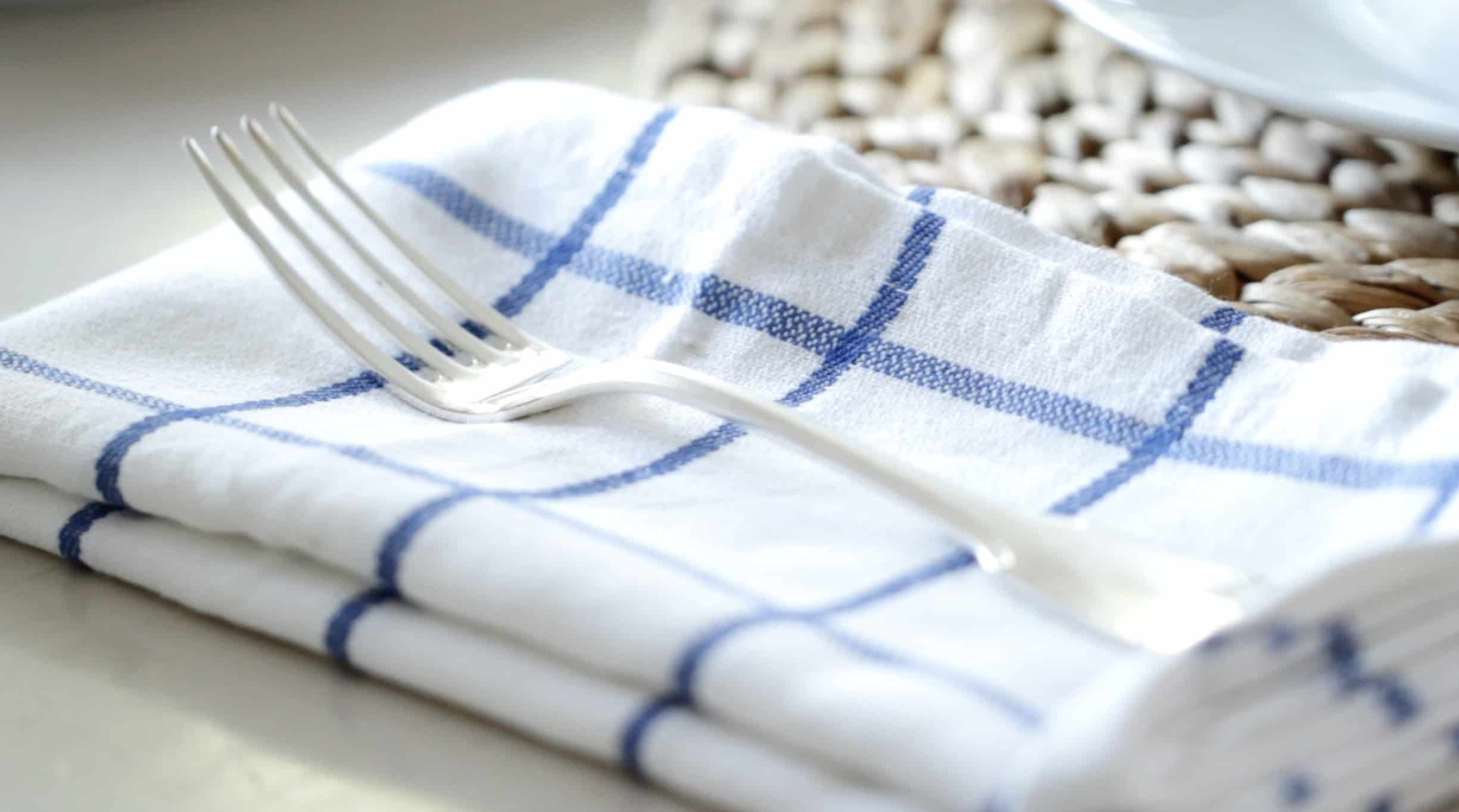 I think switching the patterns up is a fun way to add a bit of whimsy to your table and it's typically how dish towels are sold too, so why make it more complicated than it needs to be!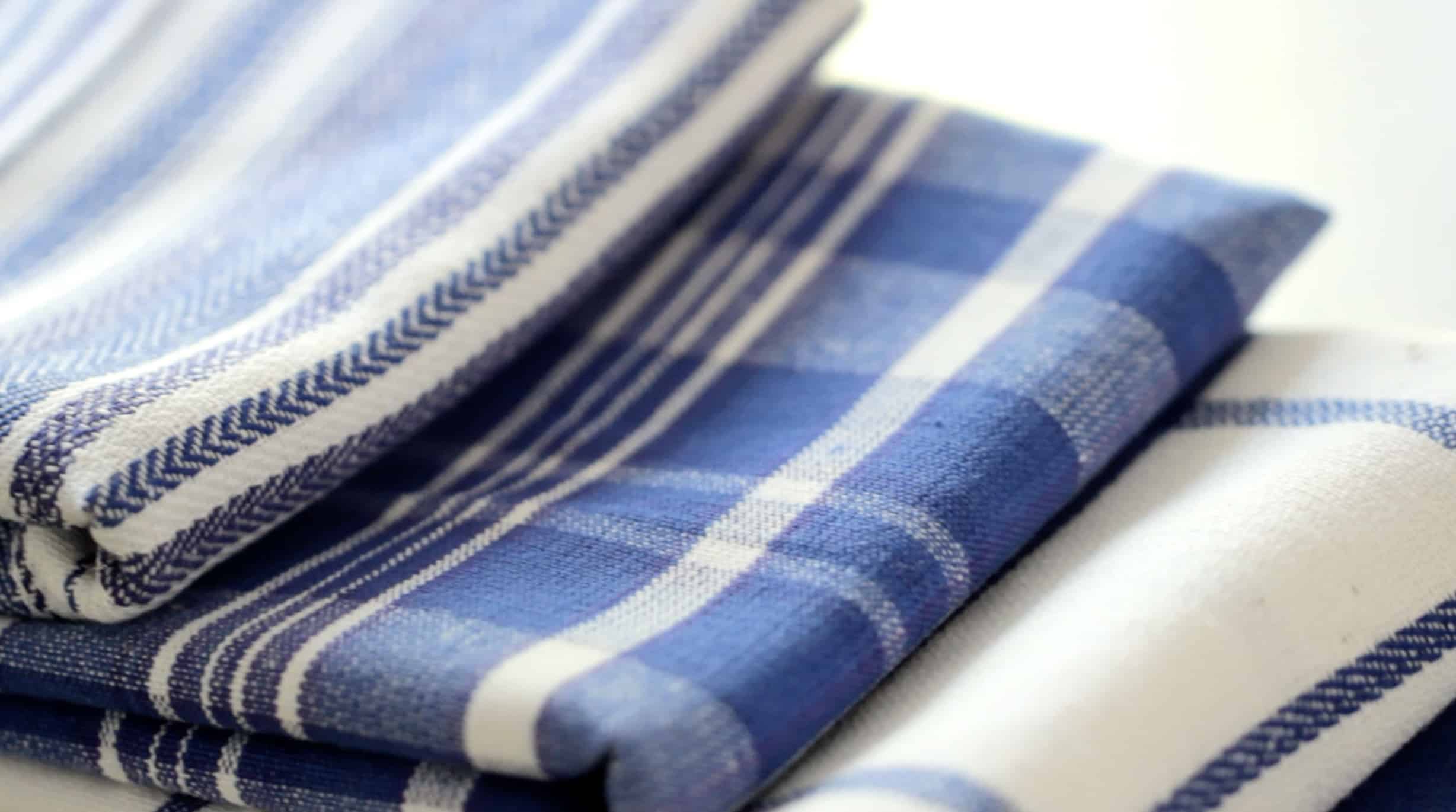 For a step-by-step demo of this recipe and all my tips regarding how to buy, prepare and eat a classic moules frites watch my video below!
CLICK HERE TO SUBSCRIBE to my YouTube Channel and never miss a recipe! (It's free!) and new videos post each week.
Looking for some great French Desserts to pair with this meal?  Might I suggest a classic Chocolate Pot de Creme or perhaps my Foolproof Chocolate Souffle!
Print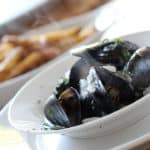 Easy Moules Frites
---
Author:

Prep Time:

45 mins

Cook Time:

30 mins

Total Time:

1 hour 15 mins

Yield:

serves 4

Category:

Main

Cuisine:

French
Ingredients
MOULES:
2 ½ pounds (1130 g) of fresh mussels
2 tbsp (30 g) salted butter
¼ cup (60 ml) parsley, minced (+1 tbsp (15 ml) for garnish)
1 cup (150 g) white onion, diced
1 cup (240 ml) dry white wine (muscadet, pinot grigio, chardonnay)
1 tbsp (15 ml) heavy cream
"CHEATER" FRITES
1 ½ lbs (680 g) of frozen fries (Highly recommend the Ore Ida country style Simply Fries with olive oil and salt)
1 quick drizzle of olive oil
1 tsp (5 ml) Herbs de Provence
½ tsp (2.5 ml) Maldon sea salt to garnish
---
Instructions
To clean. Place mussels in a large bowl of water and rub them together to remove any sand. Then drain and repeat. Remove the beards off the mussels and place mussels in a colander. Discard any that are already opened. It means they are "dead" and NOT SAFE to eat.
Keep them in the colander, placed in a bowl underneath to catch any more water that drain, and pop in the fridge until ready to use.
mins before you are ready to eat, prep your "frites". Take the frozen fries place them single layer on a pan, toss with a good drizzle of olive oil and 1 tsp (5 ml) of herbs de provence. Give them a good toss and pop in a 425F oven. Set the timer for 10 mins. At that point flip them and toss around so they brown on all sides. Set the timer for another 5 mins. And go start on the mussels.
In a large stock pot melt the butter and parsley. Add the onion and cook until soft and fragrant. Add the wine and cook for 1-2 mins until alcohol mellows.
At this point, turn your fries again and set the oven to 200F to keep them warm and allow them to crisp up.
Then go back to your stock pot and add the mussels and place the lid on and cook for 5-6 mins or until or the mussels have opened. Discard any that haven't opened. And stir in 1 tbsp (15 ml) of heavy cream. Leave them in the pot to "hang out" while you get the fries ready.
Place the fries in individual bowls or gratin dishes and sprinkle with the Maldon sea salt. Place a portion of fries at each table setting.
Then serve the mussels with a slotted spoon into shallow bowls, and top with some of the sauce and garnish with fresh parsley.
Add a large bowl to the table for collecting shells. Serve with a light French wine like Muscadet or Sauvignon Blanc