Orange Pecan Crumb Muffins
This Orange Pecan Crumb Muffin is a fantastic muffin recipe for fall! They are light and fluffy and so moist! They also have a wonderful flavor combination between the orange zest, ground cloves, and crumb topping. They are a delicious weekend treat to celebrate the coming flavors of fall.
They also freeze beautifully too making a "freshly-baked" muffin just seconds away on a busy weekday morning!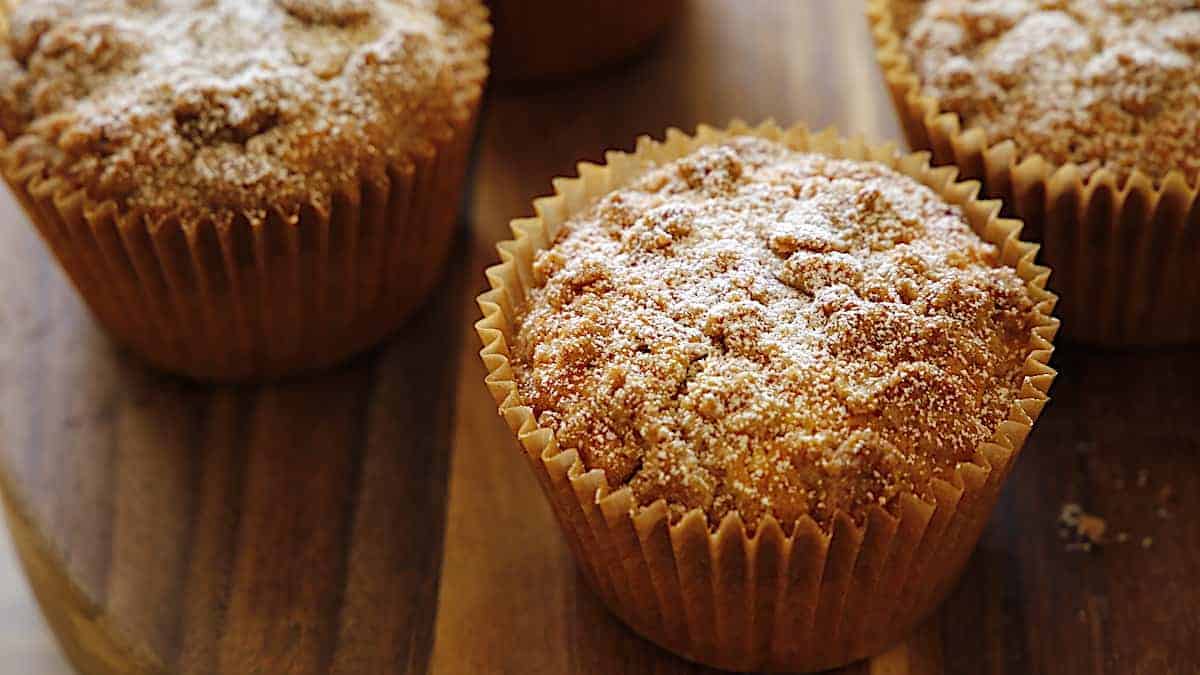 Why You'll Love This Recipe:
The best part about this muffin recipe because all you'll need are two bowls and a whisk. No need to drag out the electric mixer and clean one more kitchen gadget. These muffins are as low tech as it gets and so delicious for fall!
They remind me of those little crumb cakes we used to buy as kids at the gas station, but way better! The muffin below is tender and moist and flavored with a hint of orange and cloves and butter pecans. It's the perfect fall treat to kick off the season!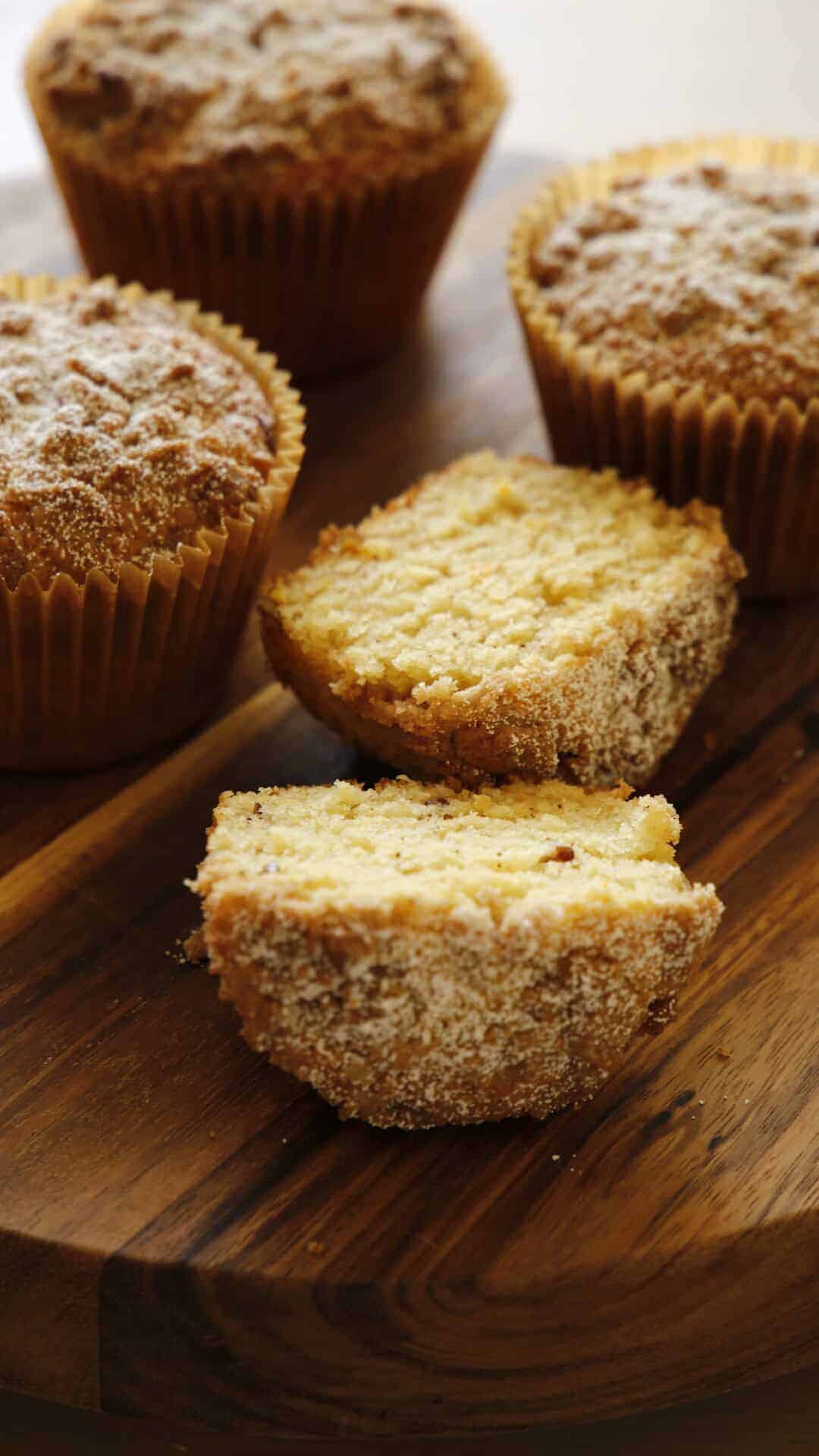 Use Parchment Papers
When shopping for muffin papers look for the beige parchment variety. They'll blend in nicely with the color of the muffins and once you dust them with the powdered sugar they will make for a prettier presentation. If making these for Christmas morning, look for the gold foil cupcake liners, they'll add a nice festive touch.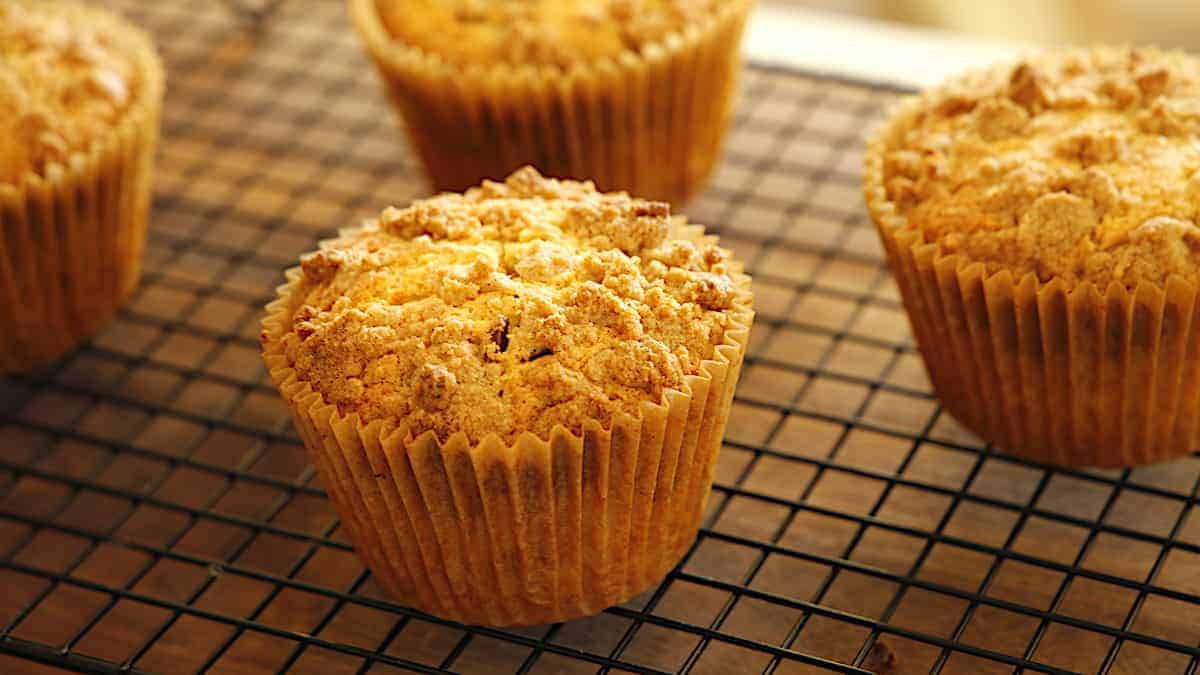 The Secret Ingredients for Lighter Muffins
For some reason, many of us have been brainwashed to believe that butter and milk are essential ingredients for the best muffins. But I say it's the combination of oil and water that makes for the lightness, most delicate muffin crumb! Resist the temptation to tweak this recipe and add milk instead of the water of butter instead of oil. You'll see why and thank me later! It's the same technique that makes my Classic Blueberry Muffins and Cappucino Muffins also so incredibly moist, light, and fluffy!
I also find it's the combination of sugars that makes a big difference too! I like to use both white and brown sugar and maple syrup for the best flavor.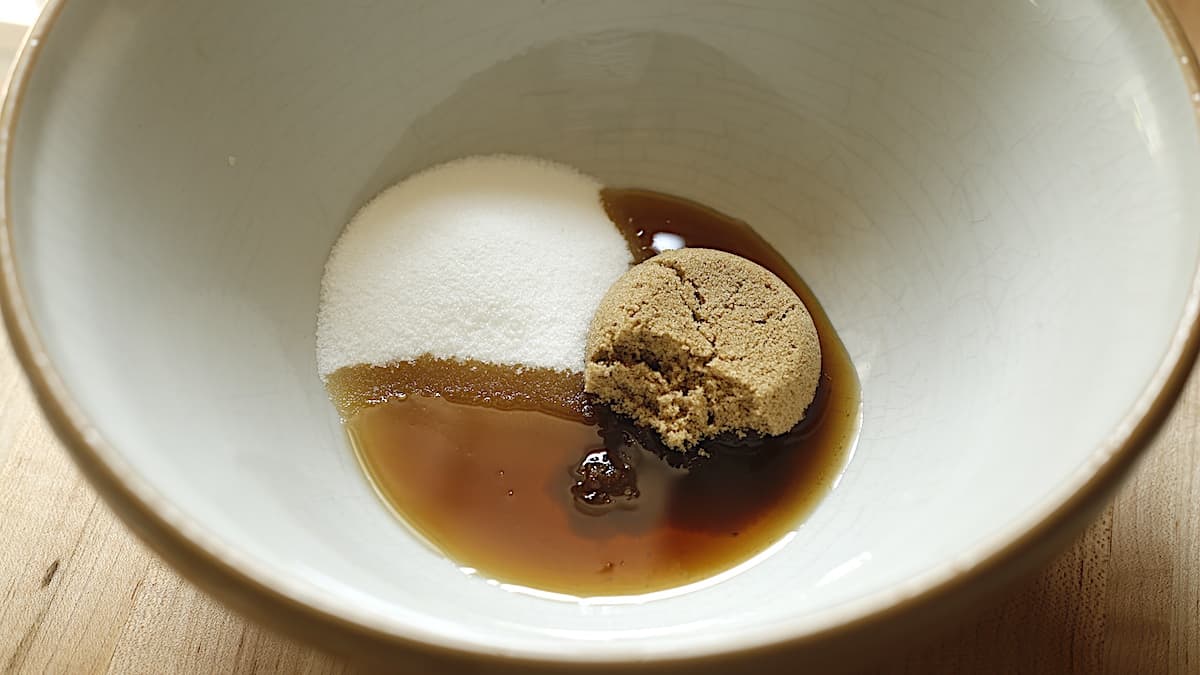 The other thing that really sends these muffins over the top is the orange zest! The combination of the zest, the cloves, and pecans just screams fall! Try and use a grater that is on the wider side, that will give you the best chunks of orange zest which will produce the strongest flavor.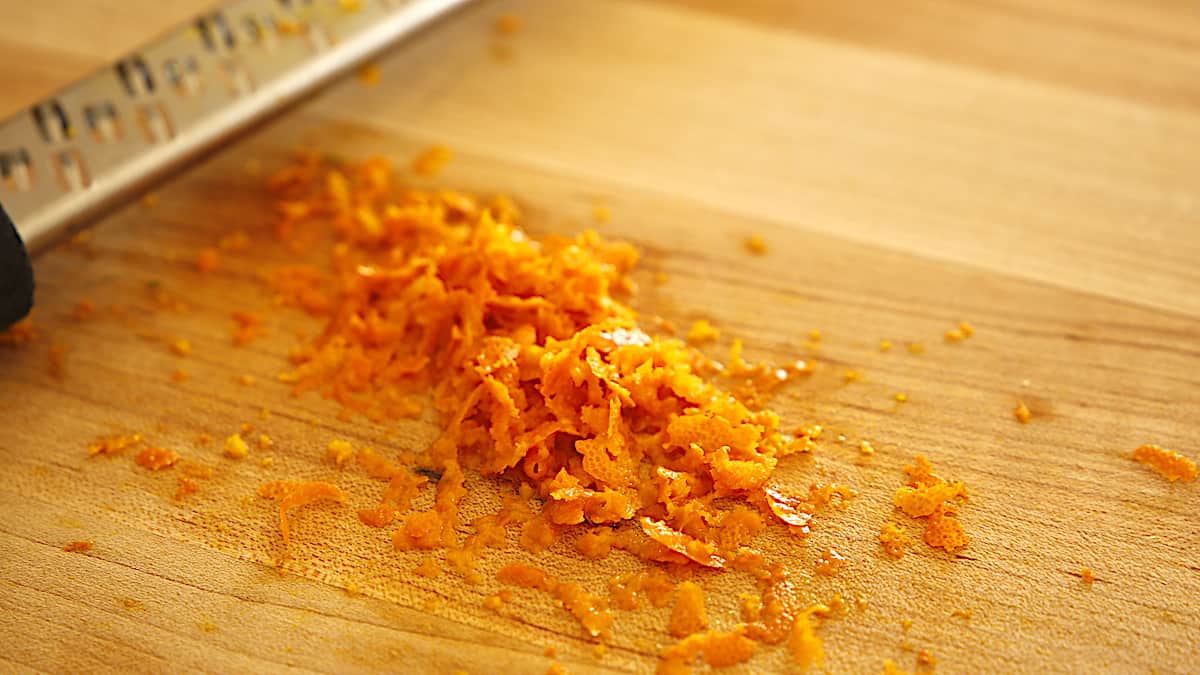 It's All About the Cloves
One of the things that makes these muffins such a wonderful treat for fall and the coming holiday season, is the ground cloves. The combination of orange, cloves, and pecans just scream fall and no other spice (cinnamon, nutmeg, etc) does quite the same thing. If you have run out of ground cloves, it's worth heading to the store to get some because it's really what sends these muffins over the tp.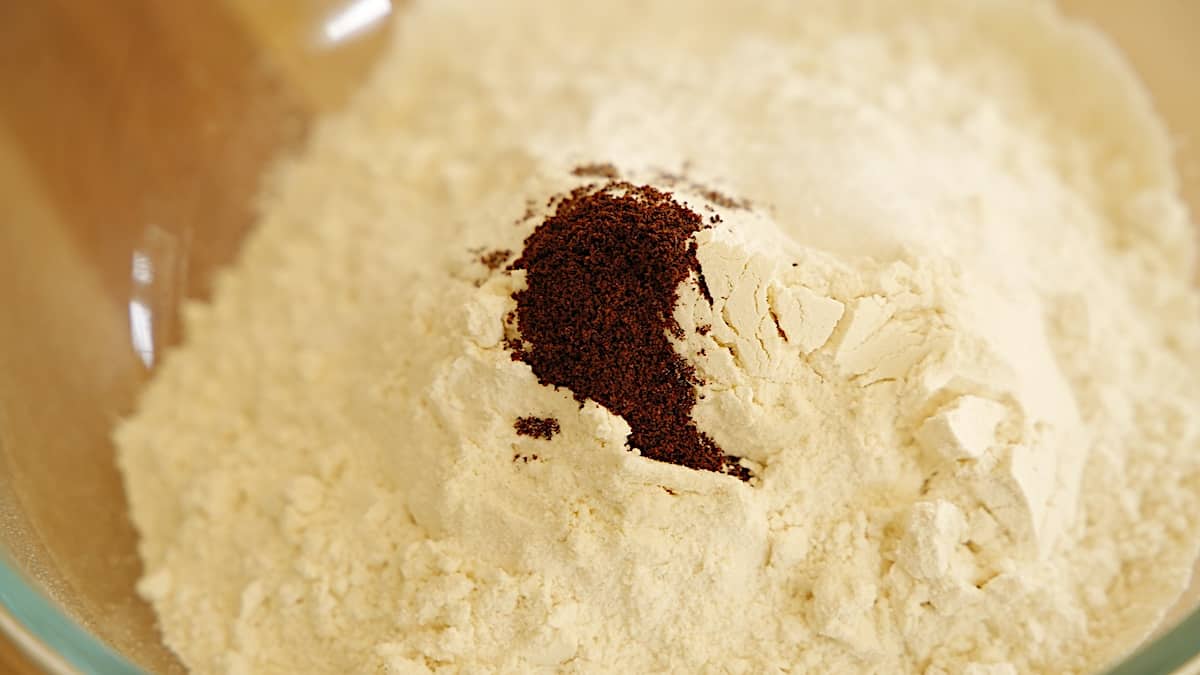 Don't Overmix!
Muffins, are essentially mini cakes, and you don't want to overmix them once you add the dry ingredients, or it will create a tough texture. To prevent overmixing, I use a Danish dough whisk. They are somewhere between a whisk and a spoon, that will mix your batter up well without overmixing it the way a traditional whisk may do. They are also great for making scones and pizzas dough too!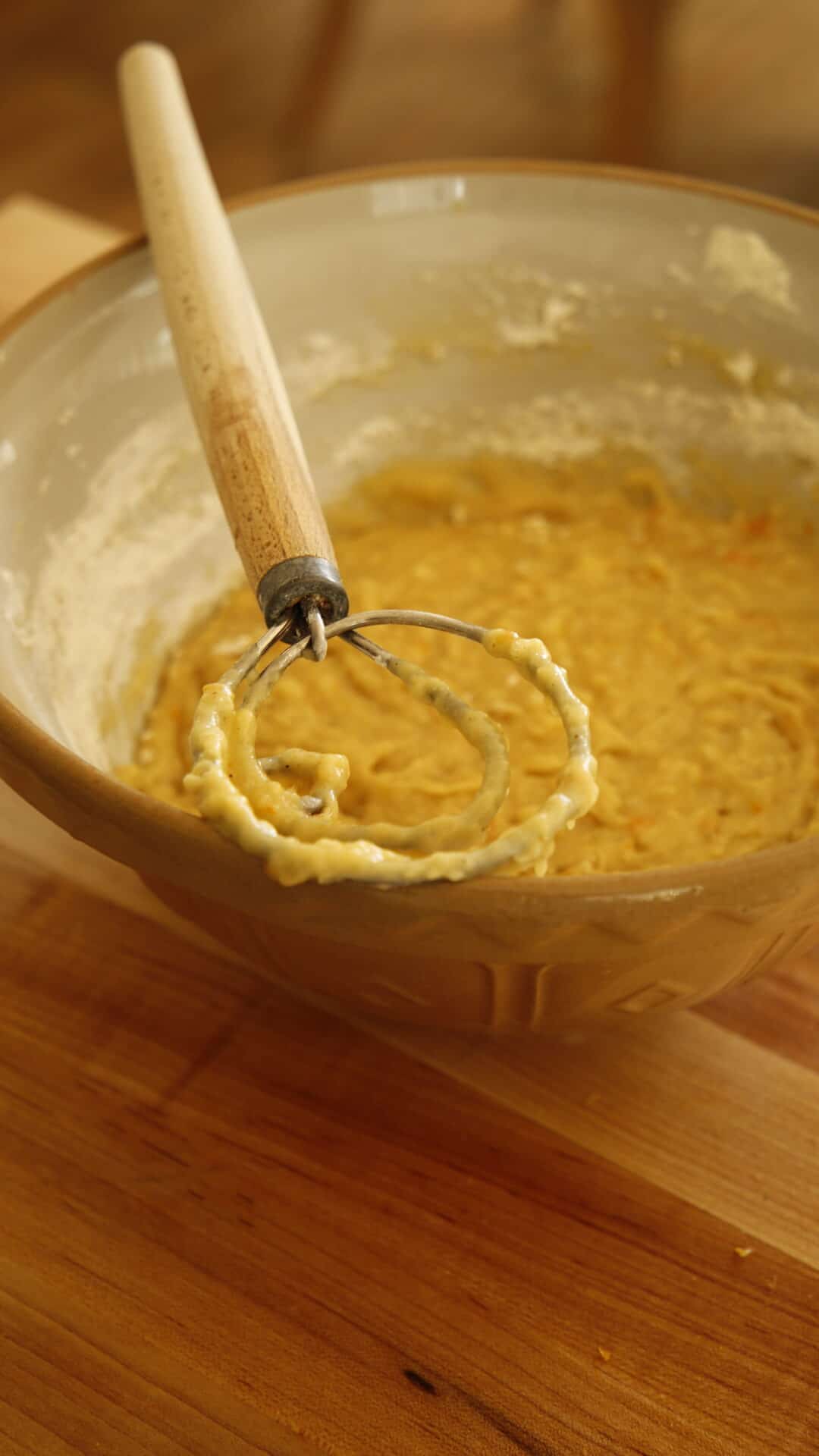 These muffins have such a fantastic texture and flavor for fall. Between the orange, cloves, and pecans inside and the chewy, crunchy, crumble on top, they are just the perfect little treat to welcome the new season! For another great fall muffin recipe try my Apple Crumb Muffin.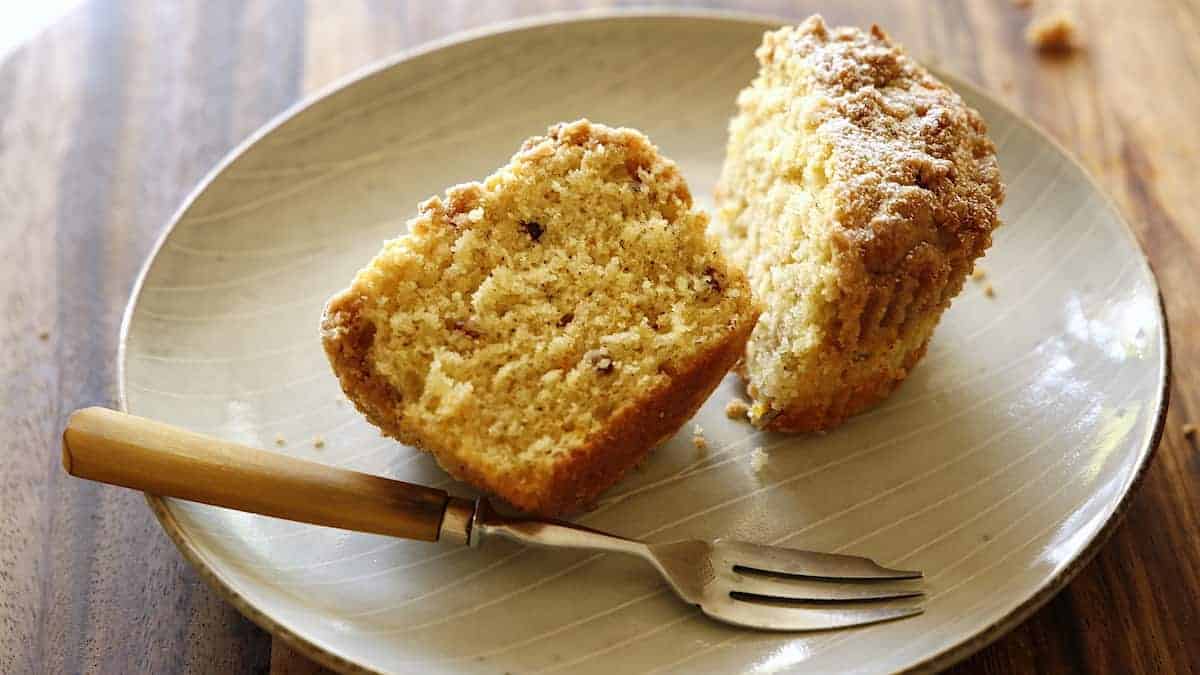 How To Store Muffins
These muffins freeze beautifully! Allow them to cool completely and then transfer to a Ziploc bag and place in your freezer. They will last up to 3 months. To reheat, place them on a plate in the microwave for 40-:45 until warmed through.
This is another reason to avoid the metal liners with this recipe since it will be hard to reheat them in the microwave that way.
MORE MUFFIN RECIPES YOU WILL LOVE!
If You Enjoyed This Recipe
Please Leave a Rating and a Review Below!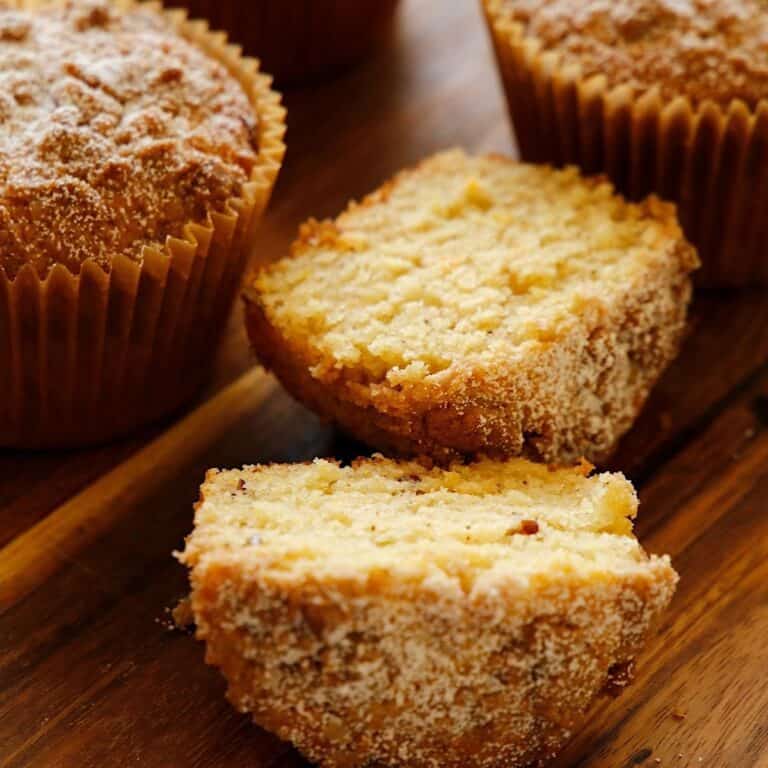 Orange Pecan Crumb Muffin Recipe
Yield:
12 muffins or 6 Jumbo Muffins
Total Time:
1 hour
10 minutes
You will love this recipe because all you'll need are two bowls and a whisk. No need to drag out the electric mixer and clean one more kitchen gadget. These muffins are as low tech as it gets and so delicious!
Ingredients
2 eggs
¼ cup (50g) sugar
¼ cup (45g) brown sugar
3 tablespoon (45ml) maple syrup
¾ cup (180ml) melted butter
¼ cup (60ml) of vegetable oil
1 tablespoon (15ml) orange zest
½ cup (120ml) orange juice
½ cup (120ml) water
2 cups (240g) all-purpose flour
2 teaspoon (10ml) baking powder
½ teaspoon (2.5ml) salt
¼ teaspoon (1.25ml) ground cloves
½ cup pecans (75g) chopped
For Crumb Topping:
3 tablespoon (37g) sugar
3 tablespoon (34g) brown sugar
6 tablespoon (90g) flour
¾ teaspoon (3.75ml) cinnamon
4 tablespoon (60ml) melted butter
½ teaspoon (2.5ml) baking powder
Garnish:
A dusting of powdered sugar
Instructions
Preheat oven to 400F (200ml). For the crumb topping, whisk together the sugars, flour, baking powder and cinnamon. Add the butter and stir together with a fork until a crumb topping forms. Set aside.

In a large bowl whisk together the eggs, sugars, maple syrup, butter, vegetable oil, orange zest and juice, and water. Set aside.
In a medium-sized bowl whisk together the flour, baking powder, salt, and cloves.
Add the dry ingredients, in thirds, to the wet ingredients, whisking gently until just combined.
Do not overmix.
Stir in the pecans.
Line a 12-cup muffin tin with muffin papers (or a jumbo muffin tin with 6 wells) with papers. Fill the batter in the muffin tin about ¾ of the way full. Top with the crumb topping.
Bake for 25 minutes. Once cool enough to handle, transfer muffins to a cooling rack and dust lightly with powdered sugar.
Notes
These muffins freeze beautifully! Allow them to cool completely, then place in a ziplock bag and freeze. Reheat in the microwave for :30-:45 until warmed through.
Nutrition Information:
Yield:

12
Serving Size:

1
Amount Per Serving:
Calories:

233
Total Fat:

6g
Saturated Fat:

3g
Trans Fat:

0g
Unsaturated Fat:

2g
Cholesterol:

43mg
Sodium:

68mg
Carbohydrates:

43g
Fiber:

1g
Sugar:

21g
Protein:

3g