If you ever wondered if you could make a truly decent French Baguette at home, the answer is YES you can! I love this bread recipe because it takes minimal ingredients (most of which you probably have on hand) and in less than 2 hours you can fill your kitchen with the most intoxicating aroma of homemade bread!
Looking for another quick and easy bread recipe? Try my homemade Focaccia Bread with Caramelized Shallots and Thyme.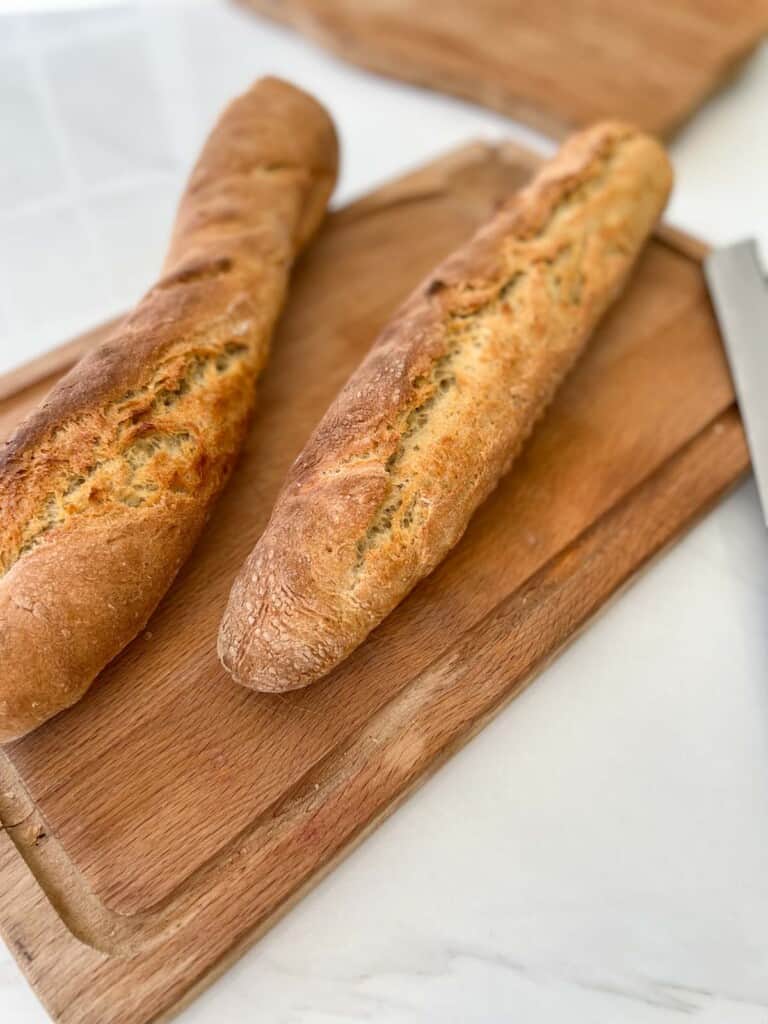 I became intrigued with homemade bread after I made this no-knead cinnamon raisin bread in a Dutch oven. This is a great recipe if you want most of the rising to happen while you sleep! The same goes for my Overnight Cinnamon Roll recipe.
But I was always a little intimidated by baguettes, because they seemed so, well, complicated. That is until I went to visit a Moulin in France, bought some of their flour, and tried it in my French kitchen at Maison Coli. Et voila! Success! So much easier than I thought!
Now back in the States, I've tried it again with bread flour and I'm happy to say the US-made baguettes are just as good!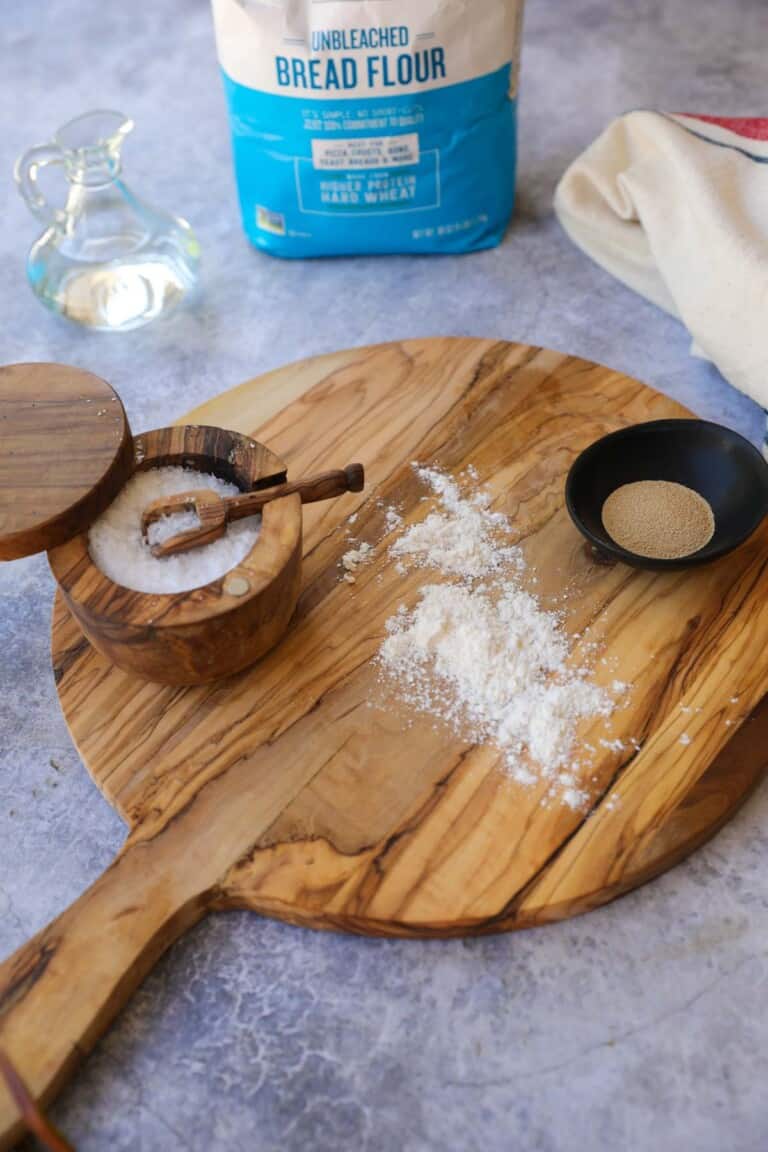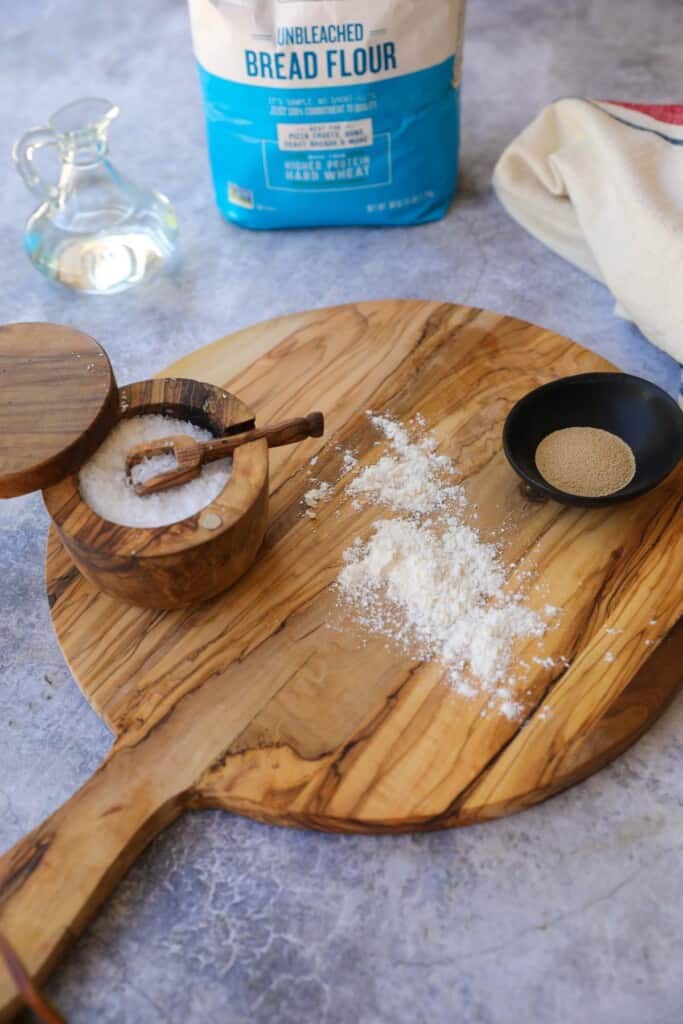 Ingredients
Bread Flour has a higher protein count than all-purpose flour, the extra protein, gives greater strength to your dough and will also help it rise.
Salt so your bread has flavor! I use Kosher salt.
Luke Warm Water should feel like comfortable bath water between 110F-115 degrees Fahrenheit. If the water is too cold, then the yeast won't activate. Too hot and you'll kill the yeast. So stay somewhere in this range and you'll be good!
Yeast I use a full packet of active yeast (approximately 1 ¾ teaspoons)
Olive Oil for greasing your bowl while the dough rises. It will prevent it from sticking too much to the bowl.
Step One: Weigh the Flour
For this recipe, it's best to weigh the flour in order to get an accurate quantity. Too little flour or not enough flour can make a difference in the final result, so it's best to weigh it first. I really love the OXO Kitchen Scale I find it's one of the easiest to use!
Dissolve the yeast in water
The water should be lukewarm, within the temperature range of 110-115F. Allow it to sit for 5 minutes. The yeast should become cloudy and a bit clumpy at the surface. Then you know it's ready to use. If nothing happens, it's best to throw it out and buy fresh yeast.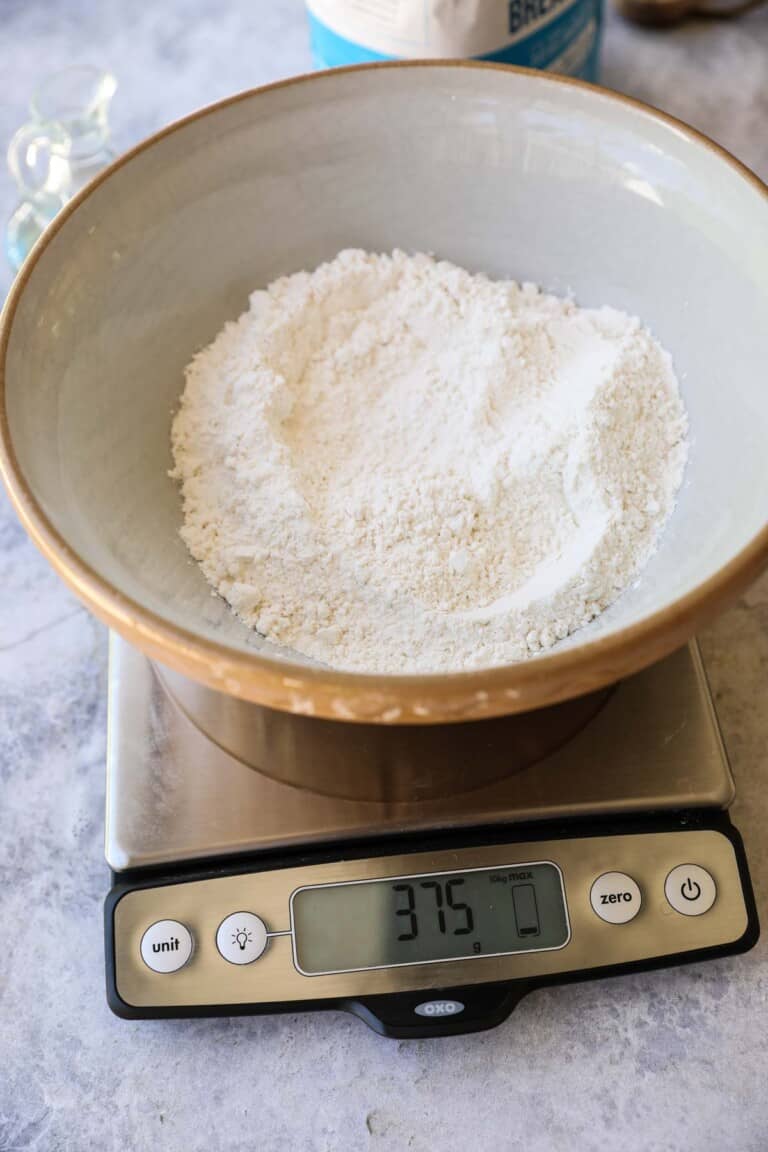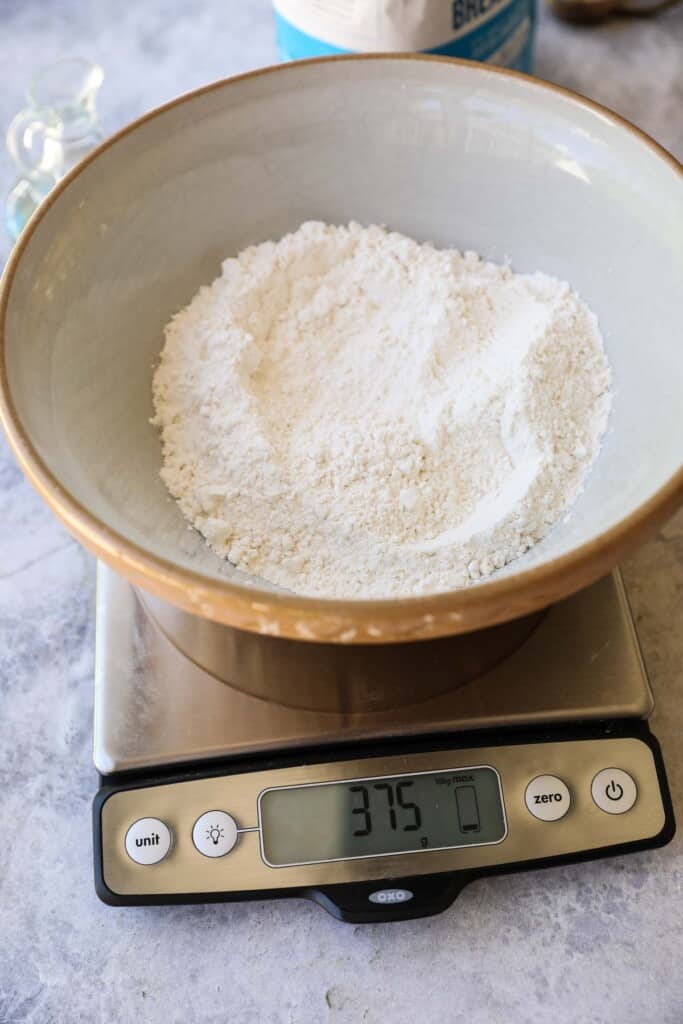 Step 2: Combine the Flour and Yeast
Pour the yeast solution into the flour and stir to combine. I really love using a Danish Dough Whisk for mixing any kind of dough. It makes the dough easier to form, and doesn't over or under-mix it. It's also super handy for mixing Pizza Dough, Scone Dough, or for mixing up the dough for my Pumpkin Cinnamon Roll Loaf.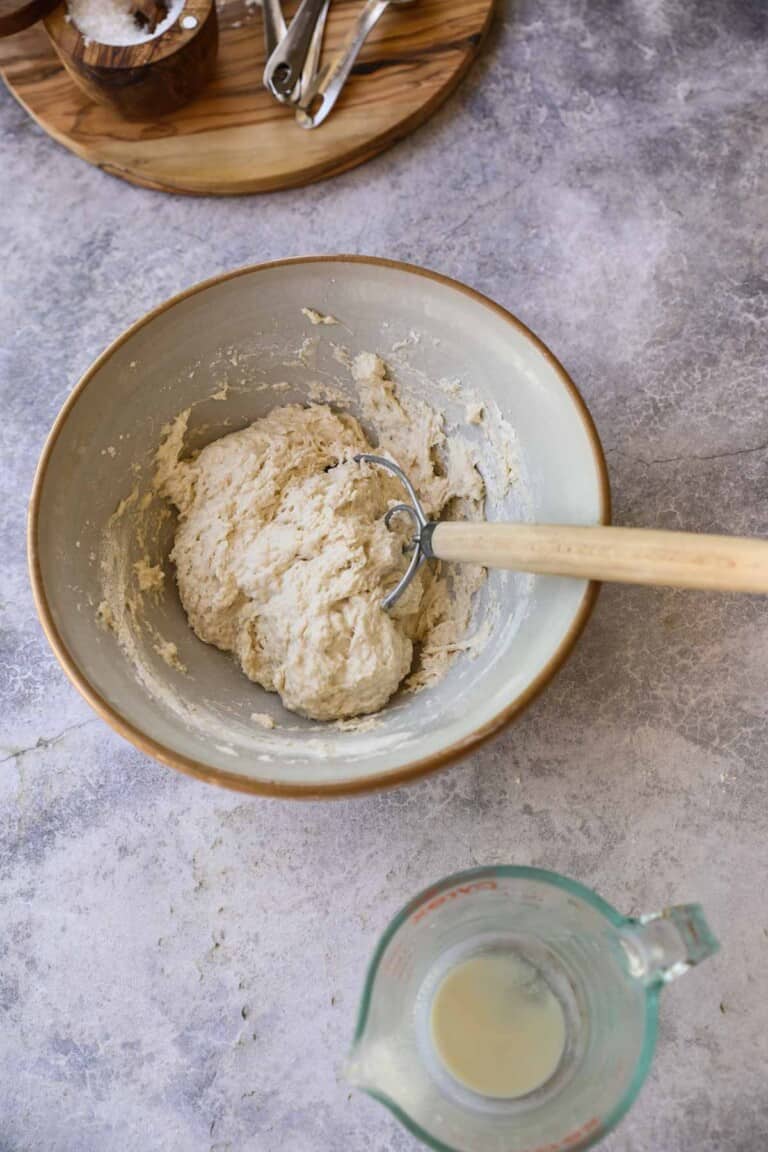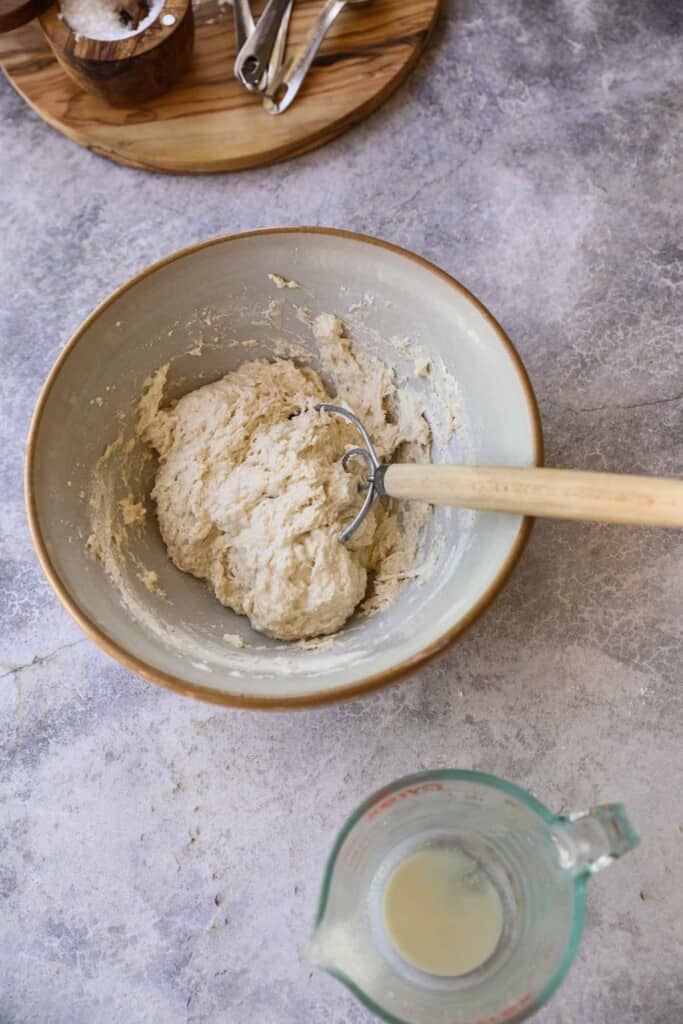 Step 3: Allow the Dough to Rise
I find the best place to put any kind of dough to rise, is in your oven, with the oven turned off. It's the most draft-free place in your house and if you have kids, you won't have to worry about any little fingers poking at your dough! Let the dough rise for at least 1 ½ hours.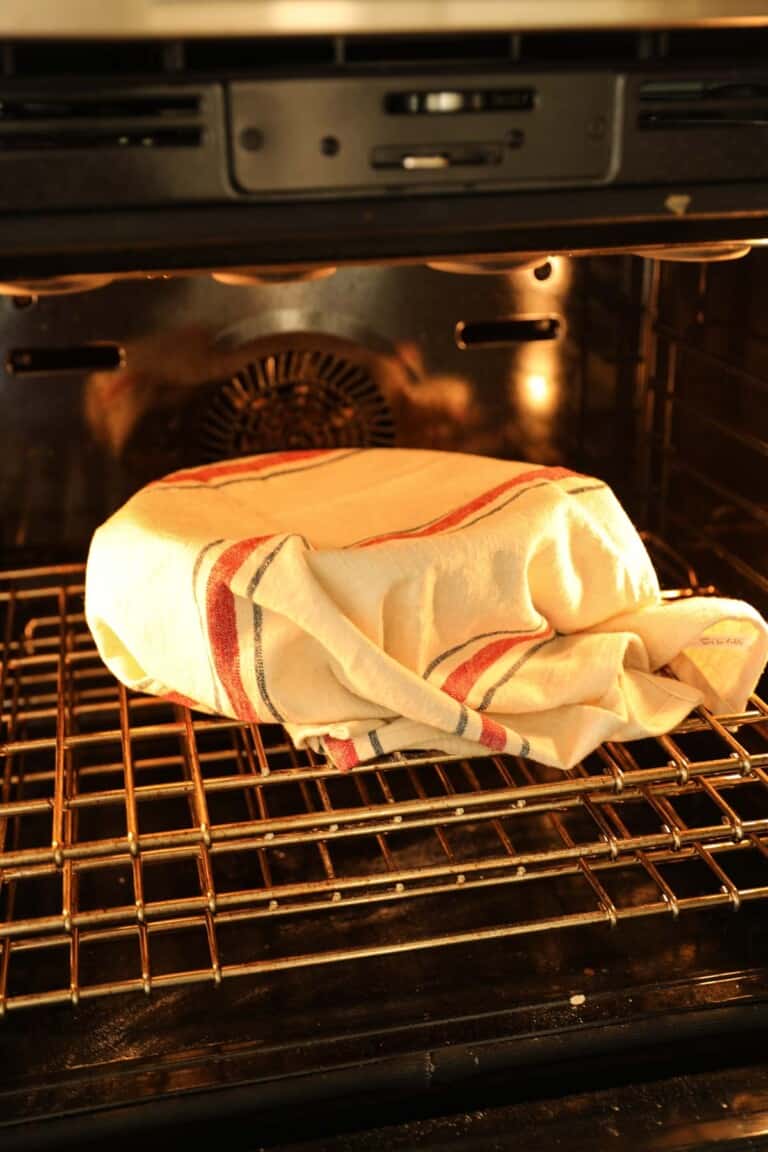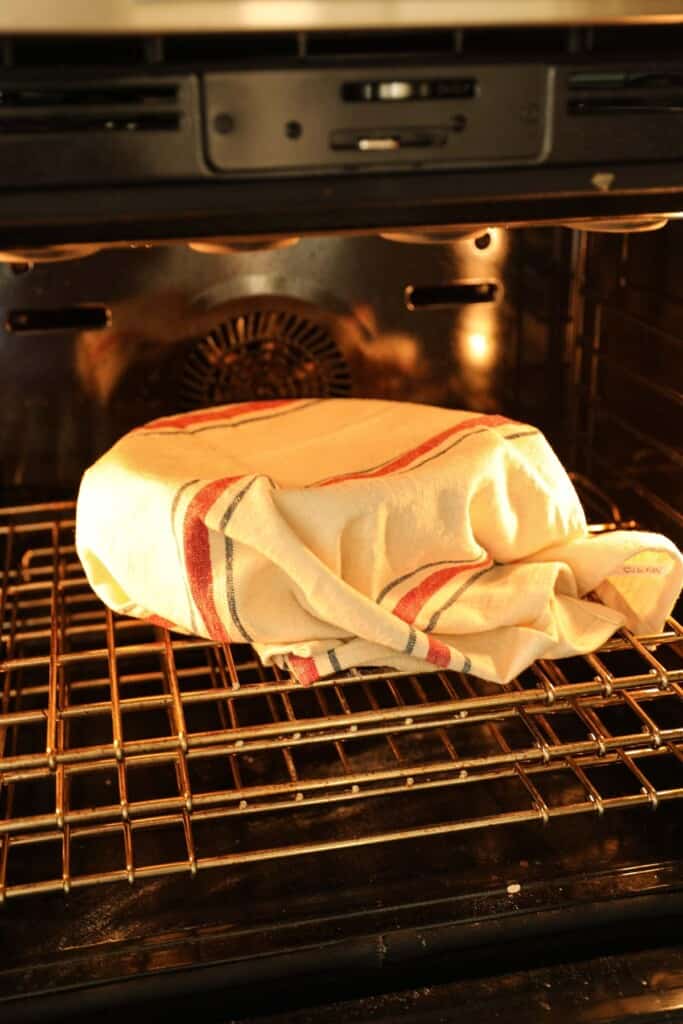 Step 4: Forming the Dough
Once risen, you'll turn the dough out onto a floured surface and slice the dough ball in two. Forming each one into a log, and then seam side down place them into a Non-stick Baguette Pan. I find the pan helps the baguettes keep their shape while ventilating them underneath to ensure a crispy crust. Then you'll score the loaves with a floured knife, 3-4 slits up the baguette, and place them in a very hot oven.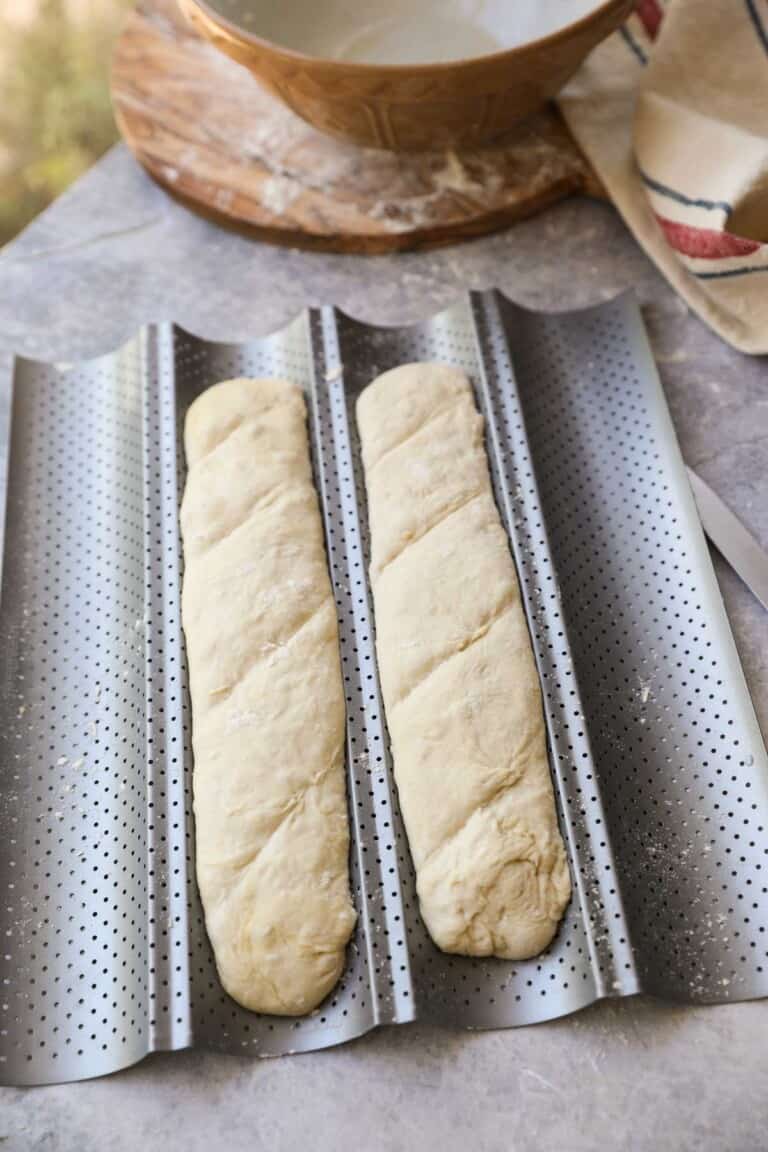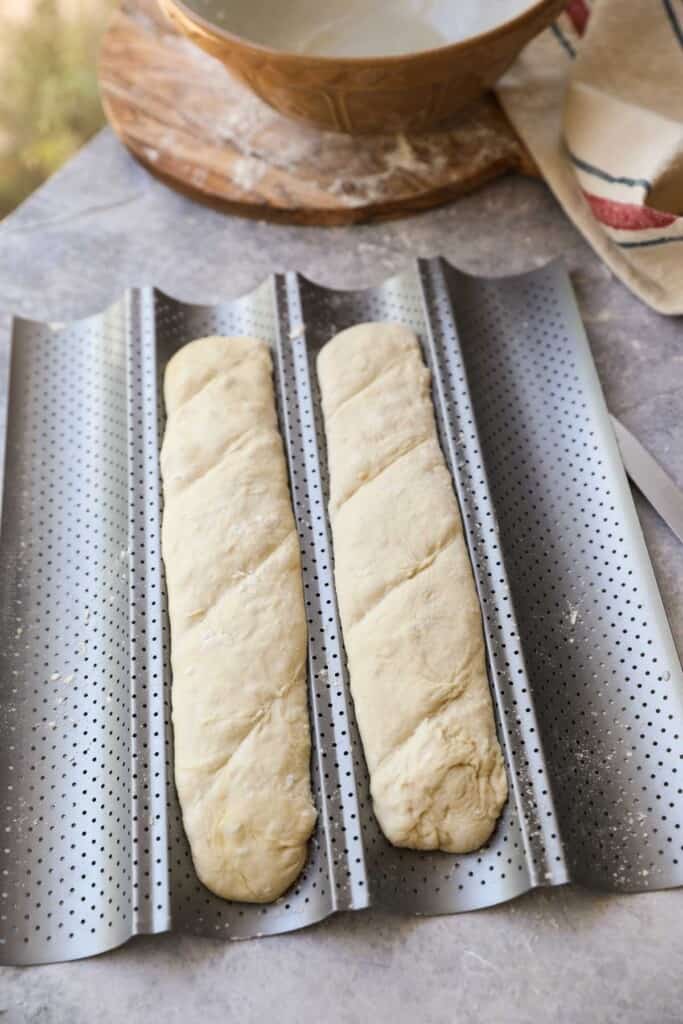 Step 5: Baking Your Baguette
I find the best temperature for baking your baguette is 500F. Place the tin on the middle rack of your oven, and then fill a 9 x5 loaf pan halfway with water, and place it under the tin on the lower rack. This will allow the water to create steam which will assure a nice crispy crust on your baguette.
Allow Your Bread to cool
It may be tempting to slice right into your baguettes as soon as they are done, but it's better to allow them to cool for at least 20 minutes. This will allow the inside to set up and become easier to slice.
FAQ
What is the Secret to a French Baguette?
Personally, I find it comes down to 3 things. A very hot oven (500F+), placing a pan of water in the oven under the baguette pan to create steam while baking, this will create a crispy crust, and using the right flour. In France I use T80 flour which works great! But here in the states bread flour is your best bet.

What is the Difference Between a French Baguette and French Bread?
A French baguette is a long slender bread in the shape of a stick (the French word for stick is "baguette". It also has a crispy crust and a soft interior. A French bread loaf, is a softer bread, and round in shape. Its soft exterior makes it ideal for sandwiches or toast. It's also really great in a Croque Monsieur or Croque Madame sandwich too!

How Do The French Eat a Baguette?
Unlike in the U.S. the French rarely serve butter with their bread at meals, unless it's at breakfast or during a cheese course you may see the butter brought out too. The typical way the French eat baguettes is with every meal to soak up any sauce or juice that has been left on the plate. It's typically served in a basket and each diner places their bread slice directly on the table, and not on a bread plate. Baguettes don't stay fresh for long, and quickly become hard 1-2 days later. So the best way to use up a hard baguette is to turn it into Pain Perdue a French dessert that is the origins of our French toast! Or toast it and serve it with my Baked Brie with Fig Jam recipe.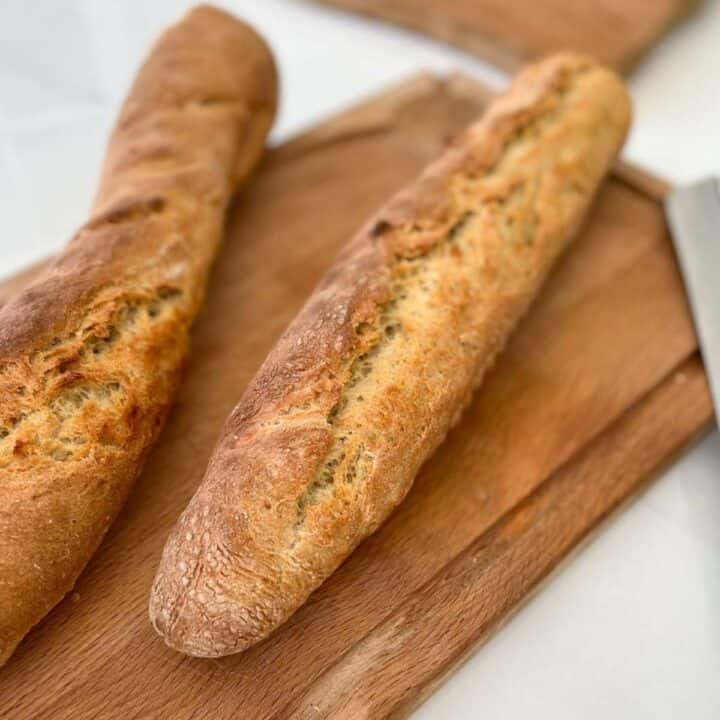 French Baguette Recipe
Prep Time:
1 hour
3 seconds
Total Time:
1 hour
25 minutes
3 seconds
Delicious French Baguettes are easily made at home! Crunchy on the outside, and soft and pillowy on the inside! In less than two hours!
Ingredients
375g T80 flour (or Bread flour)
1 packet of baker's yeast (8g) (1 ¾ teaspoons)
8g (1 ¾ tsp) fine salt
300ml (1 ½ cups) lukewarm water
1 tablespoon (15 ml) olive oil
Instructions
Dilute the yeast in warm water. Let it sit for 5 minutes.
In a bowl, place the flour with the fine salt. To mix together.
Add the yeast mixture to the flour mixture.
Mix with a wooden spoon or Danish Dough Whisk.
Transfer the dough to a clean bowl, greased with the oil. Place the dough inside
Use plastic wrap to cover the bowl and let the dough rise for 1h30.
Place the dough on a floured surface. Cut it into 2 equal parts. Roll it out to a baguette shape and place it in the tin.
Using a sharp knife, make 3-4 slits down the baguette in the dough.
Preheat the oven to 240°C (500F) convection heat.
When the oven is preheated, add a loaf pan filled halfway with water alongside the pan to create steam. This will help the baguette crisp up
Bake for 25 to 30 minutes and then cool the baguettes on a wire rack.

Nutrition Information:
Yield:

2
Serving Size:

2 loaves
Amount Per Serving:
Calories:

756
Total Fat:

9g
Saturated Fat:

1g
Trans Fat:

0g
Unsaturated Fat:

7g
Cholesterol:

0mg
Sodium:

301mg
Carbohydrates:

145g
Fiber:

6g
Sugar:

1g
Protein:

21g