This Pumpkin Cinnamon Roll Loaf is a great twist on traditional pumpkin cinnamon rolls, but a bit easier, in my opinion, and a lot more impressive! It bakes up mile-high and looks so beautiful too with the gentle drizzle of cream cheese glaze.
It's the perfect recipe if you are craving both Pumpkin Bread and Cinnamon Rolls! Why not have both! It's a fantastic fall mashup!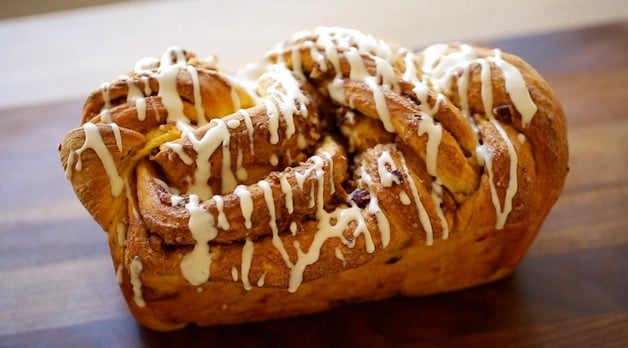 Why You'll Love This:
When you slice into it, you'll be treated to a light and fluffy bread that has the texture of brioche.
The chewy dried cranberries and buttery pecans just add to this decadent fall treat.
This would be a great recipe for a Halloween Party menu or for a Christmas morning breakfast buffet!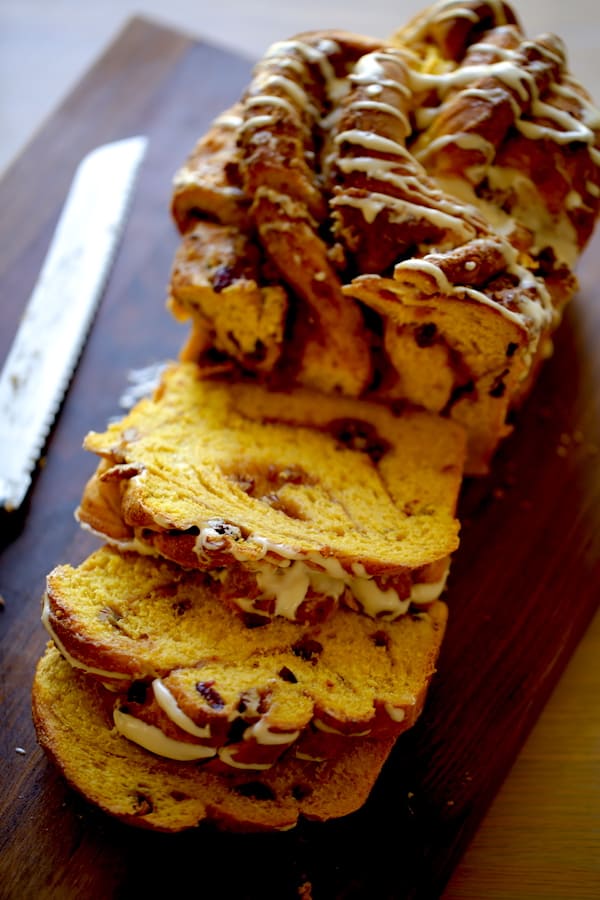 The warm cinnamon filling, combined with the plump cranberries and soft bread makes this the ultimate cold-weather comfort food!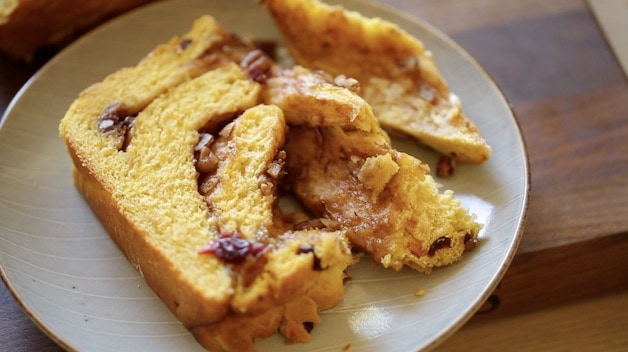 Watch a Video Demo of This Recipe Below!
Subscribe to My YouTube Channel and Never Miss a Recipe!
This pumpkin cinnamon roll loaf is really fun to make and worth the extra effort to WOW some overnight guests! Especially around holiday time!
STEP:1 Create Foamy Yeast Mixture
In a large bowl, you'll add one packet of yeast, sugar, and warm water. Be sure your water is between 120F-130F.
If the water is too cold the yeast will not activate, if it's too hot it can kill the yeast. So it's best to use a meat thermometer or candy thermometer to verify the temperature.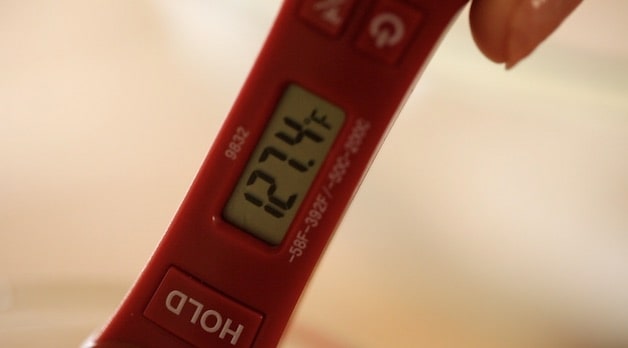 Give it a gentle stir and allow it to sit for 5 minutes or until the yeast is cloudy and foamy. If this doesn't happen you could be working with old yeast and it's best to start again!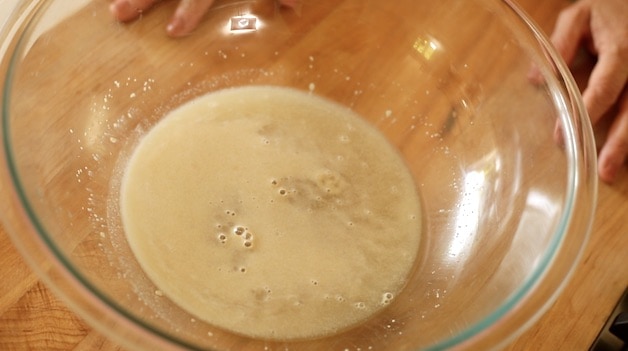 STEP 2: Add The Wet Ingredients
To the yeast mixture, you'll add the pumpkin puree, egg, milk, vanilla, and melted butter.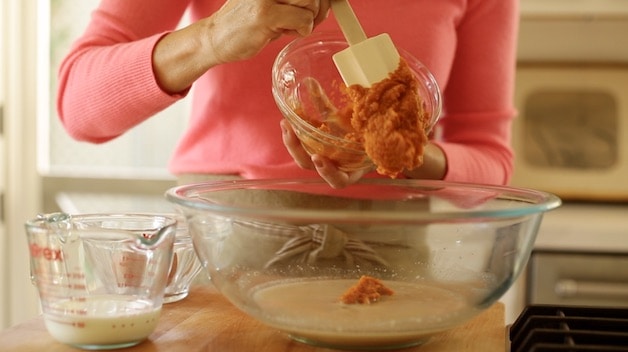 Be sure you use "pure pumpkin puree" and not "pumpkin pie filling", otherwise your bread will be too sweet.

Whisk this mixture up until smooth and then you can add the dried cranberries. I love to add them at this stage since the warm mixture will plump them up a bit.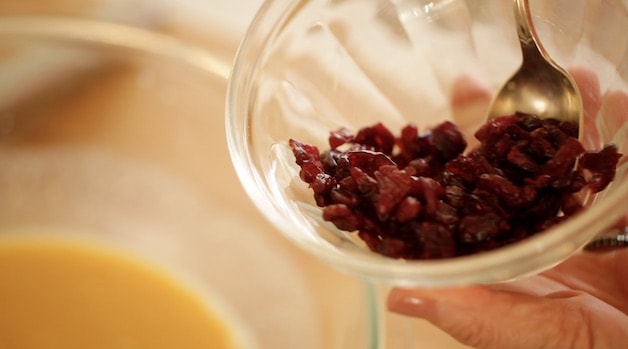 STEP:3 Combine the Dry Ingredients
In a medium bowl combine all-purpose flour and the salt and add it in 1-cup increments to the wet ingredients.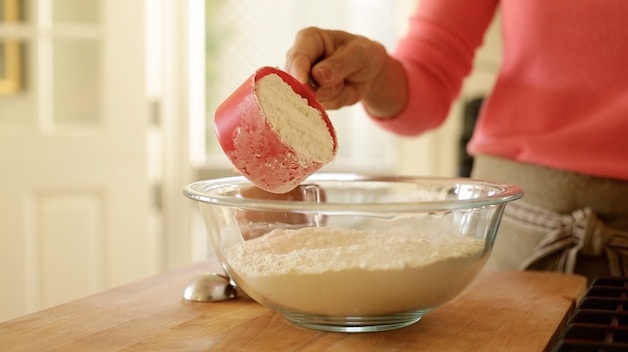 STEP:4 Knead the Dough and Let Rise
Once your dough is formed you can knead it for about 8-10 turns.

Then place it in a buttered bowl to rise for 1-hour. Personally, I think the best place to rise bread is in a turned-off oven. It's closed and secure and no drafts! No time for rising? Then you must try my quick and easy Pumpkin Bread Recipe, so moist and delicious!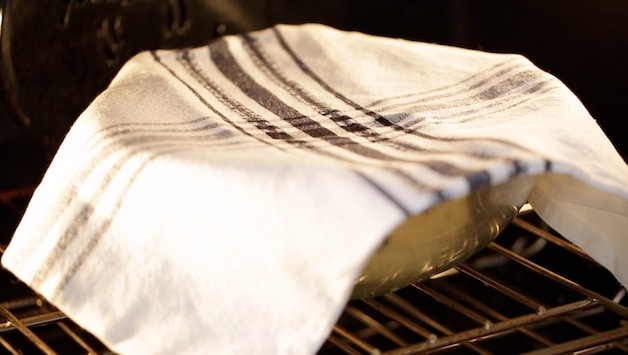 STEP:5 Roll and Twist the Loaf
Roll out your risen dough into a 9x15 rectangle. Add your butter and filling and roll it up!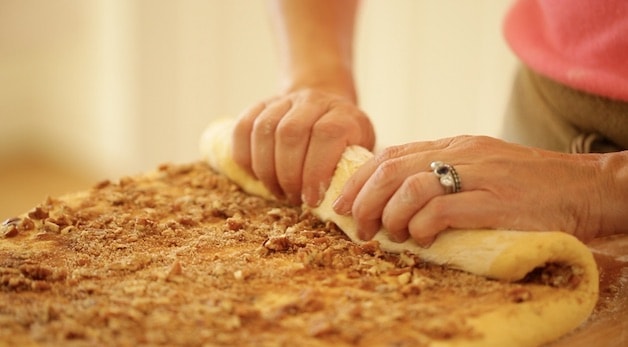 Once you get a tight log, slice it in half and twist those ends into a decorative twist.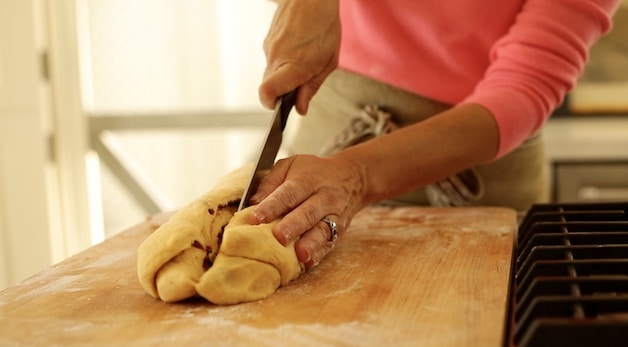 This is what will create the beauty of the bread once it's fully baked.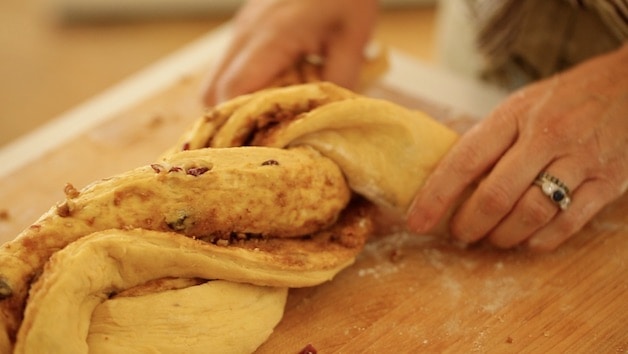 The cinnamon is exposed and you can see how beautiful the glaze will be, nestled into all those nooks and crannies, once it's baked.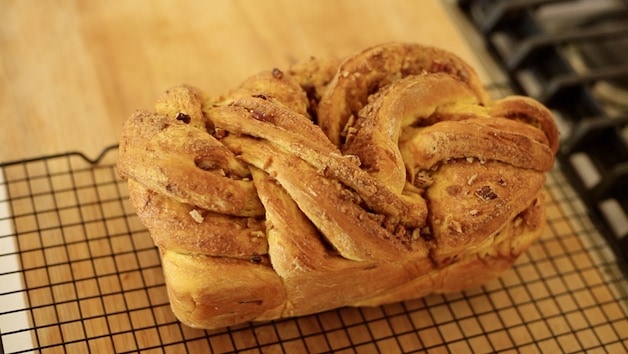 Place the pumpkin cinnamon roll loaf in a prepared loaf pan with parchment paper only on the long end. This will make it easier to release.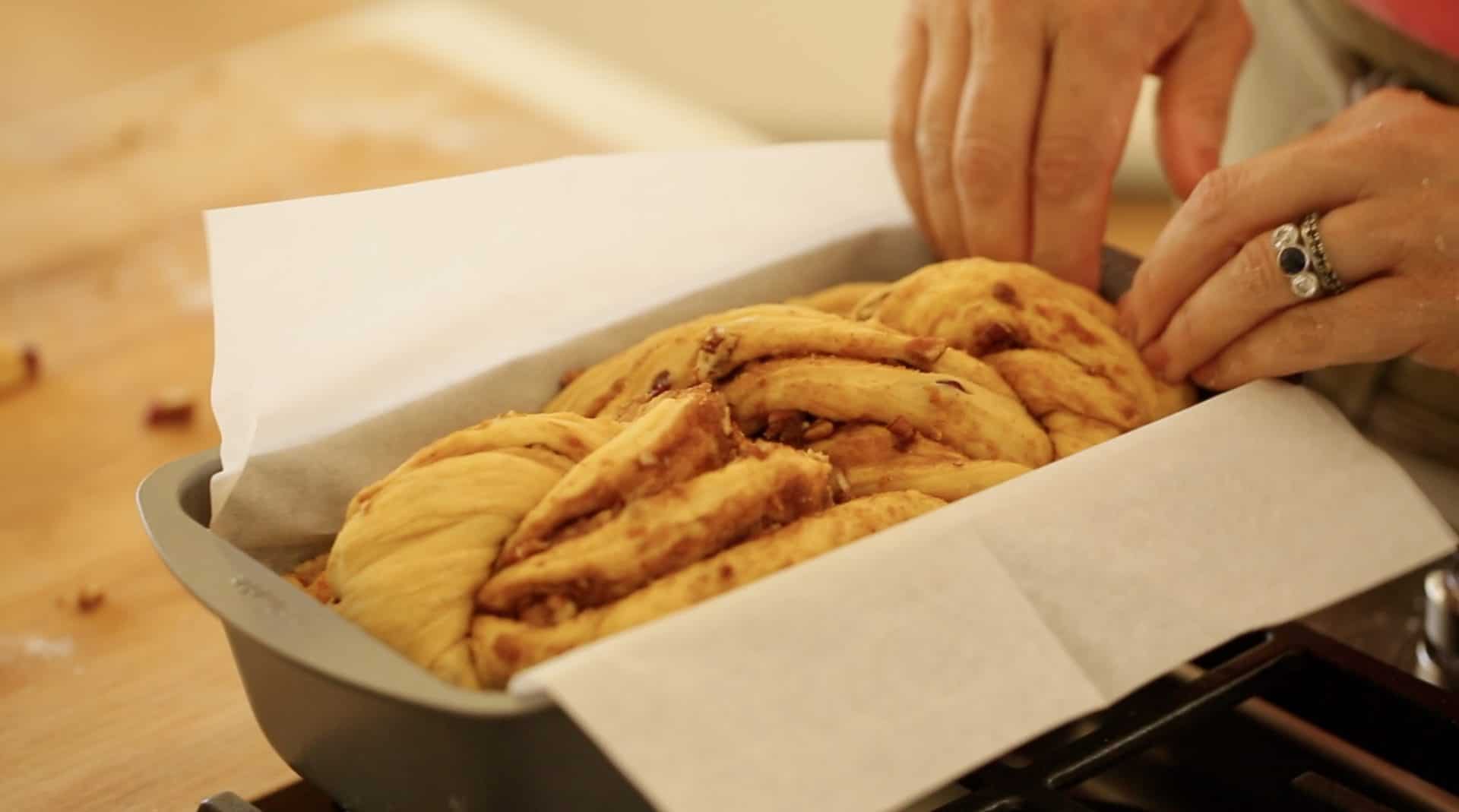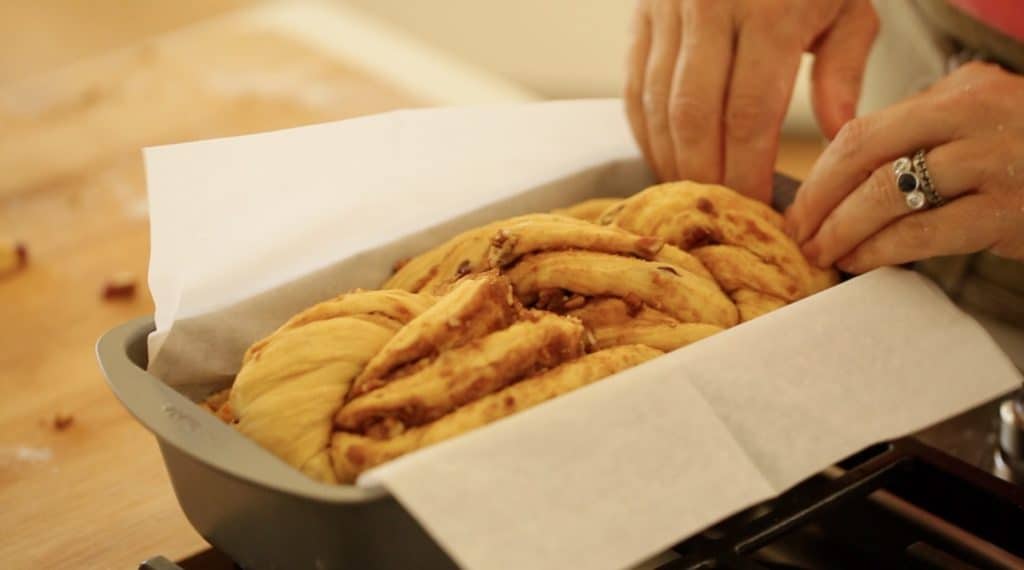 Then allow it to rise in the tin for another 30 minutes and then it's ready for the oven! No time for all this rising? Then you must try my Overnight Cinnamon Rolls Recipe. This one rises while you sleep and is great for Christmas Morning!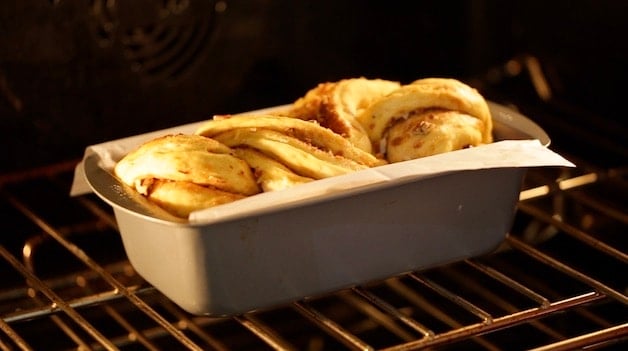 STEP 6: Glaze and Serve
Once the bread is cool enough to handle you can remove it from the tin and drizzle on the glaze! Once the glaze is added it's best to store your pumpkin cinnamon roll loaf in the refrigerator. You can always pop in a 350F oven to reheat.
This is such a delicious bread to serve for friends and family in the fall, or make it a new tradition and serve it for Christmas morning breakfast!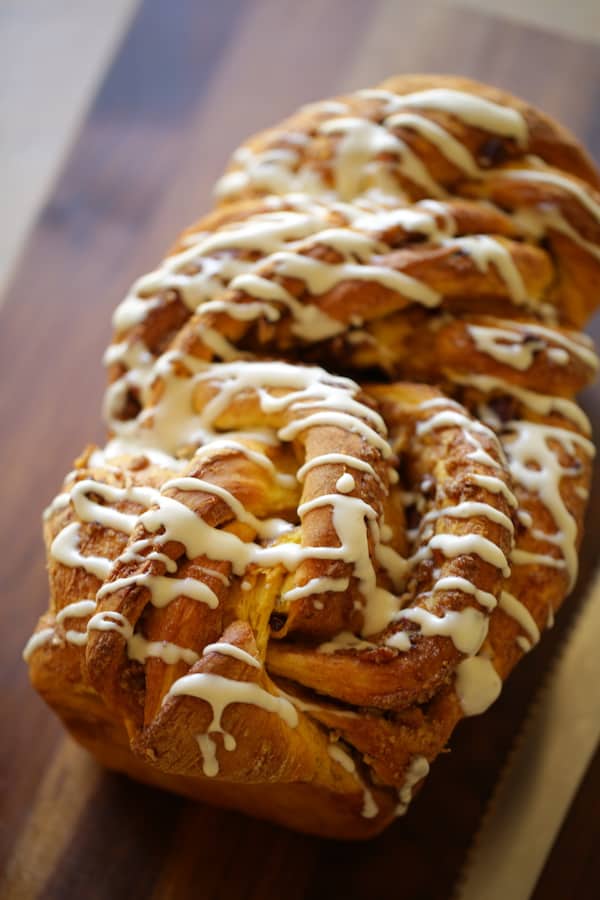 More Bread Recipes You'll Love!
If You Enjoyed This Recipe
Please Leave a Rating and a Review Below!
This helps others find and enjoy the recipe too!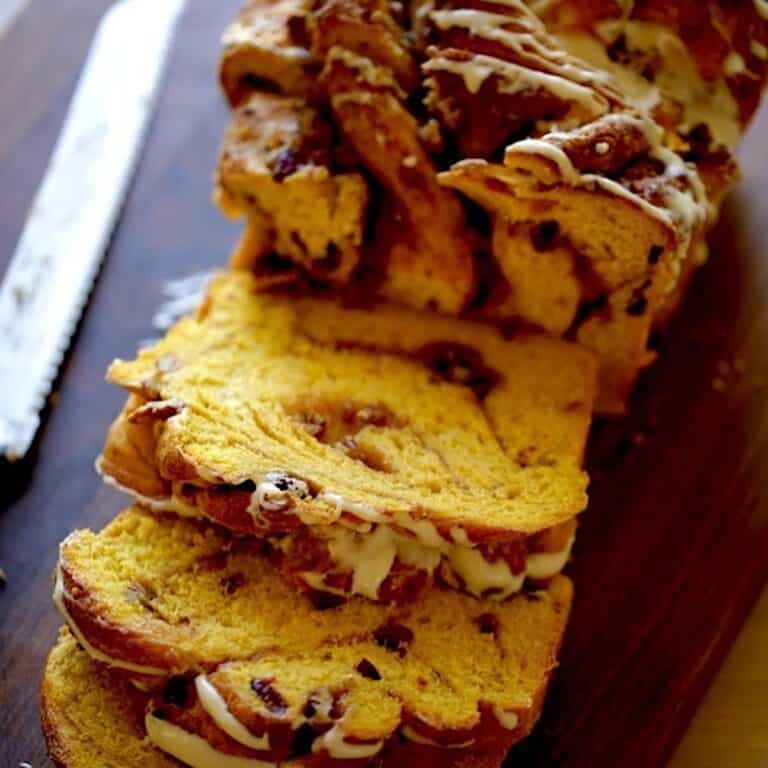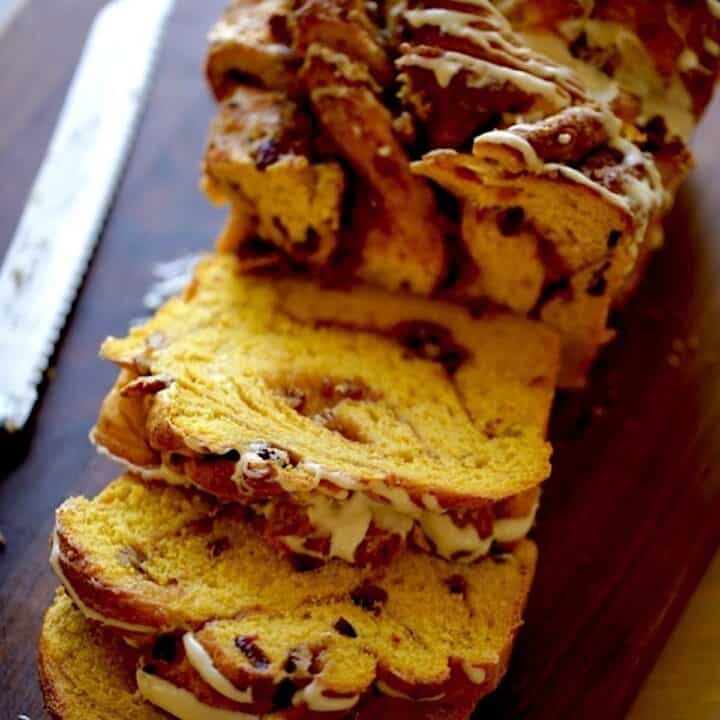 Pumpkin Cinnamon Roll Loaf Recipe with Cream Cheese Glaze
Additional Time:
1 hour
30 minutes
Total Time:
3 hours
10 minutes
This Pumpkin Cinnamon Roll Loaf is a great twist on traditional pumpkin cinnamon rolls, but a bit easier, in my opinion, and a lot more impressive! It bakes up mile-high and looks so beautiful too with the gentle drizzle of cream cheese glaze.
Ingredients
2 ¼ teaspoon (1 package) (¼ ounce/7g) dry active yeast
1 cup (240ml) warm water (between 120-130F)
¼ cup (50g) sugar
½ cup (120ml) pumpkin puree
⅓ cup (80ml) milk
1 egg
5 tablespoon (75ml) melted butter, plus 1 tablespoon (15ml) for greasing
2 teaspoon (10ml) vanilla extract
⅓ cup (50g) dried cranberries
4 ½ cups (540g) of all-purpose flour
1 ½ teaspoon (7.5ml) salt
FILLING:
3 tablespoon (30g) brown sugar
3 tablespoon (30g) white sugar
1 ½ teaspoon (7.5ml) cinnamon
1 tablespoon (15ml) orange zest
½ cup (75g) pecans, chopped
3 tablespoon (45ml) melted butter
GLAZE:
¼ cup (60 ml) whipped cream cheese
1 tablespoon (7 g) powdered sugar
½ teaspoon (2.5 ml) vanilla extract
1 tablespoon (15 ml) milk
Instructions
Add yeast, sugar, and water to a large mixing bowl. Whisk to combine and then let stand for 5 minutes until it gets cloudy and foamy.
Then, to the yeast mixture add the pumpkin, milk, egg, butter, and vanilla extract. Whisk to combine. Then add the cranberries. Set aside.
Then in a medium-sized bowl whisk together the flour and salt. Add the flour mixture in 1 cup increments, to the wet ingredients, mixing with a wooden spoon or dough whisk until a dough forms. Remove it from the bowl and transfer it to a floured surface. Roll it into a ball and knead it for a few turns 8-10 times
Place another 1 tablespoon (15 ml) of butter in a large clean bowl, and grease the sides of the bowl with the butter. Place the dough inside and cover with a clean dishtowel or plastic wrap. Set in a warm place to double in size for 1 hour.
Then make the filling. Combine sugars, cinnamon, orange zest, and pecans. Set aside.
Prepare a 9"x 5" (23cm x 23cm) loaf pan with baking spray, and then line with parchment paper only on the long side, with the flaps of paper overhanging on either side of the pan. This will make it easier to remove the bread once it is baked.
Once risen, remove the dough from the bowl and place it on floured surface; roll it out to a 9 inch by 15-inch rectangle. Smear the dough with the 3 tablespoon (45ml) of melted butter, then sprinkle with the filling.
Starting from the short end of the rectangle, roll the dough tightly into a log. Then slice the log in half, lengthwise into 2 pieces. Then twist these two pieces together with the filling side up and exposed in places. Place the braid into the loaf pan. Tuck the ends under the loaf if needed. Allow it to rise, uncovered, again for 30 mins.
Bake at 350F for 35-40 minutes until golden brown and well risen.
Allow the bread to cool in its tin and prepare the glaze. For the glaze place all ingredients in a small bowl and whisk until desired consistency. Add more milk for a runnier consistency.
Remove loaf from the pan. Place on a cooling rack, and drizzle glaze on top with a fork for pretty drippings.



Notes
MAKE AHEAD TIP:
Or allow the bread to cool completely in the tin. Then cover loosely with foil and place in the refrigerator. Then reheat the following day, uncovered in a 300F oven for 15 minutes. Then remove from tin and drizzle with glaze.
Nutrition Information:
Yield:

8
Serving Size:

1
Amount Per Serving:
Calories:

390
Total Fat:

13g
Saturated Fat:

8g
Trans Fat:

0g
Unsaturated Fat:

4g
Cholesterol:

55mg
Sodium:

106mg
Carbohydrates:

58g
Fiber:

2g
Sugar:

4g
Protein:

9g