This Spiced Pear Cake is an easy cake recipe that's perfect for fall entertaining because it's delicate and moist with the most delicious balance of fall spices! It makes a terrific brunch cake or you can serve it with some vanilla ice cream and caramel sauce for dessert!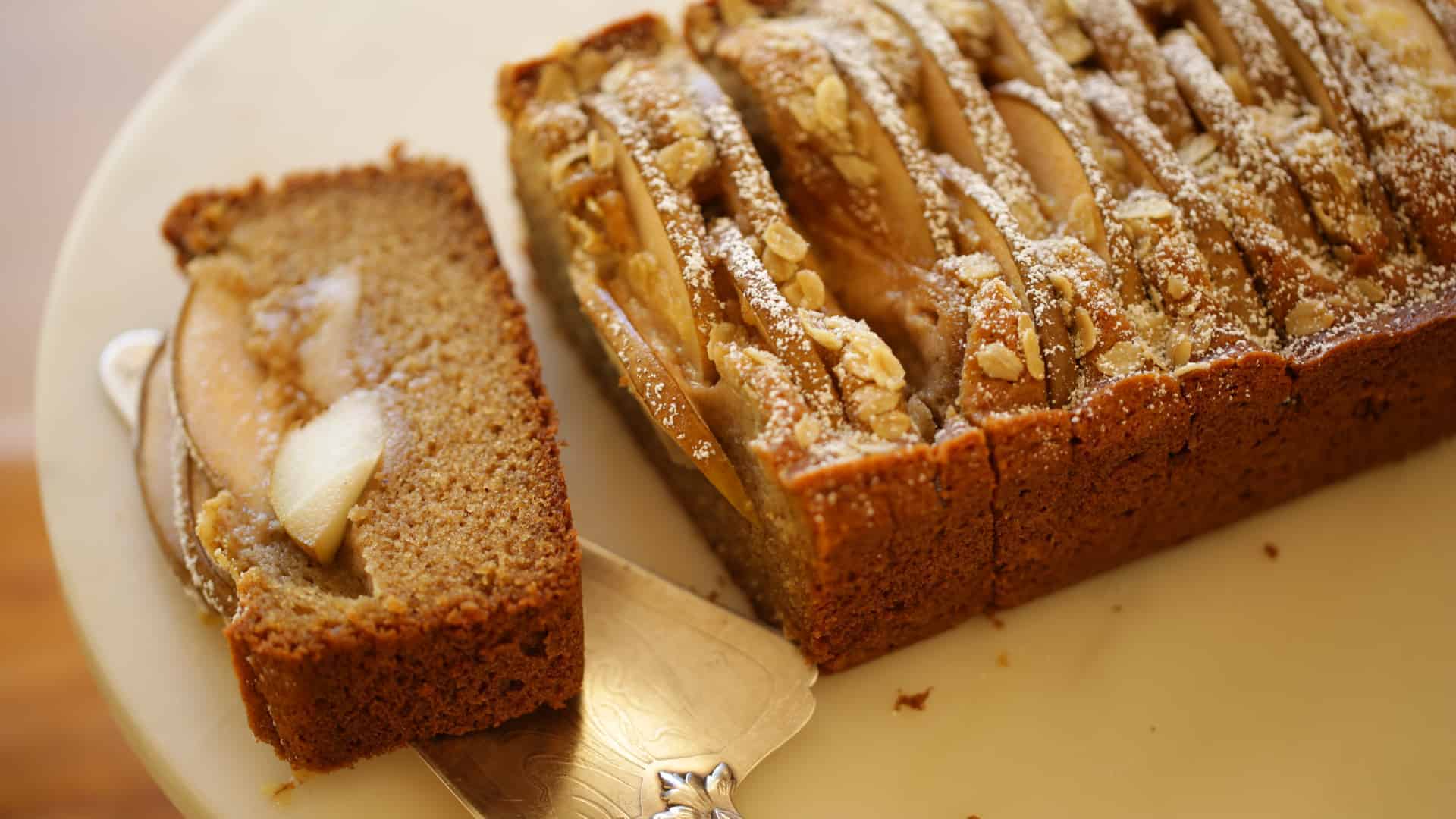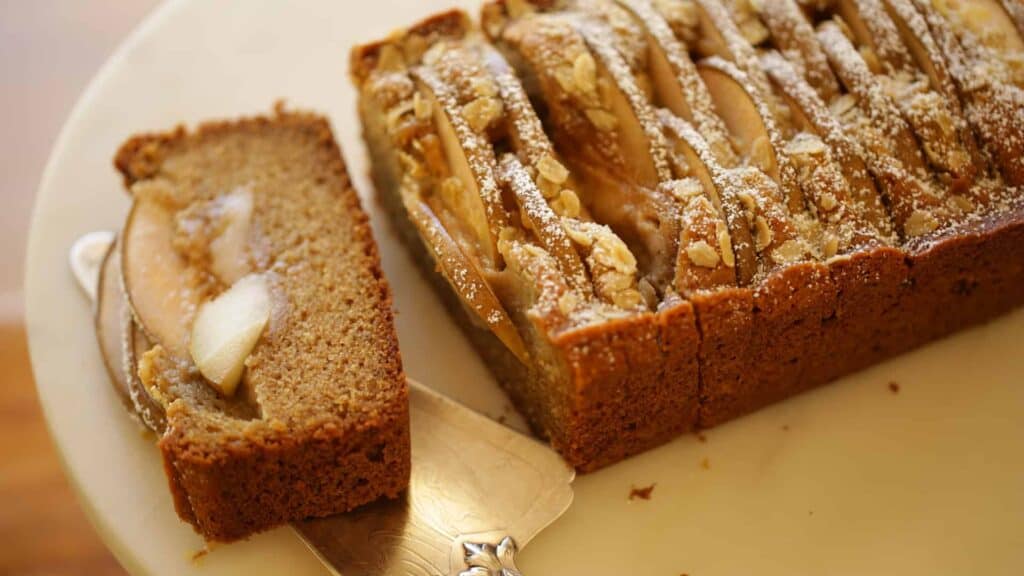 A Pretty Cake For Fall
I love how pretty the top of this cake looks when you arrange the pears in an overlapping fashion and when dusted with a little powdered sugar it looks extra fancy for a special occasion.
If you prefer apples, try my Apple Spice Cake with Cream Cheese Glaze and a dehydrated apple garnish. Another great recipe to celebrate fall!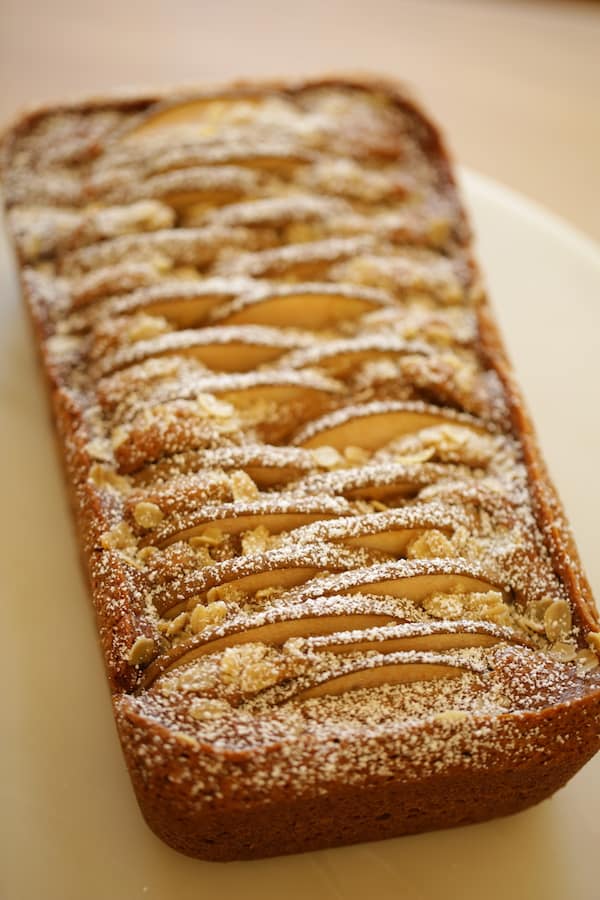 As soon as you bite into this cake you'll see how tender the crumb is and combined with all these wonderful fall spices, it's the perfect cake to kick off your fall baking!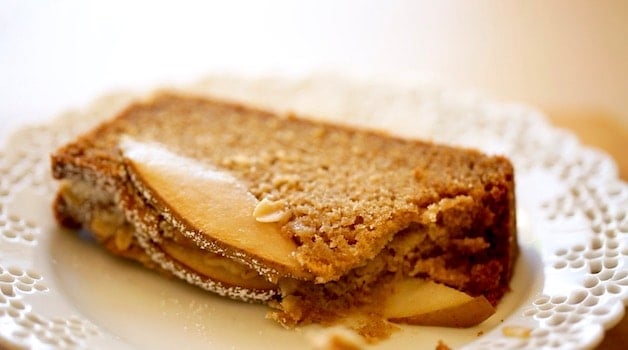 Watch My Video Demo of this Recipe Below!
What's The Difference Between Using Oil and Butter in Cakes?
The short answer is oil will give you a lighter, fluffier cake. For quick bread, I usually like to use a combination of butter and oil.
The butter adds flavor, while the oil makes for a moist cake. This is because the oil is pure fat without milk solids which can weigh your cake down. It's this pure fat that makes your cakes lighter.
This article by Epicurious really dives deep into the subject and I couldn't agree more!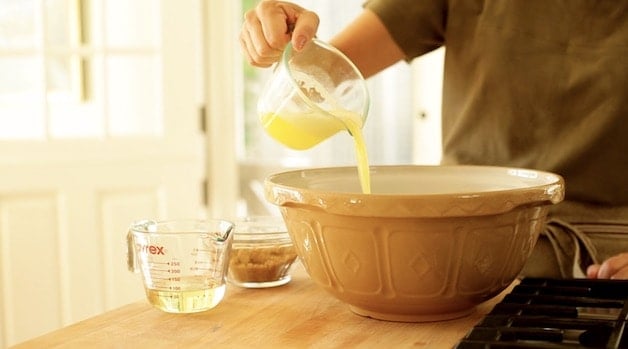 Brown Sugar vs. White Sugar
I like to use brown sugar instead of white sugar for pear cake recipes because it gives a deeper richer flavor which is a terrific match with the spices and the pears.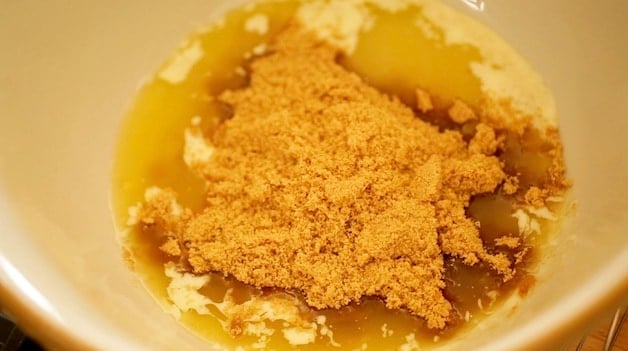 Freshen Up The Holiday Spices
In a separate bowl, you'll add all the dry ingredients. If this is your first foray into holiday baking, it's always a good idea to stock up on the basics like baking soda, baking powder, and spices! After a year of sitting in your cabinet, some of these things can lose their potency so it's best to make sure they are fresh in order to achieve the best results.
The Spices
The four spices you will need for this recipe you'll probably need for most holiday baking, so you'll be all set if you stock up on cinnamon, nutmeg, ginger, and cloves. However, you can also use 2 teaspoons of pumpkin pie spice for this recipe in case you are missing one of the spices called for in the recipe.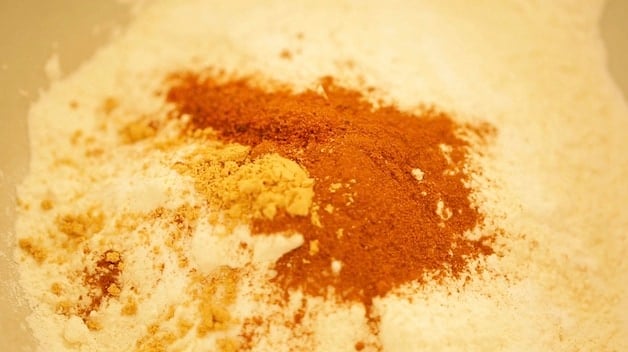 This is another reason why I love this cake, it's only a 2-bowl operation. No stand mixers or food processors are required!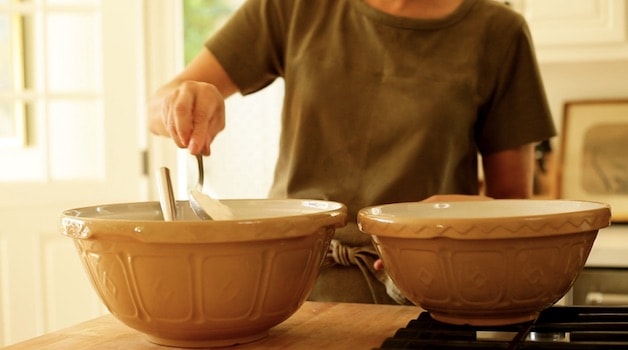 Once your batter is mixed, the easiest way to fill your loaf pan is to pour the batter towards you in the middle of the pan and let gravity do its thing.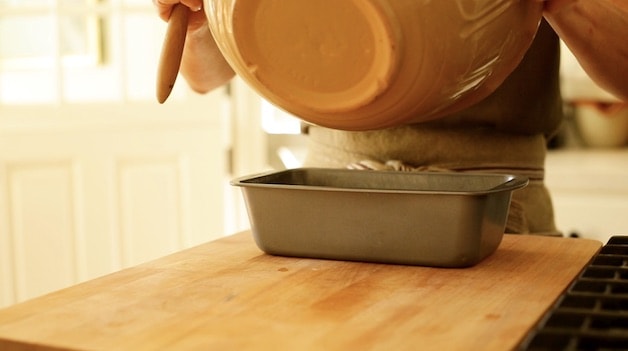 Just make sure your pan has been greased well with baking spray. I find the baking spray gives you flawless results over butter.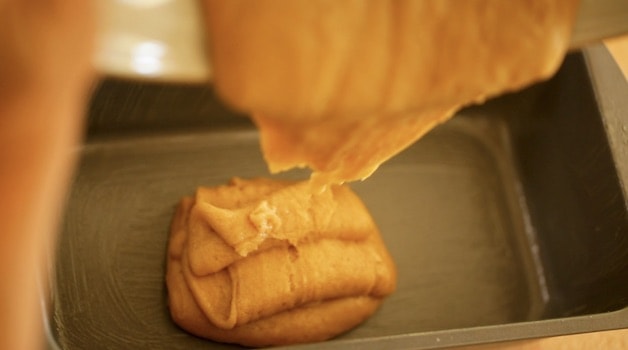 What Pears Are Best For Pear Cake?
The good news is for this cake you can really use any pear you like! I typically will use a Bartlette Pear or an Anjou Pear just because they are really accessible and always easy to find.
It's best if your pears are ripe since they will create a more tender texture once your cake is baked. Then cut off each side or "hip" of the pear.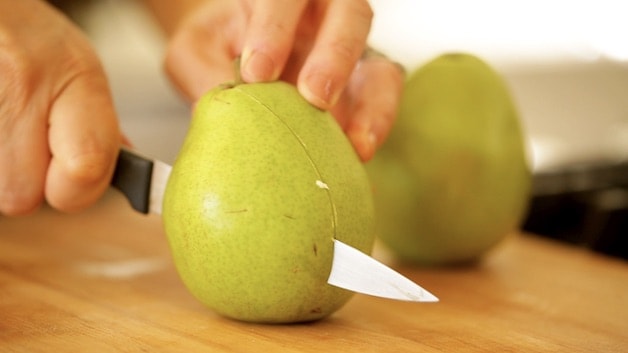 This will leave you with a square core and 4 pear quarters to easily slice thinly for the top of the cake.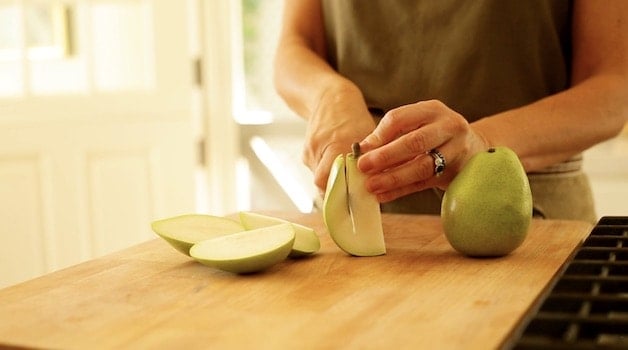 Place the pear cut side down and slice ¼" slices. You'll use about 2 pears for this depending upon the size of your pears.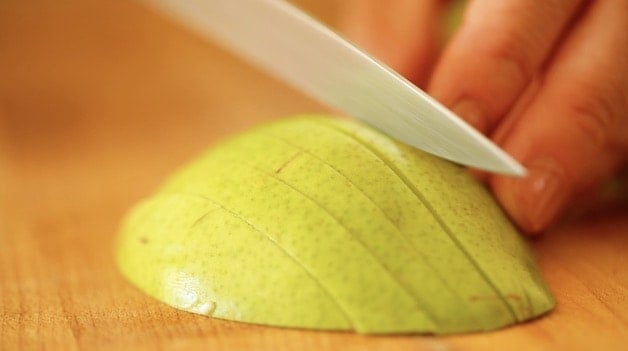 Adding The Pears in a Decorative Fashion
To add the pears, I like to arrange them upright into the batter and slightly overlapping. They will bake into the cake this way and look really pretty once baked.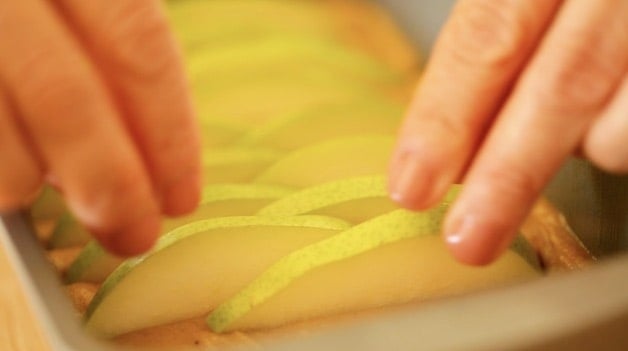 Give yourself about ¼" row in between each row of pears. This will help the cake bake thoroughly in between the pears.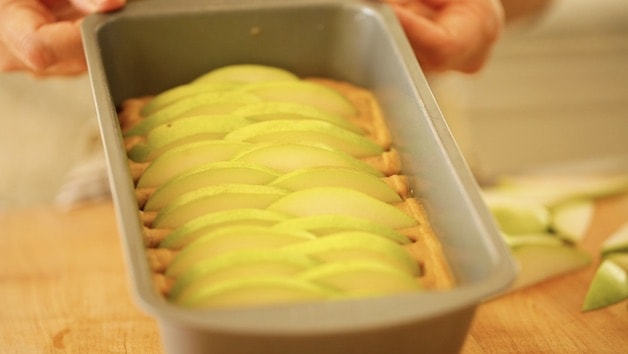 Placing your pears upright down the cake also ensures everyone gets some tender pears in every slice of cake!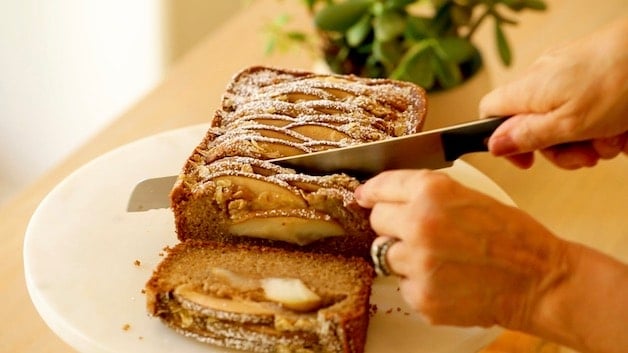 For a little added texture I also like to add some traditional oats on top. But you could also add walnuts too or both!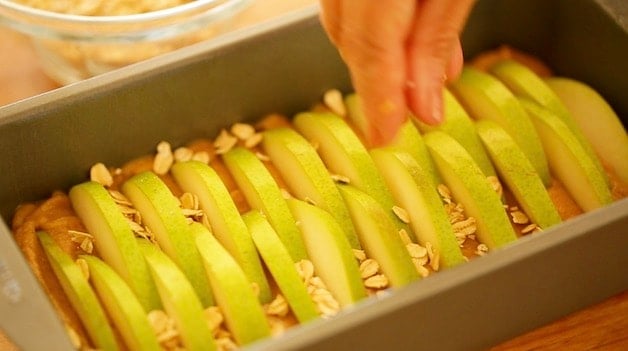 Once baked the oats get nice and toasty and look pretty baked into the cake.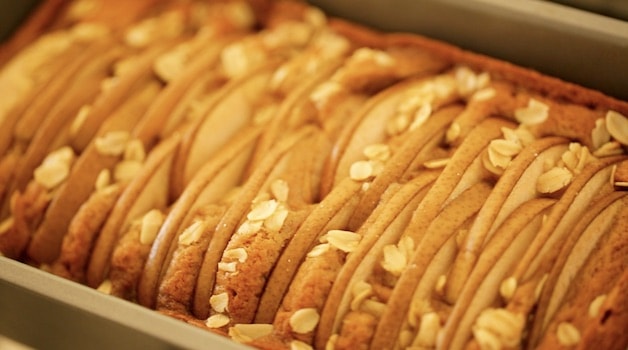 More Fall Recipes You'll Love:
If You Enjoyed This Recipe
Please Leave a Rating and a Review Below!
This helps others find and enjoy the recipe too!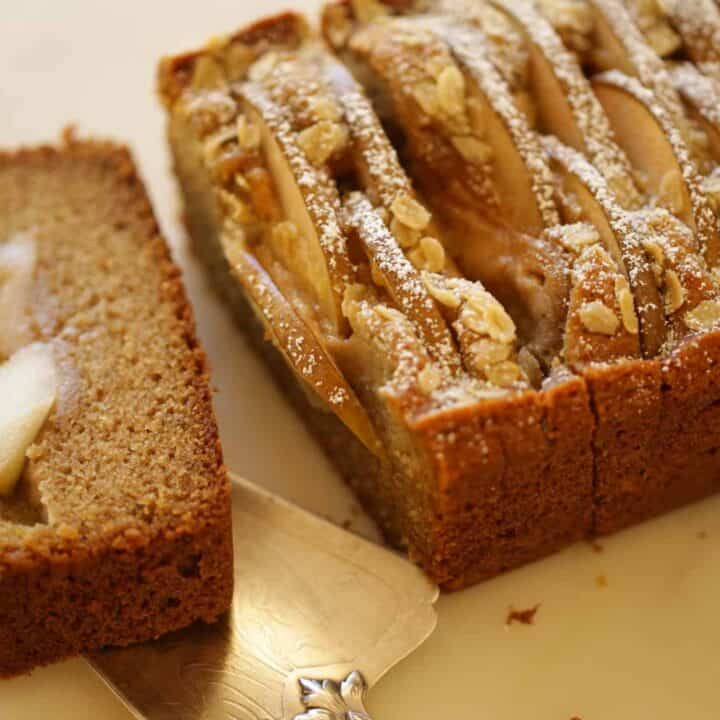 Spiced Pear Cake
Total Time:
1 hour
15 minutes
A delicious fall cake recipe perfect for a fall brunch or breakfast. Light and moist and flavored with the perfect amount of spice and tender baked pears.
Ingredients
½ cup (120ml) of melted butter
¼ cup (60ml) vegetable oil
¾ cup (135g) brown sugar
3 eggs
⅓ cup (80ml) of water
1 ½ (7.5ml) teaspoon vanilla extract
1 ¾ (210g) cup flour
1 teaspoon (5ml) baking soda
¾ teaspoon (3.75ml) salt
1 teaspoon (5ml) cinnamon
¼ teaspoon (1.25ml) ground ginger
¼ teaspoon (1.25ml) nutmeg
⅛ teaspoon (large pinch) ground cloves
2 ripe pears, any variety
1 tablespoon (5g) old fashioned oats
dust with powdered sugar
Instructions

Preheat oven to 350F (175C) and spray a 9x5 (23cm x 13cm) loaf pan with baking spray. Set aside.

In a large mixing bowl combine the butter, oil, brown sugar, eggs, water and vanilla. Whisk until smooth.

In a medium sized mixing bowl combine the flour, baking soda, salt, and spices. Whisk until combined.

Add the dry ingredients to the wet ingredients, whisking in thirds until combined.

Transfer batter to the loaf pan. Top with the sliced pears standing upright in alternating pattern. Sprinkle with oats.

Bake for 40-45 minutes until golden brown and risen and a toothpick comes out clean.

Allow to cool and remove cake from the tin and slice!
Notes
This cake is also great served as a dessert with vanilla ice cream and caramel sauce drizzled on top!
Or make some homemade whipped cream and add a dash of brandy to it (recipe below)
For Homemade Whipped Cream:
2 cups of heavy cream
1 tablespoon powdered sugar
1 teaspoon vanilla extract
1-2 tablespoon of brandy
Place all ingredients in a bowl and whip on high until soft peaks form. Keep refrigerated until ready to serve.
Nutrition Information:
Yield:

8
Serving Size:

1
Amount Per Serving:
Calories:

254
Total Fat:

6g
Saturated Fat:

2g
Trans Fat:

0g
Unsaturated Fat:

3g
Cholesterol:

79mg
Sodium:

61mg
Carbohydrates:

48g
Fiber:

3g
Sugar:

30g
Protein:

5g