This Fig Cake Recipe with Crumb Topping is so delicious and perfect for entertaining in the late summer when fresh figs are in season. It's a twist on my Classic Crumb Cake Recipe, which is equally delicious!
The fig season is short typically August-October, but really I notice they start to disappear from the market around September! So if you are going to make this cake, and see figs at the market, do not delay!
It's one of my favorite brunch recipes because the cake is so light and delicate and combined with the crunchy crumb topping, it's just fantastic! And not to worry it can also be made with pears or sliced apples in the fall. It's also great for tea time too!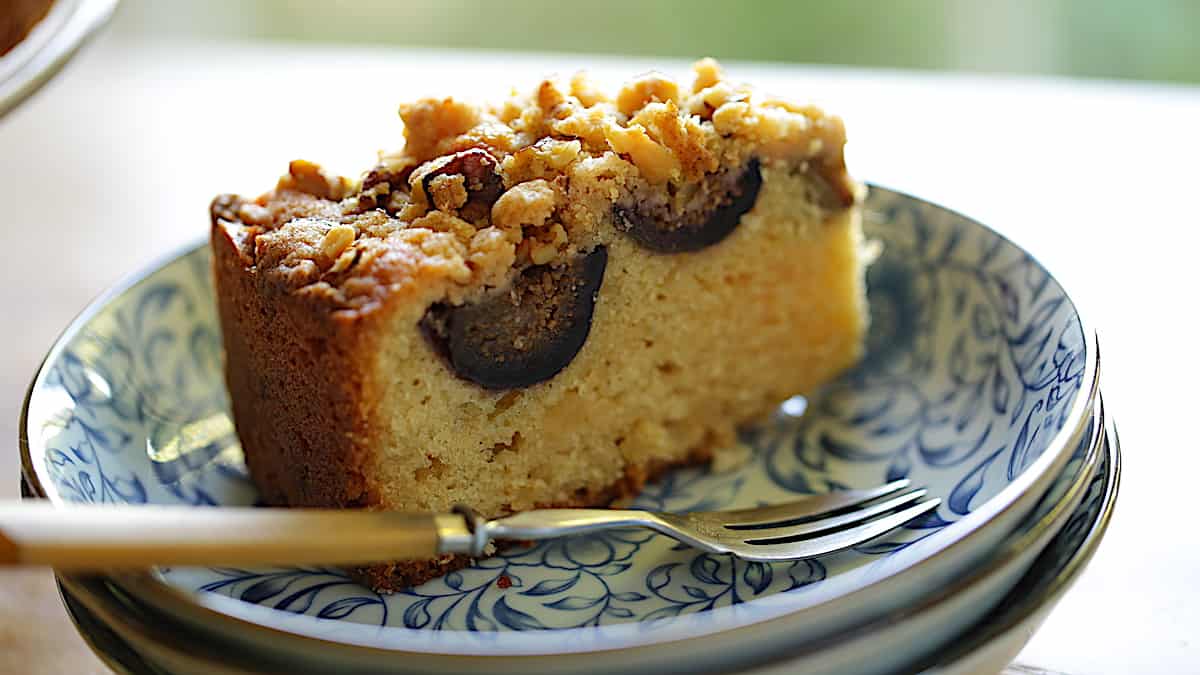 More Brunch Recipes!
Another Great Use for Your Cheesecake Pan
It's worth noting that this cake is absolutely beautiful when it's sitting on a pretty cake stand. This is thanks to its high edges which are achieved by baking it in a cheesecake pan. If you don't have a cheesecake pan, you can also bake this recipe in a regular 10-inch cake pan too.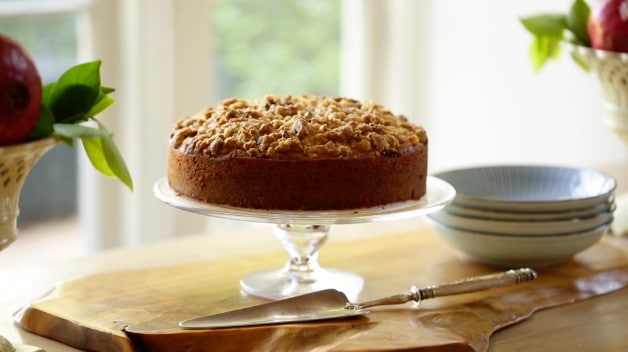 Can You Freeze This Cake?
Yes! This cake freezes beautifully. So if you have an abundance of figs and you want to make two, or three fig cakes, no problem. Just follow these steps below:
Once baked allow the cake to cool completely. At this point, you can either freeze the whole cake or slice it in half or individual portions.
Wrap each portion in wax paper and then aluminum foil.
Defrost in the refrigerator overnight.
Once defrosted, remove the wax paper, re-wrap in the foil
Then reheat to "freshen up" at 350F for 20 minutes.
Watch Video Demo of this Recipe Below
Step 1: Make the Cake Batter
Start by coating your pan, even around the edges, with baking spray. I really love to make this fig cake in a cheesecake pan, because it creates such an elegant cake. But you could also make it in a 9 x 5 loaf pan too.
Another great cake to make in a cheesecake pan is my Classic Coffee Cake Recipe or my Keylime Pie Cheesecake.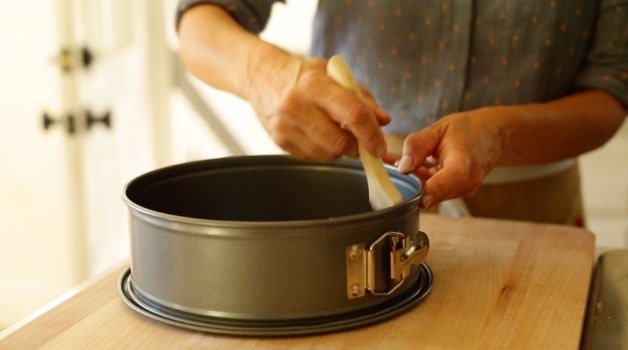 For the batter, you'll add the eggs, vegetable oil, brown and white sugar, water, and vanilla extract to a large mixing bowl. Whisk the ingredients up until well-combined, then set aside.
Can you use oil instead of butter in baking?
You could use melted butter in this recipe, but I find the secret to an extra moist cake that keeps its texture after a few days, is vegetable oil. It's a pure fat that doesn't contain water, like butter, which allows it to create a very soft and delicate crumb.
Then, in a smaller bowl, add the dry ingredients. Whisk together the flour, baking powder, salt, and cardamon.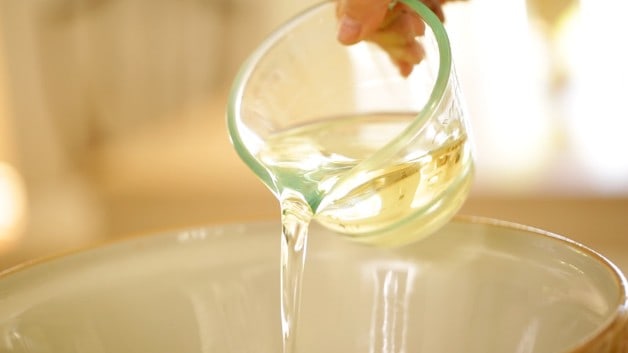 The Secret Ingredient to This Recipe:
The secret ingredient in this cake is the cardamon. It's a wonderful warming spice that is a great flavor combination against the fresh figs. If you can't find cardamon, you could also use pumpkin pie spice or cinnamon.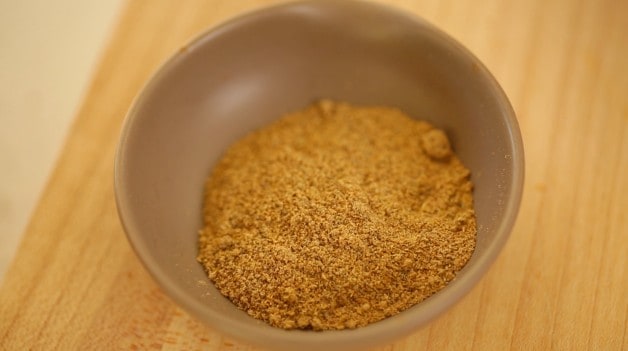 Now, add the dry ingredients to the bowl of wet ingredients and gently whisk. Be careful not to over-mix so the cake remains nice and light.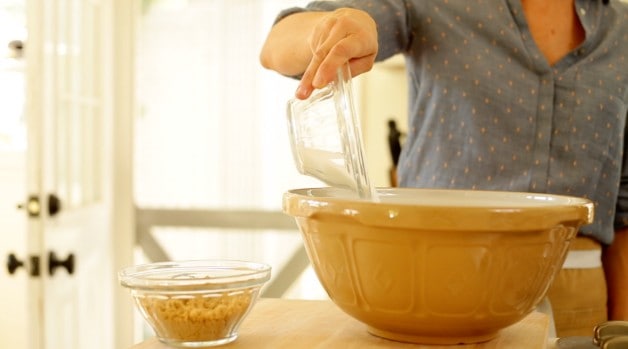 Add Candied Ginger
I also like to add roughly chopped candied ginger to this batter at this stage. Candied ginger is also known sometimes as crystallized ginger. You can find it in your spice aisle or at a health food store. If you have any leftovers you can put them to good use in my Chewy Ginger Molasses Cookies too!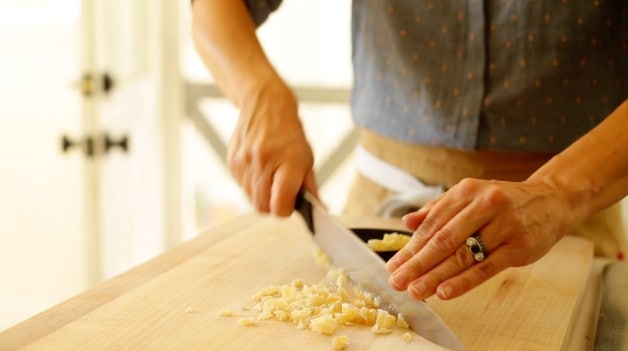 It adds a wonderful flavor and subtle spicy kick to the cake once it's baked. If you can't find it, it's OK to leave it out, but if you're a ginger fan it's worth sourcing online! I just think it adds one more level of interest to this cake.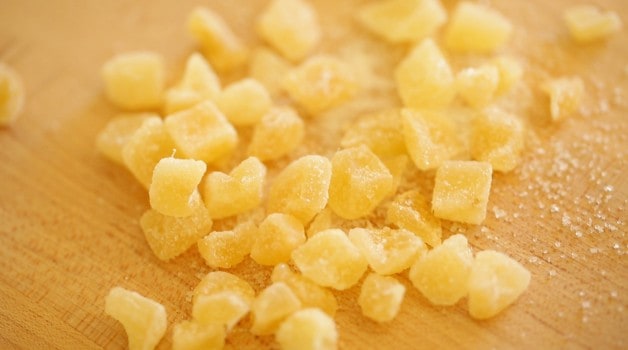 Pour the batter into your cheesecake pan, and set aside. Be sure you grease your pan first with a baking spray that also has flour in it, this will guarantee an easy release once your cake is baked. It works much better than butter or butter and flour.
It's also important to distribute the spray well with a pastry brush, this will prevent your cake from becoming too greasy on the bottom, from any excess spray.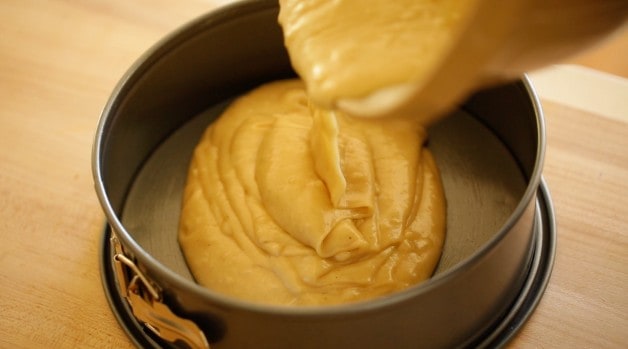 Step 2: Add the Fresh Figs
Now that our batter is made and in the pan, it's time to add the figs. I use black mission figs, which you can find in just about any supermarket. If figs are hard to come by, you could also use sliced apples or pears. You can't go wrong with any of those choices!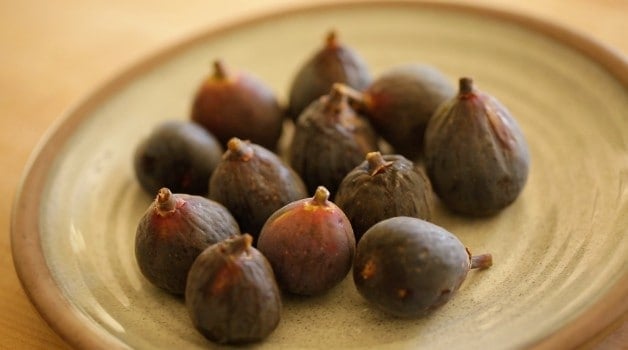 How do you use figs in recipes?
There's no need to cook them first, they'll bake beautifully in the oven. But you do want to slice them first to allow them to bake into the cake nicely, and it will be easier to eat that way too. To prepare the figs, cut off the stems and slice each fig lengthwise into thin pieces. There is no need to peel the figs as the outer skin is edible.
After you add the figs, set this aside while you make the crumble topping.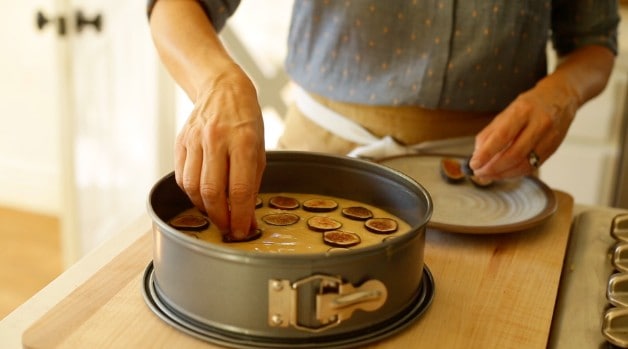 Step 3: Make the Crumble Topping
This crumble is super easy to put together. In a small bowl, add the flour, baking powder, brown and white sugar, and cinnamon.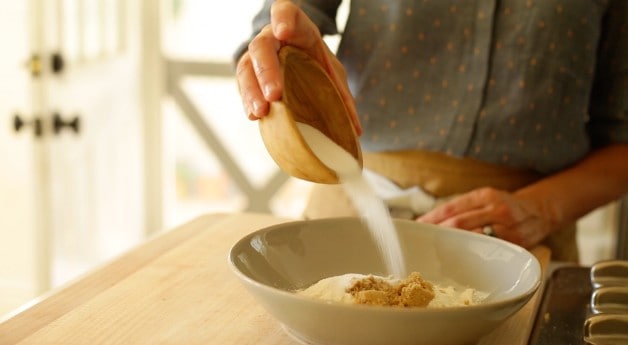 Whisk up the dry ingredients and then add the melted butter. Combine the mixture using a small fork or whisk. Then, you will see a beautiful crumble beginning to form. If you are a fan of crumb topping another great recipe for brunch is my Blueberry Crumb Cake.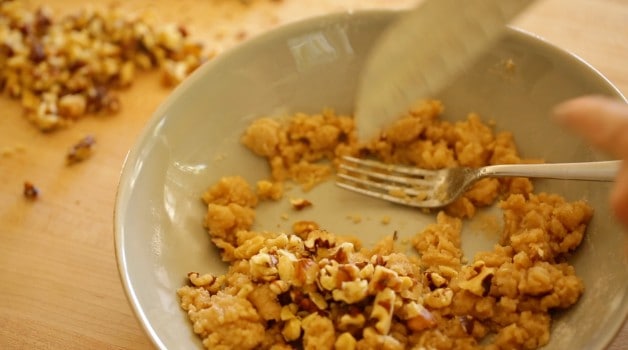 Add the roughly chopped walnuts and stir. You could also use pecans or almonds too.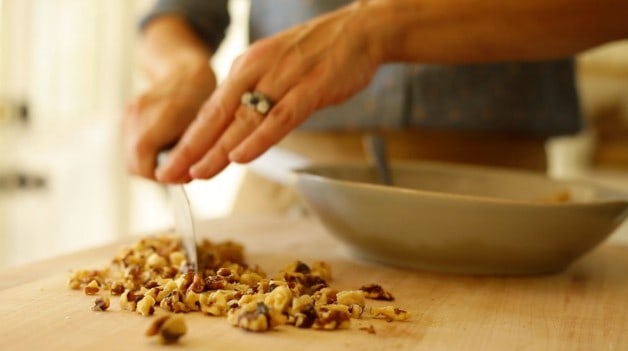 Sprinkle the crumble over the top of the fig cake. Making sure it's well covered. Then place your cake in a 350F (175C) degree oven for about 55-60 minutes.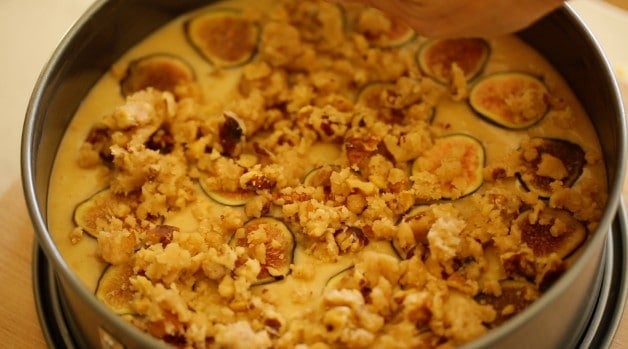 I know this seems like a long time to bake the cake, but because there is a lot of batter going into that deep pan it takes a little longer than the typical half-hour to bake a cake. This will allow the cake time to rise and bake all the way through.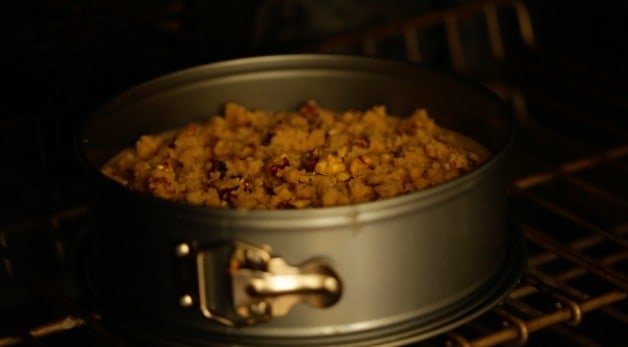 After you pull the cake from the oven, take a sharp knife and run it around the perimeter of the cake to loosen any of the baked figs that might have stuck to the side.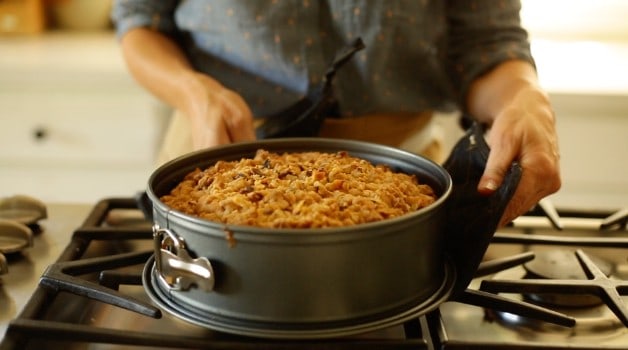 When you release the springform, the cake will be a perfectly round and beautiful shape! Thanks to the cheesecake pan! Then place it on your cake stand and serve!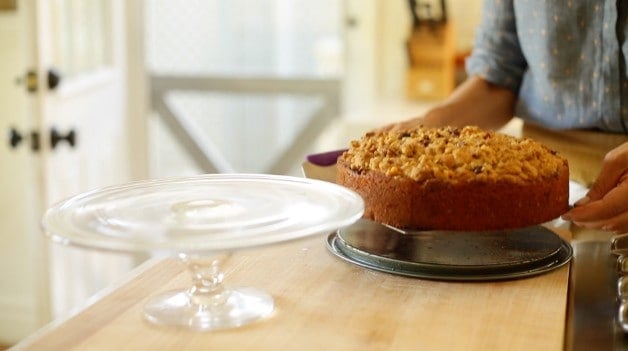 TIP: To remove your cake from the bottom of the cheesecake pan, you can use this handy gadget called a cake lifter it's fabulous for transporting all kinds of cakes to your cake stand or cooling rack.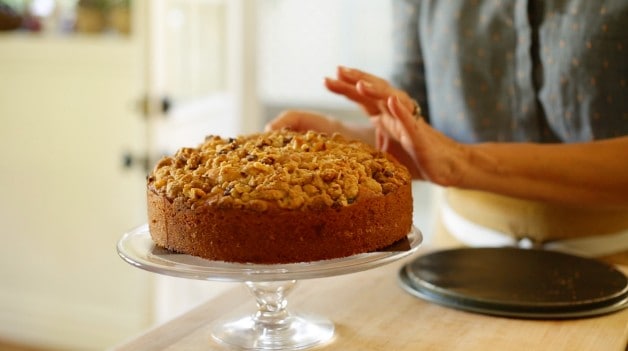 More Great Recipes for Fall!
Please Let Me Know if you Enjoyed This Recipe
By Leaving a Rating and a Review Below!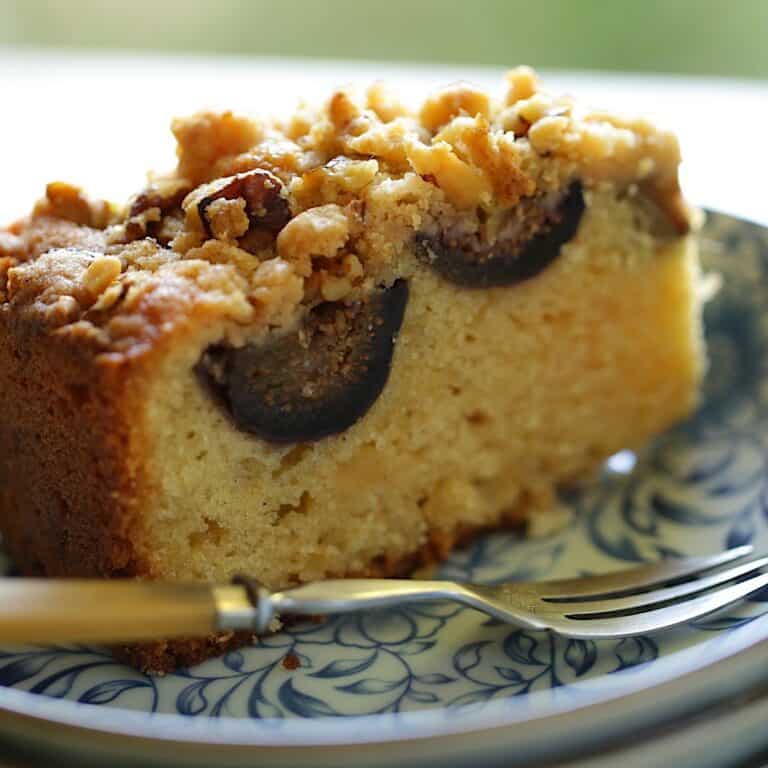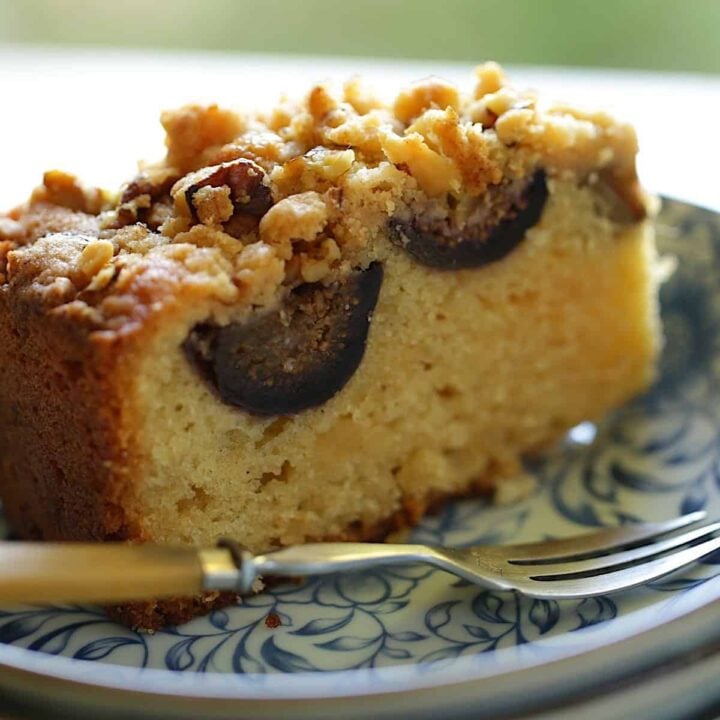 Fig Cake with Crumb Topping
Total Time:
1 hour
45 minutes
A Fresh Fig Cake Recipe with Crumb Topping is perfect for fall brunches or tea time. Light and moist cake combine with sweet sticky figs and a fantastic crumb topping!
Ingredients
3 eggs
1 cup (240ml) of vegetable oil
½ cup (100g) sugar
½ cup(90g) light brown sugar
½ cup (120ml) water
1 ½ teaspoon (7.5ml) vanilla extract
2 cups (240g) all-purpose flour
2 teaspoon (10ml) baking powder
¾ teaspoon (3.75ml) salt
1 ¼ teaspoon (6.75ml) ground cardamom
⅓ cup (50g) crystalized ginger, diced
5-10 fresh figs (depending on size) sliced vertically (or sliced pears or sliced apples would be great too!)
Crumble
½ cup (60g) all-purpose flour
½ teaspoon (2.5ml) baking powder
pinch of salt
2 tablespoon (25g) white sugar
2 tablespoon (23g) brown sugar
¼ teaspoon (1.25ml) cinnamon
5 tablespoon (75ml) melted butter
½ cup (75g) chopped walnuts
Instructions
Preheat oven to 350F (175C)
Spray a 9" cheesecake pan with baking spray and set aside.
In a large bowl combine eggs, oil, sugars, water and vanilla extract. Whisk to combine and set aside.
In a small bowl combine flour, baking powder, salt and cardamom. Whisk to combine.
Add the dry ingredients to the wet ingredients and whisk slowly to combine. Stir in the candied ginger.
Pour cake batter into pan, arrange figs cut side up, in a circle around the cake. Set aside.
To make crumble, whisk together the flour, baking powder, salt, sugars and cinnamon until combined. Add the melted butter and stir with a fork until a crumble forms. Then stir in the walnuts.
Sprinkle crumble on top of figs and cake, evenly distributed.
Bake cake for 50 mins-1 hour, or until a skewer comes out clean. If top starts to brown too quickly cover with foil until fully baked through. Allow to cool and serve for tea time or for Sunday brunch!


Notes
If figs are not available, pears or apples will work as well.
This cake reheats beautifully! Just wrap tightly in foil and refrigerate, then place in oven (covered in the foil) and bake at 350F for 20 mins or until warmed through.
Nutrition Information:
Yield:

12
Serving Size:

1
Amount Per Serving:
Calories:

172
Total Fat:

7g
Saturated Fat:

4g
Trans Fat:

0g
Unsaturated Fat:

3g
Cholesterol:

59mg
Sodium:

67mg
Carbohydrates:

22g
Fiber:

1g
Sugar:

2g
Protein:

4g