My Pear Almond Tart Recipe is a great dessert idea for Thanksgiving. A delicate crust mixed with rich almond paste and tender pears. Such a winner! Includes video tutorial below!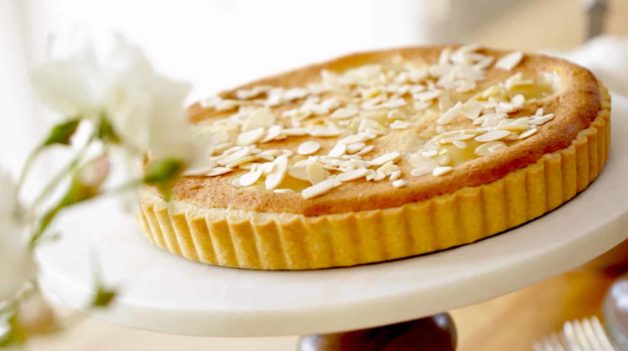 WATCH MY DEMO OF THIS PEAR ALMOND TART RECIPE BELOW! 
My husband isn't the biggest fan of Thanksgiving, chalk it up to his French upbringing. He's never been able to truly embrace the whole "sweet and savory" combos of this feast, sweet potatoes with marshmallow casserole can cause his eyes to roll back into his head, but that's a different story.
That's why I always feel compelled to make at least something he loves on this day, and that's where my Pear Almond Tart recipe saves the day.  It's his absolute favorite and adds a nice "Franglais-twist" to our Thanksgiving dessert table.
How do you make a tart shell?
A homemade tart shell is so easy to make and worth the extra effort if you ask me.  You can even make it the day before, and keep it refrigerated until ready to use.
It's essentially a combination of butter, flour, sugar and salt. Then to bring it together you'll add an egg yolk and ice water (full recipe below).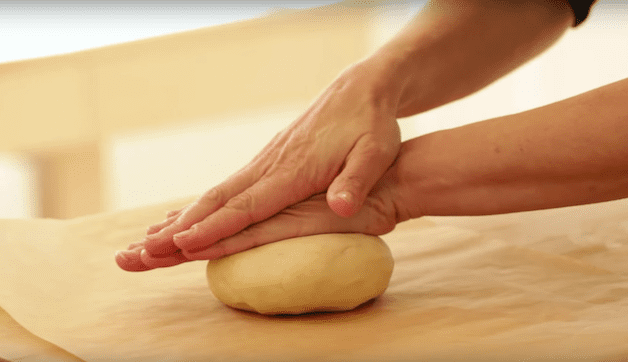 You'll roll it into a ball, flatten into a disc and then fit it into your tart tin.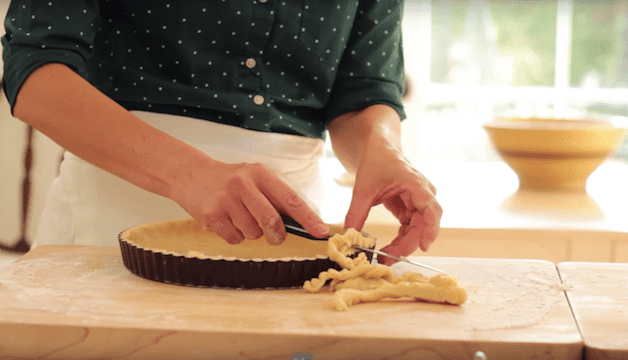 Then just trim the edges and you are good to go. You can even keep it refrigerated in the tin all trimmed and ready and then just fill and bake on Thanksgiving morning.
What ingredients are in an almond filling? 
In this almond filling I add almond paste, sugar, butter, eggs, flour and salt and a little almond extract to kick up the almond flavor a bit and really that's all there is to it.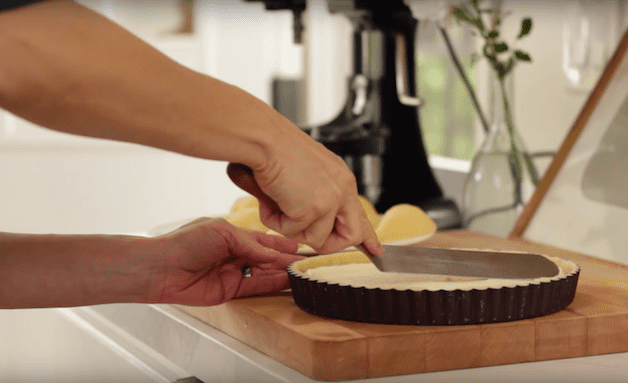 What kind of pears should I use for this tart?
I recommend using jarred pears for this recipe.  I love the ones you can get a Trader Joe's because they retain their shape once baked, and they are already peeled (Nice!).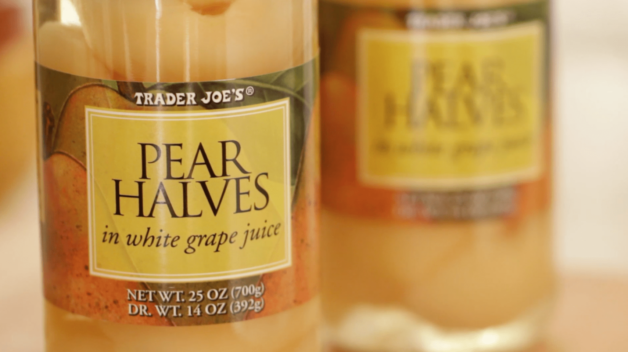 I find if you use fresh pears, unless they are really ripe, they are still a bit too firm after they are baked.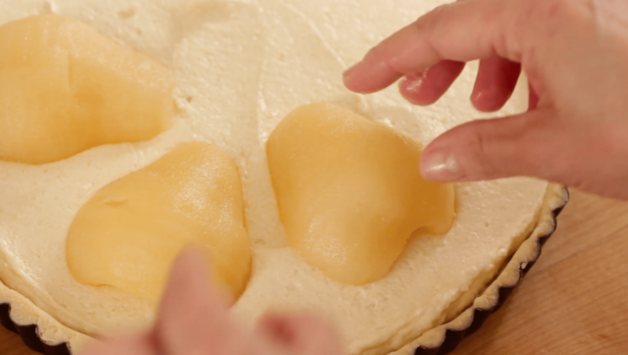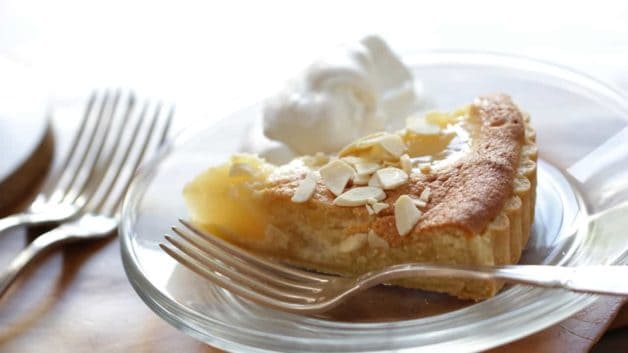 Try some of my other almond dessert recipes- Pluot Sundaes with Almond Brittle, Easy Apricot Almond Tartlettes, or my Raspberry Almond Thimble Cakes.
Pluot Sundaes with Almond Brittle
Easy Apricot Almond Tartlettes Recipe
Raspberry Almond Thimble Cakes
Please let me know if you make this Pear Almond Tart Recipe by leaving a rating and review below
Follow me on Youtube, Pinterest, Instagram, Facebook & Twitter!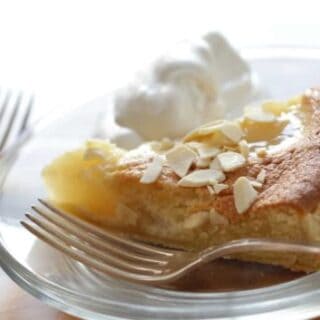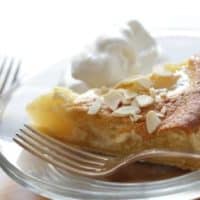 Pear Almond Tart Recipe
Prep Time:
1 hour
30 minutes
Total Time:
2 hours
15 minutes
A great dessert idea for Thanksgiving. A delicate crust mixed with rich almond paste and tender pears. Such a winner! Includes video tutorial too.
Ingredients
For Pastry:
1 ¼ cup (150 g) flour
1 tbsp (12 g) sugar
½ tsp (5 ml) salt
8 tbsp (120 g) cold unsalted butter
1 egg yolk
3-4 tbsp (45ml-60 ml) ice water
For Filling:
7 oz (196 g) almond paste
8 tbsp (120 g) unsalted butter, room temperature and soft
¼ cup (50 g) sugar
2 eggs
1 tsp (5 ml) almond extract
¼ tsp (1.25 ml) salt
1/3 cup (40 g) of flour
8 pear halves, jarred or canned
1 tbsp (15 ml) sliced almonds, for garnish
1 tbsp (15 ml) apple jelly, for garnish
Homemade Whipped Cream:
2 cups (480 ml) heavy cream
2 tbsp (13 g) powdered sugar, confectioner's sugar, or icing sugar (all the same thing)
1 tsp (5 ml) vanilla extract
Instructions
To make Pastry: In a food processor combine flour, sugar, salt and pulse until combined. Add butter cubes a few at a time, pulsing quickly until dough resembles a coarse meal.
Whisk egg yolk with ice water until combined. With the machine running, add egg mixture until combined and a dough forms. If not sticking together add 1tbsp more water. If too sticky add 1-2 tbsp more flour.
Form dough into a ball, flatten into a disc, wrap in parchment and refrigerate at least 1 hour or overnight even easier.
Roll out dough into a large circle. Place in a removable bottom tart tin. Transfer dough into tin, fold over edges inward to create a double crust, this will add stability to your shell.
Remove excess dough with a knife and continue to fit dough into tin, pressing edges in and making sure top of dough is flush with the tin.
Pop tart in freezer while you make the filling.
Preheat oven to 350F (176C).
In an electric mixer combine almond paste, butter and sugar, beat until combined and fluffy.
Add eggs, one at a time, beating in-between each addition. Add almond extract, salt and flour. Beat to combine scrapping down bowl as needed.
Remove tart tin from the freezer and pour mixture into the center, smoothing out to the edges with a spatula.
Then place the pear halves around the edges, with the points facing in. Jarred pears really the best, because they are soft, and already peeled! Otherwise pears take a long time to cook if using fresh and pastry will be done before the pears are soft.
Be sure to space pears out so they are not touching, as filling will puff up and they need room to expand. If you have room in the center you can add another pear in the middle.
Bake for 40-45 minutes until pastry is golden brown and filling is puffed up and golden.
Then melt apple jelly in microwave :30 until liquefied. Brush pears only with the jelly for a nice shine. Sprinkle with sliced almonds.
Remove tart from the tin, place on a cake stand and "ta da!"
For whipped cream combine all ingredients in a large bowl and whip on high until soft peaks form.
Cut into wedges and serve with whipped cream. Enjoy!!
Nutrition Information:
Yield:

8
Serving Size:

1
Amount Per Serving:
Calories:

503
Total Fat:

28g
Saturated Fat:

17g
Trans Fat:

1g
Unsaturated Fat:

9g
Cholesterol:

139mg
Sodium:

122mg
Carbohydrates:

64g
Net Carbohydrates:

0g
Fiber:

6g
Sugar:

49g
Sugar Alcohols:

0g
Protein:

4g