This Pear Almond Tart Recipe is one of my favorite dessert recipes for Thanksgiving. It combines a delicate pastry crust with rich almond paste and tender pears. My husband requests this pear tart recipe every year at Thanksgiving. It's become such a family favorite!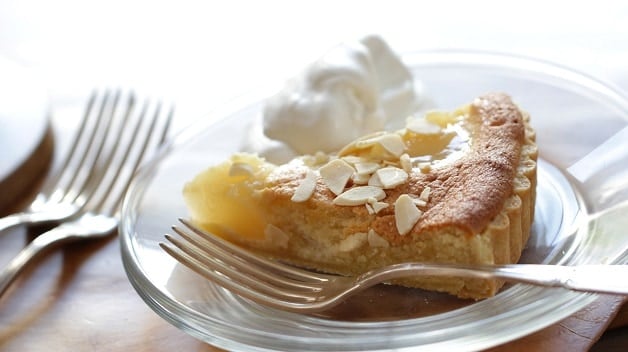 For an even easier Pear Tart Recipe, you can check out my Easy Pear Tart recipe made with store-bought puff pastry.
My husband isn't the biggest fan of Thanksgiving, chalk it up to his French upbringing. He's never been able to truly embrace the whole "sweet and savory" combos of this feast, sweet potatoes with marshmallow casserole can cause his eyes to roll back into his head, but that's a different story.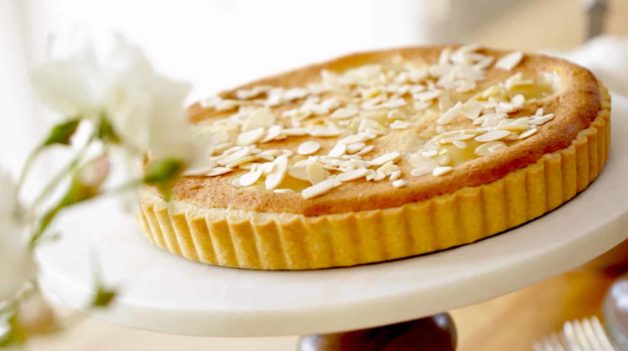 That's why I always feel compelled to make at least something he loves on this day, and that's where this Pear Almond Tart recipe saves the day. This French-inspired Pear tart, also known as a Pear Frangipane Tart, is his absolute favorite and adds a nice "Franglais-twist" to our Thanksgiving dessert table every year.
Watch How to Make My Pear Almond Tart Recipe Below!
SUBSCRIBE TO MY YOUTUBE CHANNEL FOR MORE RECIPE VIDEOS! (IT'S FREE!)
Other great recipes for tarts and pies include my French Apple Tart or my Foolproof Apple Pie , or for something savory try my Goat Cheese Tartlets!
Here's How to a Pear Almond Tart
Step 1: Make the Tart Shell
A homemade tart shell is so easy to make and worth the extra effort if you ask me. You can even make it the day before, and keep it refrigerated until ready to use. You can keep it refrigerated in the tin all trimmed and ready and then just fill and bake on Thanksgiving morning.
To make the crust you'll add flour, sugar, and salt to a food processor and pulse. Then, add the unsalted, chilled butter, and pulse until you get a nice crumb.
Add an egg yolk in a small bowl with cold water, then add that to the food processor. Pulse until the dough ball forms.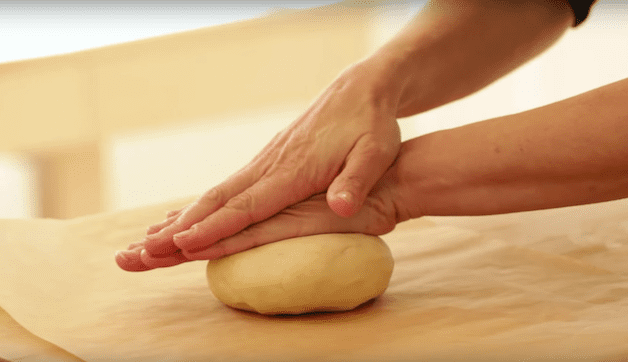 Form the dough into a disk, then wrap in parchment paper and chill in the fridge.
Tip: It's better to make the crust the day before so the dough is nice and cold and much easier to work with the day you plan to roll it out.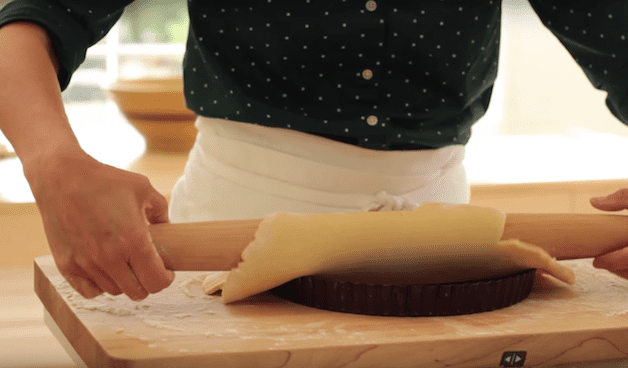 A crucial step in this recipe is to use a tart tin with a removable bottom, this will make it easiest for removing the tart of the tin and on to your serving platter. It also keeps the nice fluted edges in place for a beautiful presentation (this link goes to Amazon where I am an affiliate partner).
When the dough has chilled, roll out and lay it over the tart tin. Fold in the excess around the edges to create a double crust, and it will give a little more stability to this delicate dessert.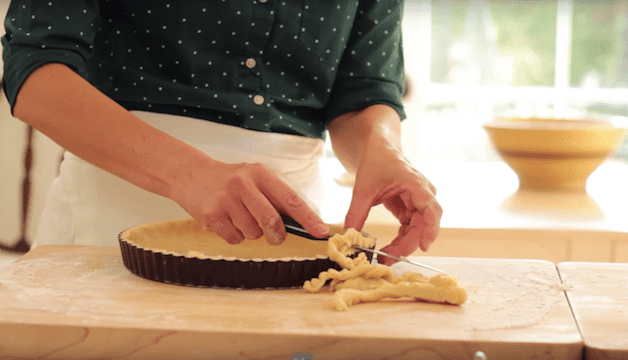 Press the dough into the tin and trim off the top edges. Make sure to smooth out any cracks or big imperfections.
Pop into the freezer while you make the tart filling. This is another crucial step to avoid a misshapen tart crust after baking.
Is tart crust and pie crust the same?
No, a pie crust is more buttery and flakey while a tart crust has a crumbly, cookie texture and is usually sweeter too.
Step 2: Make the Frangipane Filling
Normally, frangipane filling is made with ground almonds, but over the years I have come to rely on using store-bought almond paste. I find the almond flavor is more pronounced and it's one less small appliance to clean out! (this link goes to Amazon where I am an affiliate partner)
You can also use store-bought almond paste for my Easy Almond Croissants, Galette des Rois, or my Raspberry Almond Brunch Cake
Add the almond paste, butter, and sugar to a stand mixer and beat until nice and fluffy.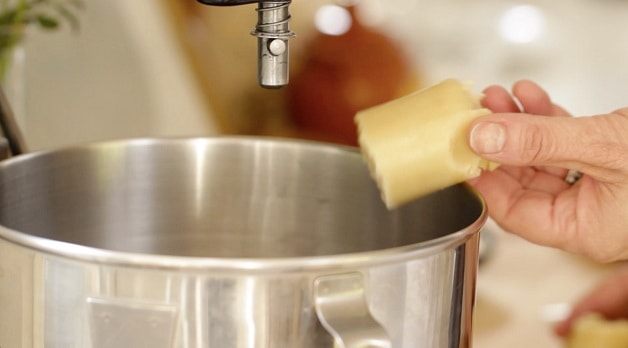 Add two eggs, one at a time, scraping the bowl after each addition. Then add the pure almond extract, salt, and flour and mix until combined.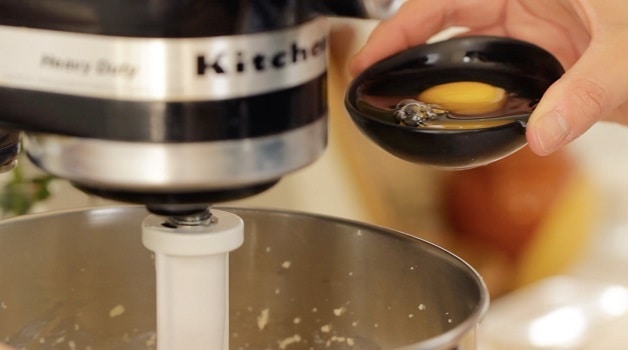 Is imitation almond extract the same as almond extract?
No, pure almond extract is made with real almonds but imitation almond extract only contains chemicals that mimic the almond flavor.
Using pure extract is recommended for this recipe to get the best flavor for this delicious dessert!
Step 3: Assemble the Pear Almond Tart
When your filling is well-mixed, dollop the filling into your (very cold) tart crust, and smooth it out with an icing spatula.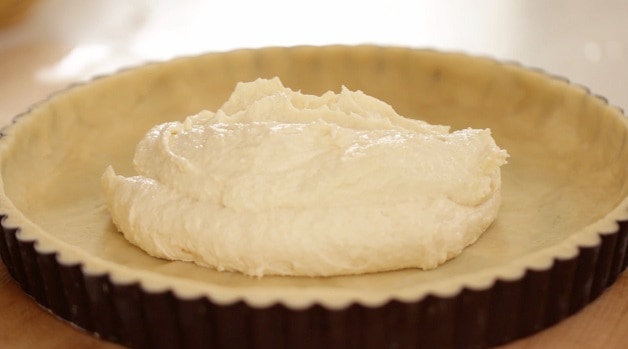 Place each pear half on to the filling with the more narrow, pointed end facing in. Make sure the pears have plenty of room to "breath" and aren't touching each other. This will allow the pastry filling to puff up and "hug" the pears.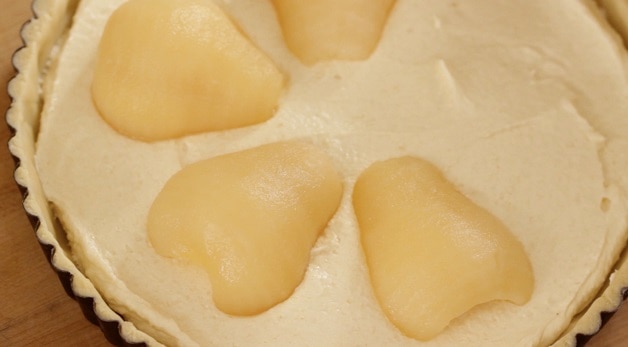 Tip: Don't use fresh pears for this recipe. Unless they are really ripe, the pears won't be done when the pastry is done. If you use a jar or can of pears, the pears are softer and will be nice and tender when the pastry is done.
This step also saves a ton of time because you don't have to peel, core, or cut them!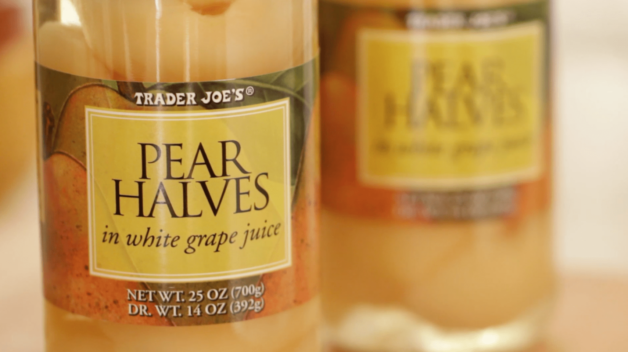 If you have some space in the center, you can pop in a smaller pear right in the middle, which makes for a nice decorative touch.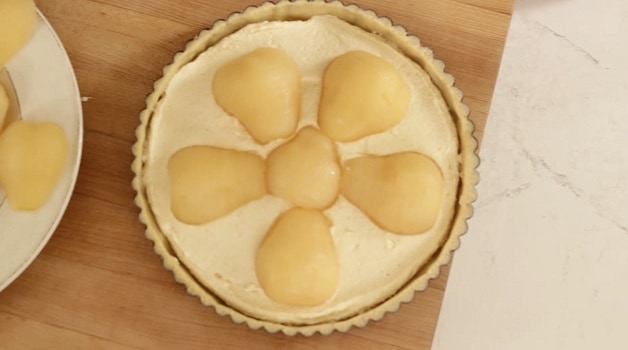 Place your pear tart in a 300F (148C) degree oven for 45 minutes. The tart is done when the filling is browned and puffed up.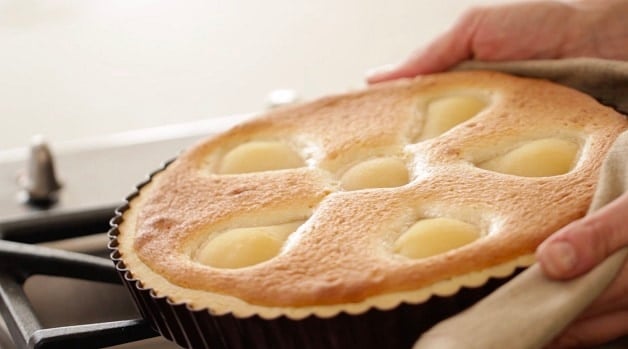 The finishing touch is to brush each pear with apple jelly, or any jelly that is clear. Microwave the jelly for a few seconds in the microwave and then brush it onto the pears for a pretty shine.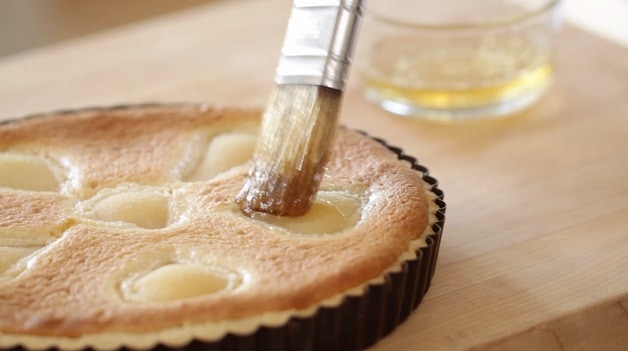 Top the tart with some sliced almonds and powdered sugar, once cooled, if you desire.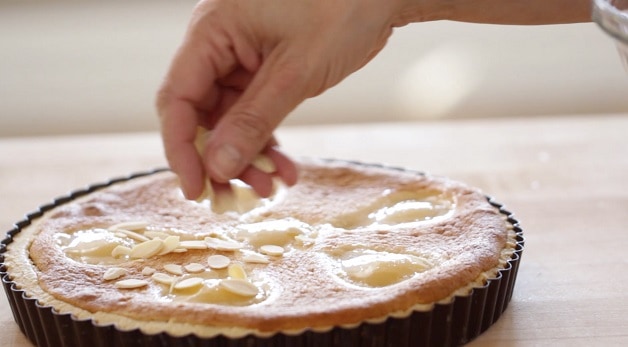 Finally, release your Pear Almond Tart from the tart tin and carefully place it on your cake stand.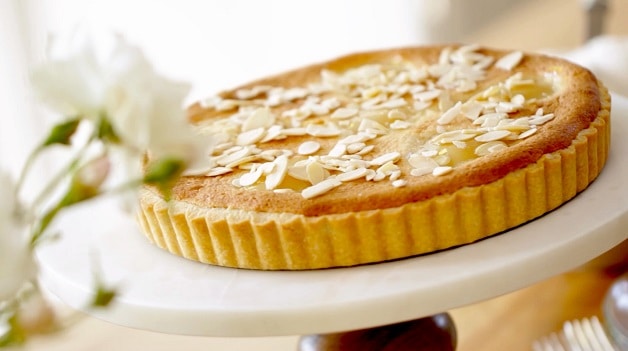 Can You Freeze A Pear Tart?
Personally, I would not freeze this Pear Almond Tart, since the texture of the pears and the filling won't be as good. It's better to freeze the dough, or the dough in its tin to save a step the day you plan to bake it. However, this pear tart can be made 1 day ahead, kept refrigerated in its tin, and then re-heated at 300F for 15 minutes to refreshen it up.
PLEASE LET ME KNOW IF YOU MAKE THIS RECIPE
BY LEAVING A RATING AND REVIEW BELOW!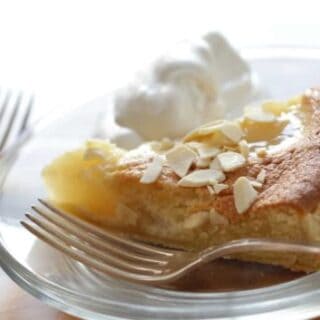 Pear Almond Tart Recipe
Prep Time:
1 hour
30 minutes
Total Time:
2 hours
15 minutes
A great Pear Tart Recipe for holiday entertaining. A delicate crust mixed with rich almond paste and tender pears combines for a winner of a holiday dessert!
Ingredients
For Pastry:
1 ¼ cup (150 g) flour
1 tablespoon (12 g) sugar
½ teaspoon (5 ml) salt
8 tablespoon (120 g) cold unsalted butter
1 egg yolk
3-4 tablespoon (45ml-60 ml) ice water
For Filling:
7 oz (196 g) almond paste
8 tablespoon (120 g) unsalted butter, room temperature and soft
¼ cup (50 g) sugar
2 eggs
1 teaspoon (5 ml) almond extract
¼ teaspoon (1.25 ml) salt
⅓ cup (40 g) of flour
8 pear halves, jarred or canned
1 tablespoon (15 ml) sliced almonds, for garnish
1 tablespoon (15 ml) apple jelly, for garnish
Homemade Whipped Cream:
2 cups (480 ml) heavy cream
2 tablespoon (13 g) powdered sugar, confectioner's sugar, or icing sugar (all the same thing)
1 teaspoon (5 ml) vanilla extract
Instructions
To make Pastry: In a food processor combine flour, sugar, salt and pulse until combined. Add butter cubes a few at a time, pulsing quickly until dough resembles a coarse meal.
Whisk egg yolk with ice water until combined. With the machine running, add egg mixture until combined and a dough forms. If not sticking together add 1 tablespoon more water. If too sticky add 1-2 tablespoon more flour.
Form dough into a ball, flatten into a disc, wrap in parchment and refrigerate at least 1 hour or overnight even easier.
Roll out dough into a large circle. Place in a removable bottom tart tin. Transfer dough into tin, fold over edges inward to create a double crust, this will add stability to your shell.
Remove excess dough with a knife and continue to fit dough into tin, pressing edges in and making sure top of dough is flush with the tin.
Pop tart in freezer while you make the filling.
Preheat oven to 350F (176C).
To make the Filling: In an electric mixer combine almond paste, butter and sugar, beat until combined and fluffy.
Add eggs, one at a time, beating in-between each addition. Add almond extract, salt and flour. Beat to combine scraping down bowl as needed.
Remove tart tin from the freezer and pour the mixture into the center, smoothing out to the edges with a spatula.
Then place the pear halves around the edges, with the points facing in. Jarred pears really the best, because they are soft, and already peeled! Otherwise, pears take a long time to cook if using fresh and pastry will be done before the pears are soft.
Bake for 40-45 minutes until pastry is golden brown and filling is puffed up and golden.
Then melt apple jelly in microwave :30 until liquefied. Brush pears only with the jelly for a nice shine. Sprinkle with sliced almonds.
Remove tart from the tin, place on a cake stand and "ta da!"
For whipped cream combine all ingredients in a large bowl and whip on high until soft peaks form.
Cut into wedges and serve with whipped cream. Enjoy!!
Notes
Be sure to space pears out so they are not touching, as the filling will puff up and they need room to expand. If you have room in the center you can add another pear in the middle.
Personally, I would not freeze this tart recipe, since the texture of the pears and the filling won't be as good. It's better to freeze the dough, or the dough in its tin to save a step the day you plan to bake it. However, this tart can be made 1 day ahead, kept refrigerated in its tin and then re-heated at 300F for 15 minutes to refreshen it up. 
Recommended Products
As an Amazon Associate and member of other affiliate programs, I earn from qualifying purchases.
Nutrition Information:
Yield:

8
Serving Size:

1
Amount Per Serving:
Calories:

503
Total Fat:

28g
Saturated Fat:

17g
Trans Fat:

1g
Unsaturated Fat:

9g
Cholesterol:

139mg
Sodium:

122mg
Carbohydrates:

64g
Fiber:

6g
Sugar:

49g
Protein:

4g