Every year at the start of January, I start to crave this Galette des Rois Recipe or "Cake of the Kings". It's a classic French recipe served in France on January 6th.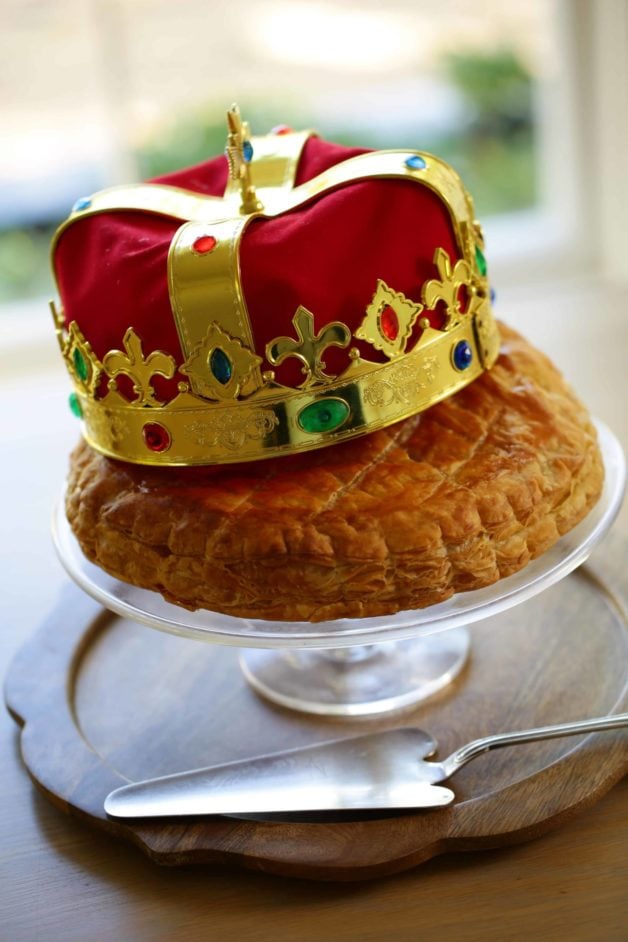 Before we had kids, my husband and I would spend every other Christmas in France, and we'd always try to stretch our vacation as far into January as we possibly could to take advantage of the Galette des Rois, it's that good!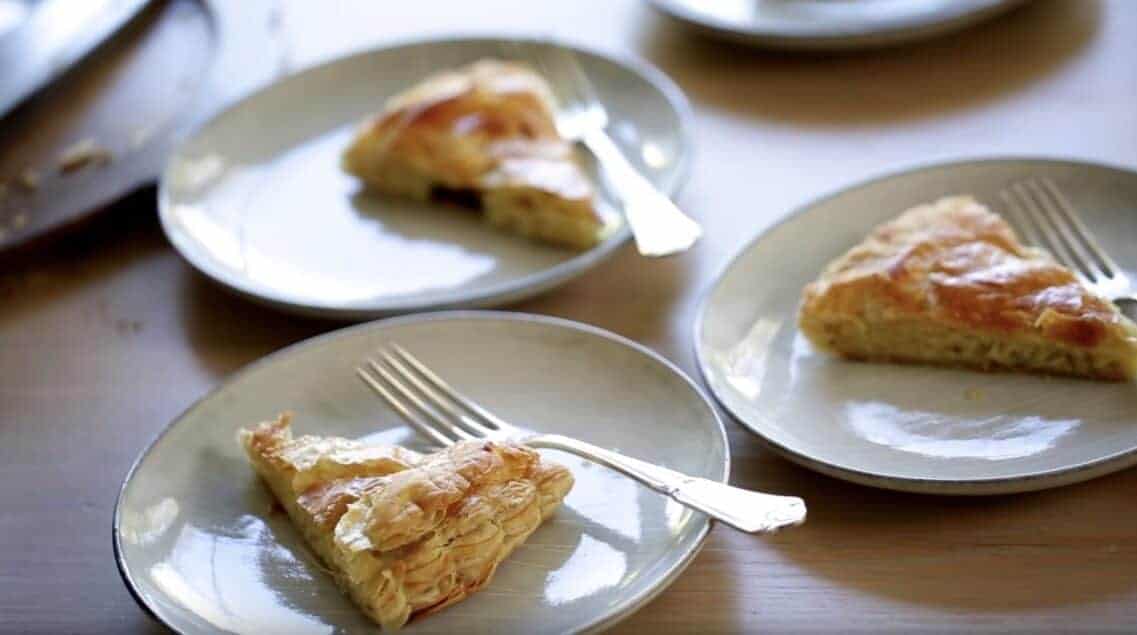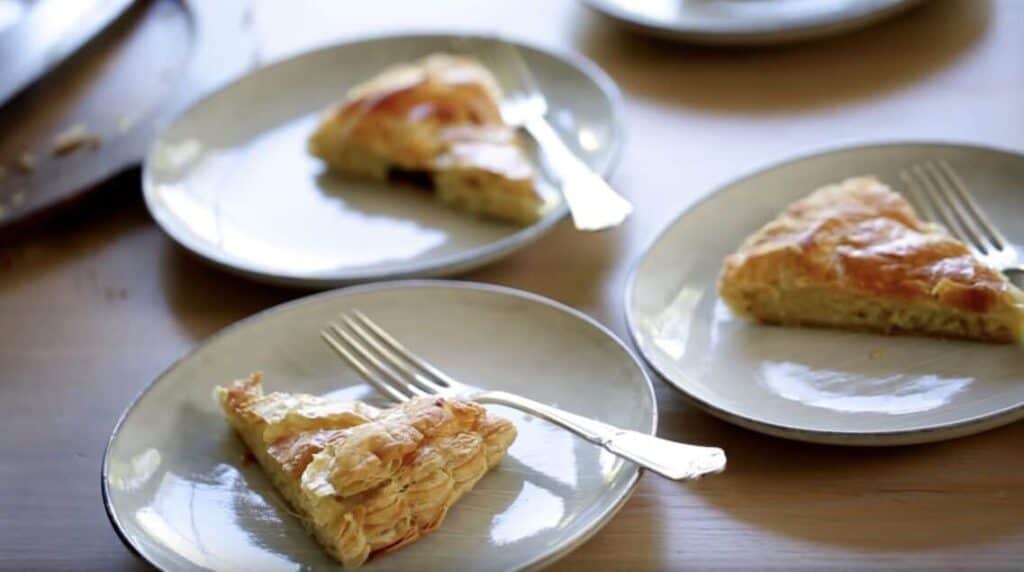 It's my husband's favorite dessert and can only be found in France one time a year, so it's certainly worth staying just a few more days!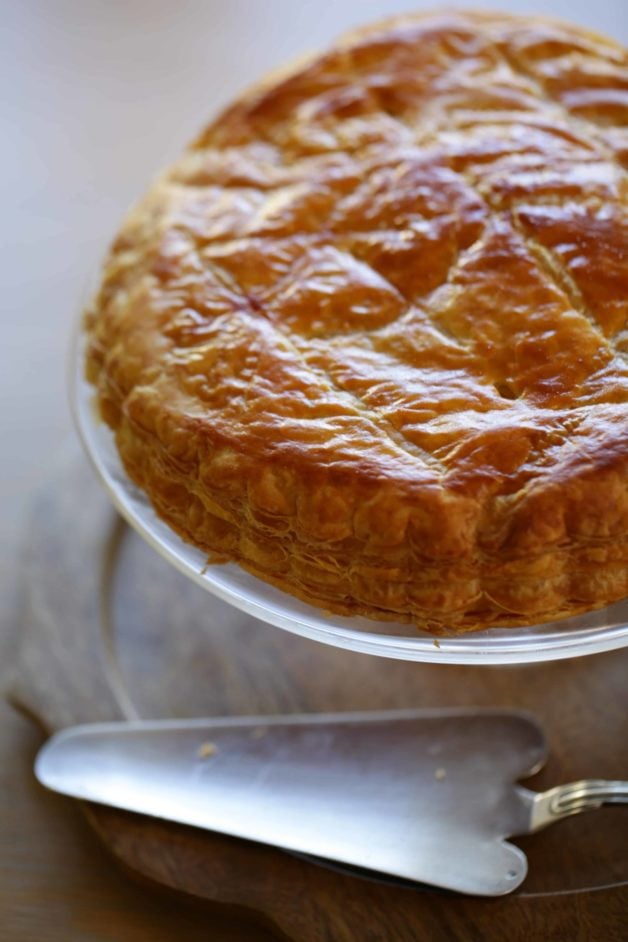 Watch my Video Demo on this Recipe Below!
Subscribe to My YouTube Channel and Never Miss a Video!
What's in a Galette des Rois?
It's really a simple dessert that combines buttery, puff pastry, and a decadent, almond paste filling. Almost like an almond croissant, in cake form. The combination is just divine!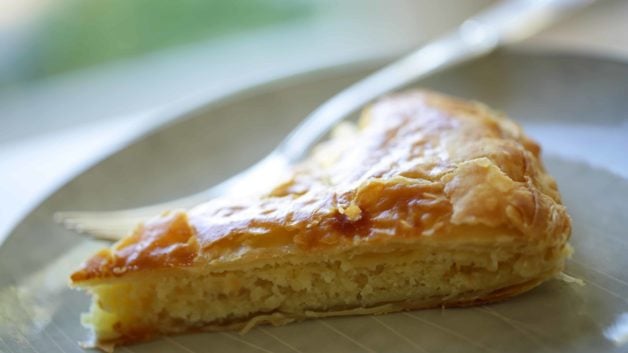 The Galette Des Rois Tradition
The Galette des Rois celebrates the Epiphany or "Little Christmas" as it's known in the Christian religion. The Epiphany follows the 12 days after December 25th, which lands on January 6th, hence the name "Little Christmas".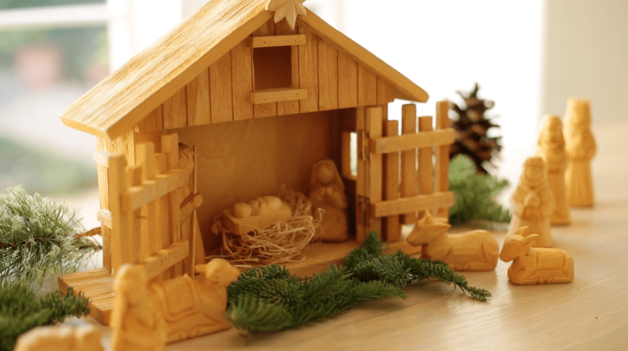 "Little Christmas" marks the arrival of the 3 wisemen or Kings who came bearing gifts for baby Jesus.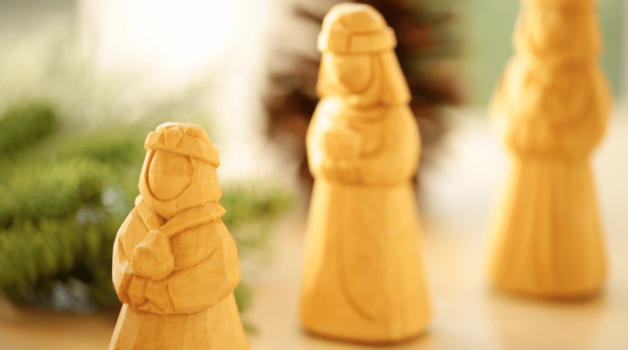 It's a nice way to keep the Christmas story alive after the New Year's celebration. As a kid, my parents would always leave our nativity scene up, just until January 6th, since technically that allows all the characters in the scene to play their part.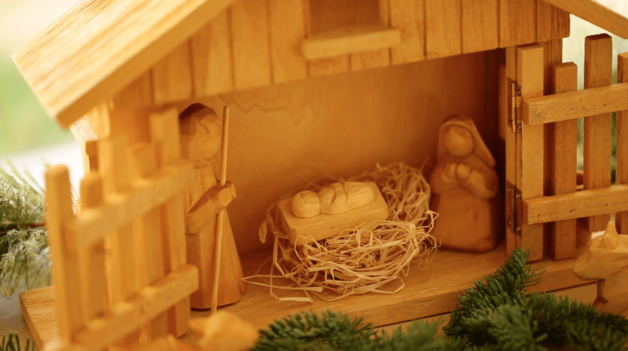 What is the story behind the baby in the king cake?
The 'baby" in the cake is baby Jesus and the traditional way to bake a Galette des Rois is to place a porcelain figurine or "feve" as it's known in French, of the baby Jesus into the center of the cake.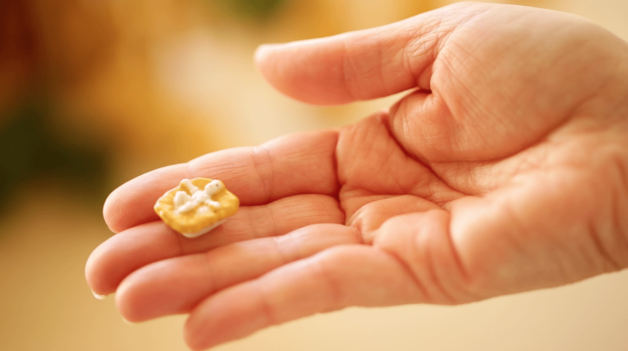 King for A Day
The figure is tucked into the almond cream and set into the cake as it bakes. The person who receives the slice with the figurine is crowned "King for a Day" and gets to wear a crown. For this you'll see the Galettes des Rois sold in France with little paper gold crowns.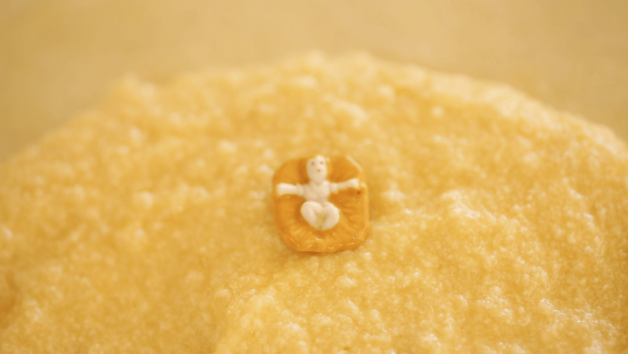 Personally, the whole idea of serving a cake with a porcelain figurine tucked inside has always made me nervous! Much like the French custom of baking Clafoutis with cherries that still have their pits! (Hello, choking hazard!?)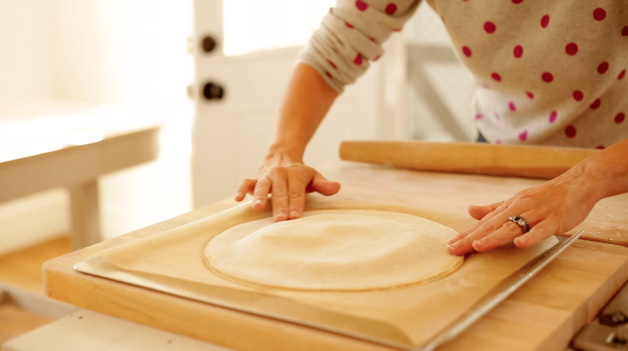 What to Use Instead of a "Feve"?
So instead, I use a little piece of chocolate. I've also seen some families use a bean, but given the choice who wouldn't choose the chocolate?! I think the anticipation of receiving a slice of cake with a piece of chocolate tucked inside is in fact more exciting for my kids than the privilege of wearing the crown!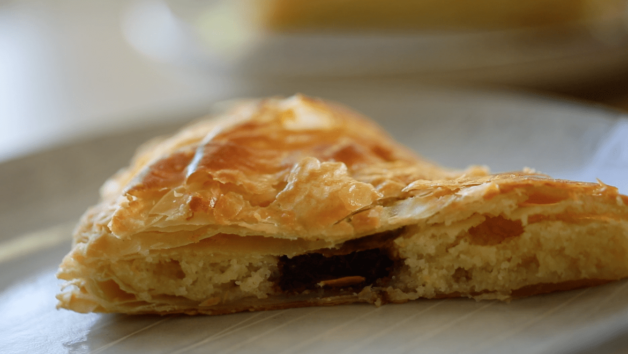 Where Can You Buy a Feve Outside of France?
If you really want to be a traditionalist and use the feve, you can find some nice vintage ones for about $5 each online.
The tradition has branched out to include secular "feves" depicting all kinds of amusing characters from French culture.
But if you want to be a "purist, you'll use the baby Jesus.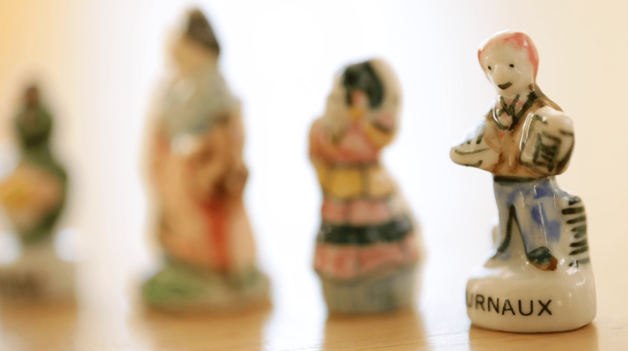 One of my favorite sources is the Bleuets Etsy Shop. It's where I found the ones pictured below. Lots of charming designs to choose from and the seller has always been a pleasure to work with. She also has some other great vintage French finds too!
Fair warning: you probably won't leave her shop with just a $5 feve. She has so many beautiful things!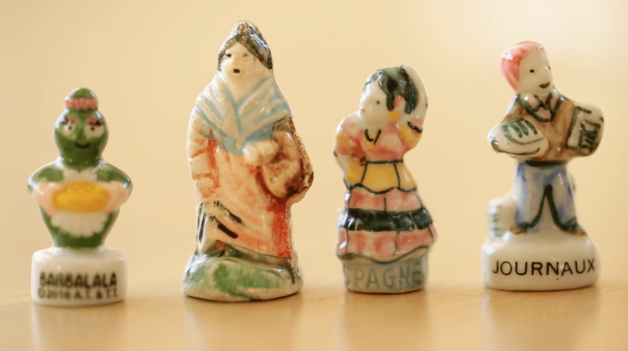 And for a spiffy-looking crown to mark the occasion, you can find this crown below on Amazon. Since we make this dessert every year, I decided to invest in a re-usable crown, which I must say is quite the little showpiece.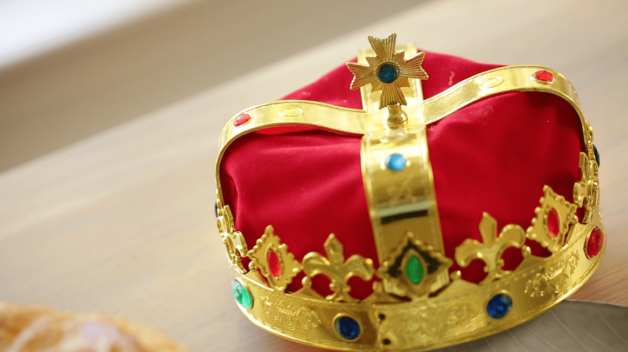 I hope you enjoy this dessert as much as we do. Our family always looks forward to it since it's one last holiday dessert to look forward to before all those New Year resolutions kick in!
Looking for more French Desserts?
If You Enjoyed This Recipe
Please Leave a rating and a Review Below!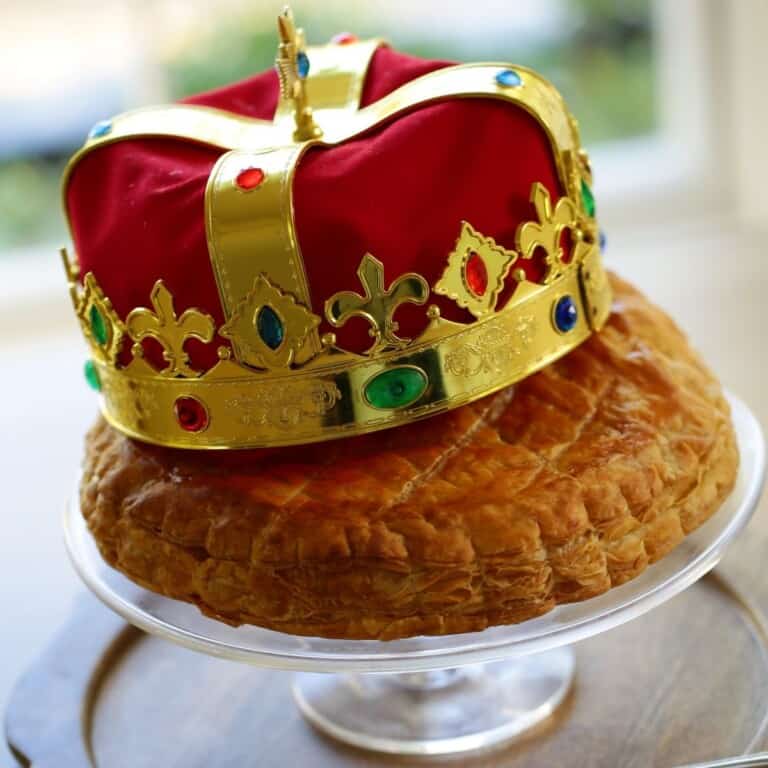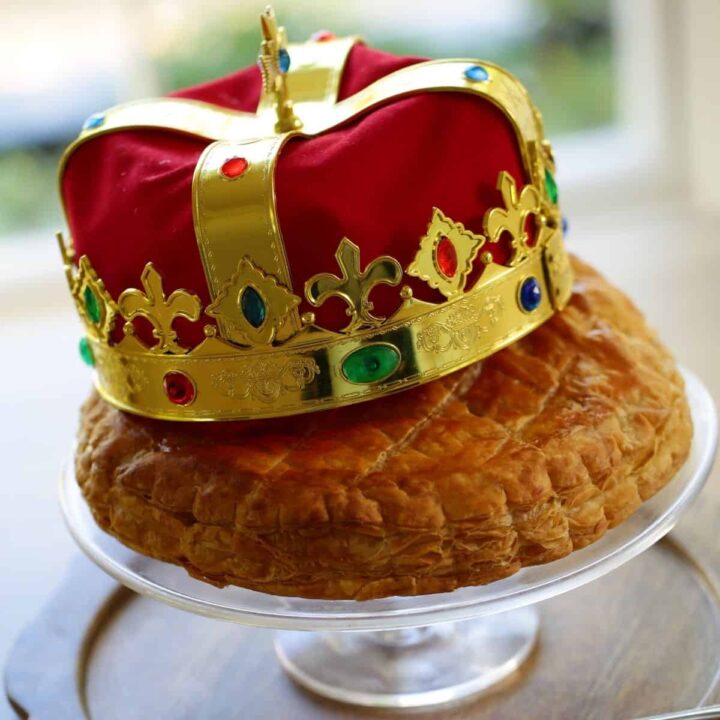 Galette des Rois
Total Time:
1 hour
10 minutes
Galette des Rois is a traditional cake served in France on January 6th to celebrate the epiphany or "Little Christmas." It's really simple to make and so delicious too!
Ingredients
2 Sheets store-bought puff pastry
¼ cup (60 ml) almond paste
3 tablespoon (45g) unsalted butter
3 tablespoon (20g) powdered sugar
2 eggs
1 teaspoon (5ml) almond extract
¼ teaspoon (1.25ml) salt
2 tablespoon (15g) all-purpose flour
1 egg beaten for egg wash
piece of bittersweet chocolate or "feve"
Instructions
Pre-heat oven to 400F (200C).
In the bowl of an electric mixer beat together the almond paste, butter and powdered sugar until well combined. Then add eggs 1 at a time, beating in between each addition. Then add almond extract and salt and beat again. Lastly add flour and beat until combined. Set aside.
Roll out puff pastry sheet onto a floured surface, making sure you have a flat rectangular with no seams remaining if your pastry came scored in any way.
Cut out 2 10" inch circles with a dinner plate. Place one on a parchment-lined cookie sheet and set the other aside resting on a cutting board.
Spread the almond cream on the circle on the cookie sheet leaving a 2" border. Brush border with egg wash, place "feve" or piece of chocolate anywhere in the cream.
Place 2nd circle on top and press together to seal circles together.
Create a decorative scallop along the edge of the circles by placing your two fingers at the top edge of the circle and pulling a butter knife towards you to pull the pastry towards you and create an indentation in the pastry. Continue all the way around the circle until a scalloped edge is formed.
Brush the center part only of the circle with more egg wash.
To firm up pastry before baking, place tray in fridge for 20 mins or the freezer for 10 mins.
Bake at 400F (200C) for 25-30 mins. Serve warm or at room temperature.
Slice into wedges. The guest that receives the slice of the cake with the "feve" or chocolate is King for the day!
Notes
Be sure your puff pastry is extremely cold before you lace it in the oven. In fact, pop it in the freezer for 10 minutes before baking. This will prevent the pastry from melting too quickly and the filling seeping out. It will also help it puff up as it bakes.
Make sure your pastry mounds are well sealed with the egg wash, otherwise the filling will seep out.
You can make this cake ahead of time and either serve at room temperature or reheat for 10 minutes at 300F (150C)
Recommended Products
As an Amazon Associate and member of other affiliate programs, I earn from qualifying purchases.
Nutrition Information:
Yield:

8
Serving Size:

1
Amount Per Serving:
Calories:

236
Total Fat:

10g
Saturated Fat:

5g
Trans Fat:

0g
Unsaturated Fat:

5g
Cholesterol:

105mg
Sodium:

80mg
Carbohydrates:

28g
Fiber:

1g
Sugar:

2g
Protein:

7g