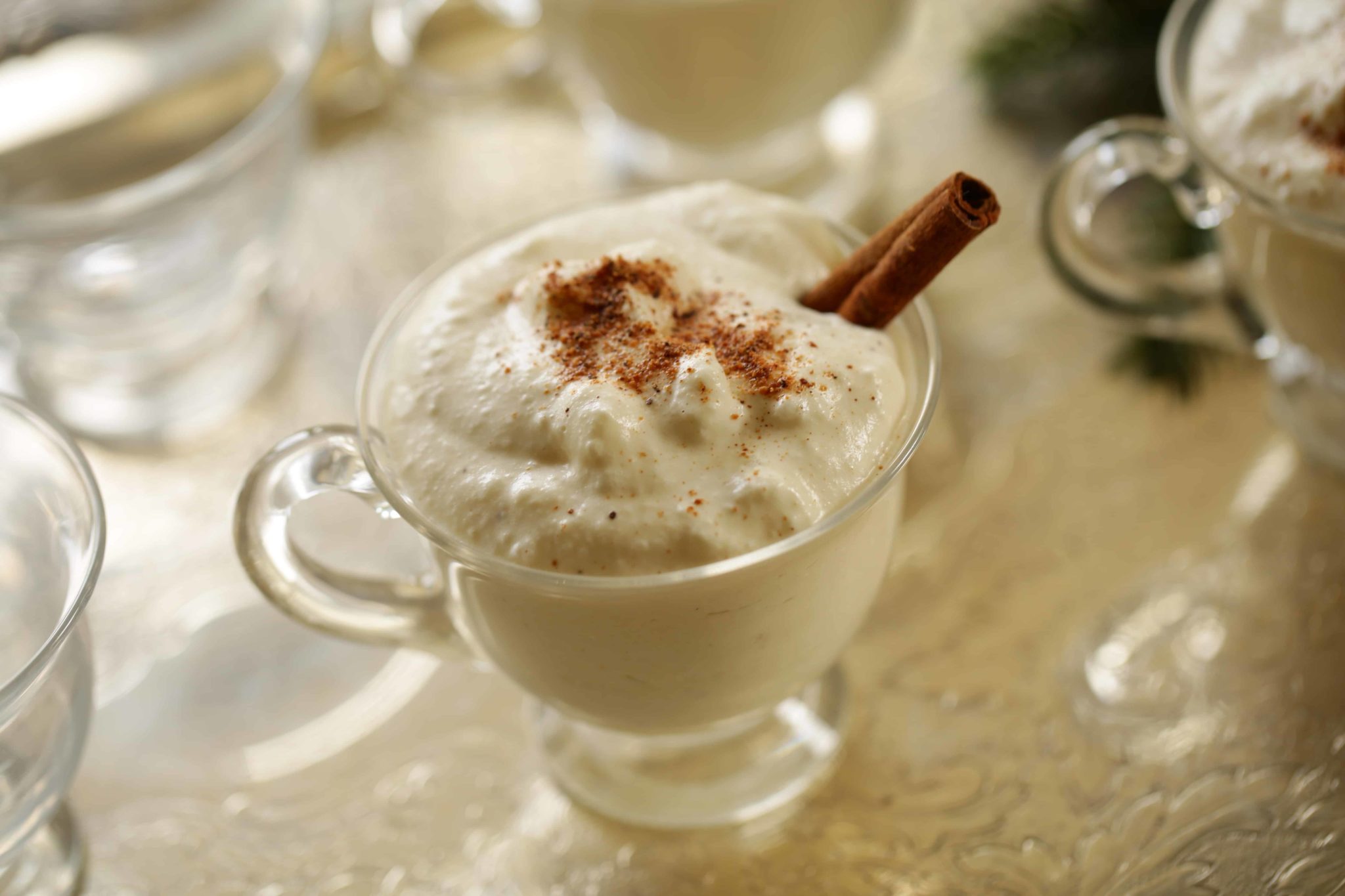 What's the holiday season without a classic eggnog recipe? For me growing up in Connecticut, my Dad was the "Eggnog King" and neighbors would come from far and wide for a taste of Dad's famous holiday elixir.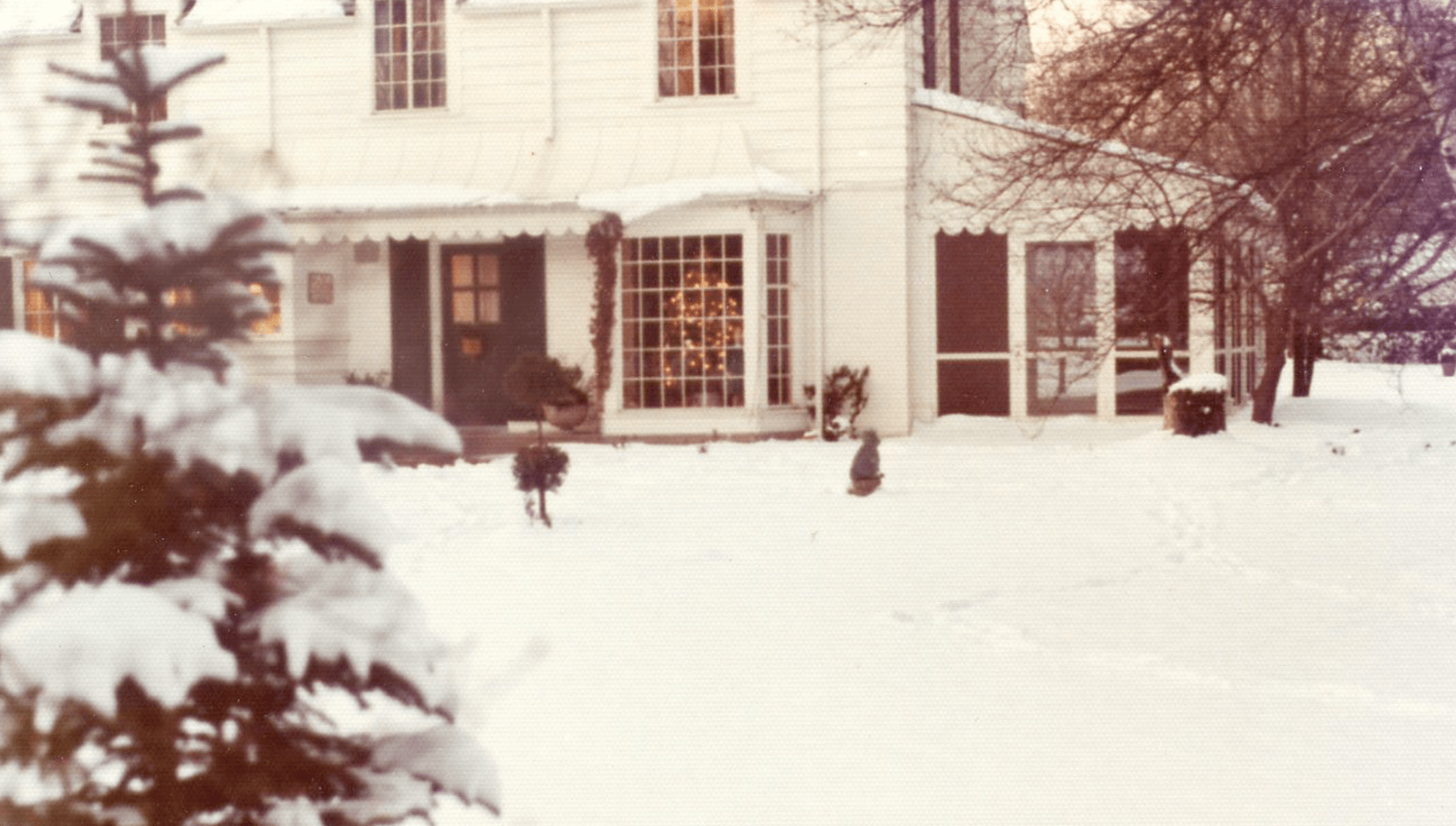 This was 1977 and I was a mere 7 -year-old kid, but the memories are so vivid and clear to me I can just close my eyes and I can hear Bing Crosby crooning off in the distance from the radio on the fridge, only to be drowned out by the whirl of Dad's egg beaters.
Back then, I was too young to taste Dad's famous eggnog, which of course made it all the more alluring and glamourous.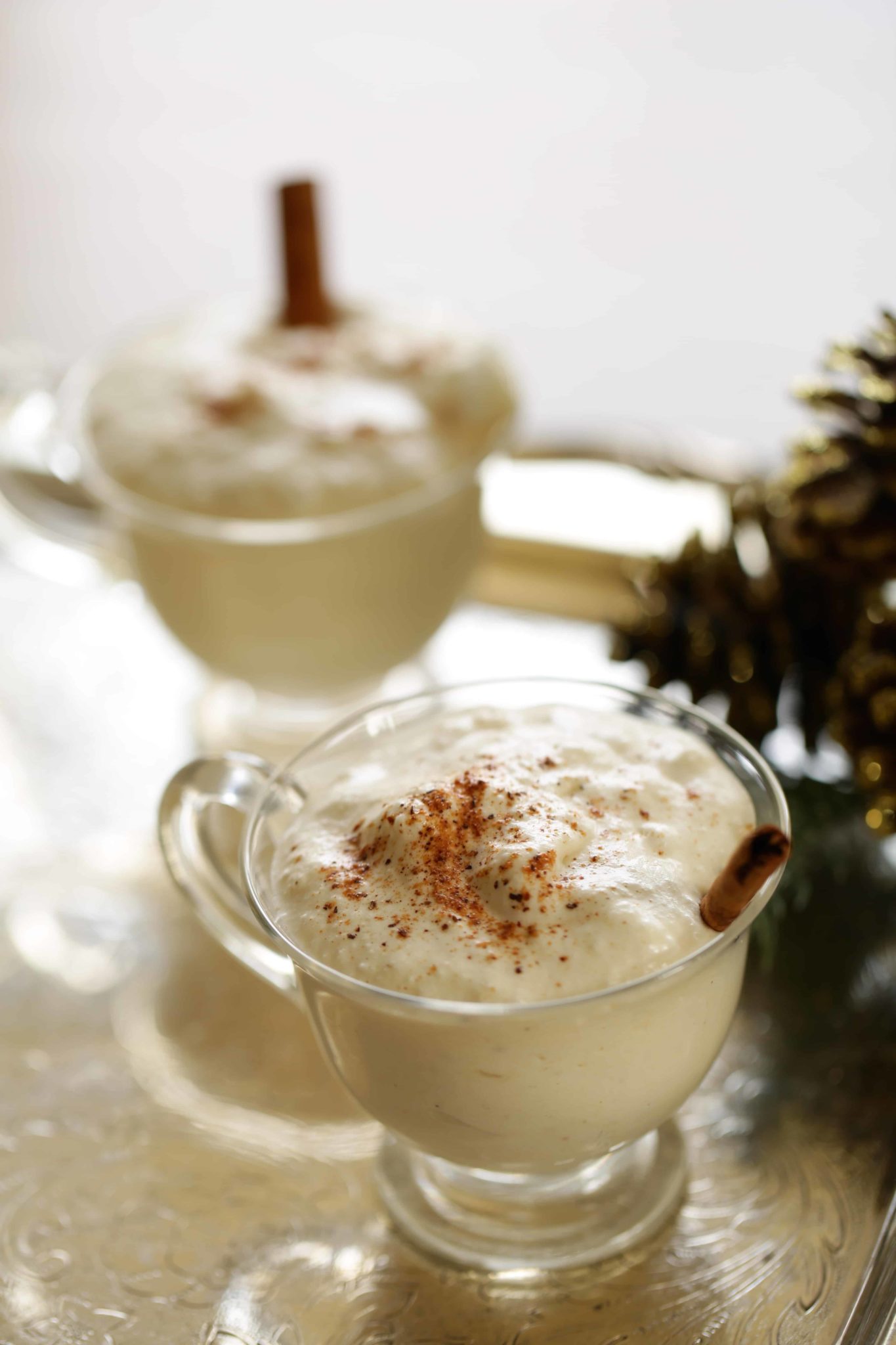 At the age of 18, we moved out West to California and cashed in the snow drifts for palm trees and for some reason the Eggnog was also left behind?! I think it just wasn't the same without all the neighbors.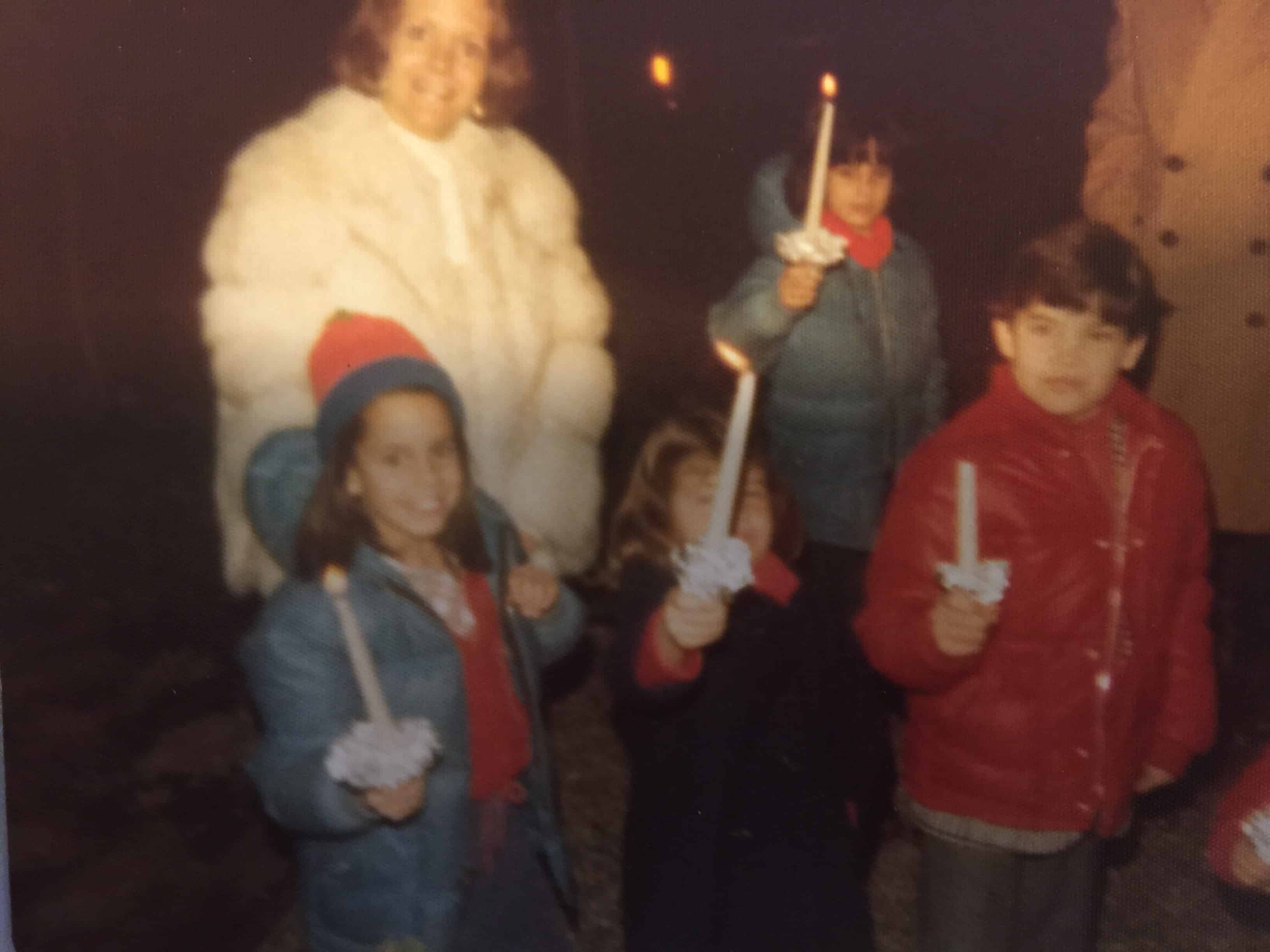 So I thought it was time to bring Dad on the show and teach us ALL how to make his "World Famous Eggnog Recipe!" It deserves a comeback!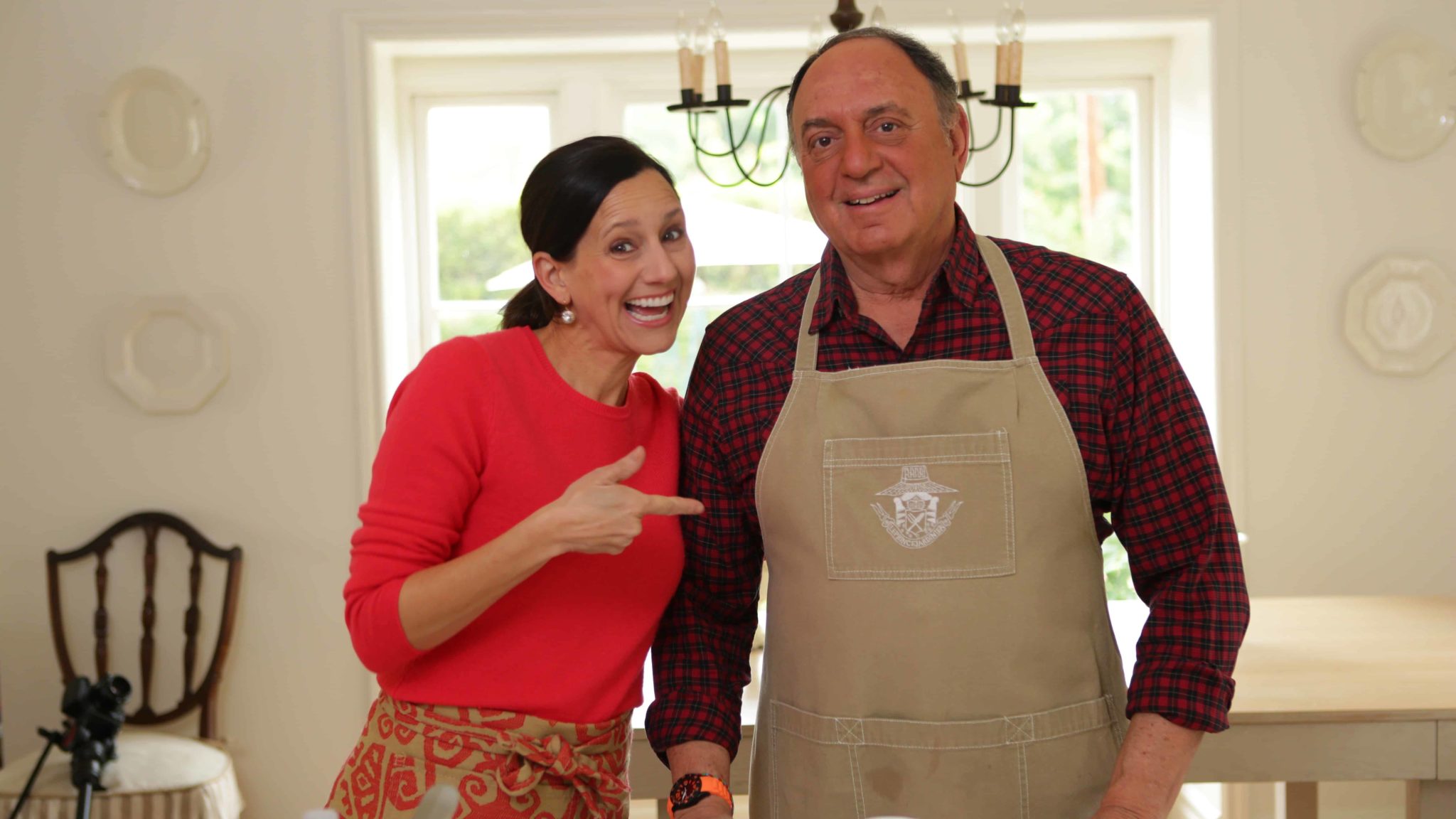 Now for those of you squeamish about using the raw eggs, here's more on that topic, and if you are still concerned, not to worry, my "Adaptation" of Dad's Recipe using a cooked egg base follows below.
Watch Dad and I make the eggnog together while reminiscing about the good ol' days!
SUBSCRIBE TO MY YOUTUBE CHANNEL and never miss a recipe! (it's free!)
I hope you give Dad's recipe a try, it's now easy to see how it had the ability to lure those neighbors out into the cold for a taste of his heavenly concoction!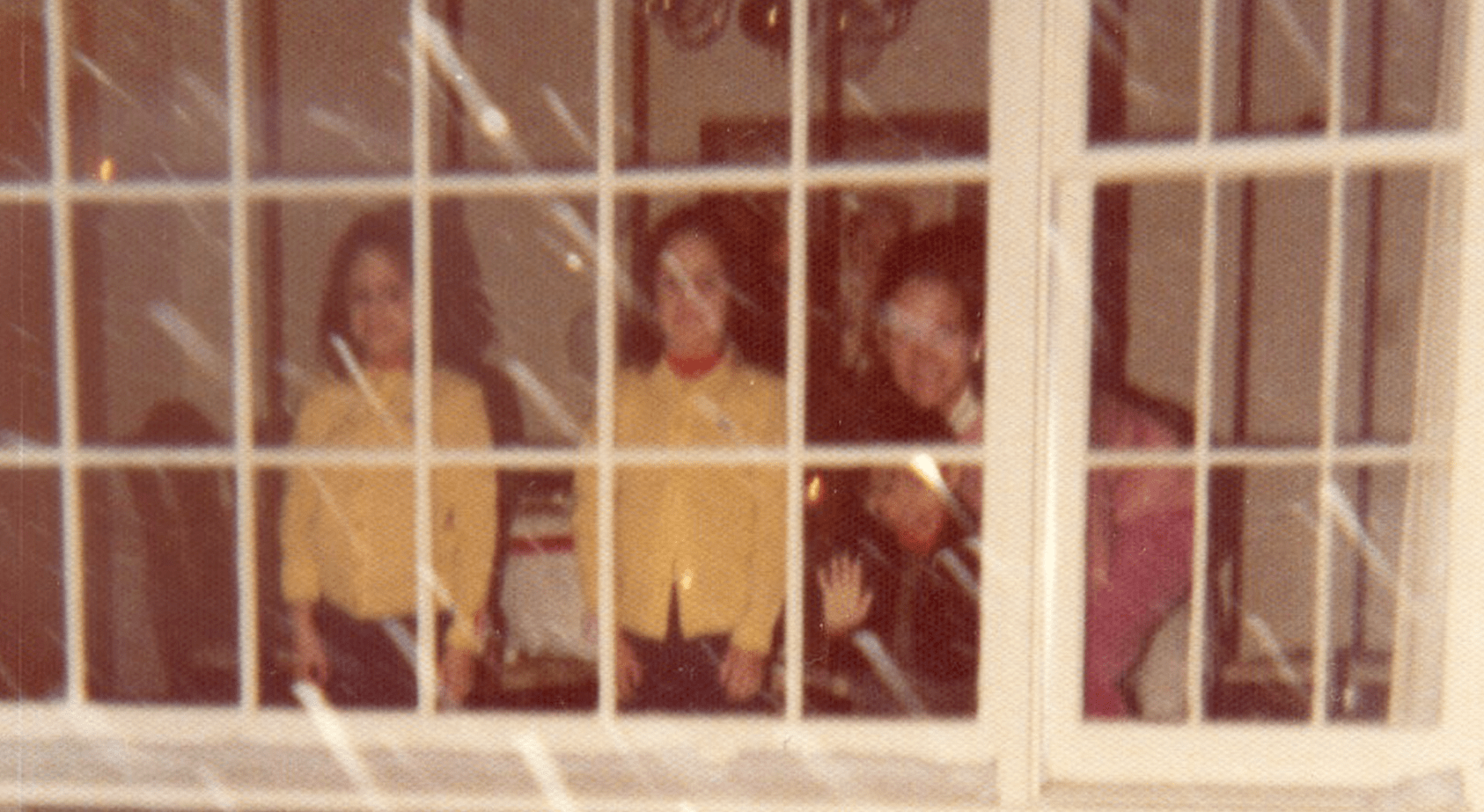 Perhaps you'll start the same tradition at your house this year! xx Merry Christmas everyone!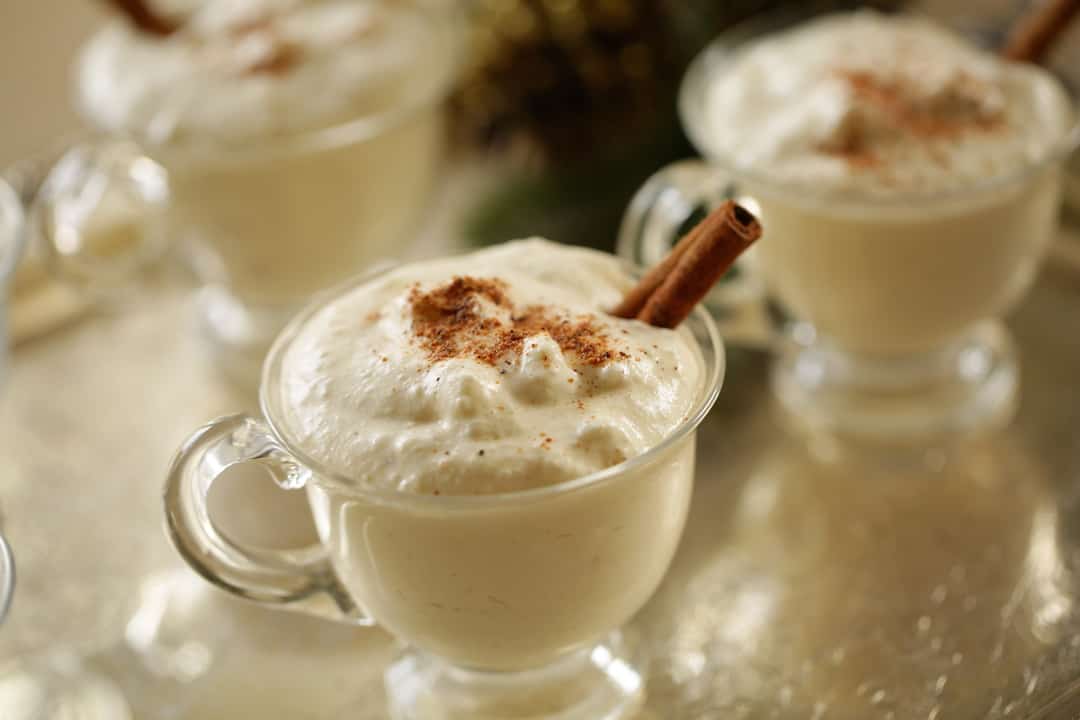 Print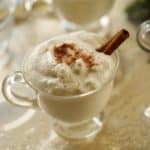 Dad's World Famous Eggnog Recipe
---
Author:

Prep Time:

30 mins

Total Time:

30 mins

Yield:

20-25 servings

Category:

Drinks

Cuisine:

American
Ingredients
12 eggs, separated
2/3 cup (130 g) sugar
3/4 cup (180 ml) bourbon
3/4 cup (180 ml) cognac
1/4 cup (60 ml) creme de cacao
1 tsp (5 ml) nutmeg
1 tbsp (15 ml) vanilla extract
3 pints (1500 ml) heavy cream
1/2 tsp (2.5 ml) cream of tartar
Cinnamon Sticks for garnishing
---
Instructions
Separate eggs by placing yolks in a large bunch bowl and whites in a smaller bowl.
Whisk in sugar to the yolks. Add nutmeg. Add alcohols, and vanilla and set aside.
Whip heavy cream on high with an electric mixture until stiff peaks form, set aside. Whip egg whites on high, with cream of tartar, until stiff peaks form.
Fold in the heavy cream to the yolks in batches being careful not to over mix and deflate, then do the same with the whites.
Garnish with a sprinkle of eggnog, and then ladle this thick mixture into small punch cups.
Top with more nutmeg and a cinnamon stick. Sip and travel back in time to Fairfield, Connecticut circa 1977 🙂
Print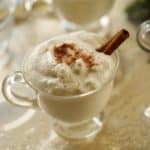 Beth's Adaptation of Dad's Eggnog Recipe (using cooked eggs)
---
Author:

Prep Time:

40 mins

Cook Time:

7 mins

Total Time:

47 mins

Yield:

15-20 servings

Category:

Drinks

Cuisine:

American
Ingredients
BETH'S ADAPTATION OF DAD'S RECIPE (Using a cooked egg base and pasteurized egg whites)
Serves 15-20 people
INGREDIENTS:
FOR COOKED EGG BASE:
5 cups of milk
2 cups heavy cream
12 egg yolks
2/3 cup sugar
3/4 cup (180 ml) bourbon
3/4 cup (180 ml) cognac
1/4 cup (60 ml) creme de cacao
1 tsp (5 ml) nutmeg
FOR FOLDING INTO BASE:
1 1/2 cups, heavy cream
1 tsp vanilla extract
1 pint (500 ml) pasteurized egg whites
1 tsp cream of tartar
---
Instructions
In a large sauce pan add milk, 2 cups heavy cream and sugar. Heat until sugar dissolves and milk mixture is simmering.
In a large bowl add 12 egg yolks. Slowly pour the milk mixture into the yolks whisking all the while until combined. Pour back into a clean sauce pan and heat on medium until a candy thermometer (or meat thermometer works too!) registers 165F, this is the temperature needed to kill off any bacteria.
Allow custard base to cool or if making ahead of time, refrigerate base until ready to serve.
Whip 1 1/2 cups of heavy cream, with 1 tsp of vanilla, until stiff peaks form. Set aside. Whip pasteurized egg whites and cream of tartar until thickened (they will not get stiff like un-pasteurized whites. That's OK you just need the thickness)
Transfer custard base to a large punch bowl. Add nutmeg and alcohols, then fold in egg whites and then fold in heavy cream.
Garnish with nutmeg and ladle into punch cups and serve with a little more nutmeg on top and a cinnamon stick.