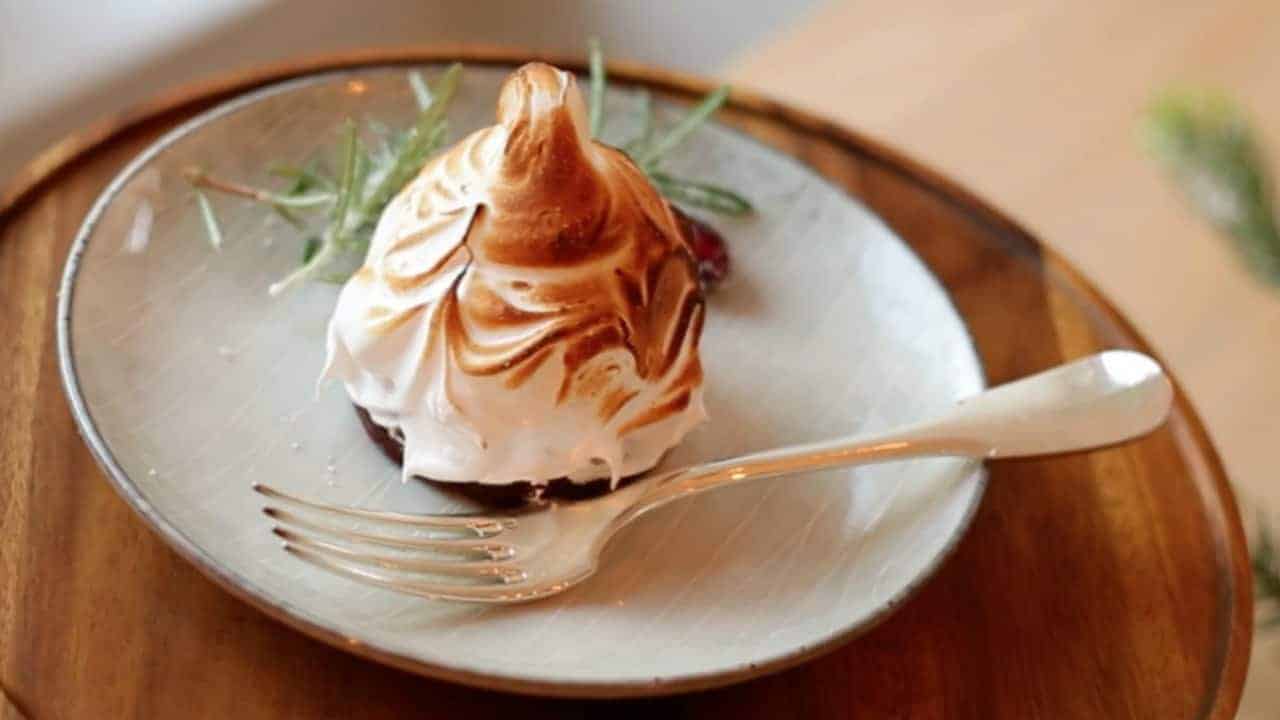 During the holidays it's always fun to have one real show stopper dessert you can impress all your guests with, and this one folks is it!
Baked Alaska, at first glance, can seem pretty intimating, but actually it's not that bad if you break down all the prep. For a step-by-step tutorial you can watch my video below.  SUBSCRIBE TO MY YOUTUBE CHANNEL and never miss a recipe! (it's free) and new videos post each Saturday.
This dessert does need a little pre-planning as it takes time for the brownies and ice cream to set up.  First up, you'll want to bake your brownies. Allow them to cool and then refrigerate.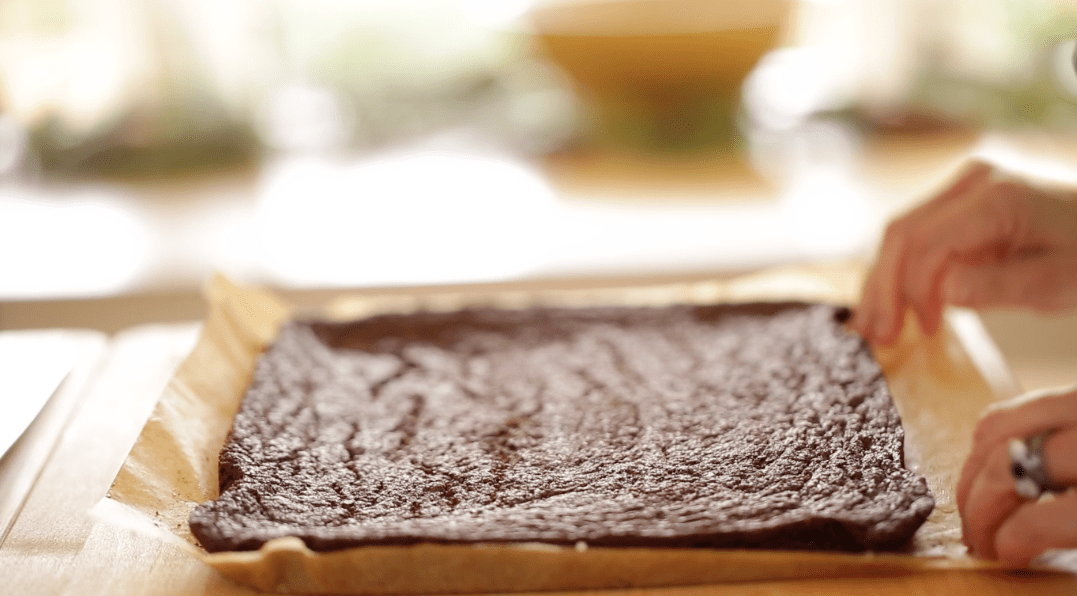 Then create your "Candy Cane Ice Cream" which is a bit of a cheat.  Just take soften store-bough vanilla ice cream and mix in 2-3 large candy canes that have been crushed.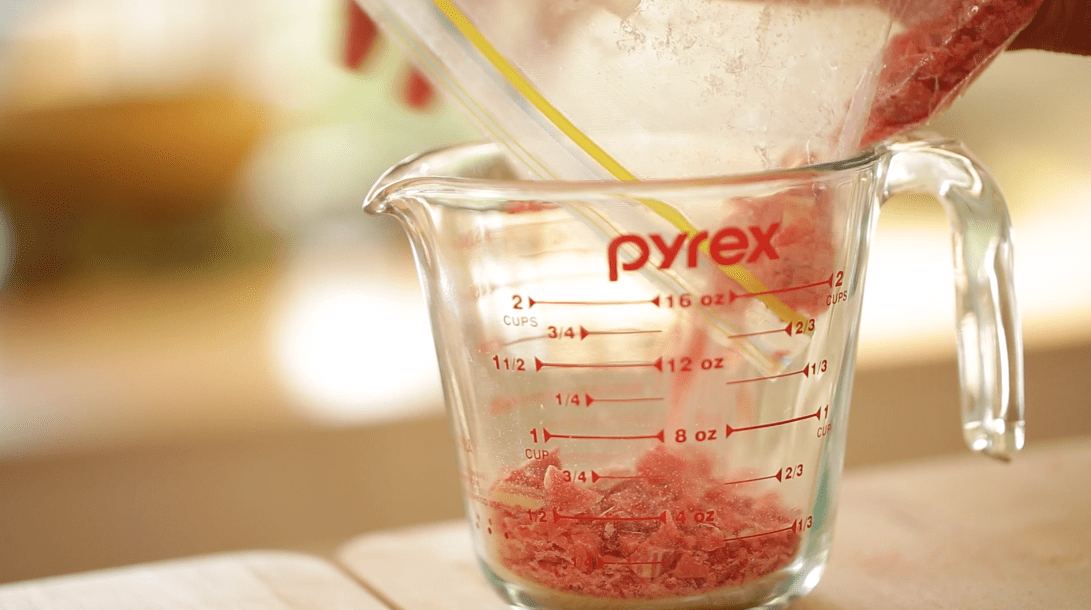 Easiest way to do this is by placing them in a ziplock bag and give them a good whack with a rolling pin until you get 2/3 cup (the full recipe is below)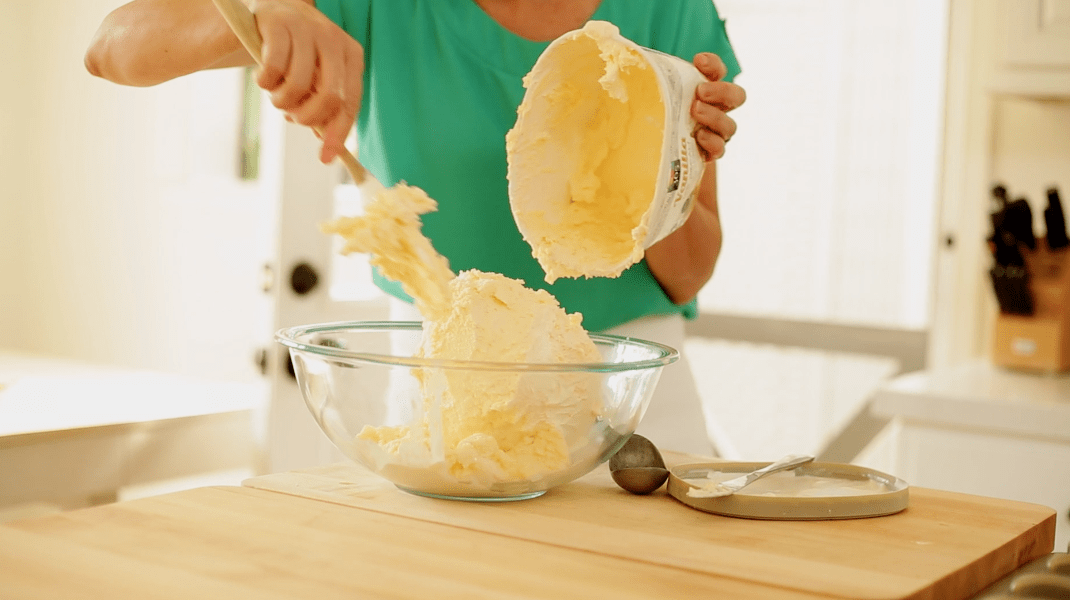 It definitely helps to incorporate the candy canes if your ice cream is very soft to allow it to sit out for a bit.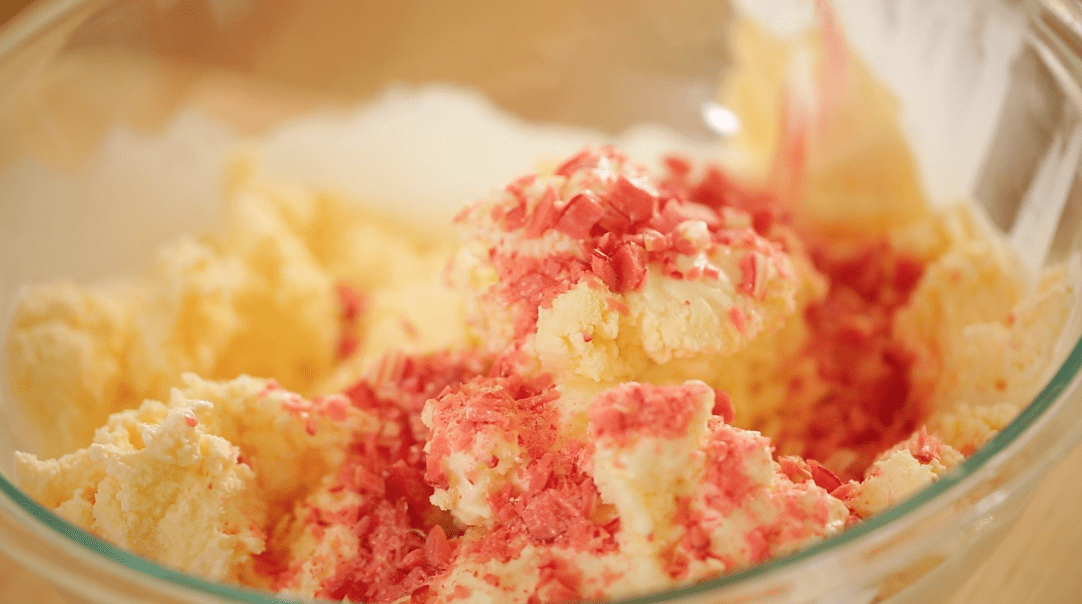 I also think it's worth the splurge on some high-quality, artisan candy canes like Hammond Canes.  You'll get a less sugary, medicine-like flavor, and they don't use corn syrup in their products if that is a concern.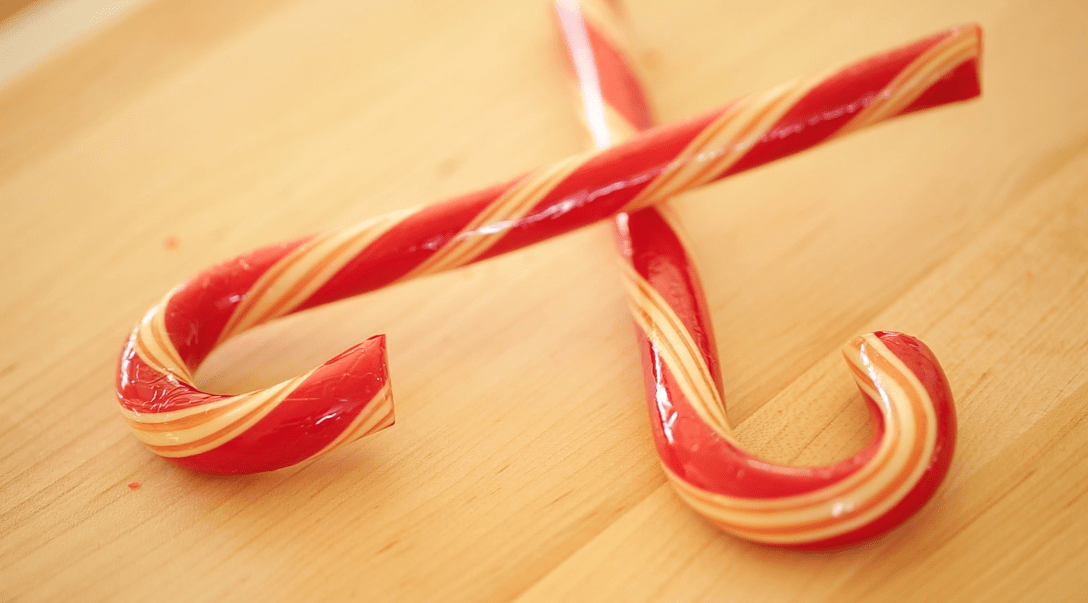 Then you'll want to re-freeze the ice cream. Just put it back in the tub it came in. Easy-peasy right?!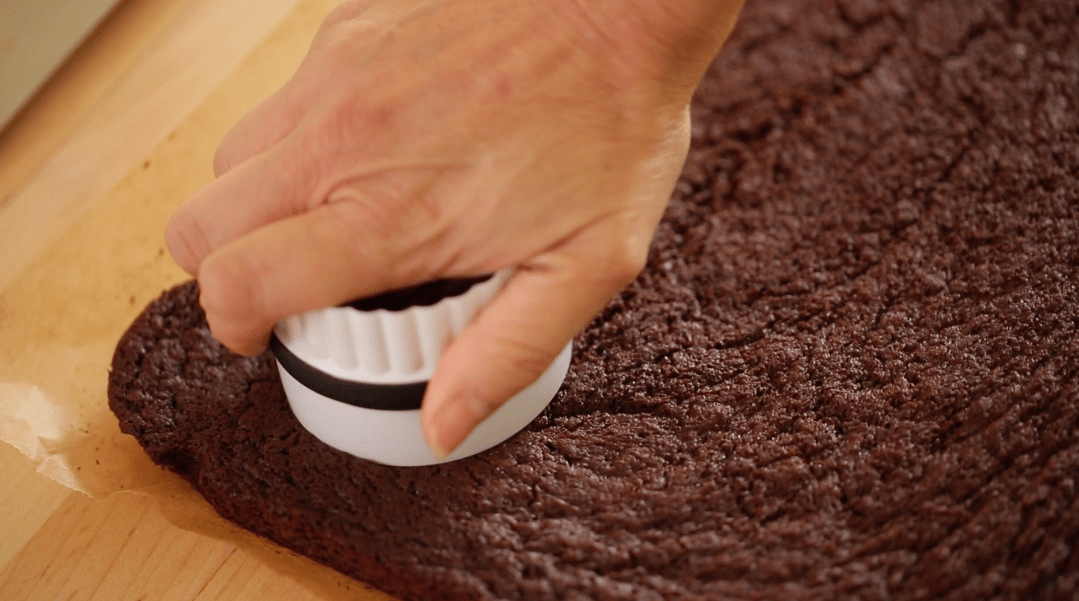 Before serving, cut out the brownie disks with a 2 1/2 inch biscuit cutter. Place them on a metal cookie sheet (helps for the kitchen torching part!)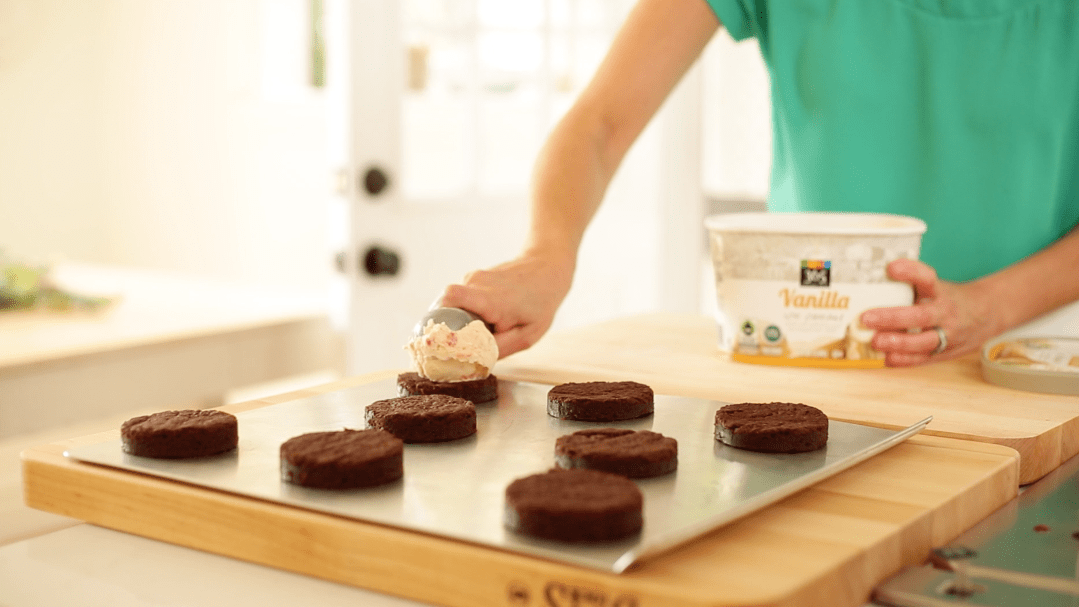 Top with a scoop of the Candy-Cane Ice Cream. And at this point, you could pop this whole tray into the freezer until ready to serve.  Then moments before serving, whip up the meringue (recipe below) and torch away! This is the kitchen torch I like best, works like a charm.  Just be sure you buy the butane to go with it! It doesn't ship since it's flammable but easily found at hardware stores of Sur La Table is where I found mine.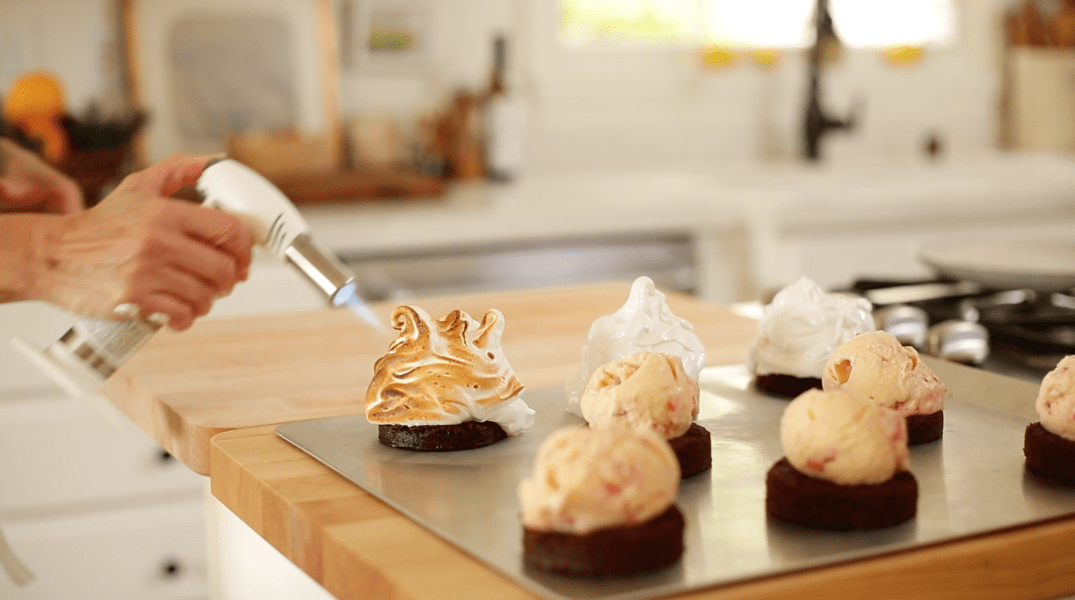 You can also pre-make your garnishes which is simply dipping fresh rosemary and cranberries or raspberries, in water and then rolling in white sugar.  They will keep in the fridge on a plate.  It creates a nice wintery, festive touch.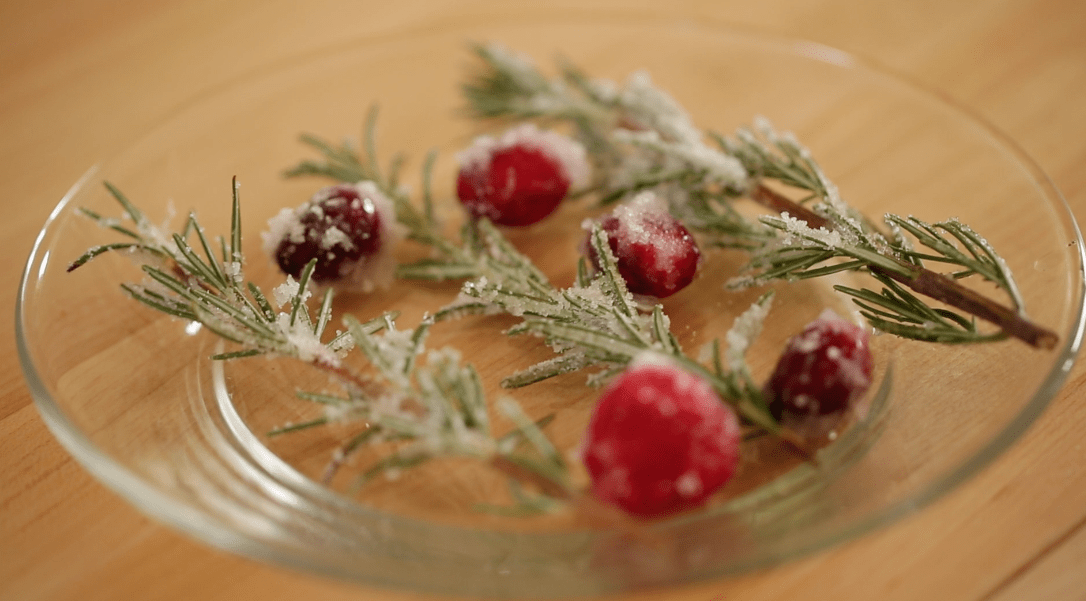 Et Voila!  Instant elegant Christmas dessert idea that always wows a crowd!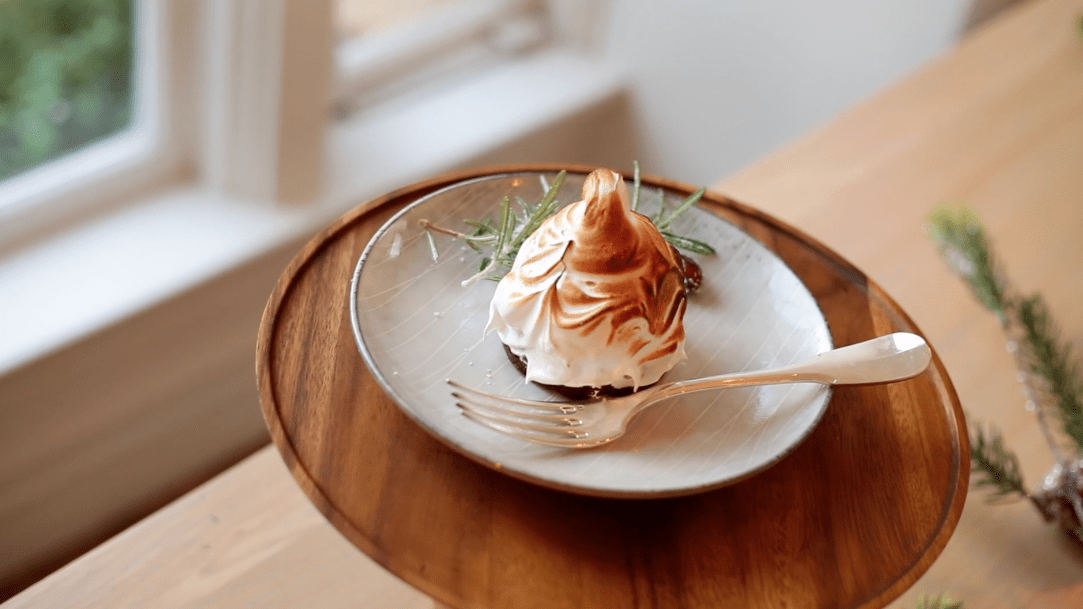 The combination of the fluffy merigne, with the candy cane ice cream and that rich brownie bottom, it just fantastic!  Happy Holidays everyone! xx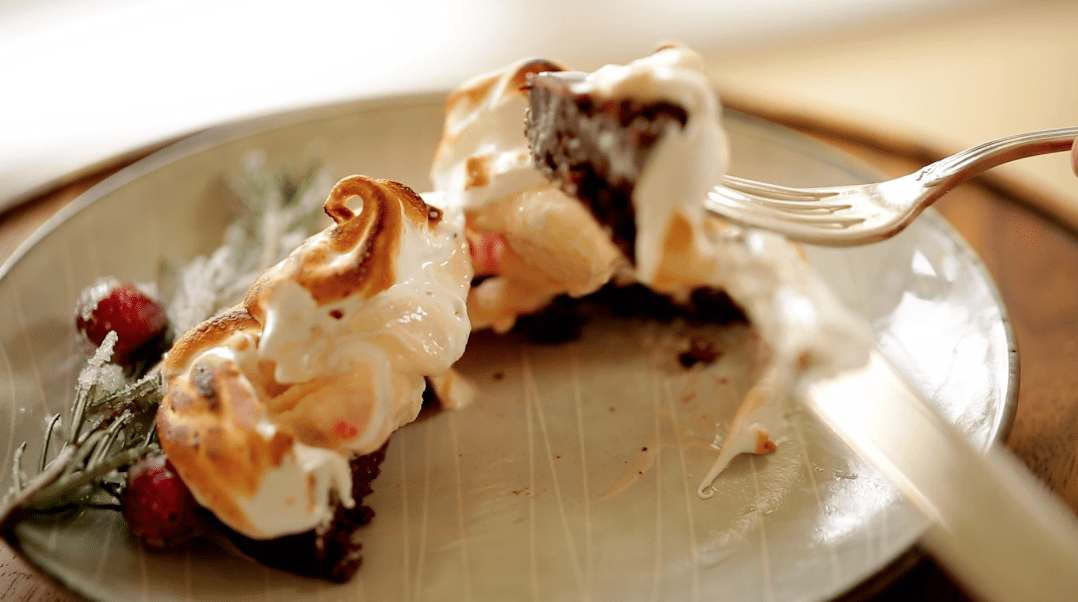 Print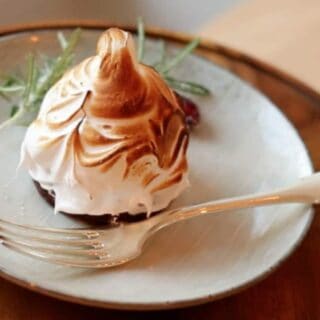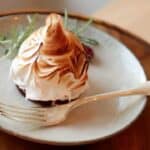 Holiday Baked Alaska Recipe
---
Author:

Cook Time:

15 mins

Total Time:

15 mins

Yield:

Serves

8

1

x
Scale
Ingredients
FOR THE BROWNIES:

4 oz

(

112

g) semi-sweet chocolate

12 oz

(

336

g) bittersweet chocolate

1 tbsp

(

15

ml) vanilla extract

½ tsp

(

2.5

ml) instant coffee

1 cup

(

240

g) of unsalted butter

4

eggs

1 cup

(

200

g) of sugar

¾ cup

(

90

g) of flour

½ tsp

(

2.5

ml) salt

½ tsp

(

2.5

ml) baking soda

2 tbsp

(

30

ml) Powdered Sugar for garnish (optional)
FOR THE CANDY CANE ICE CREAM:

1.75 qt

vanilla ice cream

2/3 cup

(

160

ml) crushed candy canes
FOR THE MERINGUE:

6

Egg Whites

1 ½ cup

s (

300

g) sugar

½ tsp

(2.5ml) cream of tartar (This link goes to Amazon where I am compensated for products sold)
---
Instructions
For the Candy Cane Ice Cream, mix 1.75Qt of soften vanilla ice cream with 2/3 cup of crushed candy canes. Once combined transfer back into the tub and allow to freeze back up over night.
The day before, make the brownies and mix the ice cream. Both need time to set.
FOR THE BROWNIES:
Preheat oven to 375F. (190 C)
Melt chocolate and butter in a sauce pan on low. Add vanilla and instant coffee, stir to combine. Allow to cool slightly.
In a small bowl combine flour, baking soda and salt.
Beat eggs and sugar together until smooth. Add chocolate mixture and beat until smooth. Then add flour mixture, beat until smooth.
Transfer into a 11 x 16 x 1 pan, lined with parchment paper (This link goes to Amazon where I am compensated for products sold). Pour batter into pan, and smooth with a spatula.
Bake 10-15 mins. Allow to cool for at least 30 mins to 1 hour. Place in fridge to firm up.
To serve. 1 hour before serving remove brownies from the fridge to rise to room temperature.
Cut out brownies with a 2 1/2″ biscuit cutter place on a metal sheet pan.
Whisk up the meringue until stiff. Set aside.
Place 1 scoop of candy cane ice cream on each brownie. Top with swirls of meringue until covered. Make decorative peaks
Brown each Baked Alaska with a kitchen torch transfer to plate and serve!
---
Category:

Dessert

Cuisine:

American