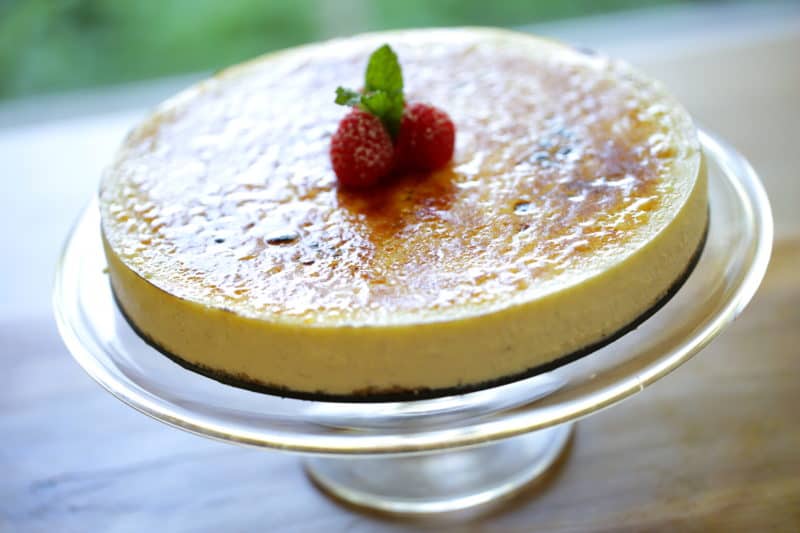 Can't decide between making a cheesecake or a creme brûlée for your next dinner party? Why not combine both! I love this Creme Brûlée Cheesecake Recipe because it's fairly simple to put together and the results are well worth the effort.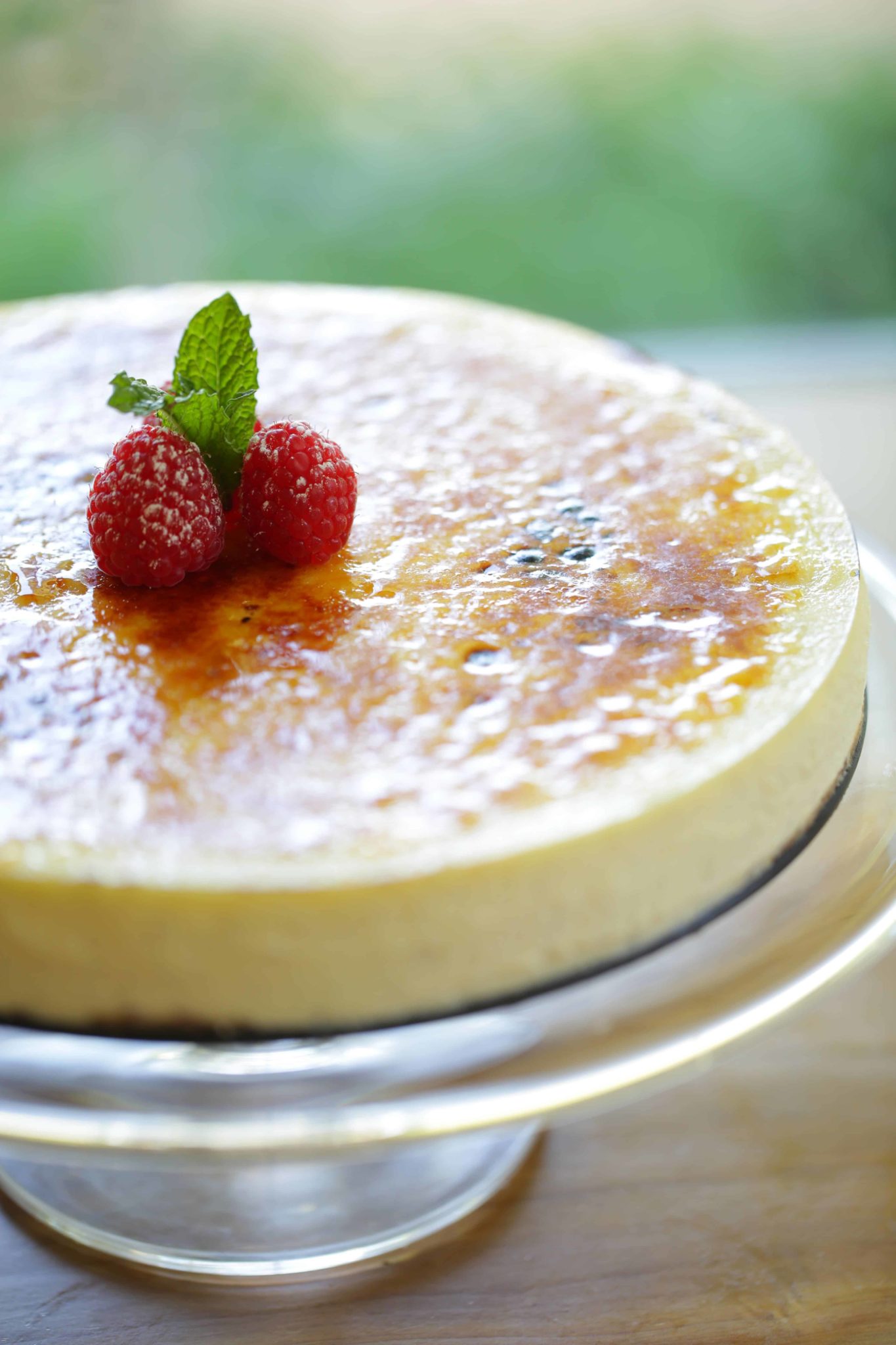 You will need a kitchen torch for this recipe (unfortunately it doesn't work under the broiler) but I found a model I think is really easy to use.
You can find it here in my Amazon Shop. (this link goes to Amazon where I am an affiliate partner)
It doesn't come with the butane (they can't sell it online due to the flammable aspects) so you just need t pick that up at Williams-Sonoma, Sur La Table or a hardware store.  But then you'll be all set!   And can also make my Baked Alaska Recipe with it!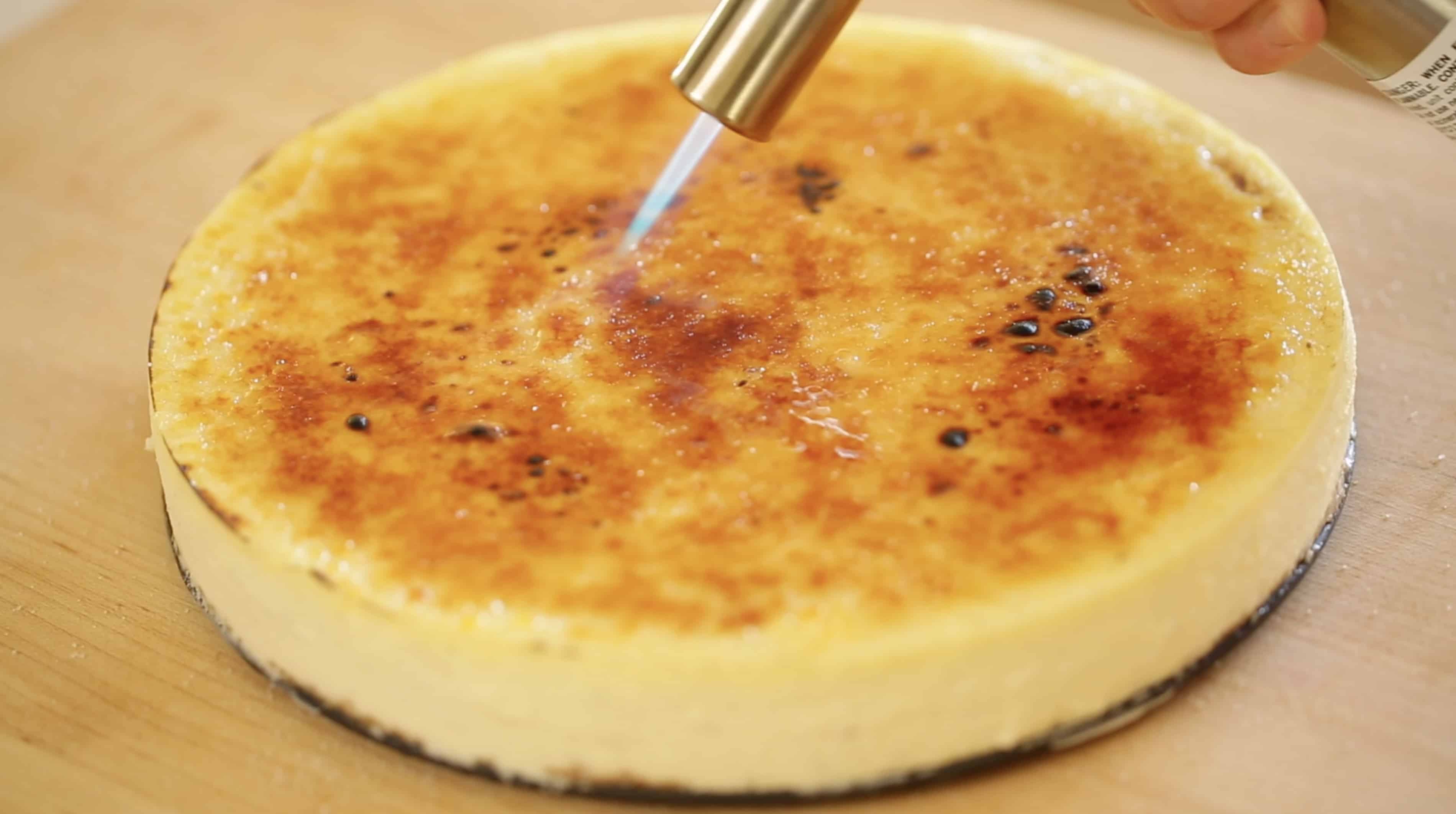 The texture combines the best of both worlds, the richness of cheesecake combined with smoothness of a creme brûlée, and of course that caramelized sugar on top is just divine!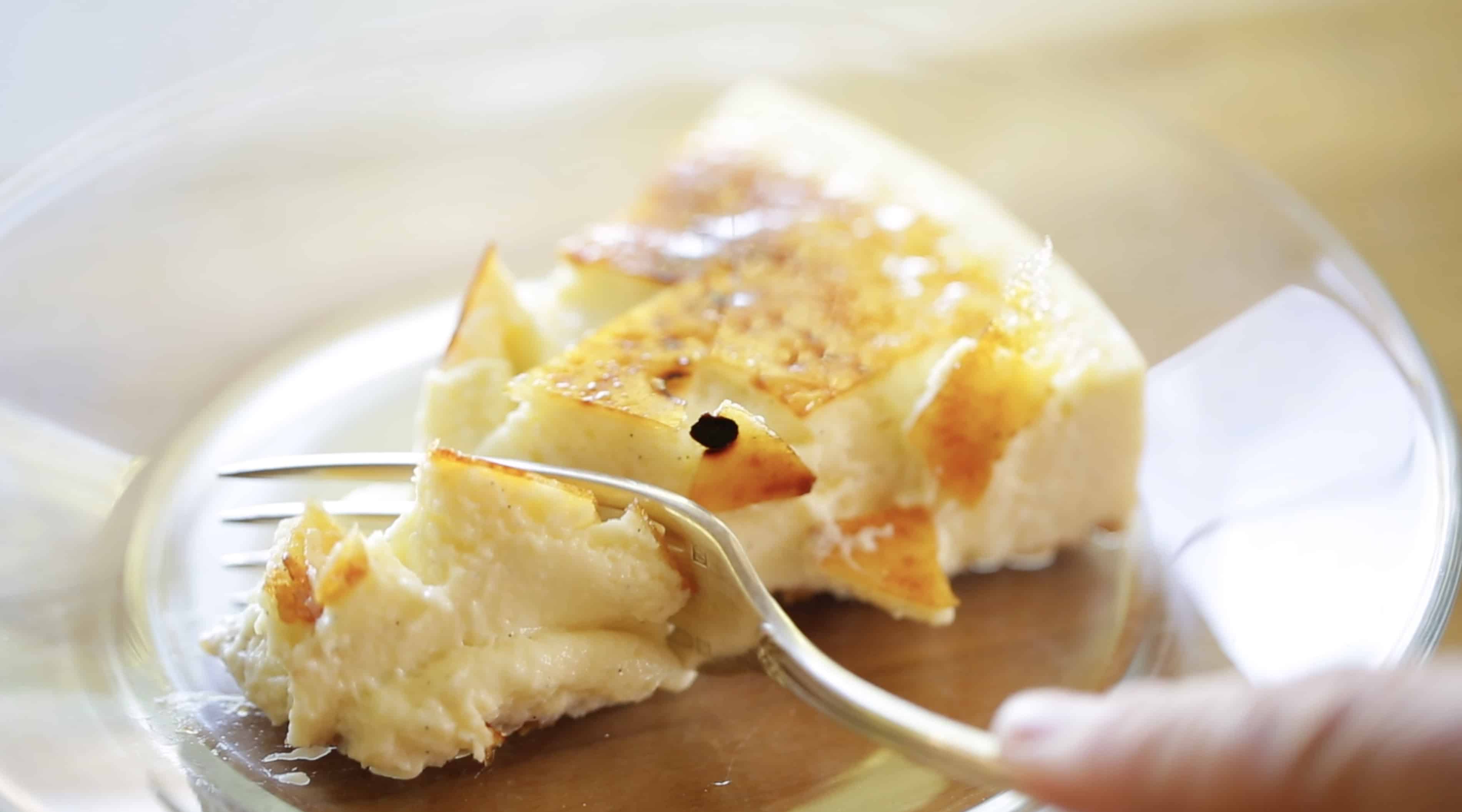 For a step-by-step demo you can watch my video tutorial below.
CLICK HERE TO SUBSCRIBE to my YouTube Channel (it's free!) and new videos post each Saturday!  Enjoy!

Print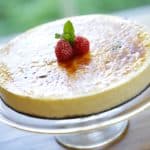 Creme Brûlée Cheesecake Recipe
---
Author:

Prep Time:

45 mins

Cook Time:

45 mins

Total Time:

1 hour 30 mins

Yield:

8 servings

Category:

Dessert

Cuisine:

French
Ingredients
For crust:
9 graham crackers
1 tbsp (13g) sugar
pinch of salt
5-6 tbsp (75-90ml) of melted butter
For Filling:
15 ounces (424g) ricotta cheese
8 ounces (230g) whipped cream cheese
8 ounces (230g) mascarpone cheese
¾ cup (150g) of sugar
3 eggs
2 vanilla beans, scraped of their seeds
For Topping:
3 tbsp (22g) white sugar
Kitchen Torch
For garnish:
3 raspberries, dusted with powdered sugar
1 sprig of fresh mint
---
Instructions
Preheat oven to 325F (162C)
Place graham crackers in a large Ziploc bag and whack them with a rolling pin until crushed. Roll over them with rolling pin until a fine crumb forms. Transfer to a bowl, add sugar, salt and butter.
Prepare a 9 inch (23cm) spring form pan. Grease it and then wrap the bottom and sides with foil to create a seal for the water bath it will ultimately go into.
Transfer crumbs into spring form pan. Press crumbs into pan, with a measure cup to pat down. Bake for 10 mins until fragrant and set. Set aside to cool.
Meanwhile, in a food processor combine the 3types of cheese. Pulse to combine and blend until smooth. Add sugar, pulse, add eggs, one at a time, pulsing in between each addition. Add vanilla bean seeds and pulse.
Transfer batter into the cooled cheesecake pan.
Then place a large roasting pan in the oven. Place cheesecake in roasting pan, THEN fill roasting pan with hot water, until it reaches half way up the sides of the cheesecake pan, creating a water bath.
Bake for 45-50 mins until just set and slightly giggly. Then TURN OFF OVEN, open oven door slightly, and allow cheesecake to drop in temperature for 15 mins.
Remove cheesecake pan from bath. Leave roasting pan in oven until water cools down.
Remove foil from pan over the sink to drain any water.
Allow cheesecake to cool for 30 mins. Then place uncovered in the fridge overnight or for at least 4-6 hours.
Before serving. Run a sharp knife around the perimeter of the cheesecake to loosen. Then release the cheesecake spring,
Then sprinkle 3 tbsp of white sugar in an even layer on top of cake. Then taking a kitchen torch, brulee the top of the cake. It will turn into little melted sugar dots and then pools of burnt sugar. Brulee top in this manner. Place on cake stand. Top with 3 raspberries dusted with powdered sugar and a sprig of mint. And serve!