This Flourless Chocolate Cake with Creme Anglaise is one of my favorite dessert recipes for any special occasion. It's easier than a Chocolate Souffle but just as impressive! I love to make it in a cheesecake pan so that it achieves great height, and it also makes it easier to release as well.
It's a wonderful cake for Valentine's Day or anniversaries because you can make little red hearts out of raspberry puree and place them into the cream Anglaise, making quite an impression!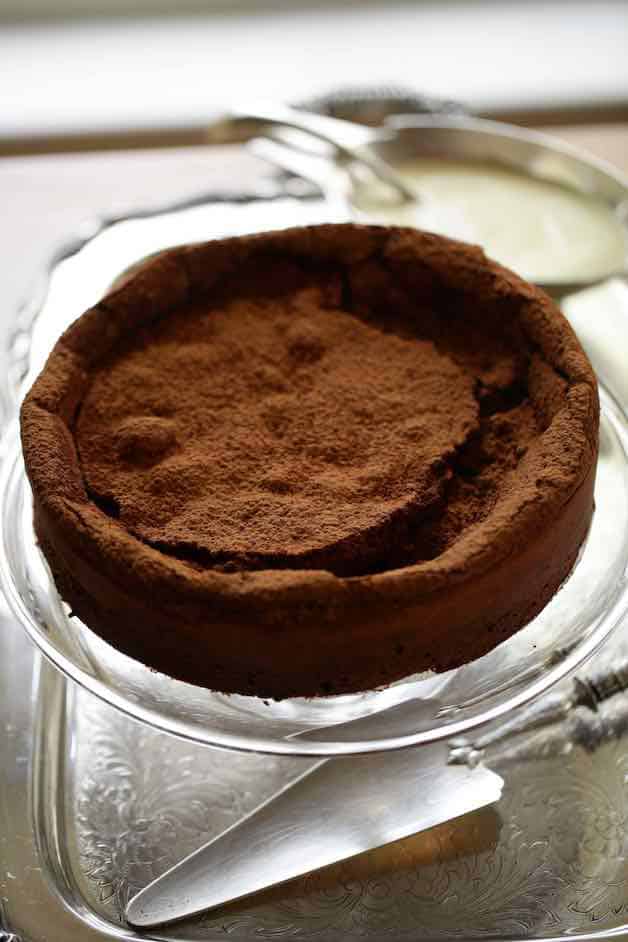 Why You'll Love This:
It's one of those chocolate cake recipes that everyone should have in their repertoire because it doesn't take a lot of effort, but creates a serious WOW factor!
The raspberry hearts are much easier to make than you might think! All you need is a fine-mesh sieve and a toothpick!
A great Gluten-Free Cake Recipe!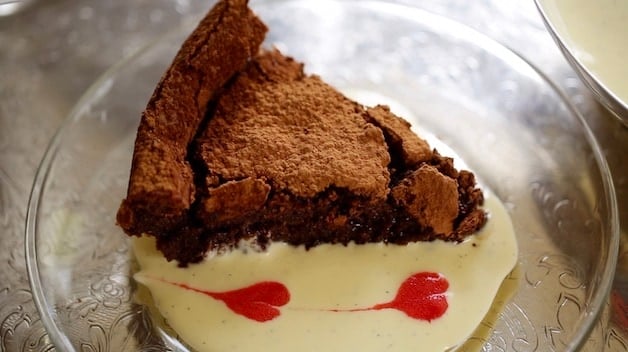 Watch My Video Demo of this Chocolate Cake Recipe
Subscribe to My YouTube Channel and Never Miss a Recipe!
Step#1: Melt Chocolate and Butter
Most chocolate chips come in 12-ounce bags so it's easy to just pour the whole bag in and not have to weigh it.
But do double-check the bag because I've seen a few 10-ounce bags too! Mostly the fancier, more expensive brands come with fewer chips.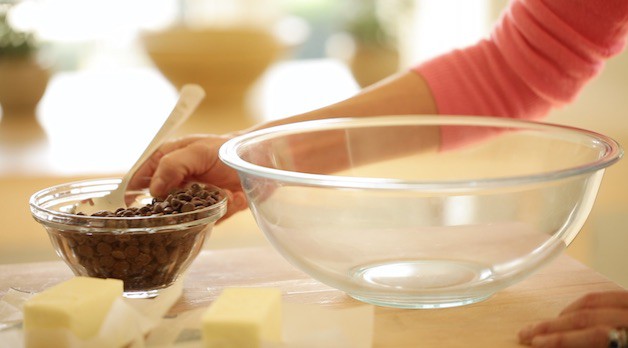 The Butter and Chocolate Ratio
The secret to this chocolate cake recipe is the ratio of chocolate to butter.
Too much chocolate and it's too dry, too much butter and it's too rich.
So I bring up the chip quantity because the wrong ratio will affect your results!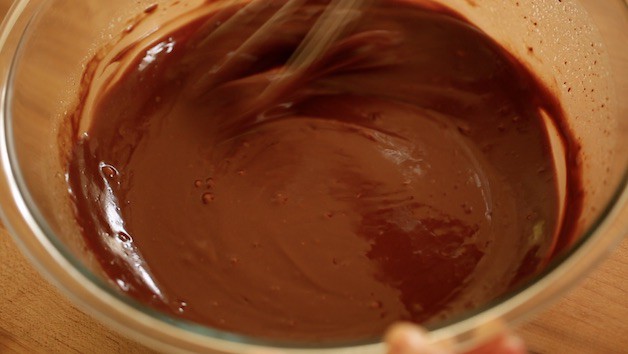 Step#2: Separate the eggs
This cake calls for 6 eggs, which is a lot of eggs, but it's also what makes it so light!
Separate the eggs into yolks and whites.
You can add the yolks straight into the chocolate mixture and add the whites to a mixing bowl or stand mixer.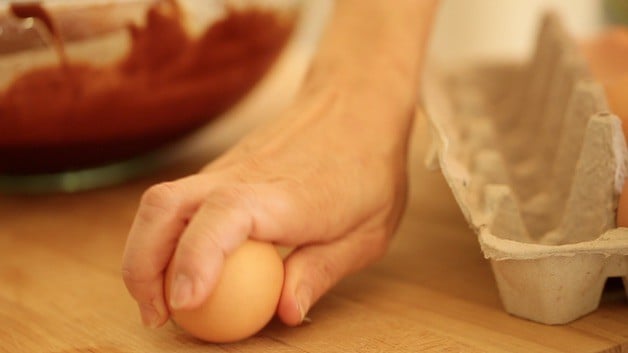 What is the Best Way to Separate an Egg?
For the best success separating eggs, crack them on a cutting board right in the center. The center is the weakest part of the egg. Cracking it here will give you a nice clean cut down the middle.
This will create equal-sized "eggshell cups" which makes separating eggs easier! Also, make sure your eggs are cold. This keeps the yolk firm and prevents it from running into the whites while separating.
Add the egg yolks to the chocolate mixture and set aside.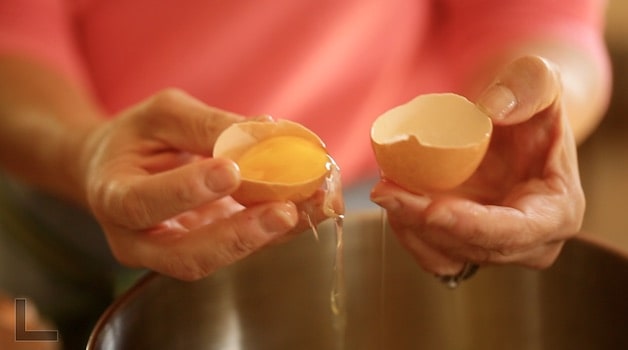 Step#3: Whip the Egg Whites
Place the egg whites in a bowl of an electric mixer and whip until stiff peaks form.
Fold the egg whites gently, in thirds, into the chocolate mixture.
This will lighten the chocolate mixture and create a beautiful soft batter.
It takes a bit of time, but don't rush the process, because this is how you achieve a light fluffy cake!

Tips For a Flawless Finish
Pour the batter into a prepared 9" springform pan that has been sprayed with baking spray and lined with a parchment paper round.
Make sure your parchment paper round is fitted snugly.
A tight fit will assure you will not see the parchment paper under your cake once it is baked and resting on your cake stand.

Step#4: Bake The Cake
Bake your cake at 325F for 40-45 minutes.
How Do You Know When the Cake is Done?
Getting the timing right on how long to bake a flourless cake, is key!
Do not overbake it or it will be dry. The best way to tell is when the cake begins to crack and a toothpick will come out slightly wet and crumbly.
The crumbs should stick to the skewer. This is the best time to take it for a rich and fudgy texture.
If the skewer comes out clean the cake is overdone and will be too dry!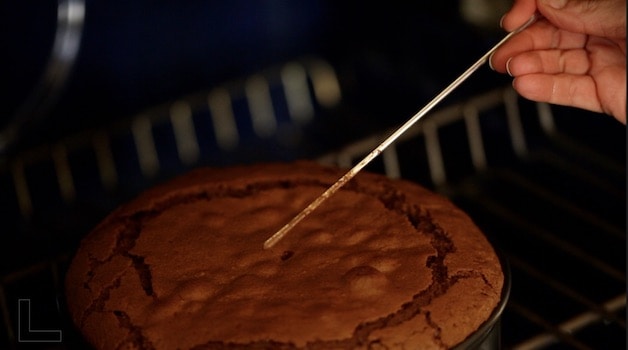 The Cracks Are Part of The Charm
As this cake cools, it will crack further and sink! And you'll think something has gone horribly wrong with your cake! But do not dispair!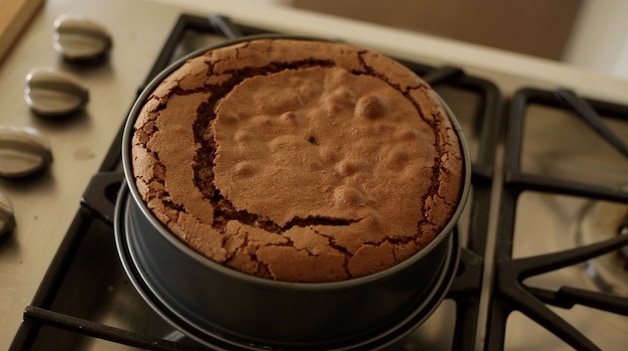 The cracks will add great drama to your cake and in fact, it's what these flourless chocolate cakes "do" their fallen effect is part of their dramatic appeal. It's the "cracked chocolate cake" look we are going for!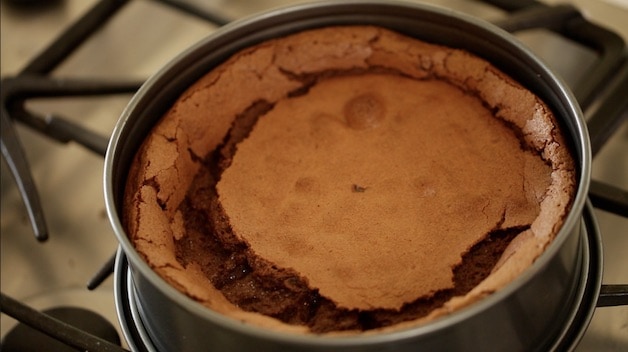 The Finishing Touch
Once the cake is fully cooled you can dust it with unsweetened cocoa powder and you'll see how the cracks contribute to a dramatic effect.
I like the richness of the unsweetened cocoa powder but you could also dust with powder sugar instead.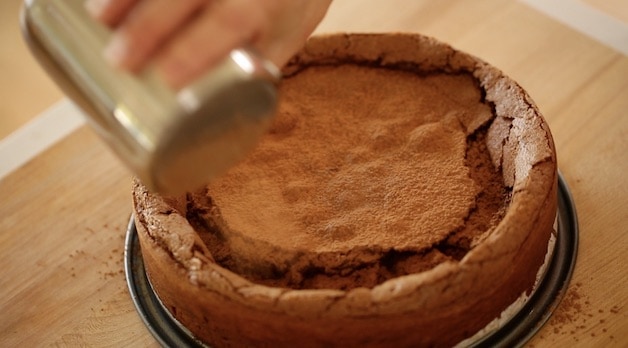 Step#5: Make the Cream Anglaise
The creme Anglaise is best served chilled so it's best if you can make this the day before serving.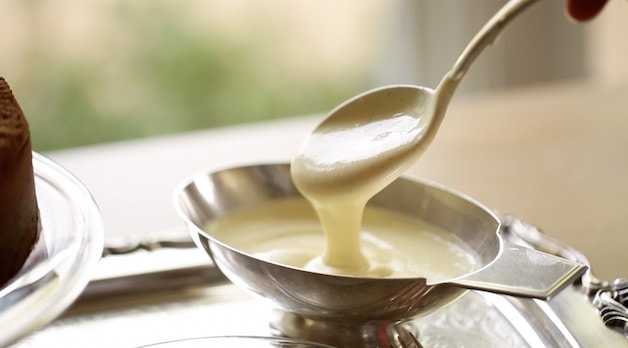 There are very few ingredients in creme Anglaise but the most important one is the vanilla bean. It's what gives it all the flavor.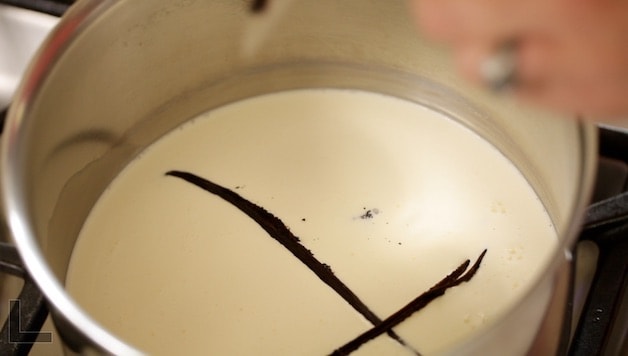 Vanilla Bean Tips
I've found the best vanilla beans are sold online. You'll get thick, plump beans loaded with paste.
Look for the ones coming from Tahiti or Madagascar.
The ones sold in those glass spice jars at the grocery store, are expensive and usually all dried up!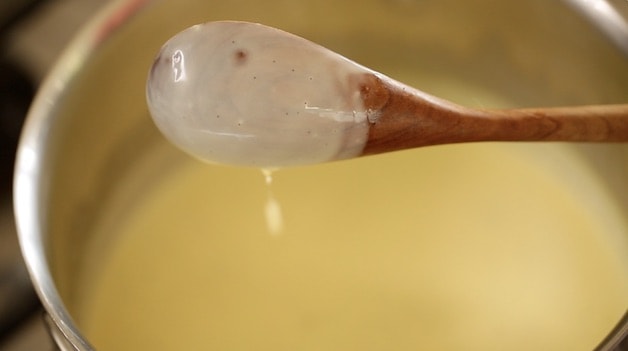 How to Know When Creme Anglaise is Done?
You'll know your creme Anglaise is fully cooked when it can coat the back of a spoon and the mixture reaches 165F with a candy thermometer.
This is the temperature where the bacteria in the eggs is cooked off. So it's important for it to reach this temperature.
Then be sure to strain your creme Anglaise to obtain the best smooth and silky texture.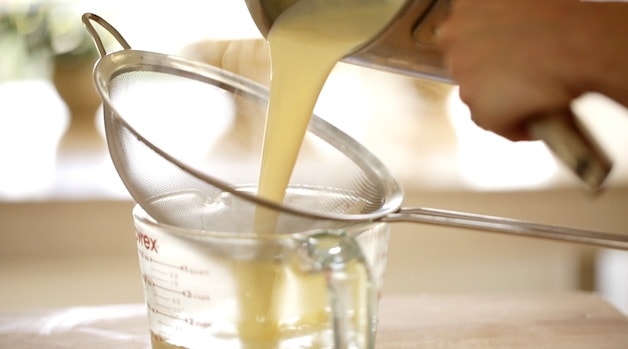 How to Store the Cake?
This cake can stay at room temperature covered loosely with foil for at least a day or two.
If refrigerating remove the cake 3 hours before serving to come to room temperature.
This will assure the best texture and flavor.
Step#6: Serving Tips
Place a slice of the cake in a pool of chilled creme Anglaise.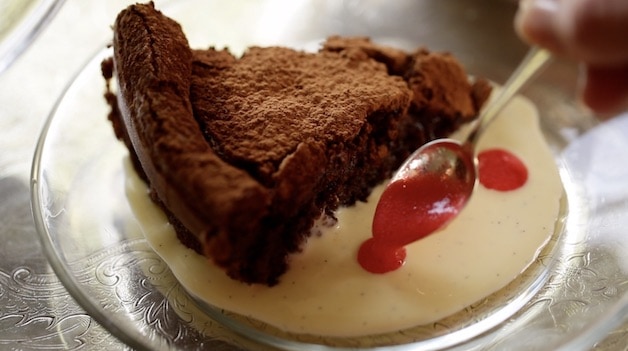 Add 2 dollops of raspberry juice which you can make by working fresh raspberries through a sieve, pressing them through with a rubber spatula.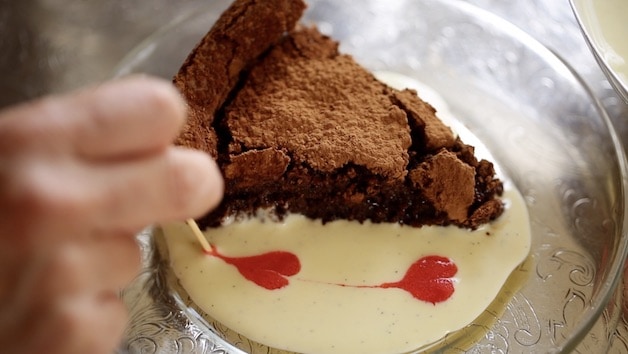 Run a toothpick through the dollops to create raspberry hearts and you'll have one fantastic Valentine's Day dessert! HAPPY VALENTINE'S DAY!
More Chocolate Desserts
Please let me know if you make this recipe
by leaving a rating and review below!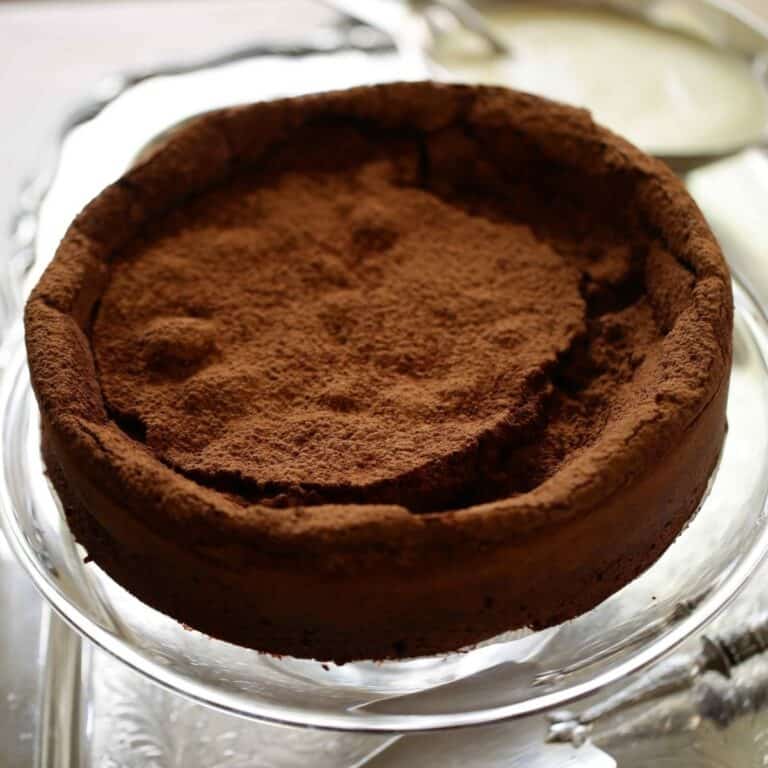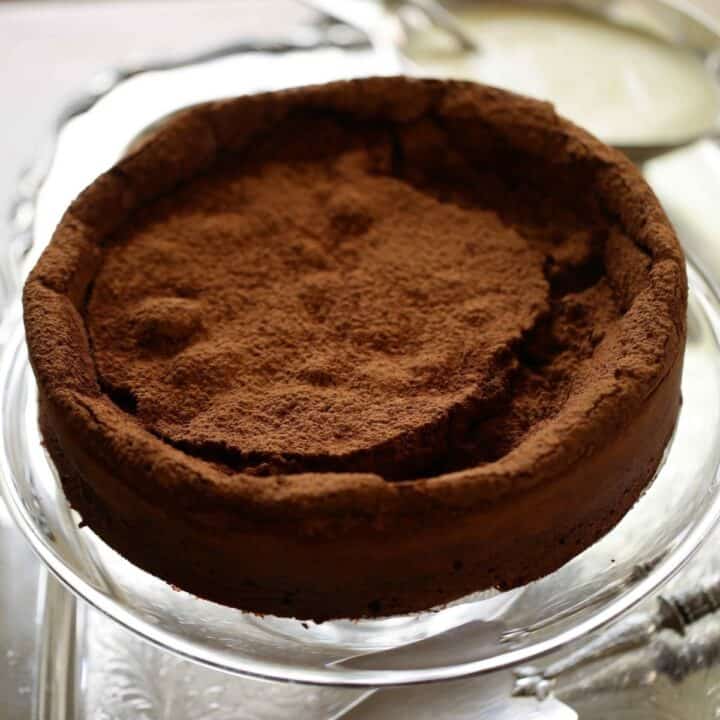 Flourless Chocolate Cake with Creme Anglaise
Prep Time:
1 hour
45 minutes
Total Time:
2 hours
30 minutes
A rich and decadent flourless chocolate cake that is SO easy to make and delivers a big WOW factor! Serve with creme anglaise for the ultimate decadent treat.
Ingredients
For the Cake:
12 ounces (340g) semi-sweet chocolate chips
1 cup (240g) unsalted butter
1 tablespoon (15ml) vanilla extract
¾ teaspoon (3.75ml) salt
⅔ cup (130g) sugar, divided
6 eggs, separated into yolks and whites
unsweetened cocoa powder for dusting
Crème Anglaise:
1 ½ cups (350ml) milk
1 ½ cups (350ml) heavy cream
1 vanilla bean pod
4 egg yolks
¼ cup (50g) sugar
Instructions
Preheat oven to 325F (160c). Spray a 9" Spring form pan with baking spray. Line pan with a parchment paper circle fitted to the bottom of the pan, spray the paper with baking spray as well and distribute it with a pastry brush. Set aside.
In a large heat-safe bowl combine chocolate chips and butter. Microwave at :30 intervals until melted. Whisk together until smooth.
Add the vanilla, salt and ⅓ cup (65g) of the sugar. Whisk to combine. Add the 6 egg yolks, reserving the whites. Set chocolate mixture aside.
In the bowl of an electric mixer, whip egg whites until opaque, then slowly add the remaining ⅓ cup (65g) of sugar a little at a time until egg whites are stiff and glossy.
Fold in the egg whites into the chocolate mixture ,in thirds, lightening the batter as you go. Do not overmix!
Pour the batter into the prepared pan. Bake for 45-50 minutes. It will be crackly in the center. A skewer will not come out clean, but will be sticky with crumbs. That's when to take it out.
Remove it from the oven and allow it to cool. It will crack and sink. That "fallen" concave appearance is art of its charm!
Once completely cool, remove it from the pan, dust it with unsweetened coco powder and serve in a pool of crème anglaise.
FOR CRÈME ANGLAISE:
In a large bowl add the egg yolks and set aside.
In a large sauce pot combine milk and cream, vanilla paste and pod, along with the sugar. Heat until vanilla seeds rise to the top. Remove the vanilla pod.
Slowly temper the eggs, whisking all the while until all the cream mixture has been added.
Rinse out pot. Pour mixture back into clean pot and heat whisking until mixture reaches 165F and coats the back of a spoon.
Strain through a fine mesh sieve into an air tight container. Chill for at least 4 hours or overnight.
For raspberry hearts, work raspberries through a fine mesh sieve, into a small bowl, to extract their juice. Set aside.
To serve, spoon crème anglaise onto a dessert plate. Place the slice of cake on the far side of the circle allowing space in front of the cake.
Dollop a small circle of raspberry juice in the crème anglaise at least 1 inch or so apart. Run a tooth pick through the raspberry dollops to create hearts.
Notes
Make the creme anglaise the day before to allow it to become nicely chilled.
Most chocolate chips come in 12 ounce bags so it's easy to just pour the whole bag in and not have to weigh it. But do double check the bag because I've seen a few 10 ounce bags too! Mostly the fancier, more expensive brands come with less chips.
Do not over-bake this cake! It's done when a skewer comes out with sticky crumbs. Overbaking it will result in a dry cake.
I like the dark and rich effect the dusting of cocoa powder provides but you could also dust this cake with confectioner's sugar too!
For a quicker dessert you could also skip the creme anglaise and serve this with some vanilla ice cream!
Nutrition Information:
Yield:

8
Serving Size:

1
Amount Per Serving:
Calories:

378
Total Fat:

25g
Saturated Fat:

13g
Trans Fat:

0g
Unsaturated Fat:

10g
Cholesterol:

166mg
Sodium:

73mg
Carbohydrates:

41g
Fiber:

4g
Sugar:

34g
Protein:

8g