Homemade Pineapple Upside Down Cake Recipe
Homemade Pineapple Upside Down Cake is one of those classic Dessert Recipes from the 1930s that deserves a comeback! It's so delicious and easy to make it's no wonder it's back on the rise.
It's the perfect recipe for spring entertaining because it's so simple to put together but creates such a WOW factor! It would be great to serve for Easter or Mother's Day.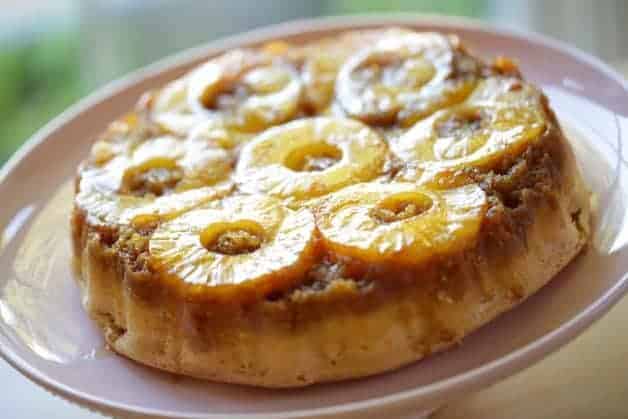 For more easy cake recipes you might also like my "Cheater" Strawberry Shortcake Charlotte or my Triple Berry Campfire Cake.
Subscribe for weekly recipes
and new videos!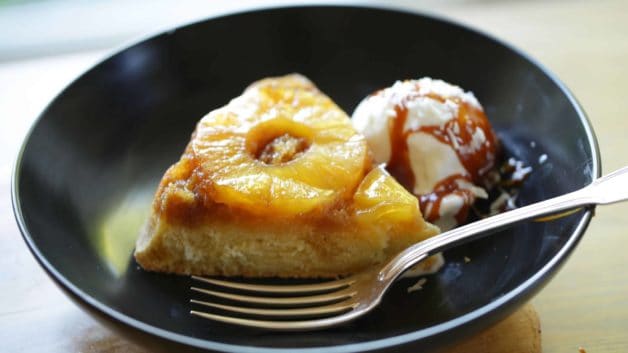 Watch My Video Demo of This Recipe Below!
Subscribe to my YouTube Channel and Never Miss a Recipe!
My Grandmother's Recipe
My grandmother and her sister used to make it all the time and according to my dad "Homemade Pineapple Upside, Down Cake" was a family mainstay at all get-togethers. Why buy it when you can make it from scratch?
Apparently, there was a little "friendly competition" between the sisters, but according to my dad, my grandmother (on the right) made the best one. But he may be partial?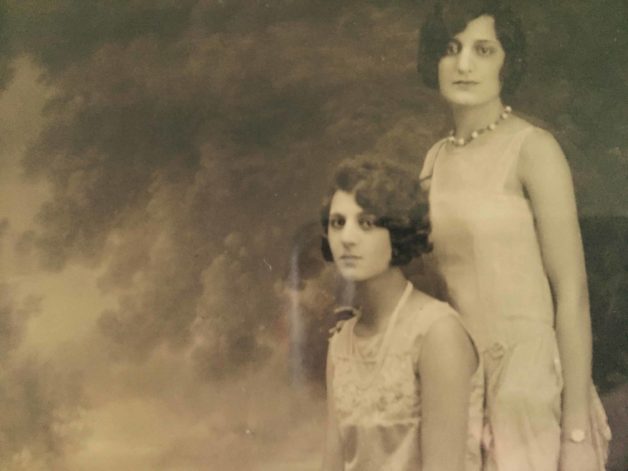 I was excited to receive my grandmother's original recipe, from my Aunt Nancy (the family recipe historian!) complete in her own handwriting. In today's world of blogs, Instagram and Pinterest, it isn't often we receive a handwritten recipe. So this, of course, made it extra special.
Another cherished family recipe is my grandmother's Cheese Manicotti Recipe, which makes for a fantastic Sunday night dinner!
I've never been a big fan of maraschino cherries and for some reason, the combination of pineapple and cherry has never appealed to me, so I elected to leave them off, but you could certainly add them if you wish.

Step#1: Prepare the Pan
You'll begin by spraying a 10" cake pan with baking spray. For extra precision placing your pineapples, you can use a Pineapple Upside-down cake pan! Yes, there is such a thing!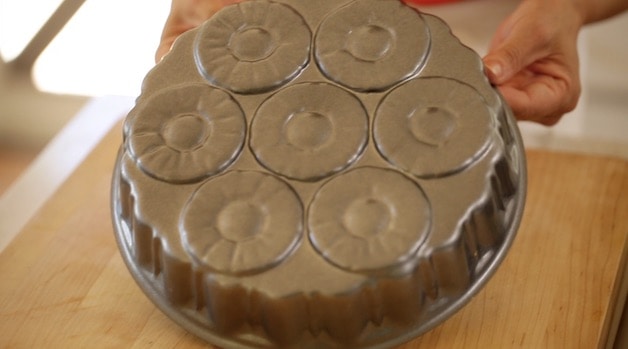 You can find my favorite Pineapple Upside-Down Cake Pan online.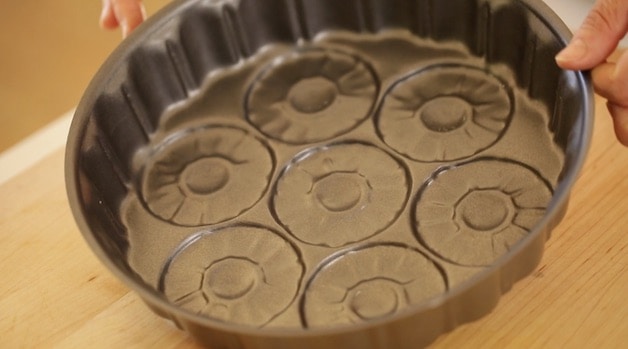 Step#2: Add Butter, Sugar, and Pineapple
Add the melted butter, brown sugar and pineapple rings to the cake pan. This will create the sticky top of the cake.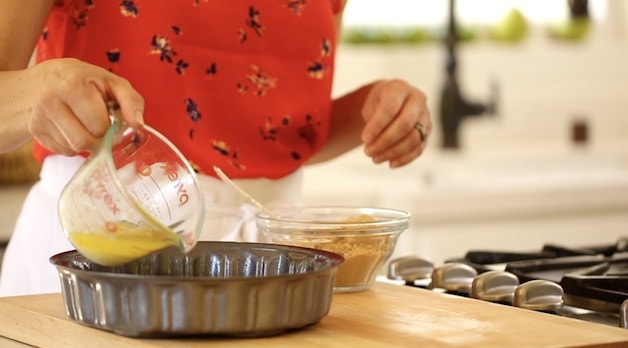 It looks like a ton of sugar but as it mixes with the butter and bakes into the cake, it becomes better distributed and creates the most fantastic flavor.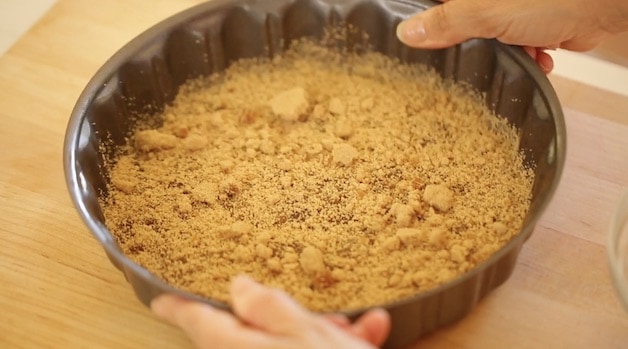 TIP: I find canned pineapple works the best for pineapple upside-down cakes!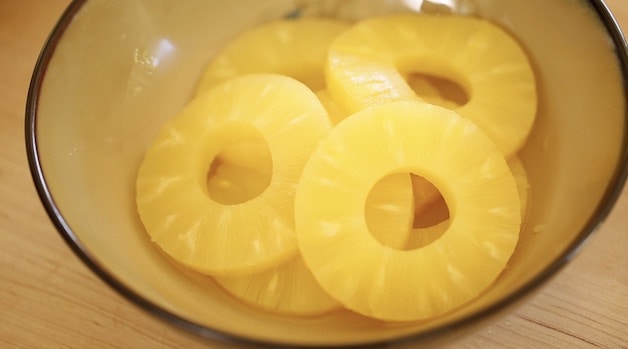 The Benefits of Canned Pineapple
Not only will the canned rings give you uniform sizes, but the texture is softer making it easy to eat once baked into the cake.
Arrange pineapple slices in a single layer in the pan.
This is also why I like the canned pineapple because it helps to line up the pineapple and assure they are equally distributed.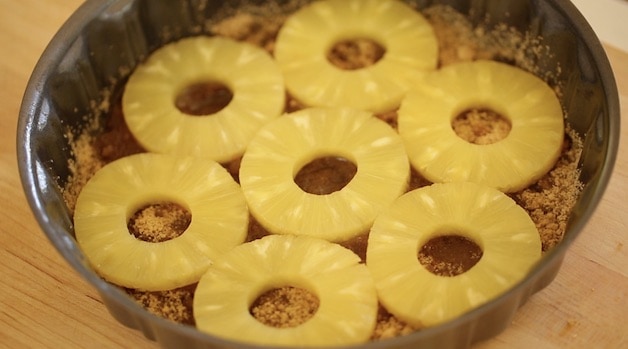 Step#3: Beat Eggs and Sugar
In a standing mixer beat the eggs and granulated sugar on high until a soft pale yellow mixture forms.
Then add the vanilla extract.Don't skimp on this step, this is what makes the cake so light and airy!
You should beat for at least 5-7 minutes in order to get the best volume.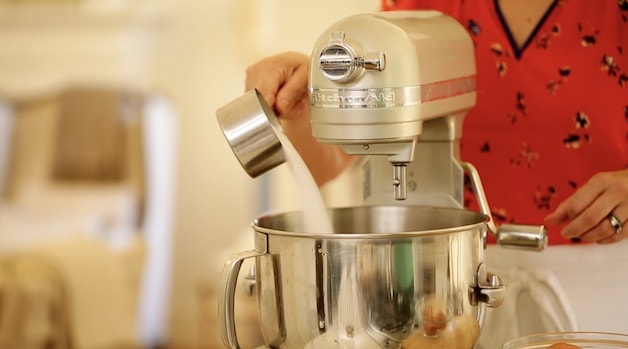 Step#4: Add Dry Ingredients
Then you'll mix together the flour, baking powder, and salt. I use just regular all-purpose flour and the texture is still light and delicate, so no need to cake flour in my opinion. Add the flour mixture to your batter slowly until combined. Don't overmix or you'll deflate your lovely voluminous mixture.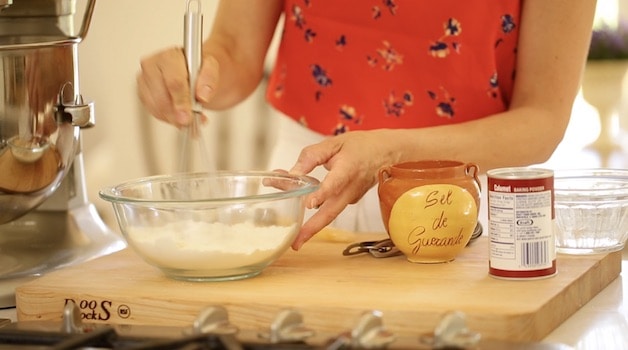 Step#5: Pour in Batter and Bake
Pour the batter over the pineapple and bake at 350F for 30 minutes or until a toothpick inserted comes out clean. Could this be any easier?! Even the baking time is quick!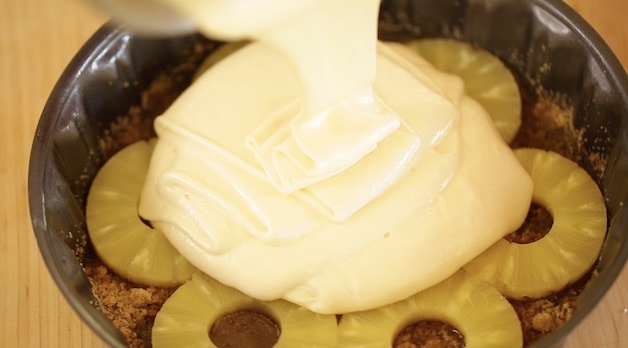 How Long Should You Wait Before Flipping The Cake?
If you are serving this cake right away, wait at least 15 minutes before trying to flip the cake.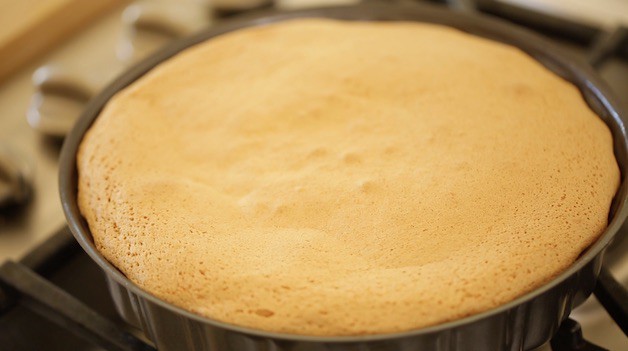 It needs some time to set, in order to stick the pineapples to the cake, otherwise, the hot pineapples will slide off your cake! Not a good look.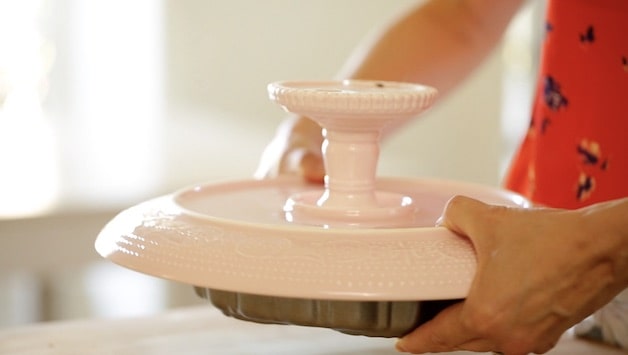 How To Flip an Upside Down Cake?
The secret to flipping upside-down cakes is to first place the cake stand on top of the cake, then with one fluid motion, flip the cake stand and the cake pan at the same time and it will land right side up on your cake stand.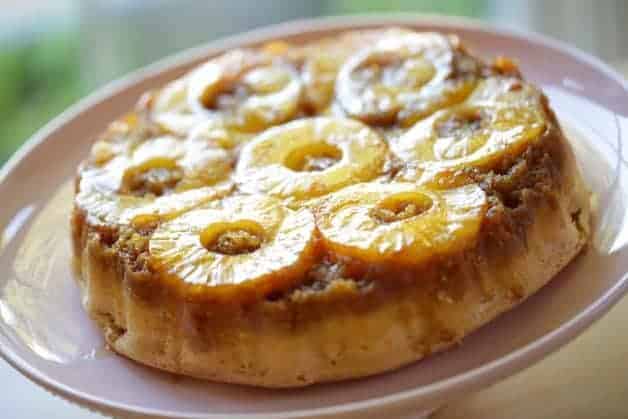 Does the Cake Need to be Refrigerated?
If you are not serving the cake right away, allow to cool completely, cover, and refrigerate in the tin.
Then moments before serving, place the cake in its tin in a 300F oven for 10 minutes or until warmed through.
Serve Warm or Cold
Personally, I like to serve this cake warm, with a big scoop of coconut ice cream drizzled with some homemade caramel sauce (recipe below).
I think the warm pineapple cake and the flavorful ice cream are just divine together!
But you could also serve this cake chilled or at room temperature too.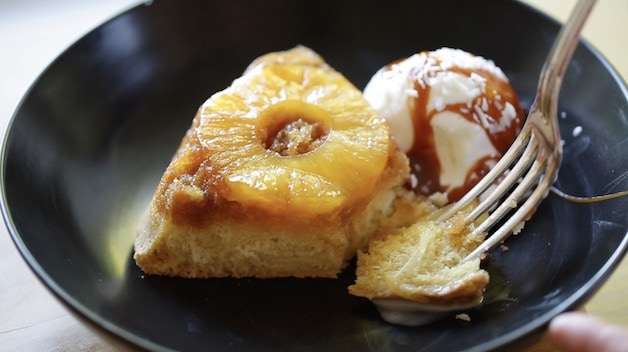 More Cake Recipes
Please let me know if you make this Recipe
by leaving a rating and review below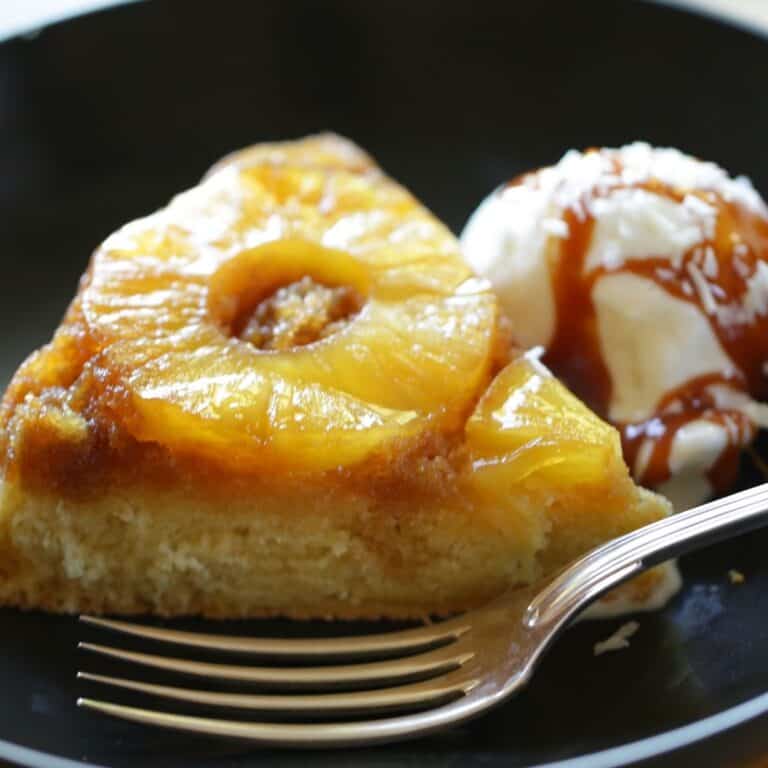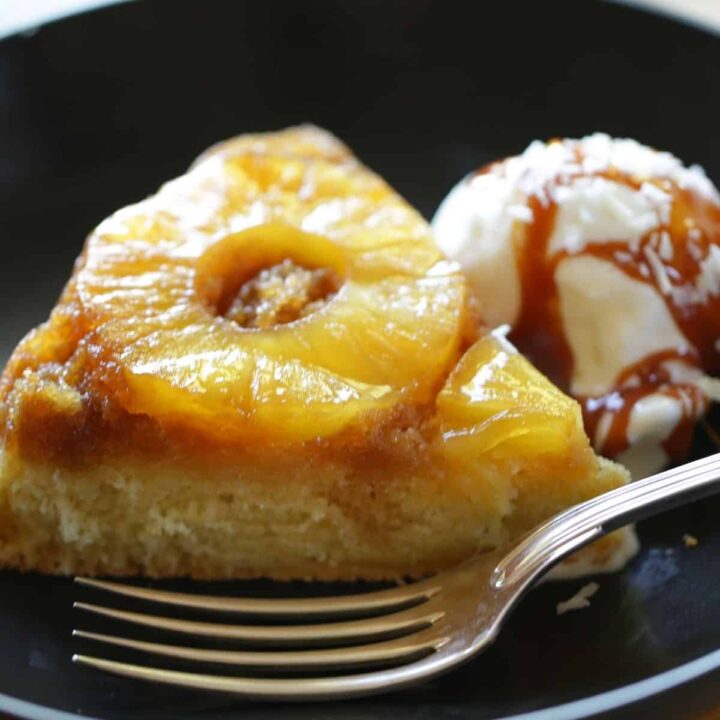 Homemade Pineapple Upside Down Cake Recipe
Total Time:
1 hour
15 minutes
This homemade Pineapple Upside down Cake is a a delicious spring dessert recipe that uses minimum ingredients but delivers maximum results! So easy and delicious!
Ingredients
For topping:
1 cup (180 g) brown sugar
4 tablespoon (60 ml) melted butter
7 pineapple rings, canned variety
For Cake:
4 eggs
1 cup (200 g) of sugar
1 teaspoon (5 ml) vanilla
1 cup (120 g) of flour
1 teaspoon (5 ml) baking powder
¼ teaspoon (1.25 ml) salt
For Serving:
Coconut Ice Cream
Beth's Caramel Sauce (see below)
2 tablespoon (30 ml) Unsweetened Coconut flakes
For the Caramel Topping:
1 cup (200 g) sugar
½ cup (120 ml) heavy cream (AKA double pouring cream)
1 tablespoon (15 g) unsalted butter
⅛ teaspoon (.75 ml) sea salt
Instructions
Spray a 10" (25 cm) cake pan with baking spray. Then pour the melted butter into pan, sprinkle with the brown sugar until evenly distributed. Place pineapple rings on top filling the bottom of the pan in an even layer. Set aside.
In the bowl of an electric mixer beat the egg and the sugar on high for 5-7 minuets until doubled in volume and pale yellow. Add vanilla.
In a separate bowl whisk together the flour, baking powder and salt. Add slowly to the egg mixture until just combined.
Pour batter on top of pineapples and bake at 350F (175C) for 30 mins until golden brown and set.
Allow to cool for 15 mins and then reverse the cake onto a cake stand.
TO PREPARE THE CARAMEL TOPPING:
Heat white sugar in a deep saucepan. As it heats the sugar will melt and begin to caramelize. Keep swirling it in the pan, lowering flame if needed so that it does not burn. Once it reaches a caramel color, add the heavy cream allow it to bubble and then it will settle down. Add butter and salt. Use immediately. Or transfer to a heat safe container and refrigerate until ready to re-heat and serve.
Cut cake into slices and serve with coconut ice cream drizzled with caramel sauce and topped with unsweetened coconut flakes.
Notes
Be sure to spray the pan well with baking spray for easy release and flip once the cake is baked!
This cake can be made the day before serving. Cover and refrigerate in the tin. Re-heat in a 300F oven for 10 minutes, allow to cool for 15 minutes and then flip and serve.
Nutrition Information:
Yield:

10
Serving Size:

1
Amount Per Serving:
Calories:

305
Total Fat:

15g
Saturated Fat:

10g
Trans Fat:

0g
Unsaturated Fat:

3g
Cholesterol:

91mg
Sodium:

146mg
Carbohydrates:

40g
Fiber:

4g
Sugar:

24g
Protein:

5g