Coconut Pound Cake with Syrupy Mangoes
This Coconut Pound Cake with Syrupy Mangoes is one of my favorite summer dessert recipes. It's a grown-up version of the classic cake-and-ice cream combo with a moist and buttery pound cake topped with rich vanilla ice cream and crunchy toasted coconut.
On its own, this pound cake recipe is pretty fantastic and you could stop there, but why? Let's celebrate! Because what sets it over the edge is the warm, syrupy mango sauce flavored with a touch of ginger. The combination of coconut, mango, and ginger is a fantastic flavor sensation that celebrates all the flavors of summer!

Why You Will Love This Dessert?
We've all had classic pound cake with berries in the summer, but this is a bit more unexpected and sophisticated, and not that much harder to make!
It's also fun to switch up the sauces and try different flavors or make 2-3 sauces as mentioned below and let guests choose the own!
You can make the whole thing ahead of time. Then all you have to do is slice the cake and assemble it!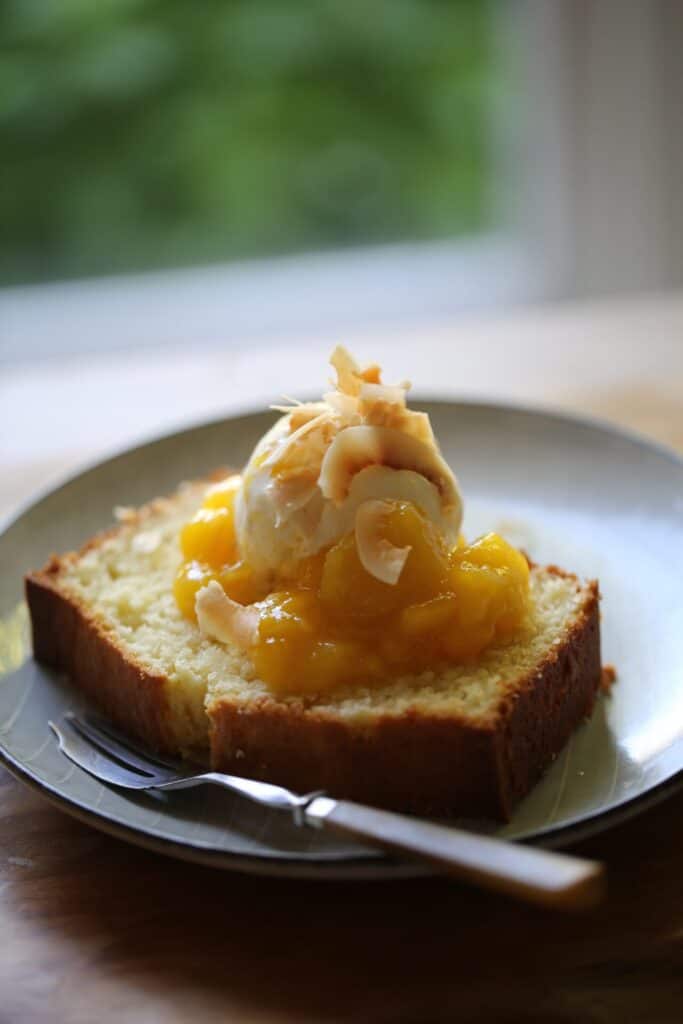 If you are a pound cake fan, you might also enjoy my Blood Orange Pound Cake recipe or my Grandmother's Lemon Pound Cake Recipe. Both are two other fantastic pound cake recipes!
Subscribe for weekly recipes
and new videos!
Watch My Video Demo of This Recipe Below
Use Room Temperature Ingredients
It's really important to use room-temperature ingredients for making pound cake. This will result in a beautifully textured cake.
How Long Should You Beat the Butter?
A lot longer than you think! One of the most important steps to achieving a light and fluffy pound cake is to make sure you beat the butter and sugar to the lightest, fluffiest state possible!
At least 5-7 minutes on high is what this will take.
This is where the room temperature butter will really help otherwise it will take twice as long to get to the fluffy state. Getting to this fluffy state is what adds all the lightness and volume to pound cake, along with the 4 eggs of course!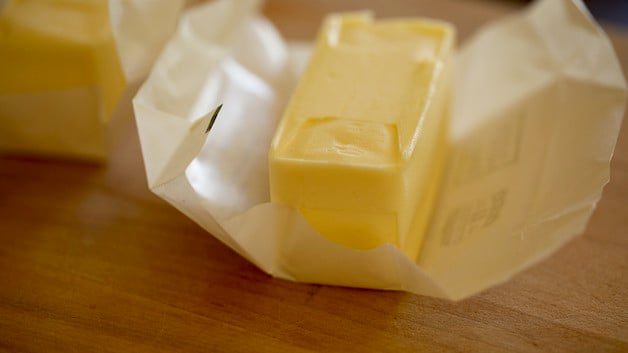 Scrape down the bowl every 1-2 minutes and once your butter and sugar mixture resembles whipped cream or frosting then it's ready! You shouldn't feel the heaviness of the butter anymore. Instead, it should feel like a cloud.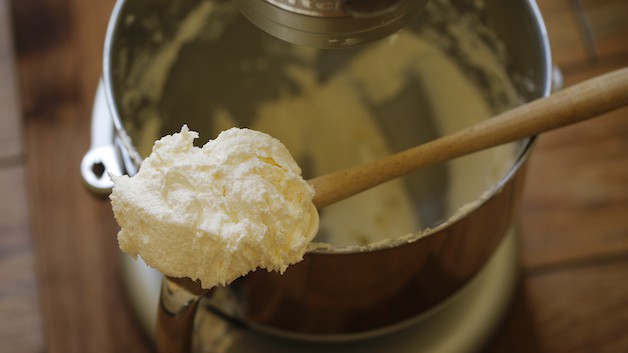 How To Get Your Eggs To Room Temperature
If you forget to take your eggs out to come up to room temperature, you can place them in a bowl of warm water. Let them sit for 5 minutes and that will bring them up to room temperature quickly.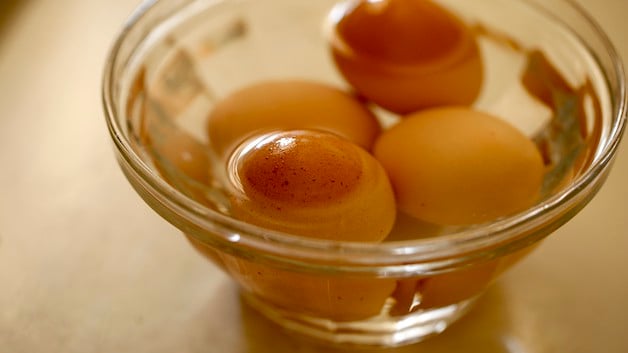 It's All About the Extracts
I also like to use two different extracts for flavoring. One plays the lead role and the other a supporting role. But they are both essential to creating the perfect flavor combination.
The vanilla extract provides a wonderful vanilla undertone that we have come to expect with pound cake, and the coconut extract provides a beautiful, subtle coconut flavor. Sometimes extracts can be overpowering (hello, Almond extract I'm looking at you!) but the coconut extract is so gentle! So lovely!
In addition, we will be adding unsweetened coconut flakes to the batter just before baking, but it's the combination of the coconut flakes and the coconut extract that creates the perfect coconut flavor to this cake.
To Make a Pure Vanilla Pound Cake
If you prefer a pure vanilla pound cake. Add 1 tablespoon of vanilla extract, plus the seeds of one vanilla bean. It's so delicious to use both the extract and the bean and will fill your pound cake with the most delicious flavor!
If going the vanilla pound cake route, serve it with my homemade strawberry sauce which complements the vanilla beautifully!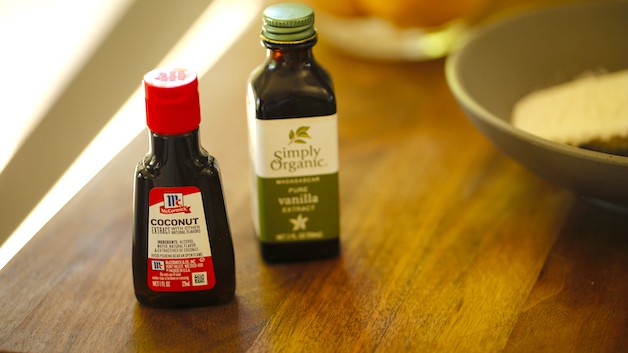 The Fat in Sour Cream Matters
Go for the full-fat sour cream (we're making dessert after all!) you'll get the best richness from it.
Adding the sour cream keeps this pound cake extra moist! Be sure the sour cream is also at room temperature, this will help it combine better into the batter.
Can You Substitute Greek Yogurt for Sour Cream?
Yes! You can substitute full-fat Greek yogurt for sour cream in pound cake to reduce the calories. Use the same amount as called for in the recipe and make sure it is at room temperature before adding it to the batter.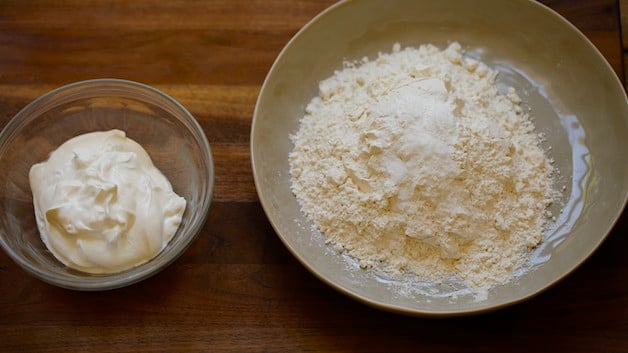 Add Shredded Coconut For Texture
Once the batter is mixed, remove it from the mixture and gently fold in the unsweetened coconut. It also helps at this stage to scrape the bottom of the bowl to assure there aren't any clumps of butter stuck to the bottom.
If so, fold it back into the batter. Otherwise, the butter will streak in your pound cake once it's baked.
Then you'll transfer your batter to a 9x5 loaf pan sprayed with baking spray.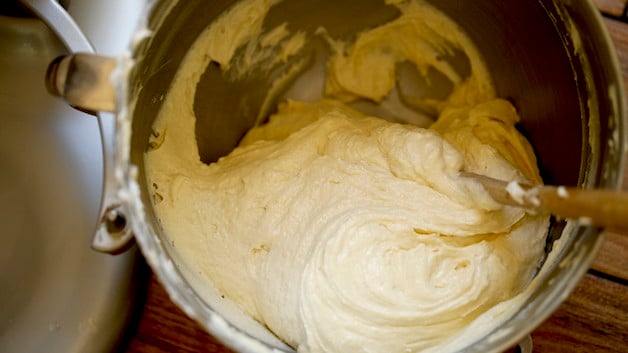 Baking spray vs. Butter and Flour
If you want baked goods that release effortlessly, embrace the baking spray.
I know our grandmothers will swear by butter and flour, but when the stakes are high and you don't want to make a dessert twice, the baking spray is the way to go.
How To Avoid Too Much Browning?
Bake the pound cake in the lower third part of the oven. Since the cake bakes for 55-60 minutes placing the cake on the lower rack will prevent it from browning too much on top before the inside is baked through.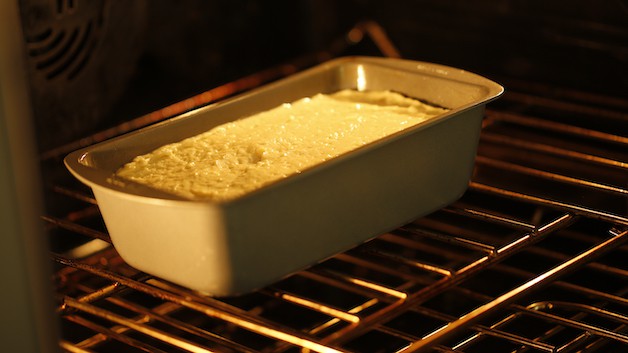 Cooling Helps with Slicing
Once it's done it will look like this! I check for doneness with a skewer since a toothpick typically isn't long enough to reach the full inside of a loaf pan.
Allow the cake to cool completely before slicing. Since this pound cake is so light and fluffy, it's a bit more fragile than regular pound cakes, so it needs the cooling time to "firm up".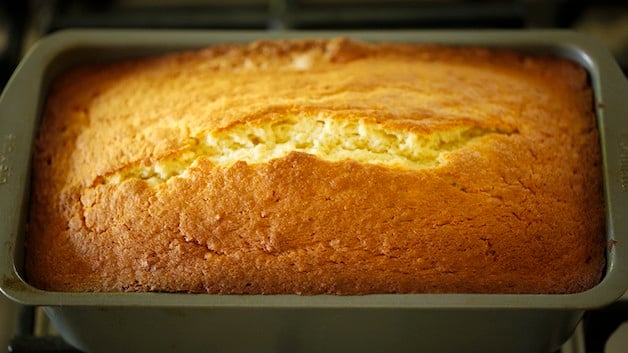 Making the Mango Sauce
This sauce is so easy to make because it takes just four ingredients, fruit, sugar, water, and ginger.
It's a classic fruit sauce ratio that can be used with any fruit. So if you are not a mango fan, you could swap them for other fruits.
I might just change the ginger flavoring to flavorings that would match the new fruit a bit better.
Other Fruit Sauce Combinations:
Blueberries or strawberries + 1 teaspoon lemon zest
Raspberries or Apricots + ½ teaspoon Almond Extract
Cherries + 2 teaspoon Kirsch liquor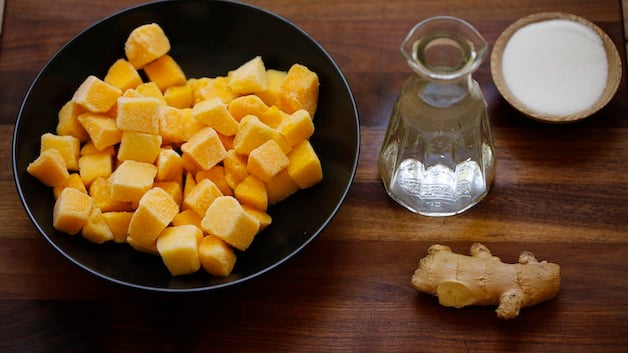 The Benefits of Frozen Mango
I buy the frozen mangoes because they are way easier to deal with since it prevents having to peel and cut a mango, which can be a task!
And they are cheaper too!
If you go the cherry/kirsch route go for the frozen cherries because you won't have to pit them!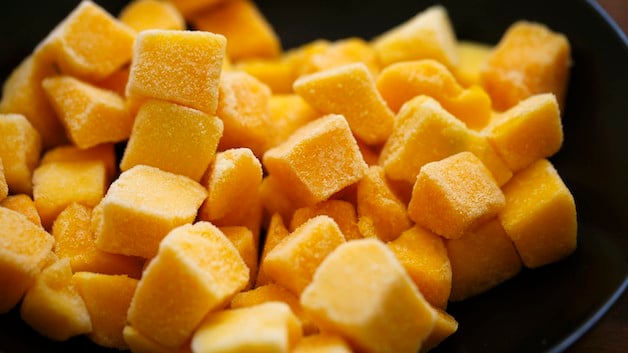 Making a Chunky Sauce
Place all the ingredients in a pot on a lower simmer, then cover and allow the fruit to soften and the water to bubble.
This will only take about 5-10 minutes.
Then you can mash the fruit up with a potato masher, or a fork, to break down the fruit to create a nice chunky sauce.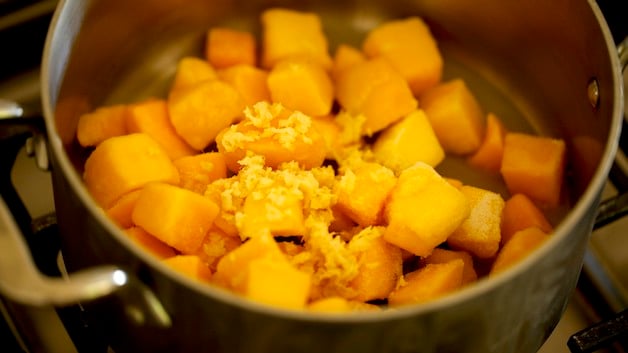 To Heat Or Not Heat The Sauce?
It's really debatable whether this sauce is best served warm or chilled. I love it both ways! I think it depends on how you serve the cake.
If you reheat the cake to serve warm, then I would serve the sauce chilled. If you are serving the cake at room temperature then I would warm the sauce!
Serve this dessert topped with toasted coconut chips on top and you'll have one sensational summer dessert! The combination of the fluffy cake, the creamy ice cream, and the tart mangoes is just sublime!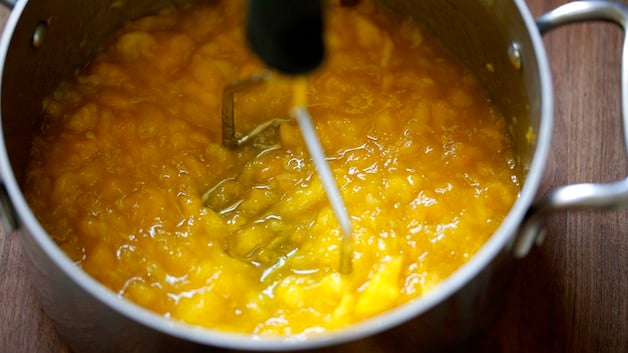 A Word About Vanilla Ice Cream
Not all vanilla ice cream is created equal. It can be tempting to shave off a few dollars when entertaining and costs are racking up, by buying an inexpensive brand, but this dessert really deserves the spendy stuff.
I highly recommend Haagen Daz Vanilla ice cream or Trader Joe's French Vanilla Ice Cream.
Either one never lets you down and will elevate any dessert you serve them with.
I also find the better the ice cream, the less sweet it is when it melts, which at that point creates a delicious "creme Anglaise" effect to your dessert.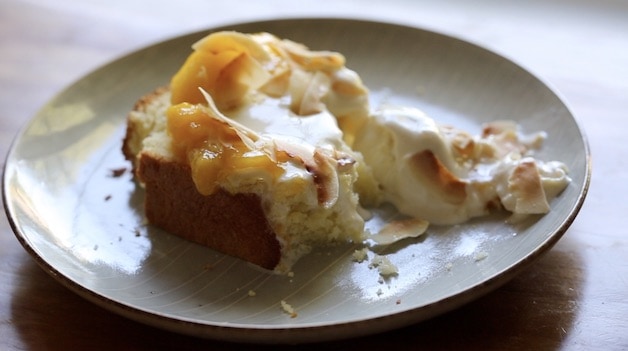 More Great Cake Recipes
If you Enjoyed This Recipe
Please leave a Rating a Review Below!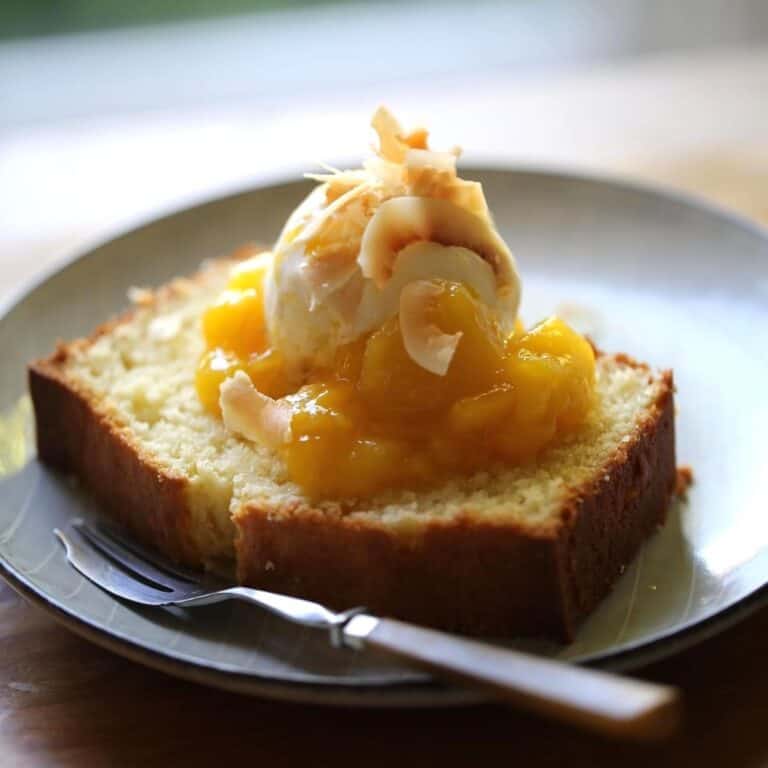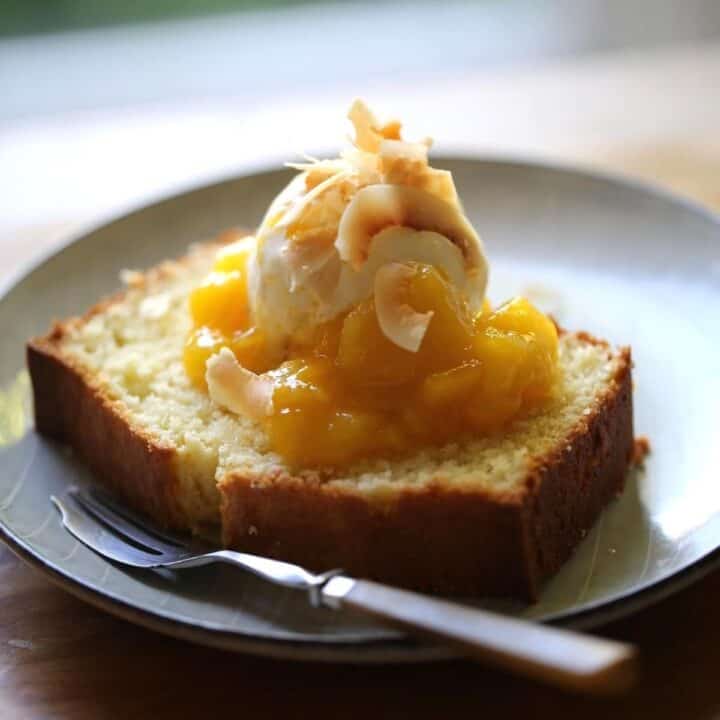 Coconut Pound Cake Recipe with Syrupy Mangoes
Prep Time:
1 hour
30 minutes
Cook Time:
1 hour
15 minutes
Additional Time:
20 minutes
Total Time:
3 hours
5 minutes
This Coconut Pound Cake with Syrupy Mangoes is a grown-up version of the classic cake-and-ice cream combo with a moist and buttery pound cake topped with rich vanilla ice cream, mango sauce, and crunchy toasted coconut. 
Ingredients
For the Cake:
1 cup (240g) butter, room temperature
1 ¼ cups (250g) sugar
4 eggs, room temperature
1 teaspoon (5 ml) vanilla extract
2 teaspoon (10ml) coconut extract
1 ¾ cups (210g) all-purpose flour
1 ¾ teaspoon (8.75ml) baking powder
½ teaspoon salt (2.5ml)
1 cup (240ml) full-fat sour cream
½ cup (45g) shredded unsweetened coconut flakes
For the Cake Garnish:
½ cup (45g) unsweetened coconut chips
For the Syrupy Mangoes:
1 lb (450g) frozen mangoes
¼ cup (50g) sugar
¼ cup (60ml) water
2 teaspoon (10ml) grated ginger
To Serve:
Best quality vanilla ice cream
Instructions
Before you begin, make sure your butter, eggs, and sour cream are at room temperature.
Preheat oven to 350F (176C). Prepare a 9 (23cm) x 5 (13cm) loaf pan by spraying it with baking spray and distributing it well with a paper towel.
In a medium bowl combine the flour, baking powder, and salt. Whisk together and set aside. Also, measure out the sour cream and set that aside.
Beat together the softened butter and the sugar until pale and fluffy, about 5-7 minutes of beating. It should have the texture of whipped cream! Scrape down the bowl as needed.
Add the eggs, one at a time, beating down the bowl in between each addition. Add the vanilla and coconut extracts. Beat for another 1-2 minutes, making sure the butter and eggs are incorporated well. If you are using a stand mixer, be sure to scrape down the bowl one last time, especially under the paddle attachment. This is where the hardened butter hides. You want to scrape that up now and make sure it's well incorporated. Otherwise, it will reveal itself later when you go to pour your batter into your loaf pan and you don't want clumps of butter in your batter or it will bake into your cake that way and create greasy, splotchy sections.
Add the flour in thirds, alternating with the sour cream. Beat gently, just until combined, in between each addition, scraping down the bowl as needed.
Gently fold in the shredded coconut
Transfer the batter into your loaf pan, smoothing it out with a spatula, and shake the pan so it's level.
Bake for 55-60 minutes on the lower third rack of your oven, this will prevent over-browning. Bake until a skewer inserted into the center, comes out clean. Allow to cool completely before slicing it.
While your oven is still hot, keep it at 350F. Place the coconut chips on a baking sheet. Bake at 350F for 3-4 minutes or until golden brown. This happens quickly so don't walk away! Allow coconut to cool completely.
For the syrupy mangoes, place the frozen mangoes, sugar, water, and ginger in a medium-size saucepot. Cover and simmer until mangoes become tender, remove the cover, and start to mash them with a fork or a potato masher. Continue until you have a chunky, syrupy sauce. Allow to cool, then transfer to a microwavable safe bowl, cover, and refrigerate. This will make it easier to heat the sauce in the microwave when the time to serve. Keep refrigerated until ready to serve.
Before serving reheat the mangoes in a microwave at 30-second intervals until warmed through. Or reheat in a pot on the stovetop.
To serve, place a slice of the cake on the plate, add a scoop of vanilla ice cream to the side and spoon the warm mango sauce on top.

Notes
For a Pure Vanilla Pound Cake:
If you prefer a pure vanilla pound cake. Add 1 tablespoon of vanilla extract, plus the seeds of one vanilla bean. It's so delicious to use both the extract and the bean and will fill your pound cake with the most delicious flavor! 
If going the vanilla pound cake route, serve it with my homemade strawberry sauce which complements the vanilla beautifully!
Other Fruit Sauce Combinations:
Blueberries or strawberries + 1 teaspoon lemon zest
Raspberries or Apricots + ½ teaspoon Almond Extract
Cherries + 2 teaspoon Kirsch liquor
Nutrition Information:
Yield:

8
Serving Size:

1
Amount Per Serving:
Calories:

249
Total Fat:

8g
Saturated Fat:

4g
Trans Fat:

0g
Unsaturated Fat:

4g
Cholesterol:

107mg
Sodium:

229mg
Carbohydrates:

37g
Fiber:

2g
Sugar:

14g
Protein:

7g