This Lemon Pound Cake Recipe is a fantastic dessert recipe to make during the spring! It's light and fluffy and so incredibly moist! It's the type of cake that is perfect for baby showers, Mother's Day or Easter Sunday!
For pound cakes made in a loaf pan try my Lemon Poppyseed Pound Cake my Coconut Pound Cake or my Blood Orange Pound Cake recipes.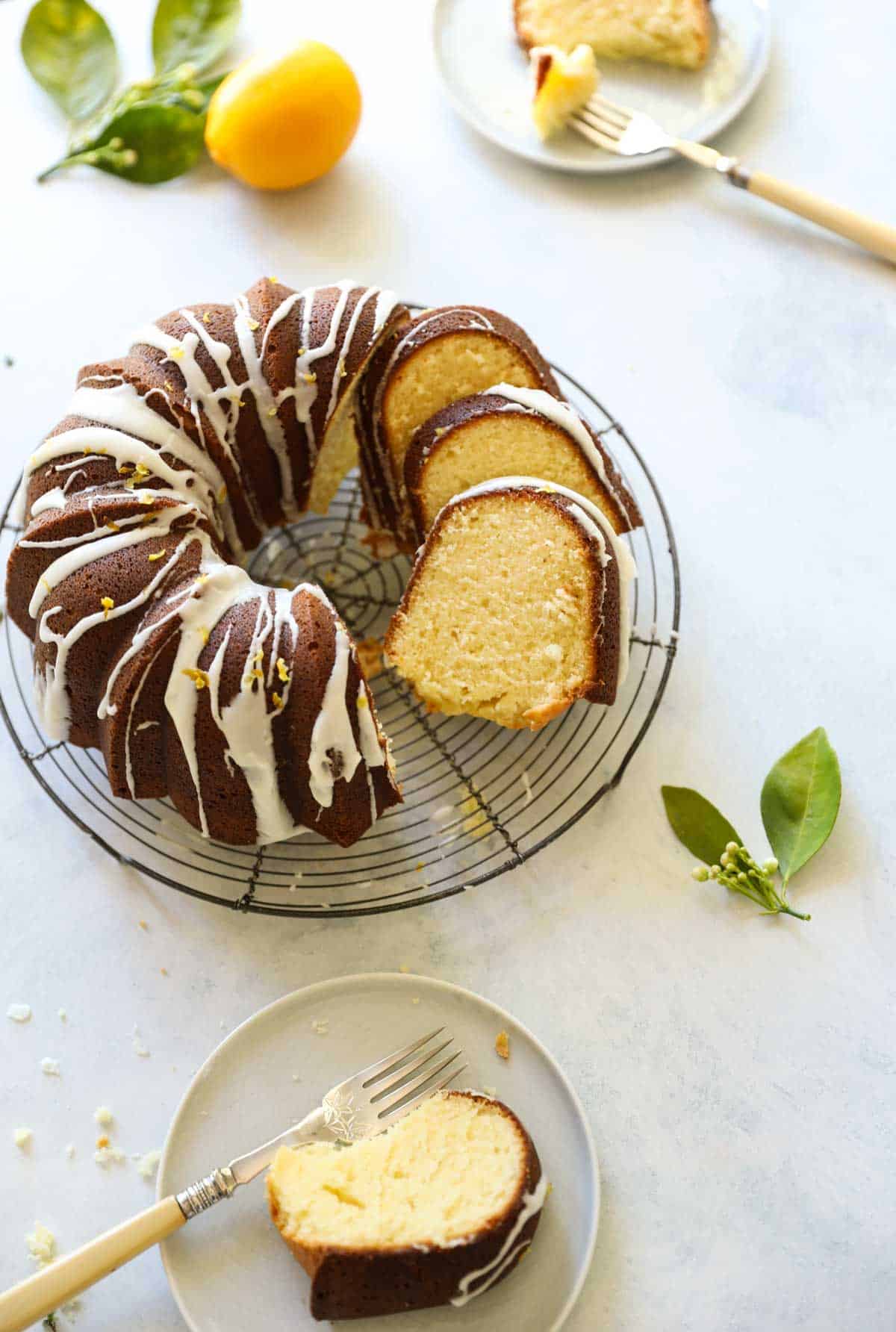 How To Increase The Flavor of Lemon In Cake
Personally, I have found the best way to increase the lemon flavor in pound cake is with the lemon zest.
The oils in the zest impart the best flavor without altering the texture of the cake.
This recipe uses the lemon zest in the cake batter, and the juice in the lemon glaze on top.
I then add even more lemon zest on top of the cake once it's glazed for a finishing touch. And the combination of all these elements creates a wonderful, natural lemon flavor.
But for even more pronounced lemon flavor you could also add 1 teaspoon of lemon extract to the cake batter. Just be sure to use pure lemon extract to avoid an artificial, chemically tasting lemon flavor.
Or go for full lemon flavor with my Lemon Curd Tart Recipe!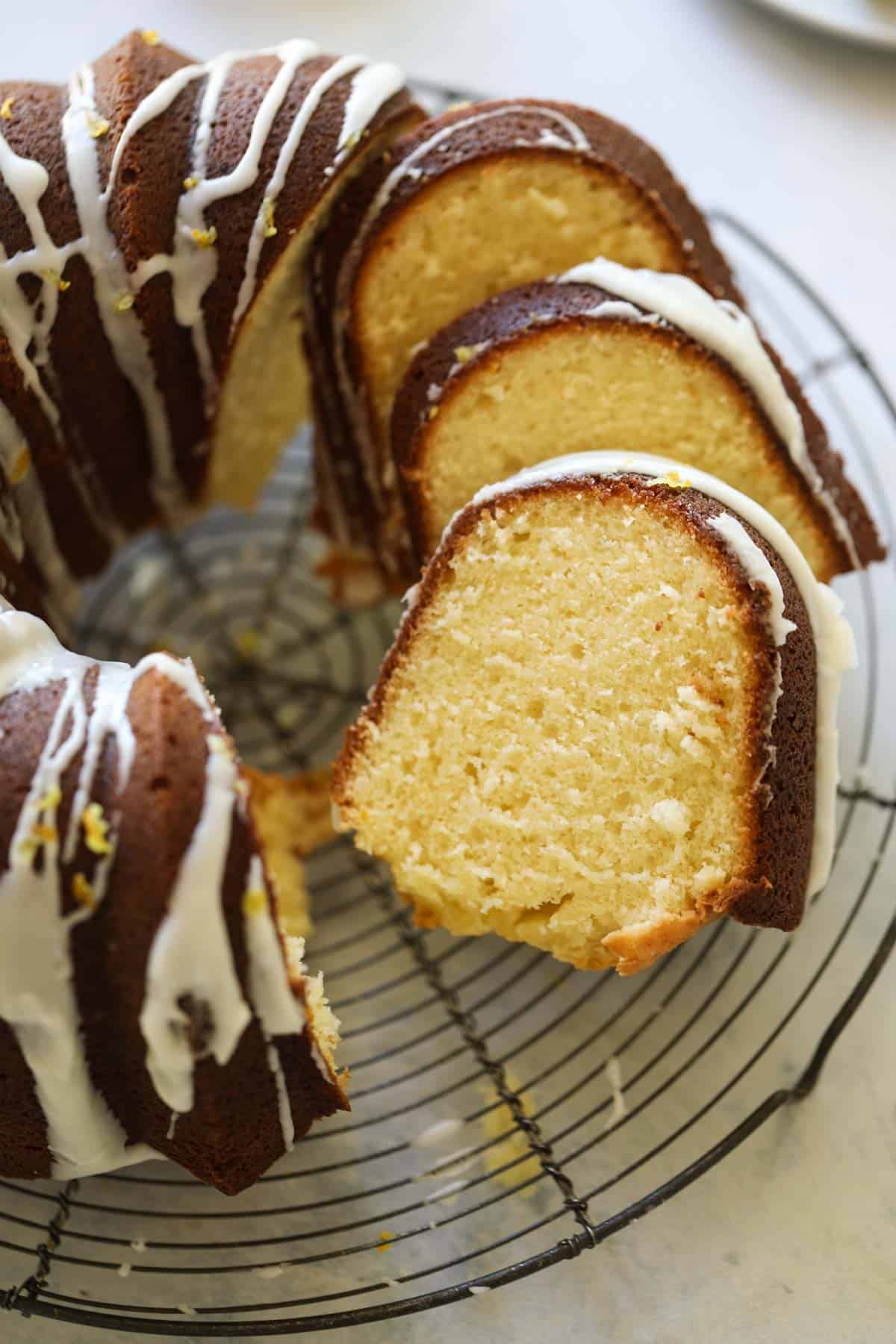 The Ingredients:
Butter Make sure the butter is at room temperature. It will beat up quicker and combine better with the eggs if it's soft. I use Salted Land O' Lakes Butter for most of my baking because I think it has the best flavor. If using Unsalted Butter I would add ⅛ teaspoon more salt to the recipe.
Sugar This recipe calls for a lot of white sugar, but keep in mind it's a lot of batter which is needed to fill a 10-15 cup capacity Bundt pan.
Eggs What makes this cake so light and fluffy are the eggs! I have tried this recipe with less eggs, and it's just not as good.
Lemon Zest The zest will provide more lemon flavor to the cake without compromising on texture so stick with the zest for the batter and save the juice for the glaze.
All-Purpose Flour No need for cake flour. But do sift it first!
Baking Soda Just for a little extra lift, but not too much since this cake rises up as high as the top of the pan (thanks to the eggs!)
Salt I use Kosher salt for the best flavor and to enhance the lemon flavor.
Sour Cream Makes this cake extra rich and moist. Use full-fat sour cream for the best flavor and texture.
Powdered Sugar, Heavy Cream, Lemon Juice For the glaze. You could skip this part and just dust the cake with powdered sugar. That would easier and just as tasty too.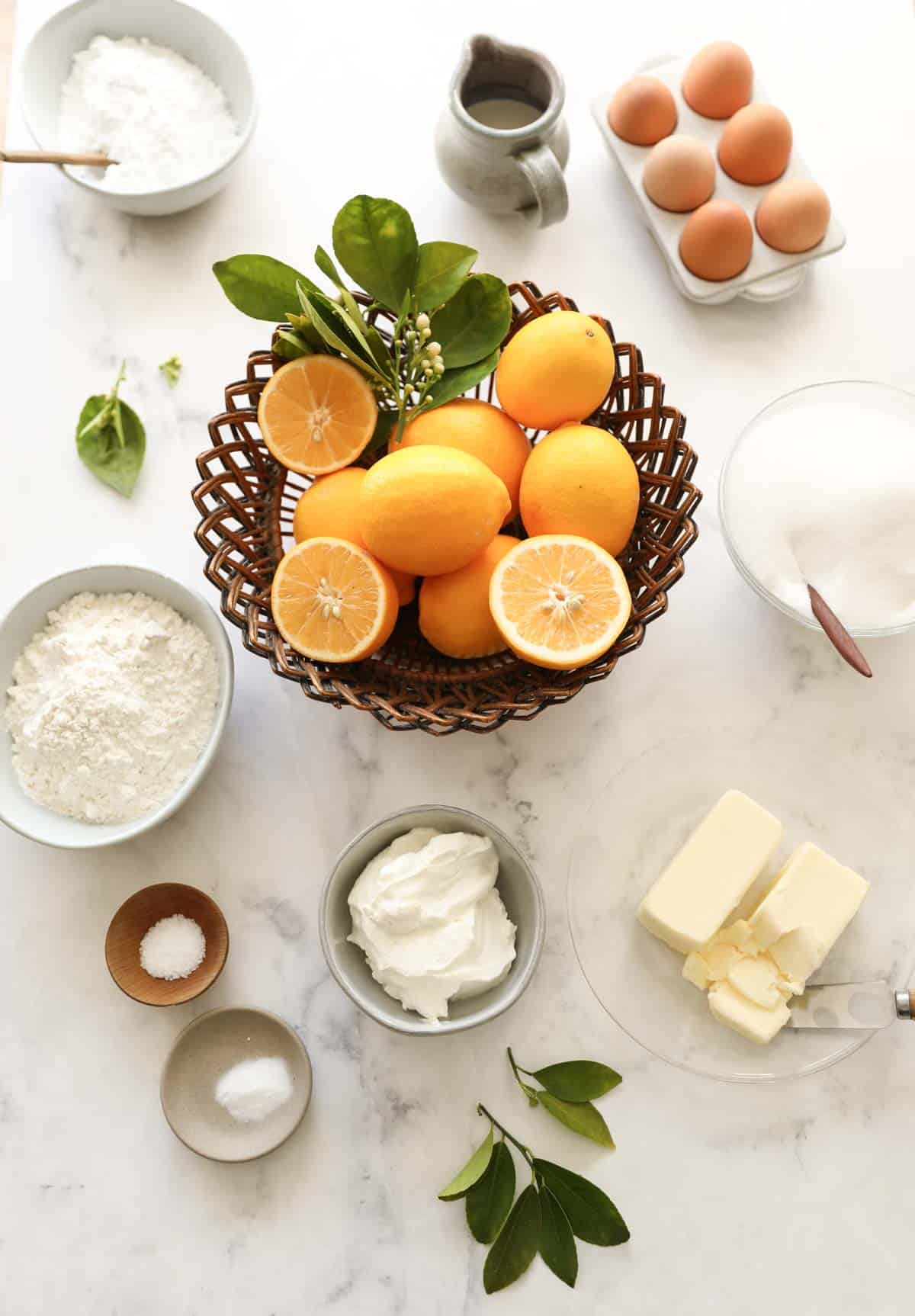 How To Avoid a Dry Pound Cake
Pound cake can easily become dry if it's left to over-bake. So this is something you need to keep an eye on!
It also will become dry if you reduce the eggs or use low-fat sour cream. So keep the quantities as is in the recipe.
This recipe is a riff on a family Sour Cream Pound Cake recipe that came from my Italian Grandmother. It knew it would be good just by looking at how marked up the recipe card was! This was a recipe that was clearly made quite often!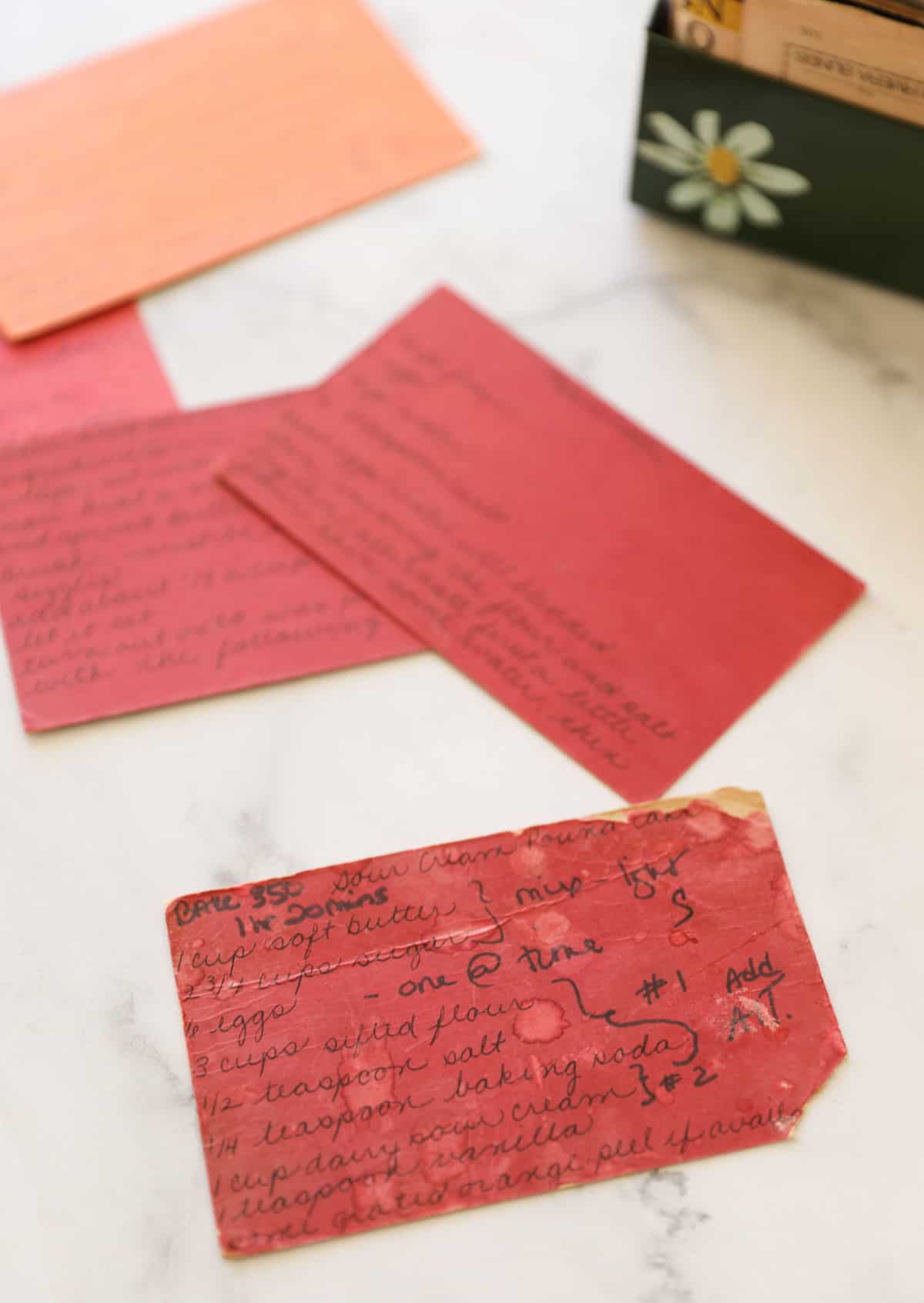 A Pound Cake That Melts in Your Mouth
One of the secrets to getting a light and airy pound cake that melts in your mouth, is to whip the eggs into the batter for an extended period of time.
This is a 2-part process. First the butter and sugar gets beaten to a nice and fluffy state. This is why having room temperature butter is important.
Secondly, the 6 eggs are added one at a time and beaten well in between each addition, scraping down the bowl in between each addition. This helps to incorporate the butter and the eggs.
The additional beating adds a lot of air into the batter, which will create a beautifully textured cake that will have the most delicate crumb that will melt in your mouth.
After the final egg is added, the batter should resemble lightly beaten whipped cream.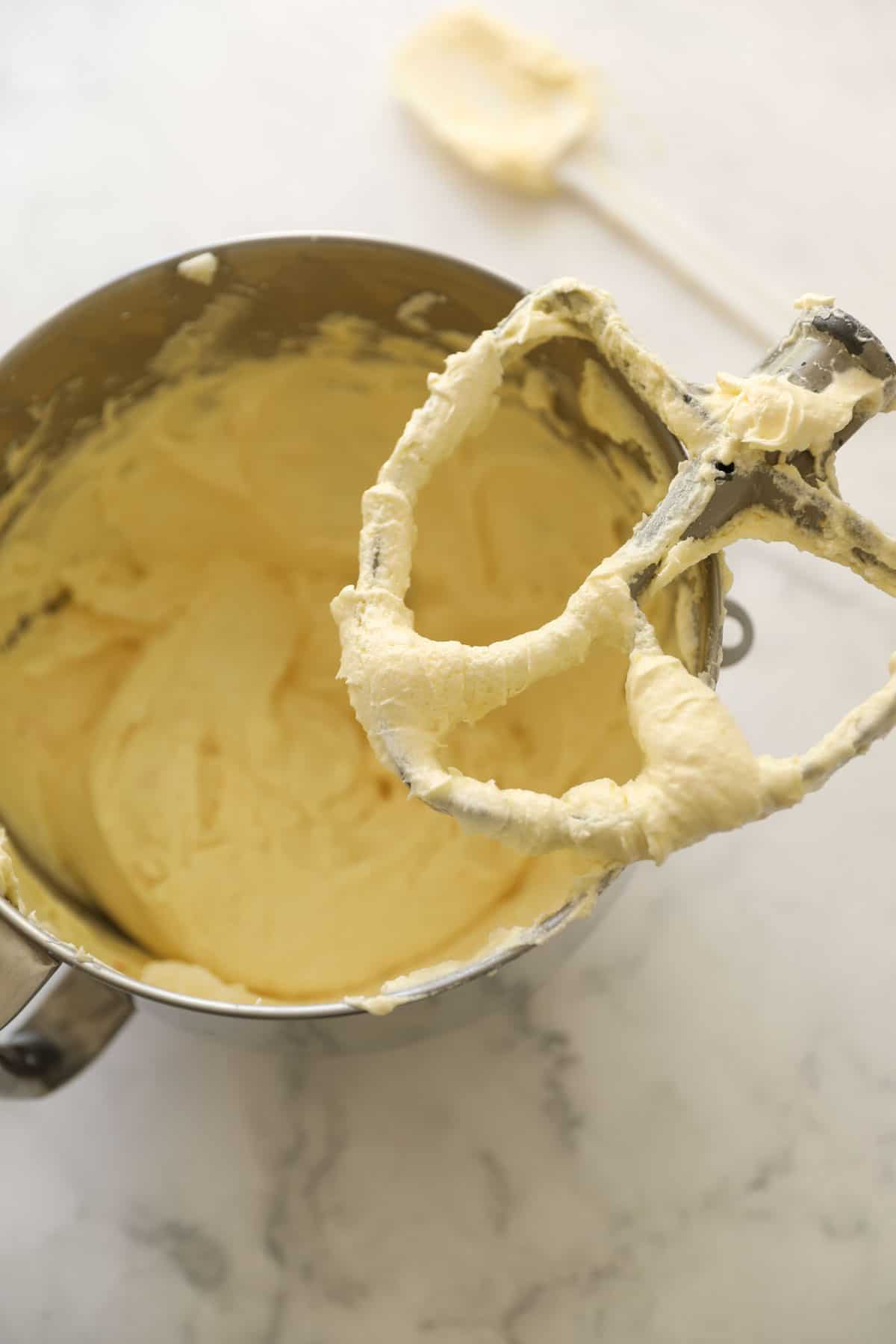 Do Not Over Bake For a Moist Cake
Pound cakes can become dry if they are left to over bake. So do not let the cake go past 40-45 minutes. It's best to check for doneness with a long skewer when baking the cake in a bundt pan because bundt pans are deep, it's best to make sure the cake is fully baked all the way through.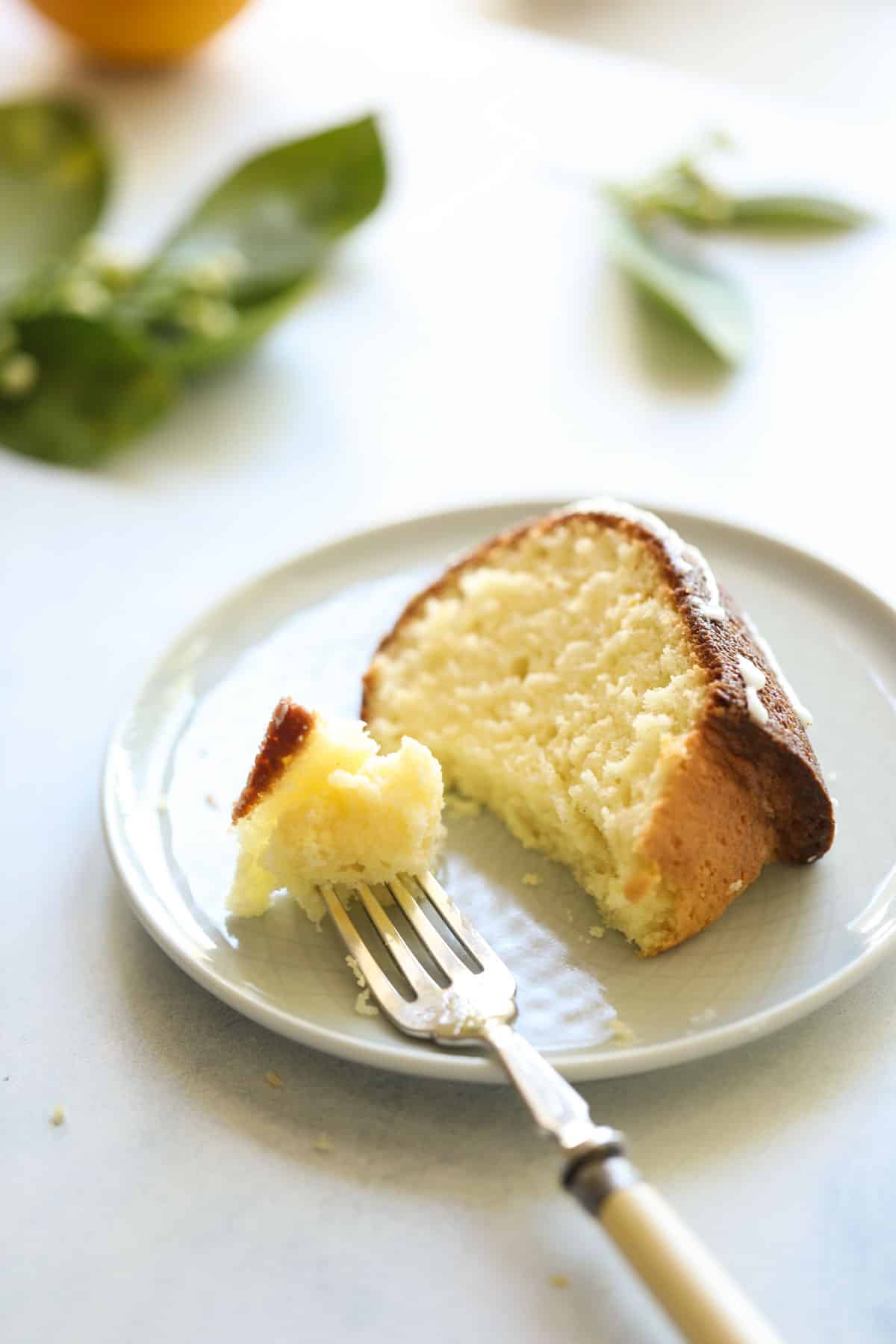 A Bundt Pan Vs. a Loaf Pan for Pound Cake
Pound cakes are made in both loaf pans and bundt pans. Personally, I use a loaf pan for pound cakes that are designed for snacking or tea time. And reserve the Bundt Pans for a special occasion like Easter, Mother's Day or Christmas.
Bundt pans serve more guests, usually you'll get 8-12 slices from a Bundt pan, whereas a loaf pan typically yields about 8 slices.
This recipe was developed for a 10-15 cup Bundt Pan, so if you want to put it in a loaf pan, I would either follow my Lemon Poppy Seed Pound Cake recipe (and leave off the poppy seeds if desired) or cut the recipe in half.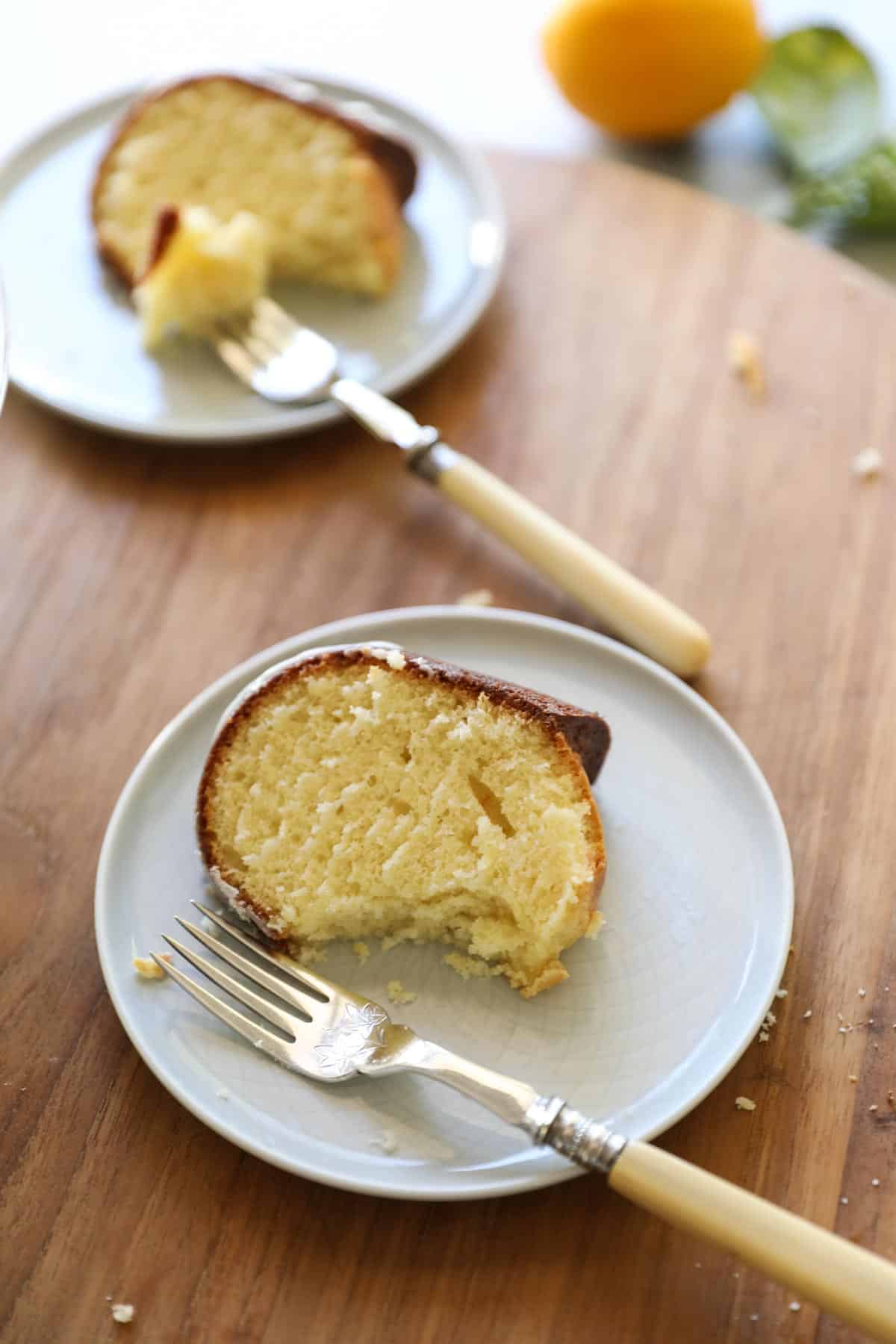 Serving and Storing Suggestions:
This cake can be made a head of time. But if adding the glaze ahead of time, it should be refrigerated due to the heavy cream. Then remove the cake from the refrigerator 30 minutes before serving to come up to room temperature. The texture will be better.
Alternatively, you can make the cake allow it to cool. Keep it in the bundt pan, covered loosely with a sheet of foil. Then turn it out onto a cake stand and glaze it just before serving.
This cake also freezes beautifully! Freeze it without the glaze, wrapped in wax paper and then foil and freeze as a whole cake, or as individual slices.
Allow the cake to thaw in the refrigerator overnight. Or reheat individual slices, wrapped in paper towel, in the microwave at :30 intervals.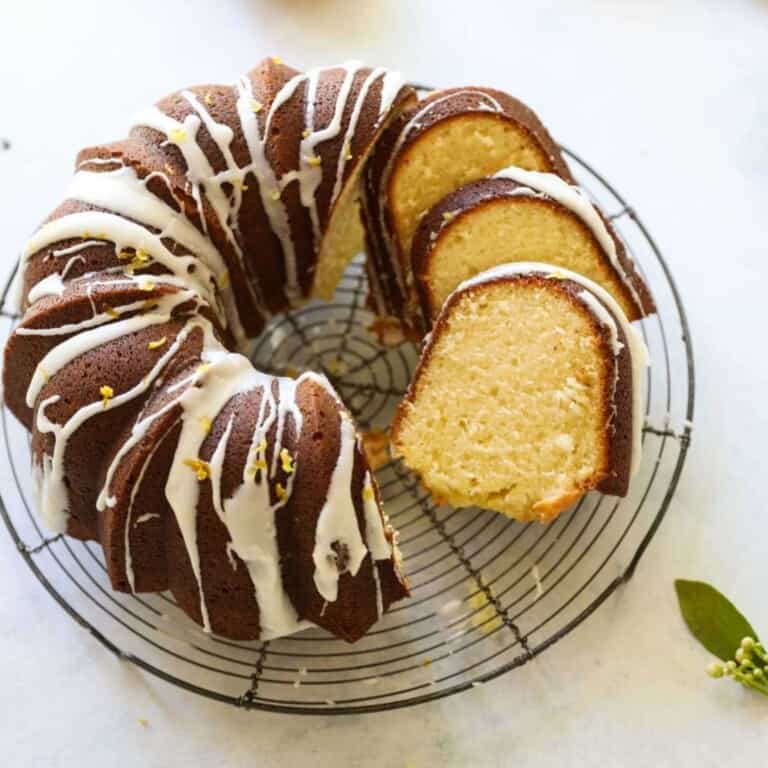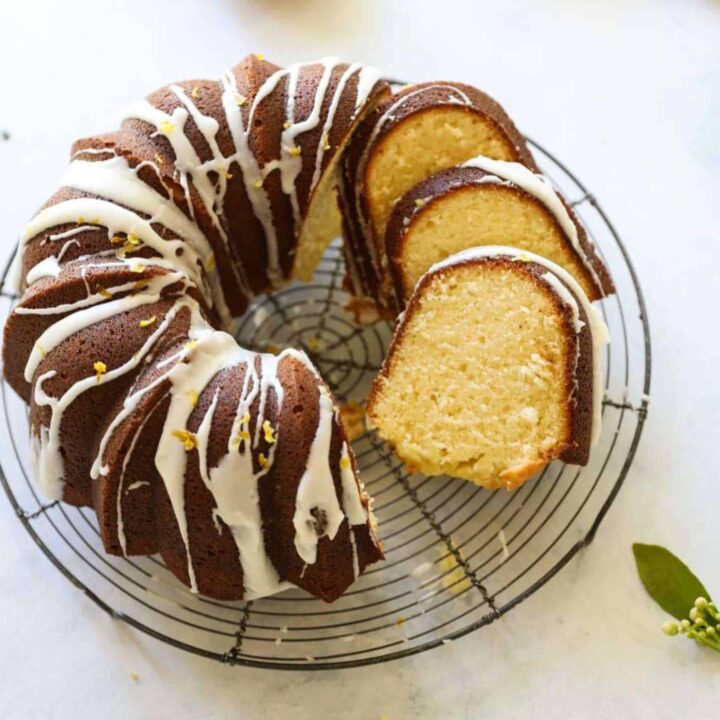 Lemon Pound Cake
Total Time:
1 hour
10 minutes
One of my favorite ways to use up lemons is with my moist and delicious Lemon Pound Cake Recipe.  It's quick, it's easy, and oh so good! It makes for a great cake for Mother's Day, or Baby or Bridal showers!
Ingredients
1 cup butter (240g), softened
2 ½ cups (500g) sugar
6 eggs, room temperature
1 tablespoon (15 ml) lemon zest
2 ¾ cups (330g) sifted flour
1 teaspoon (5 ml) salt
¼ teaspoon (1.25 ml) baking soda
1 cup (240 ml) sour cream, room temperature
FOR GLAZE:
1 cup (100 g) of powdered sugar
2-4 tablespoon (30ml-60ml) heavy cream (depending on how thick you like it)
1 ½ tablespoon fresh lemon juice
zest of 1 lemon as a garnish on top of the glaze
Instructions
Preheat oven to 350F/176C degrees.
Spray on Bundt pan with baking spray.
Sift together the flour, salt and baking soda and set aside.
Cream together butter and sugar until very light and fluffy.
Add the eggs to the butter mixture, 1 at a time. For a quick way to warm up eggs to room temperature, place them in a bowl with warm water for 5 mins while butter is creaming together).
Add the eggs 1 at a time, scrapping down the bowl as needed, so that the eggs are well incorporated.
Add zest and stir
Then remove the electric mixer and with a spatula, fold in the flour mixture to the batter in thirds, alternating with a spoonful of the sour cream. just until combined, being careful not to over mix! (or your cake will be tough)
Bake for 40-45 mins. It's done when a toothpick comes out clean. Allow to cool completely. Reverse from mold and place on a sheet pan, fitted with a cooling rack.
GLAZE:
Place sugar in a bowl, whisk in heavy cream until smooth and no lumps appear. Then add juice. Spoon over cake until it drips over the sides. Garnish with lemon zest and lemon thyme. Allow to set.
Serve with homemade whipped cream! (a few fresh strawberries, raspberries, blueberries or blackberries served alongside is also great with this too!)
Nutrition Information:
Yield:

12
Serving Size:

1
Amount Per Serving:
Calories:

365
Total Fat:

23g
Saturated Fat:

13g
Trans Fat:

1g
Unsaturated Fat:

7g
Cholesterol:

148mg
Sodium:

162mg
Carbohydrates:

35g
Fiber:

1g
Sugar:

12g
Protein:

7g