Lemon Poppy Seed Scone Recipe
These Lemon Poppy Seed Scones are so light and flakey and flavored with just the right amount of lemon. Serve them with some raspberry jam or use the lemon glaze recipe from my Lemon Poppy Seed Pound Cake recipe, to drizzle over the top.
It's a wonderful scone recipe to serve in the spring, because the flavors are so fresh! For a fall-flavored scone try my Pumpkin Spice Scone with Chai Glaze, in the summer try my Strawberry Almond Scones or my Blueberry Scones with Lemon Glaze.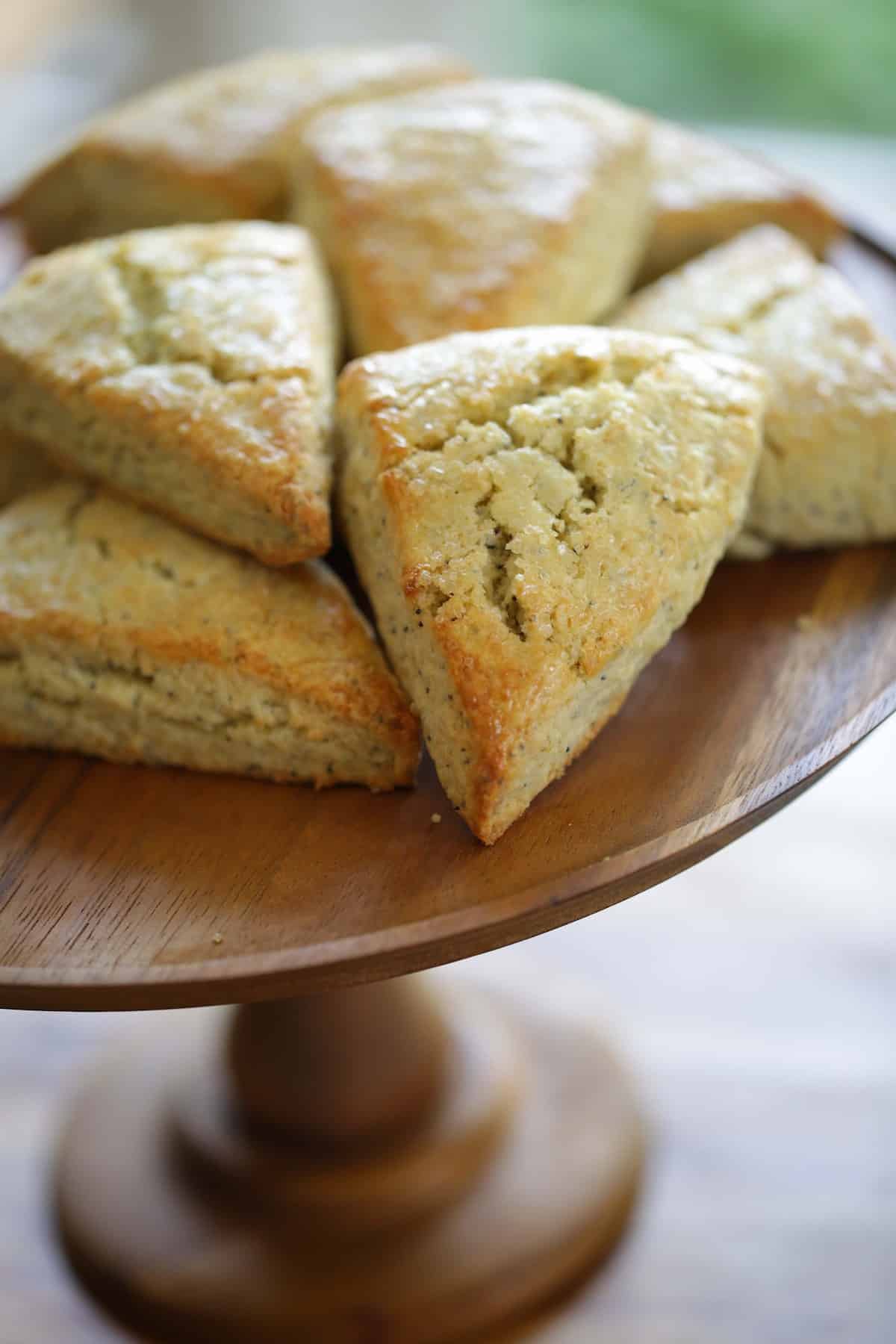 Ingredients:
All-Purpose Flour No fancy flours needed, all-purpose flour is all you need.
Salt To boost the flavors of the lemon and balance out the sweetness. If using unsalted butter increase the salt to ¾ teaspoon.
Baking Powder I use 2 full teaspoons for the best lift on the scones.
Sugar White granulated sugar will give you the best light and flakey texture.
Butter I prefer salted butter in baking. I think Land O' Lakes Salted Butter will give you the best flavor. But if you are outside the U.S.A use unsalted butter, since salted butters outside the U.S.A can be pretty salty.
Poppy Seeds Poppy seeds can go rancid like nuts, so it's best to use them up within 6-months. But not to worry you can use them up in my delicious Poppy Seed Salad Dressing.
Lemon Zest I use a microplane that is typically a Cheese Grating Microplane to get nice larger pieces of zest which adds to the flavor.
Pure Lemon Extract This will boost the lemon flavor even more. But only use Pure Lemon Extract. It has the most natural lemon flavor, as opposed to the imitation lemon extracts. You could also skip the lemon zest and add pure almond extract for an Almond Poppy Seed Scone which would be delicious too.
Heavy Cream + Egg The combination of heavy cream mixed with an egg adds a wonderful richness to the scones, as well as moisture, preventing "dry scone syndrome!"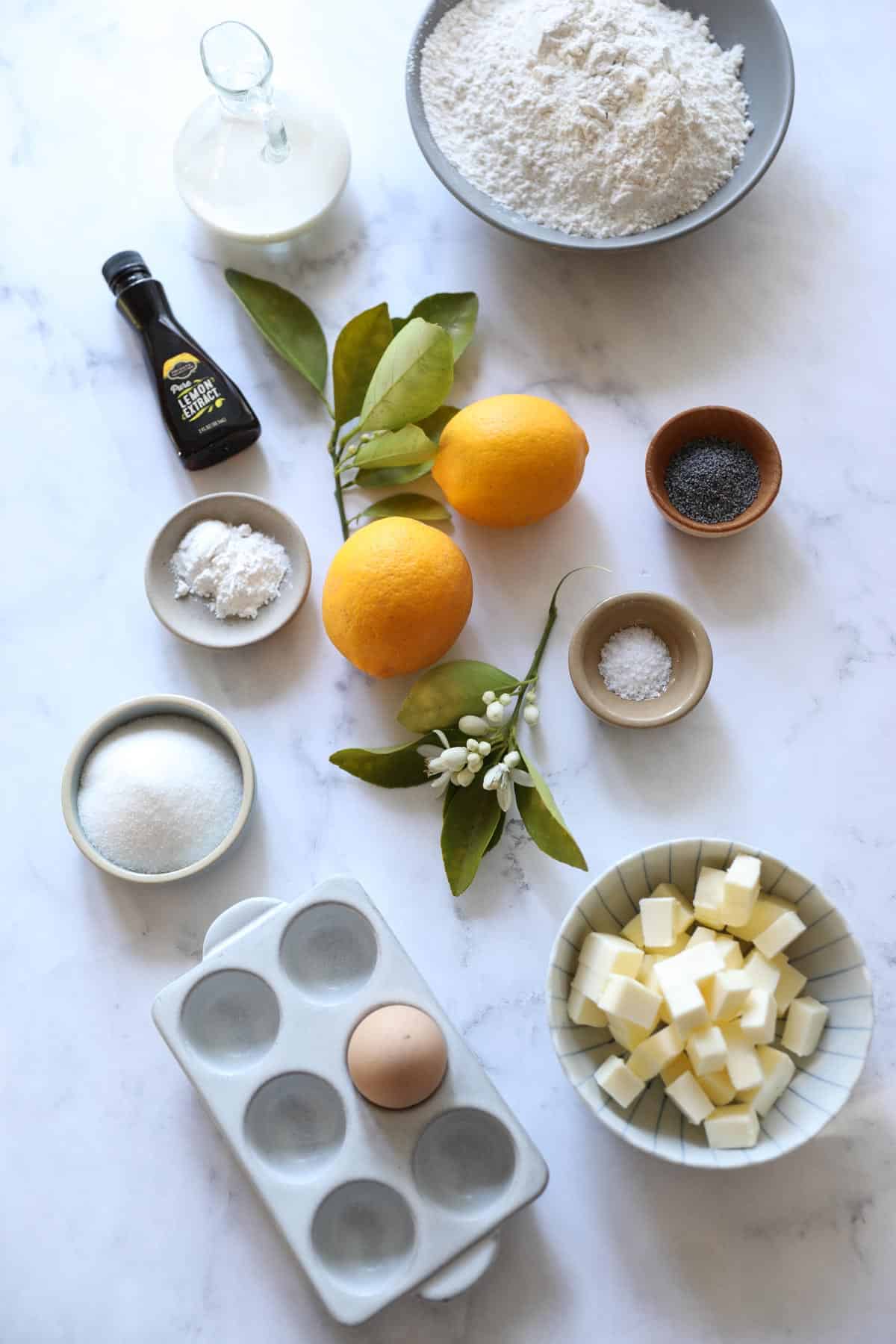 Video Demo of Lemon Poppy Seed Scones
Make Ahead Tips
These lemon poppy seed scones are also the perfect breakfast treat to whip up while entertaining because all the prep work can be done the day before.
Roll out the dough, shape, cut and slice and place them on a baking sheet, covered and place in the refrigerator.
Then all you have to do the day of your brunch is brush their tops with cream, add the sugar on top and pop in your oven and bake!
Step#1: Create the Dough
Personally, I think scone dough is best made by hand, just the way Grandma did it!
It prevents over working the dough, by leaving the chunks of butter larger than if it was processed in a food processor.
Larger chunks of butter, mean larger air pockets when the butter melts in the hot oven, this contributes to a flakier, lighter scone.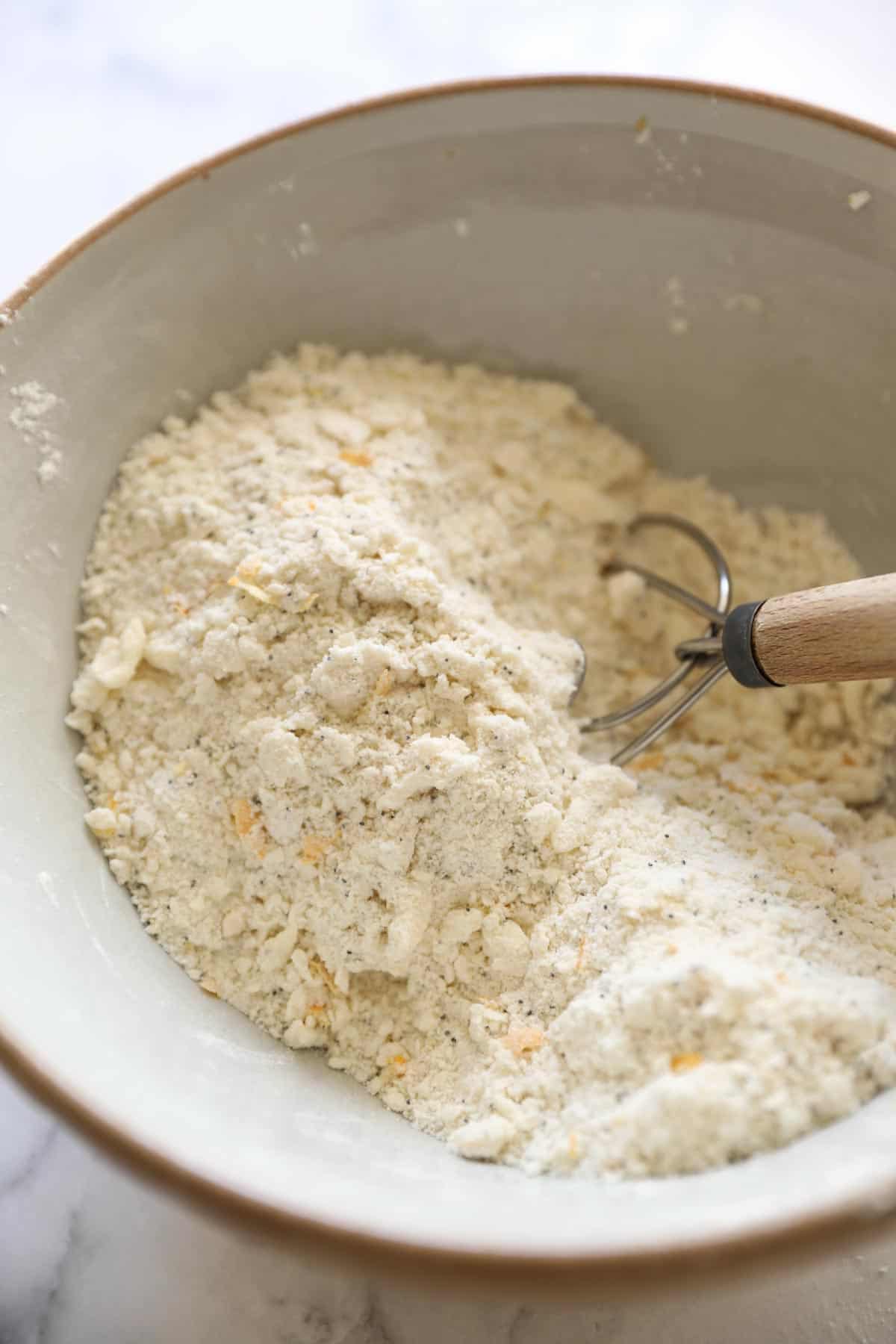 Step#2: Form the Dough
After adding the heavy cream and egg mixture, stir the dough gently until just combined and it begins to come together.
A great tool for mixing scone and muffin recipes is a Danish Dough Whisk. It combines the dough much better than a wooden spoon, or traditional whisk, without overworking the dough.
Once the dough comes together transfer the mound to a floured surface and then form it into a ball.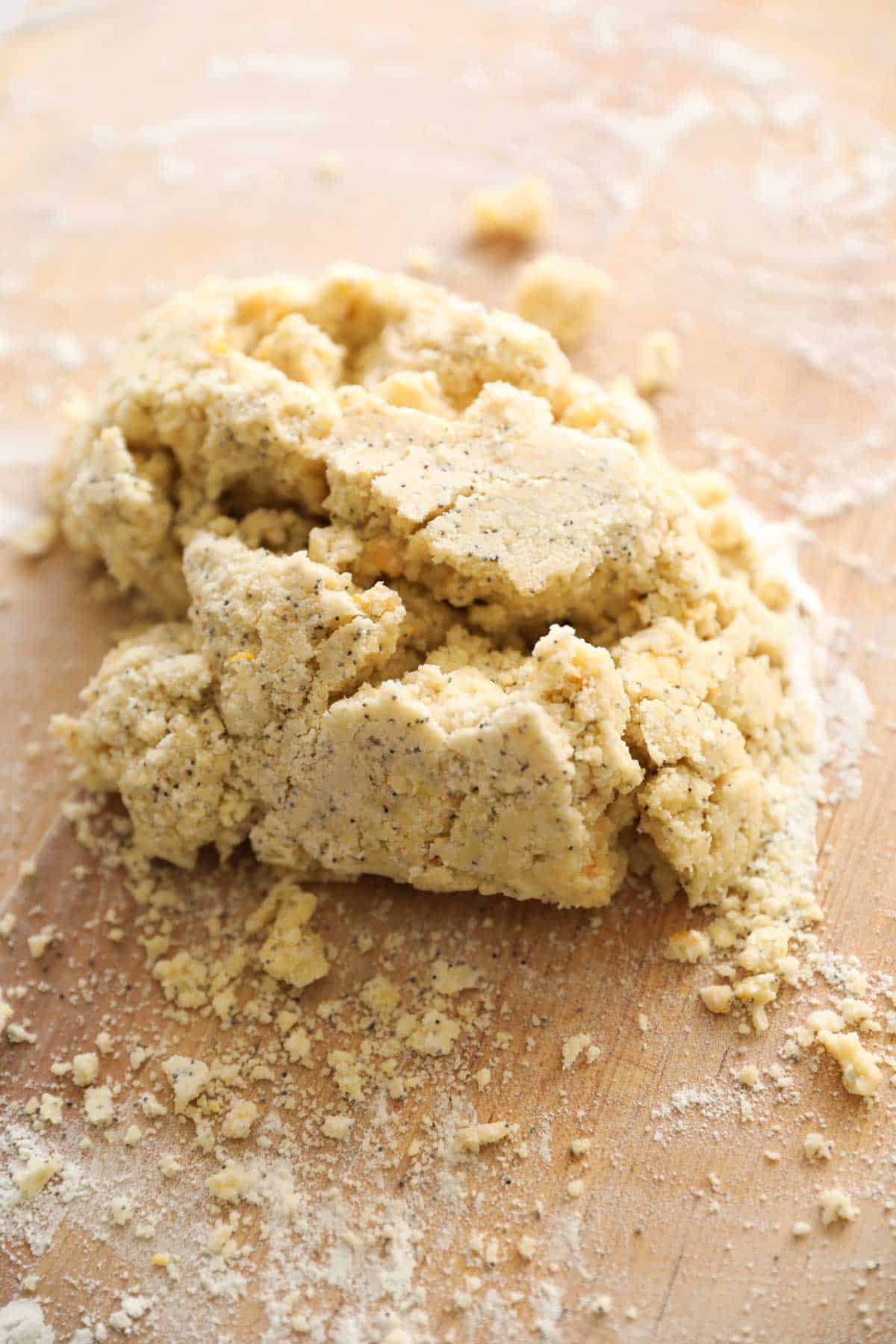 Step#3: Shape the Dough
After the dough is shaped into a ball, it will be easy to flatten it out and form it into a square with the help of the side of a Chef's knife. The side of a chef's knife blade helps to straighten out and square up the scone square. See video demo below in the recipe card for the technique.
It also helps to gently roll over the scone square with a rolling pin, to smooth out any cracks.
Then cut once vertically down the middle of the square, and horizontally to create 4 equally-sized small squares.
Then cut each small square down the diagonal into mini triangles.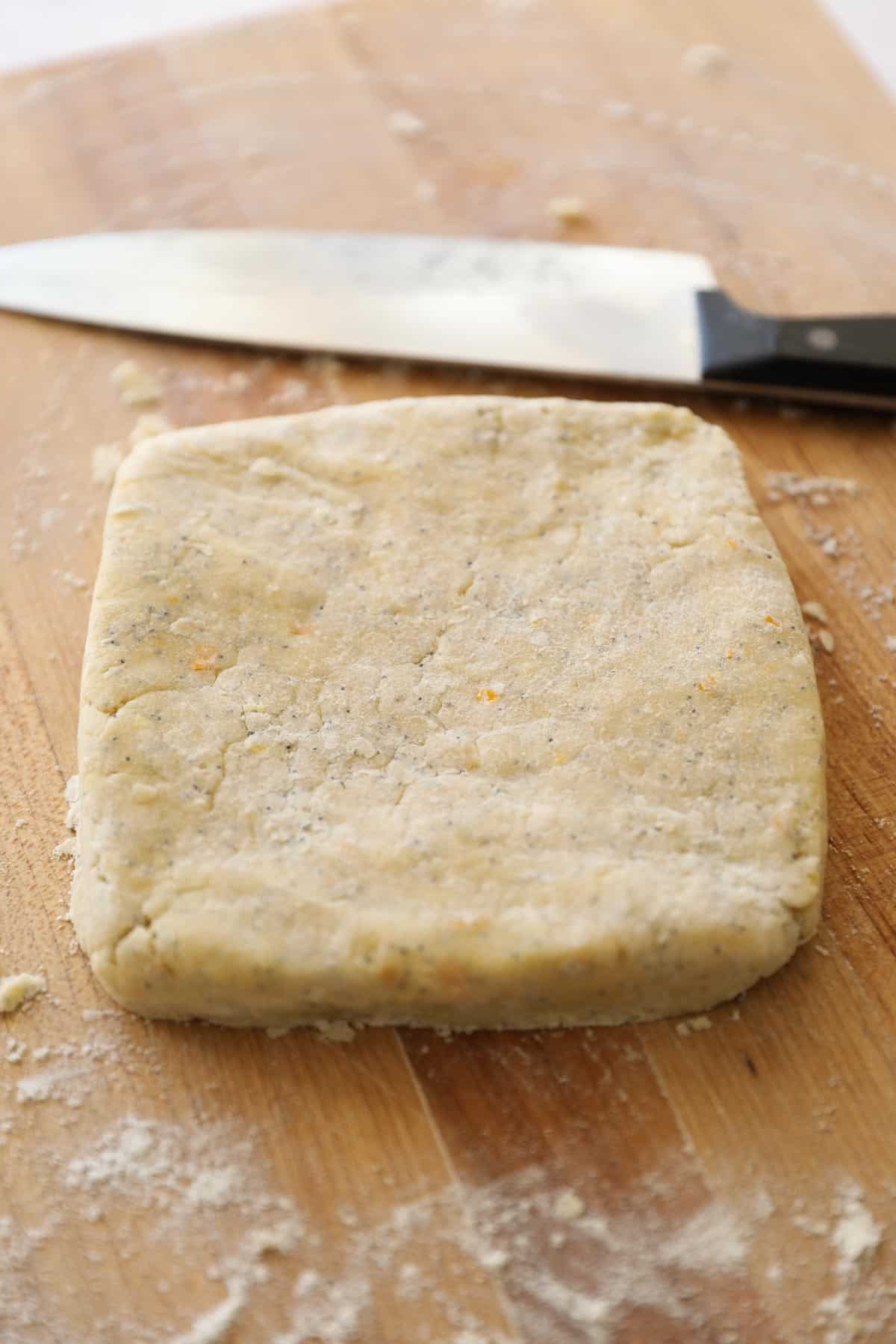 Step#4: Cut the Scones into Triangles
Place the cut triangles on a baking sheet lined with parchment paper or a baking mat.
The paper or the mat will prevent the scone's bottom from over browning.
Then brush each scone triangle with heavy cream and top with Turbinado sugar for a little extra sweetness and crunch.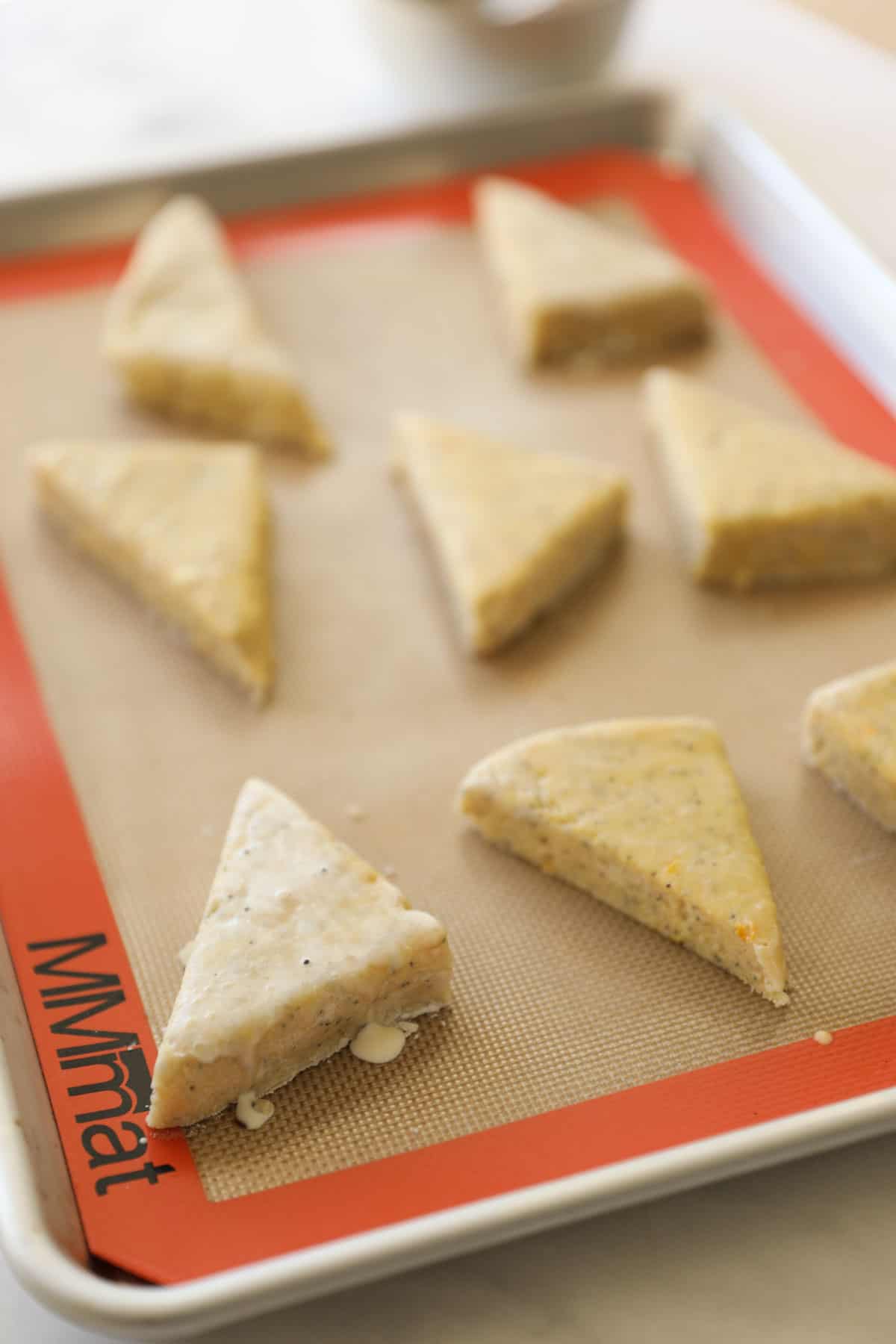 Step#5: Chill and Bake
The secret to a well formed scone that doesn't ooze butter as soon as it hits the hot oven, is the chill factor!
Scones must be nicely chilled before they are baked. Especially for scone dough like this, that is rolled out. The butter becomes softer the more it rests at room temperature and is handled so it's best to chill it back up again.
If you are making these ahead of time and baking them within a day or two, they can stay in the refrigerator, covered with foil.
But if you are baking them right away, it's best to place the tray in the freezer for at least 10-15 minutes before baking, to get nice and chilled.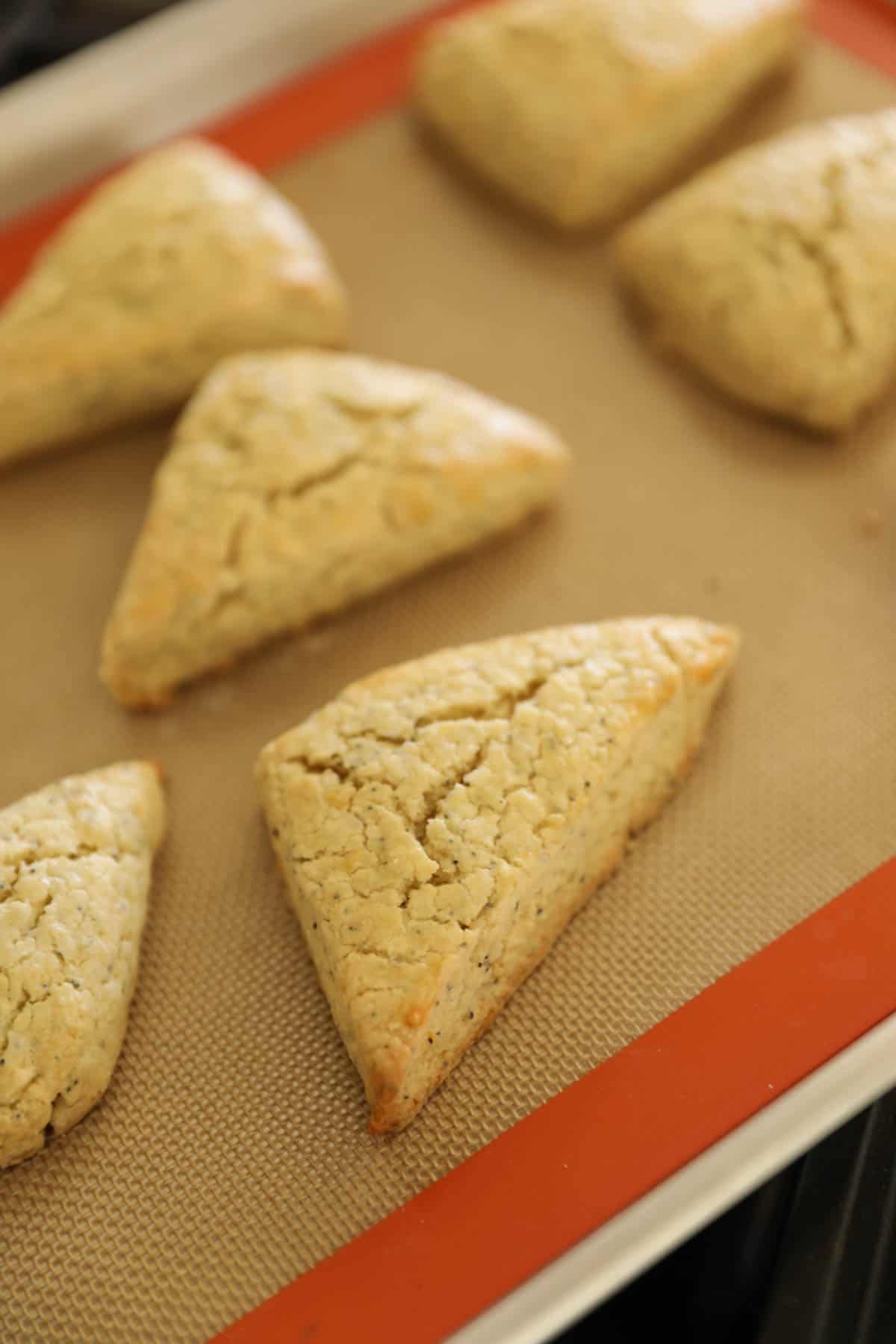 Serving Suggestions and Storage
These scones only take about 15-16 minutes to bake. So they are an easy item to prepare ahead of time, and bake off right before guests arrive.
Alternatively, you can freeze the scones once baked, and cooled, and reheat them in the microwave for a freshly baked tasting scone! Be sure to wrap them in a paper towel before microwaving to preserve their soft texture.
Serve with raspberry or strawberry jam!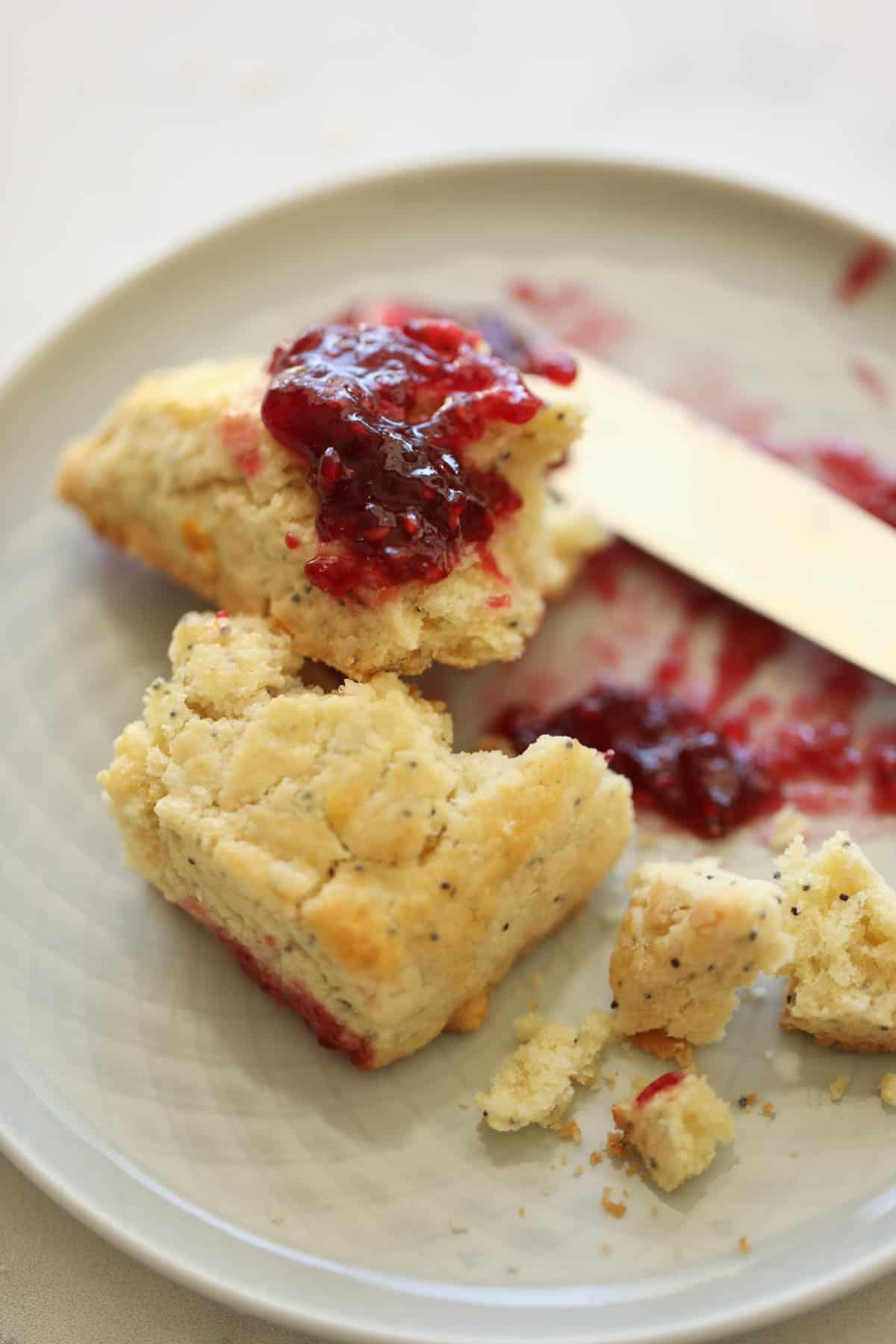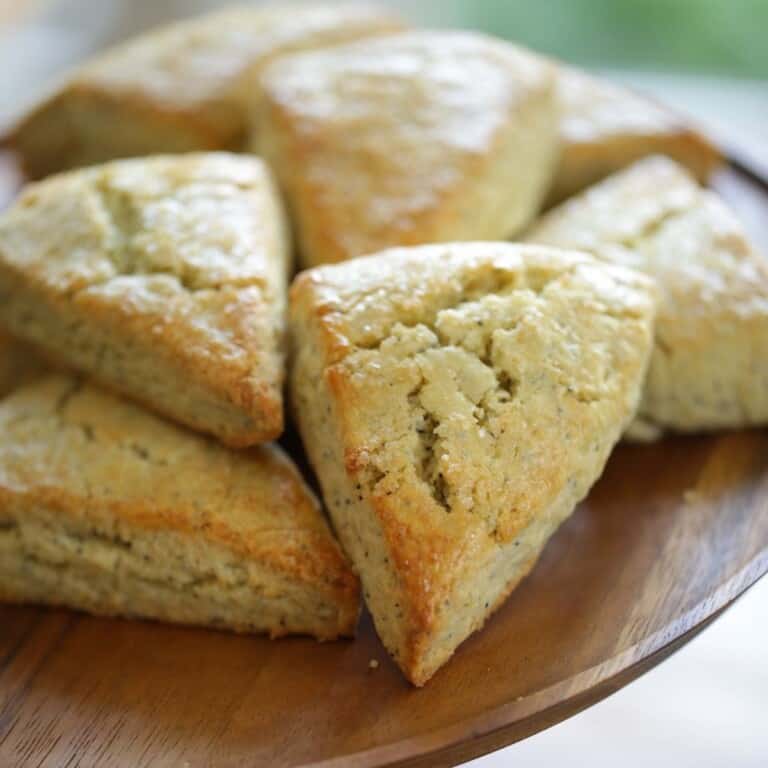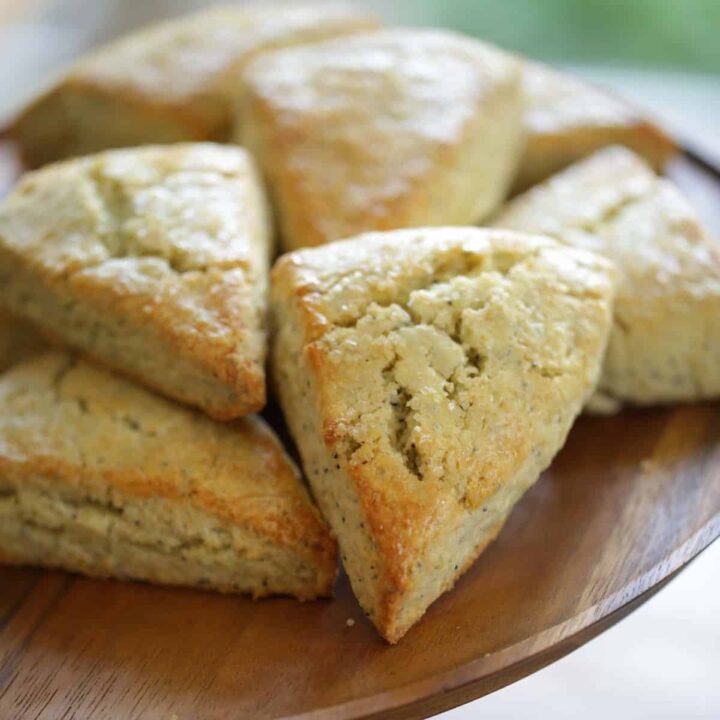 Lemon Poppy Seed Scones
Easy and delicious lemon poppy seed scones! Light and flakey with just the right amount of Lemon flavor! A great one for Easter Sunday or Mother's Day brunch.
Ingredients
2 cups (240g) flour
¼ cup (50 g) sugar
2 teaspoon (10 ml) of baking powder
½ teaspoon (2.5 ml) salt
1 tablespoon (15 ml) poppy seeds
1 tablespoon (15 ml) lemon zest
10 tablespoon (150 g) cold butter, diced into cubes
½ cup (120 ml) heavy cream + 1 teaspoon for brushing tops
1 egg
¾ teaspoon (3.75ml) pure lemon extract
Raw, turbinado sugar for tops
Instructions
Preheat oven to 400F (200C).
Line sheet pan with parchment paper. In a bowl combine flour, sugar, salt, baking powder, poppy seeds and lemon zest. Add butter and work by hand until dough resembles a coarse meal.
Mix the egg with the cream and lemon extract. Create a well in the center of the dry mixture and pour wet mixture in well. Gently mix with a fork until combined, and then grab dough with floured hands.
Turn dough out onto a floured surface. Shape dough into a square, cut into 4 squares and then cut the squares into triangles. You will have 8 triangles.
Brush each scone lightly with heavy cream and a sprinkle with the raw sugar.
Pop tray in freezer for 5 mins to firm up, (or fridge for 15 mins) and then bake for 15-17 mins until golden brown.
Serve with raspberry jam.
Notes
You can make the dough ahead of time, cut into triangles, place on your baking tray (covered) and refrigerate. Then all you have to do is bake!
Nutrition Information:
Yield:

8
Serving Size:

1
Amount Per Serving:
Calories:

144
Total Fat:

15g
Saturated Fat:

9g
Trans Fat:

1g
Unsaturated Fat:

5g
Cholesterol:

62mg
Sodium:

245mg
Carbohydrates:

2g
Fiber:

0g
Sugar:

1g
Protein:

1g