This Cannoli Cream Recipe is as easy as it gets for a last-minute dessert idea! Just a few ingredients you can mix up in a bowl with a spatula no need to drag out the mixer! Then all you have to do is pipe it into some store-bought cannoli shells.
Personally, I have found homemade shells to be too much work for a mediocre payoff! Store-bought shells are much lighter, and crispier and way less effort! The hardest part about them is sourcing the Italian deli that sells them. But you can also get a big box of Cannoli Shells on Amazon if you plan ahead! They come 48 shells to a box so it's best for a large gathering!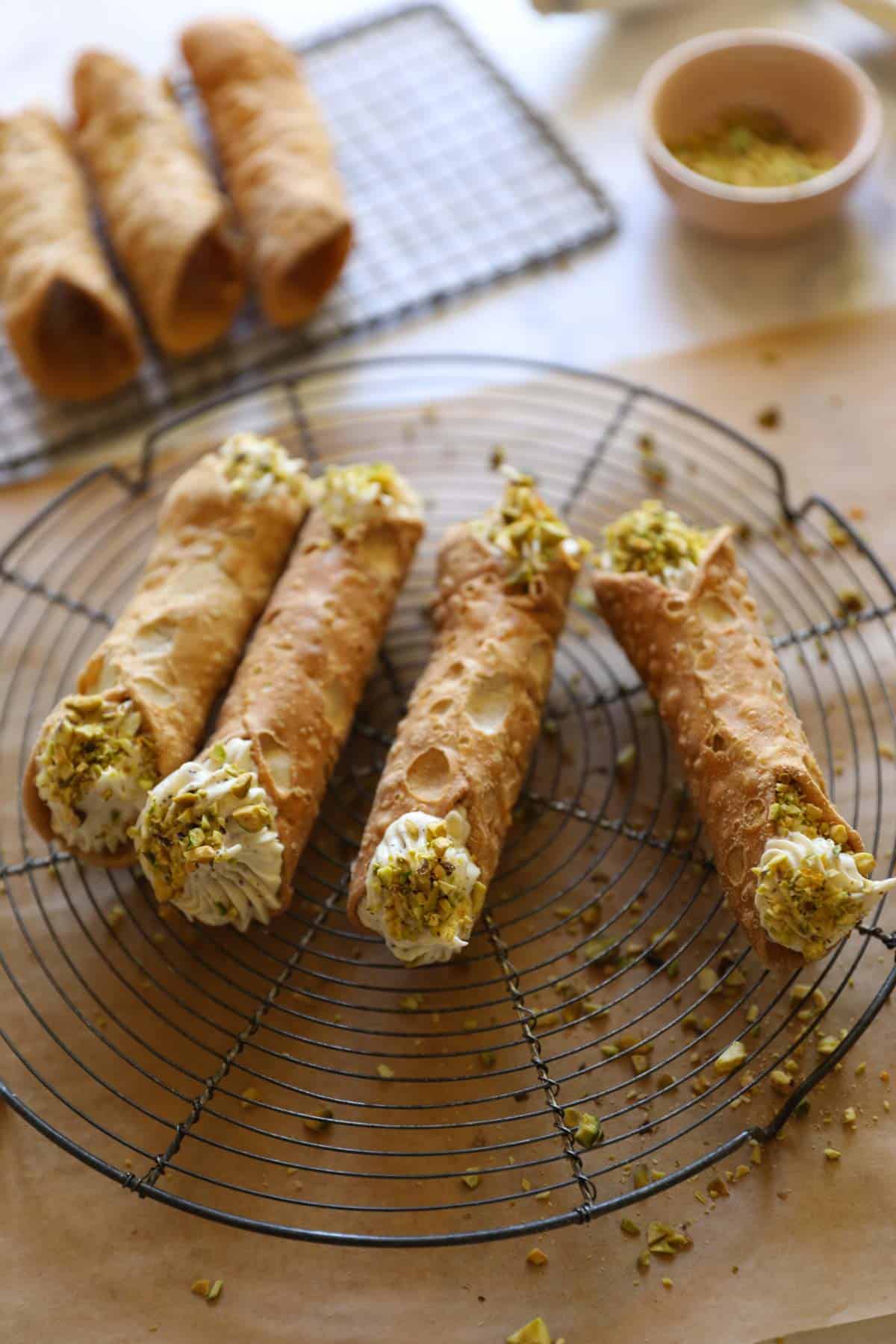 The Origins of Cannoli
A Cannoli, or Cannolo as it's technically called in Italian when referring to one of them, originates from the city of Palermo, on the Italian island of Sicily.
This is where my Paternal Grandmother is from, and the tradition of serving cannoli at our family baptisms, confirmations and Easter was a cherished ritual.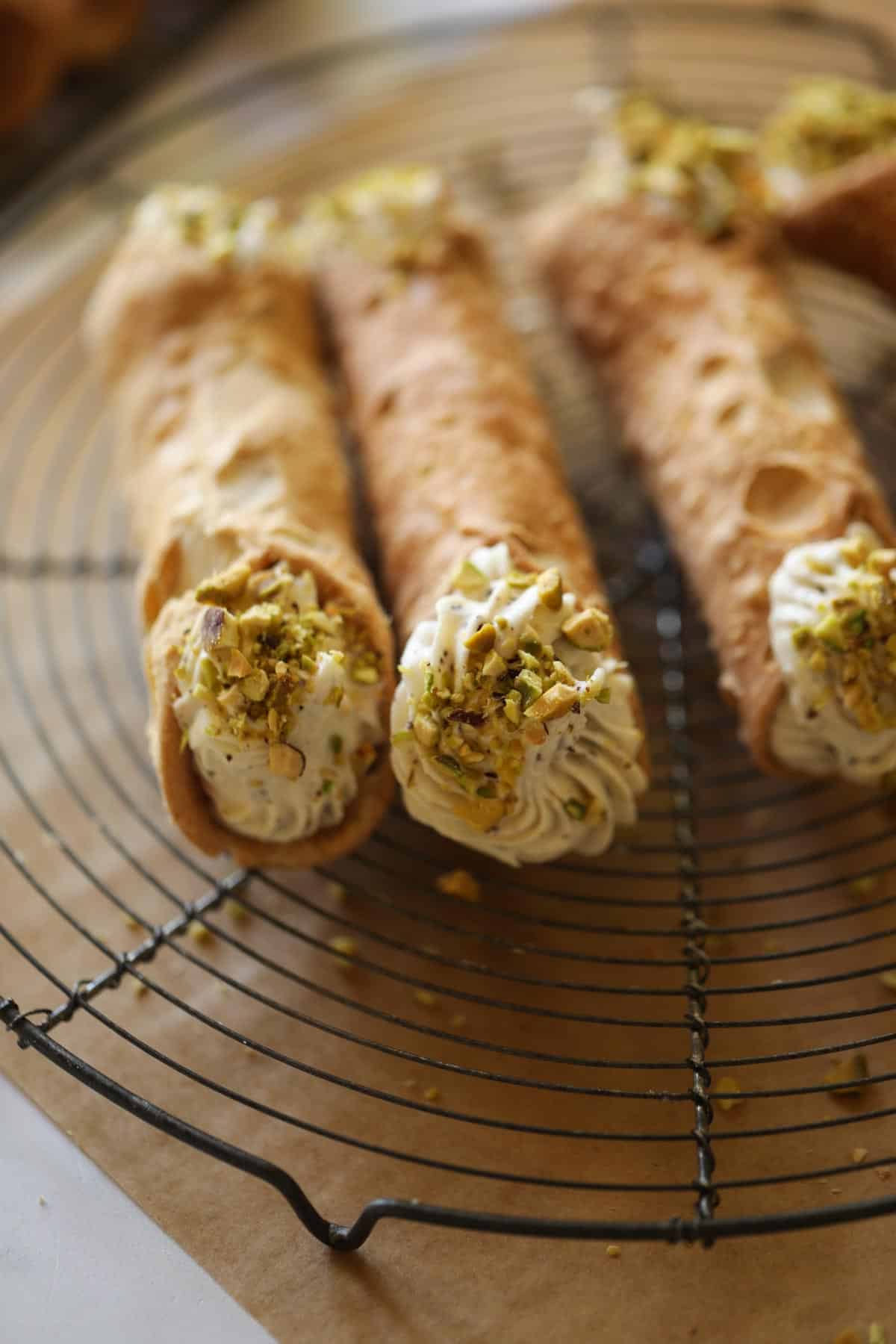 What Are Cannoli Made Of?
Cannoli are made by combining a deep fried pastry shell with a sweet cheese filling.
The traditional filling is made from ricotta cheese, but over the years mascarpone cheese has also been added. Some say it was the Italian-Americans who started this variation.
Traditional mix-ins include chocolate chips, candied orange peel, almonds or pistachios.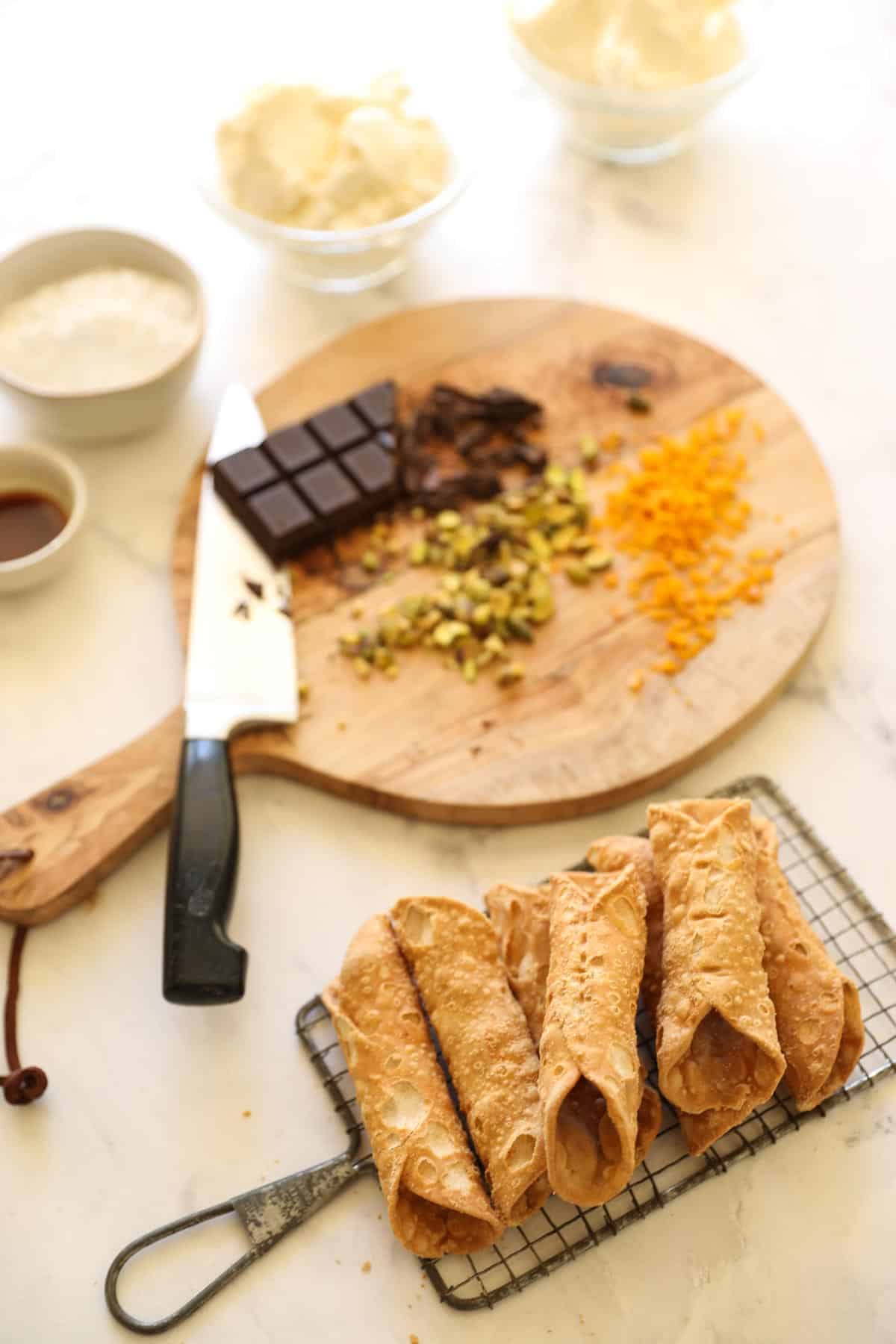 The Ingredients:
Ricotta Cheese For the best cannoli cream texture use whole milk ricotta cheese. Also be sure to drain the ricotta over a fine mesh sieve over a bowl, or in cheesecloth. Otherwise your cannoli cream will be too runny and will be hard to pipe into the shells. Any extra ricotta cheese? Use it up in my Lemon Ricotta Pancakes or Eggplant Lasagna.
Mascarpone Cheese The addition of the mascarpone will make the cannoli cream rich and creamy, it's a good balance to the graininess of the ricotta cheese. But the cannoli cream would be too heavy and rich if you only used the mascarpone, so you really need both!
Powdered Sugar The powdered sugar will dissolve better into the cheese mixture. Powdered sugar also has cornstarch in it which also helps the cannoli cream set up once it is pipped into the shells and left to refrigerate.
Vanilla Extract Use only pure vanilla extract for the best flavor, not anything labeled "imitation vanilla extract"
Orange Zest Instead of the traditional candied orange, it can be easier to use the orange zest. The flavor of the orange against the sweetened cheese filling is a wonderful spring time flavor!
Dark Chocolate I love the combination of the orange and the dark chocolate it really provides such a delicious flavor combination! You can also use semi-sweet chocolate if you prefer. Either way buy a chocolate bar and chop it, I think it provides a more rustic, homemade feeling to the cannoli instead of the chocolate chips which can look a bit commercial. Or use the chocolate chips and chop them!
Raw Pistachios Make sure to buy the raw pistachios and nothing roasted or salted. The flavor is lighter and better for a dessert. Trader Joe's sells them in a big bag already shelled! Or you can also use chopped whole almonds too.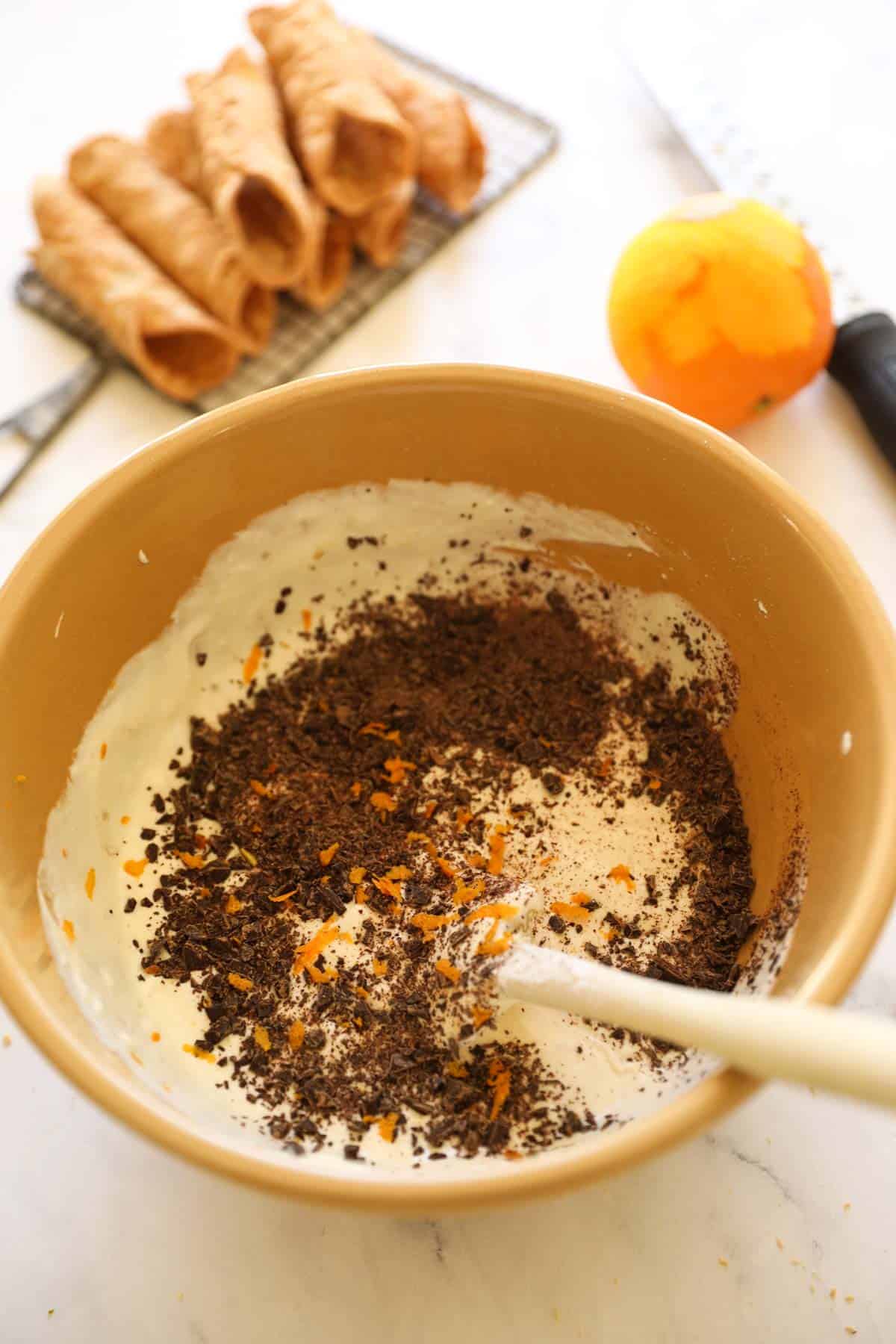 Step#1: Mix up the Cannoli Cream
The nice thing about this recipe is the fact that it only takes a single bowl and a spoon. No need to drag out the electric mixer!
The key is to mix the cheese, sugar and vanilla first to make sure the sugar and vanilla is combined well.
Then stir in the chocolate and the zest. Be sure the chocolate is chopped into small pieces that will fit through your pastry tip.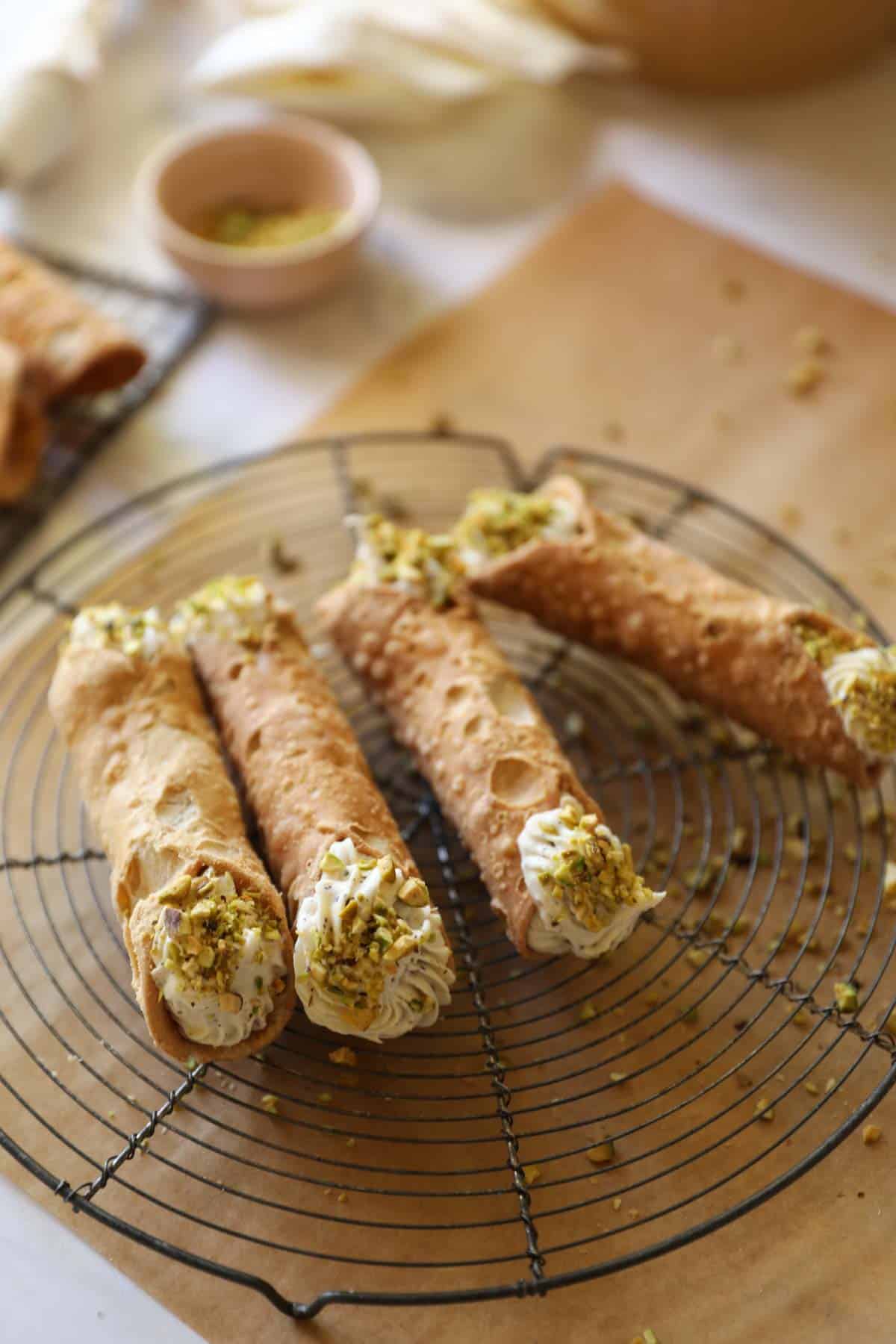 Step#2: Fill the Cannoli Shells
Create a "filling station" with the empty cannoli shells, the cannoli cream placed in a pastry bag and the chopped pistachios.
Then set a rack over some parchment paper or a baking tray so you have a place to set them and add the nuts, while assembling them.
The cannoli cream may be a little bit loose, depending on how long you drained the ricotta and which brand you buy (funny enough the Trader Joe's Brand of Ricotta Cheese appears to be drier!) but not to worry it will firm up in the refrigerator as it sets up over night.
How Far In Advance Can you Make Cannoli?
Cannoli are best enjoyed within 24-hours of assembling them.
The cannoli cream will begin to dry out after 24-hours.
The shells also will begin to soften after the 24-hour period as well.
But not to worry, the cream is so easy to make and the assembly is pretty quick too, so you can wait to make them a day ahead of your party.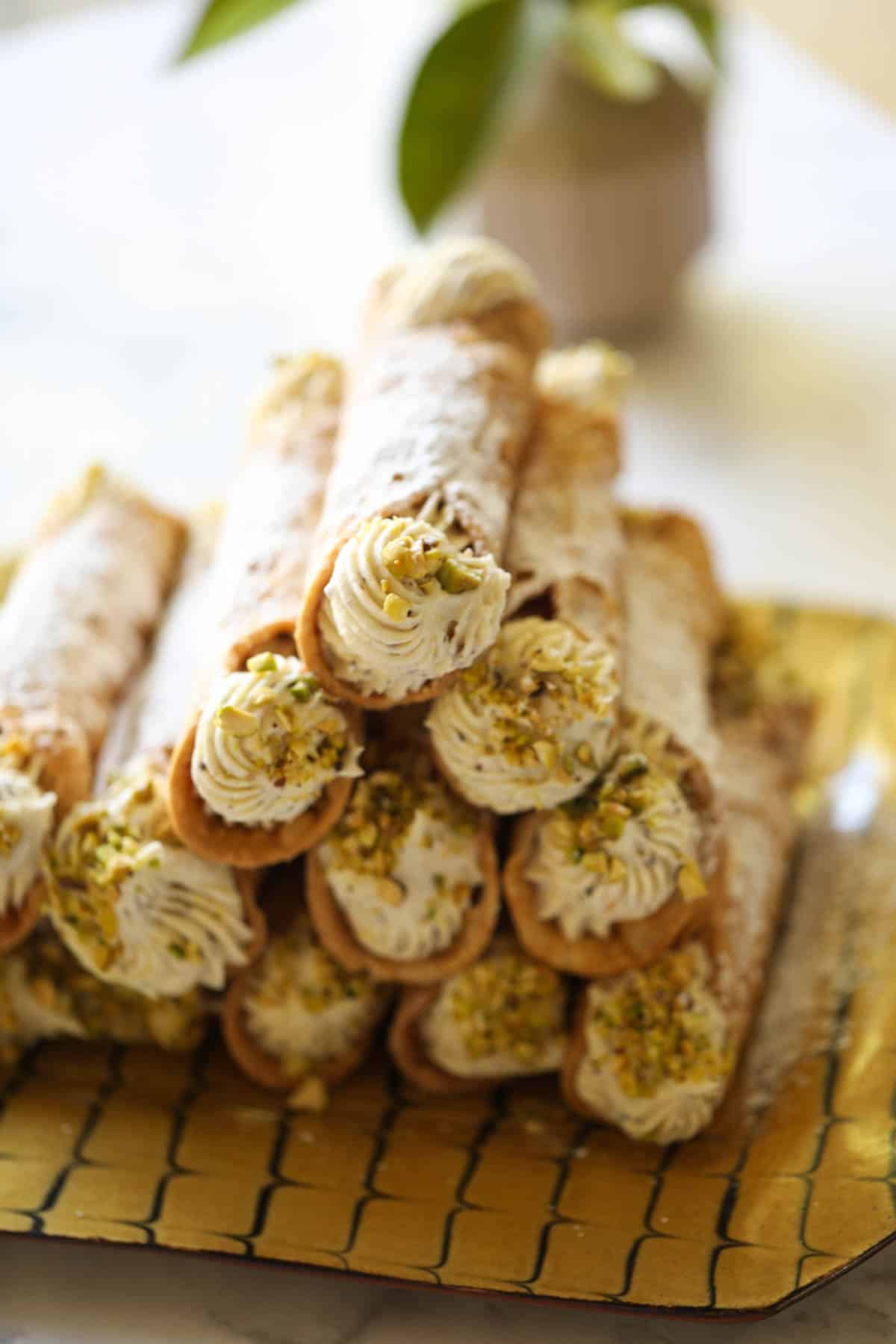 Step#3: Stack, Dust and Serve
The cannoli stack really well on top of each other which also keeps them in place and prevents them from rolling on their sides.
It helps if you have a rectangular platter that has an indentation in the center to stabilize them.
Then stack in a pyramid design, cover lightly with one sheet of foil and refrigerate overnight. These are best eaten within a day of assembling.
Then dust the stack with powdered sugar before serving.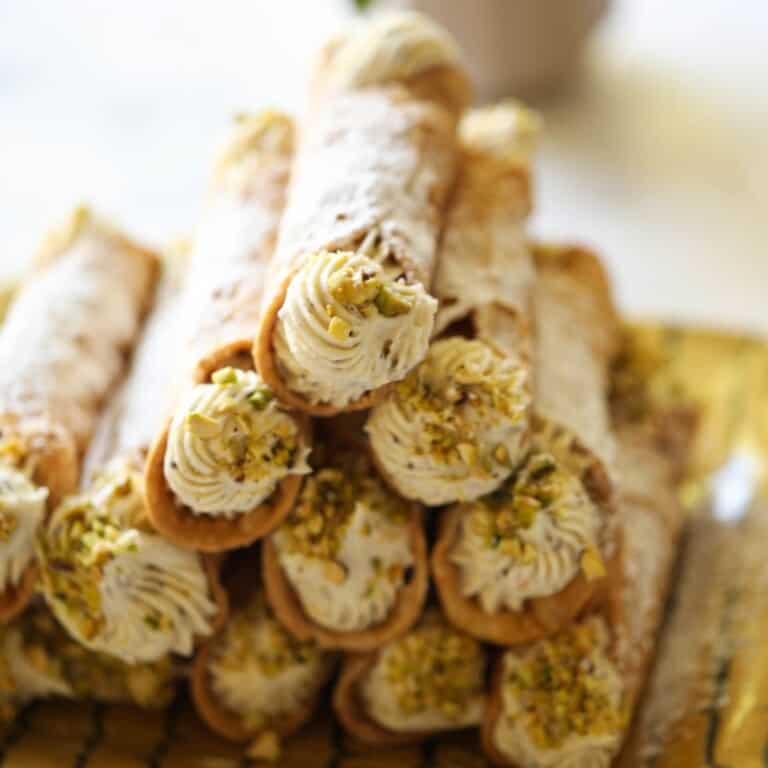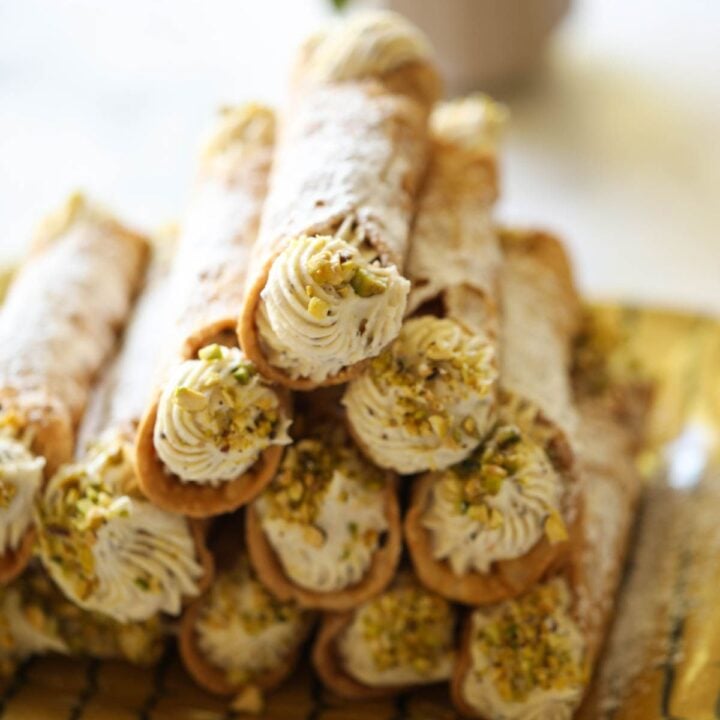 Cannoli Cream Recipe
Total Time:
2 hours
10 minutes
Cannoli are a fantastic easy dessert idea! Use store-bought shells and fill them with this delicious homemade cannoli cream for an Italian treat your guests will be so impressed by!
Ingredients
2 cups (460 grams) whole milk ricotta cheese, drained (The Trader Joe's Brand I find is the less runny!)
2 cups (460 grams) of mascarpone cheese
¾ (75g) cup powdered sugar
2 teaspoon (10 ml) vanilla
2 tablespoon (30 ml) orange zest
½ cup (75 grams) chopped dark chocolate
½ cup (75 grams) chopped raw pistachios
12 store-bought cannoli shells
Powdered sugar for dusting
Instructions
Place the ricotta cheese in a fine mesh strainer, over a bowl, and place it in the refrigerator for at least an hour, or overnight is even better. This will ensure that the pastry cream will not be too runny!
Combine the cheeses, add sugar and vanilla.
Stir in orange zest and chopped chocolate.
Transfer to a pastry bag, fitted with a wide star tip, wide enough to allow the chopped chocolate to be pipped through.
Place the pastry tip inside one end of the cannoli shell and pipe in the cannoli cream, then turn the shell around and fill the other side. The cream should meet in the middle to fill the whole shell.
Sprinkle the chopped pistachios on each end of the cannoli on top of the pastry cream.
Stack the cannoli on a platter in a pyramid design, cover lightly with a sheet of aluminium foil and keep refrigerated until ready to serve.
Just before serving, dust the cannolli stack with powdered sugar.
Nutrition Information:
Yield:

12
Serving Size:

1
Amount Per Serving:
Calories:

389
Total Fat:

20g
Saturated Fat:

8g
Trans Fat:

0g
Unsaturated Fat:

11g
Cholesterol:

45mg
Sodium:

113mg
Carbohydrates:

42g
Fiber:

1g
Sugar:

26g
Protein:

11g