I call this recipe my "Eggplant Lasagna Recipe", because it's essentially a Vegetarian Lasagna, but without the noodles (great for all those who are cutting down on the carbs or are gluten-free)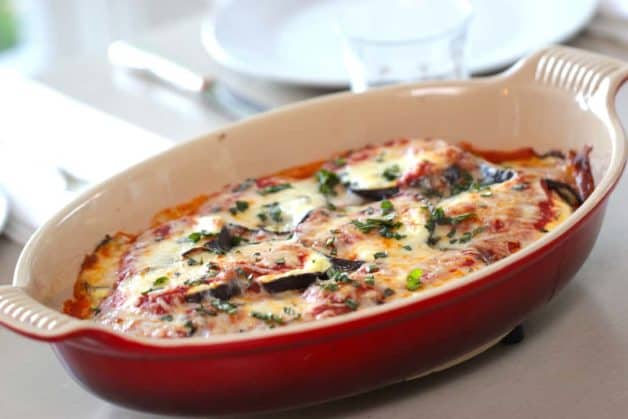 WATCH MY DEMO OF THIS VIDEO BELOW!
If you're looking for a fantastic Sunday night dinner recipe, look no further! Especially, in the month of August when eggplant are at their best.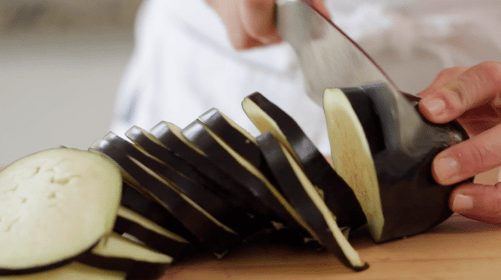 It only takes 3 eggplant so it's pretty economical too! You can prep the eggplant in the morning and then assemble the lasagna, bake and serve once it's time for dinner.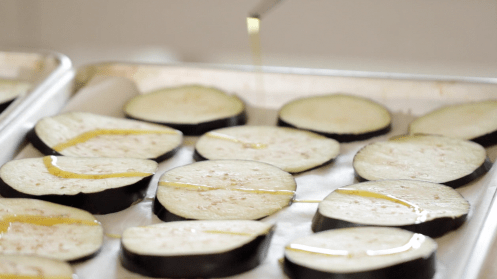 For a complete video tutorial of this recipe, watch my EGGPLANT LASAGNA RECIPE VIDEO demo below.
I love this recipe because you get all the satisfaction of a comforting lasagna recipe, without all the carbs! 🙂  Definitely a Sunday Night Dinner worth working into the rotation!  Enjoy!xx
PRODUCTS I RECOMMEND FOR THIS RECIPE:  (These links go to Amazon where I am an affiliate partner)
MORE GREAT SUNDAY NIGHT DINNER IDEAS!
Please let me know if you make this recipe by leaving a rating and review below
Follow me on Youtube, Pinterest, Instagram, Facebook & Twitter!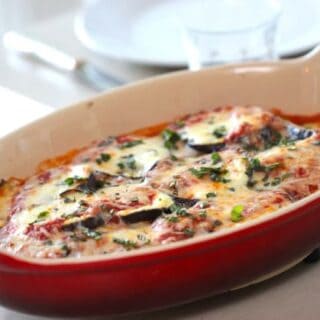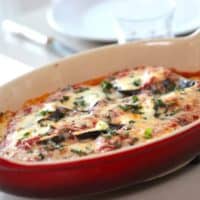 Beth's Eggplant Lasagna
Total Time:
1 hour
5 minutes
Skip the Eggplant Parmesan recipe in favor of an easier Eggplant Lasagna recipe! No frying needed and also Gluten-Free!
Ingredients
3 Eggplants
3 tbsp (45 ml) olive oil
Salt and Pepper to taste
2 15 oz cans pure tomato sauce (890 ml)
2 garlic gloves
Pinch of red pepper flakes
2 cups (475 ml) whole milk ricotta cheese
2 eggs
1 ½ cups (360 ml) shredded mozzarella cheese
½ cup (120 ml) freshly chopped basil (separated)
Instructions
Preheat oven to 375F/190C
Cut eggplant into ¼" (6mm)slices. Place on parchment lined baking sheets. Drizzle both sides with olive oil and season to taste with salt and pepper.
Bake eggplant for 7 mins each side and allow to cool (totally fine to do this part in stages as you may not be able to fit all the eggplant in your oven at once!)
Allow eggplant to cool. Meanwhile prepare your sauce.
In a large sauce pan, add the tomato sauce, garlic, salt and pepper to taste and red pepper flakes. Allow to simmer for 10 mins until sauce sweetens up and reduces a bit.
Then prepare the ricotta mixture. In a medium bowl add ricotta cheese, eggs and basil.
Then assemble your lasagna. In a large heat safe casserole pan, place a thin layer of sauce on the bottom and distribute evenly. On top place a single layer of eggplant on top of the eggplant spread 2/3 cup (160 ml) of the ricotta cheese mixture and sprinkle ¼ cup (60 ml) of shredded mozzarella cheese on top. Then add another single layer of eggplant and repeat the process creating 3 layers of "Lasagna" in total. The top layer should end with a layer of sauce and some more mozzarella cheese.
Bake at 375F/190C for 15-20mins until cheese is melted on top and casserole is cooked through.
Garnish with some finely minced basil on top. Serve with a salad and some garlic bread! (recipes below in notes. Enjoy!
Notes
BETH'S EASY GARLIC BREAD
1 Baguette
5 tbsp (75 ml) butter
1 garlic clove
salt and pepper to taste
1 tbsp (15 ml) fresh Italian parsley, minced.

METHOD:
Place butter, garlic, salt, pepper in a microwave safe bowl. Microwave on high for 30 seconds. The heat from the butter will warm the garlic and release its flavor. Add in the fresh parsley stir to combine.
Slice baguette in half, horizontally. Brush the insides with butter. Wrap in aluminum foil and place in the oven at 375F/190C with the lasagna that way it will be ready at the same time! Slice on the diagonal and serve warm.

BETH'S CLASSIC HOMEMADE DRESSINGS

CLASSIC ITALIAN
4 tbsp (60 ml) red wine vinegar
3 tbsp (45 ml) lemon juice
1 tbsp (15 ml) water
6 tbsp (90 ml) olive oil
2 garlic clove, minced
1 tsp (5 ml) Italian Seasoning
2 tbsp (30 ml) grated pecorino cheese
1/4 tsp (2.5 ml) salt
1/8 tsp (1.75 ml) freshly cracked pepper
Serve with:
Arugula salad + tomato wedges

CLASSIC FRENCH VINAIGRETTE
1 tbsp (15 ml) Dijon Mustard
2 tbsp (30 ml) white balsamic vinegar
3 tbsp (45 ml) grapeseed oil
1 tbsp (15 ml) shallot, minced
S + P to taste

Serve with:
Butter Lettuce+ cheese tray

CLASSIC RANCH
1 ½ cup (350 ml) of fat free yogurt
1 cup (240 ml) of low-fat buttermilk
2 garlic cloves
1 tsp (5 ml) celery salt
½ tsp (2.5 ml) garlic salt
Fresh cracked pepper
1 tbsp (15 ml) fresh chives
1 tbsp (15 ml) fresh dill
1 tbsp (15 ml) fresh parsley
Place in blender and puree
Nutrition Information:
Yield:

6
Serving Size:

1
Amount Per Serving:
Calories:

315
Total Fat:

15g
Saturated Fat:

4g
Trans Fat:

0g
Unsaturated Fat:

9g
Cholesterol:

81mg
Sodium:

909mg
Carbohydrates:

39g
Fiber:

9g
Sugar:

15g
Protein:

13g