These Lemon Ricotta Pancakes are some of the lightest, fluffiest pancakes around! If you've never made pancakes with ricotta cheese before you are in for a treat! It's a serious game changer that makes pancakes light as air!
The pancakes have a wonderful hint of lemon coming from fresh lemon zest and when topped with my homemade raspberry sauce, these are over-the-top delicious! Definitely one of my favorite breakfast recipes for Mom on Mother's Day!
For an even easier recipe for Mom, try my Dutch Baby Pancake. Or you may also enjoy my Apple Cider Pancake recipe for the fall or my Banana Brulee Pancakes for the winter!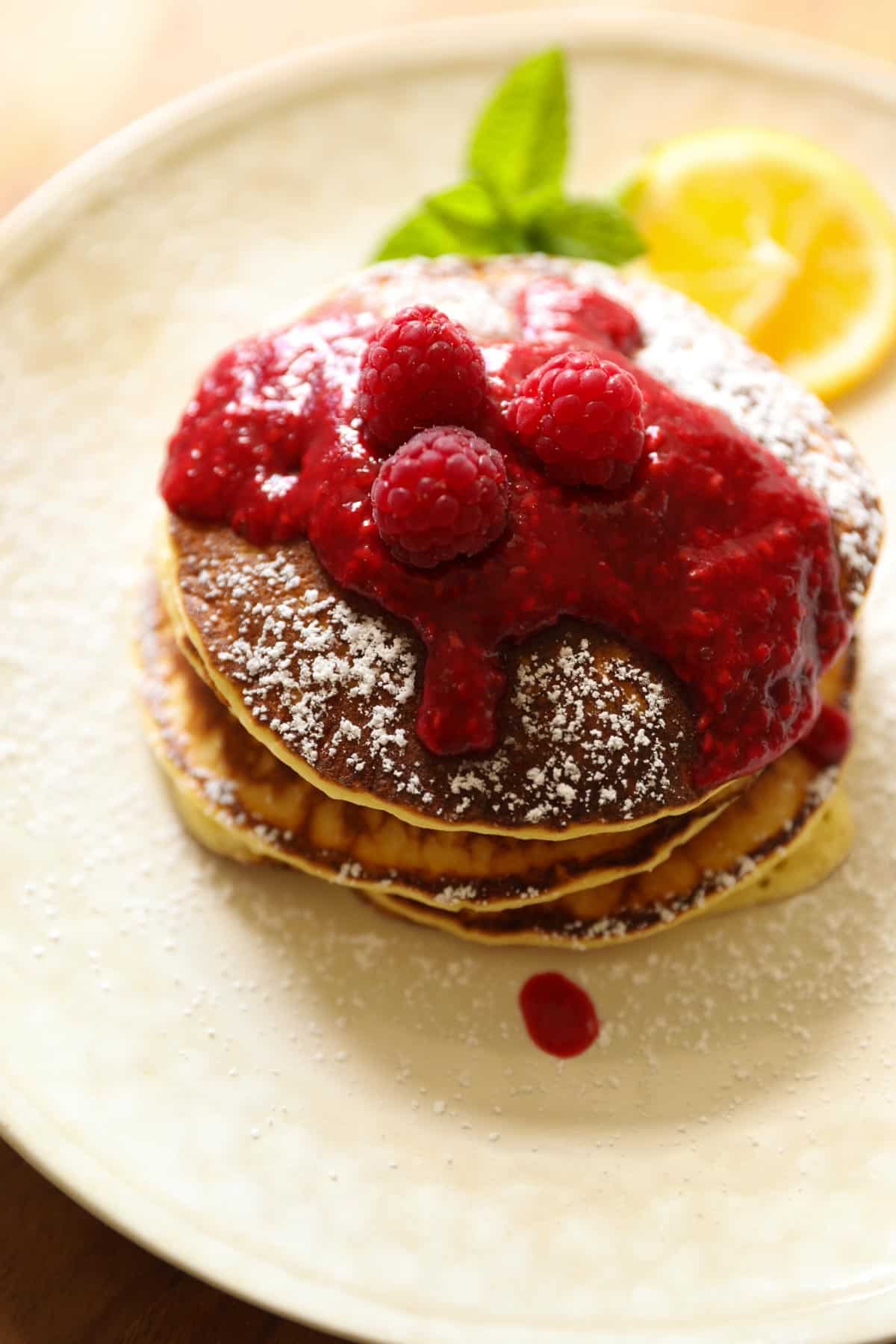 The Ingredients:
All-Purpose Flour No fancy flour is needed all-purpose will do the job. I don't use a lot of flour in these pancakes in order to keep them light, almost like thick crepes.
Baking Powder For lift and lightness
Salt To boost the flavors and balance out the sweetness
Ricotta Cheese Use whole milk ricotta for the best texture. For this recipe there's no need to drain the ricotta cheese like you would need to do for something like Cannoli Cream or Manicotti. The extra moisture won't hurt your pancakes. If you have any left over put it to good use in my Eggplant Lasagna Recipe.
Eggs I use 3 eggs to give the pancakes a nice springy texture.
Melted Butter Also adds a nice crepe-like consistency to these pancakes as well as additional flavor.
Lemon Zest I use a large grater to get nice chunks of lemon zest in these pancakes, a great flavor combination against the raspberry sauce.
Raspberries I prefer fresh raspberries for this because then you can set aside a few whole ones for the garnishing, but if frozen is all you have that will work too, just cut the water down by half the amount. Or you can also use strawberries as well. Follow my Homemade Strawberry Sauce Recipe if using strawberries.
Cornstarch + Water If you let the sauce simmer long enough, it will thicken on its own, but if you are in a rush, you can also add a cornstarch slurry to the sauce to thicken it up. Use 1 tablespoon very corn water to 1 tablespoon cornstarch. Mix to create a slurry, then bring the sauce to a boil and stir in the slurry, it will thicken immediately. Then reduce the heat.
Powdered sugar, Mint, Lemon Slices: For garnishing, along with a few whole raspberries.
How To Make The Best Pancakes
When it comes to pancake making there are a few tips that will help you achieve the lightest, fluffiest pancakes!
Mix the batter in 2 stages. This is key!
First, combine the eggs and the ricotta cheese. This will allow the ricotta cheese to combine well with the eggs before adding the dry ingredients
In a separate bowl combine the dry ingredients and the milk. Whisk until very smooth. Whisking the milk and the dry ingredients separately will prevent any lumps from forming in your batter.
Don't forget the melted butter! Once you add the milk/flour mixture to the egg/ricotta cheese mixture, then add the melted butter! The butter gives the pancake a really springy and moist texture almost like a French Crepe.
Grease your griddle with Grape seed Oil or Vegetable Oil, NOT butter! Butter will burn quickly and ruin the taste of your pancakes. Oil has a much higher smoke point and will provide a nice golden color on your pancakes.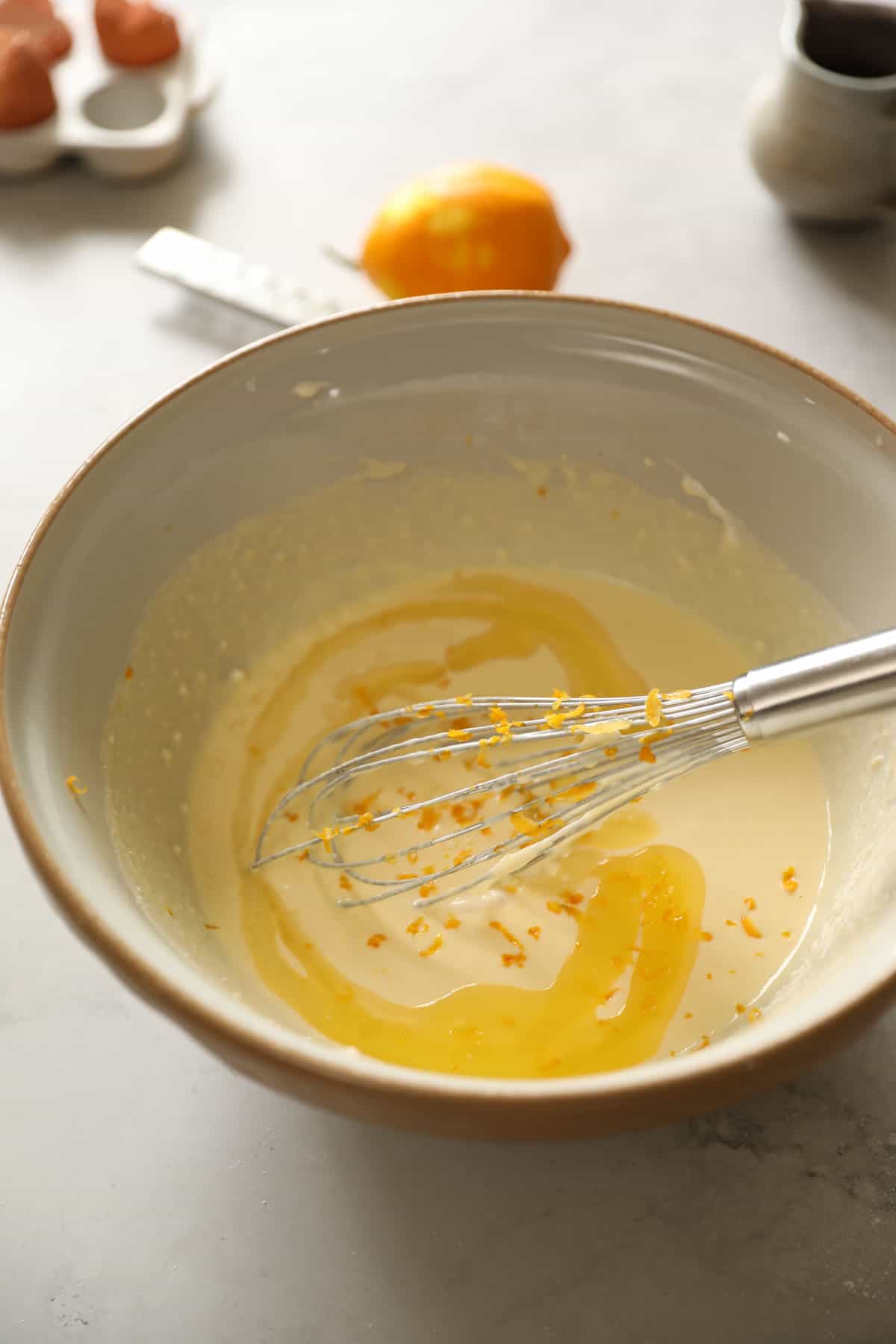 What Topping Goes with Lemon Ricotta Pancakes?
Personally, I think these pancakes pair beautifully with an easy raspberry sauce on top.
The combination of lemon, ricotta cheese, and raspberry is such a great flavor combination for spring.
It also looks so beautiful too, making it a perfect recipe for a special occasion breakfast like Mother's Day!
How To Make The Raspberry Sauce Topping
This sauce is really easy to make and you could even make it the night before and reheat it to serve.
If making the sauce the day of, I always begin with the sauce and keep it on a low simmer. That way when the pancakes are done you can place the sauce right on top.
If your sauce gets too thick from simmering, you can thin it out with a little warm water. Or you could also add a little Maple Syrup syrup to the sauce for a Raspberry Syrup Sauce.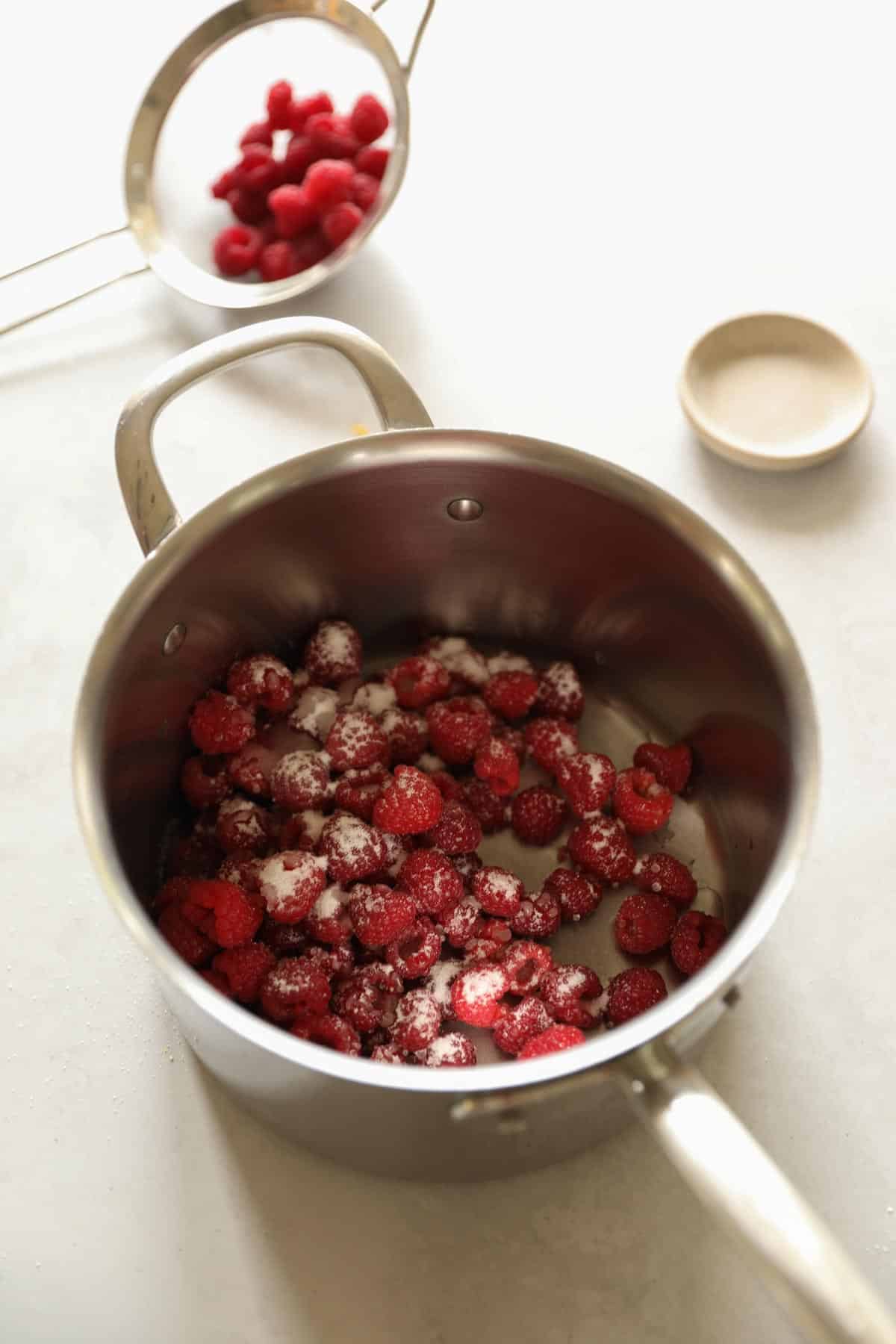 Step#1: Place Fresh Raspberries in a Sauce Pot
If you have them in season, fresh raspberries are ideal, but if they aren't available yet you could also use frozen!
If using the fresh raspberries, be sure to reserve a few raspberries for garnishing the pancakes.
I usually use 3 fresh raspberries per stack for the garnish along with a slice of lemon and a sprig of fresh mint.
Step#2: Add Sugar, Water and Mash
To the raspberries, you'll also add water and plain white sugar.
The water will give the raspberries a sauce consistency and the sugar will provide a nice syrupy texture to the sauce.
Once the raspberries start to break down, mash them up with a fork until they form a syrupy, seedy sauce. And that's it! Keep the sauce warm until ready to serve.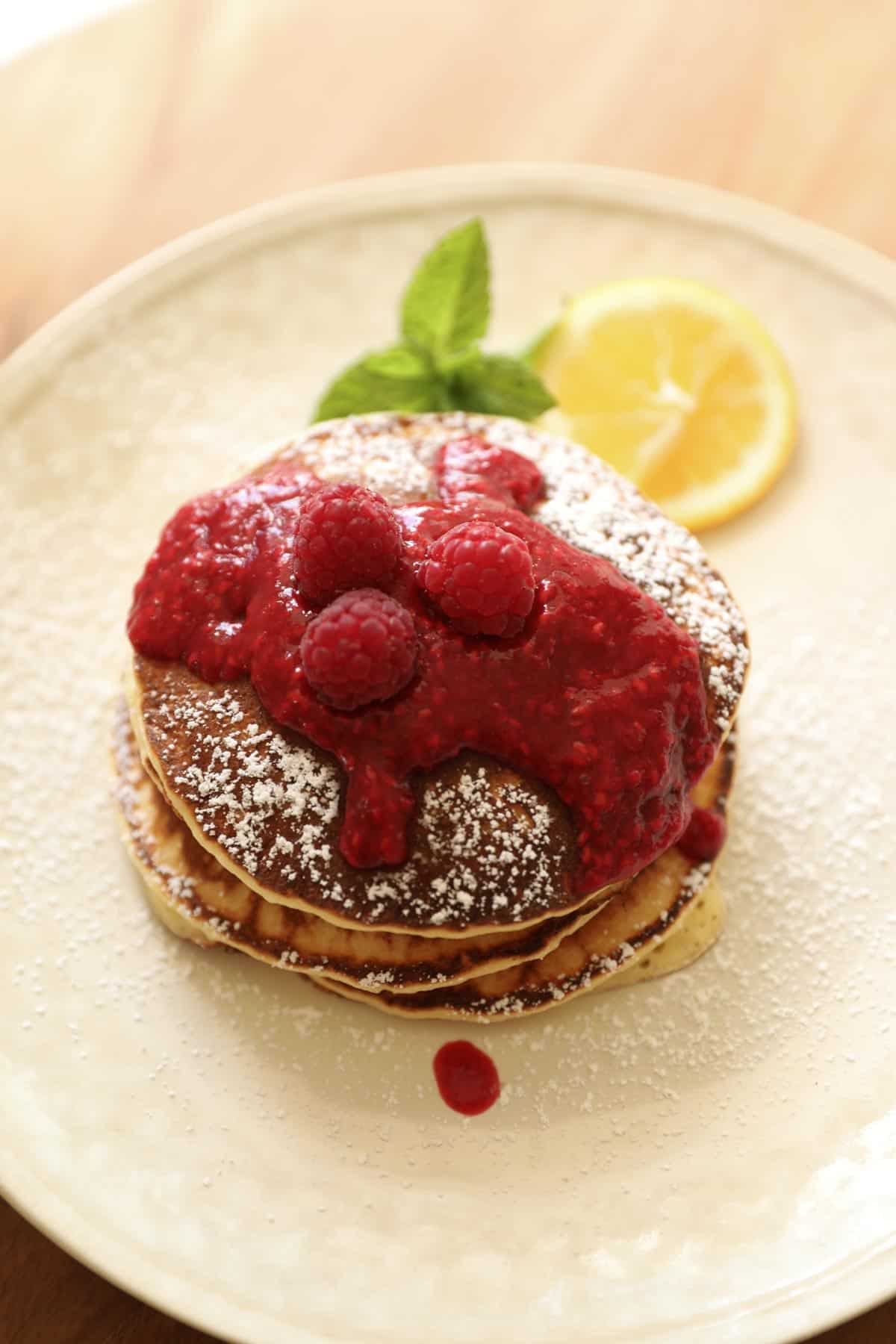 Storage
These pancakes also freeze beautifully!
I typically freeze a stack of 4 at a time in a ziplock bag and then microwave on high for about a minute to reheat and serve.
You can also freeze the sauce as well. Transfer it to a freezer/microwave safe container. Then place it in the microwave in :30 increments until liquified and hot.
Or better yet, transfer it to a Souper Cube (my new favorite things!) and then place it in a microwave safe container and microwave or place it in a pot on the stove top to simmer, thaw and reheat.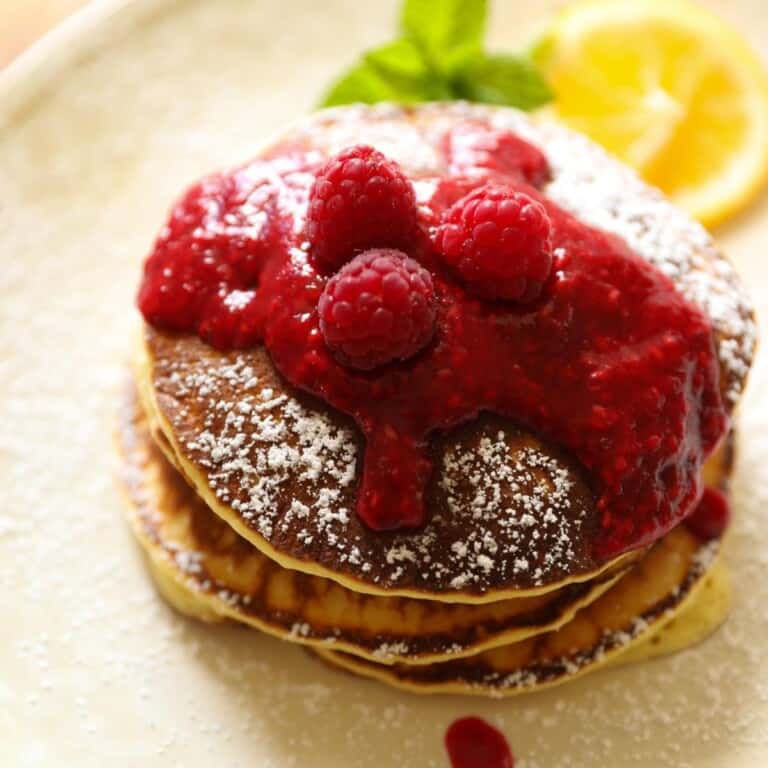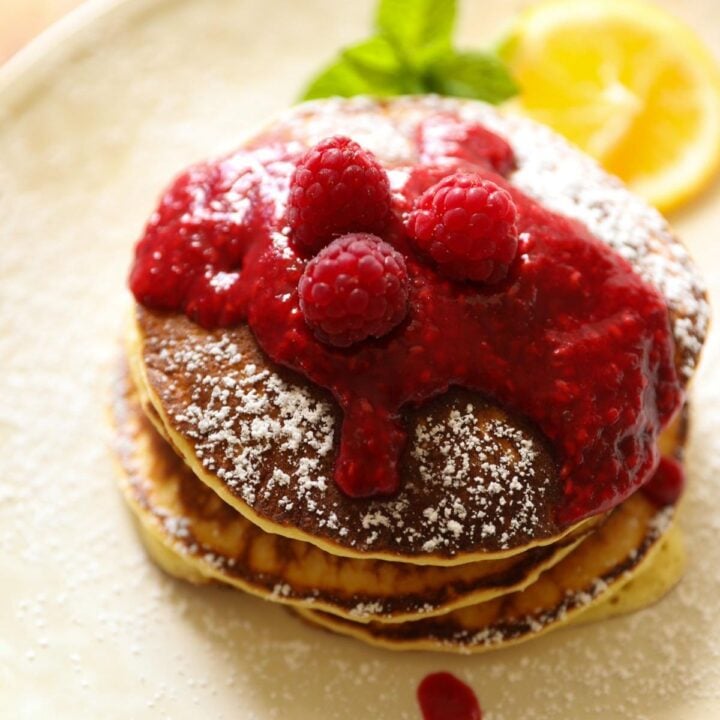 Lemon Ricotta Pancakes
Total Time:
1 hour
10 minutes
One of my favorite ways to make pancakes is by adding ricotta cheese. These Lemon Ricotta Pancakes turn out to be some of the lightest, fluffiest pancakes around! Top them with my homemade Raspberry Sauce and you'll have a fantastic springtime breakfast treat!
Ingredients
3 eggs
1 cup (240 ml) of ricotta cheese
1 ½ (180 g) c of flour
2 teaspoon (10 ml) baking powder
½ (2.5 ml) teaspoon salt
1 (15 ml) tablespoon sugar
1 ¾ (420 ml) cup of milk
4 tablespoon (60 ml) melted butter
2 tablespoon (30 ml) lemon zest
powdered sugar for dusting
6-8 slices of lemons and 6-8 fresh mint sprigs for garnish
For Raspberry Sace
12 0z (340 g) fresh raspberries (reserve about 10 for garnishes)
2 tablespoon (25 g) sugar
3 tablespoon (45 ml) water
Instructions
Set aside a few raspberries for garnishing your pancakes. 2-3 per stack works well.
In a medium sauce pan, combine raspberries, sugar and water. Heat over medium low flame and stir occasionally to break up the berries and form a sauce. Keep warm on a low flame until pancakes are ready.
In a large bowl whisk together eggs and ricotta cheese until smooth.
In a separate smaller bowl whisk together flour, baking powder, salt and sugar. Add milk, whisk until smooth.
Pour flour mixture into your egg ricotta mixture until combined and then add melted butter and lemon zest. Stir until smooth.
Heat griddle on a medium-high flame until hot. You will know when it's ready when a drop of water sizzles and bounces on the pan. Grease lightly with oil.
Ladle out batter to form a 3-4 inch pancake. Once you see edges begin to dry and pancake bubble, flip the pancake. Cook on the opposite side for 1-2 mins.
Stack 3-4 pancakes high. Dust with powdered sugar, and drizzle raspberry sauce over the top. Garnish with fresh raspberries on top and a sliced lemon and mint sprig on the side.
Notes
Grease your griddle with Grape seed Oil or Vegetable Oil, NOT butter!  Butter will burn quickly and ruin the taste of your pancakes. Oil has a much higher smoke point and will provide a nice golden color on your pancakes. 
Nutrition Information:
Yield:

12
Serving Size:

1
Amount Per Serving:
Calories:

141
Total Fat:

6g
Saturated Fat:

4g
Trans Fat:

0g
Unsaturated Fat:

2g
Cholesterol:

61mg
Sodium:

165mg
Carbohydrates:

18g
Fiber:

1g
Sugar:

12g
Protein:

4g