This Cheese Manicotti Recipe is a fantastic Sunday night dinner idea that takes a little time to prepare but the results are well worth the effort!
It's a crepe-style manicotti recipe that uses crepes in place of pasta tubes. The results are fantastic! The crepes create the lightest, most pillowy manicotti that is just a slice of heaven! For sweet crepes, try my Easy Crepe Recipe.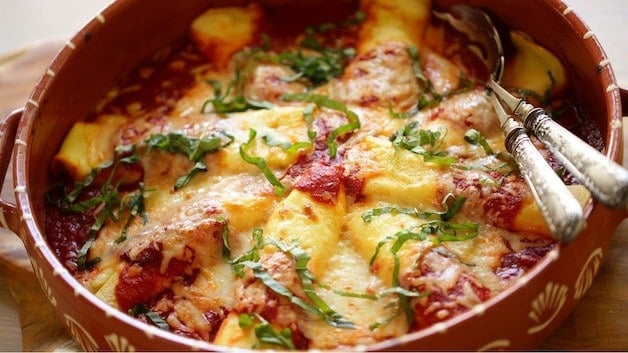 The Origins of This Recipe
This authentic Italian manicotti recipe originates from my Dad's Italian side of the family.
It was made, believe it or not, as a first course, which was then followed by a fish course, a meat course, and then naturally a bunch of fantastic desserts!
Seriously, how was this even possible?! And I thought my French in-laws sat at the table too long!
These manicotti were made for special occasions like Easter (which I believe is the occasion being celebrated in the family photo below) or Christmas.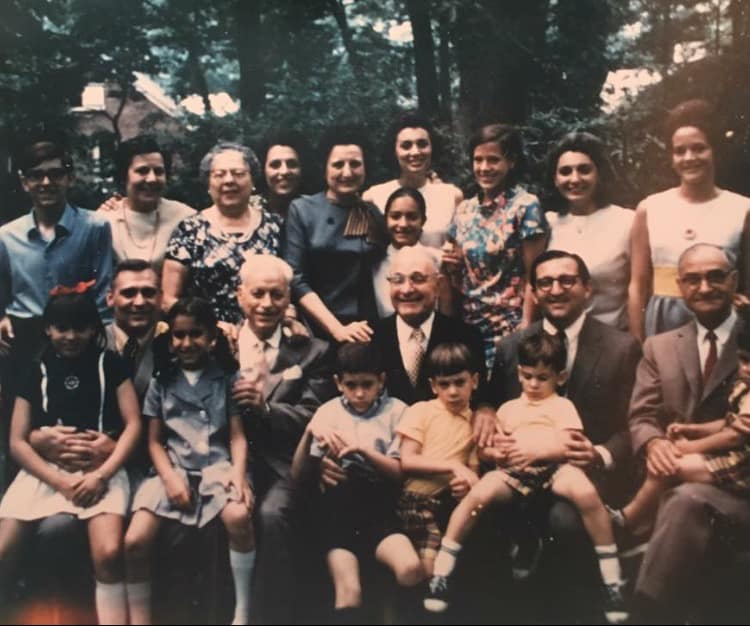 Feeds A Crowd
This recipe would be a great recipe for having a crowd over to watch the game or a Sunday night family dinner. Serve it with a tossed salad and some of my easy Garlic Knots and you'll be all set!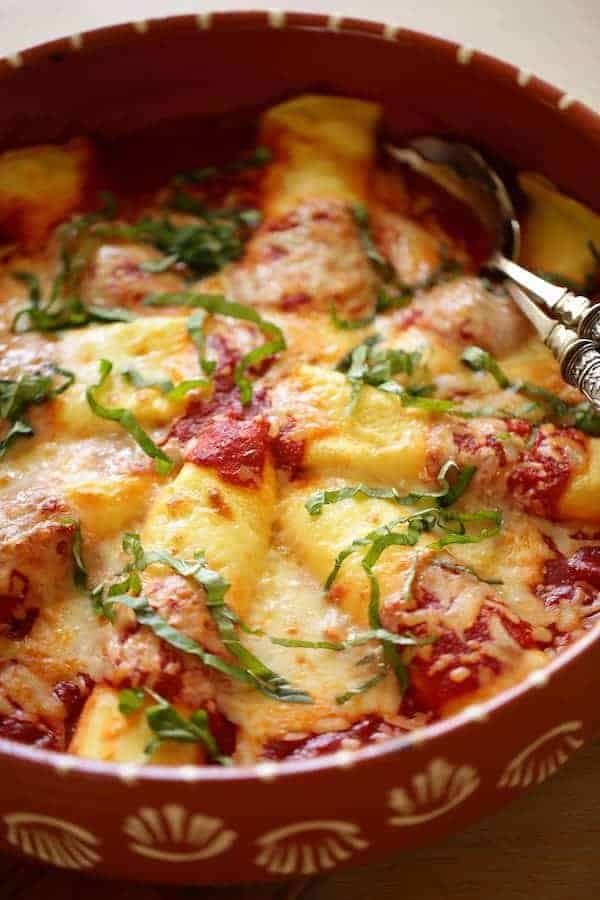 Authentic Italian Manicotti Recipe Demo
How Authentic Cheese Manicotti Differs
The biggest difference in the "Old World" style manicotti from the "New World Style" are the crepes that are used to hold the cheese, instead of pasta tubes.
The crepes are the most time-consuming part of this recipe. But really when I think about it, they are no more time-consuming than boiling and draining manicotti pasta tubes?!
And trust me the crepes-style manicotti is SO much better! They are much lighter and less filling too!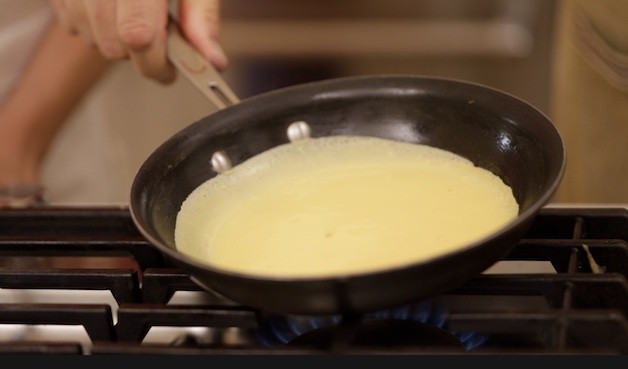 The Pan Size Matters
The crepes are not hard if you have the right sized pan!
I think a 6-8" non-stick pan is the way to go. It creates the perfect sized crepes for manicotti.
This size is also the perfect size pan for making my Foolproof Omelet in too! So it's worth the investment if you don't already have one!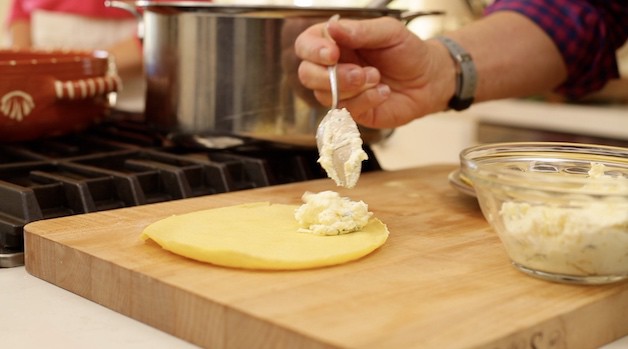 Do I Really Need 4 Eggs?
Yes! This crepe batter has 4 eggs in it, which may seem a bit excessive but I have learned that eggs make crepes pliable and stretchy, so if you want to avoid any cracks or tears, 4 eggs are the way to go!
If you reduce the eggs, you'll increase the crepe's fragility.
So I say stick with "Nonnie's" recipe for the crepes, I mean it was the only part of the recipe that was written down all these years, so someone knew it was important!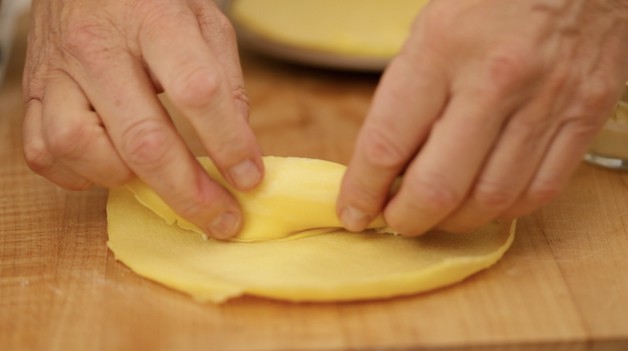 Filling the Crepes
Once the crepes are made, fill them with the ricotta cheese mixture, at the far end closest to you, and roll them up. Do this step only moments before baking the manicotti.
Otherwise, the moisture in the ricotta cheese will start to seep out and make your crepes soggy.
If you want to do the crepes and the sauce ahead of time, you can do them the day before then keep them separated in the refrigerator until ready to assemble.
If you have any leftover ricotta cheese you can put it to good use in my Lemon Ricotta Pancakes the next day! If you have never had ricotta cheese in a pancake you are in for a treat! It makes them so light and fluffy!
What's the Difference Between Manicotti and Canneloni?
While these two Italian classics may look the same, they have one distinction.
Manicotti typically has a cheese filling and a vegetable or meat sauce on top.
Whereas cannelloni, typically has meat or vegetables mixed in with the ricotta cheese filling and has a plain tomato sauce on top.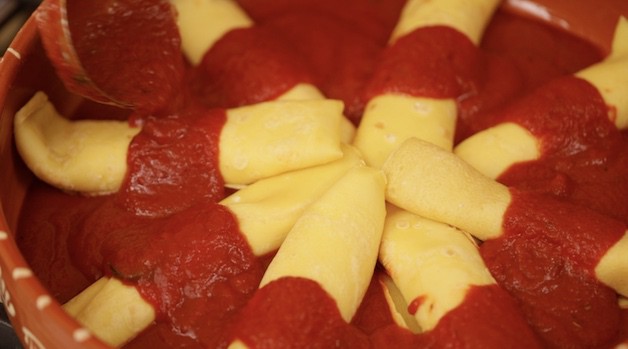 Selecting a Casserole Dish
Choose a large oven-safe casserole dish. Something pretty enough that will work oven to table.
Since it's a bit nicer to present the whole casserole to the table, because once you start to serve them, they can get a bit messy.
I like to use a round dish because it looks really pretty when the crepes are laid out in opposing directions.
But you could also use a 9 x 14 casserole dish too. Then top with cheese and bake!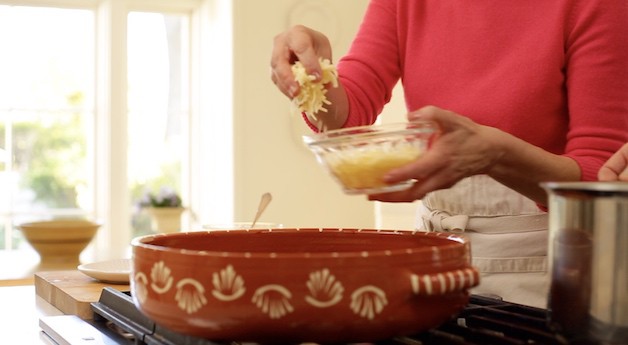 Mix Up The Cheese For Best Flavor
I like to use a really gooey cheese like mozzarella for the top and then use a 4-cheese Italian blend cheese for the cheese filling.
If you can't find the "Italian Blend Cheese" then do a cup of mozzarella and half-cup of parmesan cheese for flavor.
Once the cheese has melted and is bubbling you can then add a chiffonade of fresh basil to the top.
More Great Pasta Recipes!
If You Enjoyed this Recipe
Please Leave a Rating and a Review Below!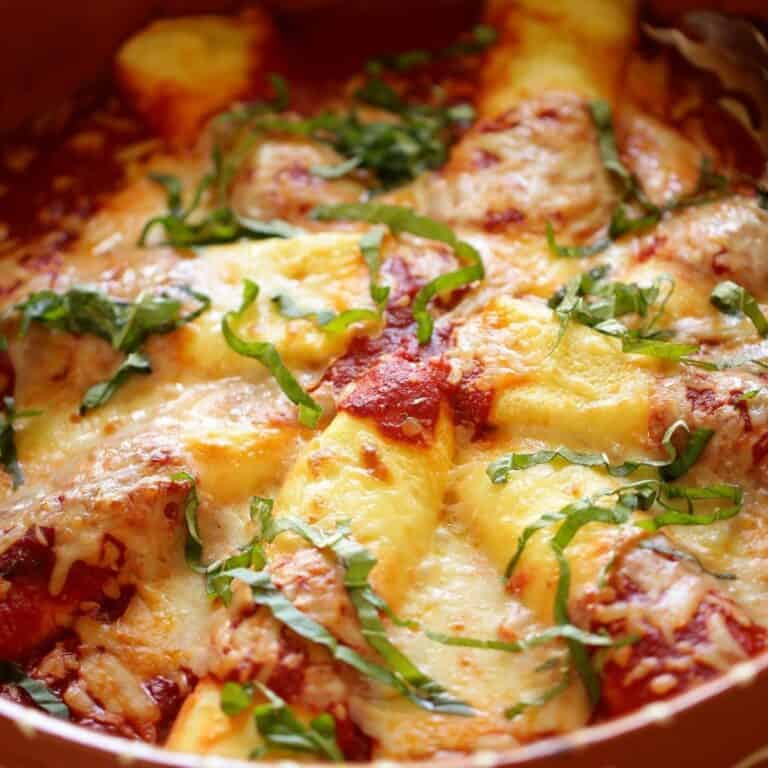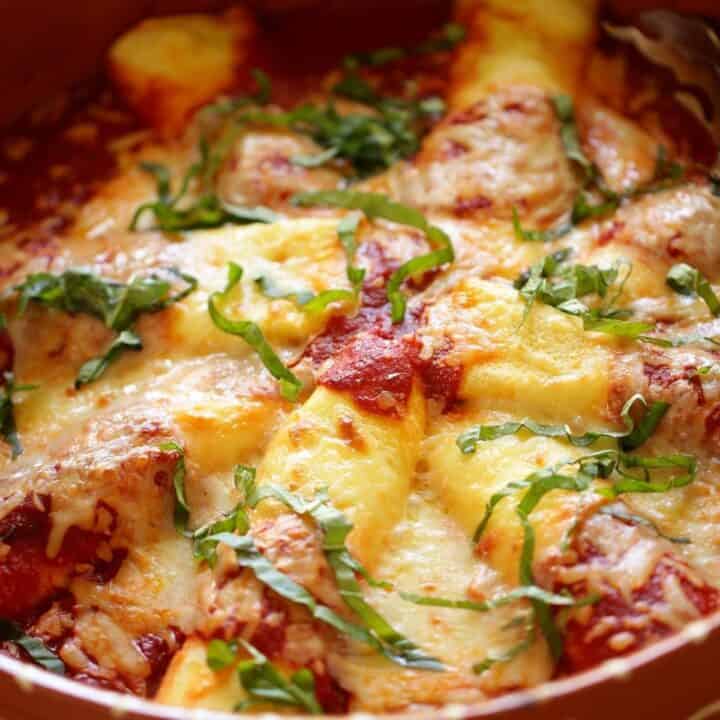 Cheese Manicotti Recipe
Prep Time:
1 hour
30 minutes
Total Time:
1 hour
55 minutes
This Cheese Manicotti Recipe is a fantastic Sunday night dinner idea that takes a little time to prepare but the results are well worth the effort! It's a crepe-style manicotti recipe that uses light crepes in place of the pasta tubes typically associated with this dish. The crepes create the lightest, most pillowy manicotti that are just a slice of heaven! 
Ingredients
Sauce:
2 tablespoon (30ml) olive oil
1 garlic clove, pierce with a fork or quartered
(4) 15 oz cans (1640ml) pure tomato sauce
salt pepper to taste
1 (5ml) teaspoon Italian seasoning
A few dashes of Worcestershire sauce
Large sprig of fresh basil
Crepes:
4 eggs
1 cup (120g) all-purpose flour
½ teaspoon (2.5ml) salt
1 cup (240ml) of water
Butter for greasing pan
Filling:
16 oz (450g) ricotta cheese
1 egg
1 ½ cups (195g) Italian Blend Cheese (or 1 cup (150g) mozzarella and ½ cup (45g) freshly grated parmesan)
¼ cup (60ml) fresh parsley, finely chopped
Topping:
1 cup (150g) mozzarella
2 tablespoon (30ml) Fresh basil, rolled and sliced into a chiffonade
Instructions
Prepare the sauce first.
In a large pot add the olive oil. Once hot, add the garlic and flavor the oil with it for a few minutes until lightly browned.
Add tomato sauce, season with salt and pepper, Italian seasoning, Worcestershire sauce, large basil spring. Allow sauce to simmer for at least 30 minutes to sweeten.
Meanwhile, prepare the crepes. In a large bowl add the eggs, whisk to combine. Then add the salt to the flour, whisk to combine.
Then slowly add the flour/salt mixture, little by little to the eggs, alternating with the water, until both have been used up. You'll have a runny batter on your hands the consistency of "heavy cream".
Grease a small non-stick 6" pan with 1 teaspoon of butter once hot pour 1 ladle of batter in the pan, swirl batter around until fully coated. Allow to cook until set, flip with a thin spatula and cook for 1-2 minutes more on the other side. Stack on a plate. Continue the process until 8 crepes are made, set aside.
Prepare the filling. In a medium-sized bowl add the ricotta, egg, salt and pepper, cheese and parsley, stir to combine.
Fish out the garlic and the basil sprig from the sauce and discard. Or press the garlic through a garlic press to mince it back into the sauce.
Ladle a few spoonfuls of the sauce into the bottom of an oven-safe 9 x 14 casserole dish.
Then add 2-3 tablespoons of the filling on top of the crepe, at the edge closest to you, roll up the crepe into a tight log, place in the casserole dish, seam side down.
Ladle more sauce just over the middle of the crepes so the ends show the crepes peeking through at the top and bottom. Top sauce with freshly grated mozzarella cheese.
Bake at 375F (190C) for 15-20 minutes, place until the broiler for 1-2 minutes to allow the cheese to melt and bubble. Garnish with fresh basil
Notes
You can make the sauce and the crepes the day before, cover and refrigerate.
But do not assemble the manicotti beforehand wait until just before baking otherwise the ricotta cheese will release moisture into the crepes and make them soggy.
Nutrition Information:
Yield:

8
Serving Size:

1
Amount Per Serving:
Calories:

387
Total Fat:

27g
Saturated Fat:

13g
Trans Fat:

1g
Unsaturated Fat:

11g
Cholesterol:

176mg
Sodium:

769mg
Carbohydrates:

17g
Fiber:

1g
Sugar:

2g
Protein:

19g