Omelets can come in so many shapes and sizes and we all know when we've had a good one and when we've had a bad one. I think of those dried out rubbery things that have browned all over in a sea of butter. Ah yeah, no thanks. This is the easiest, most foolproof way to make an omelet!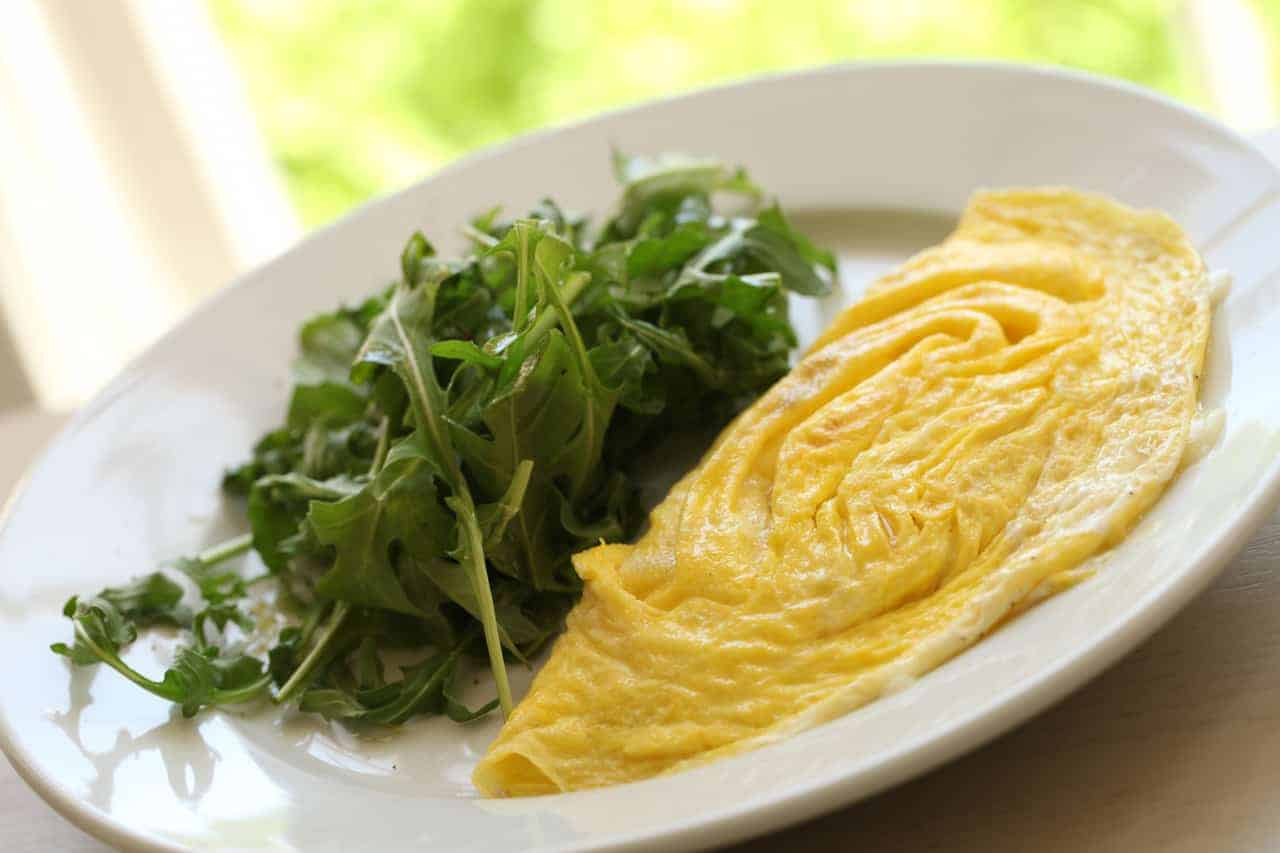 This is how to get a light, fluffy omelet with just the right amount of cheese and herbs, you will sail away to heaven and back.
But really this is best demonstrated via a show and tell, watch how easy it is below!
Watch How To Make The Perfect Omelet!
Step#1: Allow the Egg to Set
Add enough butter to allow it to fill the pa. The secret to having an omelet slip right out when it's done is enough butter! And a non-stick pan.

I think the best size pan for omelets is between 8-9".

Allow the egg to set. Don't touch it until it starts to become opaque around the edges, then start to push the egg to the center, allowing the uncooked egg to fill in the gaps as it cooks.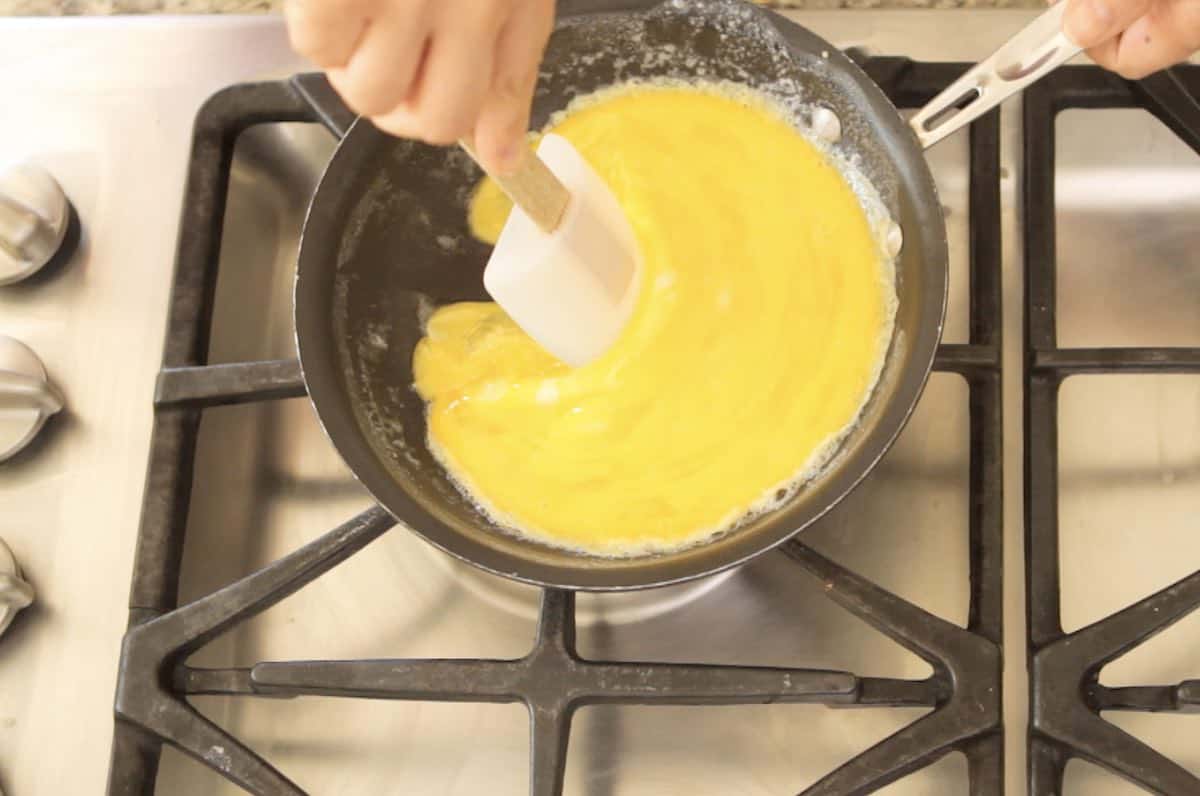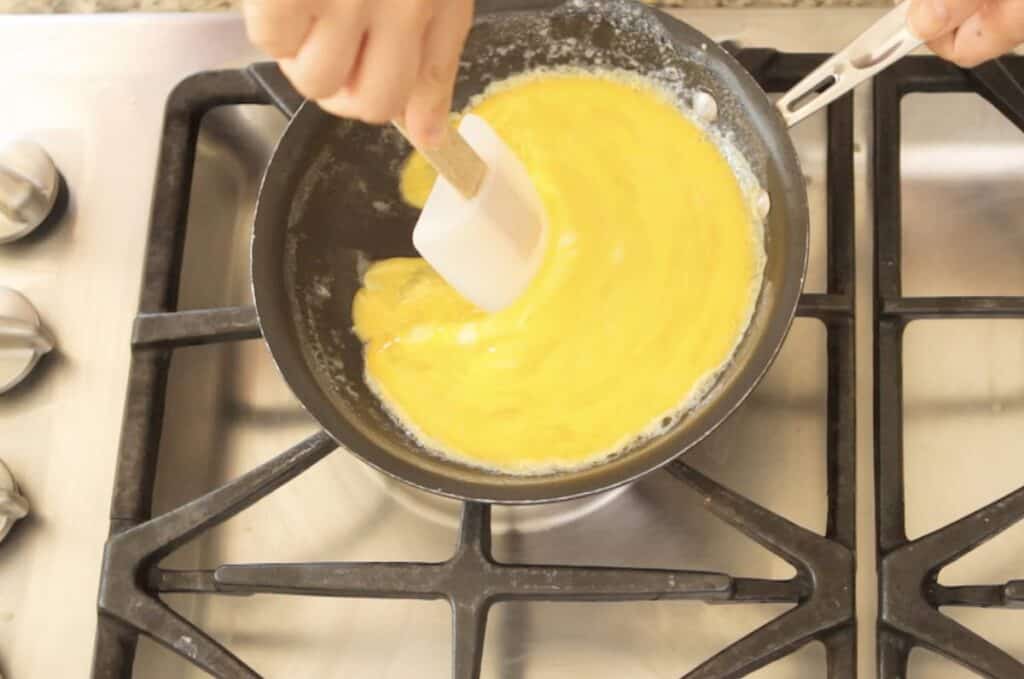 Step#2: Cook the Egg to Your Liking
Once you've pushed and swirled and there's no more liquid to fill in the gaps, allow it to cook for a dry omelet or add the cheese right away for a runnier omelet.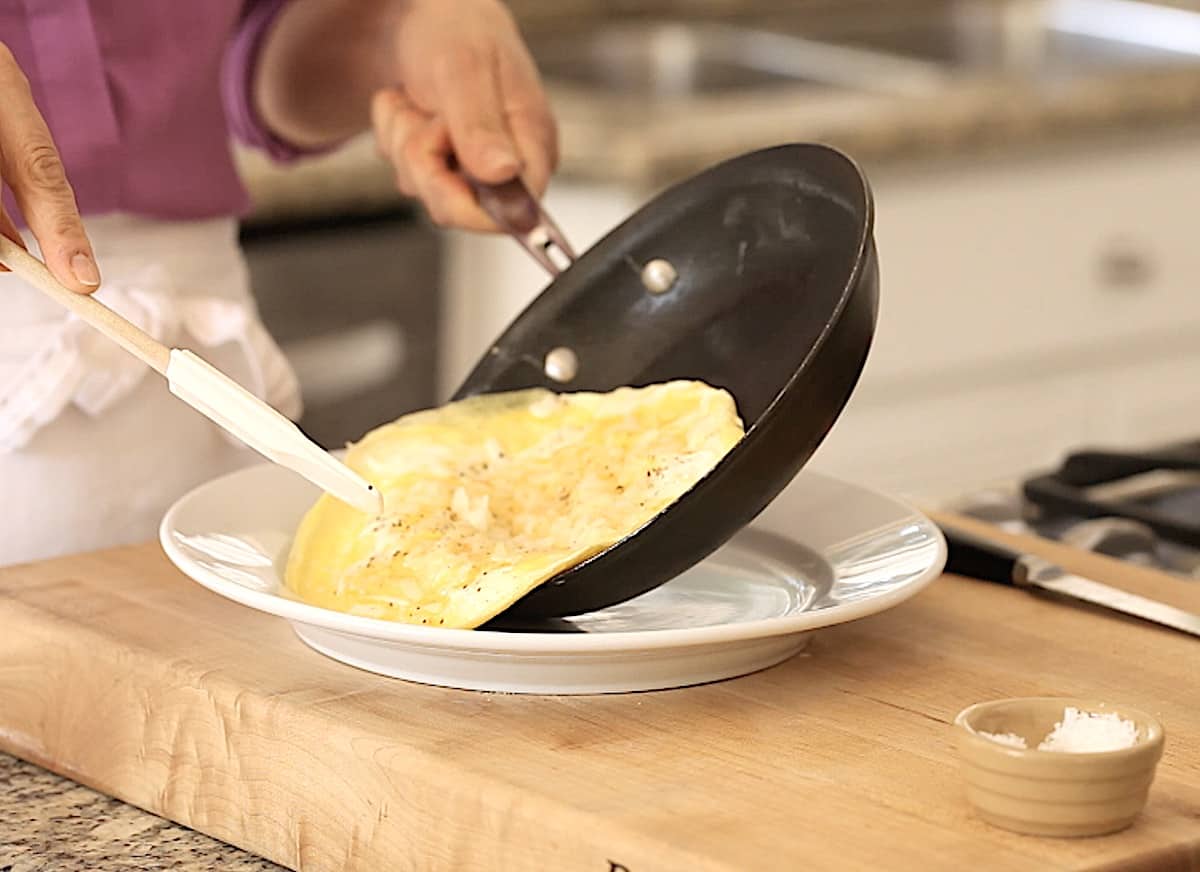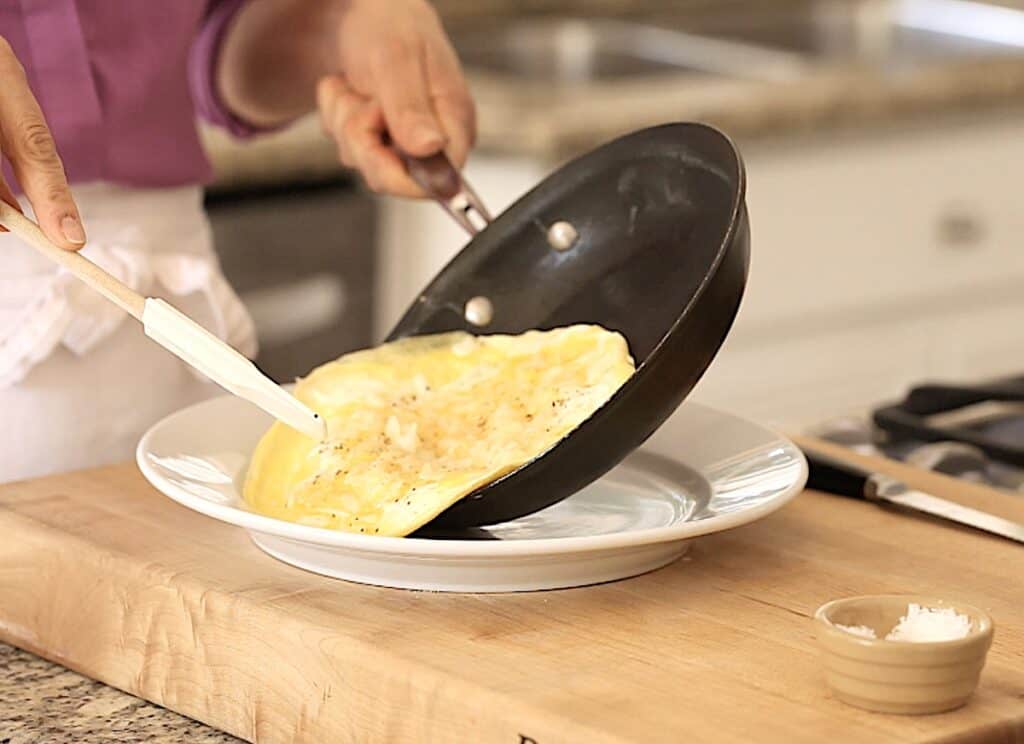 Step#3: Slide and Flip
Then shimmy the omelet out of the pan, halfway, until it touches the plate, and then flip the pan over to flop the other half on top! Et Voila! This technique is SO much easier than trying to flip it in the pan.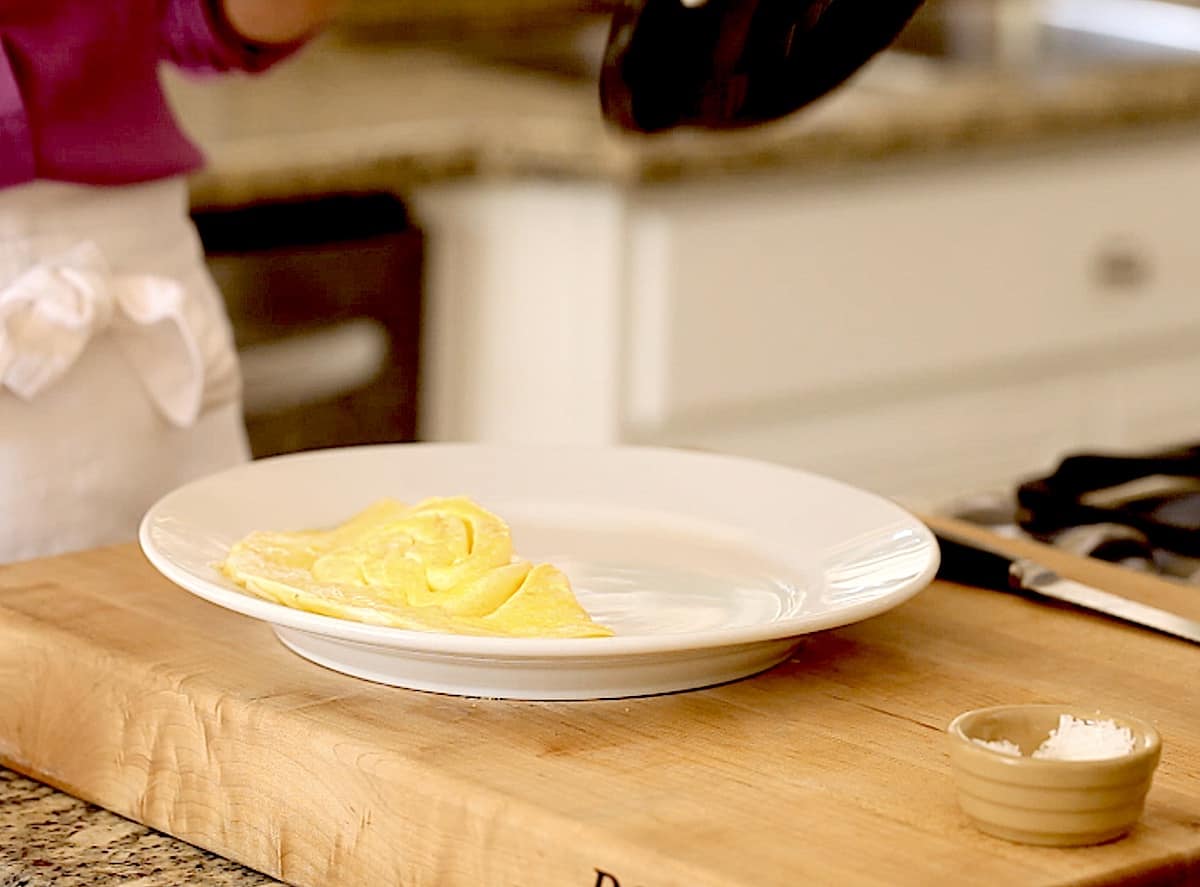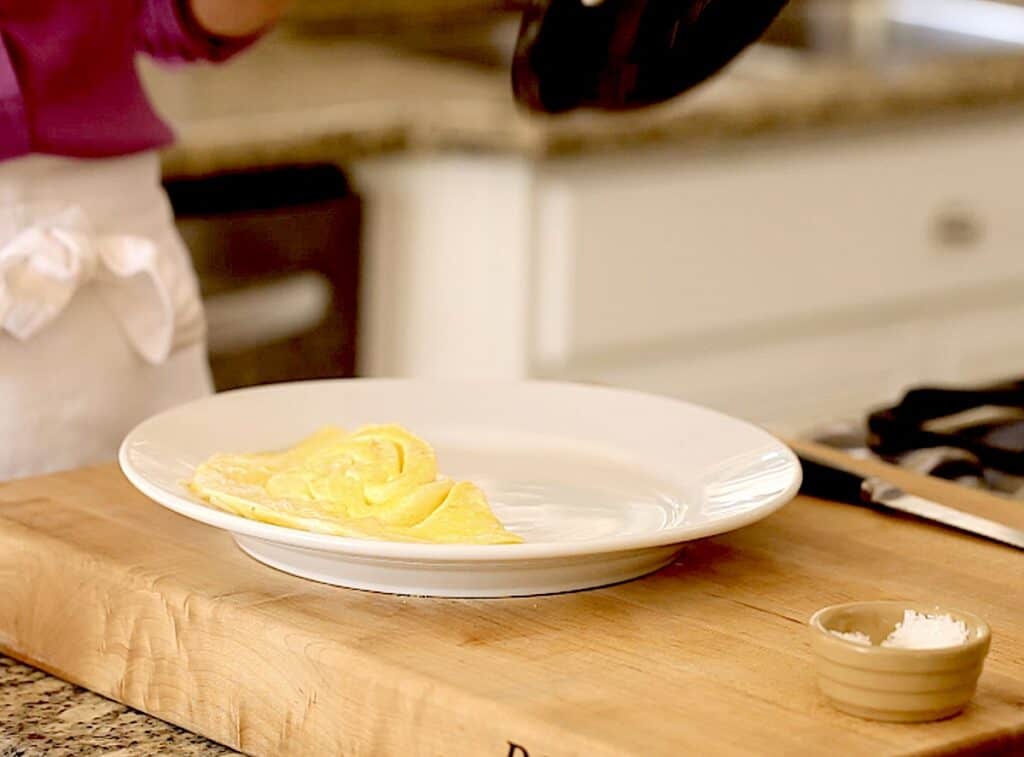 Step#4: Serve with a Side Salad
I think the richness of an omelet calls for a spicy, slightly bitter salad green like arugula. For a quick dressing, I just squeeze lemon on top, add a drizzle of olive oil, and a few cracks of freshly cracked pepper and that's it!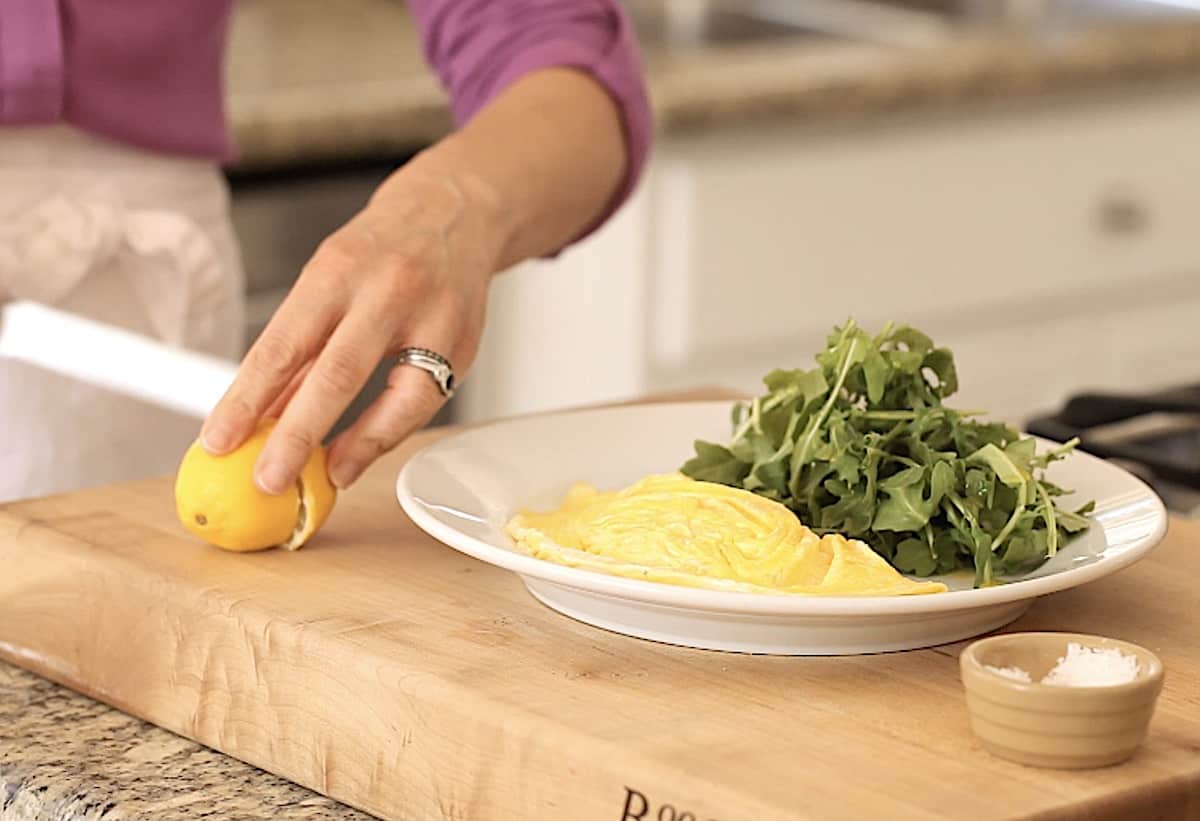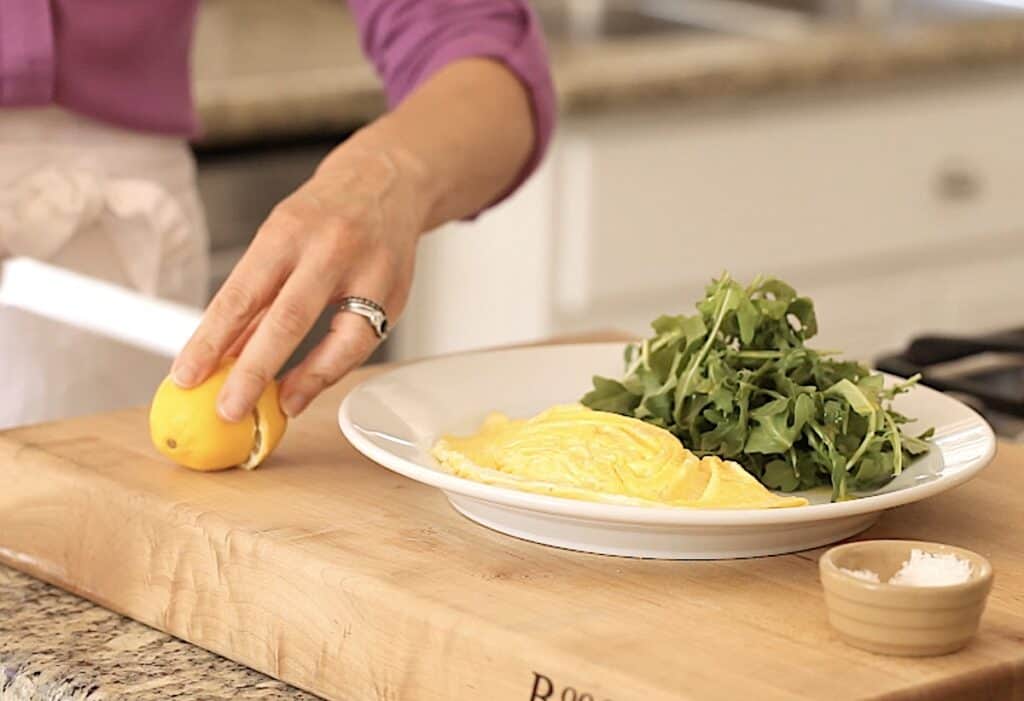 More Easy Basics You'll Love:
If You Enjoyed This Recipe
Please Leave a Rating and a Review Below!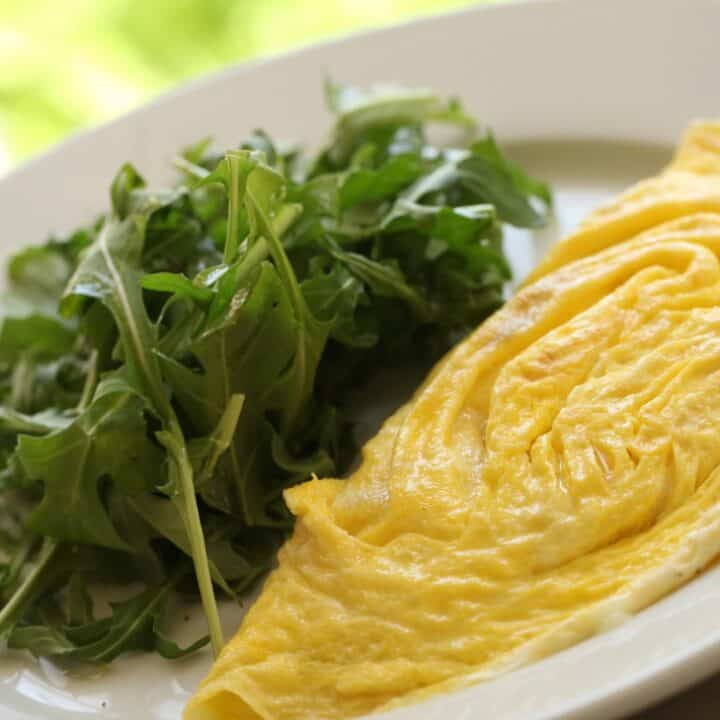 How to Make The Perfect Omelet
An easy and delicious way to make an omelet!
Ingredients
1 (15 g) tablespoon butter
3 eggs
salt and pepper to taste
¼ cup (45 g) shredded mozzarella cheese
1 ½ cups (145 g) of arugula
½ teaspoon (2.5 ml) fresh lemon juice
1 tablespoon (15 ml) olive oil
Instructions
In a small bowl whisk together eggs.
Over, medium-low heat, melt the butter in a small non-stick pan (8 ½ inches in diameter works best).
Once melted, add the eggs. Allow to set.
Then pull the eggs towards you on each side with a heat-safe spatula, swirling the pan, and allowing the raw egg to fill in the gaps as it cooks.
Place cheese on top, along with the salt and pepper. Allow to set for 15-20 seconds.
Then loosen the eggs on all sides with the spatula, slide the omelet halfway out of the pan, and flip the other half on top.
Serve with the arugula, topped with lemon juice and a drizzle of olive oil, salt, and pepper to taste.
Nutrition Information:
Yield:

1
Serving Size:

1
Amount Per Serving:
Calories:

466
Total Fat:

41g
Saturated Fat:

14g
Trans Fat:

1g
Unsaturated Fat:

25g
Cholesterol:

594mg
Sodium:

649mg
Carbohydrates:

2g
Fiber:

0g
Sugar:

1g
Protein:

21g