This Home Fries Recipe is a fantastic compliment to any egg dish for a special breakfast or brunch. They are soft on the inside and crispy on the outside. They are easy to make on the cooktop so they don't tie up your oven space leaving room to bake your egg bake at the same time.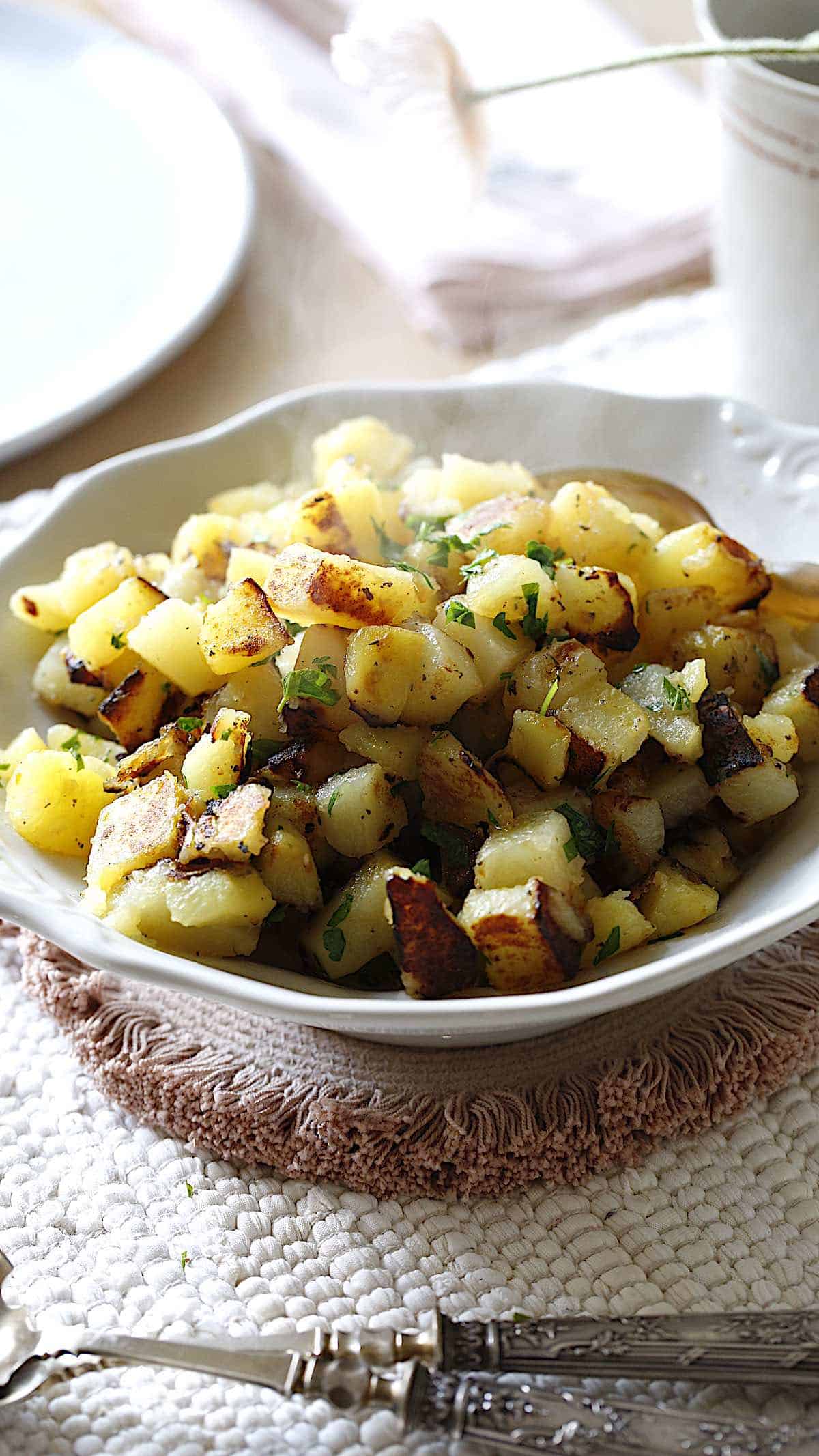 Recipe Pairing Ideas: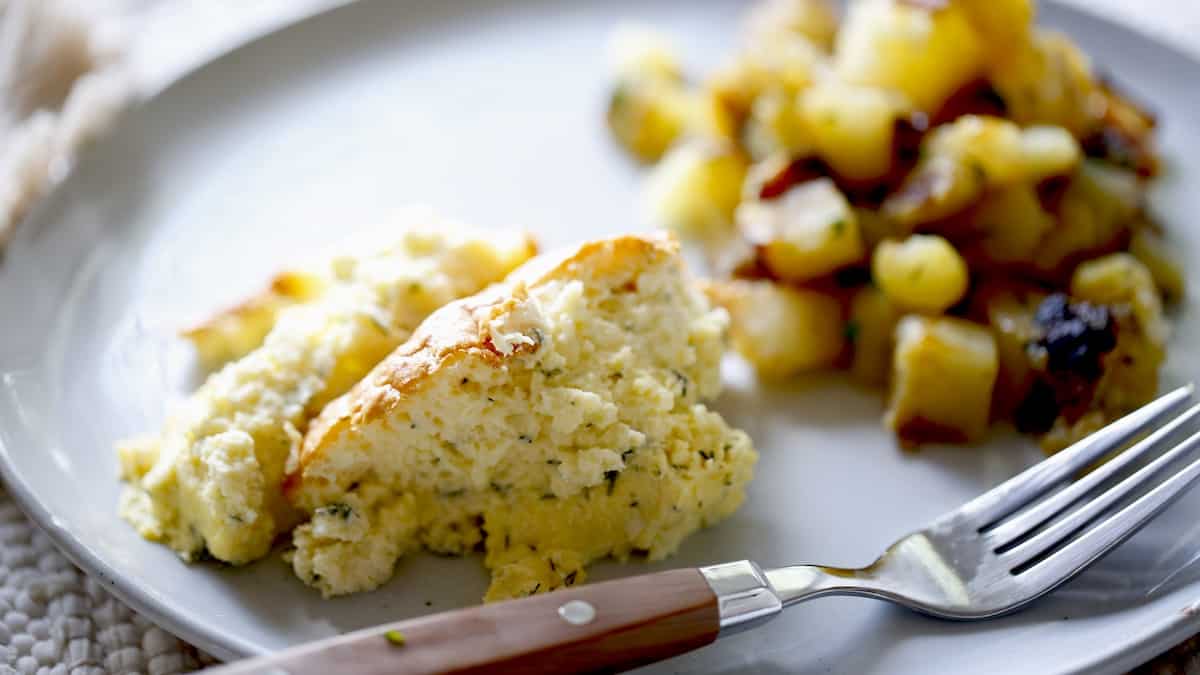 Watch My Video Demo Of This Recipe Below!
Slicing the Potatoes
The best type of potato for home fries is a Yukon Gold potato. It's a waxy potato, as opposed to a starchy potato like a Russet. Waxy potatoes will hold their shape when cooked, making them ideal for home fries.
They also have a nice buttery flavor.
For successful home fries, it's best if they are roughly the same shape and size which will help them cook at the same rate.
To get uniform cubes, slice them in half and then slice them horizontally across the potato.
Then slice the potatoes vertically to create even-sized cubes.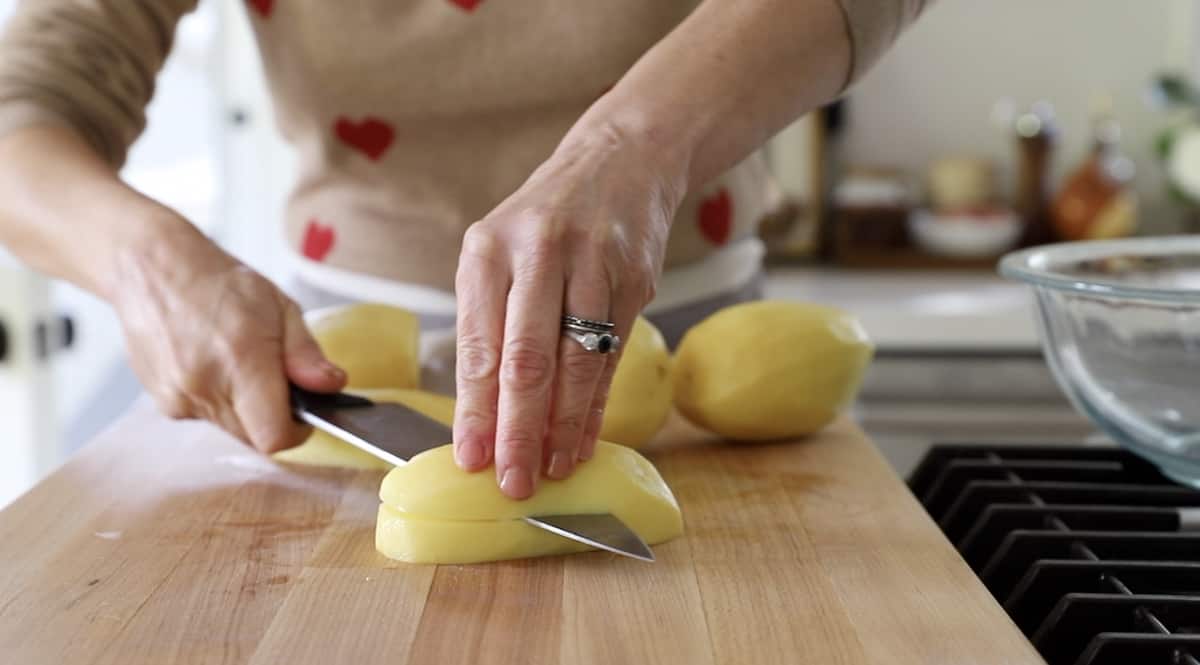 Pat Dry Vs. Leave Damp?
The potatoes may be a little damp at this stage but resist the temptation to dry them off too much.
The dampness actually helps them steam up a bit and will cook the interior faster.
This tip is really unique to homefries though, if making my roasted potato recipe always pat them dry first to assure the crispy edges will form.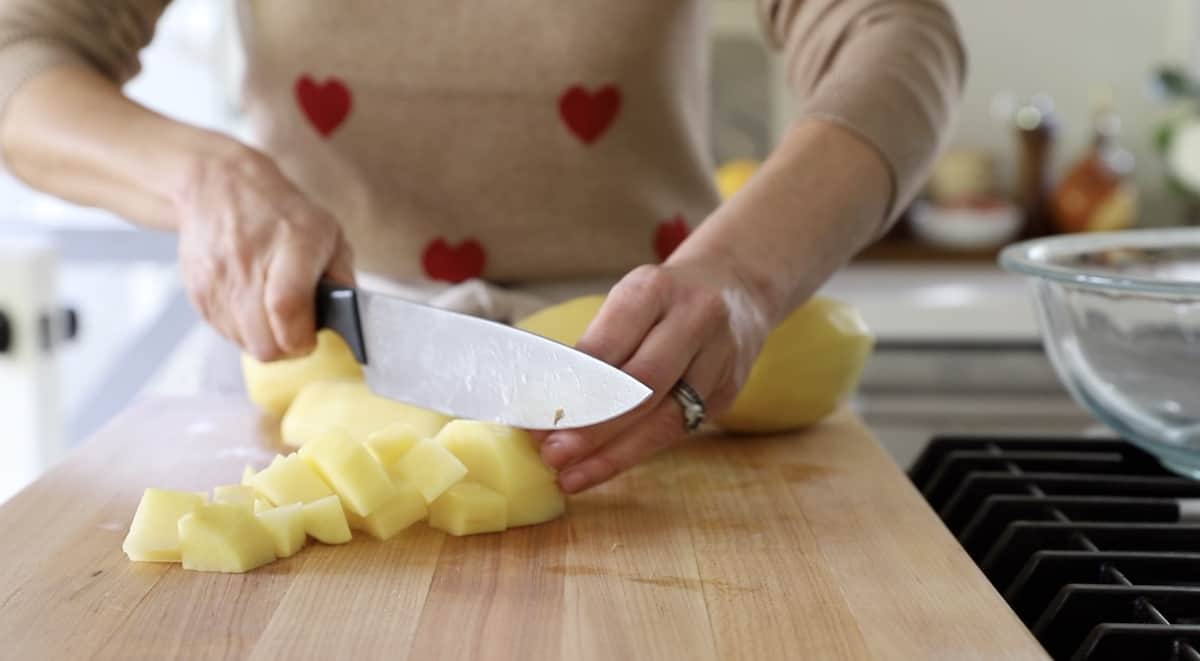 How to Get a Crispy Exterior
Use a non-stick skillet this will help the exterior crisp up faster.
Use at least 3 tablespoons of oil, it's more than you think you need, but the extra oil will also guarantee nice crispy home fries.
Don't touch them! Once you put the potatoes in the pan, cover them and let them cook.
Instead of poking at them, just shake the pan. If they are ready to flip they will flip from the shaking.
The Steam/Sautee Method:
The secret to getting homefries done on the inside as soon as they are crispy on the outside is to let them steam a bit first.
The moisture from the steam will cook the potatoes on the inside, once that moisture is absorbed the potatoes will dry out a bit and start to saute and crisp up on the exterior.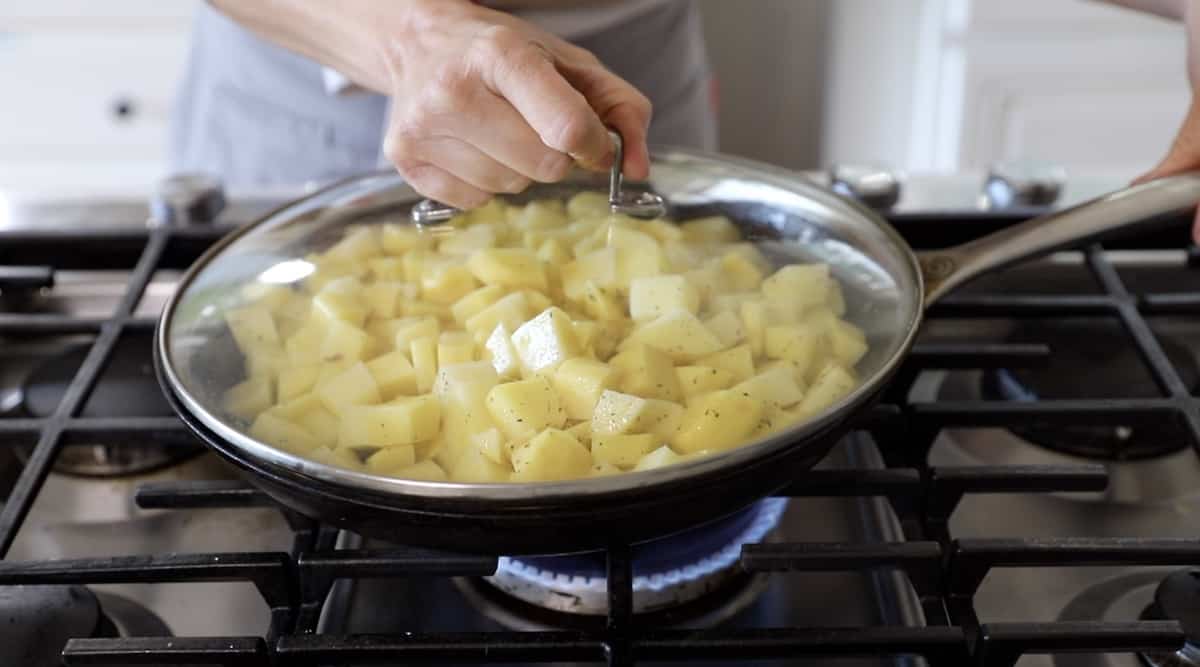 When To Flip:
After shaking and steaming for 5-7 minutes. Check to see if they are browning on the bottom. If they are it's time to start turning them.
You can do this with a metal spatula gently turning them so that they are getting crispy on all sides.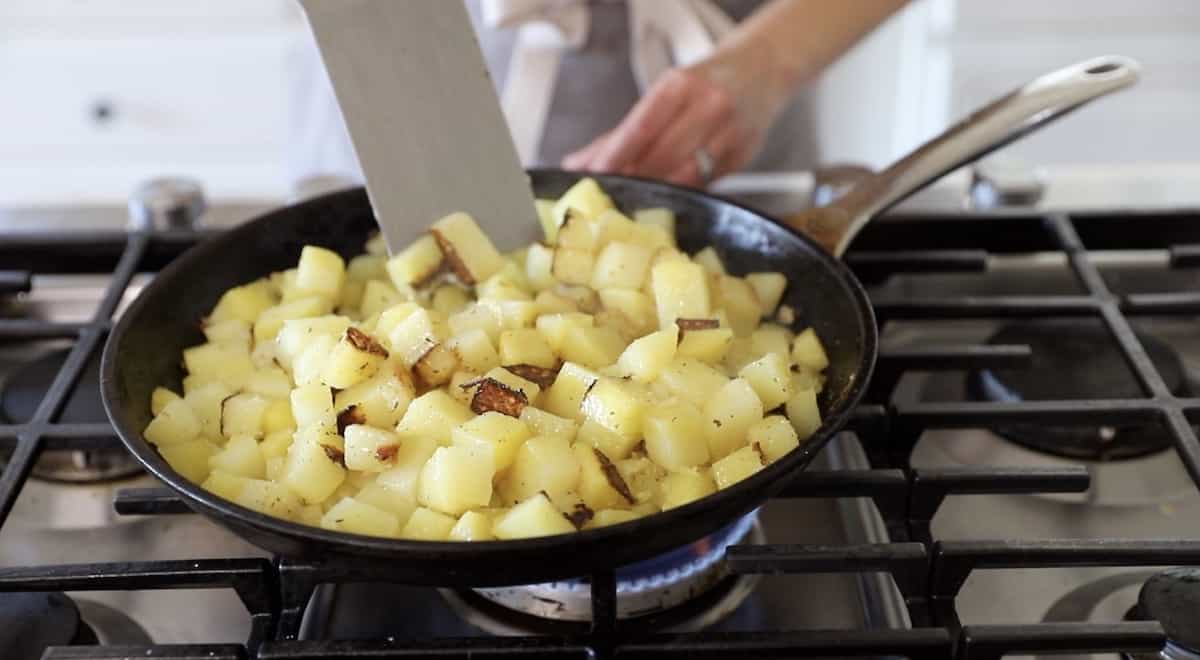 Seasoning and Garnishing
Once the home fries are done check for seasoning and add salt and pepper as needed.
I also like to garnish with some freshly chopped parsley.
And for a little heat, you can also add some red pepper flakes.
You can serve these with ketchup or create a quick and easy "smokey" ketchup by mixing ½ cup of ketchup with ½ teaspoon of smoked paprika.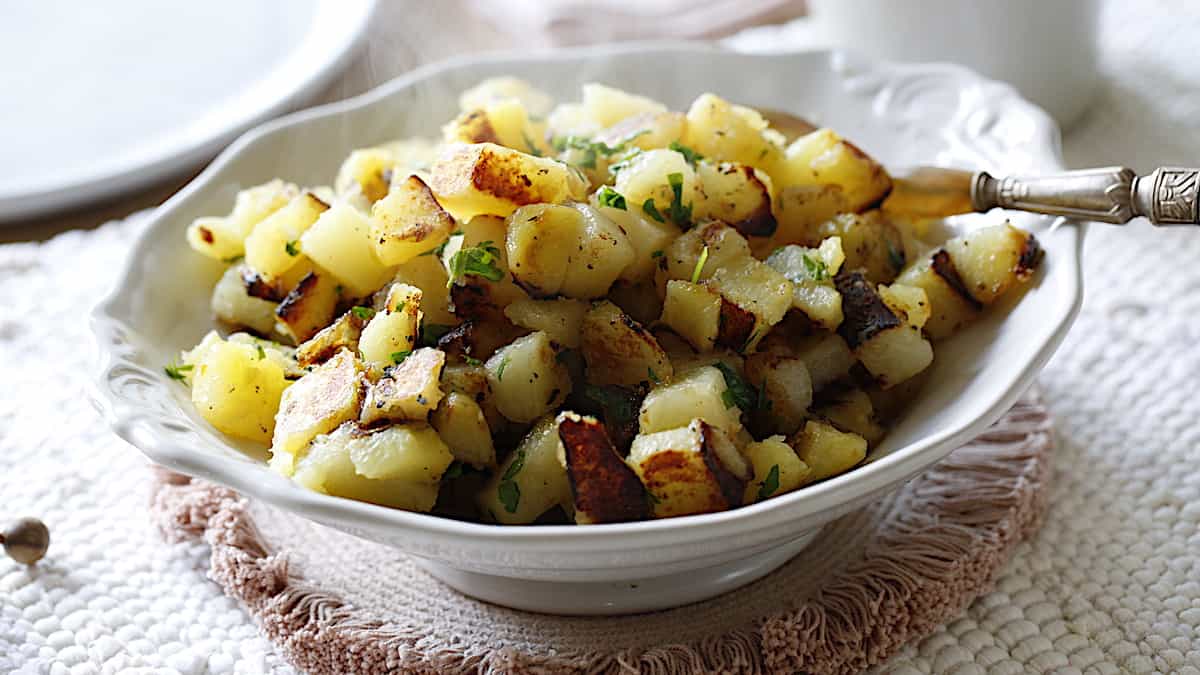 Serving Tips:
Serve these home fries with your favorite egg dish! They make for a great side dish for a Christmas morning breakfast, Valentine's Day, or Mother's Day too!
They also reheat beautifully too as leftovers, funny enough they keep their light and fluffy texture!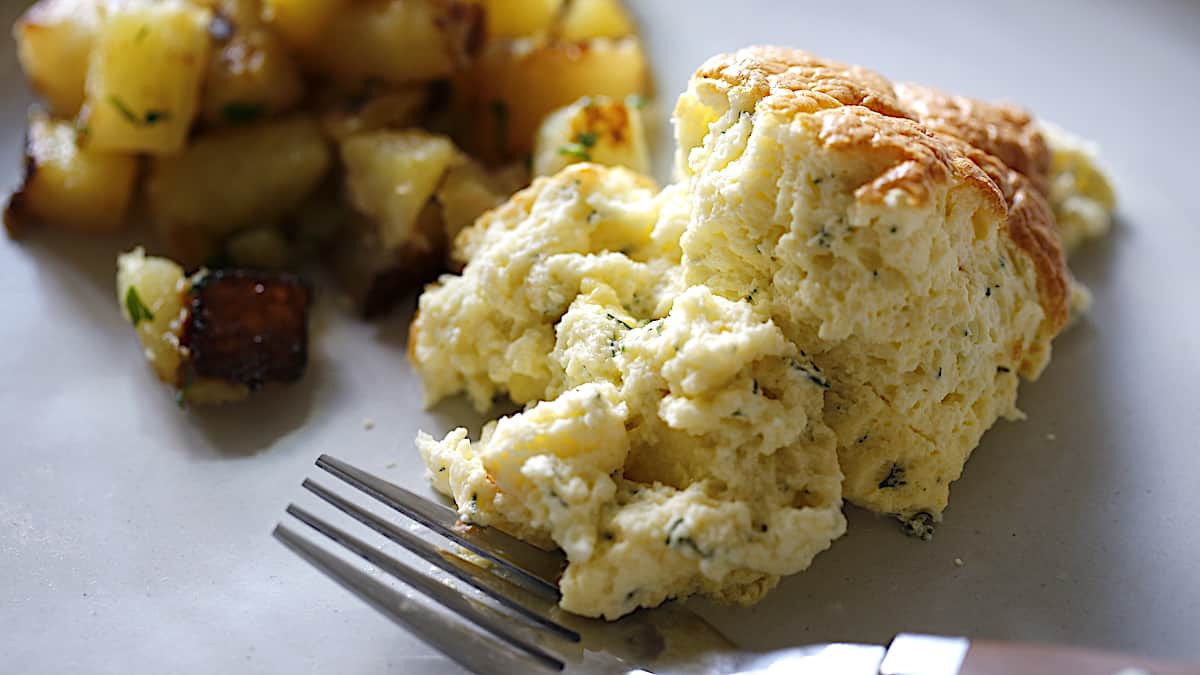 More Great Brunch Recipes!
If You Enjoyed This Recipe,
Please Leave a Rating and a Review Below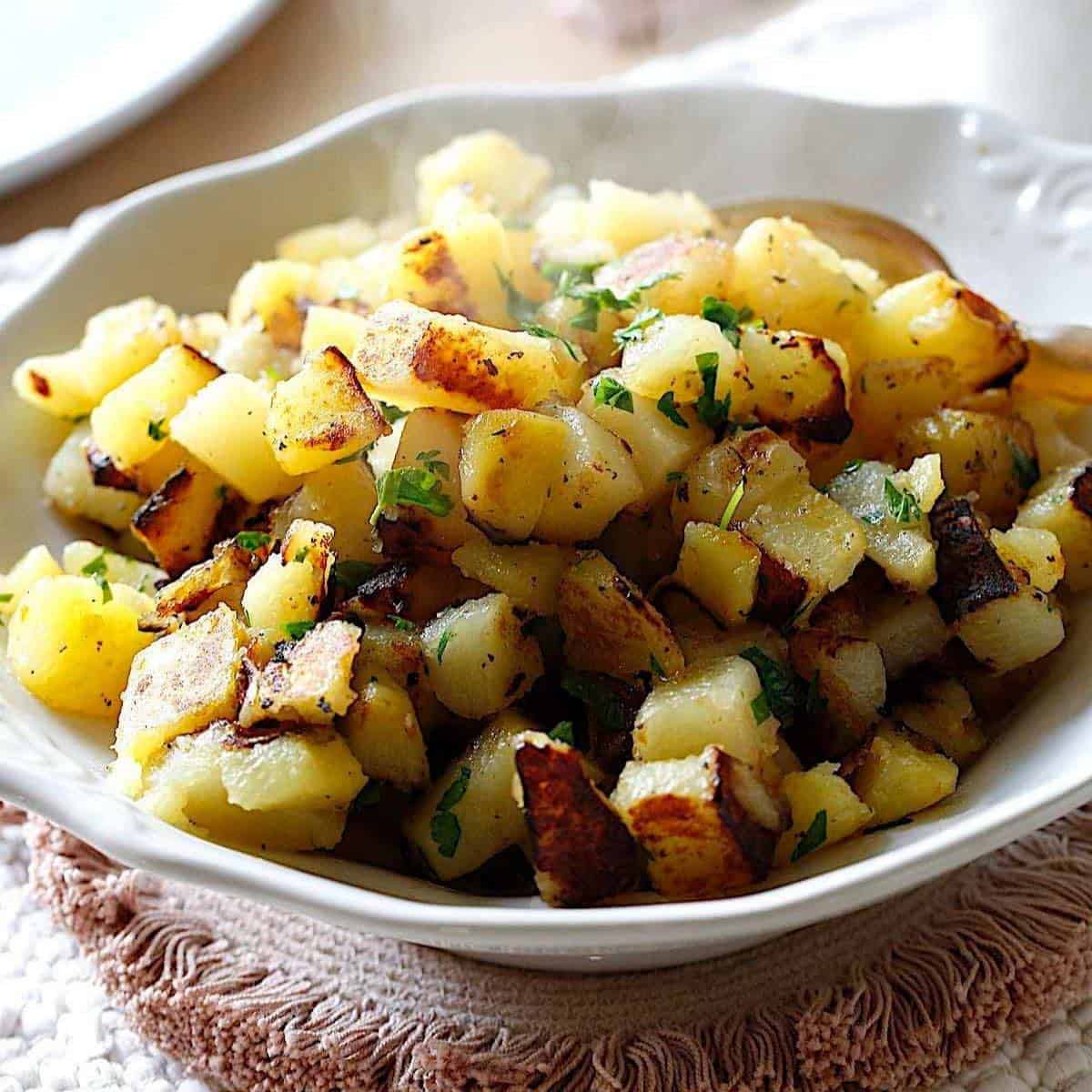 Home Fries Recipe
Delicious crispy Home Fries Recipe perfect for any breakfast and brunch. Buttery and fluffy on the inside, crispy and flavorful on the outside!
Ingredients
3 lbs (1 kilo 350g) Yukon Gold Potatoes (Or red New Potatoes)
3 tablespoon (45ml) Olive Oil
Salt and pepper to taste
½ teaspoon (2.5ml) Herbs de Provence (or dried basil, parsley, thyme or rosemary)
2 tablespoon (30ml) fresh Italian parsley, chopped
Instructions
Peel potatoes.
Cut potatoes in half, lengthwise. Then slice each half in half again lengthwise. Then slice this stack, horizontally to create ½ inch cubes (13mm).
Place cubes in a bowl and toss with salt, pepper, and Herbs de Provence.
Heat a large 10-12" (25-30cm) non-stick skillet with olive oil. Add the potatoes, shake to level them out to a single layer. Cover and cook for 5-7 minutes on medium-high. Shaking periodically.
Then remove the cover and flip potatoes with a metal spatula to assure they are browning on all sides. Repeat this process of covering, shaking, and flipping until the potatoes are cooked through and tender and golden brown and crispy.
Garnish with fresh parsley and serve.
Notes
You can serve these with ketchup or create a quick and easy "smokey" ketchup by mixing ½ cup of ketchup with ½ teaspoon of smoked paprika.
Nutrition Information:
Yield:

4
Serving Size:

1
Amount Per Serving:
Calories:

214
Total Fat:

11g
Saturated Fat:

1g
Trans Fat:

0g
Unsaturated Fat:

9g
Cholesterol:

0mg
Sodium:

88mg
Carbohydrates:

28g
Fiber:

3g
Sugar:

2g
Protein:

3g