These flakey Buttermilk Biscuits with Soft Scrambled Eggs is one deliciously decadent breakfast recipe for any special occasion breakfast like Easter, Mother's Day or Father's Day.
The soft scrambled eggs are cheesy and chivey and seasoned with just the right amount of crunchy sea salt and freshly cracked pepper. And when paired with the soft, flakey biscuits the combination is just sublime!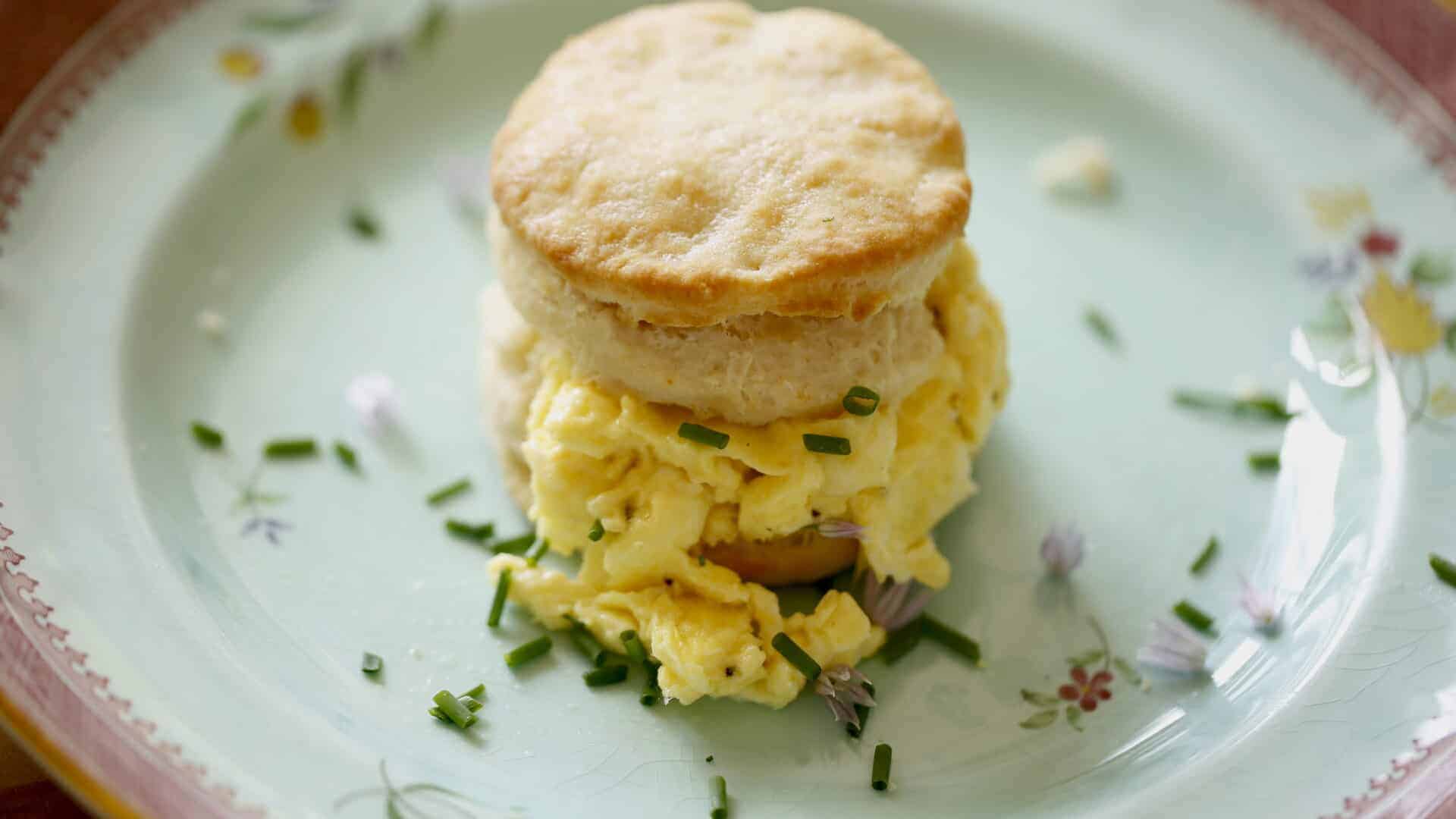 Menu Ideas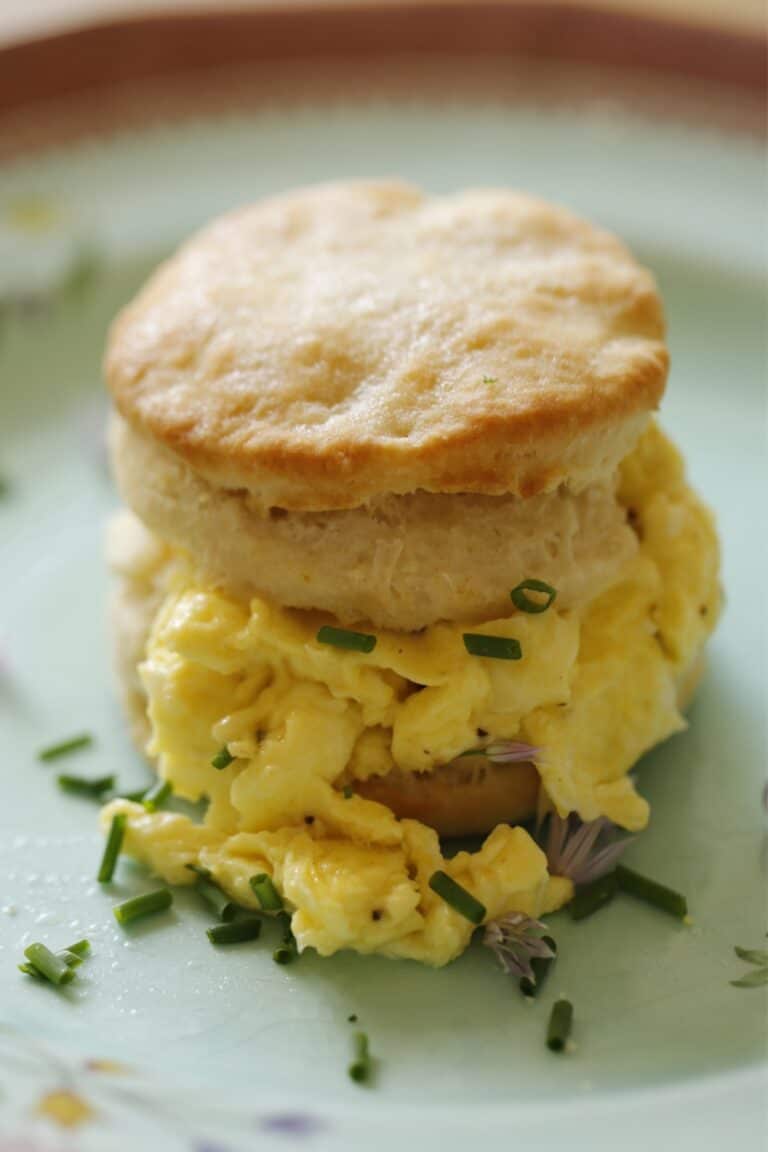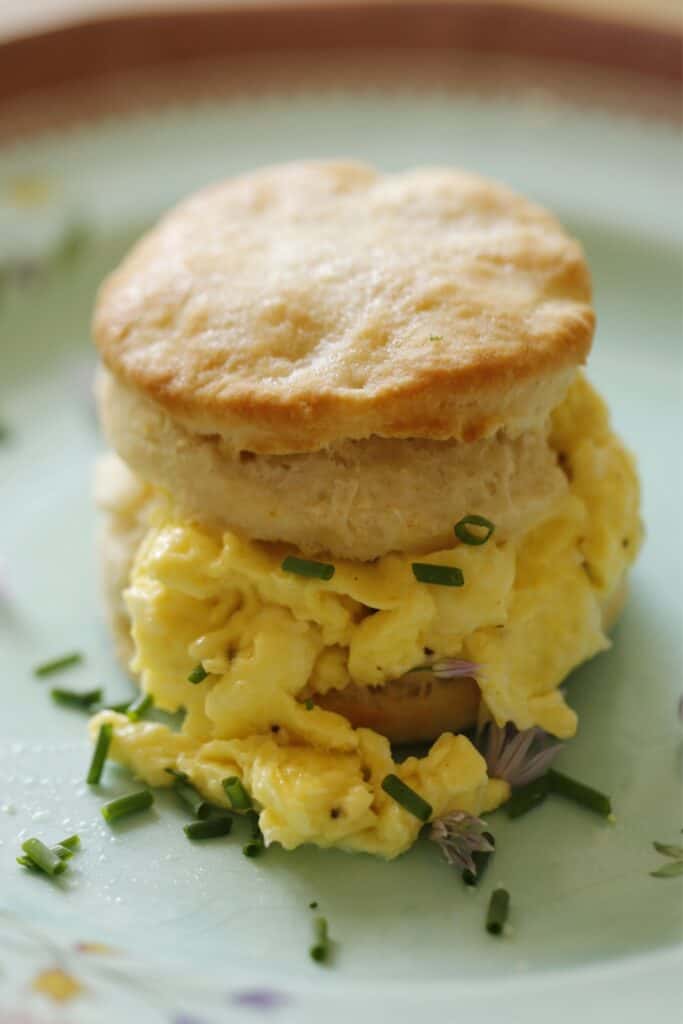 Watch My Video Demo of This Recipe Below!
How To Make Biscuits without Buttermilk?
Buttermilk gives a rich and soft texture to biscuits, but if you don't have any sitting in the fridge, you can create a buttermilk substitution that will react the same way.
Simply measure out 1 cup of milk in a pitcher, and stir in 1 tablespoon of plain white vinegar.
Or you could also use 1 tablespoon of fresh lemon juice.
Stir to combine and then let it rest for 10 minutes.
Now that you know how to make buttermilk at home you can also use this technique for my Baked Chocolate Donut Recipe too!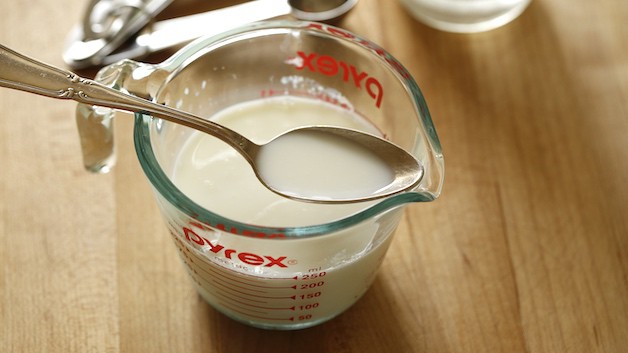 How to Know When the Mixture is Ready?
During this time, it will start to curdle and create a lumpy texture. This is exactly what you want!
Sometimes you will see this process happening in 5 minutes and sometimes it takes the full 10 minutes.
So check on it with a spoon, and if there are no lumps in the spoon, keep going for another 5 minutes. Once you see it curdle, it's ready to use.
Step#1: Use Cold Diced Butter
If you live in the U.S.A use salted butter. I find it gives the biscuits more flavor.
Mostly because our salted butter here, isn't that "salty" compared with other parts of the world.
If you live outside the U.S.A then I would use unsalted butter and increase the salt in the recipe to ¾ teaspoon (3.75 ml)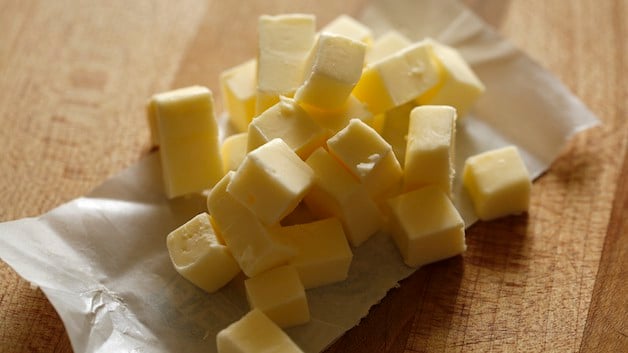 Step#2: Add the Butter to the Dry Ingredients
Mixing the biscuit dough up with your hands, and not using a food processor or any other mixer, is what contributes to a flakey biscuit!
As you mush the butter into the flour with your fingertips, you'll create a coarse meal.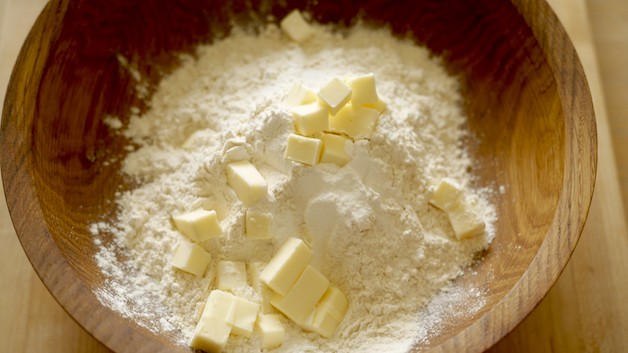 The butter should be worked into the flour well, but still remain a bit chunky. These butter chunks will melt in the oven, leaving air pockets that will create a nice flakey texture.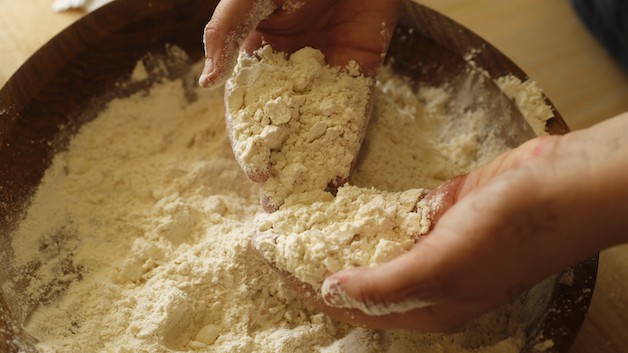 Step# 3: Add the Buttermilk or "Buttermilk Substitute"
Your dough will be a sticky, wet dough! But not to worry, as soon as you place it on a floured surface and work it into a gentle ball, the dough will cooperate and will stop being so sticky.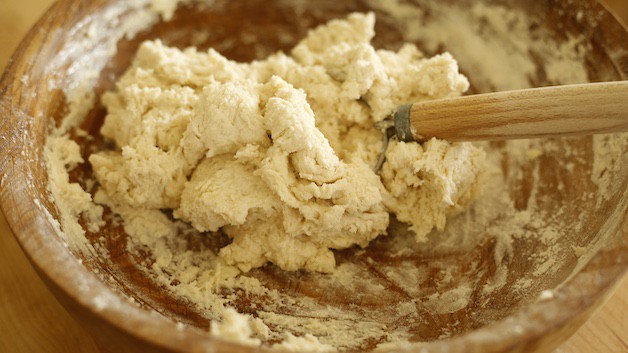 Step#4: Roll out the Dough and Cut the Biscuits
Only roll the dough out to about ½"-¾" for higher biscuits.
They will double in height in the oven, so if you are making these for egg sandwiches, higher biscuits will be easier to split open once baked.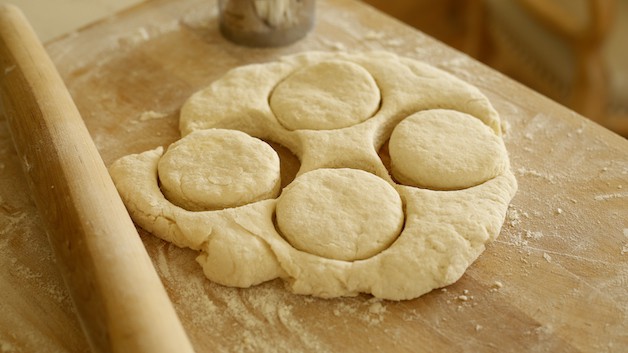 How-To Keep The Biscuit Bottoms Soft
Place your biscuit dough on a parchment-lined baking sheet.
The parchment paper prevents the biscuits from browning too much underneath and will keep their bottoms soft.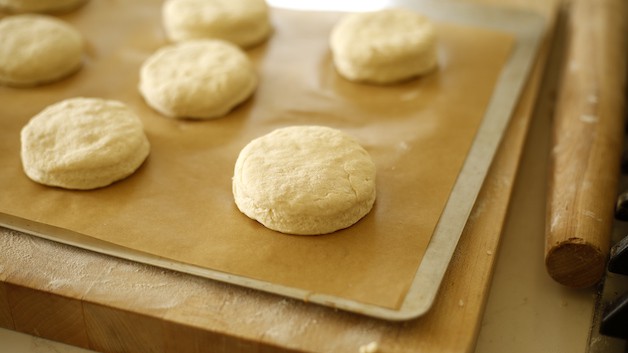 Step#5: Brush Biscuits with Melted Butter
Let's face it, homemade buttermilk biscuits are all about the butter! The finishing touch on these beauties is brushing melted butter on top. This will add some nice color and richness to the tops.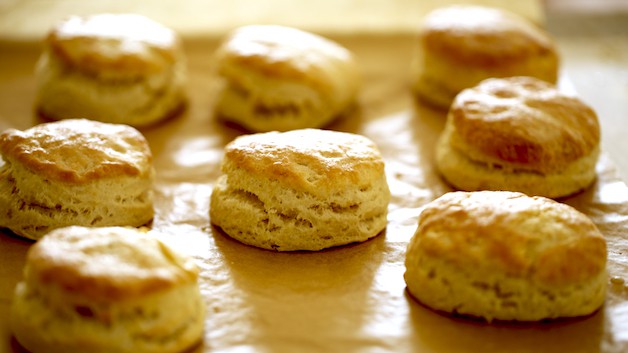 You can pile them high and serve as is or, assemble them into some absolutely delicious Egg and Biscuit Sandwiches!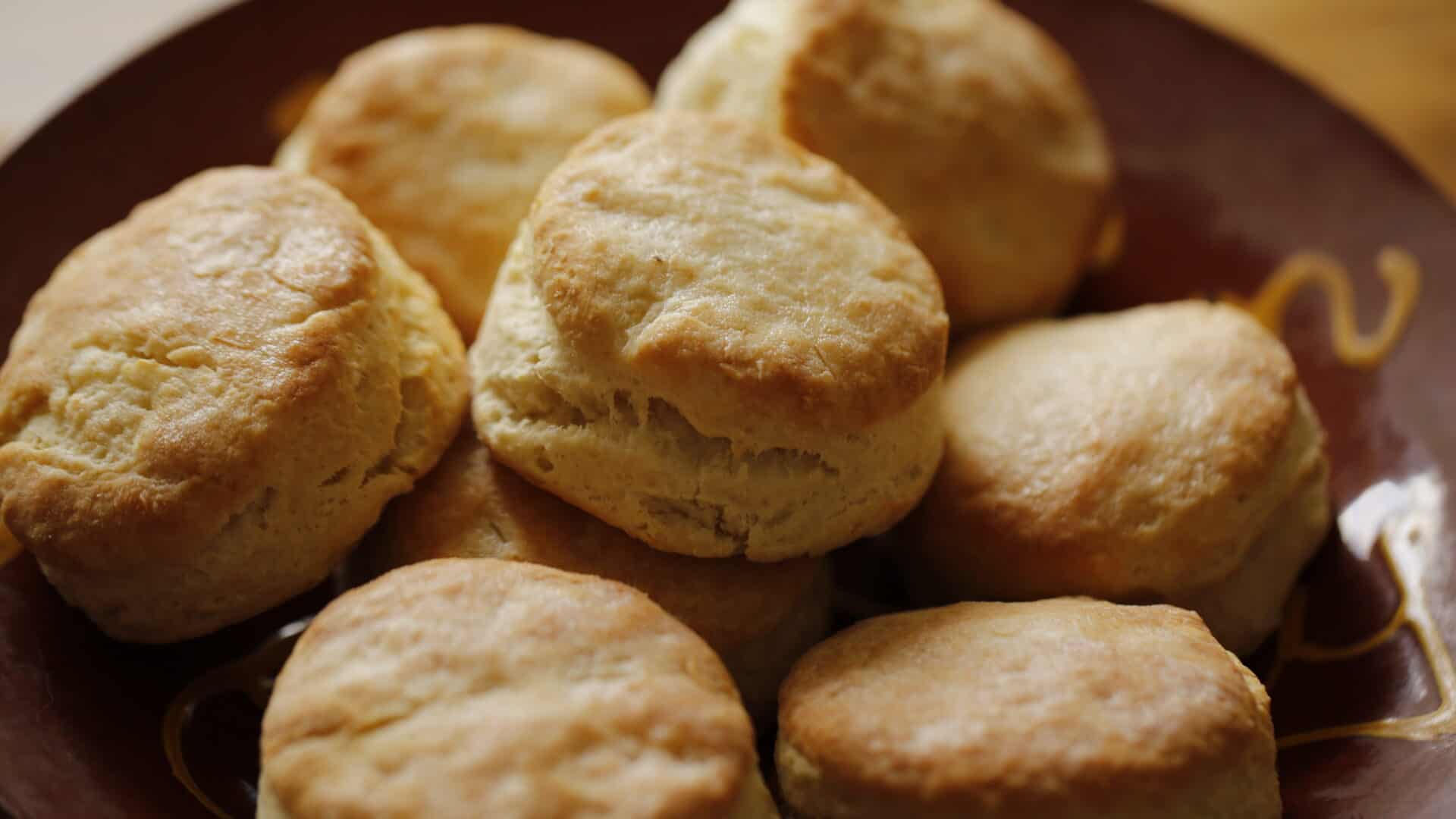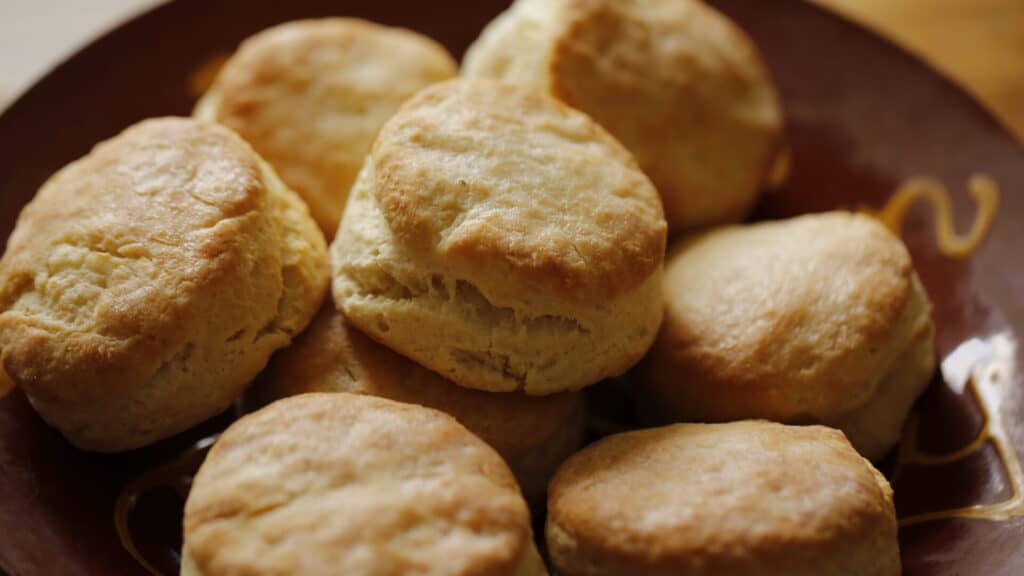 How to Make the Best Soft Scrambled Eggs
When it comes to soft scrambled eggs, my motto is "low and slow is the way to go!"
You must cook them on very low heat, and slowly. This will assure your eggs will stay soft and pillowy with the most heavenly soft curds!
You can use the same technique for the eggs in my Mexican Scramble on Hash Brown Waffles another great special occasion breakfast!
Tip#1: Use an 8" non-stick pan
You need a small pan to get the curds. It must also be non-stick to avoid any drying or sticking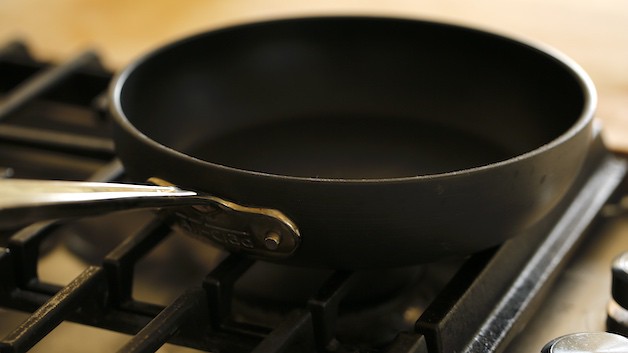 Tip#2: Add A Splash of Heavy Cream
For two scrambled eggs, 1 teaspoon of heavy cream will make all the difference in helping to create the most beautiful soft scrambled eggs.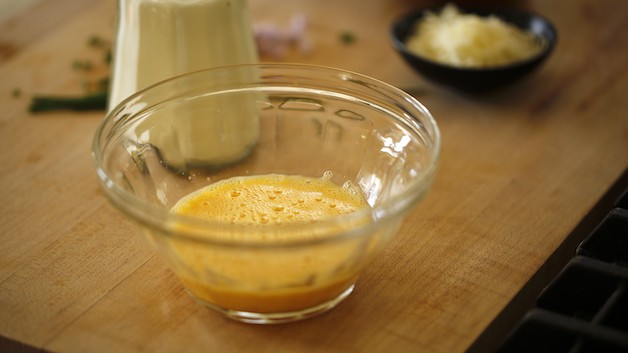 Tip#3: Allow the eggs to set
A fantastic scrambled egg takes patience! Allow your eggs to set in the pan, before touching them. Then give them a gentle swirl this will create the first curds.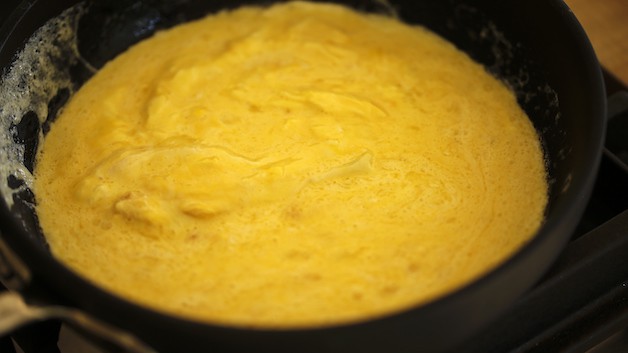 Creating Egg Curds
Then go in with a spatula and pull the eggs towards you, very gently swirling the pan so that the eggs that are cooked get swirled around to reset. This will create larger curds.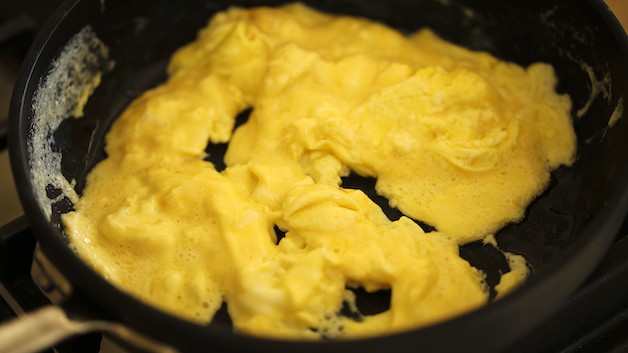 Once your eggs look like this turn off the heat! The warmth from the pan will continue to cook the eggs without overcooking them.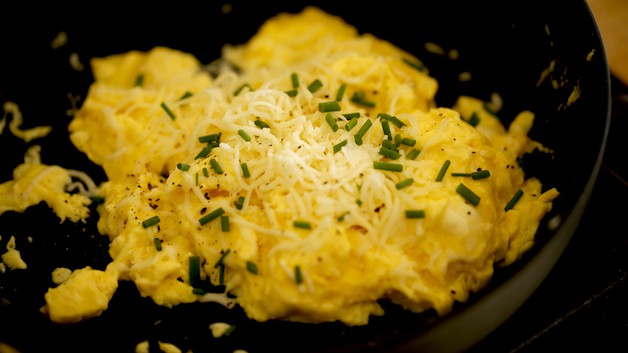 Add the Seasonings Last
Then season with salt, pepper, mozzarella or Swiss cheese, and some freshly snipped chives.
If you are growing your own herbs, plant "Flowering Chives" their blossoms are edible flowers and will add a nice touch to your finished plate.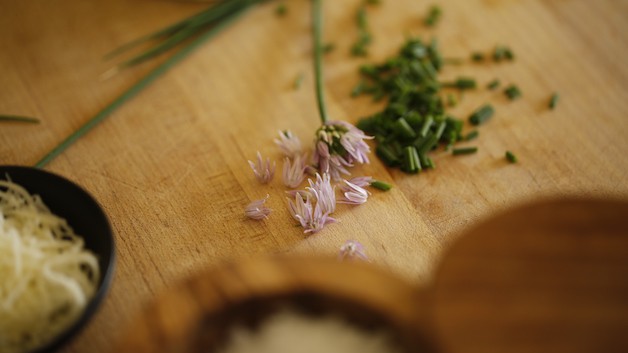 The Best Way to Open a Biscuit
Then the secret to splitting open your biscuits is to use your hands to gently pull them apart where they want to split open.
This will preserve the flakes! Resist the temptation to use a knife, you'll compress the flaky texture that way.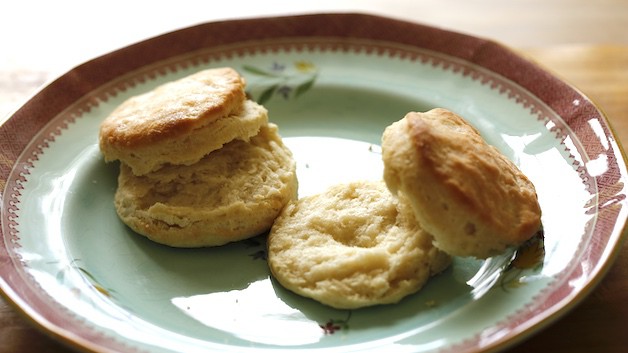 Then spoon in the scrambled eggs and you'll have one decadent little breakfast treat that I promise will make someone's morning!

If you Enjoyed this Recipe
Please let me know by leaving a rating and a review below!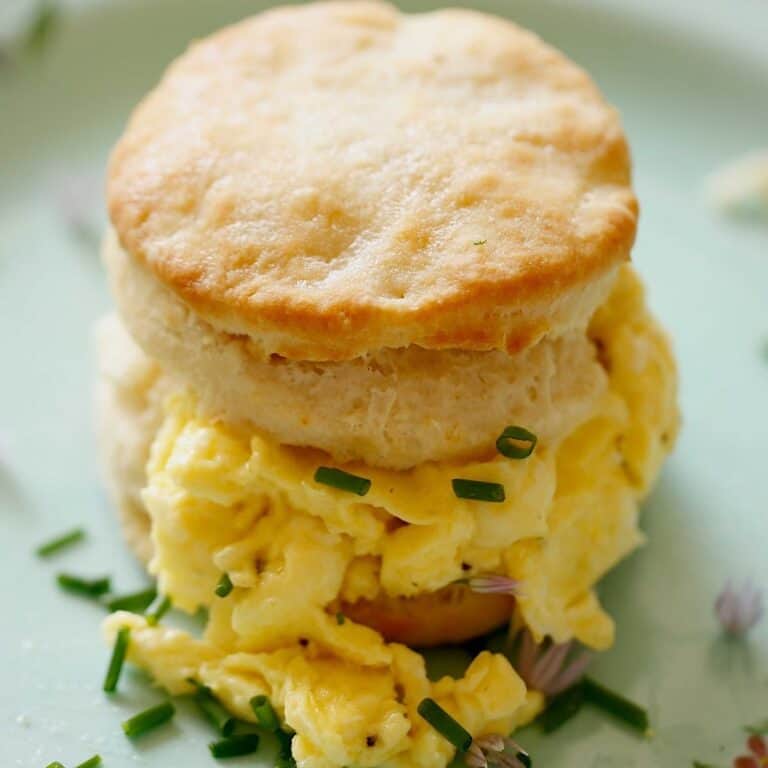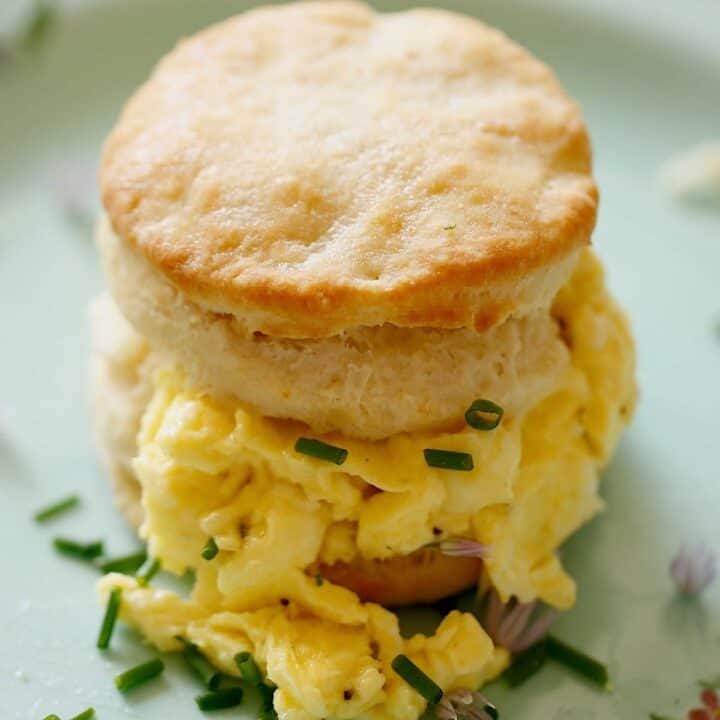 Buttermilk Biscuit Recipe with Soft Scrambled Eggs
Total Time:
1 hour
20 minutes
These flakey Buttermilk Biscuits with Soft Scrambled Eggs is one deliciously decadent breakfast recipe for a special occasion like Father's Day. The soft scrambled eggs are cheesy and chivey and seasoned with just the right amount of crunchy sea salt and freshly cracked pepper. And when paired with the soft, flakey biscuits the combination is just sublime! 
Ingredients
FOR BISCUITS:
2 ¼ cups (270 g) all-purpose flour
¾ teaspoon (3.75ml) salt
5 tablespoon (75g) cold butter, diced
1 cup (240ml) Buttermilk OR Make it (1 cup (240ml) milk + 1 tablespoon (15ml) white vinegar. Rest 10 mins)
2 ½ teaspoon (10.5ml) baking powder
1 tablespoon butter, (15 ml) melted
FOR EGGS: (for serving of 2 biscuits/1 person)
1 tablespoon (15ml) butter
2 eggs
1 teaspoon (5ml) heavy cream
1 tablespoon (15ml) Chives, minced
1 tablespoon (15ml) shredded mozzarella cheese
Salt and Pepper to taste
Instructions
Preheat oven to 450F.
In a Pyrex, pitcher measure out 1 cup of milk. Add 1 tablespoon of vinegar and stir. Allow to rest for 10 minutes. It will thicken
and curdle.
Meanwhile, in a large bowl whisk together the flour, salt, and baking powder. Add the butter and smush it together with your fingertips
until a coarse meal develops.
Then add the buttermilk or the Milk/Vinegar substitute and stir together gently until combined.
Roll out into a ball on a floured surface, then gently roll out until ½ inch (13 mm) thick.
Using a 2 ½ inch (5 cm and 13 mm) biscuit cutter, cut into 8 biscuits, rejoining the scraps, and re-rolling the dough as needed. However, try to get as many biscuits as you can with minimal rolling so as you do not overwork the dough.
Place the biscuits on a parchment-lined cookie sheet and bake for 12-15 minutes until risen and golden brown.
As soon as the biscuits are removed from the oven brush the tops with melted butter. Set aside.
For the eggs. Melt 1 tablespoon (15ml) of butter in a small 8" (20cm) non-stick skillet on low heat. Whisk up the eggs and add the cream.
As soon as the pan is hot and the butter has melted, add the egg mixture. Allow the eggs to sit until they start to turn opaque around the edges. Gently pull the eggs away from the sides with a rubber spatula creating large curds. As soon as most of the liquid
is gone. Turn the flame off and continue to gently fold until eggs are moist, but not wet. Add the cheese, chives, salt, and pepper, stir once or twice to combine.
Gently pull the biscuit apart with your hands to preserve the flakiness, place the bottoms on the plate. Spoon the eggs on each bottom.
Place the top on, and garnish the biscuit and plate with more chives!
Nutrition Information:
Yield:

8
Serving Size:

1
Amount Per Serving:
Calories:

233
Total Fat:

11g
Saturated Fat:

6g
Trans Fat:

0g
Unsaturated Fat:

4g
Cholesterol:

73mg
Sodium:

136mg
Carbohydrates:

27g
Fiber:

1g
Sugar:

0g
Protein:

6g