Perfectly roasted potatoes can be a bit of an art form.  They need to bee crispy on the outside and light and fluffy on the inside. That's why I love this Foolproof Roasted Potato Recipe.  If you follow these tips you cannot go wrong!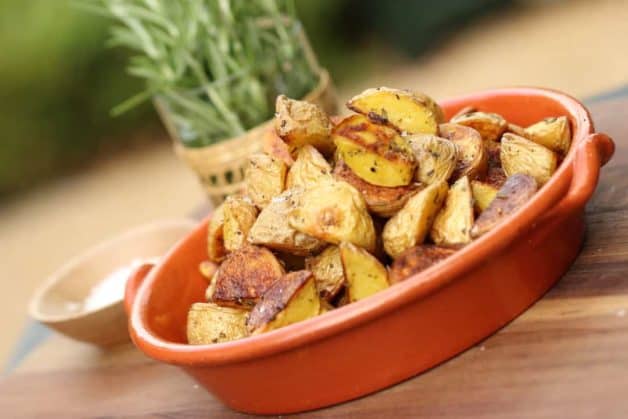 Over the years I've boiled it down to a few key tips and techniques.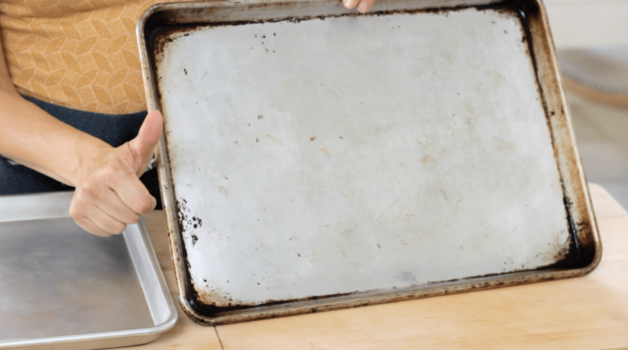 Such as, the pan…it must be "well-loved".  Stay away from those brand new bright and shinny pans. For perfectly roasted potatoes you need the patina of age! These pans have built up a layer of protection and will create a better non-stick surface.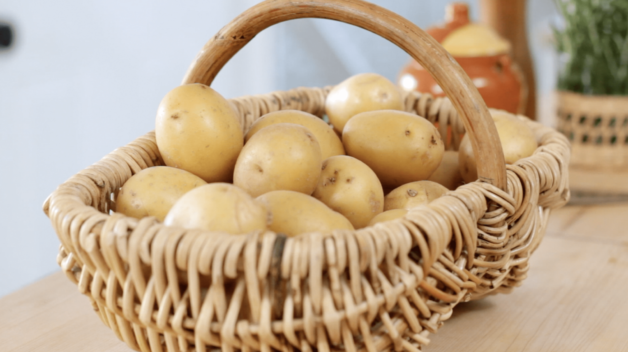 Use Yukon Gold or "Dutch Baby" potatoes.  They are the best for achieving that crisp exterior and warm and fluffy interior.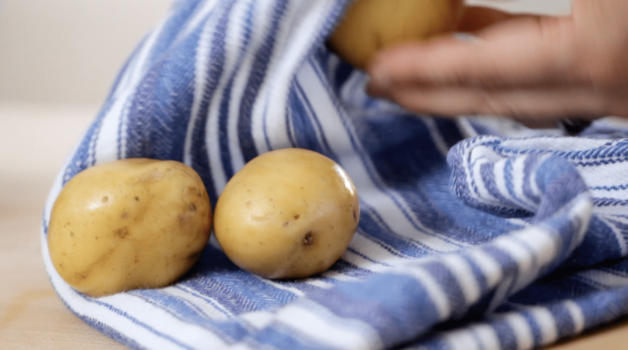 Be sure to pat them dry, otherwise your potatoes will steam up instead of crisp up.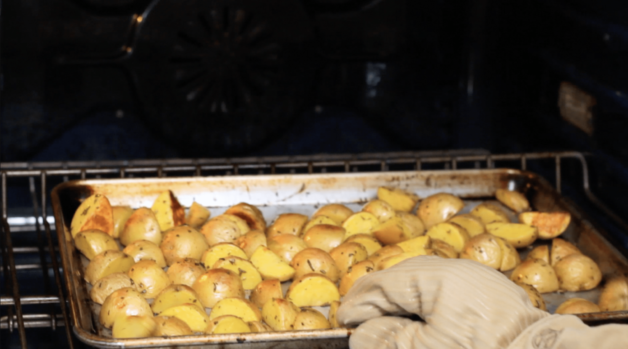 Do not be tempted to flip them with a spatula, this is where the sticking occurs.  Instead gently shake the pan every 10 mins.  Those that are ready to flip, will flip, and those that aren't won't.  This avoids the potatoes tearing and creating a big mess as you try to flip ones that aren't ready.
For more tips and tricks you can watch my video below. SUBSCRIBE TO MY YOUTUBE CHANNEL (it's free!) and never miss a recipe.
This is a great recipe to pair with my Herby Cheesey Egg Bake or Roasted Skillet Chicken!
Print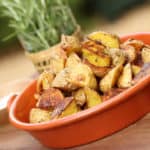 Beth's Foolproof Roasted Potatoes
---
Scale
Ingredients
INGREDIENTS:

1 ½

lbs (680 g) of small Yukon gold or "Dutch Potatoes"

3 tbsp

(45 ml) olive oil

1 tbsp

(15 ml) fresh rosemary, minced
salt and pepper to taste
---
Instructions
METHOD:
Preheat oven to 425F/(218C).
TIP #1
Take out your most well-loved "seasoned" rimmed sheet pan. Newer pans with new metal are very porous, meaning they will grab food and it will stick to it. But an old pan, over the years, has been exposed to several hours of heat and oil and heat and oil, and it develops a kind of "patina" which creates a better non-porous, nonstick surface. So those pans that look a little ragged for the wear, don't get rid of them! They are perfect for roasting potatoes.
TIP#2
Make sure that once your potatoes are rinsed off, you pat them very dry. If a potato is wet when it hits a hot oven, it will steam and not crisp. So be sure they are dry.
TIP#3
Cut them into quarters, this is really the best size for roasting. It will also create equal size pieces which is also important so that they roast at the same time and you don't end up with some burnt and some under cooked.
Then place the potatoes in a large bowl, toss with the oil, rosemary and salt and pepper.
TIP#4
Turn out the potatoes on your sheet pan in a single layer. Do not crowd! You want them to have the room to roast and not steam.
Place in oven and allow to roast for 10 mins, untouched.
TIP#5
DO NOT TOUCH THEM WITH A SPATULA TO FLIP! However tempting this may be! Instead at the 10 minute mark go in and shake the pan back and forth, the ones that are ready to flip, will flip, and those that aren't won't. This prevents the potatoes from sticking, the longer the cook they will unstuck, but if they are sticking to the pan they are not done yet.
Repeat the process of shaking the pan every 10 mins, until the potatoes are golden brown and no longer stick, about 30-40 mins.
Transfer to a serving bowl and top with a little sea salt. Serve with a roast chicken or any roast or grilled meat. Enjoy!
Category:

Side Dish

Cuisine:

American