Gratin Dauphinois is one of my favorite French recipes to make during the holidays. It's the perfect potato side dish that pairs so well with chicken, pork, turkey, beef, or lamb.
You'll love how the tender potatoes mingle with silky cream sauce and gooey gruyere cheese to create a sensational potato side dish that will be the talk of the table. It takes minimal ingredients to put together and can also be made a day ahead!
NOTE: This post includes affiliate links to products I recommend. I am compensated for the sales of these products at no additional cost to the consumer.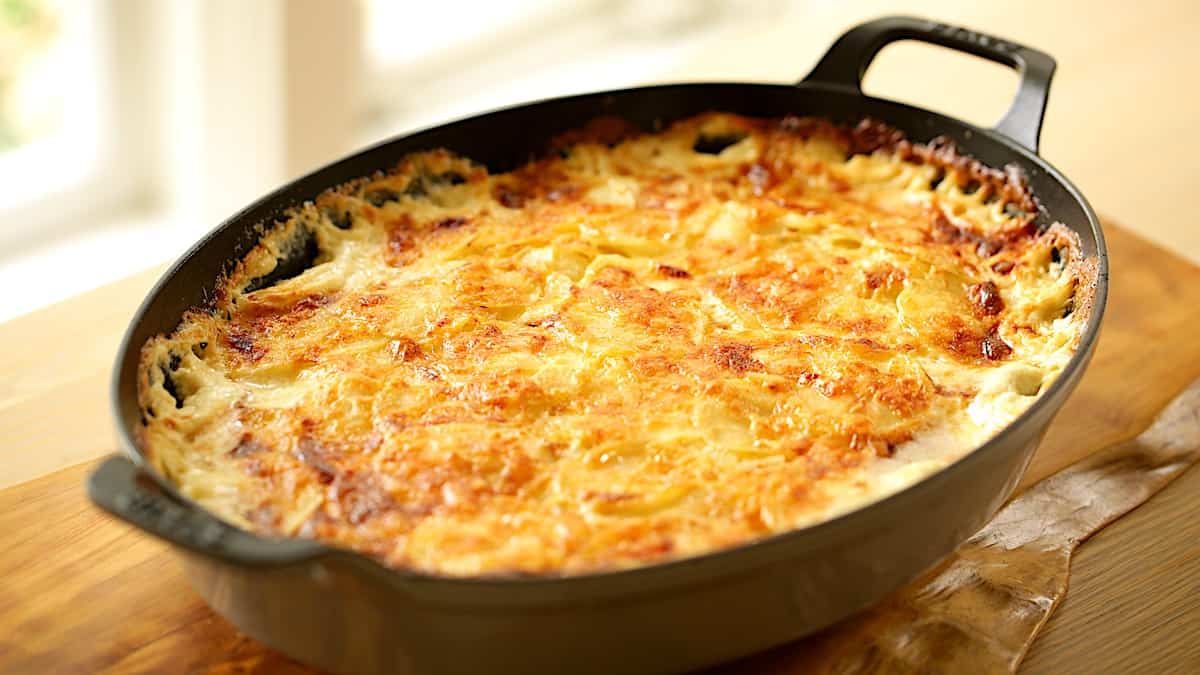 Serve This Recipe With: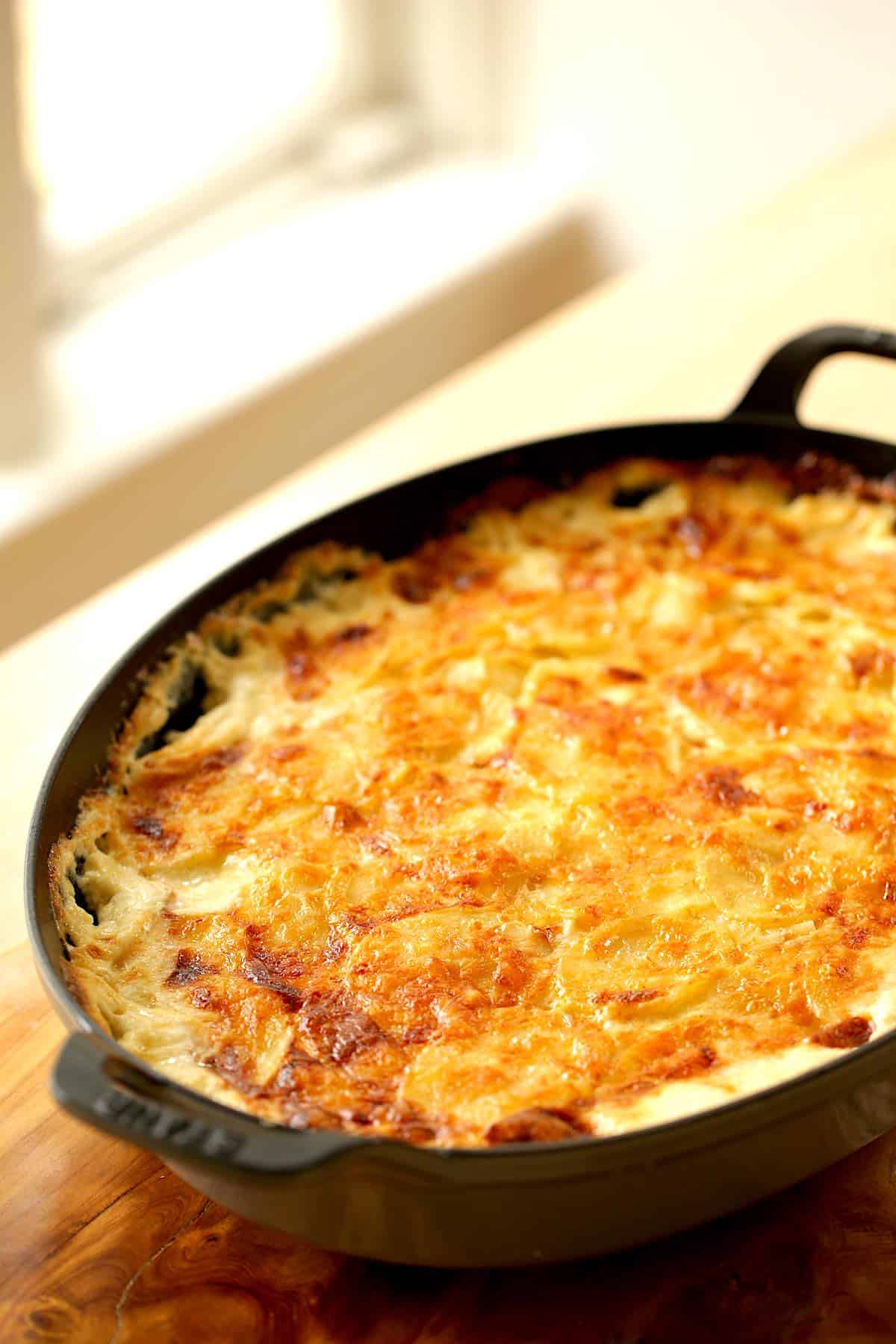 Watch My Video Demo of This Recipe Below!
Subscribe to My YouTube Channel and Never Miss a Recipe
Using a Mandoline
The best way to slice potatoes thinly for this recipe is with a mandoline. I personally really like the OXO Mandoline because it's so sturdy and has some nice safety features too.
You can always use a knife if you don't have a mandoline, but for even baking and layering, a mandoline is a great investment.
Be sure to cut the potato in half before placing it in the safety guard, this will create a flat side for the mandoline blade to slice.
This helps to create a sturdier potato moving across the blade, which is a bit safer than a wobbly potato!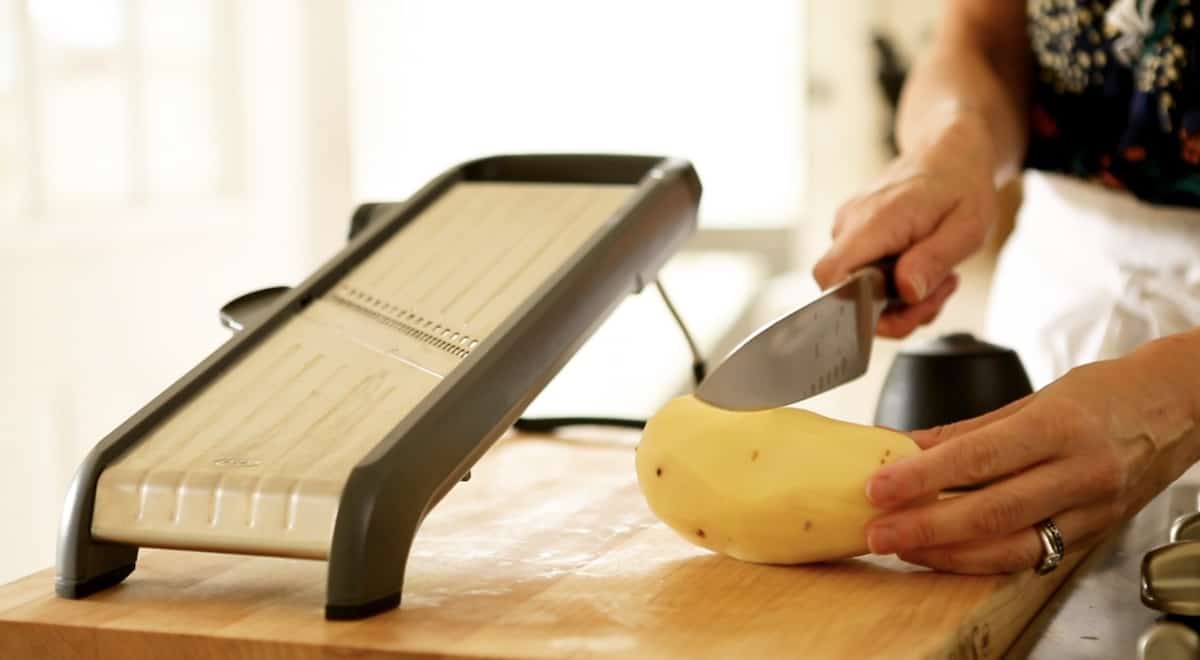 Setting the Mandoline
Place the tip of the potato in the safety guard and then set the thickness. I like to use a setting of 1/16" for this recipe. I find this creates the best thickness.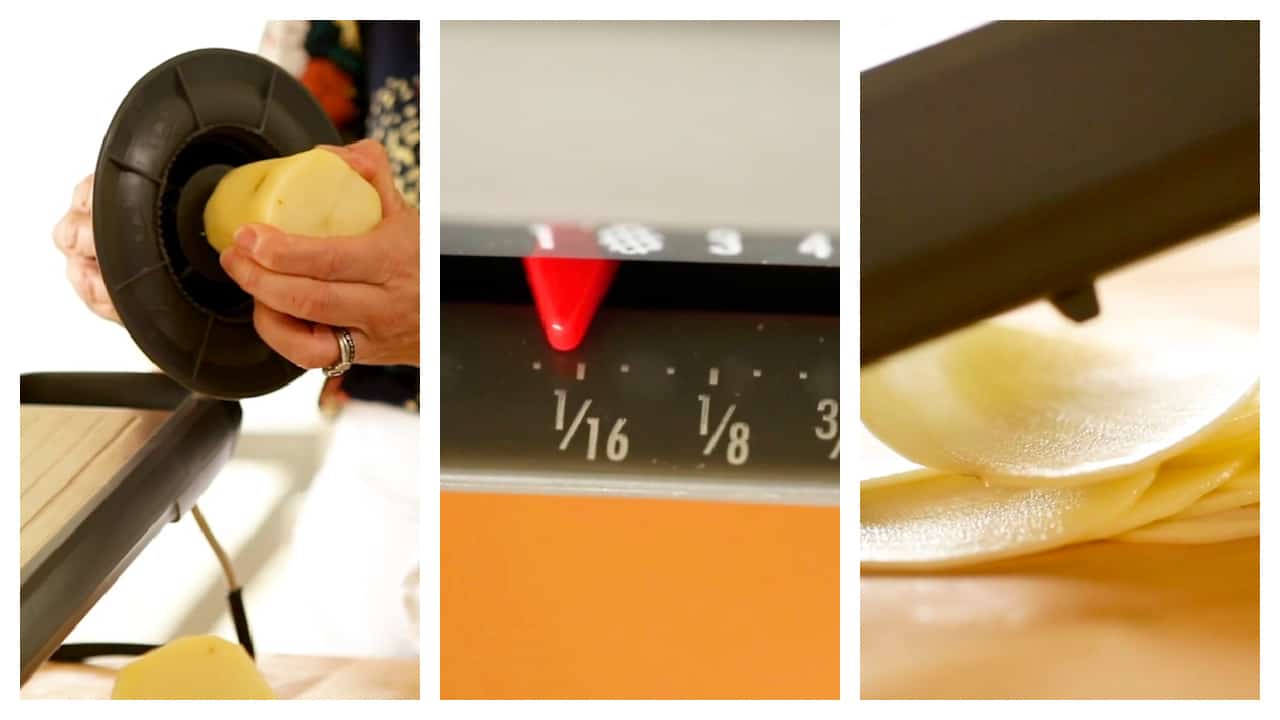 Set Up The Layering Station
Slicing the potatoes is the most tedious part of this recipe, but after they are all cut the rest goes pretty quickly. It's best to have all the components set out "at-the-ready" so that the layering goes quickly too.
The Layering
In a greased 9 x 13 gratin pan, place the first batch of potatoes in a single layer.
Then add a sprinkle of Gruyere cheese and a bit of the garlic
Then add another layer of potatoes, add the cheese, the garlic
Continue along this pattern of layering until all the potatoes, and garlic have been used up.
You should have about ½ cup of cheese left.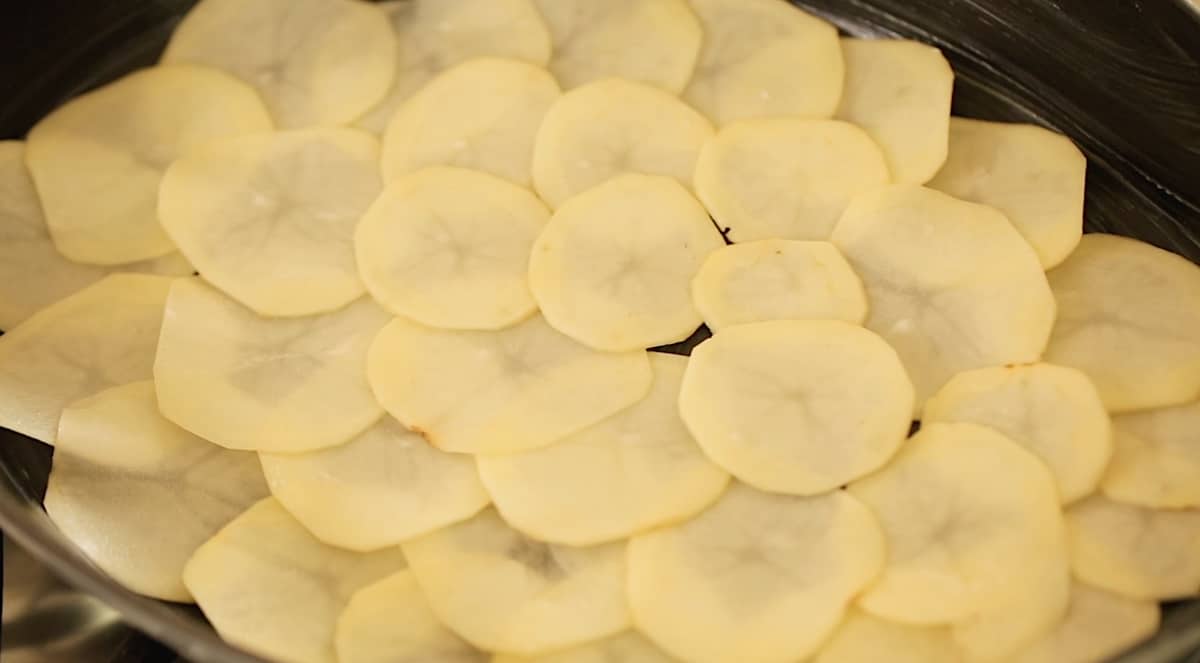 Adding the Milk and Cream Mixture
At first, it will look like a lot of liquid for the number of potatoes
But the potatoes will absorb the milk/cream mixture while in the oven, as it bakes into the potatoes
Pour the mixture all over the potatoes, getting into all the nooks and crannies
Once all the mixture has been poured, level the dish by shaking it gently so that the mixture is evenly distributed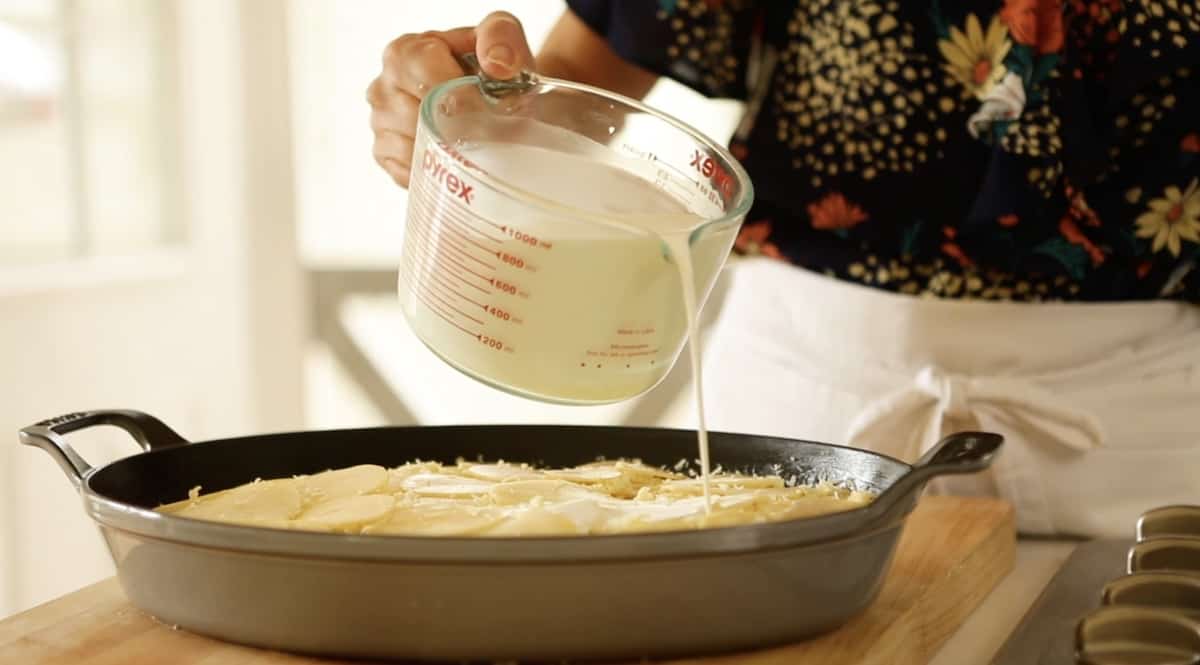 Adding the Remaining Cheese
Add the remaining cheese on top. It will need at least ½ cup of cheese on top, to create that beautiful cheesy finish on top. Feel free to add more if you like up to 1 cup if desired.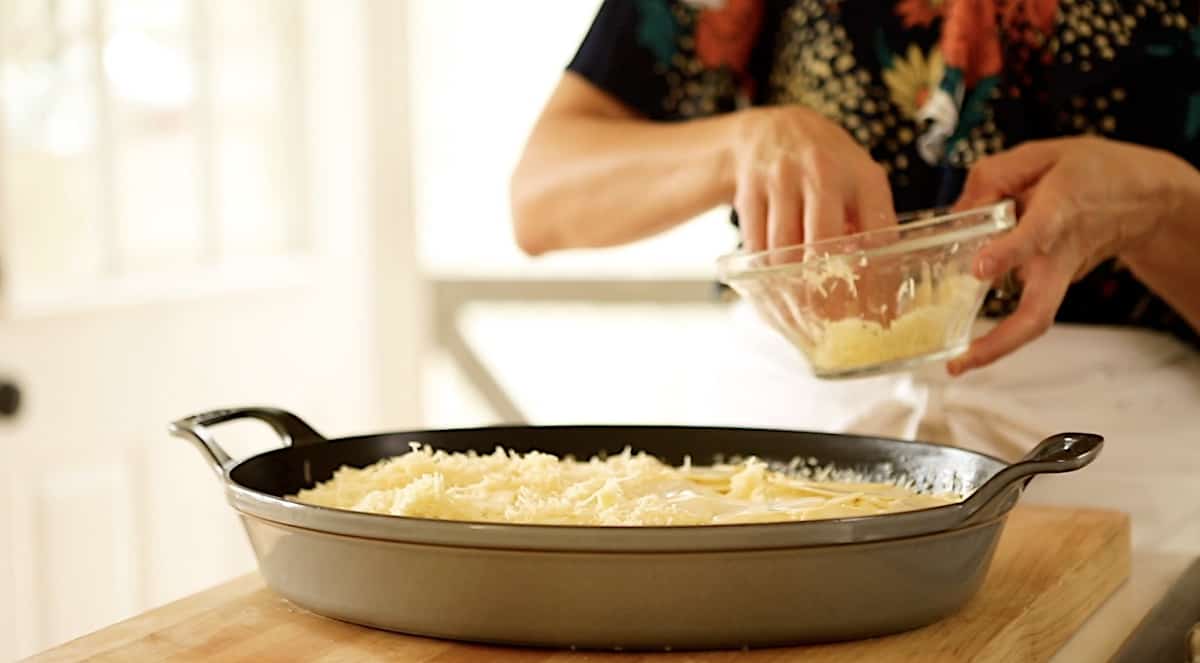 Make-Ahead Tips:
You can bake the gratin the day before and then allow to cool completely before refrigerating.
Cover with foil and then place it in the fridge.
To reheat, bake covered for 30 mins in a 375 oven, remove foil, and bake for another 10-15 mins more.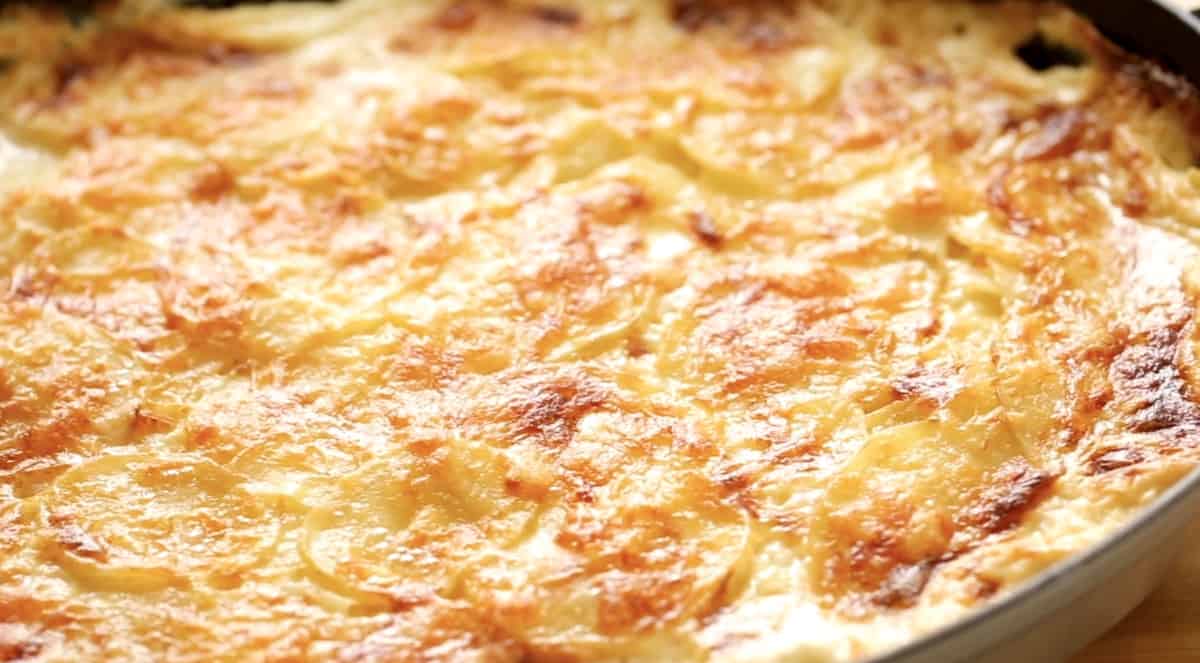 More Thanksgiving Recipes
If You Enjoyed This Recipe
Please Leave a Rating and a Review Below!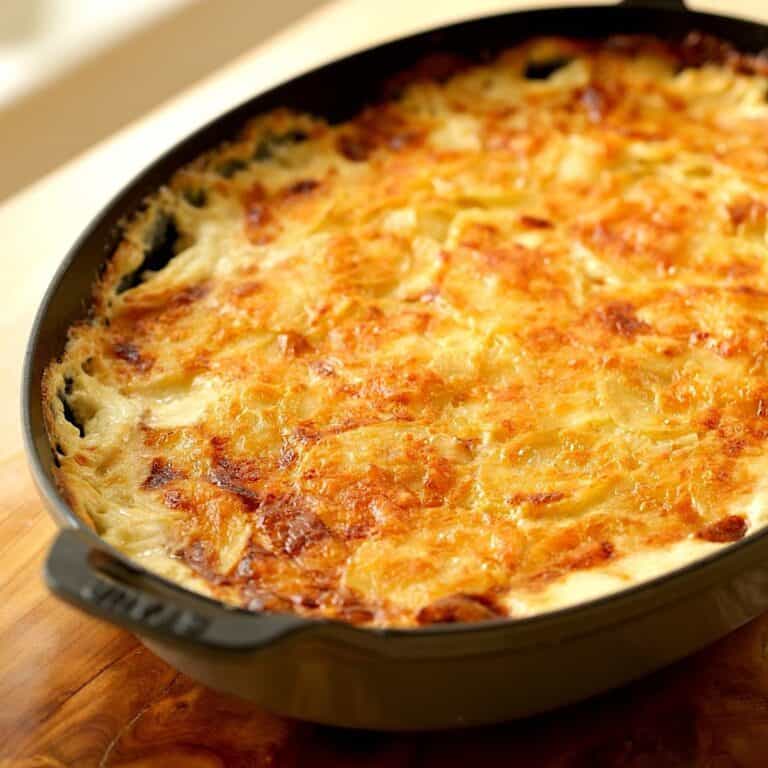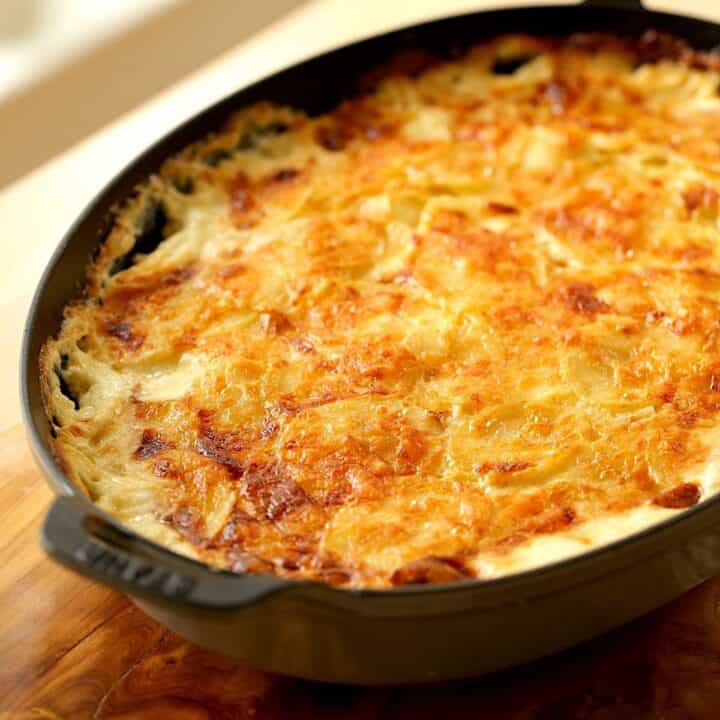 Gratin Dauphinois (Potatoes au Gratin)
Cook Time:
1 hour
30 minutes
Total Time:
2 hours
15 minutes
Gratin Dauphinois or (Potatoes au Gratin) is a classic French potato dish that combines silky bechamel sauce with garlic and gooey Gruyere cheese for a sublime potato side dish any time of the year.
Ingredients
4 large russet potatoes
1 ½ cup (350ml) heavy cream
1 ½ cup (350ml) milk
2 teaspoon (10ml) salt
4 garlic cloves, minced
freshly cracked pepper to taste
1 ¾ cup (420ml) grated Gruyere cheese
Instructions
Preheat 325F (162C).
Combine the milk and heavy cream in a large Pyrex pitcher. Add salt and pepper, stir and set aside.
Grease a 14" (35cm) gratin pan and set it aside.
Mince garlic with a garlic press and place in a small bowl.
Grate Cheese and place in a small bowl.
Peel potatoes and slice 1/16 of an inch thick. Either with a Mandolin or with a knife.
Place one single layer of potatoes in the gratin pan, add ¼ cup of the cheese and sprinkle ⅛ teaspoon of the garlic, repeat this process, layering potatoes, cheese and garlic until all 4 potatoes have been used.
Slowly pour the cream and milk mixture on top of the layered potatoes making sure it is well distributed in all the nooks and crannies.
Top potatoes with the remaining ½ cup of cheese. Bake uncovered for 1 hour 30 mins until a knife slides easily into potatoes and they are soft and tender. If the cheese starts to brown too quickly cover with foil for the remaining duration of cooking time.



Notes
To Make Ahead:
Bake according to instructions.
Allow to cool completely before refrigerating. Then cover with foil and place it in the fridge. To reheat, bake covered for 30 mins in a 375 oven, remove foil, and bake for another 10-15 mins more.

Nutrition Information:
Yield:

8
Serving Size:

1
Amount Per Serving:
Calories:

265
Total Fat:

10g
Saturated Fat:

6g
Trans Fat:

0g
Unsaturated Fat:

3g
Cholesterol:

32mg
Sodium:

191mg
Carbohydrates:

33g
Fiber:

4g
Sugar:

2g
Protein:

11g