Summertime in France calls for a beautiful French recipe known as a Provencal Tian. Packed with vegetables of the season, simmered in a bed of tomato sauce, a vegetable Tian makes a great side dish for Grilled Chicken, Roast Chicken, Beef Tenderloin, or Lamp Chops. It's also great the next day served cold!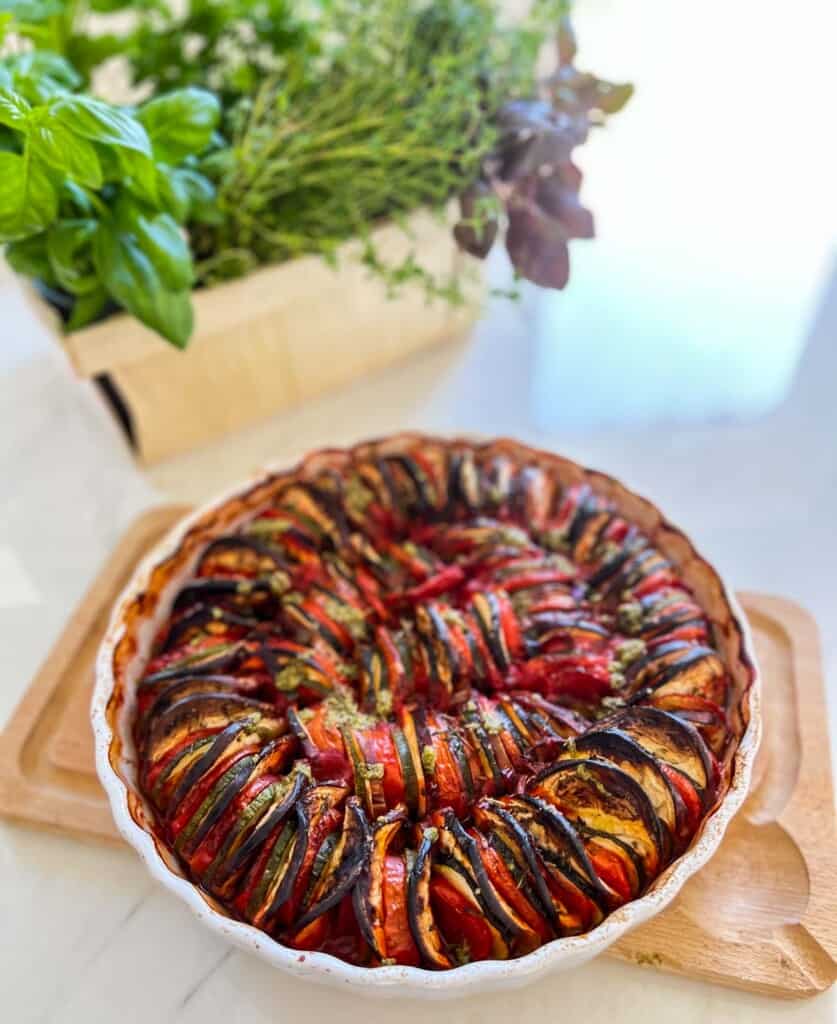 What's The Difference Between Ratatouille and a Tian?
A Tian, like its cousin the ratatouille, originates in the region of Provence, in Southern France. They both call for tomatoes, zucchini, eggplant and sometimes yellow neck squash. But the difference between the two lies in the cooking method.
Traditionally ratatouille is simmered on the cooktop, whereas a tian is roasted in the oven. I love them both, but I can not help being seduced by the beauty of a tian! They sliced vegetables, in a dizzying pattern creates a real "WOW" factor with guests making it ideal for entertaining!
Watch My Video Demo Below!
How To Slice The Vegetables Perfectly
The best way to get this type of precision is with a Mandoline, and personally, I've tried a lot of models of this intimidating kitchen gadget and I must say the easiest, safest model I've tried is hands down the OXO Model of Mandoline. Worth the extra money for the features it provides!
This recipe would pair well with my Mixed Grill Dinner Party or my Steak Frites or my Roasted Lamb Chops.
Ingredients
A Tian uses basic ingredients you may already have growing in your garden this time of year. I'm a big fan of these flavors and this dish underscores the old adage "What Grows Together, Goes together!"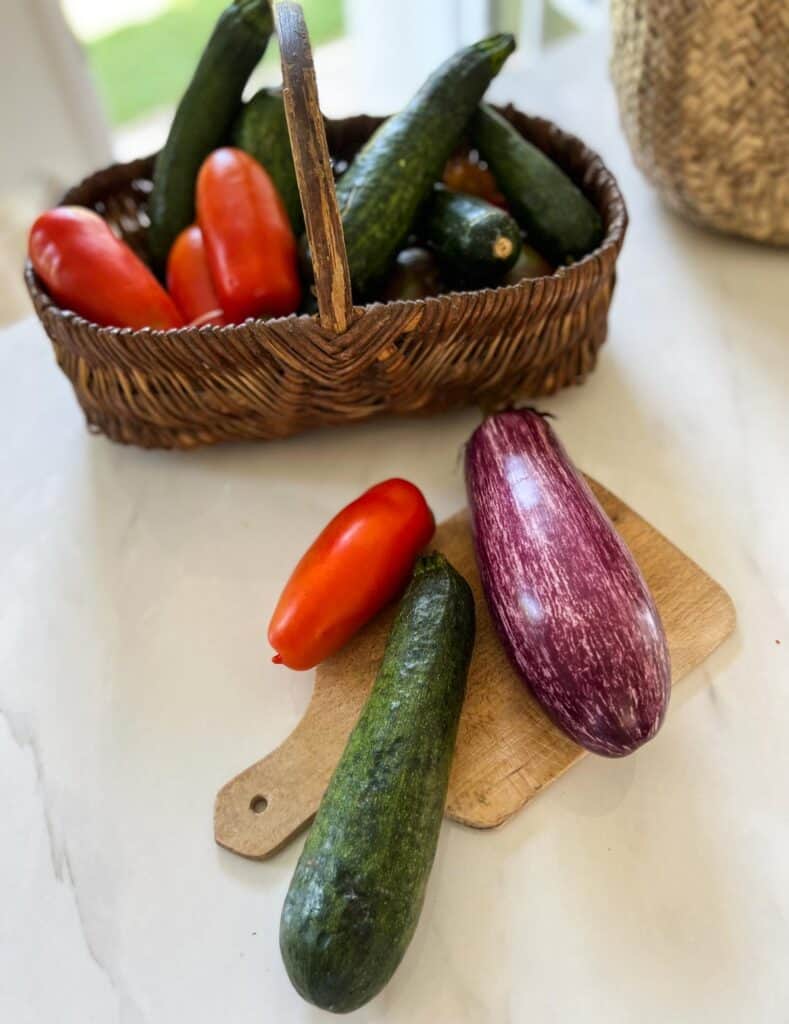 Zucchini you'll need 3-4 zucchini, depending upon size. If you have an abundance of zucchini growing in the garden, try my Spiced Zucchini Bread Recipe. It's So delicious and easy and freezes well too! Or another great one is my Zucchini Gratin Recipe.
Eggplant you'll need 3-4 slender eggplant for this recipe, something as close in width to the zucchini. In France I can get the Graffiti Eggplant which work perfectly, but here in the States you could use Japanese Eggplant instead if you can find the Graffiti Eggplant.
Tomatoes look for slender tomatoes, about 4-6 depending upon size. I use Torino tomatoes in these photographs but you could also use Roma tomatoes too.
Tomato Puree I like to use this as a base to the Tian so it doesn't dry out. It adds a wonderful flavor to this dish, as it simmers into the vegetables as it roasts.
Shallots if you don't have shallots you could also use white onion instead
Herbs de Provence you can find Herbs de Provence in your spice aisle of your grocery store, or I also like to buy Herbs de Provence pots online as well. They look so pretty on the countertop.
Garlic Cloves I love garlic so I had 3 cloves but you could pair that back to 2 cloves if you prefer.
Salt and Pepper just to taste. But it's better if its freshly cracked pepper.
Olive Oil cooking Olive oil, save the extra virgin for the salads
Fresh Thyme Sprigs if you can't get fresh Thyme you can swap for fresh parsley instead.
Pesto Sauce you can make your own pesto sauce or use store-bought. Just thin it a but with olive oil to get it to "drizzle" it on top of the Tian once it's done.
Fresh Basil or Parmesan Cheese If you aren't a fan of Pesto Sauce you can also top with fresh basil and freshly grated Parmesan cheese.
Instructions
Line a 10" white quiche dish or any round baking dish, with the tomato puree, add the shallots, garlic, and a sprinkle of seasonings, and then start to add the vegetables in whatever repeatable pattern you like.
I do zucchini, eggplant, tomato, garlic, and repeat.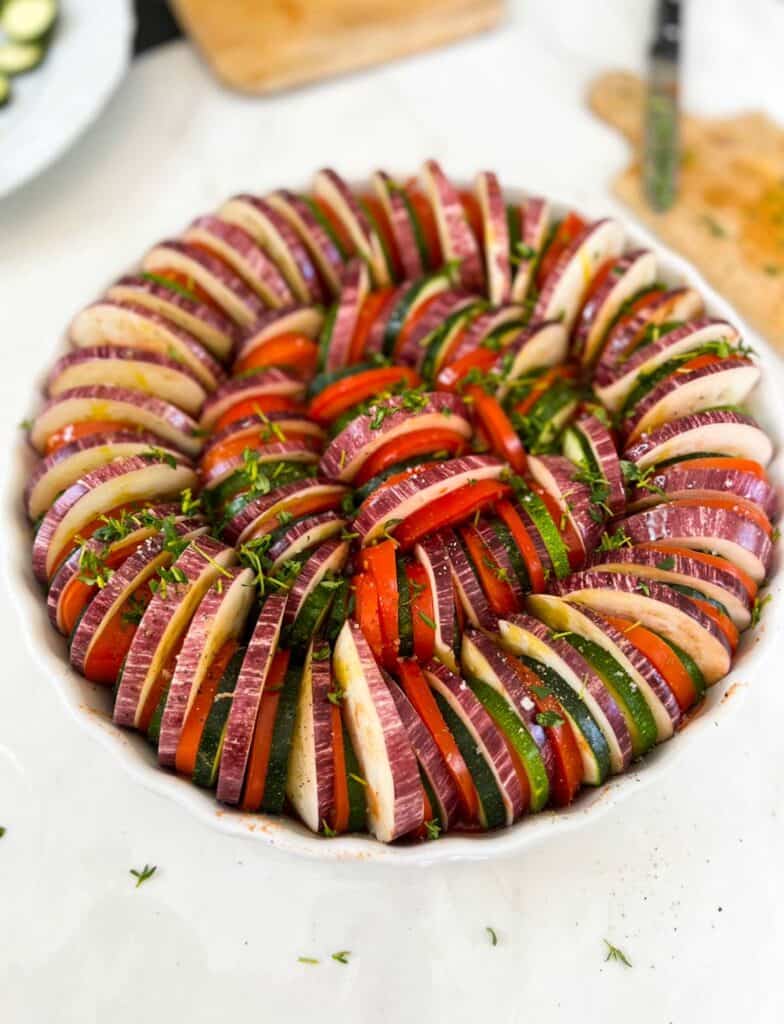 Hint: Pinch the first few vegetables together with your thumb and pointer finger to get them to stabilize, then after 2 or three more pattern repeats they will stand on their own. Then top with olive oil, salt and pepper and olive oil drizzle, and bake!
Substitutions
If you can't get certain vegetables here a few substitutions
Zucchini - instead of zucchini, you can use yellow squash
Graffiti Eggplant - you can swap for Japanese eggplant
Slender Tomatoes - if you can't find these just use the small;er tomatoes on the vine, they will create disks around the same size as the zucchini and eggplant.
Variations
You could also use this same idea for these variations as well.
Potato Tian - skip the veggies and the tomato puree and use red potatoes and Dutch Baby Potatoes, slice them thinly and add olive oil, thyme, and rosemary, and plenty of salt and pepper. Bake at 400F for at least 1 hour 15 minutes.
Make it a Meal -Create a lovely vegetarian meal with this by adding crumbled goat cheese on top. Another version of this is my Gardener's Pie Recipe which is essentially ratatouille toped with Mashed Potato.
Storage
To make a Tian ahead of time, it's best to assemble and bake it the day before. Then reheat it in a 300F oven, covered for 25 minutes, or until heated through, and then 10-15 minutes uncovered at 375F just to crisp up the top a bit. But this dish is also quite nice served chilled as well.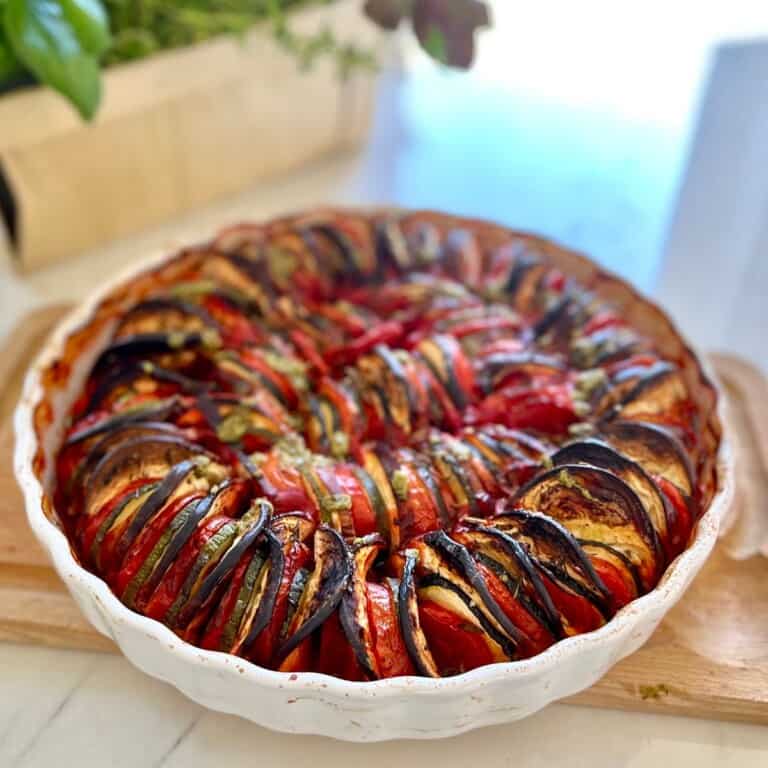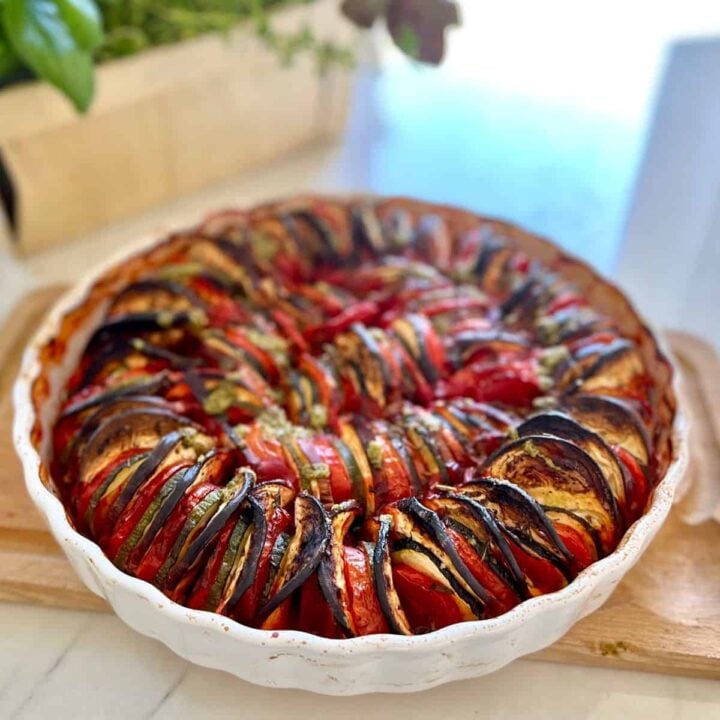 Provencal Tian Recipe
Cook Time:
1 hour
15 minutes
Total Time:
1 hour
55 minutes
A delicious Provencal Tian is a fantastic summer side dish for entertaining. Delicious with roast chicken or grilled meats!
Ingredients
4 Zucchini
4 slender eggplant (Grafitti Eggplant, Japanese eggplant etc)
4-5 Slender Tomatoes (Torino, Roma etc)
3 cloves garlic
salt and pepper to taste
1 teaspoon (5 ml) Herbs de Provence
1 cup (400g) of Tomato Puree
2 tablespoon (30 ml) shallots, diced
2 tablespoon (30 ml) Olive Oil
1 tablespoon (15 ml) Fresh Thyme, Chopped
1 tablespoon (15 ml) pesto sauce, thinned a bit with olive oil, to create a drizzle effect
Instructions
Preheat the oven to 400F (200C).

Slice zucchini, eggplant, and tomatoes ¼ of an inch thick either with a knife or a mandoline. Place each vegetable on its own plate to keep them separated. This will help when it comes time to assemble the Tian into an escargot pattern. Slice the garlic and set that aside. And dice the shallots and set them aside.

In a 10" shallow, oven-safe, dish (a white fluted Quiche dish works great, see Amazon link above for a recommendation) add the tomato puree, shallots, salt and pepper, and herbs de Provence.

Arrange the vegetables in the base of tomato puree, upright, assembling them into a repeatable pattern. One slice of zucchini, one slice of eggplant, 1 slice of tomato, 1 slice of garlic. You'll only have enough garlic for ¾ of the way around, which is OK, no need to have it throughout.

Repeat the pattern, making sure the vegetables are fitted snugly, then do the center (watch the video to see how). Top with a drizzle of olive oil and then add the fresh thyme.

Bake for 1 hour and 15 minutes. Serve immediately with roast chicken or grilled meats, (or at room temperature) also great served cold the next day!
Nutrition Information:
Yield:

6
Serving Size:

1
Amount Per Serving:
Calories:

261
Total Fat:

9g
Saturated Fat:

1g
Trans Fat:

0g
Unsaturated Fat:

7g
Cholesterol:

0mg
Sodium:

170mg
Carbohydrates:

46g
Fiber:

13g
Sugar:

20g
Protein:

7g