This Pesto Pasta Recipe is one of my favorite pasta recipes because it comes together quickly and easily! If you've never made homemade pesto sauce before you are in for a treat!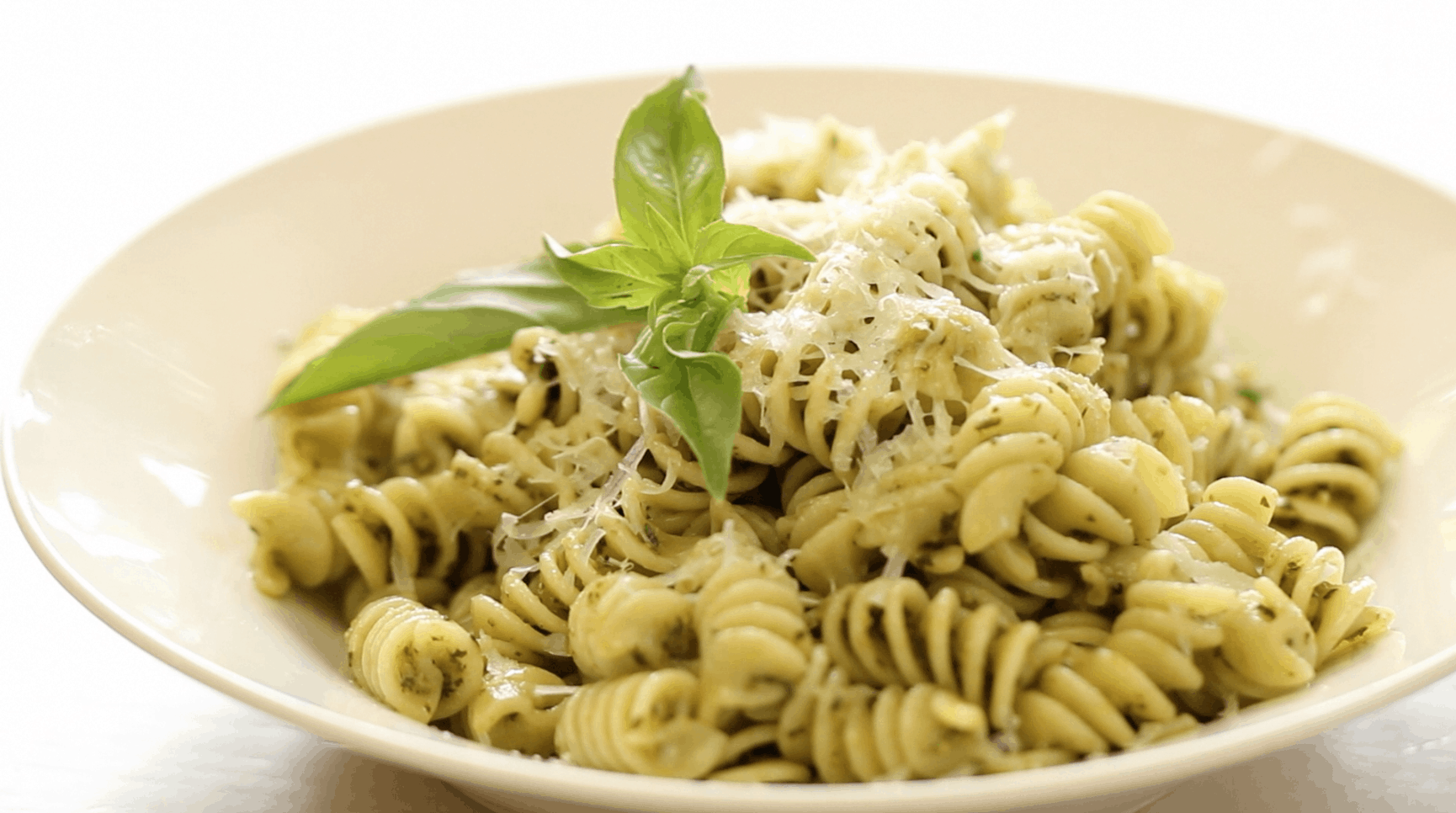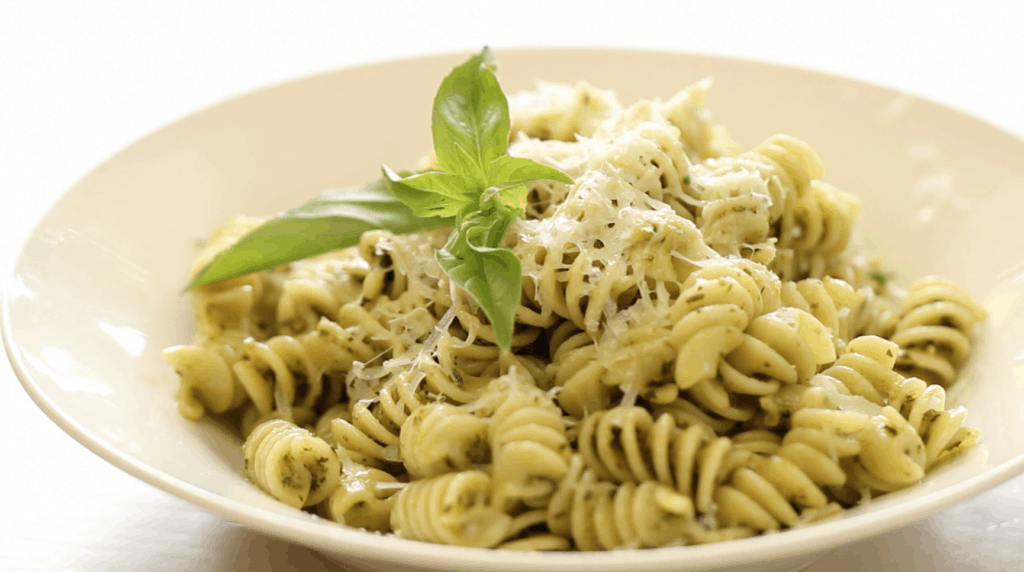 WATCH MY PESTO SAUCE RECIPE DEMO BELOW!
Subscribe to my YouTube Channel and never miss a recipe! (It's free!) and new videos post each week!
This video also includes my recipes for easy Fresh Tomato Sauce and Fettuccine Alfredo, two other pasta sauces worth the effort to make them from scratch! You might also enjoy my easy Orecchiette Pasta with Sausage and Baby Broccoli for a quick and easy weeknight meal.
How do you make pesto sauce from scratch?
STEP#1: Place Ingredients in Food Processor
You'll place fresh basil, garlic, pinenuts and salt and pepper in a food processor.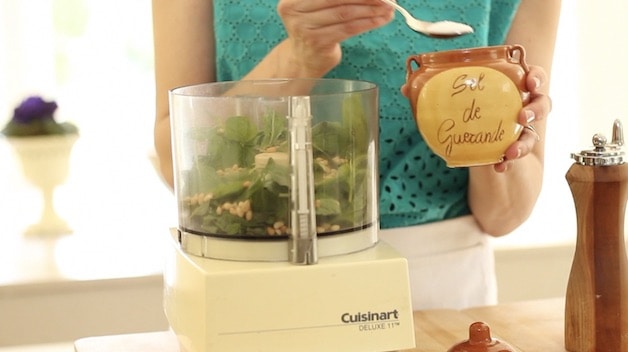 At this stage be sure to process the mixture until a fine mince is created in the food processor.

Before adding the oil to your pesto scrape down the bowl so that all the basil is settled at the bottom.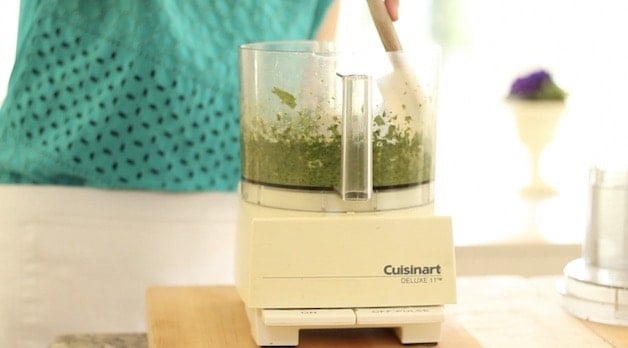 Then add the olive oil in a slow steady stream while the machine is running. This will create an emulsified sauce.

STEP#2: Add the Parmesan Cheese
It's best to transfer the pesto sauce to a large bowl and stir in the freshly grated parmesan cheese.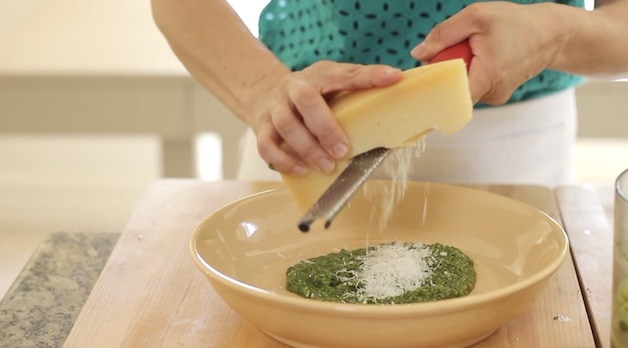 How do you make creamy pesto sauce?
For a creamy pesto sauce add 1-2 tablespoons of heavy cream to the pesto sauce after adding the cheese.
If you have leftover pesto sauce or if you make a double batch you can also use it for my 15-Minute Gnocchi with Pesto Sauce, or my Cheesy Pesto Chicken Bake Recipe, or my Tarte Au Soleil with Pesto Sauce
STEP#3: Toss the Pasta with the Pesto Sauce
Add the pesto sauce to the pot of drained pasta and stir to coat the pasta completely with the pesto. I really love to pair fusilli pasta with pesto because it rests inside the nooks and crannies of the pasta and provides a lot of pesto flavor in every bite.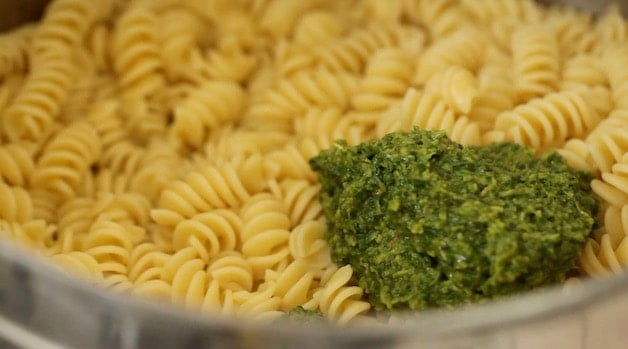 I find it's easier to toss the pasta in the pot you cooked it in, once you've drained it of its water, that way you can make sure it's really well coated.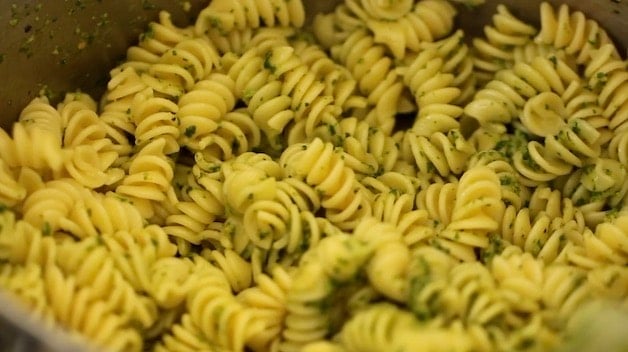 Serve your pesto pasta in some shallow serving bowls, and top with grated cheese.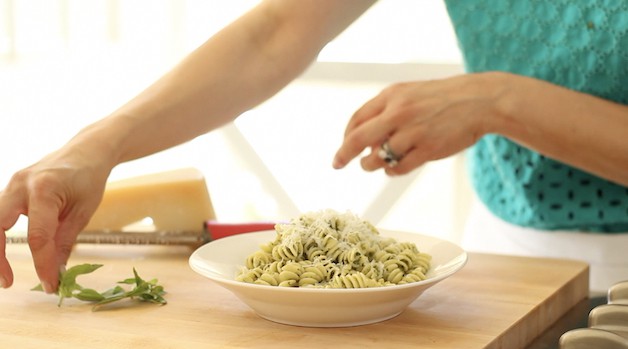 Then garnish with a fresh sprig of basil on top.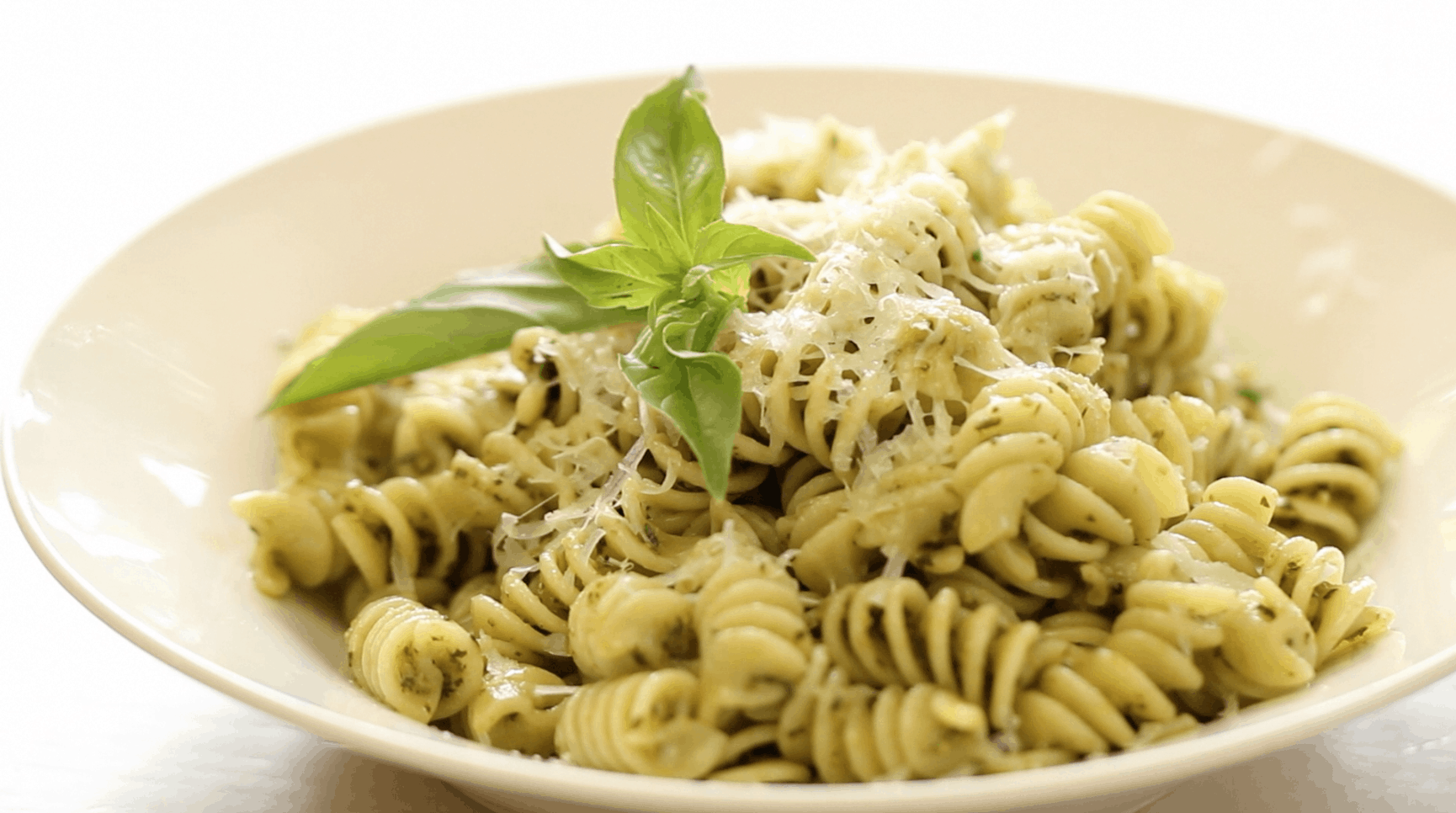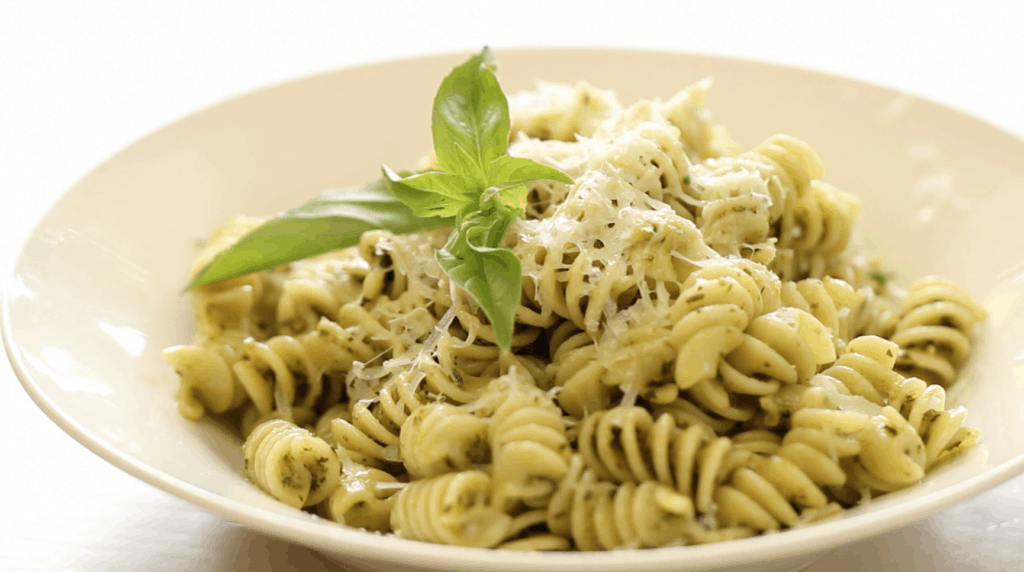 If You Enjoyed this Pesto Pasta Recipe
Please Leve a Rating and a Review Below.
This helps Others Find and enjoy the recipe too!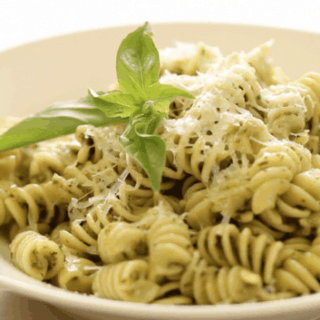 Pasta Pesto Recipe
Pesto is a classic pasta sauce. You can easily make it with the basil you have in your garden and enjoy a classic Italian meal.
Ingredients
For the Pesto:
2 cups (475 ml) of fresh basil
1 clove garlic
3 tablespoon (45 ml) pine nuts
½ teaspoon (2.5 ml) salt
¼ teaspoon (1.25 ml) freshly cracked pepper
½ cup (120 ml) of olive oil
¼ cup (22 g) Parmesan cheese
Instructions
Boil water and cook pasta according to the package instructions.
Meanwhile, in a food processor, pulse together the basil, garlic and pine nuts into a fine mince. While the machine is running, slowly add the oil in a steady stream until combined. Turn off the machine, and remove the blade. Stir in the cheese.
Drain the pasta and place it back into the pot without the water in it. The heat from the pot will keep the pasta warm. Toss the warm pasta with the pesto, and serve!
This is also great as a cold salad too!
Nutrition Information:
Yield:

4
Serving Size:

1
Amount Per Serving:
Calories:

291
Total Fat:

15g
Saturated Fat:

3g
Trans Fat:

0g
Unsaturated Fat:

11g
Cholesterol:

2mg
Sodium:

71mg
Carbohydrates:

32g
Fiber:

3g
Sugar:

1g
Protein:

10g