This 15-Minute Gnocchi Pesto dinner is one of my favorite quick and easy pasta recipes! Perhaps it's my Italian background, but anything with tomato and pesto in it, I'm there!
Toss with some fresh veggies, basil, and gnocchi and you'll have one fantastic dinner, in less than 15-minutes! Seriously! Don't believe me? Watch my video demo below and you'll see how quick it is!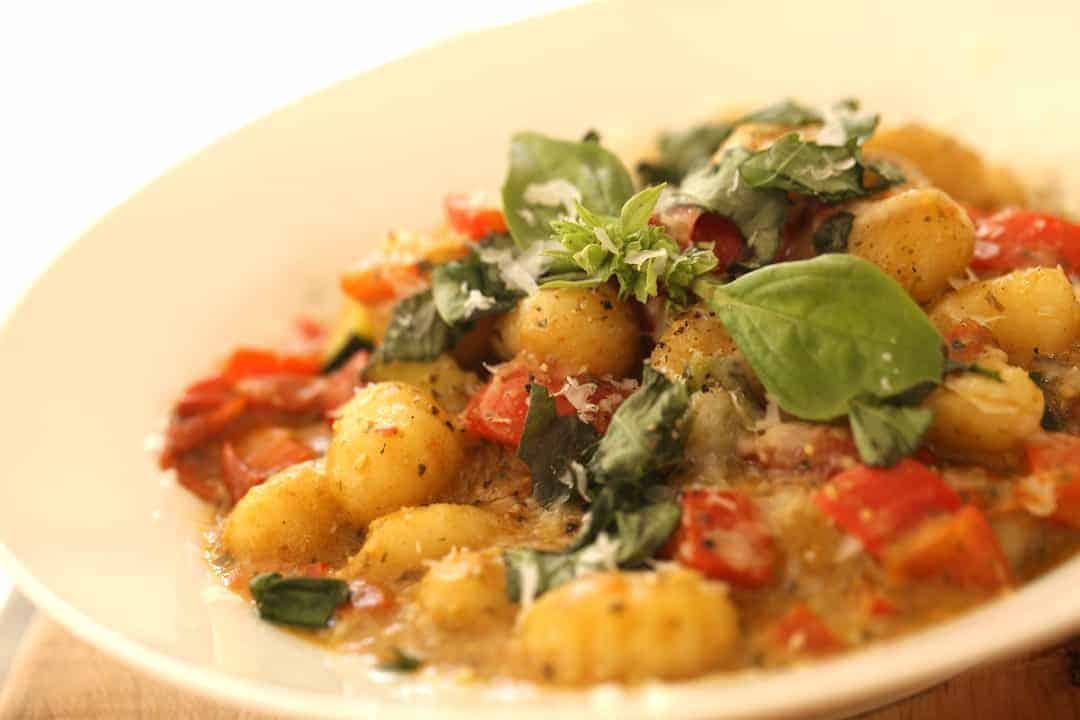 How-To Make a 15-Minute Gnocchi Dinner
Step#1: Slice off the four sides of the pepper
I find cutting the sides off first, saves more of the pepper, than slicing off the top and bottom first.
The most time-consuming part of this recipe is cutting the vegetables, but after that is done it's all downhill from there.
Here's my favorite way to cut a bell pepper in 3 easy steps.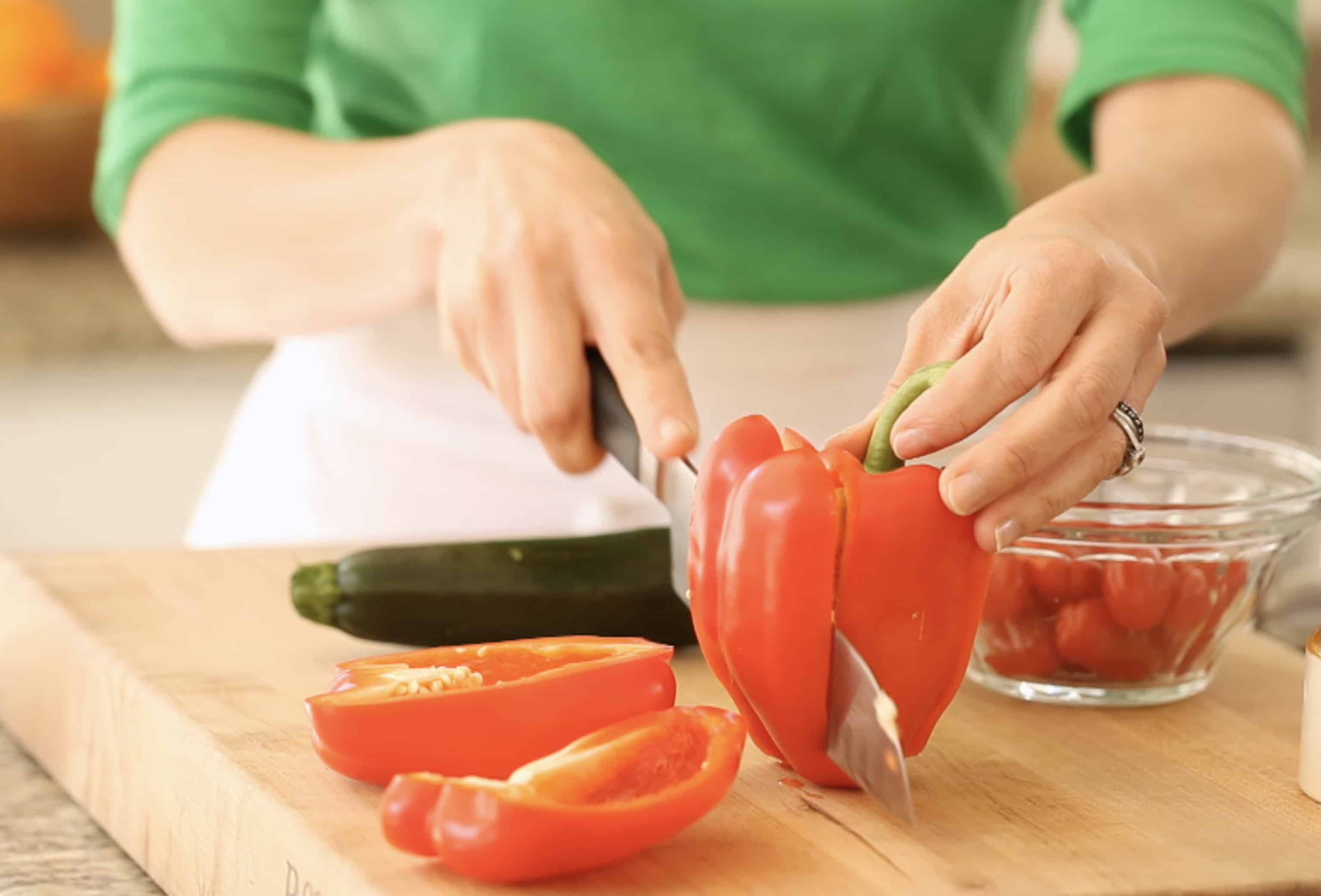 Step#2: Cut off the bottom and the top of the pepper
This will leave you with the stem and the core to discard. Clean out the seeds and you are ready to dice the pepper.
Step#3: Slice and Dice the Vegetables
Always turn your vegetables around to place them flat side down to cut.
It's the safest way to cut a vegetable and will prevent cutting yourself due to sliding vegetables.
It's also easier that way too since you can be more precise! When you want a dinner to cook up quickly, the smaller the vegetables are, the quicker they will cook!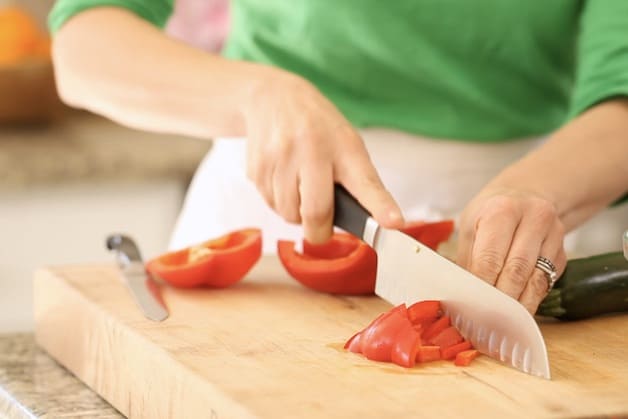 Swapping Out the Gnocchi
I love the store-bought gnocchi because it cooks up so quickly! It also has a really comforting texture too!
But you really can use any pasta you like with this recipe, penne and spaghetti are also good choices if you'd like to serve this dish chilled, as a summer salad.
It would be similar to my Cold Tortellini Salad which is a wonderful picnic salad or side dish to Ribs or Burgers.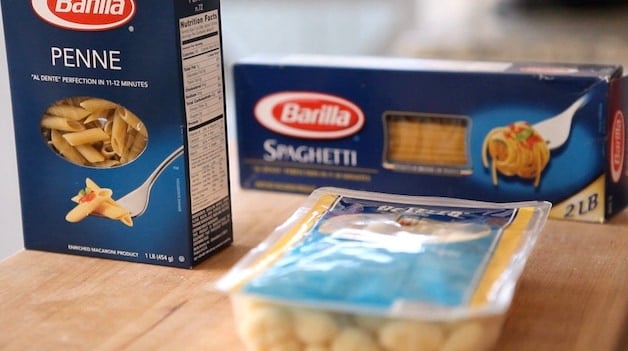 Step#4: Saute the Veggies and The Sauce
Saute the vegetables in a large skillet, once they are tender ad the pesto sauce and if you want it extra cream you can add a dash of heavy cream. That's really good too!
I'm a big fan of homemade pesto sauce, but I also get that it may not always be possible to make your own, especially when basil is out of season.
So when I reach for the store-bought pesto, I go for the jarred variety. It will last longer that way, and it is great to tuck it away in your fridge and go to it when you just need a dollop or two!
Some of my favorite pesto recipes that use just a dollop are my Mini Quiches, my Tarte au Soleil, or my Cheesy Pesto Chicken Bake.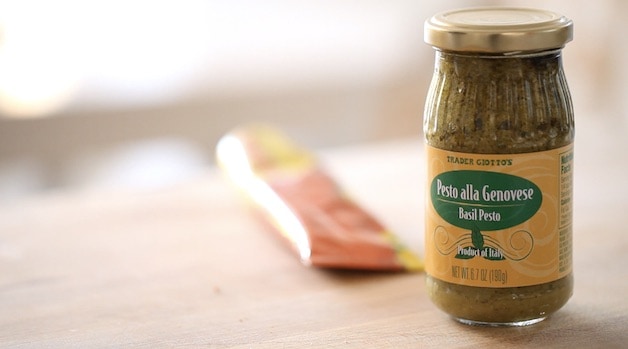 If you enjoyed this 15-minute gnocchi pesto recipe
please let me know by leaving a rating and review below!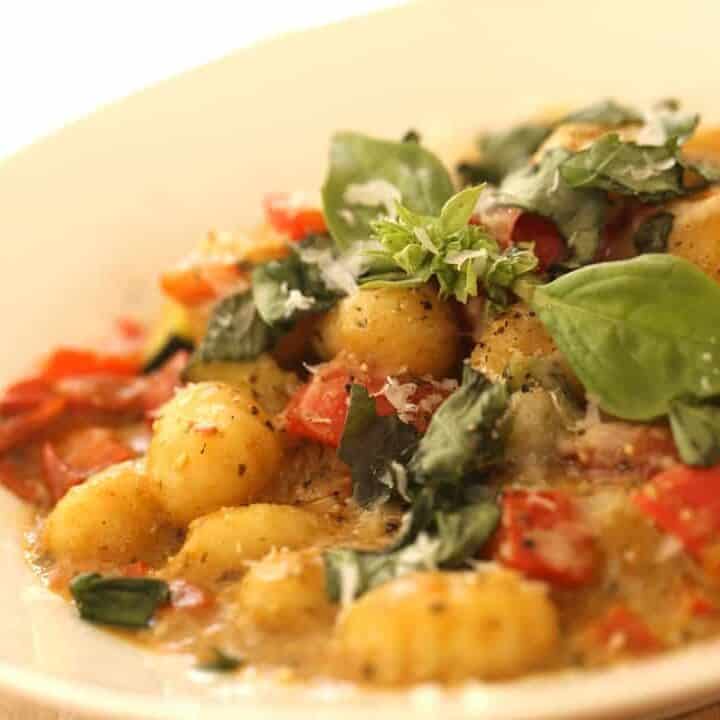 15-Minute Gnocchi Pesto
Perhaps it's my Italian background, but anything with tomato and pesto in it, I'm there!  Toss with some fresh veggies, basil and gnocchi and you'll have one fantastic dinner, in LESS THAN 15-MINUTES! Seriously!
Ingredients
1 lb (450 g) package of gnocchi
1 tablespoon (15 ml) olive oil
1 red pepper, diced
1 zucchini, diced
½ cup (75 g) of red cherry tomatoes, sliced in half
1 clove of garlic, minced
¼ cup (60 ml) of pesto
salt and pepper to taste
¼ cup (22 g) freshly grated Parmesan cheese
2 tablespoon (30 g) fresh basil, roughly chopped
Instructions
Set a pot of hot, salted water to boil, cover with a lid to help boil faster! Meanwhile prep the "Italian Vegetables" vegetables.
Sautee in batches starting with the pepper first for 2 mins, then the zucchini for 2 mins and then the tomatoes.
Once vegetables soften, add the garlic cook for 1 min, then add the pesto, combine with the veggies and season with salt and pepper to taste. Keep warm over low flame.
At this point if sauce appears too thick, go ahead and add some pasta from the boiling gnoochi to thin it out.
Then drain the gnocchi, add it to the veggies stirring to coat. Portion out into bowls, top with the parmesan cheese, and freshly chopped basil. Et voila dinner is ready in under 15 mins!
Notes
You can also make this recipe with penne pasta, spaghetti, or fusilli pasta. It also makes for a wonderful chilled salad too in the summertime!
Nutrition Information:
Yield:

4
Serving Size:

1
Amount Per Serving:
Calories:

142
Total Fat:

6g
Saturated Fat:

1g
Trans Fat:

0g
Unsaturated Fat:

5g
Cholesterol:

11mg
Sodium:

109mg
Carbohydrates:

18g
Fiber:

2g
Sugar:

3g
Protein:

4g