It is the height of picnic season and this cold Italian Tortellini Salad Recipe is one of my favorites! It incorporates all of my favorite summertime flavors from pesto to tomatoes, fresh mozzarella, fresh basil, and a few salty olives.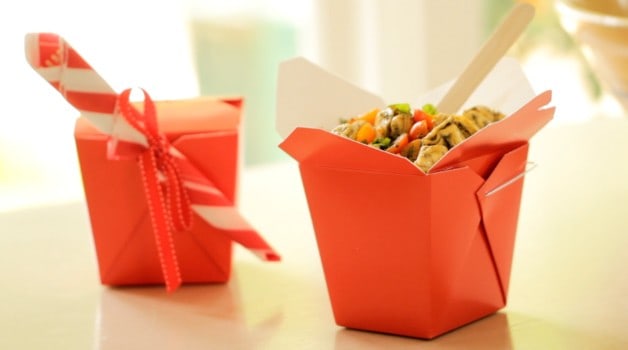 Why You'll Love This Recipe:
You can cook the tortellini the day before and then toss the salad together moments before packing up and heading to the beach or picnic. This way the flavors will stay fresh, especially the chopped basil.
The great thing about this recipe is you can substitute, leave out, or add just about any ingredient you like.
This salad works as a side dish, but also it's filling enough to serve as a main course too.
This recipe is so versatile and can be made to suit anyone's tastes!
Watch My Video Demo Below
Step #1: Cook the Pasta
Add one pound of fresh tortellini to a well-salted pot of boiling water.
I like to use fresh tortellini, which you can find in the refrigerated section of the grocery store.
I use a three-cheese tortellini but you can use any kind you prefer. Spinach or mushroom would also be a great choice for this recipe, too!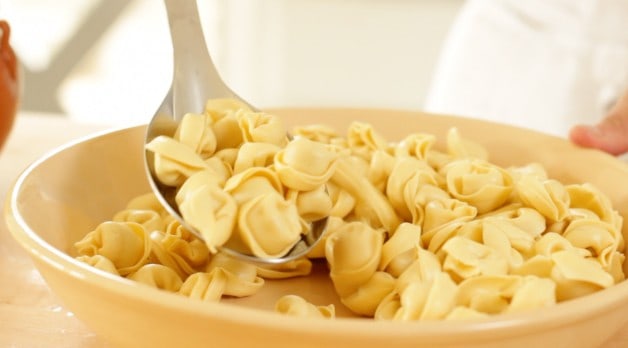 How To Know When the Tortellini is Done
You'll know when the tortellini is done when they begin to puff up and rise to the top of the water.
When they are ready, strain them through a colander and pour the tortellini into a large bowl.
Make sure your bowl is large enough to accommodate the rest of the ingredient list too!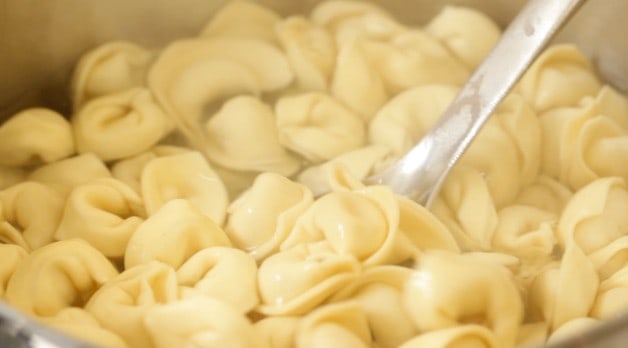 Can you cook the pasta ahead of time?
Yes! Cooking the pasta ahead of time will save one extra step on the day you plan to serve it.
It also assures that the pasta will be chilled when you toss it with the pesto which will prevent the pesto from seeping into the pasta too much.
Step #2: Make the Salad
To the large bowl of tortellini, add the whole jar of pesto.
I love a good homemade pesto as much as the next person, but a really good store-bought pesto is just fine for this recipe... and it's another time-saver!
Then, add halved cherry tomatoes to the large bowl of tortellini and pesto.
You can toss these in whole to save even more time, but to avoid awkward tomato explosions, I like to halve these for mess-free eating.
Make sure you use a sharp knife to preserve the shape of the tomato and avoid squashing the tomato.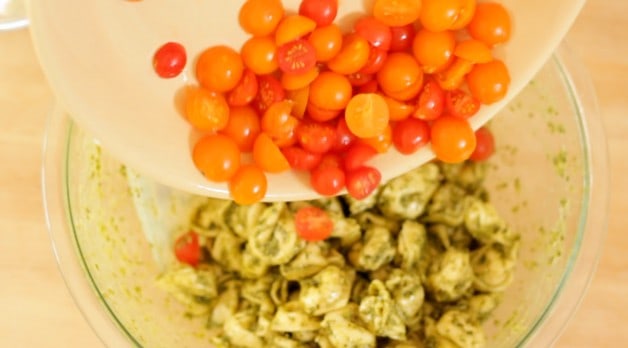 Don't Skip the Olives
I know there are a lot of olive-haters out there, but Kalamata olives add such a great, salty flavor to this salad.
I buy them already pitted and halved. Drain the brine from the jar and toss them right in!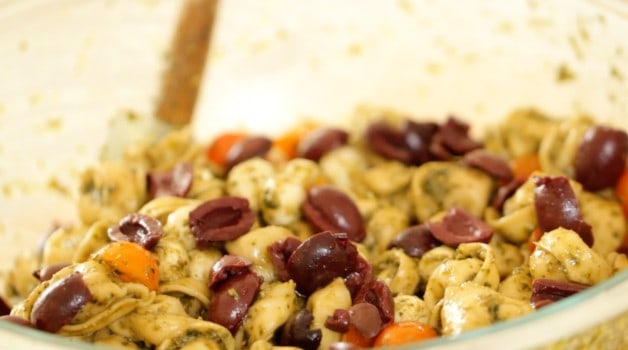 Adding Mozzarella
Then, add a container of mozzarella pearls. You can find these at the grocery store. They are the smallest "pearls" you can find.
Usually, these are in the deli section, near the feta and goat cheese.
Drain the water and add them to the bowl with the rest of the ingredients.
Garnishing
For garnish, add fresh basil chopped into ribbons.
The pretty green color gives the salad a little pop.
If you are making this the day before, wait until you are ready to head out the door before adding the basil.
Storage
Pasta salad can last for about 3-5 days if it is covered and refrigerated.
If the salad is left out for an extended time, more than 2 hours, while you are hanging by the pool or at a BBQ, it might be better to toss it after a few hours.
Step 3: Pack the Pasta Salad
Just before you are ready to head to the beach or picnic, pack this salad into individual portions, in Chinese takeout containers. You can find them online.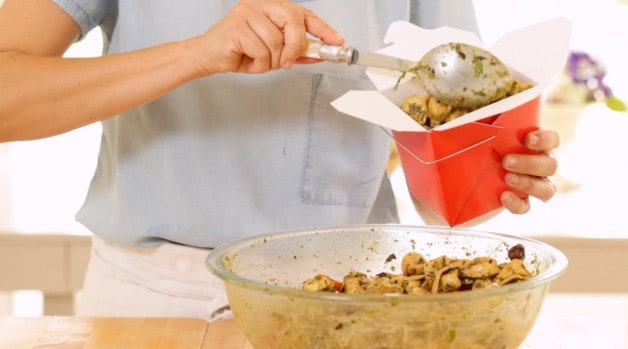 The handles make it easy to tie a napkin and cutlery right to the box. This makes it so much easier to serve to your guests, because everything they need is right there. And it looks so festive too!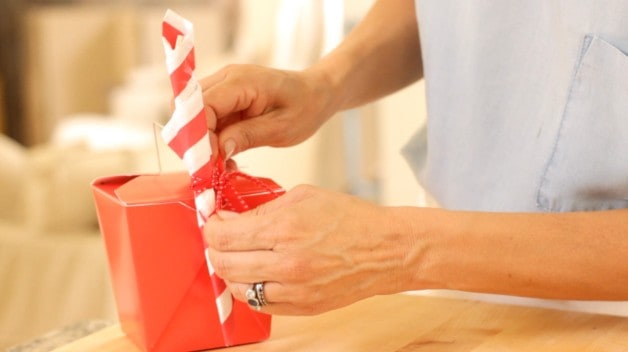 Pack them up in your picnic basket and you are all set for a summer picnic! Need a go-with dessert idea? Might I suggest some Blondies or my Brown Butter Chocolate Chip Cookies?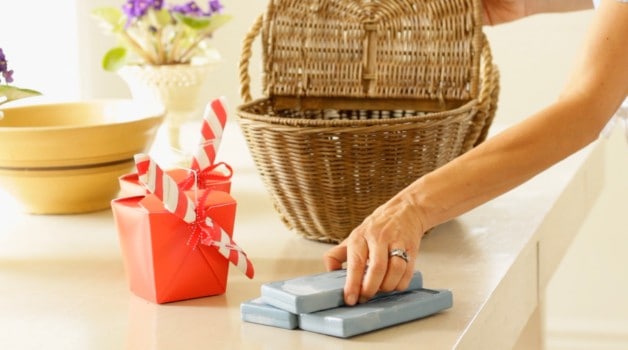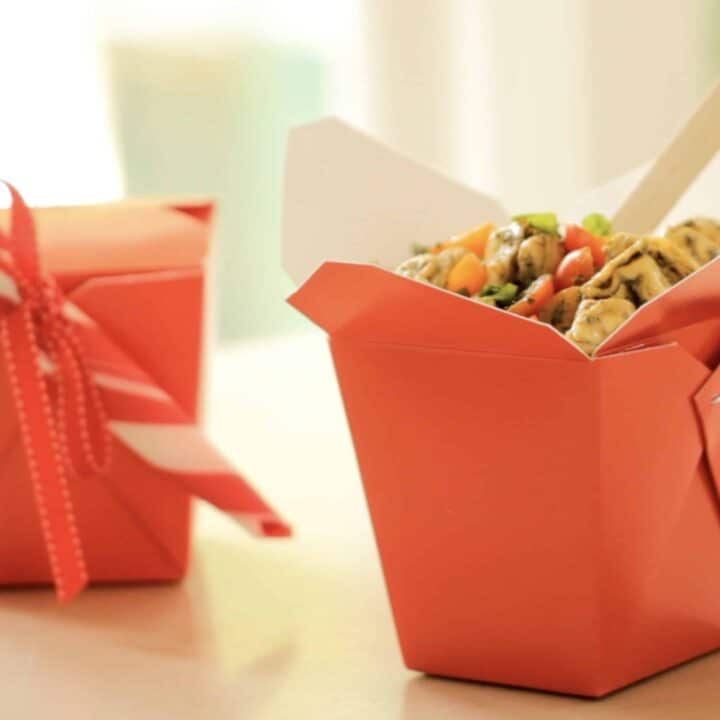 Tortellini Salad Recipe
Cold Italian Tortellini Salad is perfect for a summertime picnic. It's so easy and versatile. Add any ingredient you like for this festive summer recipe!
Ingredients
1 lb (450 g) of 3-Cheese Tortellini
1 cup (230g) of store bought pesto
1 cup (230 g) sliced cherry tomatoes
8 oz (230 g) Mozzarella Peals, drained
½ cup (75 g) pitted Kalamata Olives, sliced
3 tablespoon (45 ml) fresh basil, sliced into ribbons
Instructions
Cook tortellini according to package instructions. Drain pasta and allow to cool slightly.
Transfer pasta into a large mixing bowl. Toss pasta with pesto until well coated. Add tomatoes, mozzarella, olives and fresh basil. Toss to combine.
Cover salad and refrigerate until ready to serve!
Nutrition Information:
Yield:

4
Serving Size:

1
Amount Per Serving:
Calories:

134
Total Fat:

6g
Saturated Fat:

2g
Trans Fat:

0g
Unsaturated Fat:

4g
Cholesterol:

15mg
Sodium:

164mg
Carbohydrates:

15g
Fiber:

1g
Sugar:

0g
Protein:

5g