This Tomato Cream Sauce with Linguine is one of my favorite Pasta Dishes for a quick and easy weeknight meal. It takes minimal ingredients and comes together in a snap!
The beautiful creamy tomato sauce is created by combining tomato paste and heavy cream, two ingredients you might already have on hand! It's basically a vodka sauce, without the vodka! Serve with my Garlic Knots with Pizza Dough and you'll have a great family dinner or a quick and easy lunch!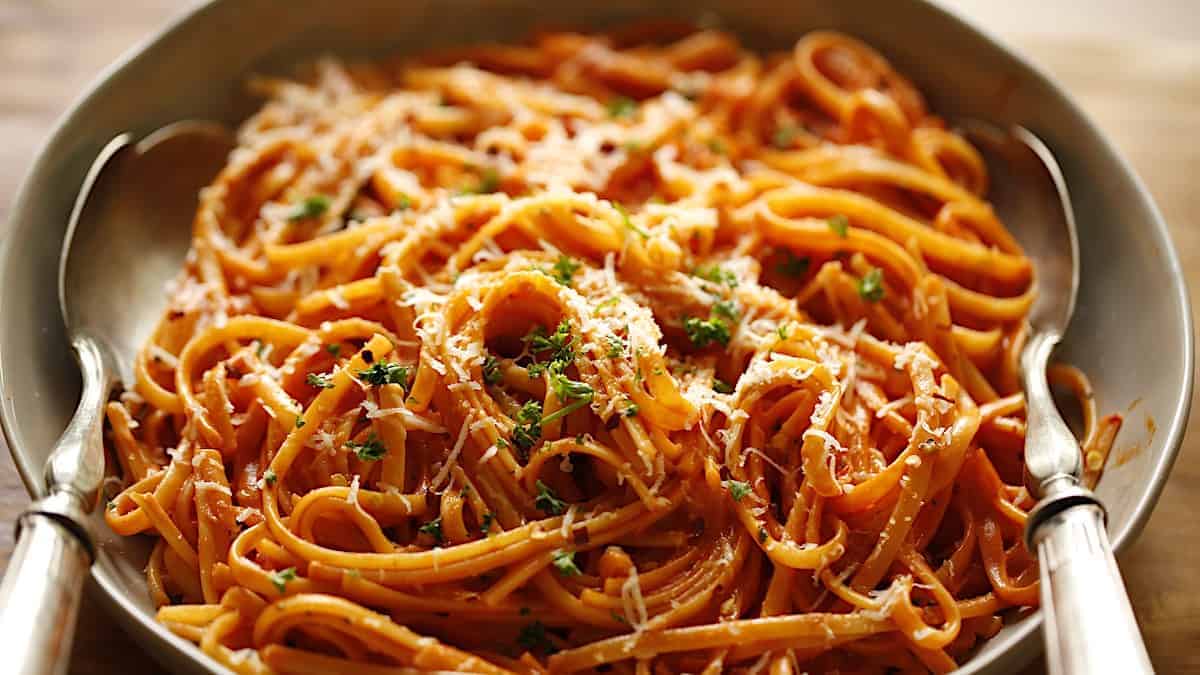 Why You'll Love This?
If your kids will eat pasta with tomato sauce, pasta with creamy tomato sauce isn't that far of a leap and it's a bit more gourmet for the grown-ups.
The kids will never notice the diced shallots, which also gives this pasta sauce more flavor.
They'll love the extra parmesan cheese, and for a little extra heat, you can serve the red pepper flakes on the side. It also makes for great leftovers for lunch the next day!
Looking for something even more gourmet? Try my Sundried Tomato Cream Sauce on Rigatoni. That's another one the kids will love!

Watch My Video Demo on this Pasta Recipe Below!
Also featured in this video is my Ravioli with Creamy Pesto Sauce and Veggies, another fantastic cream sauce for pasta!
Tomato Paste in a Tube is The Best Pantry Staple
Tomato paste is a great way to add a burst of tomato flavor to anything that could use a "pick me up".
I use it in everything from my Minestrone Soup Recipe to my Tomato Angel Hair Pasta when cherry tomatoes are not in season.
The tubes are much easier than the small cans because if you just need a little amount, you can pop it back into the refrigerator and not have to worry about storing the rest.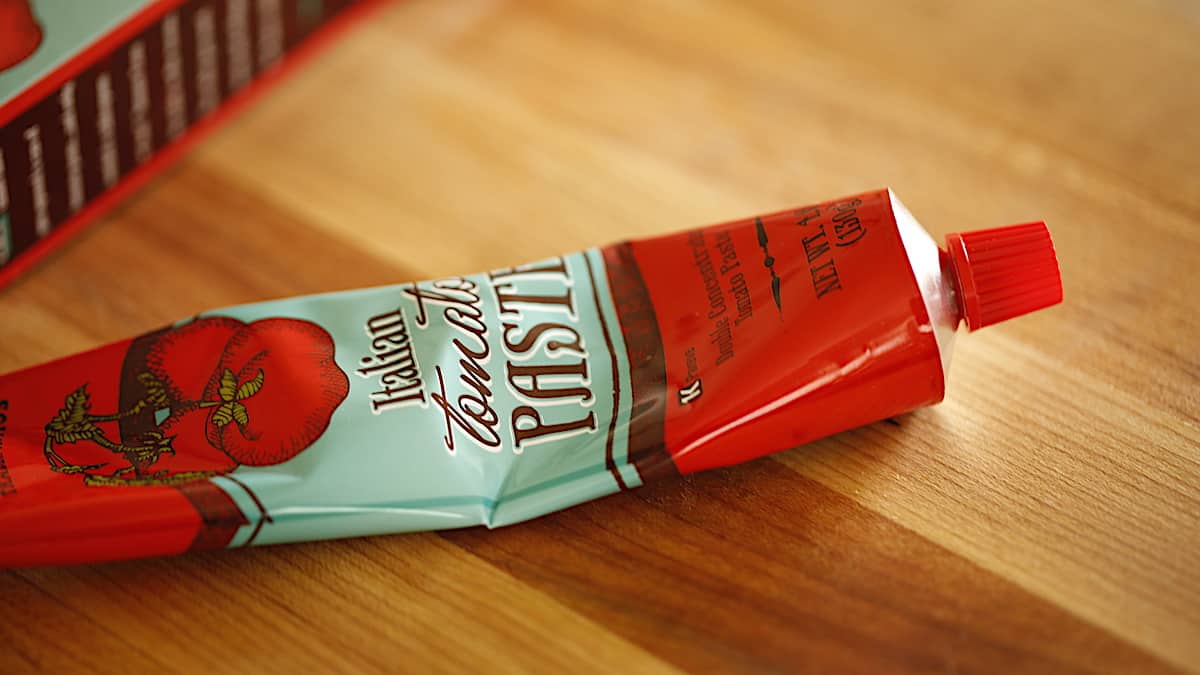 Layering the Flavors is The Secret to Success
The easiest way to make a quick tomato cream sauce is to combine the tomato paste and heavy cream, and you could stop there.
But what really makes this creamy pasta sauce sing, are the layer of flavors.
The addition of the sauteed shallots, the garlic, the parmesan cheese, and the fresh parsley is what gives this sauce depth and makes it much more flavorful.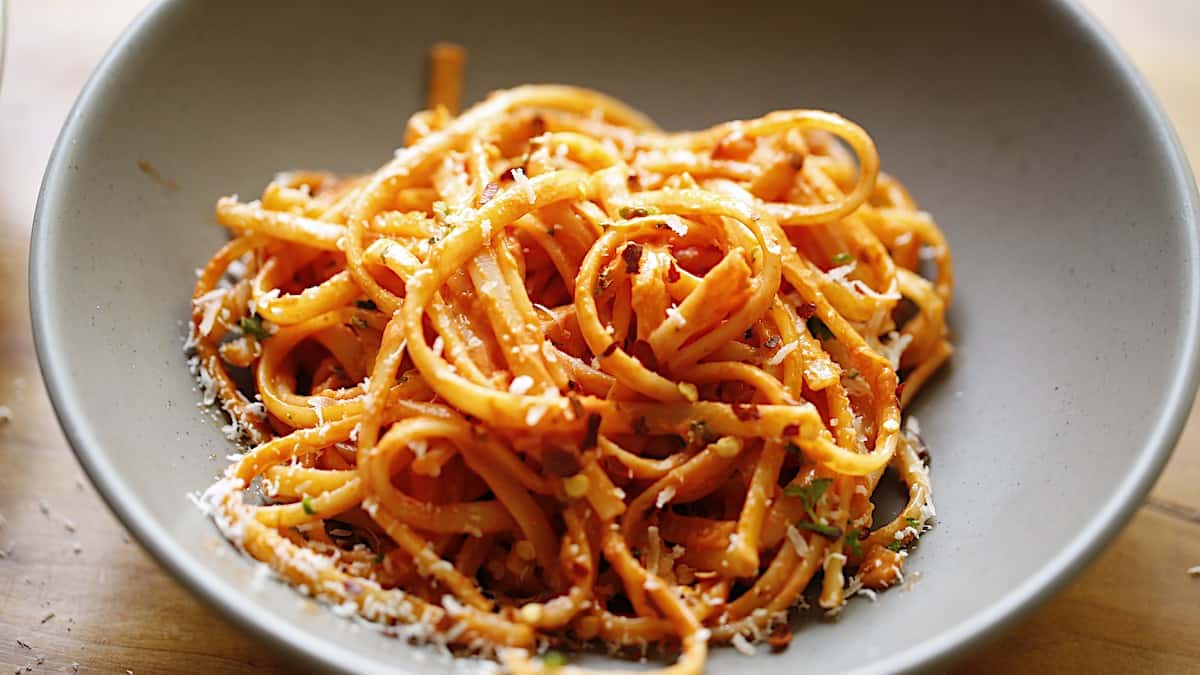 Red Pepper Flakes Kicks Up Any Pink Sauce
Creamy pasta sauces are decadent and comforting on their own, but to boost them up a few notches, add the red pepper flakes!
The heat is a great counter-balance against the richness of the creamy sauce and you can opt to add pepper flakes to the sauce or you can simply serve them on the side.
I serve them on the side when serving this recipe to kids.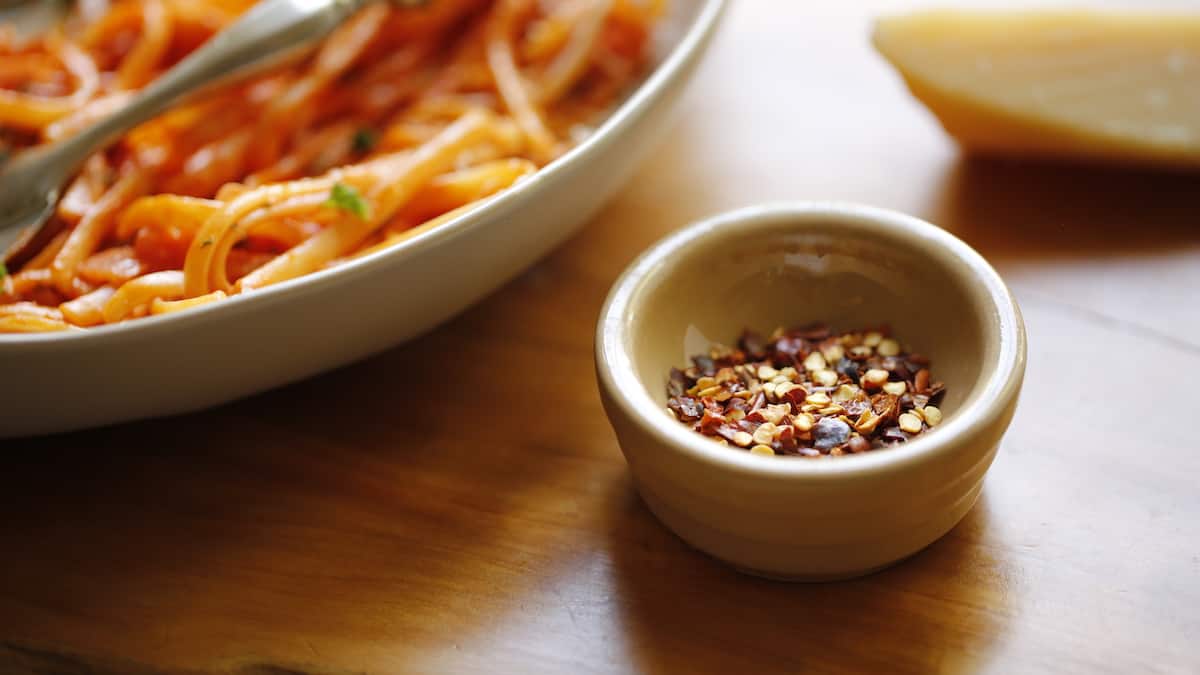 Pasta Water Creates the Silkiness
This sauce is very close to a traditional vodka sauce but without vodka.
Personally, I've never noticed the difference in the flavor when making it with or without the vodka.
But I do notice a difference in texture when I substitute the vodka, for pasta water.
I add a full ladle of the pasta water to the sauce and I find the starchiness makes this sauce so velvety smooth and silky!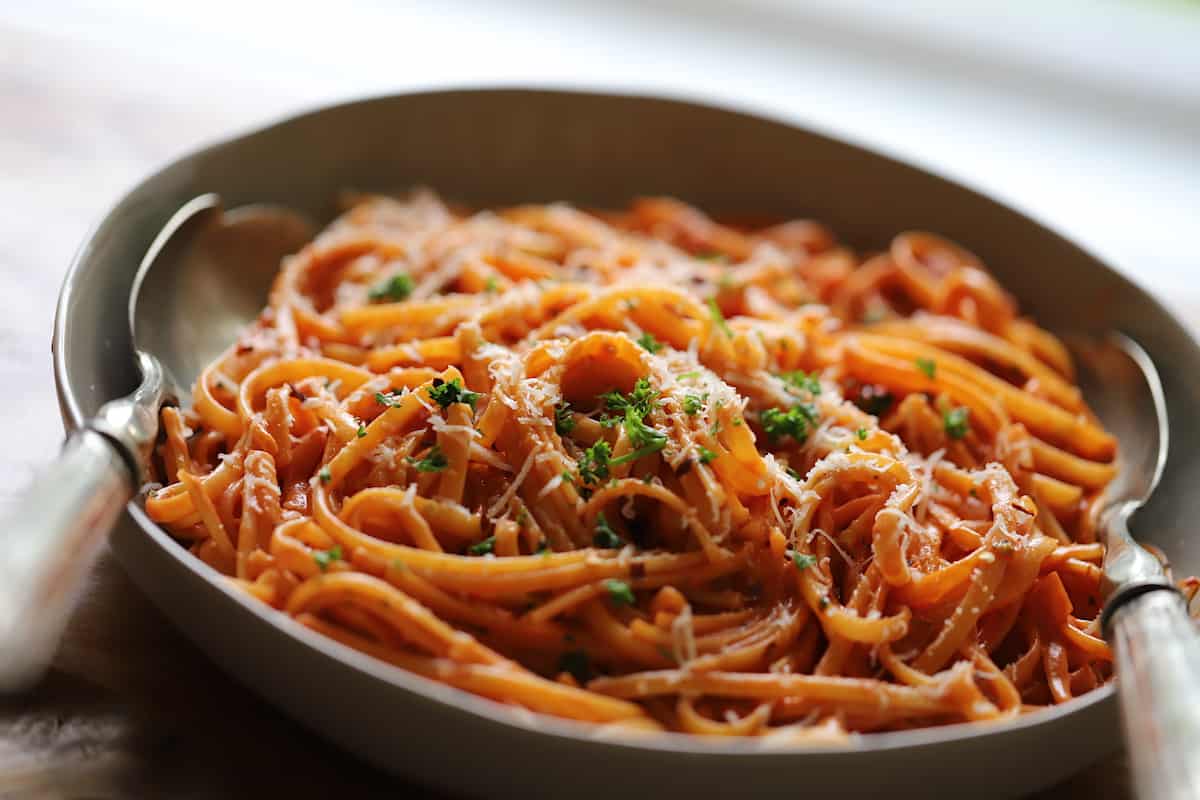 Serving Tips:
Toss the pasta with the sauce, transfer it to a big bowl, top with more grating cheese, and parsley, and serve family-style! I find when introducing new flavors to the family, especially to kids, allowing them to serve themselves tends to work better than portioning out the servings! I hope you enjoy it!
More Great Pasta Recipes!
If You Enjoyed This Recipe
Please Leave a Rating and Review Below!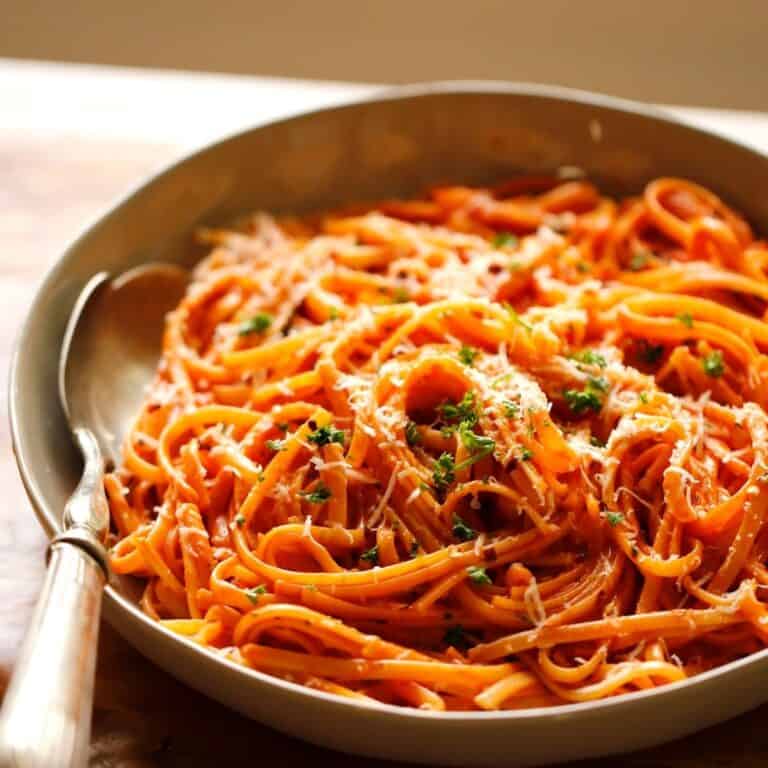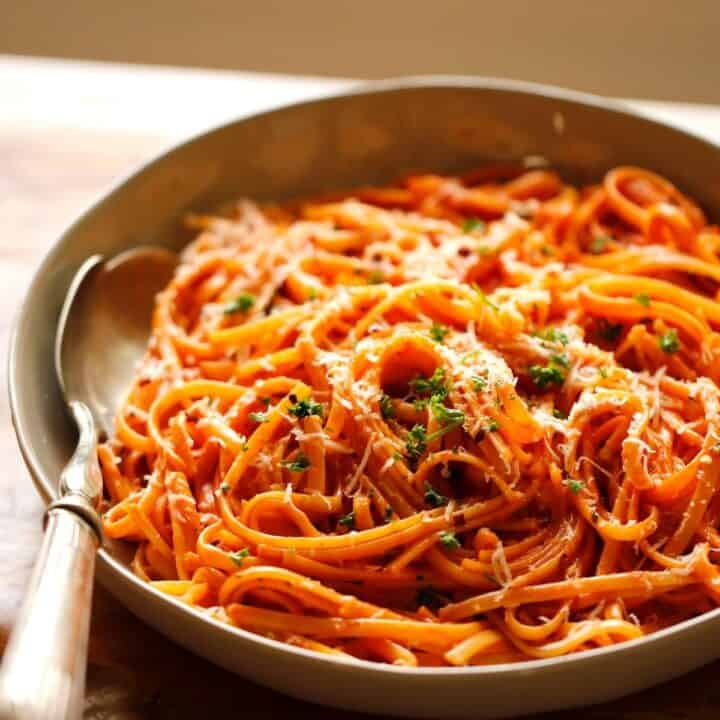 Tomato Cream Sauce Recipe with Linguine
This Tomato Cream Sauce with Linguine is one of my favorite Pasta Dishes for a quick and easy weeknight meal.  It takes minimal ingredients and comes together in a snap!
Ingredients
½ pound (230g) Linguine pasta
2 tablespoon (30 ml) of olive oil
1 shallot, diced
⅓ cup (80ml) tomato paste
1 full ladle of pasta water
2 cloves garlic, minced
⅓ cup (80ml) heavy cream
¼ teaspoon (1.25ml) Red Pepper Flakes
¼ cup (22g) freshly grated parmesan cheese
2 tablespoon (30ml) freshly chopped parsley.
Instructions
Boil water for pasta and cook pasta until al dente.
In a large deep skillet, heat the olive oil, cook the shallots in the oil until fragrant and wilted. Add the tomato paste, stir to combine. Add the pasta water, stir to thin sauce. Add the garlic, stir to combine.
Add the heavy cream, stir to combine, then add the red pepper flakes, parmesan cheese, and the fresh parsley.
If your sauce gets too thick while waiting for the pasta to be done, thin with more pasta water. Just don't add too much or it could dilute the flavor of the sauce. If this happens add a bit more tomato paste, garlic, or cheese. Whichever you think it needs.
Drain the pasta, add the pasta to the sauce toss gently with tongs to coat. Transfer pasta to a large serving bowl, garnish with more grated cheese, parsley, and pepper flakes if desired.
Notes
To reheat the leftovers. Place the pasta in a skillet with ¼ cup of water, cover, and heat until steaming, toss with tongs to loosen the sauce and add a little more tomato paste (1 tablespoon (30 ml)) and parmesan cheese to taste, to boost the flavor.
Nutrition Information:
Yield:

4
Serving Size:

1
Amount Per Serving:
Calories:

154
Total Fat:

8g
Saturated Fat:

2g
Trans Fat:

0g
Unsaturated Fat:

6g
Cholesterol:

3mg
Sodium:

12mg
Carbohydrates:

17g
Fiber:

1g
Sugar:

1g
Protein:

3g