Spring Pasta with Crispy Prosciutto, Peas, Mushrooms and Parmesan
This spring pasta with crispy prosciutto, peas, mushrooms, and parmesan will become one of your new favorite pasta recipes!
The decadence of the crispy prosciutto and parmesan is balanced out with the peas, asparagus, and fresh parsley serving up enough vegetables to make it an even trade! It feels decadent enough for a weekend treat, but also easy enough for a weeknight meal!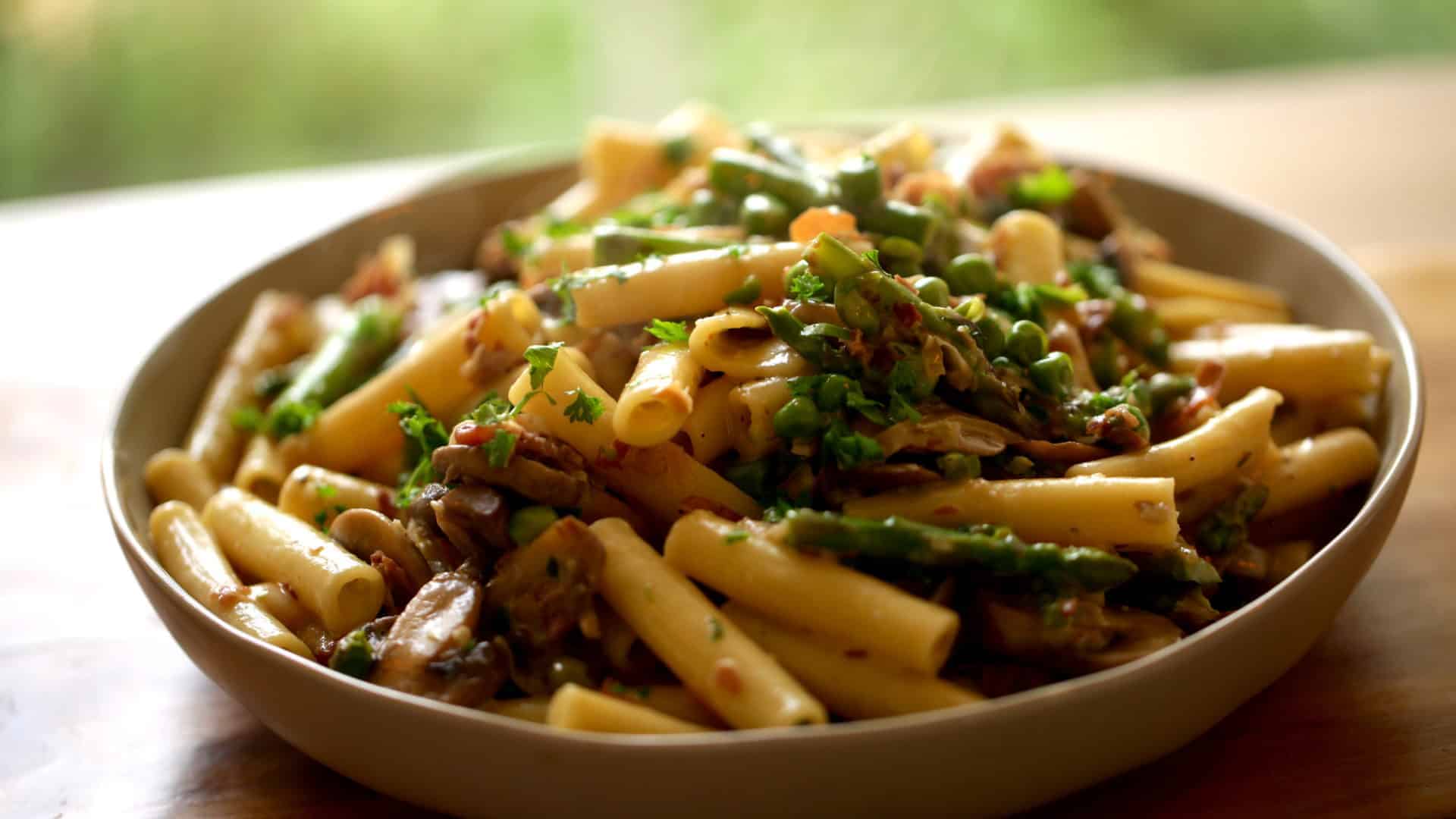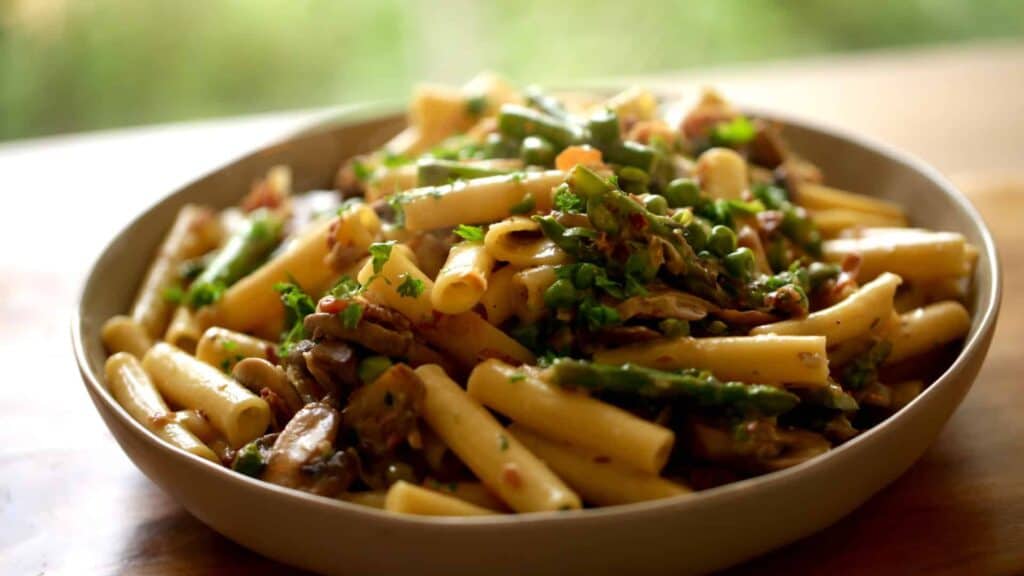 It's also a recipe that makes for great leftovers too! If you enjoy this pasta recipe you might also enjoy my Orecchiette, Sausage and Broccoli Pasta or my Creamy Sundried Tomato Pasta that uses mostly pantry staples!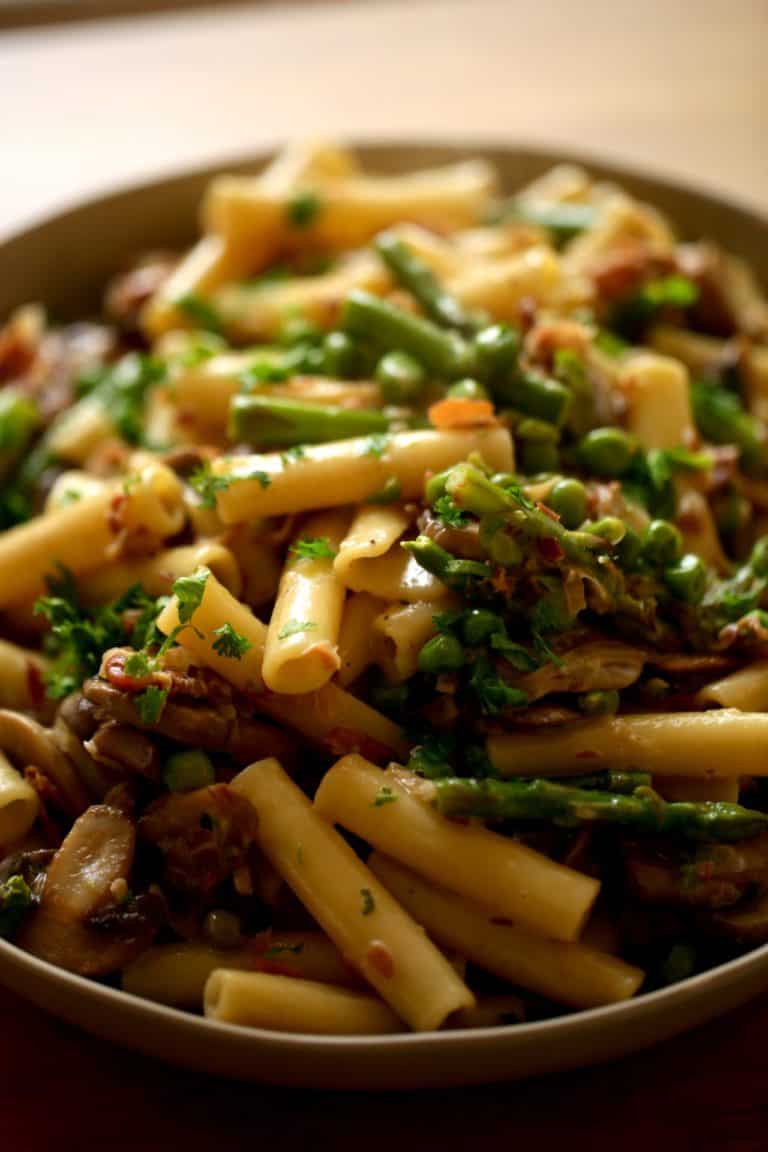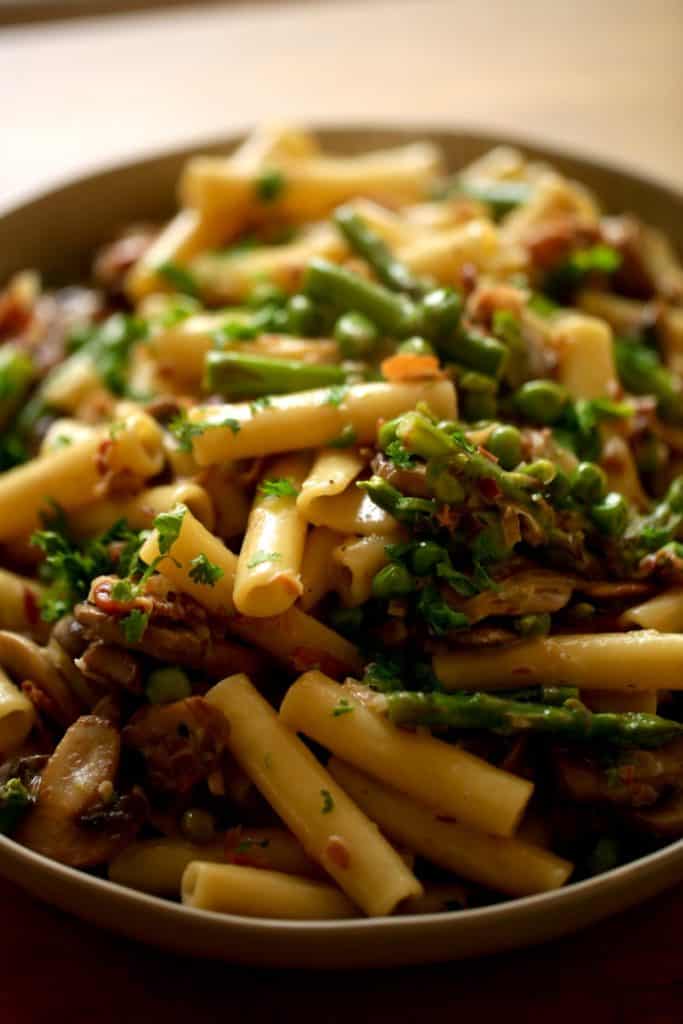 Watch My Video Demo of This Recipe Below!
Step#1: Cook the Proscuitto
The best part of this recipe is the crispy prosciutto! If you don't have prosciutto on hand you can also use bacon, that would be delicious too!
Prosciutto is really hard to cut, so the best way to get it into bite-sized pieces is to tear it.
Then place it in a non-stick skillet with a little olive oil and cook it until crispy on both sides.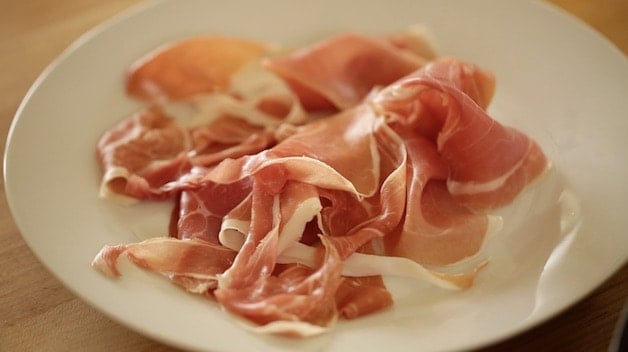 Cooking the Proscuitto
It will start to turn golden brown and look like this. Prosciutto is already "cured" so it's not necessary to actually "cook it" it's just the crispy texture we are after!
I also think the cooking brings out its best flavor too! Once it's done place it on a paper towel to drain the fat.
Once cooled it will be much easier to chop into small pieces to then toss in the pasta.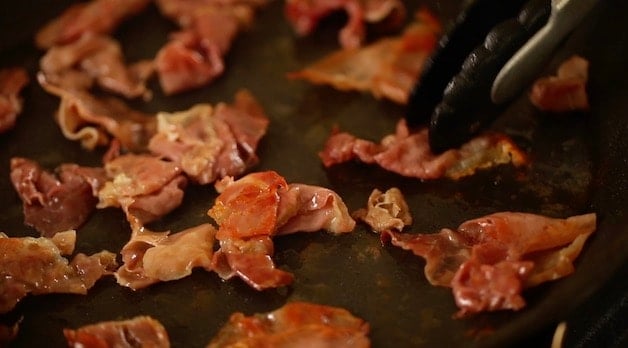 Step#2: Prep the Mushrooms
The beauty of this dish is you can use any mushrooms you like.
Personally, I like to throw in a few shitake mushrooms to make the mushroom medley a bit more interesting!
You'll cook them down with the shallots until they release their juices and look like this.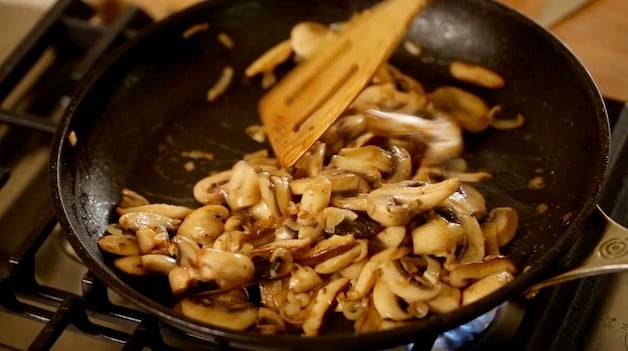 The Flavor Booster
Then the secret ingredient is to add some sweet sherry to the mix to create a wonderful depth of flavor that will pair really well with the salty prosciutto.
If you don't have any sweet sherry on hand you can use Marsala wine, or leave the alcohol out altogether and use chicken broth, the same amount.
Once you add the sherry, cook the mixture down to cook off the alcohol, and deepen the flavors. It will look like this below.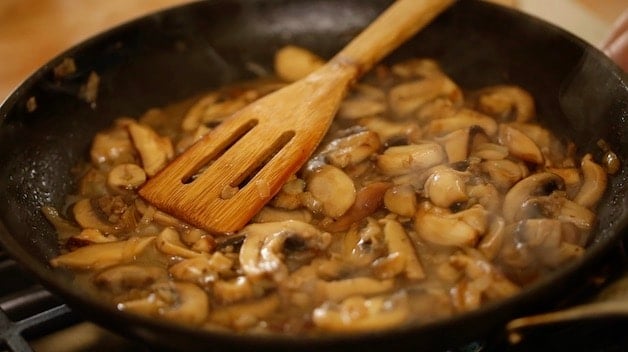 Step#3: Boil the Pasta
The best part about this recipe is you can use any type of cut pasta you like. I like to use a small ziti pasta. Once the pasta is almost done, you can cook the peas and asparagus in the pasta water.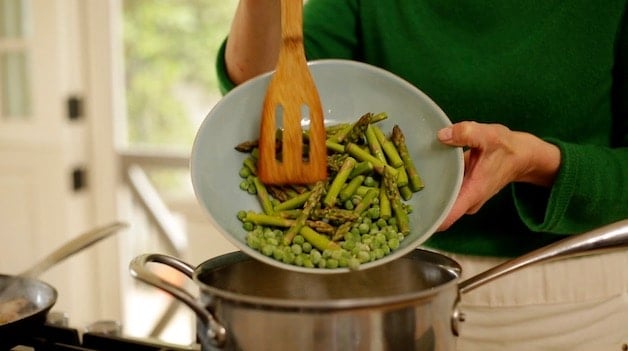 This technique saves you one more pot to clean and it's fast too since the veggies just need to be blanched until bright green. Then you can drain everything together at the same time through a colander.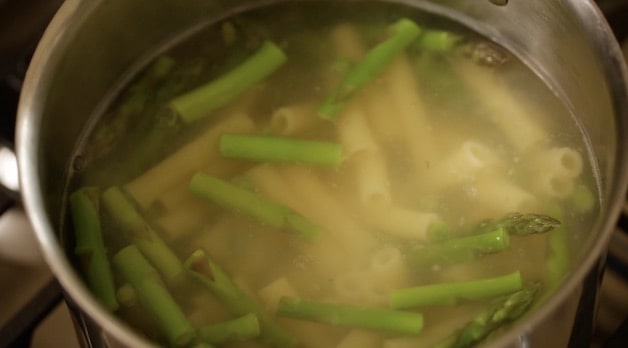 Step#4: Assemble The Pasta and Serve!
To assemble the pasta place everything back inside the same pot you cooked the pasta in, and then place the crispy prosciutto on top.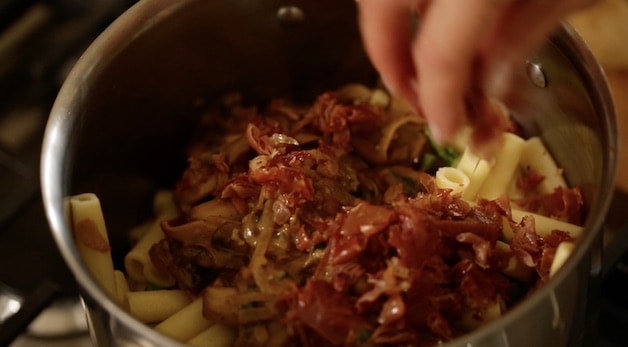 To Serve:
Toss the pasta until everything is well combined. You may want to turn your heat back on to reheat all the components before you serve it to make sure it's piping hot.
That will also help the cheese melt a bit too when you grate it on top as a finishing touch.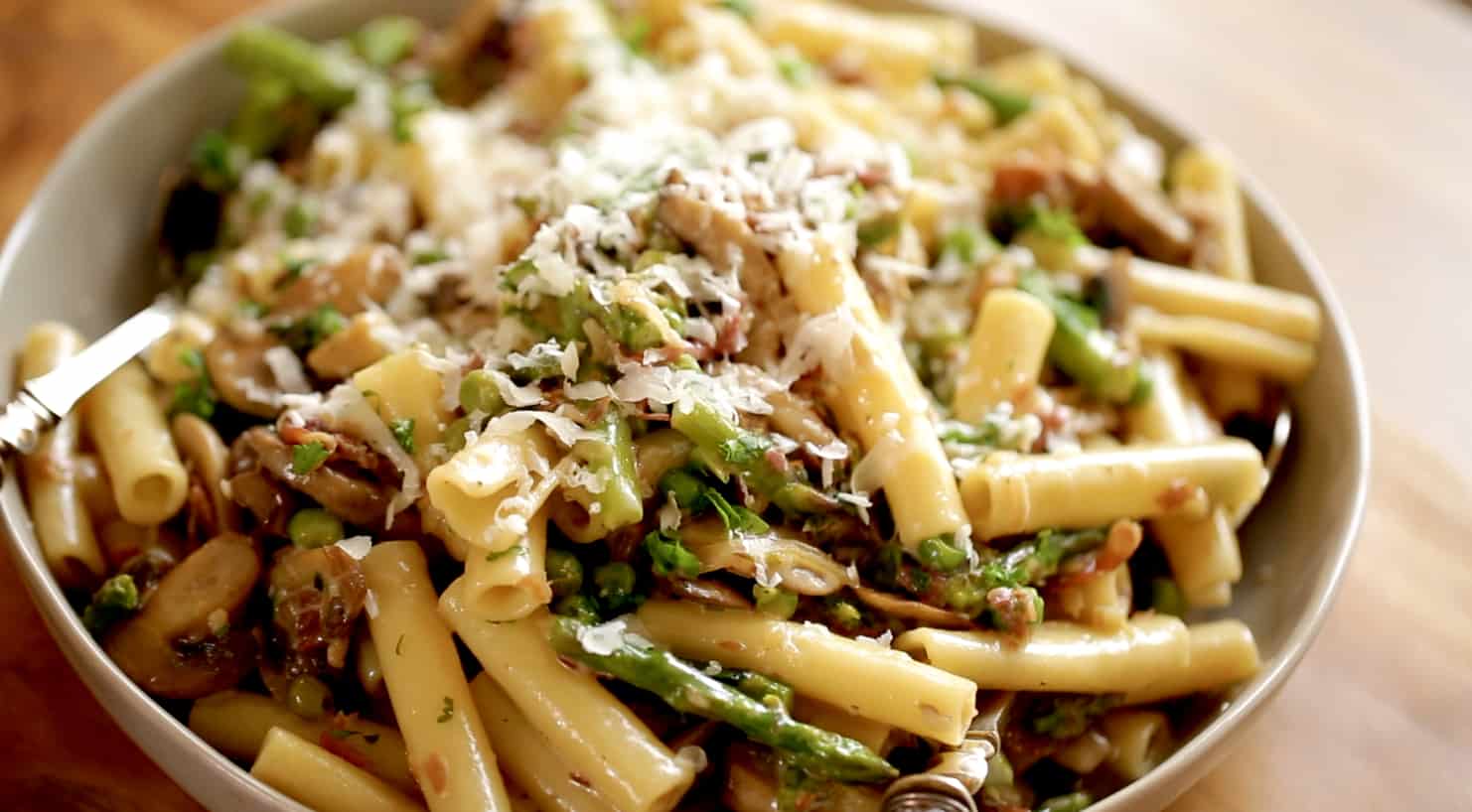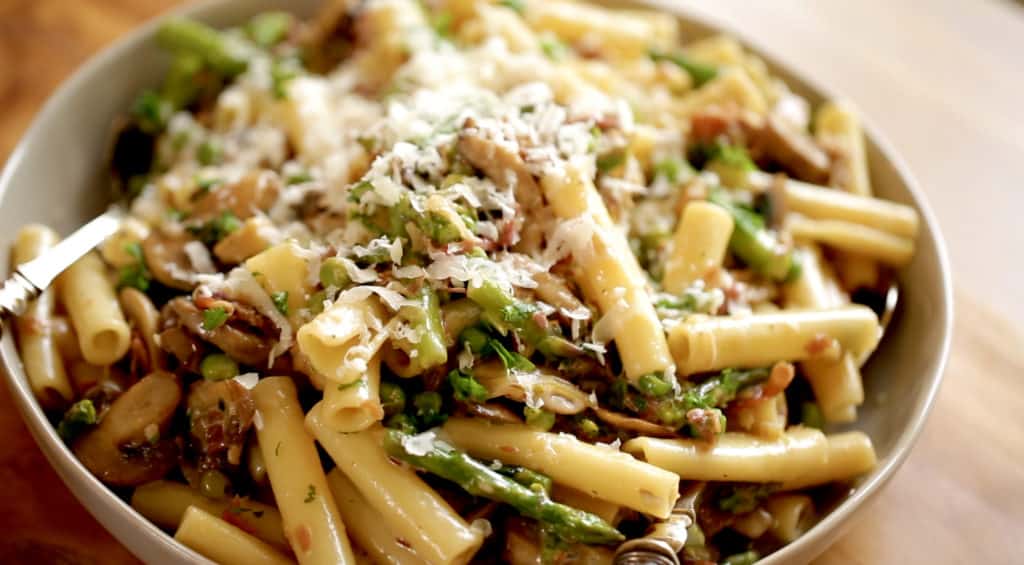 Serve it in some shallow bowls and enjoy! It's such a warm and comforting pasta dish that I know you will enjoy for your weekly rotation!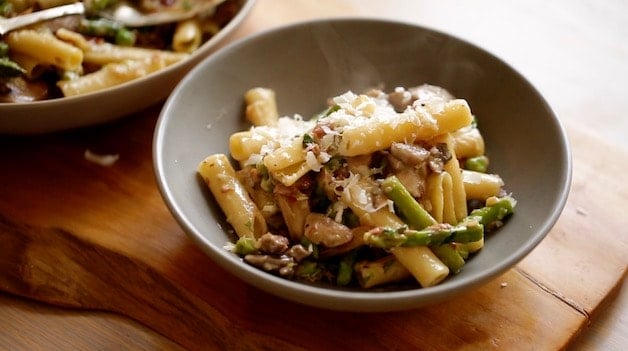 More Recipes You'll Love!
If you enjoyed this recipe
please leave a rating and a comment below!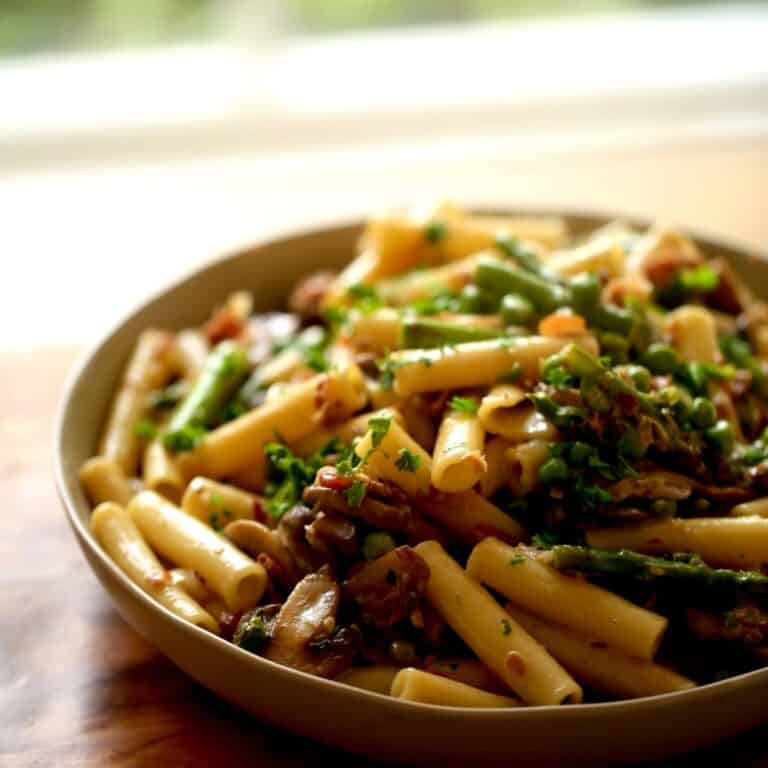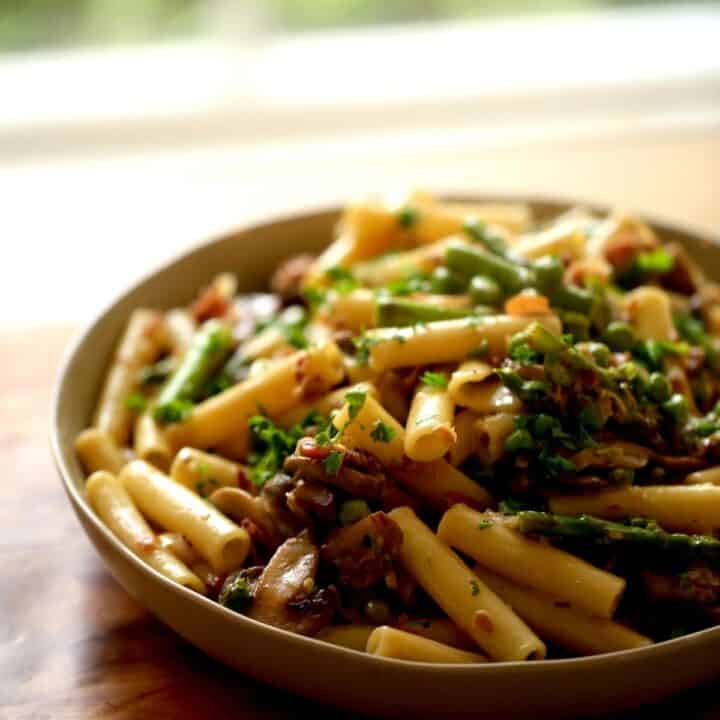 Spring Pasta Recipe with Crispy Prosciutto, Peas, and Mushrooms
A delicious spring pasta recipe for the weekly rotation! A perfect combination of comfort food decadence balanced out with spring vegetables and fresh flavors!
Ingredients
2 cups (280g) uncooked small ziti pasta
6 slices prosciutto, torn into small pieces
1 tablespoon (30ml) olive oil
3 tablespoon (45g) butter
⅔ cup (100g) shallots, sliced thinly into rings
8 oz (230g) white mushrooms, sliced
½ cup (120ml) Shitake Mushrooms, Sliced
¼ cup (60ml) sweet sherry (or chicken broth)
1 teaspoon (5ml) Worcestershire sauce
2 cloves garlic, minced
2 tablespoon (30ml) heavy cream
2 tablespoon (30ml) fresh parsley, chopped
1 cup (150g) of asparagus, cut into 2" pieces
1 cup (150g) frozen peas
freshly grated parmesan to taste
Instructions
Cook pasta in boiling, salted water until al dente.
Meanwhile, in a large skillet add olive oil and heat until hot. Add the prosciutto and fry on both sides until crispy, Transfer to a plate lined with a paper towel to drain.
In the same skillet, melt the butter and cook shallots until wilted and fragrant. Add mushrooms and cook until they release their juices. Add sherry and cook until reduced slightly, add Worcestershire sauce, garlic, heavy cream and parsley. Turn off the flame and set it aside.
Chop the crispy prosciutto into thinner slices and set aside.
In the final stages of pasta cooking, add asparagus and peas to boiling water. Cook for 1 minute until vegetables are bright green. Drain pasta and veggies in a colander.
Add pasta and veggies back into the pasta pot. Reheat mushroom sauce until hot. Add mushroom sauce to pasta and crispy prosciutto toss to coat.
Pour mixture into a large pasta bowl. Top with a garnish of fresh parsley and freshly grated parmesan on top.
Nutrition Information:
Yield:

6
Serving Size:

1
Amount Per Serving:
Calories:

348
Total Fat:

15g
Saturated Fat:

6g
Trans Fat:

0g
Unsaturated Fat:

7g
Cholesterol:

60mg
Sodium:

1337mg
Carbohydrates:

32g
Fiber:

5g
Sugar:

7g
Protein:

20g