This easy chicken with cashew nuts is a fantastic chicken recipe for those nights when you have run out of ideas for chicken, and need something fast! As far as stir-fry recipes go, this one is pretty simple.
The flavors all come together in the stir-fry sauce which can be made with things you probably already have on hand, and are sitting in the pantry! And the best part is you can enjoy it piping hot, right out of the wok, making it even better than takeout! For another great stir-fry recipe that can be made in 15 minutes, try my Feed Me Fast Chicken Recipe!
This recipe is also great for any picky eaters you may have at home! For more dinner ideas that picky eaters love check out my post on 7 Easy and Delicious Dinner Ideas for Picky Eaters.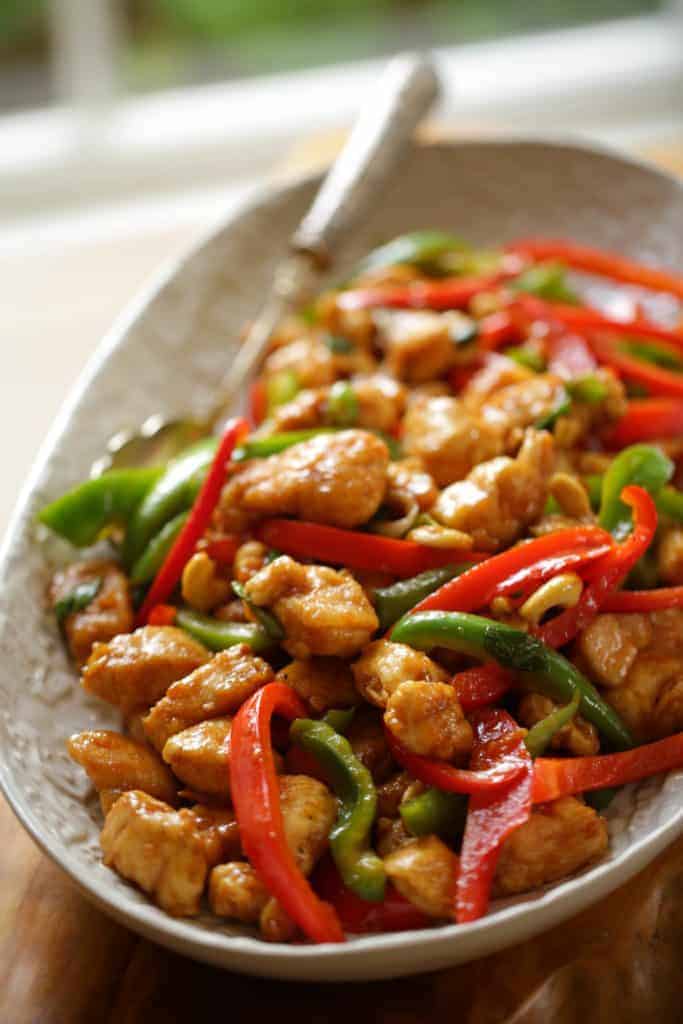 Ingredients:
Chicken For this recipe I prefer to use chicken tenderloins, also marked chicken tenders at the store. The meat is more tender, and quicker to cut into bit-sized pieces that full boneless, skinless chicken breasts. If you have left over chicken tenders, you can put them to good use in my Creamy Tuscan Chicken with Gnocchi recipe.
Cornstarch Cornstarch is really the secret to a lot of great Chinese dishes. It works much better than flour to create that velvety smooth chicken that is both crispy on the outside, and moist and tender on the inside. This article from The Woks Life is helpful for understanding more on how to use cornstarch in Chinese cooking.
Vegetable Oil Any non-flavored cooking oil works for this, you can also use coconut oil too.
Bell Peppers I like to use a combination of red and green bell peppers. But if you don't have peppers on hand, you can substitute them for broccoli florets. Just cook them a bit quicker than the bell peppers. As soon as they are bright green and tender they are done.
Hoisin Sauce Don't skip the hoisin sauce. It's the secret weapon here for picky eaters! It has this wonderful sweet, yet savory flavor that just makers this dish so delicious!
Soy Sauce I use low-sodium soy sauce (Trader Joe's has a great one) because it makes this dish less salty.
Rice Wine Vinegar This will add a little zing to the dish which will balance out the sweetness of the hoisin and honey. If you don't have rice wine vinegar, regular white vinegar will work too.
Honey Will sweeten the dish, while also giving it a nice syrupy texture too!
Garlic Cloves I use three garlic cloves in this recipe because it provides a great depth of flavor, but you can pull it back to 1-2 if you aren't a big garlic. Truthfully you don't really taste the garlic, it just makes the sauce a bit less flat and more pungent.
Cashews Make sure they are "raw" cashews, otherwise the salted cashews will make this dish too salty. In a pinch the "roasted, unsalted" will work too.
Scallions Slice them on the diagonal if you have time, for a pretty presentation. I do this in my Orange Chicken recipe and it's a great way to make a casual dinner feel a bit more fancy.

The Secret of Stir Fry Dinners
The trick to making stir-fry dinners go smoothly, is the advance prep!
Wok cooking is fast, and if you have to stop down to prep all your ingredients as you go, you'll miss out on what makes these dinners so great, their speed!
So it's best, to chop, measure, and set out all the ingredients you will need, before you start cooking.
It will be less stressful that way, and will also get dinner on the table quicker! (and that's the real goal, right?!)
Step#1: Prep the Bell Peppers
Slice the bell peppers into strips. Not only does it look prettier, they'll also cook quicker this way too!
Now it maybe it's just my kids, but I find picky eaters push back less on the veggies when they are cut smaller, thinner, or wispier they seem less intimidating that way.
It's a great way to sneak in the veggies, make the protein pieces bigger than the veggie pieces, they zero in on the protein and catch a few veggies in the process and low and behold, they eat them both.
Step#2: Mix up the Stir Fry Sauce
That way it's all ready to go so that as soon as its time to add it, you just pour it in!
It's the sweet and salty flavor of this sauce that kids love! The hoisin sauce is really the M.V.P here! And the honey doesn't hurt either.
And don't skimp on the garlic! I use the full 3 cloves the recipe calls for, but if you aren't a big garlic fan, you can get away with one or two cloves, but do add at least one since you'll get a greater depth of flavor from the garlic.
This is a quick and easy sauce that you can use with other stir fry recipes and you could use it in my shrimp stir fry too.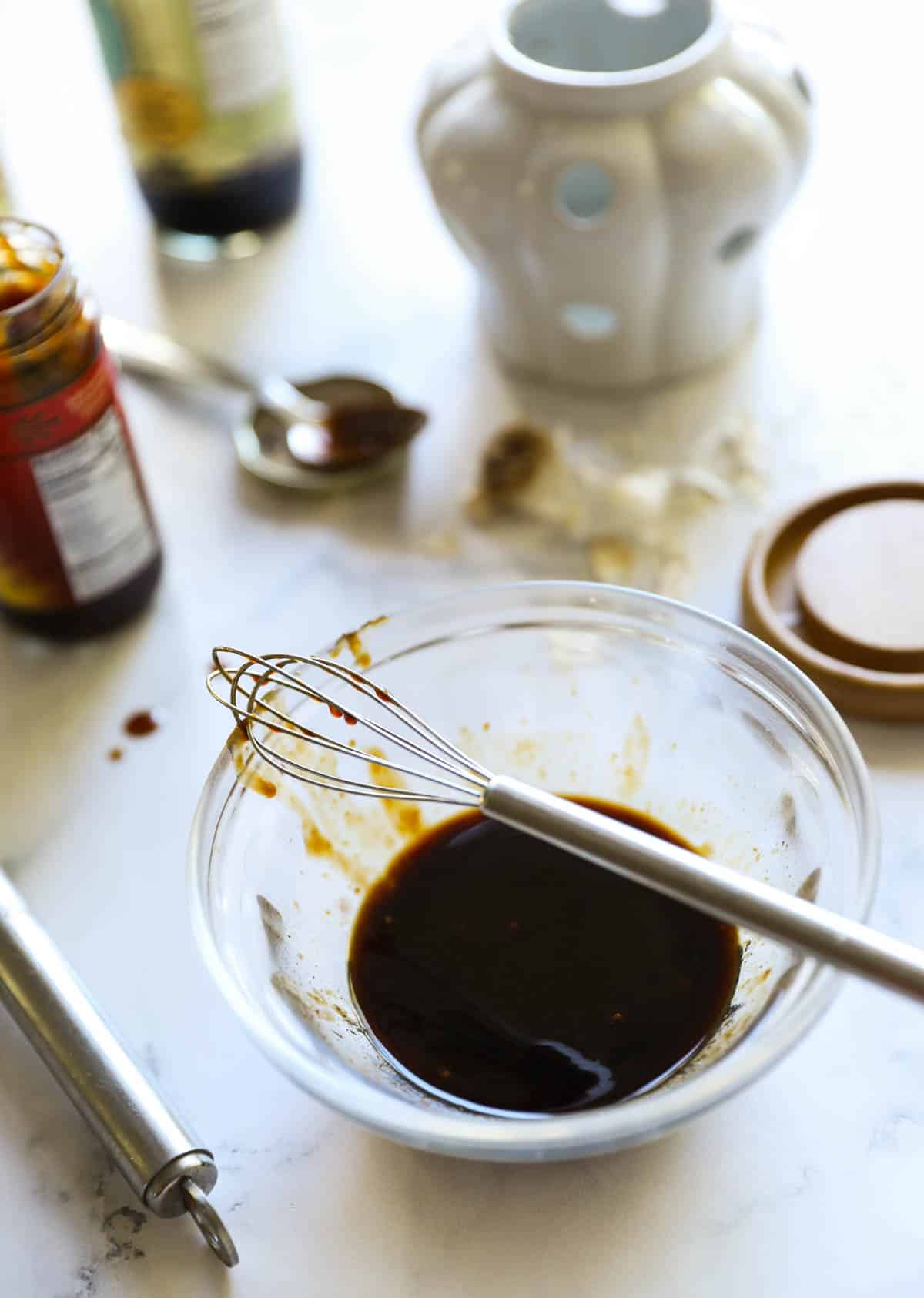 Step#3: Brown the Chicken
After you have cut the chicken tenders into bite-sized pieces, dredge it in the cornstarch and shake off the excess.
Cooking this meal in a wok pan is the easiest way to go! Not only does everything cook faster in it, but they can accommodate all the chicken, veggies and sauce without crowding.
You'll then brown your chicken on all sides, but don't worry about cooking it all the way through just yet. You'll finish cooking it in a later step.
Step#4: Add the Peppers
Toss in your peppers and cook until warmed through.
I don't overcook the peppers because it's nice for them to still have their crunch. It also helps to preserve their nutrients too!
If you are using broccoli florets, don't cook them very long either, just enough time to allow them to turn green and slightly tender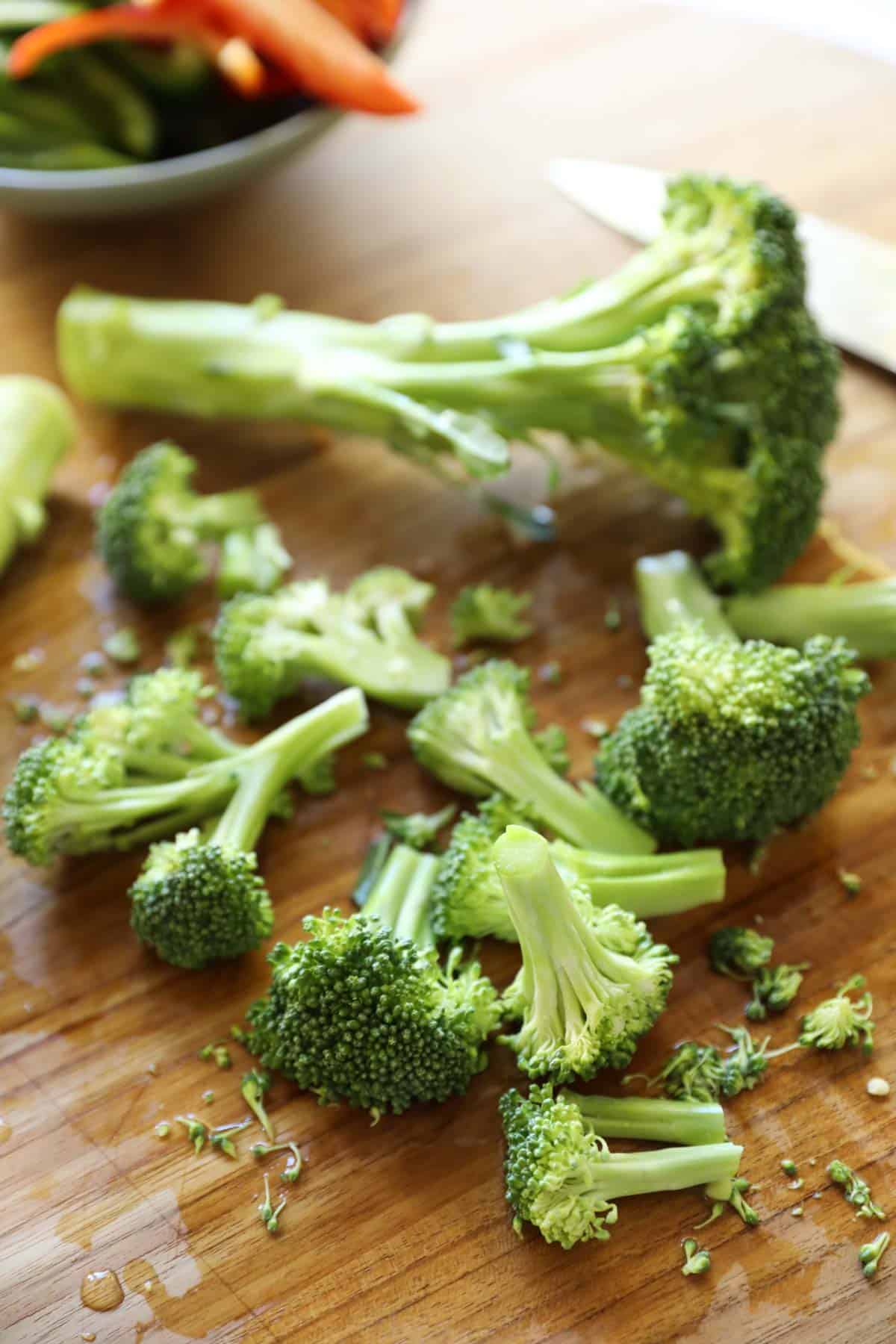 Step#5: Add the Sauce
Pour in your sauce and then stir to coat the chicken and peppers.
You'll see it start to thicken with the heat and become syrupy! This is what you want!
This is the cornstarch on the chicken working its magic. Be sure the sauce is also coating the peppers too.
Step#6: Add the Cashews and Scallions
The last step is to add the cashews and fresh scallions and that's it!
You can serve this dish with rice or quinoa or even Cauliflower rice for a complete meal.
Have leftover cashews? Put them to good use in my Honey Glazed Cashew Recipe!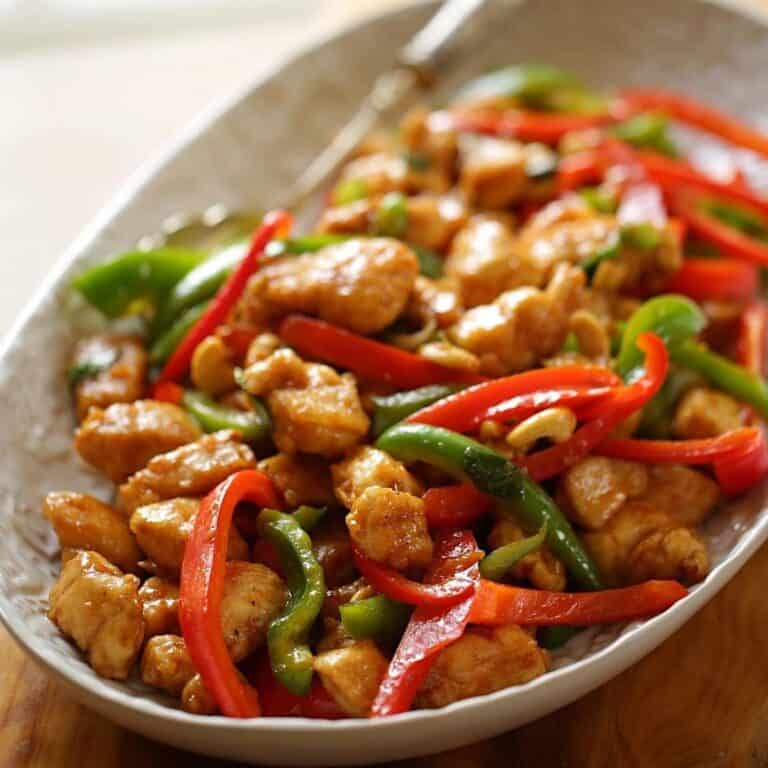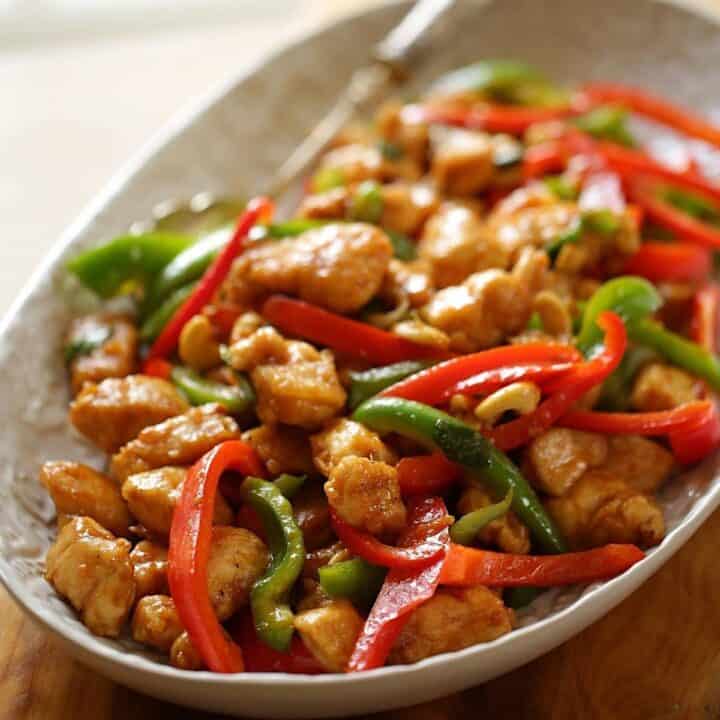 Chicken with Cashew Nuts
This Chicken with Cashew Nuts is a quick and easy dinner idea that comes together in 30 minutes or less! Also great for picky eaters too!
Ingredients
FOR CHICKEN:
2 tablespoon (30ml) vegetable oil, separated
1 ½ lbs (680g) chicken tenders, cut into bite-sized chunks
¼ cup (30g) cornstarch
1 teaspoon (5ml) salt
freshly cracked pepper
1 red pepper, cut into thin strips
1 green pepper, cut into thin strips
FOR SAUCE:
¼ cup (60ml) hoisin sauce
2 tablespoon (30ml) soy sauce
1 teaspoon (5ml) rice wine vinegar
½ teaspoon (2.5ml) honey
3 garlic cloves, minced
½ cup (100g) cashews
2 scallions (white and green parts) sliced
Instructions
Whisk together cornstarch, salt and pepper. Add chicken and toss to coat.
Mix whisk together the ingredients for the sauce. Prep the peppers, and the scallions and measure out the cashews.
Have all your components ready to go, and then heat 1 tablespoon of vegetable oil in a large non-stick pan or wok. Cook the chicken in batches (add fresh oil each time) until the chicken is golden brown on both sides and almost cooked through. Transfer to a bowl until all the chicken has been browned.
Then place the cooked chicken back into the wok, add the peppers and the sauce, continue to cook until chicken is cooked through.
Toss in cashews and scallions. Stir to combine and warm.
Transfer to a large serving platter and serve with rice or steamed broccoli drizzled with toasted sesame oil and sesame seeds.
Notes
The peppers and the sauce can be prepped ahead of time and refrigerated. That would make this recipe even quicker!
Nutrition Information:
Yield:

4
Serving Size:

1
Amount Per Serving:
Calories:

109
Total Fat:

9g
Saturated Fat:

1g
Trans Fat:

0g
Unsaturated Fat:

7g
Cholesterol:

4mg
Sodium:

72mg
Carbohydrates:

7g
Fiber:

1g
Sugar:

3g
Protein:

2g