Creamy Tuscan Chicken with Gnocchi
This Creamy Tuscan Chicken with Gnocchi is a wonderful weeknight dinner idea that comes together quickly and easily! You'll love the combination of flavors from the creamy tomato sauce loaded with sun-dried tomatoes and spinach, and moist and tender chicken in a silky flavorful sauce.
For more easy pasta recipes, try my Spinach Ravioli with Sauteed Veggies or my Orecchiette Pasta with Italian Sausage and Baby Broccoli.
Or for a Vegetarian Italian Classic try my No-Fry Baked Eggplant Parmesan.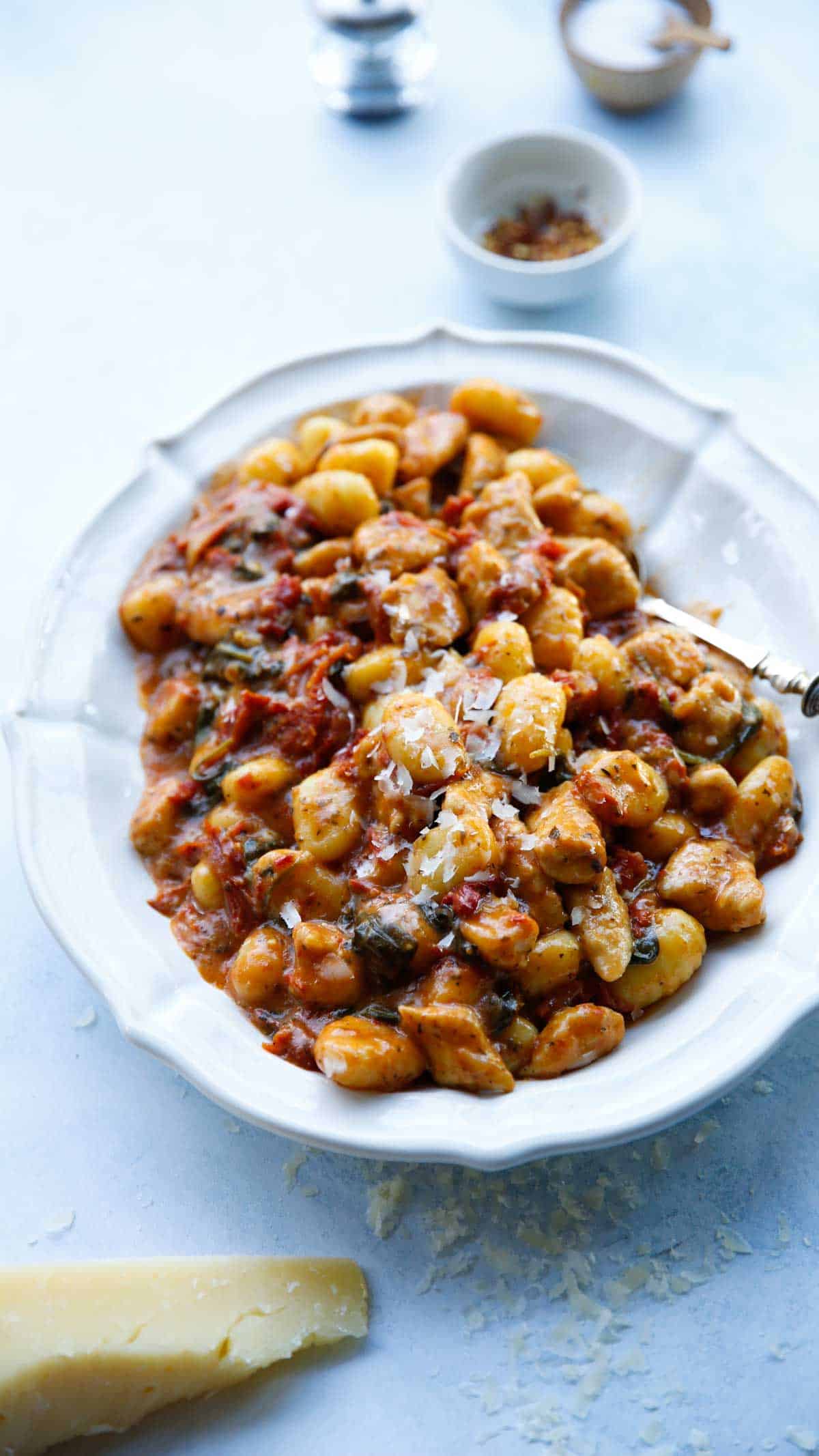 Why You'll Love This:
It uses up a lot of pantry staples you may already have on hand.
You can serve it skillet to table for a low-carb dinner, or serve it my favorite way which is tossed with some pillowy gnocchi.
It's perfect cold-weather comfort food and reheats well for the lunchbox the next day!
And of course, don't forget the freshly grated parmesan cheese. These flavors pair beautifully with a little salty cheese on top.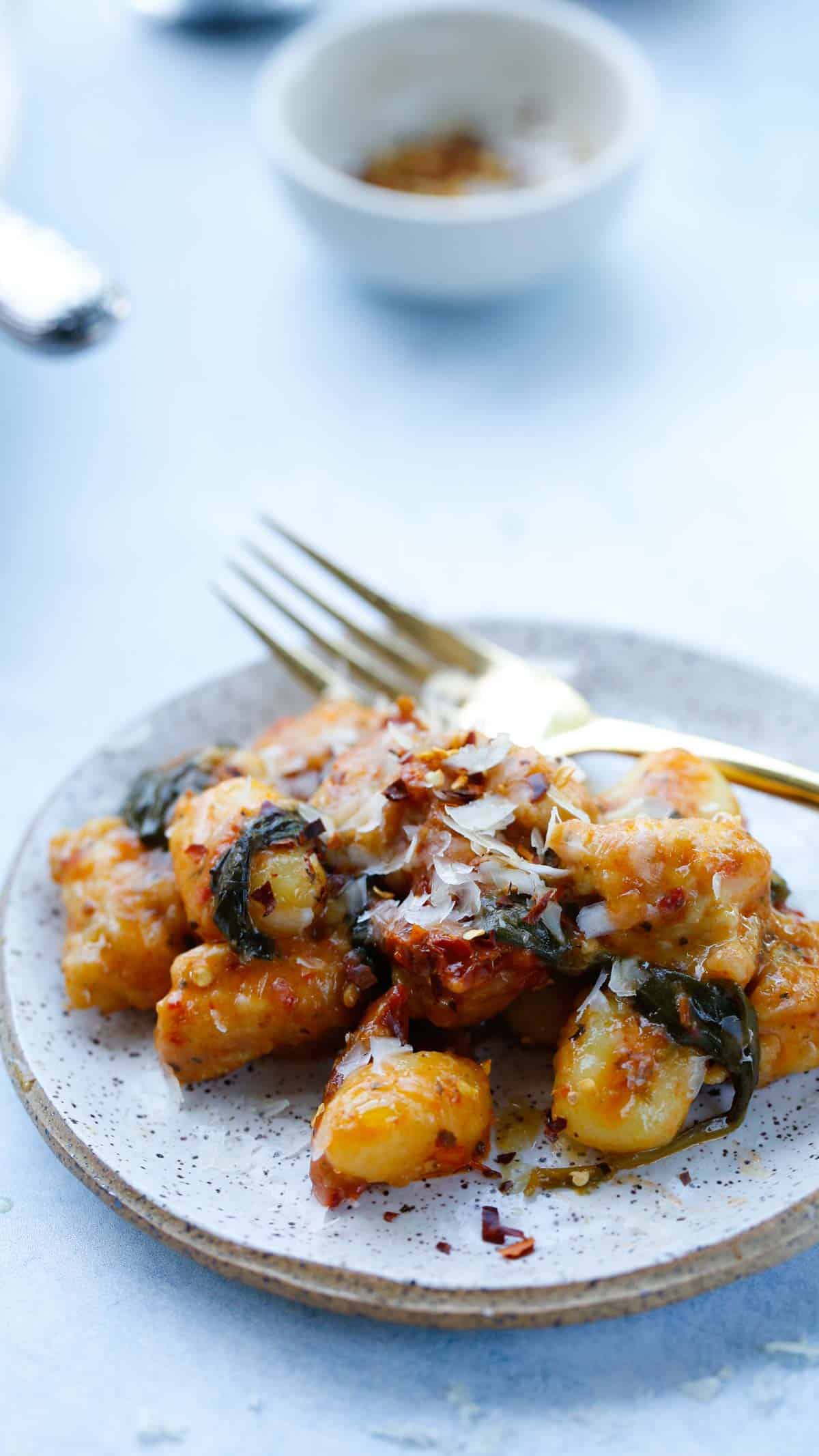 Watch My Video Demo of This Recipe Below
The Ingredients:
Chicken Tenders I prefer to use chicken tenderloins for this recipe because they are more tender than the boneless, skinless chicken breast, and I find they are easier to cut into bite-sized pieces as well.
Cornstarch I toss the chicken in cornstarch, over flour, because it protects the chicken a bit better from drying out. It also helps to seal in the juiciness and thickens up the sauce too.
Butter and Oil Searing the chicken in both butter and oil, helps the chicken turn golden brown, without burning, it also adds more flavor too.
Sun-dried Tomatoes Look for the sun-dried tomatoes that are already sliced, it will save you time from having to slice them yourself. I like the Trader Joe's Julienne Sliced Tomatoes since they are already sliced and seasoned. I also use them in my Creamy Sun-dried Tomato Pasta Recipe, another comforting weeknight meal.
Tomato Paste A little tomato paste will amp up the tomato flavor of the sauce.
White Wine A dry wine like Chardonnay or Sauvignon Blanc will work best. If you don't drink, you can leave the alcohol out and replace it with more chicken stock, the same amount.
Chicken Stock For this recipe I prefer using chicken stock, over the broth. You'll get more flavor with the stock.
Italian Seasoning Is the best bang for the buck, since you get a blend of Italian spices in one bottle. But if you don't have any on hand you can substitute ½ teaspoon of dried basil and ½ teaspoon of dried oregano for 1 teaspoon of Italian Seasoning.
Garlic I'm a big fresh garlic fan, but you can also substitute garlic powder if needed. 1 garlic clove equals ¼ teaspoon of garlic powder in most recipes.
Baby Spinach Will be easier to wilt down into your sauce without cutting it, over full-size spinach.
Heavy Cream will add a nice creaminess to the sauce, but if you are looking to cut calories you could leave it out
Parmesan Cheese I like to add a little to the sauce as well as serve it on the side to add to the dish after it's done.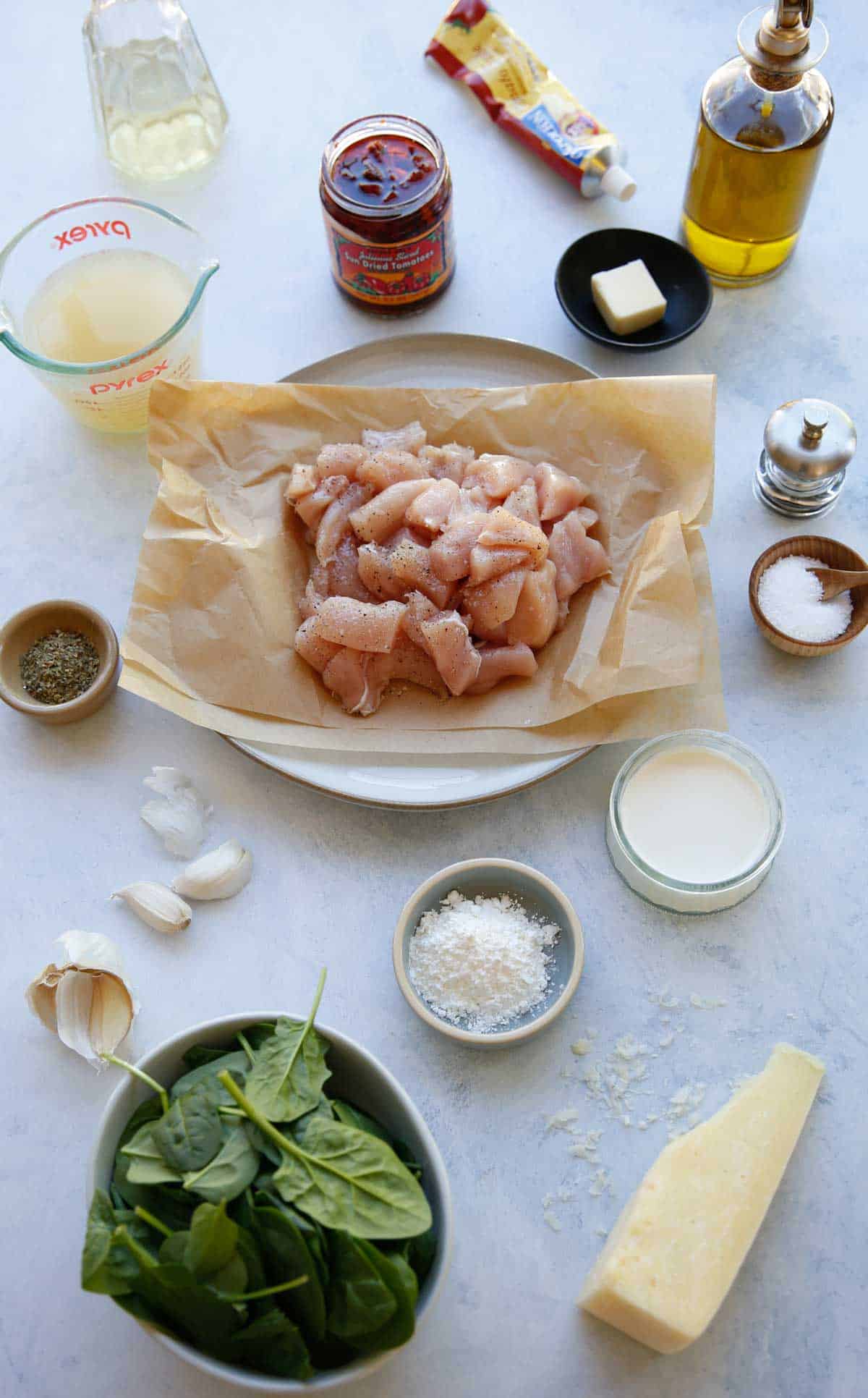 Searing The Chicken:
You'll begin by searing the chicken in a large non-stick pan.
I love The Green Pan for this job. The 12" skillet allows for searing all the chicken in one batch without crowding it, and their non-stick surface is amazing!
I also think it helps the chicken brown even better. It's also great for searing salmon too, as you can see in my Seared Salmon with Roasted Veggie Recipe
At this stage, don't worry about cooking the chicken all the way through, you'll do that in the final stages of preparing the dish.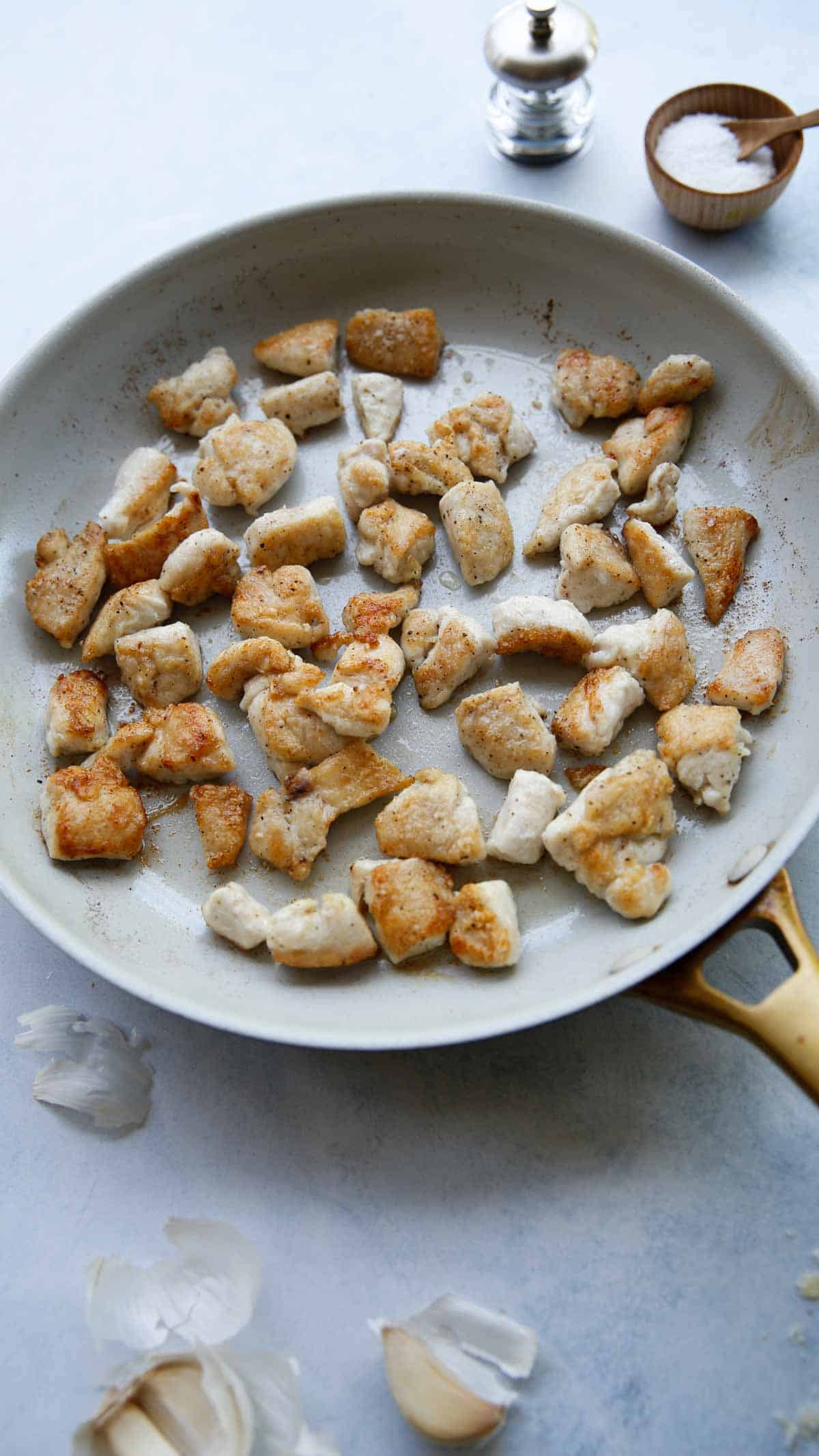 A One-Skillet Meal
Once the sauce is created and the chicken is cooked through you could serve it just as is. It makes a wonderful one-pan dinner!
Or you could set the skillet aside and cook up some pasta to go with it.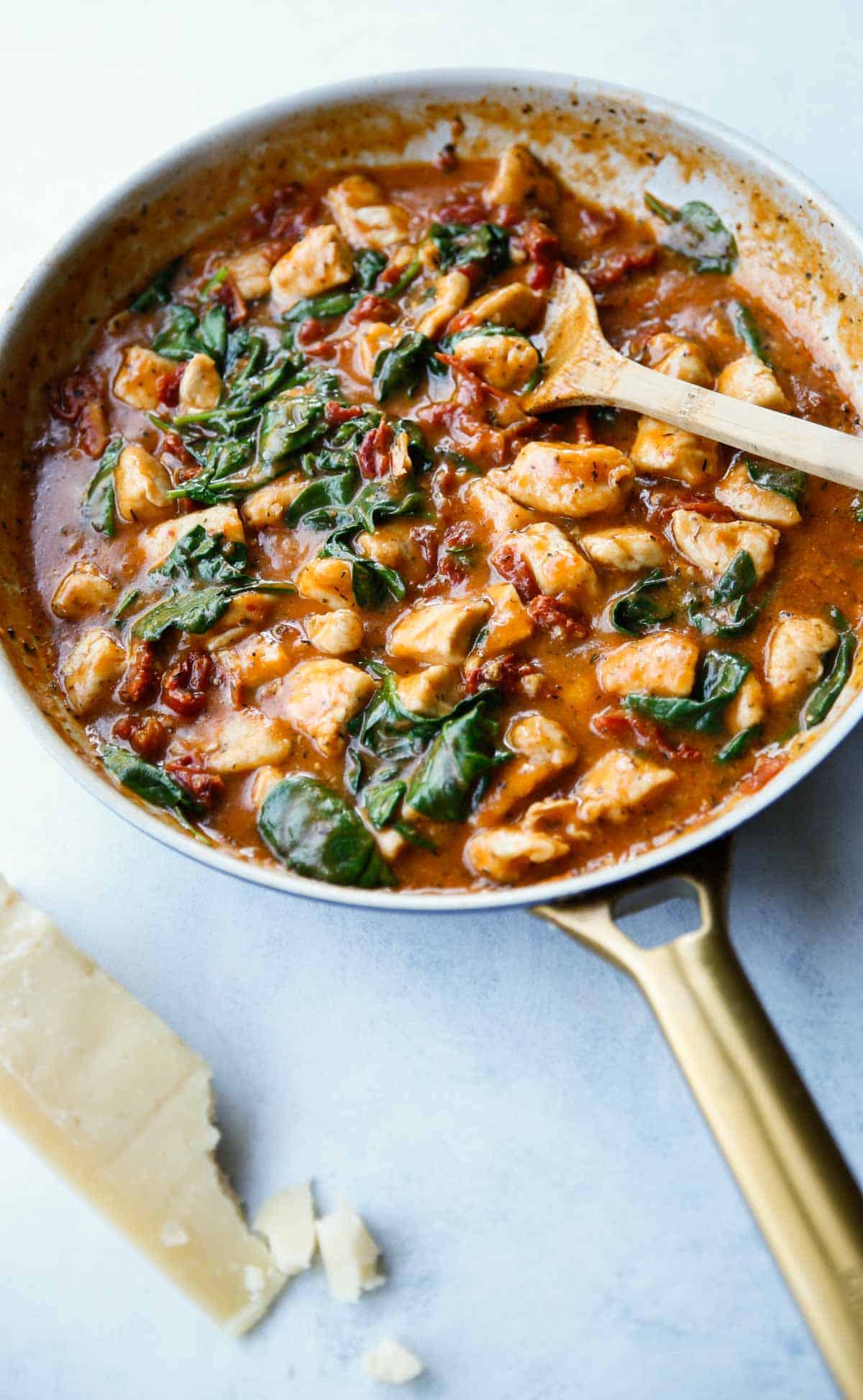 What To Serve With Creamy Tuscan Chicken: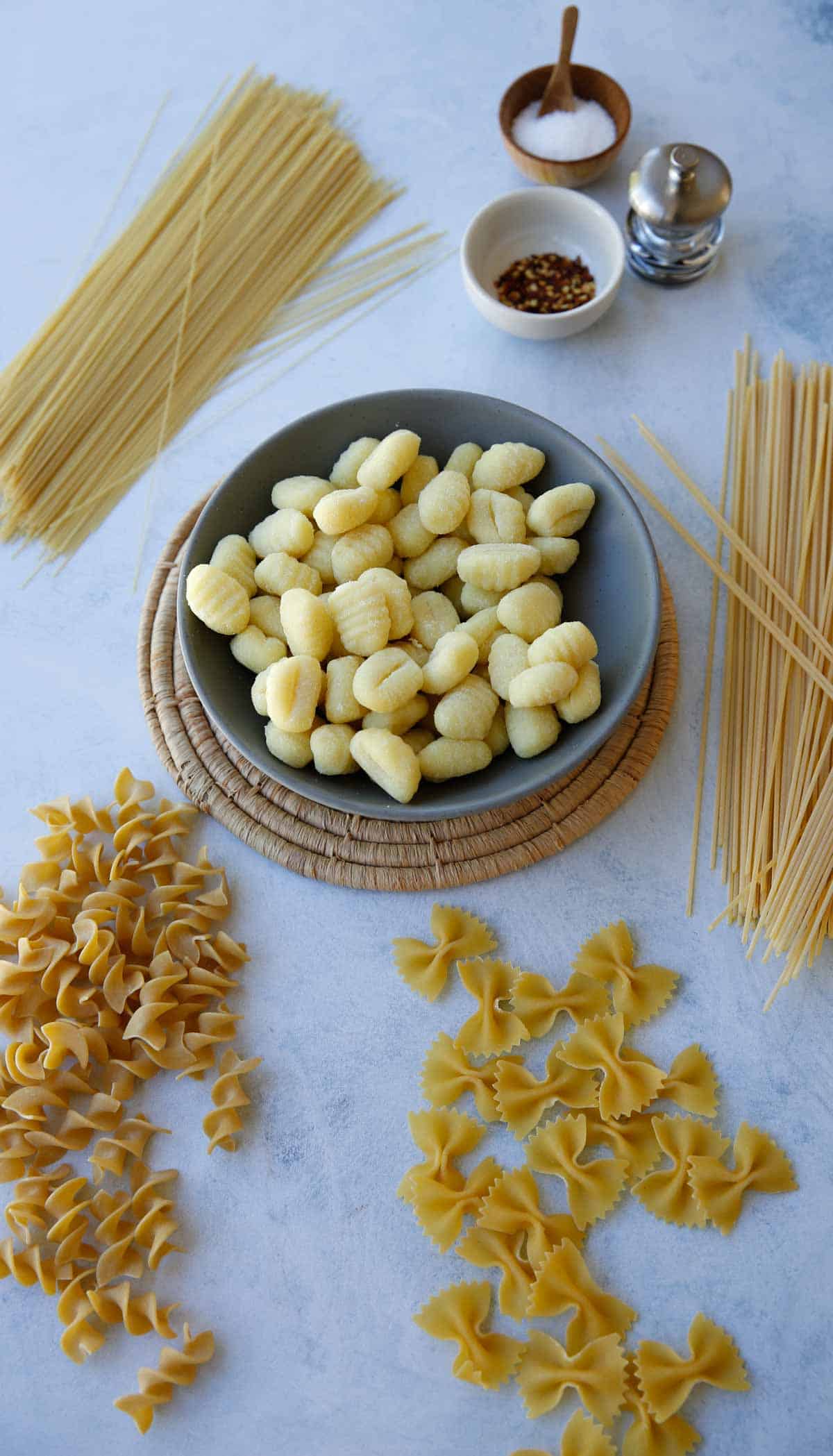 Storing and Reheating:
Leftovers can be placed in an airtight container and stored in the refrigerator for 3-5 days.
To reheat, add a few tablespoons of water to loosen the sauce and reheat in a covered saucepan until hot.
Alternatively, you can portion out single servings into freezer-safe containers and freeze up to one month.
To reheat after freezing, place in the microwave on high for 3-5 minutes until hot. Midway through heating, you may want to add 1-2 tablespoons of water to loosen the sauce.
If You Enjoyed This Recipe,
Please Leave a Rating and a Review Below!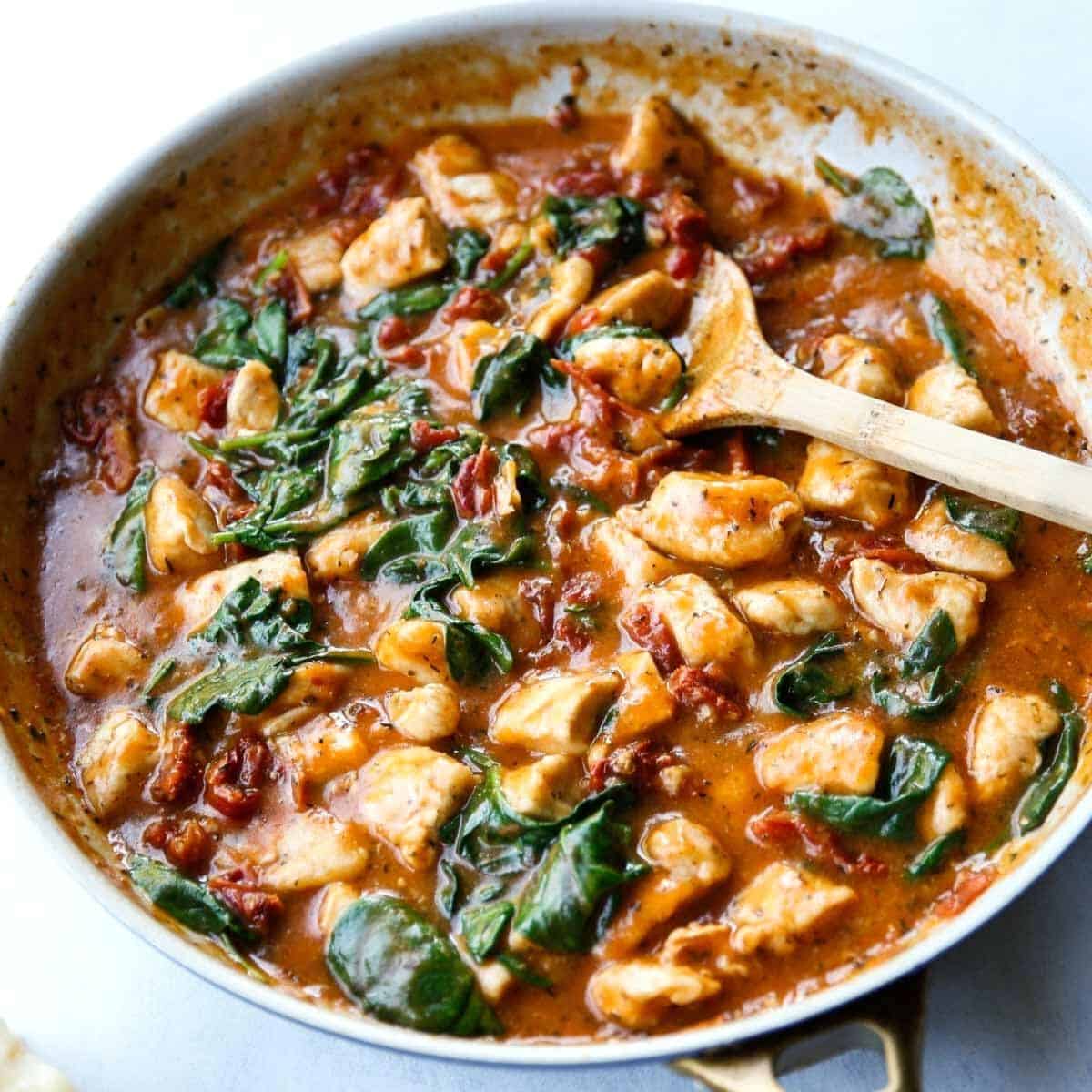 Creamy Tuscan Chicken with Gnocchi
This creamy Tuscan chicken with gnocchi is a fantastic weeknight pasta dinner that comes together quickly and easily!
Ingredients
1 lb (450g) of chicken tenderloins, cut into bite-sized pieces
4 tablespoon (30g) Cornstarch, separated
1 tablespoon (14g) unsalted butter
1 tablespoon (15ml) olive oil
⅓ cup (80ml) of a dry white wine (Chardonnay, Sauvignon Blanc etc)
1 ½ cups (375ml) of Chicken Stock
2 garlic cloves, minced
1 teaspoon (5ml) Italian Seasoning
1 cup (54g) sundried tomatoes, drained and sliced
1 tablespoon (15ml) Tomato Paste
2 tablespoon (30ml) heavy cream
2 cups (60g) baby spinach
2 tablespoon (30ml) very cold water
¼ cup (23g) parmesan cheese, grated plius more for garnishing and serving
1 lb (454) of store-bought Gnocchi or your favorite pasta
Instructions
Toss the chicken with 2 tablespoon (15g) cornstarch until coated. Dust off excess.
Heat a 12" non-stick skillet over medium-high heat. Add the butter and the oil. Once the butter and oil are sizzling, slowly add each piece of chicken and cook for a few minutes until the chicken is golden brown, then flip.
Continue to cook until the other side is browned. Don't worry about cooking the chicken all the way through at this stage, you'll do that in a later stage.
Once browned, transfer the chicken with a slotted spoon to a clean plate. Leaving the drippings in the pan.
Set a pot of salted water to boil for the Gnocchi.
Deglaze the chicken pan with white wine. Simmer until it's reduced by ⅓. Then add the chicken stock, the sundried tomatoes, tomato paste, Italian Seasoning, and the garlic.
Add the chicken back in and simmer until the chicken is cooked through and the sauce starts to slowly come up to a boil.
Then in a small bowl mix the remaining 2 tablespoon of cornstarch (15g) with 2 tablespoon (30ml) of very cold water. Slowly add this mixture to the sauce, whisking as you go, thickening the sauce. If your sauce gets too thick, add more chicken stock or you can also add a ladle or two of the starchy pasta water too.
Then add the heavy cream, and the parmesan cheese. whisk to combine and then add the baby spinach, whisking until it starts to wilt. Taste it for seasoning and add salt and pepper if desired.
Set sauce aside, taking it off the heat.
Cook the Gnocchi for 5-8 minutes. Drain it and add the cooked gnocchi to the skillet to coat them with the sauce.
Serve skillet-to-table or transfer to a platter and serve with grated parmesan cheese and red pepper flakes if desired.