Ham and Cheese Sliders Recipe
These ham and cheese sliders on Hawaiian rolls are a fantastic appetizer recipe! Gooey Swiss cheese combines with deli ham and Dijon mustard to create a crispy toasty snack. These sliders would be perfect for a Game Day Party, or an after-school snack, or serve them for dinner with some of my salad recipes on the side.
For more appetizer recipes try my Easy Air Fryer Taquitos, Baked Brie with Fig Jam, or my Bacon Mac & Cheese Bites.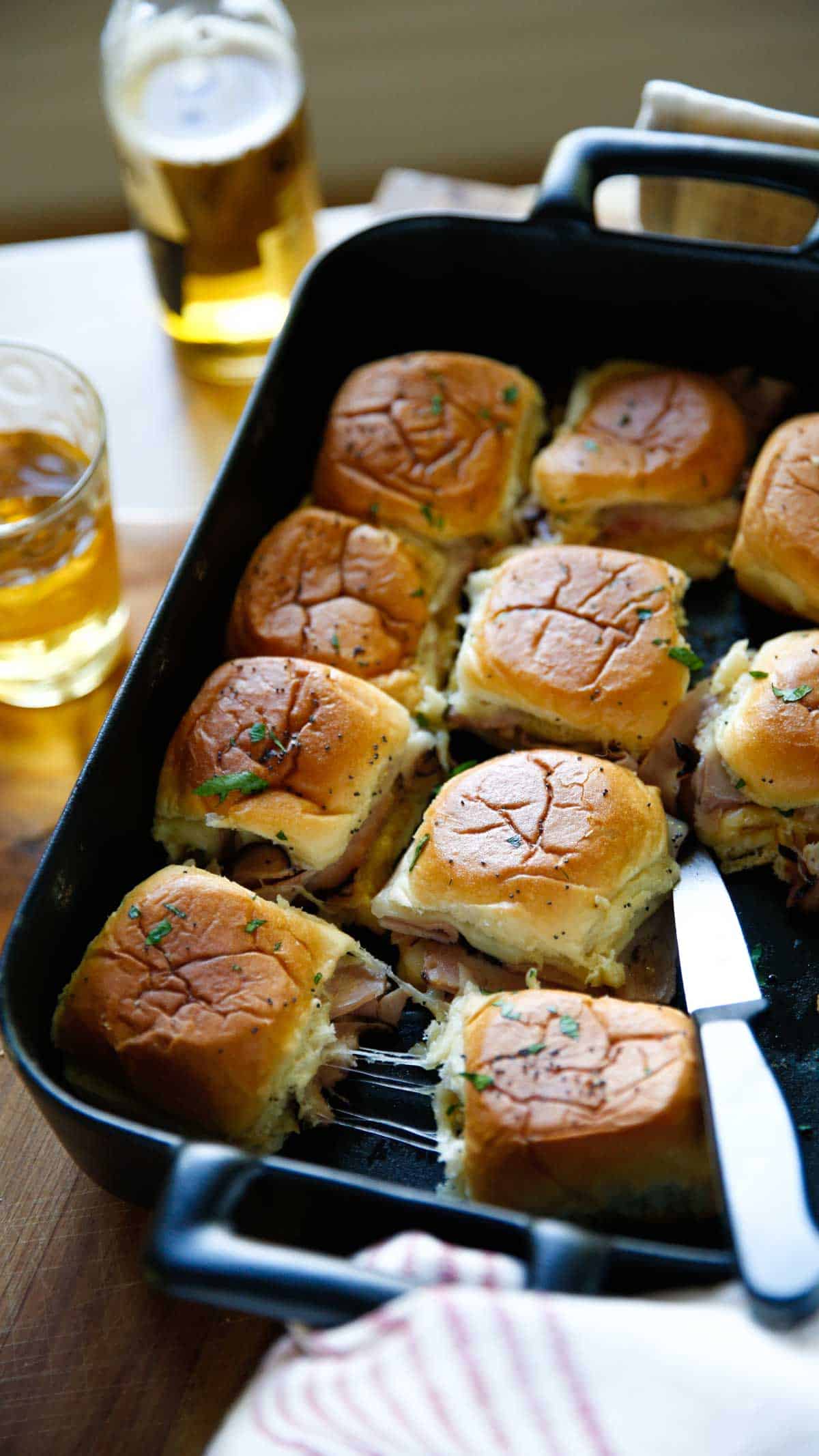 Watch a Video Demo of This Recipe Below!
The Ingredients:
King's Hawaiian Rolls are the perfect size for sliders! Not only do they make for a great portion size for an appetizer, but they are also a great size for kids too!
Deli Ham, You can use any ham you like, Black Forest, Honey Maple etc. Just be sure it's sliced thinly. It will be easier to eat in a slider that way
Swiss Cheese the slices work best for this recipe, as opposed to grated Swiss cheese. You can have your deli counter slice it thinly for you, or I have recently discovered the Sargento Ultra Thin Swiss Cheese Slices which work really well for this recipe! Since the sliders are pretty delicate due to the softness of the Hawaiian rolls, the thinner the cheese the better. It will also help the cheese melt faster too.
Mustard can be Dijon or Honey Mustard. I like the honey mustard with the Savory Hawaiian Rolls and the Dijon mustard with the Sweet Hawaiian Rolls. Otherwise sweet on sweet is, a bit too sweet in my opinion, but really the choice is yours.
Butter I like to use salted butter for this recipe.
Garlic is used to create a garlic butter that will be brushed on top of the buns before baking, but if you are not a fan, you can leave it out. Maybe add some onion powder instead or some dried Italian Seasoning for additional flavor.
Poppy Seeds gives the sliders a fun "burger bun" effect and a little nutty texture on top, but you could also use sesame seeds, dark or light, if that's all you have on hand.
Fresh Italian Parsley chopped and sprinkled on top after the sliders come out of the oven, is a nice garnish that adds freshness on top and looks pretty too.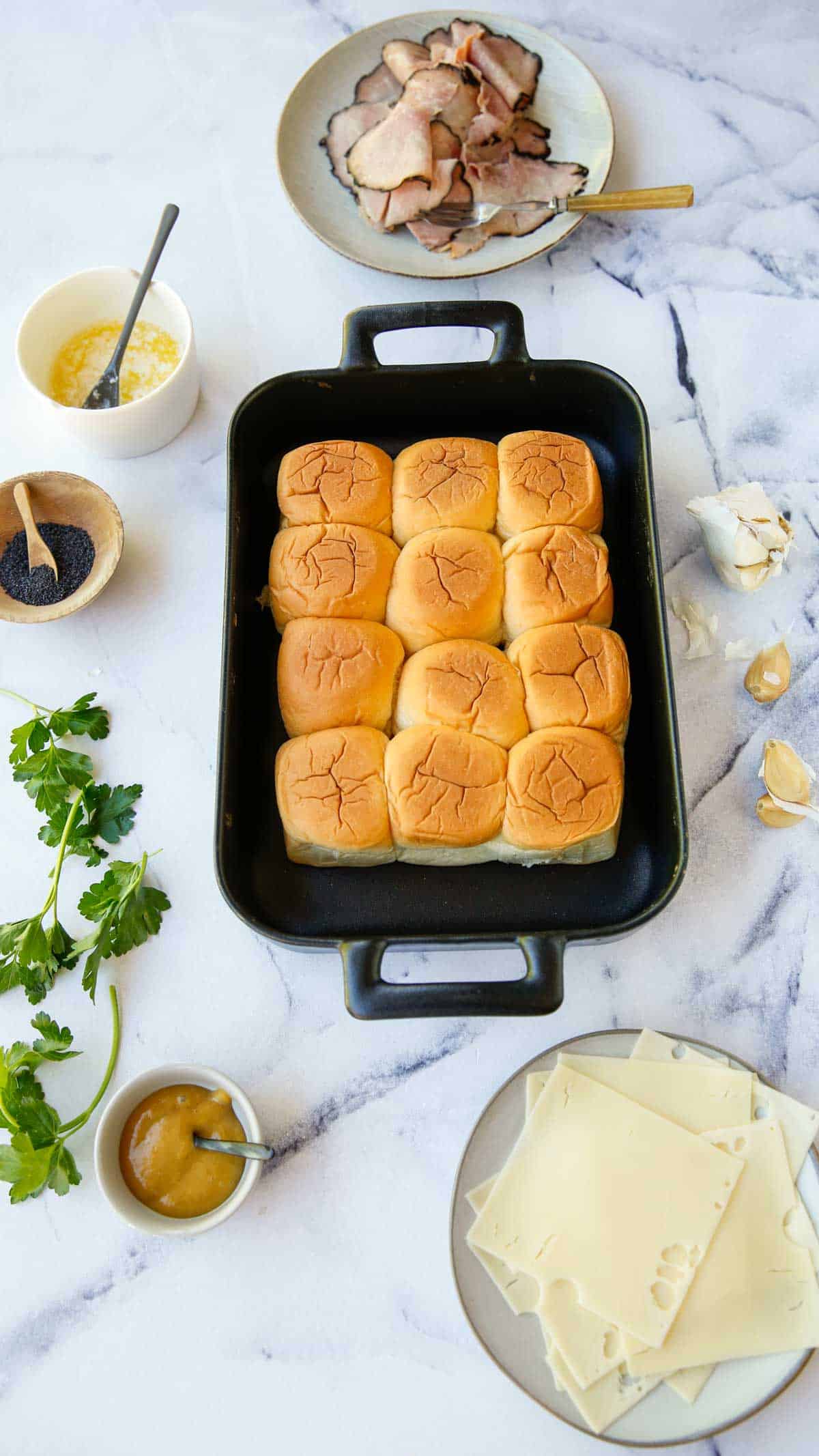 Step#1: Slice the Rolls
The biggest tip with the Hawaiian rolls is to make sure you keep them intact, this will create the "pull apart sandwich" effect and will make them easier to bake, as a whole, in the casserole
In order to cut them and keep them together, it helps to use a serrated bread knife and cut them in stages by rotating them a turn or two each time (see above video for demonstration)
Remove the top gently, and then the sliders are ready to be filled.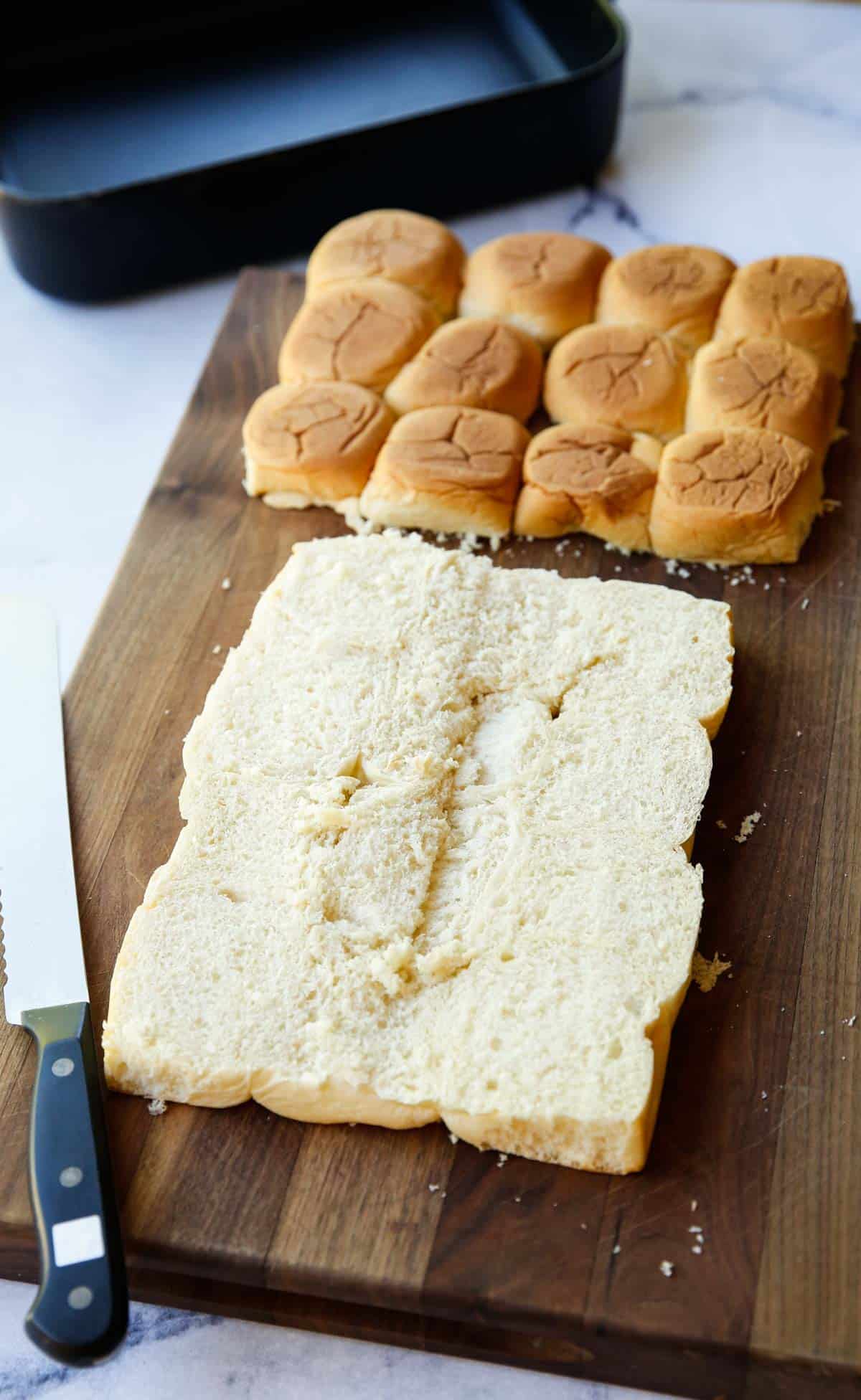 Step#2: Fill The Slides with Ham, Cheese, and Mustard
Start by spreading a layer of mustard on the bread. Putting the mustard on the bread, as opposed to on the ham, will make the slider interiors less slippery and easier to eat once they are baked
To prevent your sliders from becoming soggy, I recommend using a metal brownie tin, a black bottom casserole dish, or just a baking sheet. This will crisp up the bottoms and make them toasty.
Alternate Filling Ideas:
Deli Turkey, Pepper Jack, and Red Pepper Pesto
For a Vegetarian Version try Pesto, Sliced Mozzarella and Sundried Tomatoes
Ham, Brie, and Apricot Jam would also be good

Step#3: Brush the Rolls with Butter
Once the sliders are filled you can brush their tops with the melted garlic butter
Keep the garlic butter on hand because it's also nice to give them another brush with it after they are baked. It will add additional shine and flavor
Then add the poppy seeds. Hold off on adding the parsley until after they are baked
Step#4: Bake the Sliders
Bake the sliders covered for 20 minutes at first. This will allow the Swiss cheese to melt and the ham to warm through.
Covering the casserole will also prevent the Hawaiian Buns from burning. The combination of their sweetness and soft texture allows them to toast quickly!
Then bake uncovered for about 3-5 minutes uncovered just to toast up a bit.

Make-Ahead + Serving Tips:
You can have the sliders filled and prepped a day in advance, covered in the refrigerator. Then moments before baking, add the melted garlic butter and poppy seeds.
If you were serving sliders as the main course for dinner you could pair them with my Shaved Brussels Sprouts Salad, Charred Asparagus and Vinaigrette, Cucumber Dill Salad or my Couscous Salad.
I love to serve these sliders in the casserole dish because it's easy to reheat them if needed. Just place them back in the oven, covered at 300F for about 10-15 minutes.
If You Enjoyed This Recipe
Please Leave a Rating and A Review Below!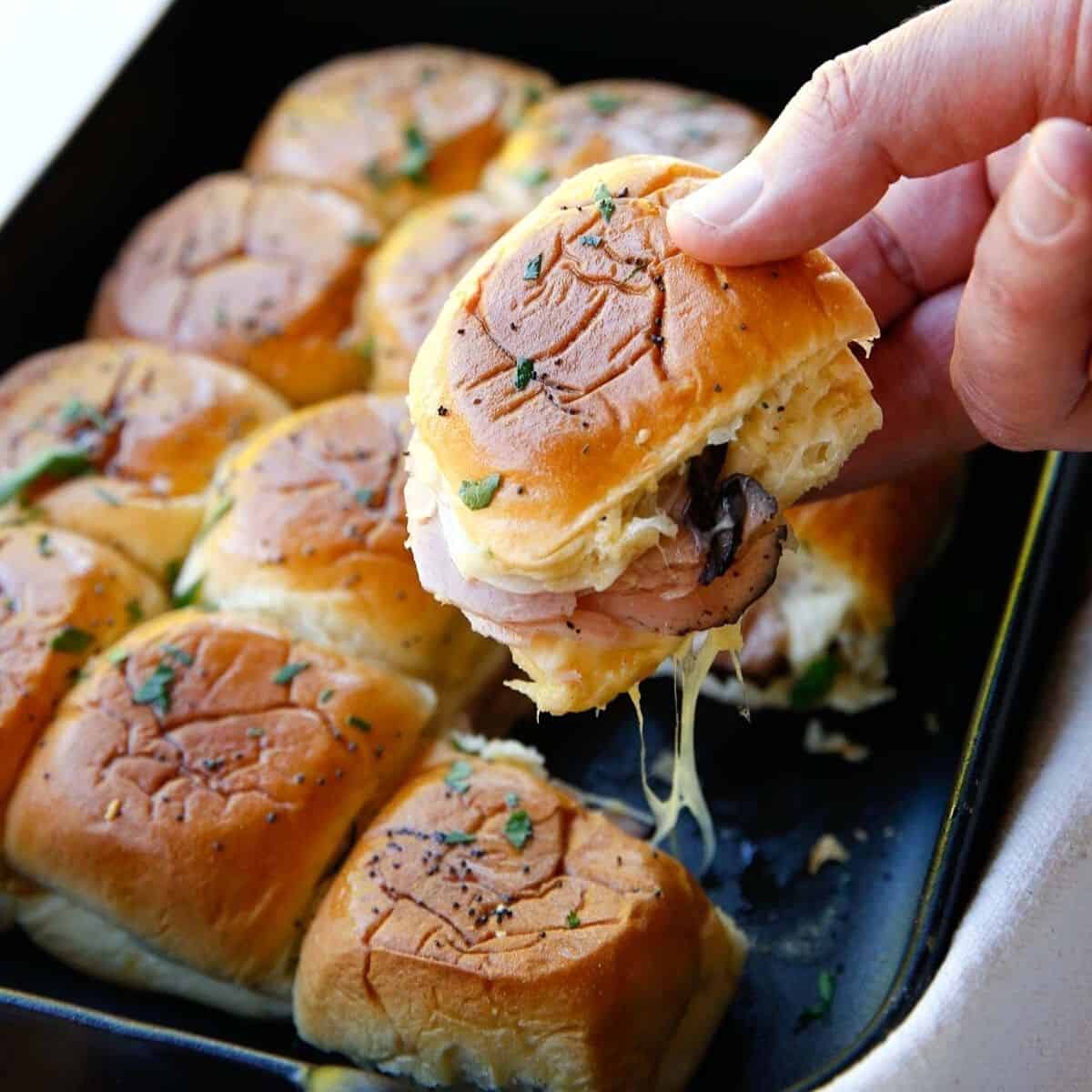 Ham and Cheese Sliders Recipe
These delicious Ham and Cheese Sliders on Hawaiian Rolls make for a fantastic Game Day Appetizer or After-School Snack!
Ingredients
1 package of King's Hawaiian Rolls (Sweet or Savory)
12 Slices Deli Ham
12 Slices Swiss CHeese
2 tablespoon (30ml) Mustard of Choice (Dijon, Honey Mustard, etc)
4 tablespoon (60ml) Melted Butter
1 garlic clove, minced
¼ teaspoon (1.25ml) poppy seeds
1 tablespoon (15ml) Fresh Italian Parsley
Instructions
Preheat oven to 350F (175C).
Slice Hawaiian bun as one, crosswise so you have a top and bottom layer. Set the top layer gently aside so as not to separate the buns.
Spread the mustard on the bottom half, then add 6 slices of the Swiss Cheese, then a layer of ham, then top with 6 more slices of cheese. Place the top layer of buns on top. Keep the buns intact and transfer them to an oven-safe casserole dish.
Combine the garlic and melted butter. Brush the melted butter on top. Sprinkle the poppy seeds on top of the buns. Keep the garlic butter on hand because it's also nice to give them another brush with it after they are baked. It will add additional shine and flavor
Cover with foil and bake for 20 minutes. Uncover and bake for 3-5 more minutes. Serve oven to table in the casserole.
Notes
The biggest tip with the rolls is to make sure you keep them intact, this will create "pull apart sandwiches" and make them easier to bake as one mass in the casserole
In order to cut them as one and keep them together, it helps to use a serrated bread knife and cut them in stages by rotating them a turn or two each time (see above video for demonstration)
Nutrition Information:
Yield:

12
Serving Size:

1
Amount Per Serving:
Calories:

171
Total Fat:

13g
Saturated Fat:

8g
Trans Fat:

0g
Unsaturated Fat:

4g
Cholesterol:

45mg
Sodium:

326mg
Carbohydrates:

2g
Fiber:

0g
Sugar:

0g
Protein:

11g