New Years Eve is the perfect occasion to indulge in something elegant and decadent (let's face it, it's the last hooray before all those resolutions kick in!)
If you are looking for such a nibble for your New Years Eve Party, I highly recommend my Bacon Mac and Cheese bites.  Just the title alone is enough to make you drool!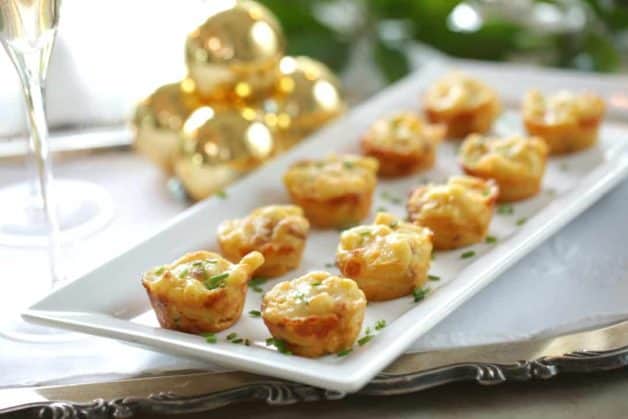 Rich and cheesy and salty, they are the perfect little morsel to serve with a glass of champagne. Due to their bite size portion, you don't feel too guilty popping a few in your mouth in one sitting.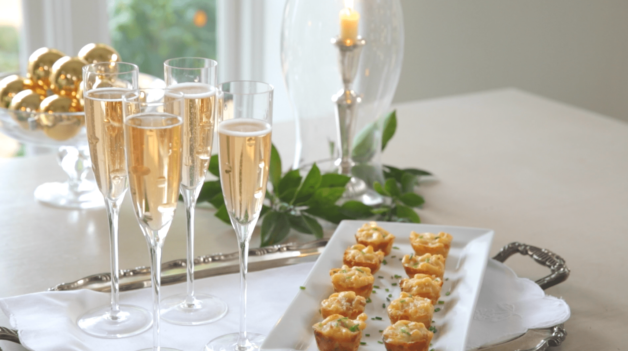 I also like to garnish with some fresh chives to balance out the richness and it also looks so pretty on the plate.
Watch my video demo of this recipe below!
The nice thing about this appetizer recipe is that it can be made the day before…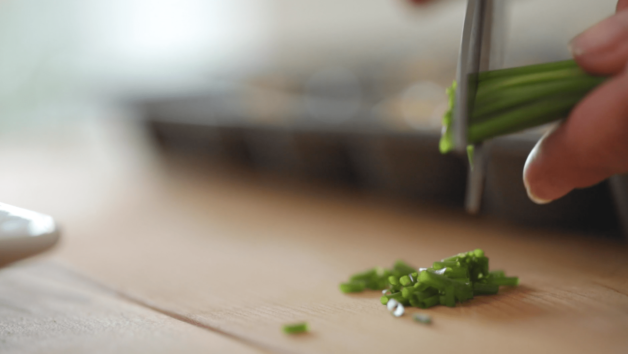 STEP 1: Boil The Pasta
you'll boil the pasta just until it is "al dente". You don't want to overcook it because it will continue to cook in the oven as it bakes.

Tip: Look for the small macaroni pasta. Remember it needs to fit in a mini muffin tin once it's cooked. So the smaller the better!
STEP 2: Make Your Cheese Sauce
The cheese sauce is a basic mornay sauce with your favorite type of cheese.

I think a sharp cheddar works well for these since it's a great flavor combination with the bacon. But you could also use Gruyere cheese too.
STEP 3: Add Sauce, Bacon, Eggs, and Flour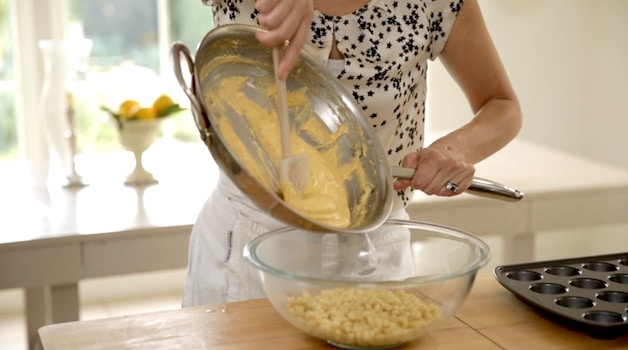 You'll toss your pasta with your cheese sauce until all the pasta is coated.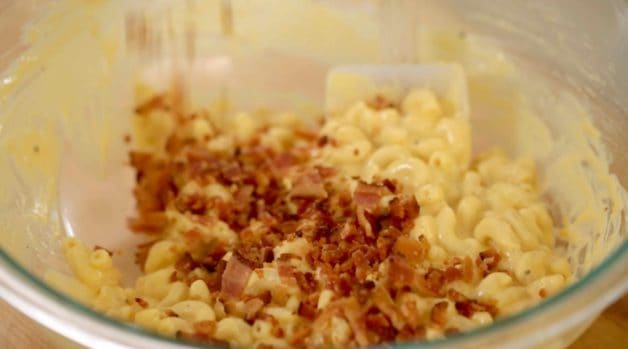 Then you'll add your cooked bacon, eggs to bind the mixture together and a little flour to help with the stability of the bites (full recipe below).
STEP 4: Portion Out Batter
Scoop out the mixture with a small 1″ cookie dough scoop.  This is the perfect size to fill the mini muffin tin. I'd also recommend on non-stick mini muffin tin since these bites are cheesy and sticky and you want to make sure they just pop out of the tin. (these links go to Amazon where I am compensated for products sold with no cost to the consumer)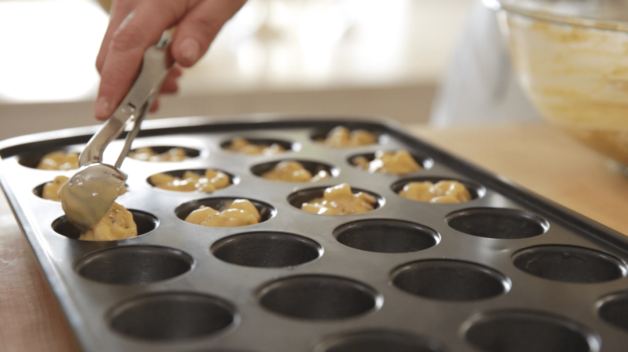 Top each well with grated cheese. The cheese will melt over the mac and cheese and create a wonderful little crispiness to the top of the appetizer as it bakes.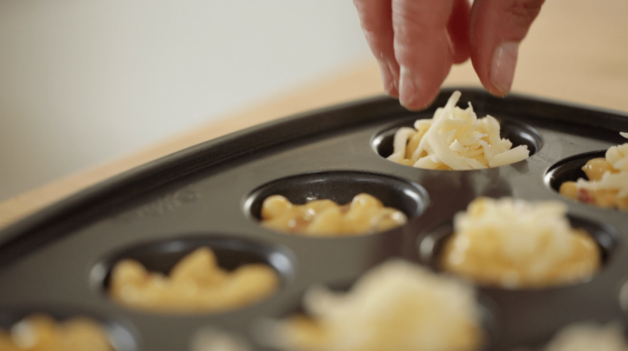 Make Ahead Tips:
Cover your tin with foil and keep refrigerated until ready to serve.
Moments before guests arrive, pop them in the oven and your guests will be greeted with the most fantastic aroma coming from your kitchen.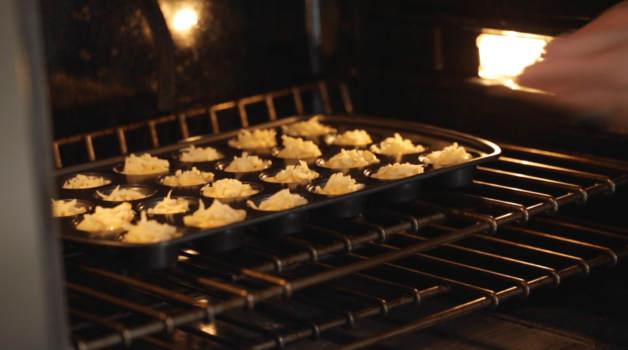 These appetizers look really pretty when placed on a rectangular platter and sprinkled with chives.  place them It's a great way to get the party started! HAPPY NEW YEAR!! xx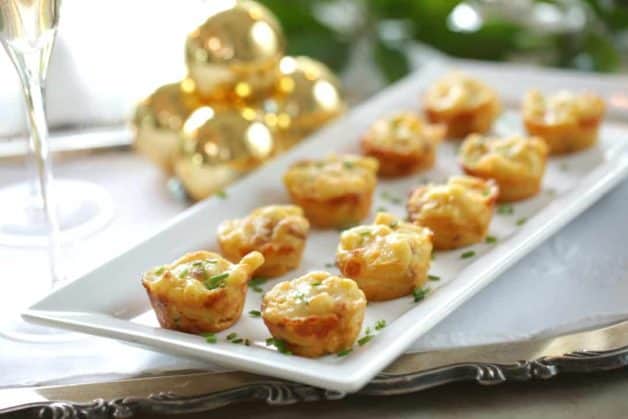 LOOKING FOR MORE ELEGANT APPETIZERS?
PLEASE LET ME KNOW IF YOU MAKE THIS RECIPE BY LEAVING A RATING AND REVIEW BELOW!
Follow me on Youtube, Pinterest, Instagram , Facebook and Amazon!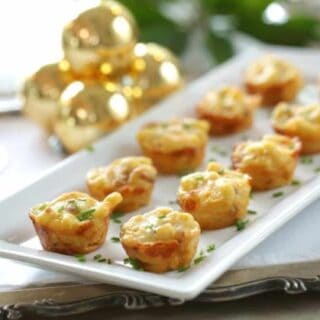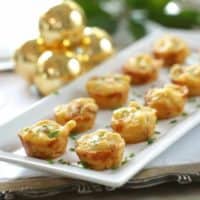 Bacon Mac and Cheese Bites
Bacon Mac and Cheese bites. A wonderful appetizer idea for holiday entertaining!
Ingredients
1 tbsp (15 g) butter for greasing tins
1 cup (140 g) tiny elbow macaroni
3 tbsp (45 g) butter
2 tbsp (15 g) flour
1 cup (240 ml) milk
1/4 tsp (1.25 ml) cayenne pepper
1 tsp (5 ml) salt
1 minced garlic clove
freshly cracked pepper
1 cup (240 ml) sharp cheddar cheese + ½ cup (120 ml) mozzarella for topping
1/2 cup (120 ml) cooked bacon, chopped
1 egg
2 egg yolks
1/3 cup (40 g) flour
¼ cup (60 ml) chives
Instructions
Preheat oven to 375F (190C).
Grease a mini muffin tin lightly with melted butter and set aside.
Boil pasta according to package instructions.
Cook bacon in skillet or in microwave. To microwave line a plate with paper towel, place bacon on top, and then place more paper towel on top. Microwave on high for 6 mins until browned and crispy. Allow to cool on towel, and chop into a rough chop.
Then in a large skillet prepare the cheese sauce, melt 3 tbsp butter, add flour and whisk and cook for 1 minute then slowly whisk in milk, whisking all the while, a smooth sauce will develop. Add cayenne, salt, garlic and pepper.
Then add cheddar cheese, and whisk until smooth. Remove from flame and allow to cool slightly.
Drain pasta and transfer it into a large bowl. Add cheese sauce and stir to combine. Then add egg and egg yolks, flour, and bacon. Stir to combine.
Using a mini ice cream scoop portion out into muffin tin, and top with the mozzarella cheese.
Bake for 13-15 mins until golden brown and cheese has melted. Allow to cool to set up and become stable.
Place on platter and top with freshly snipped chives. Serve with champagne! Enjoy!
Notes
Be sure to buy the smallest macaroni pasta. Remember these need to fit into a mini muffin tin, so smaller pasta works better!
Be sure to grease your muffin tin well. Otherwise these can be hard to remove from the tin once baked.
TO MAKE AHEAD:Scoop the batter into the tin. Cover your tin with foil and keep refrigerated until ready to serve. Moments before guests arrive, pop them in the oven and your guests will be greeted with the most fantastic aroma coming from your kitchen.