Easy Appetizer Ideas for Parties
These easy appetizer ideas can be thrown together in minutes. These are three of my favorite go-to ideas, especially after I've spent the day cooking a special meal, and just need the appetizers to be easy!
Make one or two, or whip up all three for a well-rounded cocktail party! Or check out some of my other favorite appetizer recipes.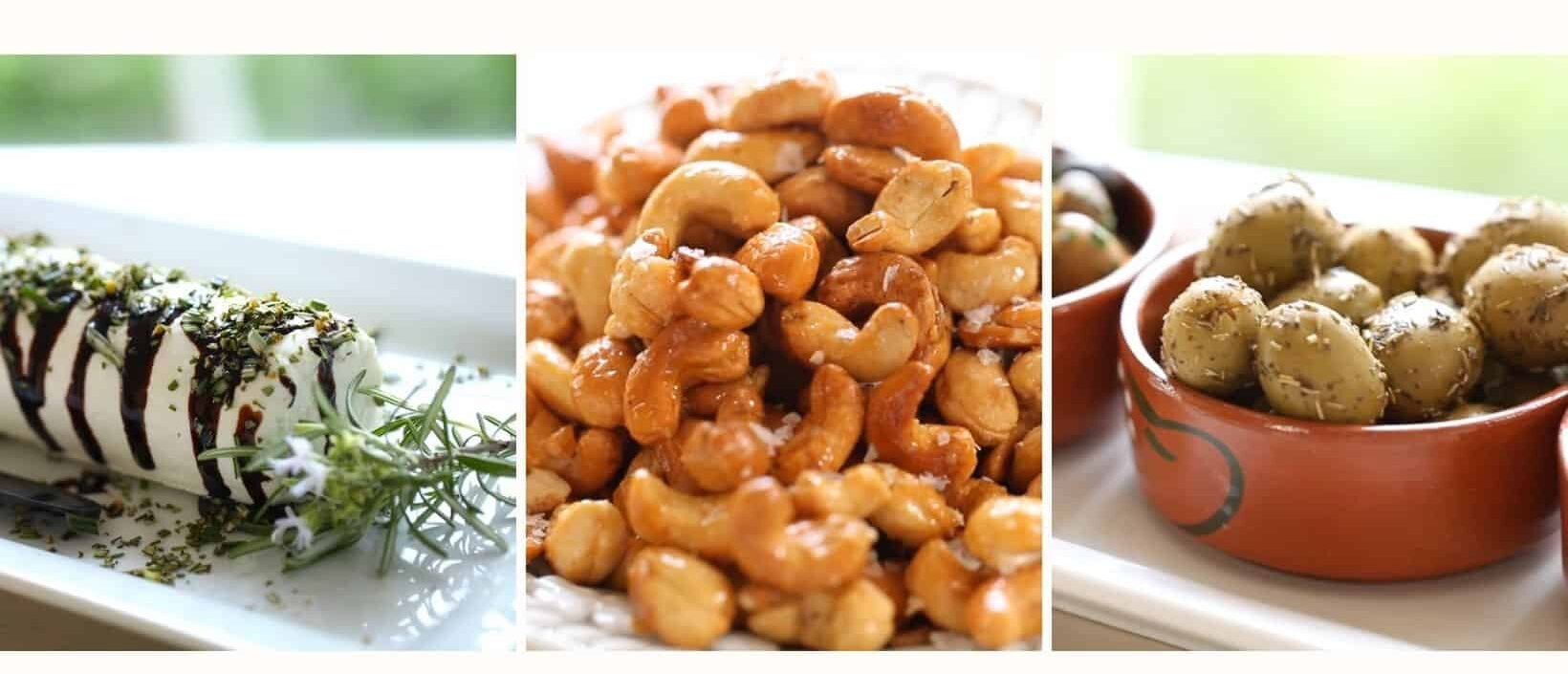 Watch My Video Demo of These Recipes Below
Subscribe for weekly recipes
and new videos!
Idea#1: Goat Cheese Log
A goat cheese log, drizzled with balsamic glaze and topped with fresh rosemary, is as easy as it gets! You can serve it with those addictive rosemary, raisin crackers from Trader Joe's and you'll have a winning combination on your hands that will fly off the plate!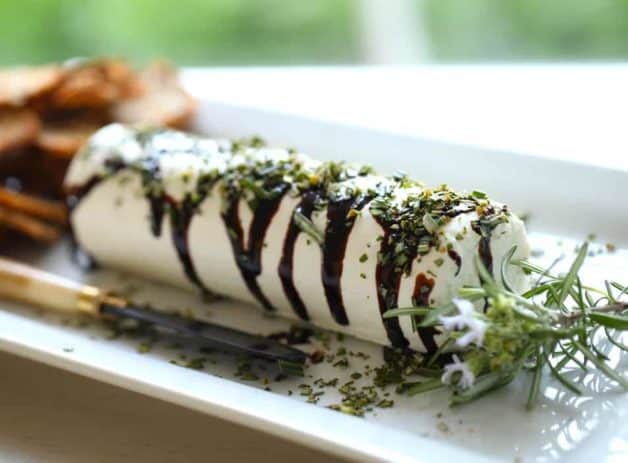 It's as easy as 1,2,3!
Trader Joe's sells this fantastic balsamic glaze. It's really an entertainer's best friend because you can put it on all sorts of cheese varieties and it's also great on fruit too. Try it on grilled peaches or fresh strawberries for dessert.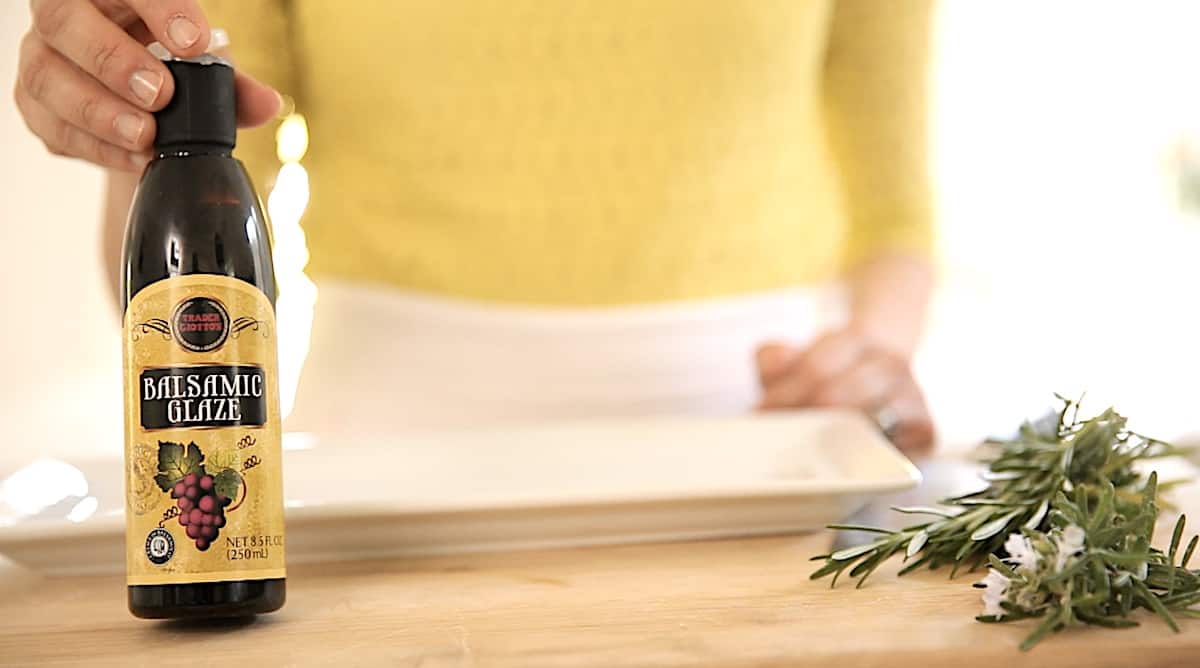 Step #1: Drizzle the Glaze
You can get as decorative as you like, but I like to drizzle at least enough on the goat cheese log so that it drips down the side, this will make for a pretty presentation. If you can't find balsamic glaze, you could also use sliced Sundried tomatoes too.
If using sundried tomatoes you can top with the rosemary, or fresh thyme or fresh basil works well too!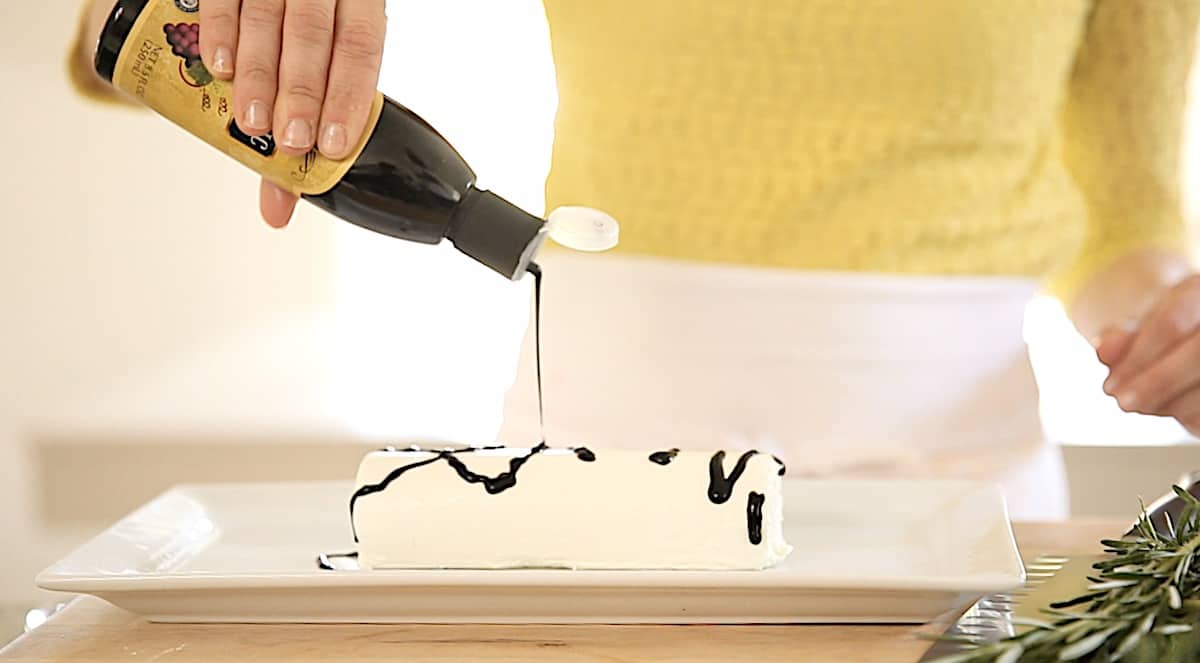 Step#2: Add the Rosemary
If you grow your own rosemary, you may notice in the spring it will start to flower with the most beautiful purple blooms.
When picking the rosemary for this appetizer, I also look for a few sprigs with blooms on them since they make for a pretty garnish.
Goat cheese and rosemary are one of my favorite flavor combinations and if you like it too then you must try my Goat Cheese Tarts with Rosemary and Caramelized Onions, another wonderful appetizer to try!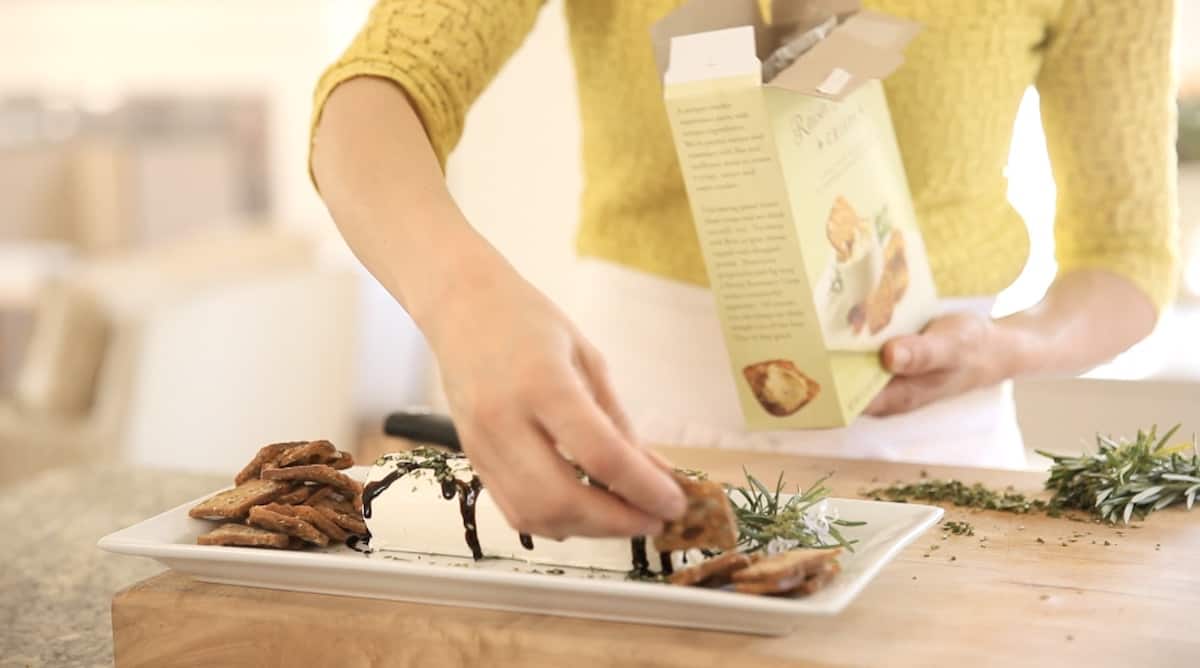 Step#3: Add the Crackers
If you can't find the raisin crackers at Trader Joe's, you can try raisin bread or raisin toast is great too. You'll love this appetizer because it's so pretty, so easy, and best of all delicious!
Idea#2: Honey Glazed Cashews
These honey-glazed cashews are that perfect combination of sweet and salty and are so addictive too! You can also make them in advance and reheat them in a 300F oven for about 5-7 minutes for that "warm nut" effect.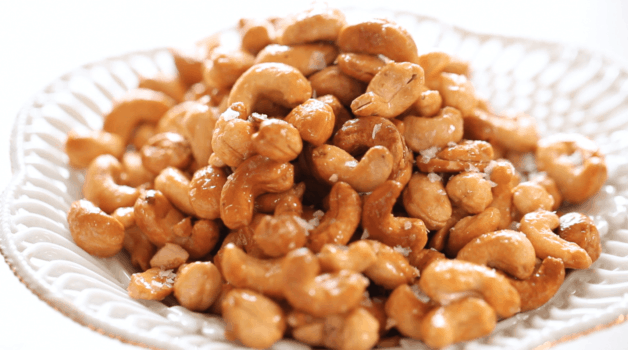 Step#1: Create the honey glaze
It's best to start with raw cashews since you'll be roasting them in the oven, and putting seasoning on them, so you don't need to buy roasted or salted nuts. If that's all you can find that's OK, just omit the salt in the glaze mixture.
The extra roasting won't hurt them any. If you have any leftover cashews you can use them up in my Cashew Chicken Recipe, a terrific weeknight meal.
Just be sure your pan is greased so they don't stick. Lay the cashews on the pan and drizzle the glaze over them. Toss to coat and bake for 10 minutes. It's that easy!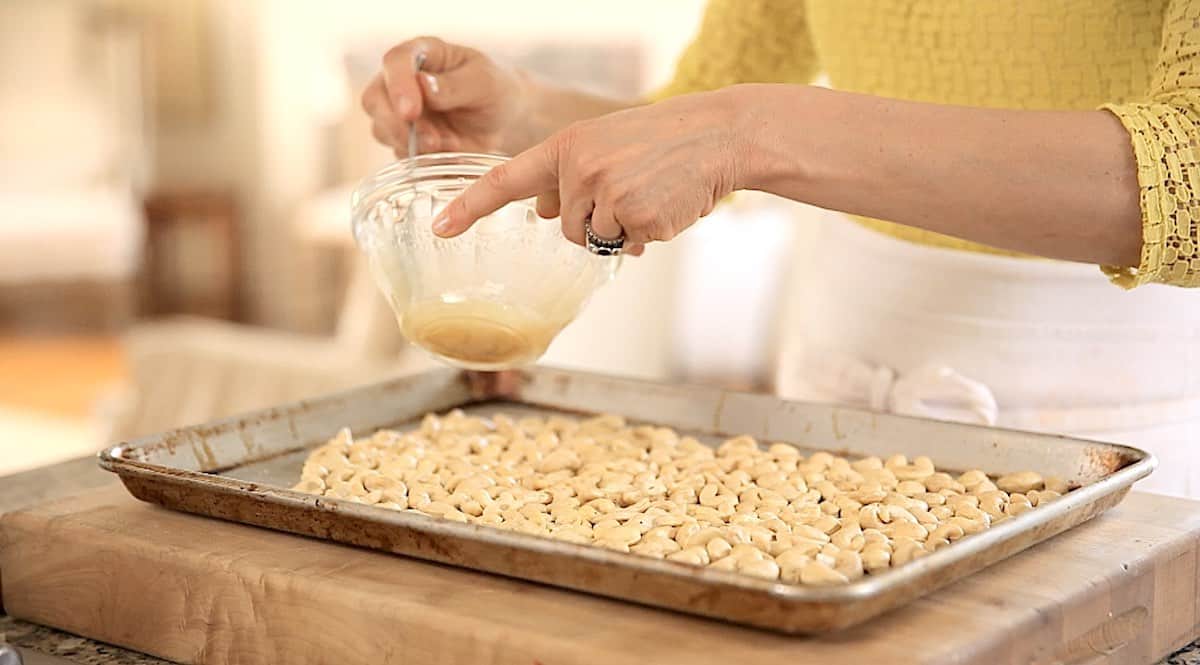 Be Sure To Toss Occasionally
As the nuts roast in the oven, they will start to caramelize in the oven, gently toss them with a wooden spoon to assure they are roasting on all sides. They will be sticky but will harden as they cool.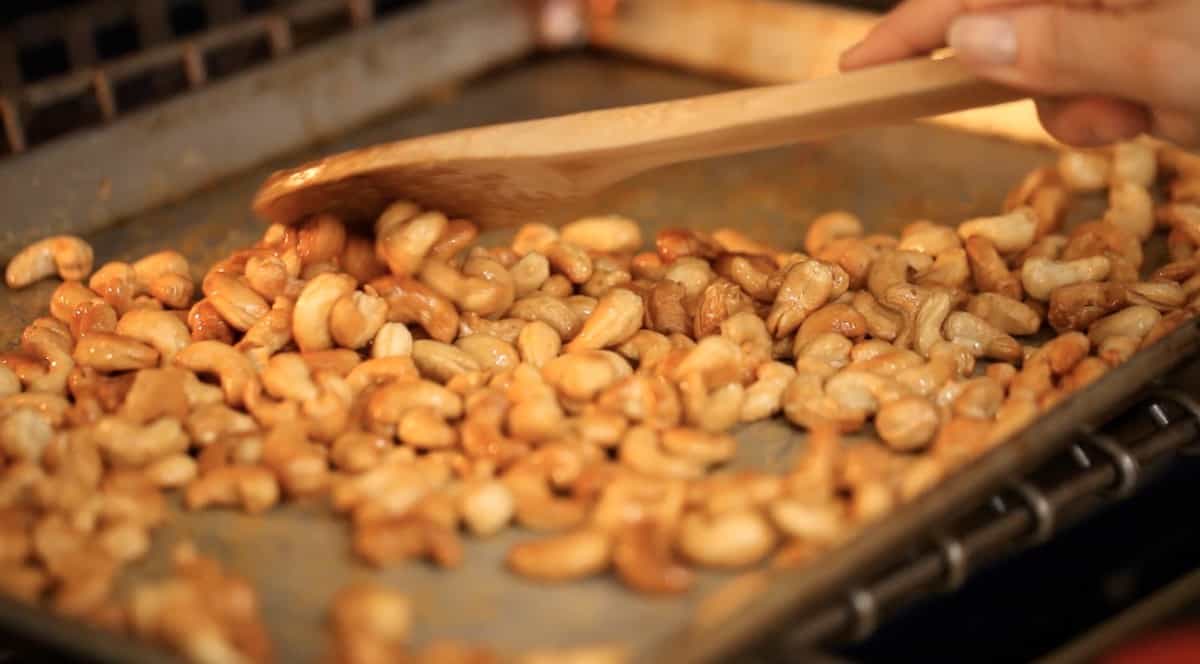 Allow them To Set
Allow them to cool as soon as they are done, this will help to set the honey glaze and make them less sticky and more crunchy. As they are cooling you can also sprinkle some fleur de sel sea salt on them as well. It will stick to the nuts at this stage and create a nice salty crunch against the sticky sweetness.
Transfer them to a serving bowl and that's all there is to it. Nuts always look extra fancy in a footed bowl. So if you have something elevated all the better!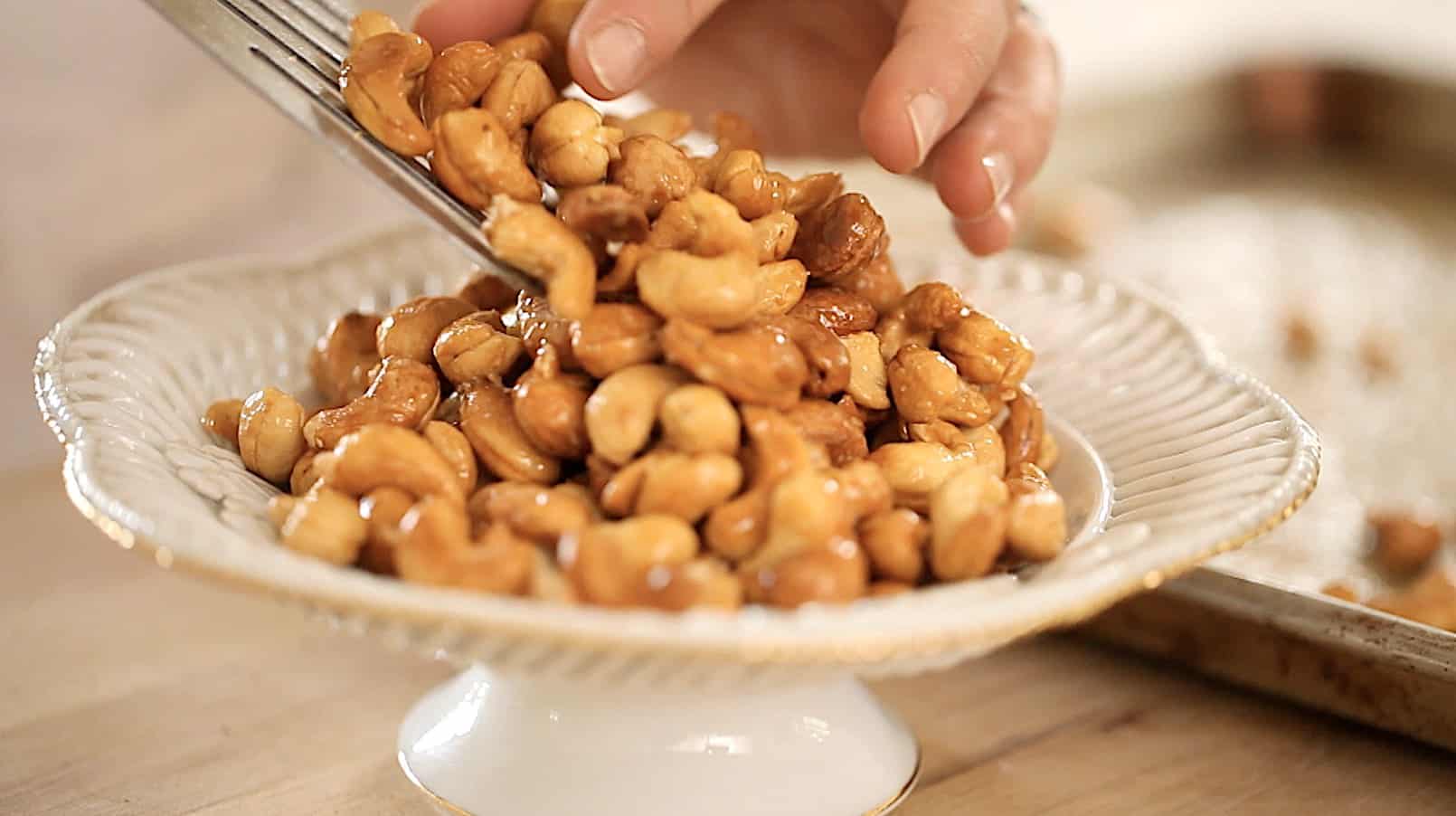 Idea#2: Mixed Olive Bar
To round out the flavors an easy olive bar is always a great idea! Place store-bought olives in small bowls and then place them on a rectangular platter. It's also great to switch up the flavors from spicy to herbs to citrus!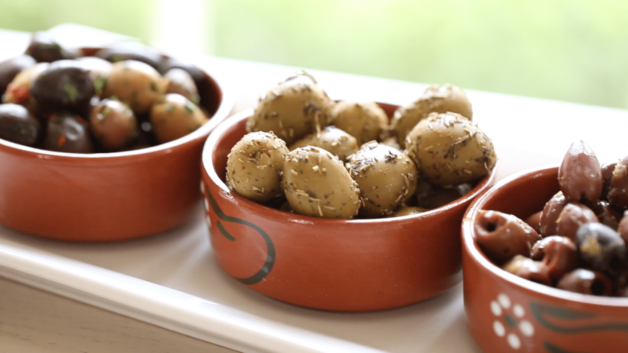 Step#1: Drain the Olives
I like to use the olives that come in water, as opposed to oil. And even better if you can buy them already pitted too. Less of a safety hazard for the kids! And it alleviates the need to set out a bowl for the pits.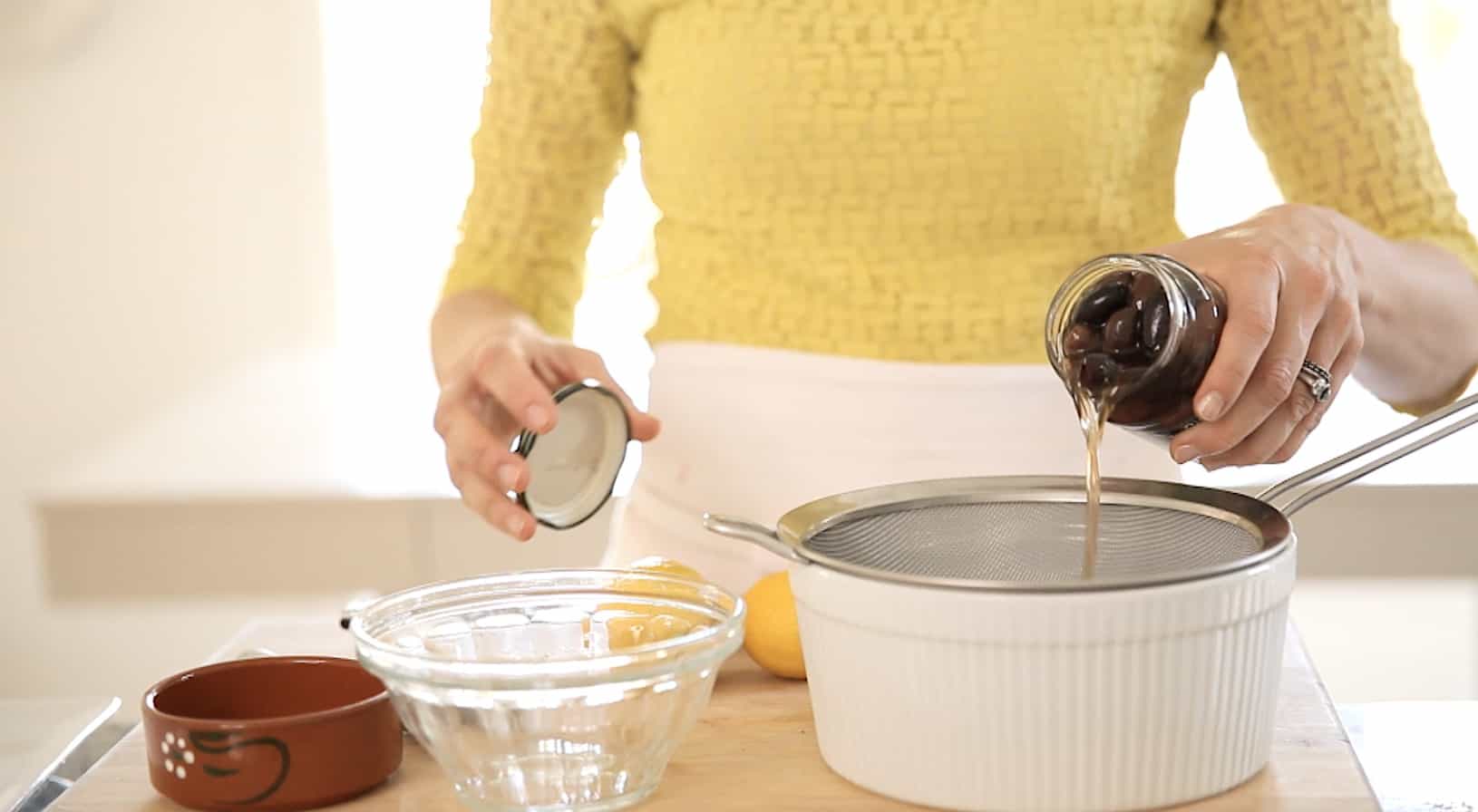 Mix Up The Seasonings
In addition to mixing up the variety of olives, Kalamatas and any kind of green olives are my favorites.
Mix up the seasonings too! I like to use lemon or orange zest, red pepper flakes, and dried herb blends like Herbs de Provence work great too!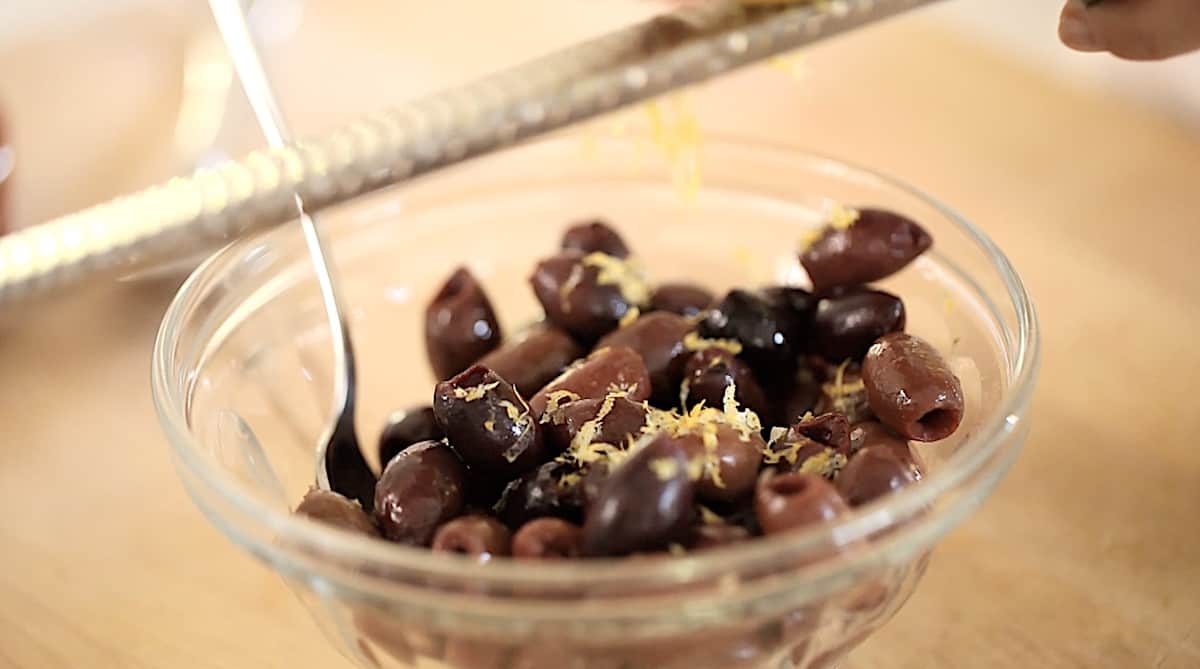 If you can find stuffed olives those are wonderful as well. Sometimes they are stuffed with roasted garlic or other vegetables, or you can stuff them yourself too with a little blue cheese!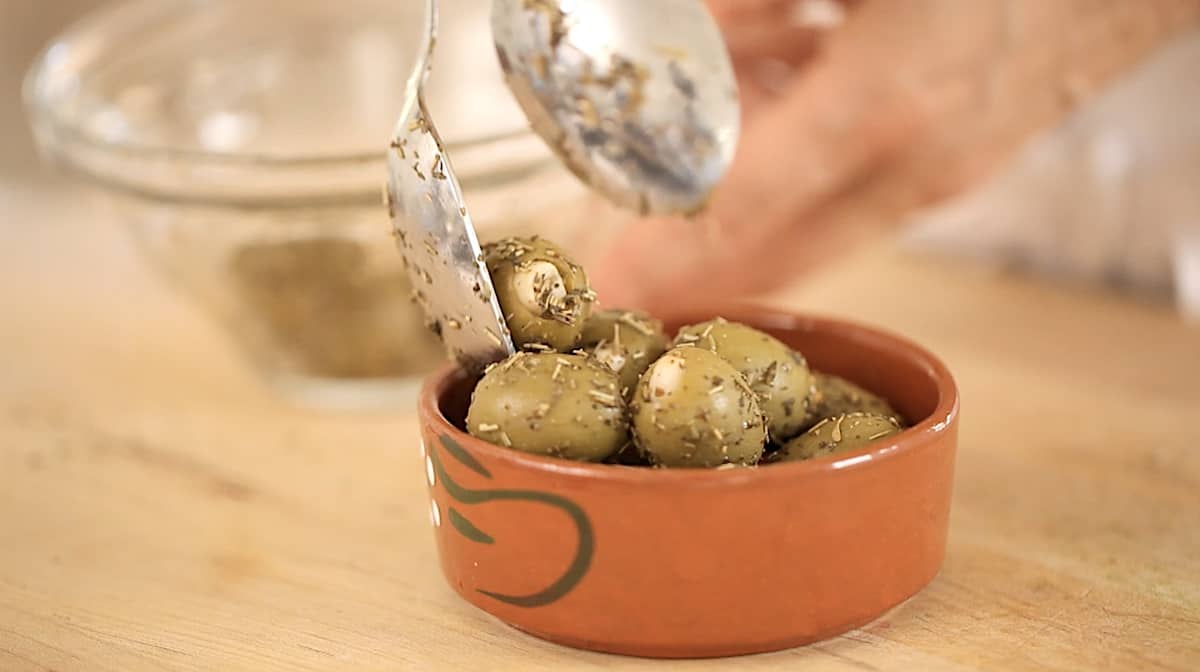 More Great Recipes To Try:
If You Enjoyed These Recipes
Please Leave a Rating and a Review Below!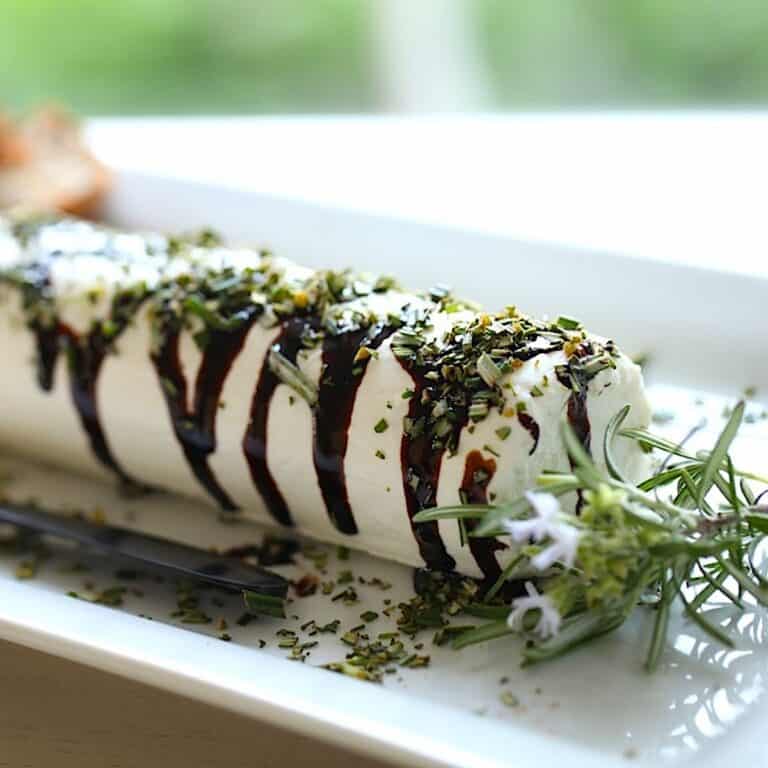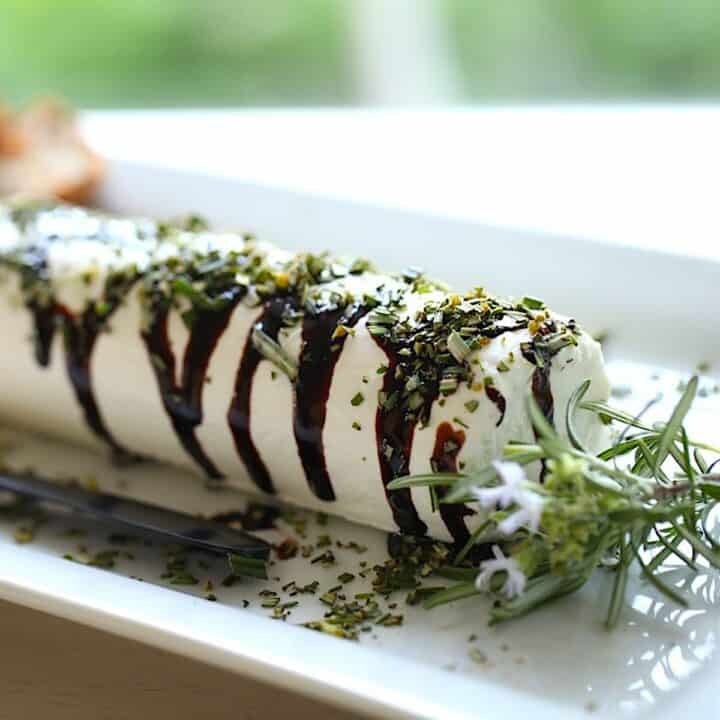 Easy Appetizer Recipes for Parties
Three Easy Appetizer Recipes are sure to impress at your next cocktail party! They are easy, delicious and beautiful too! Make them ahead of time and then "set it and forget it"
Ingredients
FOR GOAT CHEESE LOG
1 log of goat cheese
1 tablespoon (15 ml) rosemary, minced, plus 1 sprig for garnish
1 tablespoon (15 ml) balsamic glaze
crackers of choice
FOR HONEY CASHEWS:
2 cups (300 g) of cashews or any mixed nuts
2 tablespoon (30 ml) salted butter, melted
¼ cup (60 ml) honey
1 teaspoon (5 ml) brown sugar
1 teaspoon (5 ml) salt
Flakey sea salt for garnish
FOR THE OLIVE BAR:
1 Jar pitted Kalamata Olives
2 tablespoon (30 ml) lemon zest
1 Jar Green Olives stuffed with garlic
1 tablespoon (15 ml) herbs de Provence
1 jar mixed Mediterranean Olives
red pepper flakes to taste
1 tablespoon (15 ml) fresh parsley
Instructions
FOR GOAT CHEESE LOG
Place goat cheese on a pretty platter. Drizzle glaze over the cheese, sprinkle rosemary on top. Serve with your favorite crackers ( I recommend the rosemary, raisin crackers from Trader Joe's, it's a great combo!) Or small pieces of raisin walnut bread are good too.
FOR HONEY CASHEWS
Place nuts on a rimmed lined cookie sheet. Melt butter and honey, add sugar and salt. Pour over nuts and toss to coat.
Bake at 375F (190C) for 10 mins. Stirring periodically. Allow to cool and break up with a spatula. Check for seasoning, and garnish with more salt if needed. Or try some flakey sea salt such as Malson Sea Salt, for texture too!
FOR THE OLIVE BAR:
Drain kalamata olives, toss with lemon zest, place in a small bowl. Drain green olives toss with herbs de Provence, place in a small bowl. Drain mixed olives, toss with pepper flakes and parsley, and place in a small bowl. Place all 3 olive bowls on a platter, et voila "Instant olive bar"
Notes
If you cannot find store bought balsamic glaze you can "make it" by taking 1 cup (240 ml) of balsamic vinegar heating it until it simmers, then reduce the heat and cook, stirring periodically, over a low flame until it is reduced by ⅓. It should take 20-30 mins, it's ready when it's thick enough to coat the back of a spoon.
Honey cashews can also be made in advance and reheated on sheet pan at 300F (150C) for 7 mins
Nutrition Information:
Yield:

8
Serving Size:

1
Amount Per Serving:
Calories:

80
Total Fat:

6g
Saturated Fat:

3g
Trans Fat:

0g
Unsaturated Fat:

3g
Cholesterol:

9mg
Sodium:

70mg
Carbohydrates:

6g
Fiber:

0g
Sugar:

4g
Protein:

1g