These easy appetizer ideas for parties can be thrown together in minutes. Make all three for a well-rounded cocktail party!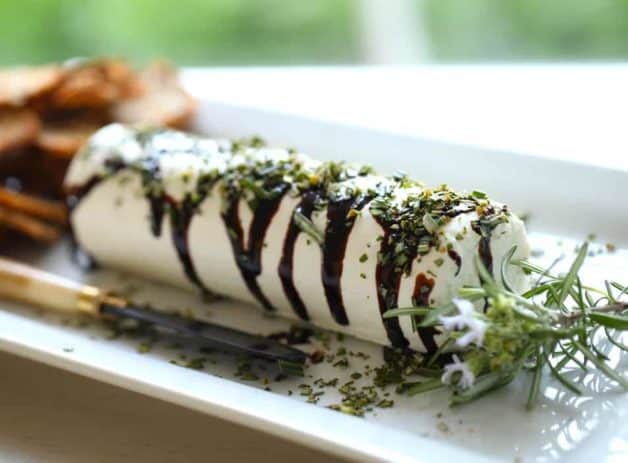 A goat cheese log, drizzled with balsamic glaze and topped with fresh rosemary, is as easy as it gets! Serve with those addictive rosemary, raisin crackers from Trader Joe's and you have a winning combo on your hands! (this link goes to Amazon where I am compensated on products sold at no cost to the consumer)
For a step-by-step demo of these recipes you can watch my video below!
These honey glazed cashews sprinkled with sea salt can also be made in advance and reheated in a 300F oven for about 5-7 minutes.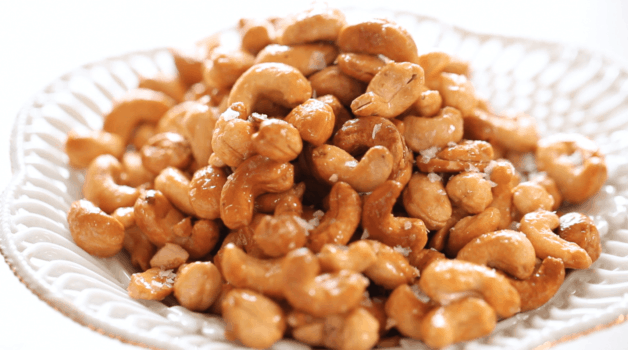 They are that perfect combination of sweet and salty and are so addictive too!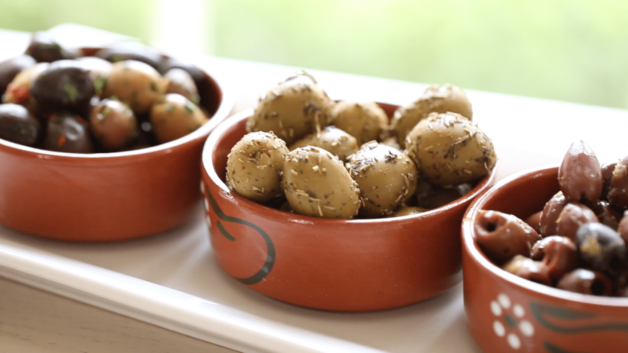 To round out the flavors an easy olive bar is always a great idea! Place store-bought olives in small bowls and then place on a rectangular platter. It's also great to switch up the flavors from spicy to ones with herbs to others with citrus!
PLEASE LET ME KNOW IF YOU MAKE THESE EASY APPETIZER RECIPES BY LEAVING A RATING AND REVIEW BELOW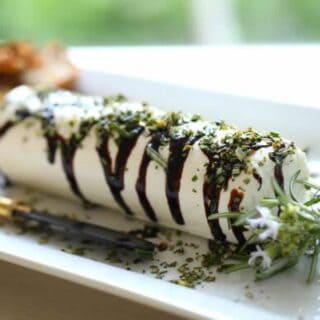 Easy Appetizer Recipes
Three Easy Appetizer Recipes sure to impress at your next cocktail party!
Ingredients
FOR GOAT CHEESE LOG
1 log of goat cheese
1 tbsp (15 ml) rosemary, minced, plus 1 sprig for garnish
1 tbsp (15 ml) balsamic glaze
crackers of choice
FOR HONEY CASHEWS:
2 cups (300 g) of cashews or any mixed nuts
2 tbsp (30 ml) salted butter, melted
¼ cup (60 ml) honey
1 tsp (5 ml) brown sugar
2 tsp (10 ml) salt
FOR THE OLIVE BAR:
1 Jar pitted Kalamata Olives
2 tbsp (30 ml) lemon zest
1 Jar Green Olives stuffed with garlic
1 tbsp (15 ml) herbs de Provence
1 jar mixed Mediterranean Olives
red pepper flakes to taste
1 tbsp (15 ml) fresh parsley
Instructions
FOR GOAT CHEESE LOG
Place goat cheese on a pretty platter. Drizzle glaze over the cheese, sprinkle rosemary on top. Serve with your favorite crackers ( I recommend the rosemary, raisin crackers from Trader Joe's, it's a great combo!) Or small pieces of raisin walnut bread are good too.
FOR HONEY CASHEWS
Place nuts on a rimmed lined cookie sheet. Melt butter and honey, add sugar and salt. Pour over nuts and toss to coat.
Bake at 375F (190C) for 10 mins. Stirring periodically. Allow to cool and break up with a spatula. Check for seasoning, and garnish with more salt if needed.
FOR THE OLIVE BAR:
Drain kalamata olives, toss with lemon zest, place in a small bowl. Drain green olives toss with herbs de provence, place in a small bowl. Drain mixed olives, toss with pepper flakes and parsley and place in a small bowl. Place all 3 olive bowls on a platter, et voila "Instant olive bar"
Notes
If you cannot find store bought balsamic glaze you can "make it" by taking 1 cup (240 ml) of balsamic vinegar heating it until it simmers, then reduce the heat and cook, stirring periodically, over a low flame until it is reduced by 1/3. It should take 20-30 mins, it's ready when it's thick enough to coat the back of a spoon.
Honey cashews can also be made in advance and reheated on sheet pan at 300F (150C) for 7 mins
Nutrition Information:
Yield:

8
Serving Size:

1
Amount Per Serving:
Calories:

80
Total Fat:

6g
Saturated Fat:

3g
Trans Fat:

0g
Unsaturated Fat:

3g
Cholesterol:

9mg
Sodium:

70mg
Carbohydrates:

6g
Fiber:

0g
Sugar:

4g
Protein:

1g