At our house, the holidays aren't the holidays, unless they are a few fancy hors d'oeuvres made from puffy pastry. It sets the tone right away that the event is special, and they are just the perfect nibble to go along with a glass of something bubbly. Here are 3 of my favorite puff pastry appetizer ideas!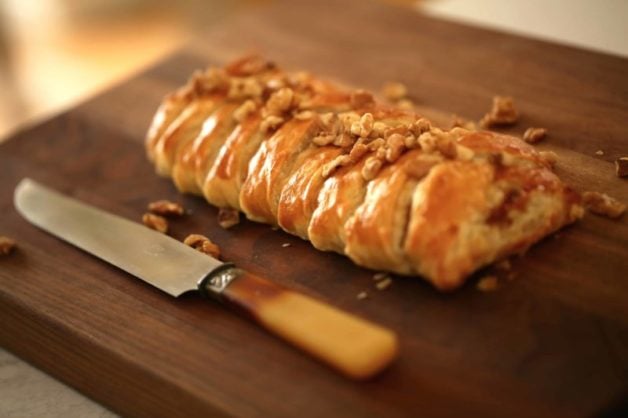 Here are my top 3 Party Appetizers made with store-bought puff pastry. For a step-by-step tutorial you can watch my video below. SUBSCRIBE TO MY YOUTUBE CHANNEL and never miss a recipe (it's free!) and new video post each Saturday!
Special Thanks to Bissell for sponsoring and collaborating with me on this series!
First up, my fig jam and brie braid. This not only tastes delicious but is so pretty too! Also, I recommend using Pepperidge Farm Puff Pastry Sheets for this since the pastry is already perfectly scored for making a braid.
All you do is spread some fig jam in the center panel.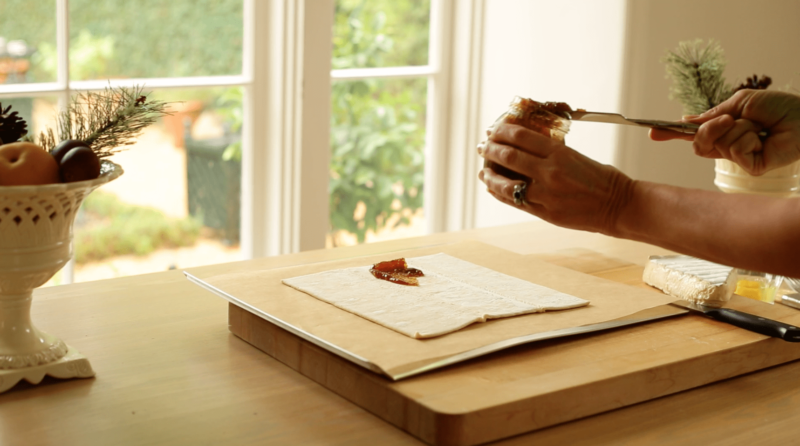 Then top with sliced brie, or camembert.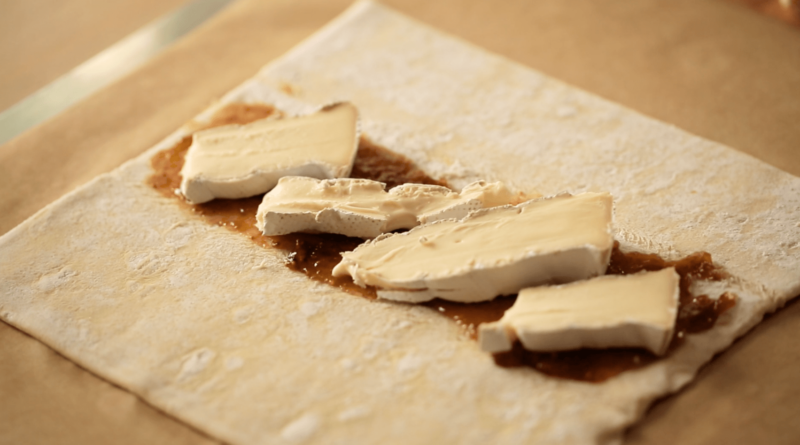 Then cut 1 inch strips along the sides of the adjacent panels, assuring you have the same amount on each side.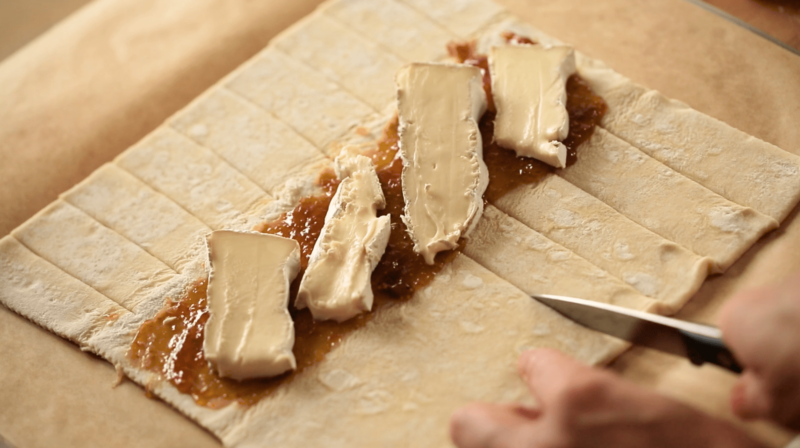 Then bring the strips to the middle to cover the cheese and jam.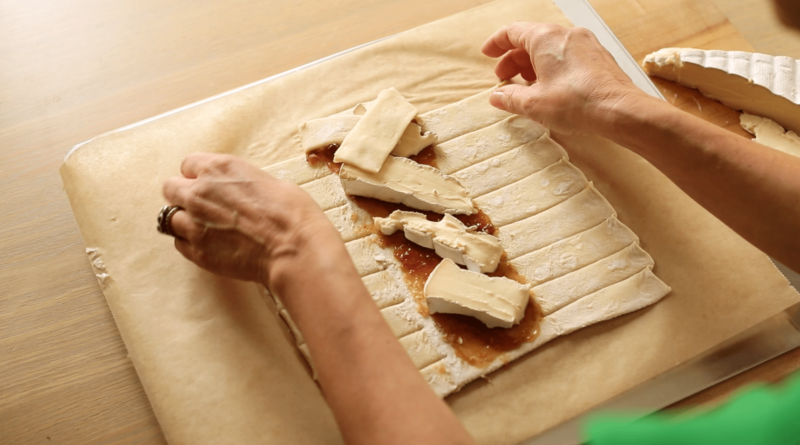 When you are done it will look like a little mummy. Cover with egg wash and bake! (see full recipe below)
NOTE: This can be day ahead and kept in the fridge until ready to bake, or for a few days before and kept in the freezer, no need to thaw first, just pop right in the oven! Just be sure in either case it is covered well in foil so the pastry doesn't dry out sitting in the fridge or freezer.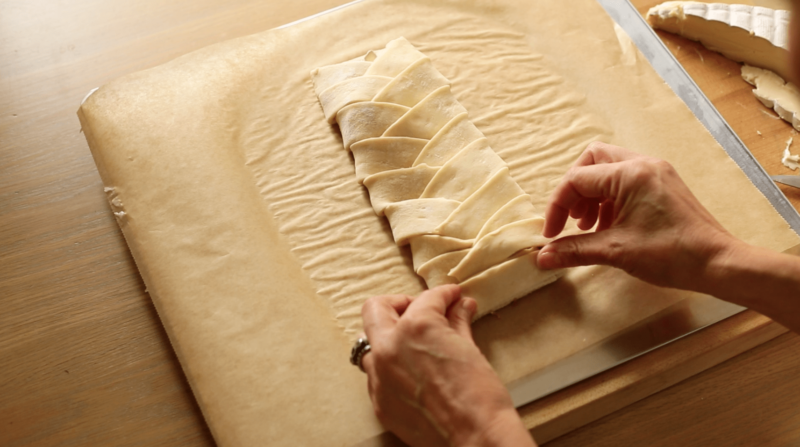 Place on a large cutting board and let everyone cut into this delicious little treat and serve themselves…it will disappear in a matter a minutes!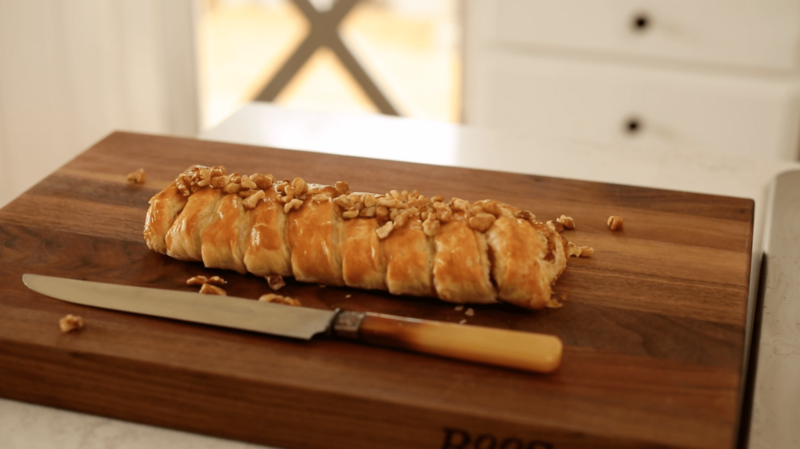 The combination of the flakey pastry, the sweet jam, and gooey cheese cannot be beat! I also top with some raw walnuts for a little nutty crunch.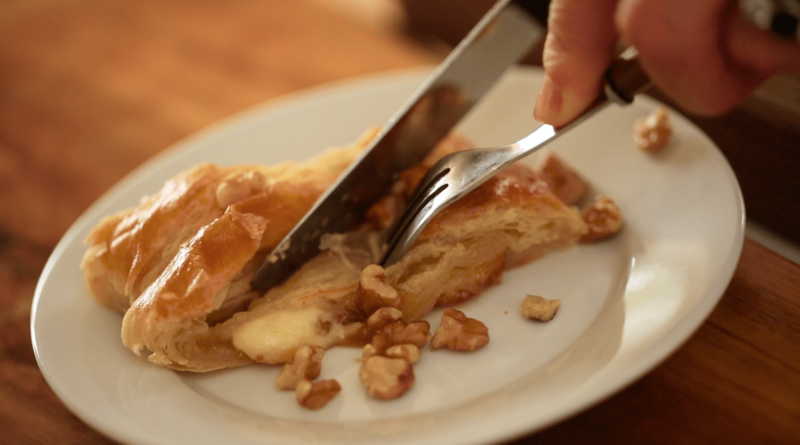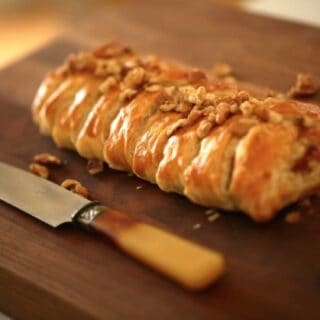 Fig and Brie Braid
A terrific puff pastry appetizer idea that can be made ahead of time and baked just before guests arrive
Ingredients
1 package store-bought puff pastry sheet (Pepperidge Farm sheets are best)
2 tbsp (30 ml) fig jam
3-4 slices of Brie Cheese
1 egg, well beaten
¼ cup (60 ml) chopped walnuts
Instructions
Preheat oven to 400F(200C)
Roll out pastry onto a flat cookie sheet lined with parchment paper. This will be your work surface.
Most store-bough puff pastry sheets come in 3-folded panels. This is the best kind to buy for this. Unfold and the panels and roll out slightly.
On the center panel, spread fig jam to cover the center panel surface. Then top the jam with the sliced brie.
On the side panels, cut ¾ " (19 mm) strips on each side making sure you have equal number of strips on each side.
Then alternating the strips, bring them to the center panel, to cover the jam and cheese, overlapping each one, forming a rustic braid.
Before baking brush the egg wash with a pastry brush all over the braid and bake for 25 mins until puffed up and golden brown.
Transfer braid to a cutting board. Sprinkle with chopped walnuts and serve with knife for easy slicing.
Notes
NOTE: If making this ahead of time, wrap up in the parchment paper, then freeze on tray until firm, Then wrap tightly in foil and remove tray and keep in freezer until ready to serve.
Nutrition Information:
Yield:

6
Serving Size:

1
Amount Per Serving:
Calories:

121
Total Fat:

8g
Saturated Fat:

4g
Trans Fat:

0g
Unsaturated Fat:

4g
Cholesterol:

50mg
Sodium:

145mg
Carbohydrates:

7g
Fiber:

0g
Sugar:

3g
Protein:

5g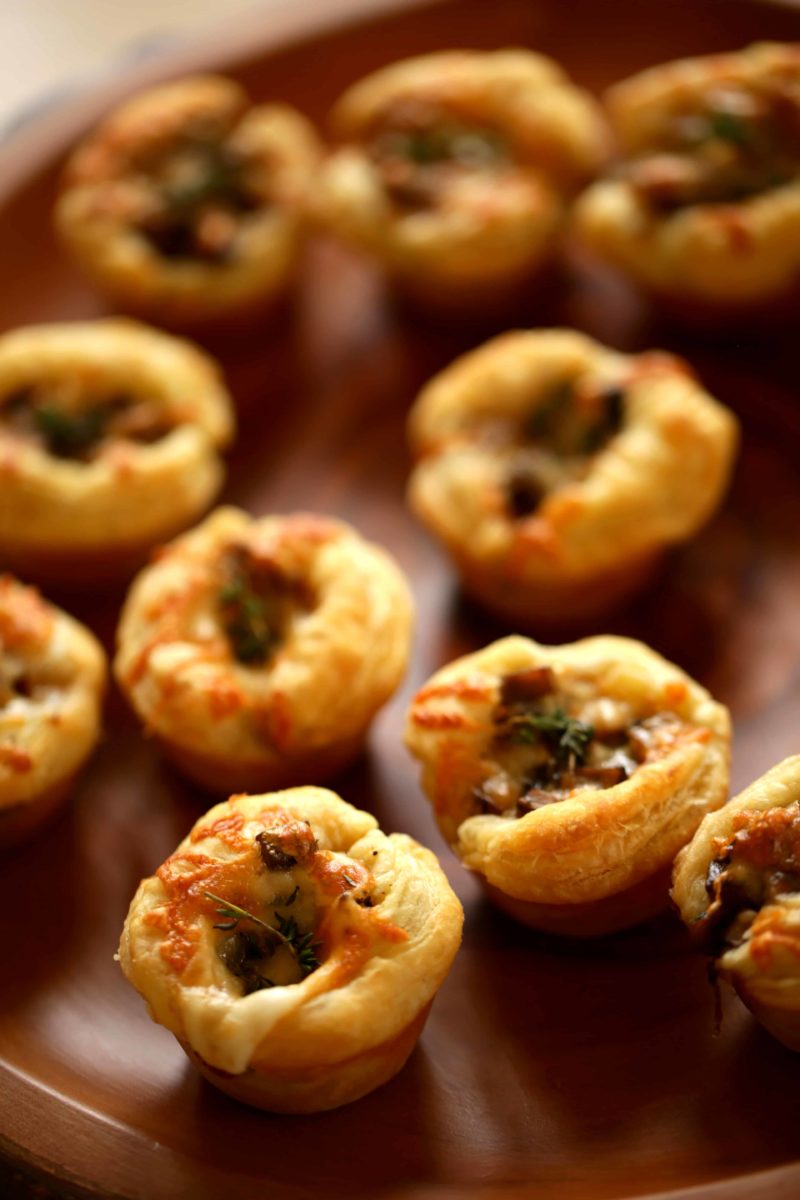 Next up, Mushroom Tartelettes! These are another fantastic option that are so delicious! Betcha you cannot eat just one. They are made with the same puff pastry sheets. All you do is cut the pastry into squares…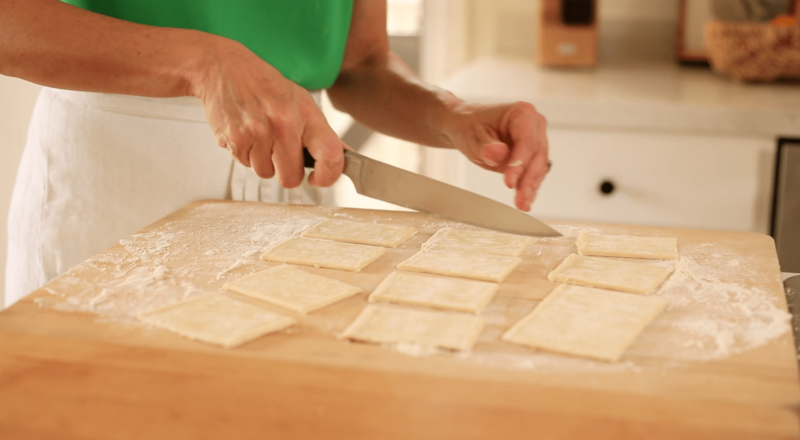 Fit snugly into a mini muffin tin..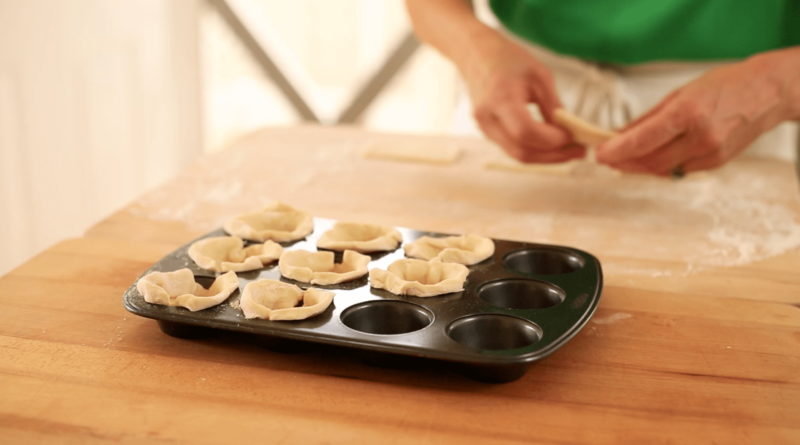 Fill with my special mushroom holiday blend (see recipe below)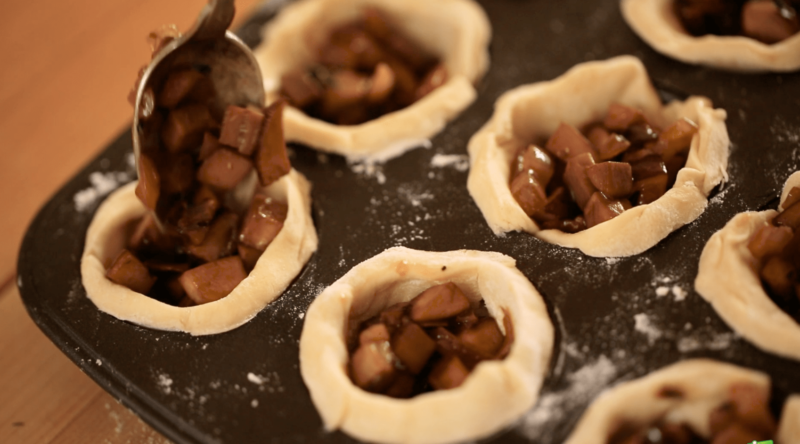 Top with Italian blend cheese..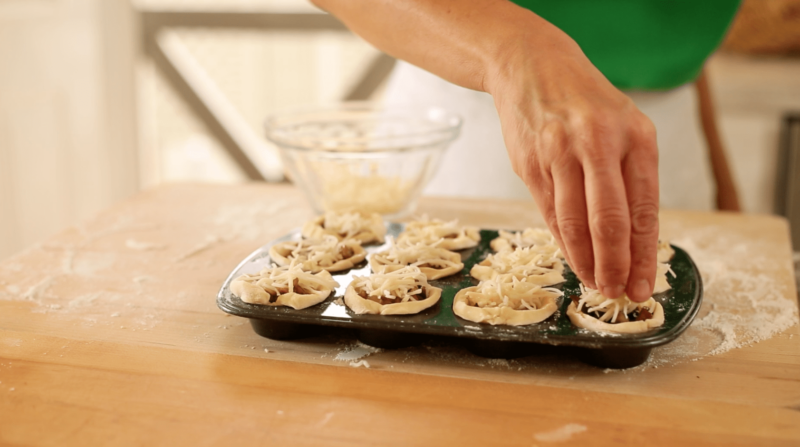 Bake and serve!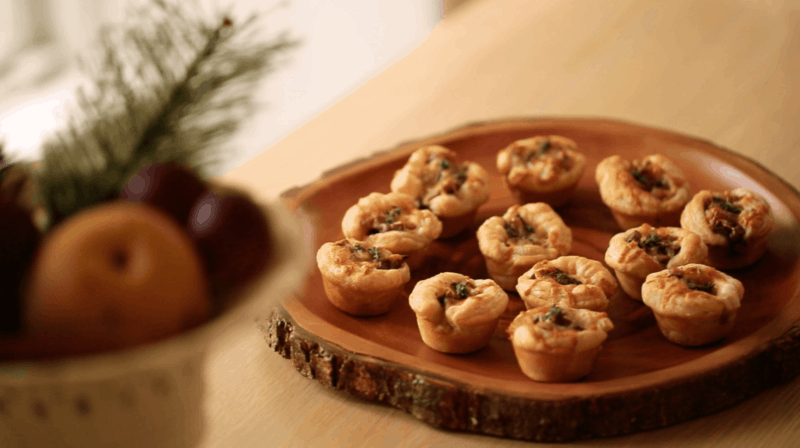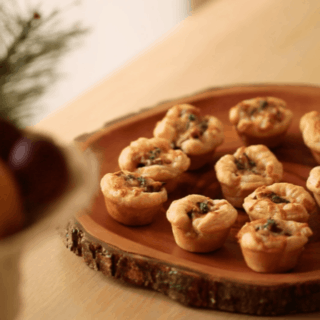 Mushroom Tartelettes
Total Time:
1 hour
5 minutes
A wonderful appetizer recipe made with puff pastry that is perfect for holiday entertaining!
Ingredients
2 tbsp (30 g) butter
¼ cup (60 ml) shallots, minced
1 ½ cups (350 ml) cremini mushrooms, diced
1 tsp (5 ml) fresh thyme
salt and freshly cracked pepper to taste
1 tsp (5 ml) Worcestershire sauce
2 tbsp (30 ml) Italian Blend cheese
Instructions
METHOD:
Preheat oven to 400F (200C)
Melt butter in a large skillet. Sauté shallots until soft, add mushrooms and sauté until browned. Add thyme, salt and pepper, and Worcestershire sauce. Allow to cool slightly.
Cut pastry into 3x3 (7.6cm x 7.6 cm) squares. Fit squares into a mini muffin tin. Fill with 1 tsp (5 ml) of the mushroom mixture, top with a sprinkle of cheese.
Bake for 15-20 mins. Top with a thyme sprig and serve.
Nutrition Information:
Yield:

12
Serving Size:

1
Amount Per Serving:
Calories:

25
Total Fat:

2g
Saturated Fat:

1g
Trans Fat:

0g
Unsaturated Fat:

1g
Cholesterol:

5mg
Sodium:

127mg
Carbohydrates:

1g
Fiber:

0g
Sugar:

1g
Protein:

1g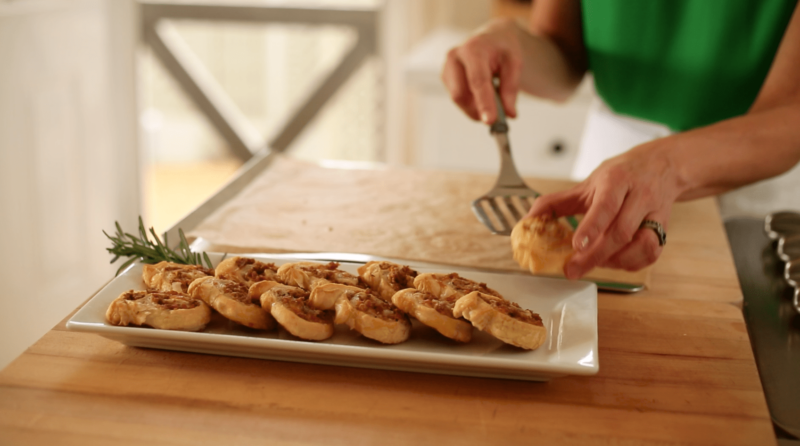 And last but not least, my Sausage and Cheese Pinwheels, another super easy and sup delicious holiday nibble!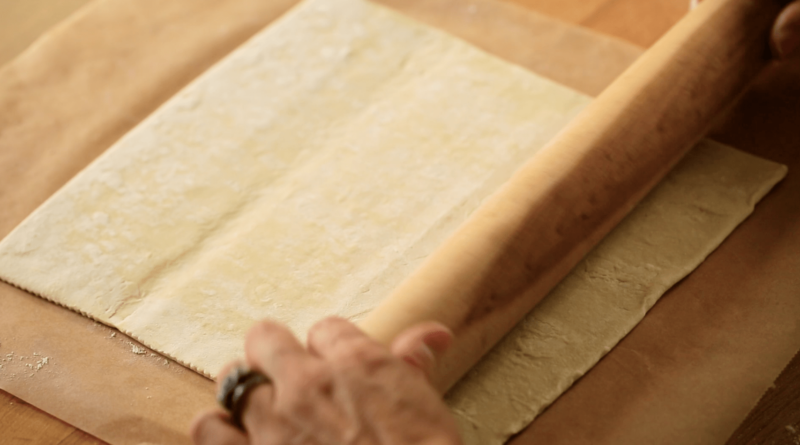 First, make sure to gently roll out the pastry so that the scoring is covered and not visible. This will help prevent the pastry from splitting as you roll up your log.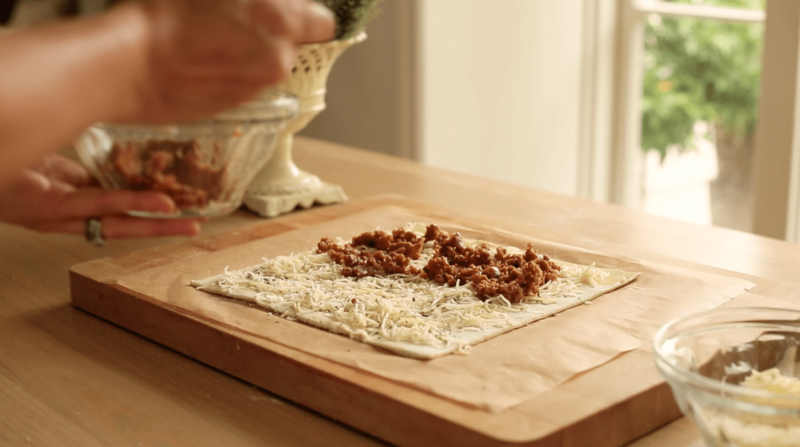 Add cheese, spicy Italian sausage, and Italian herbs. Roll up the log and slice into 1/2 inch rounds.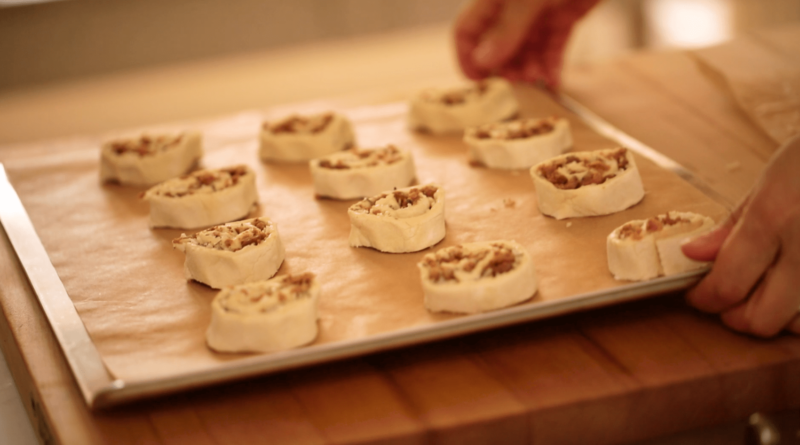 Space them about 2″ apart as they will spread in the oven.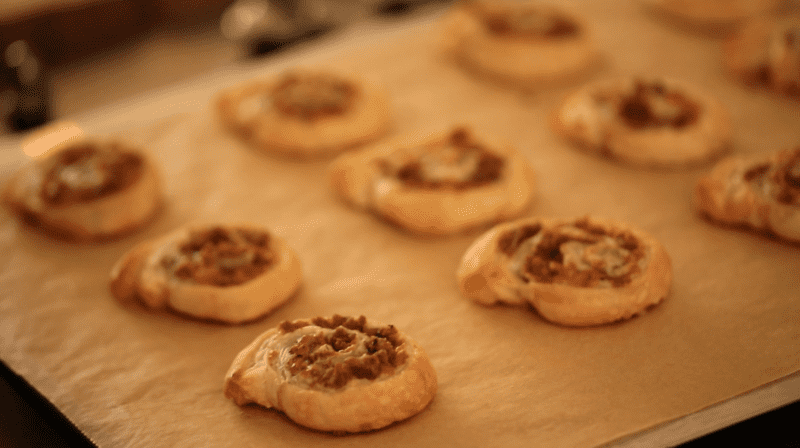 Transfer to a platter and serve!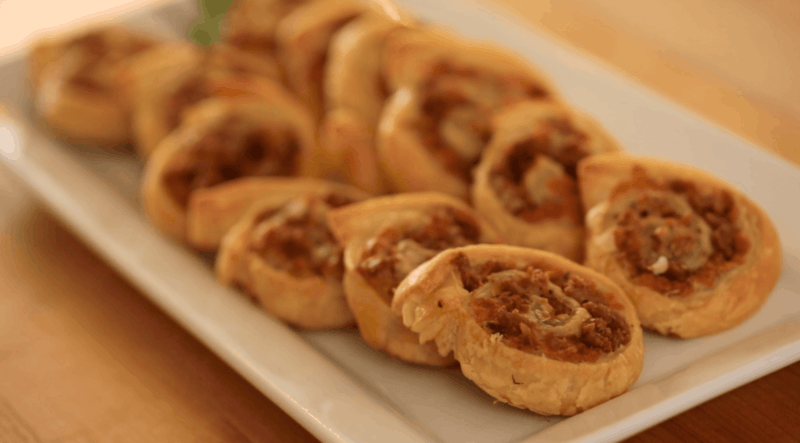 Looking for more Puff Pastry Appetizer Ideas? Might I suggest my Tarte Au Soleil, or Trio of Baked Brie. Both are sure to impress!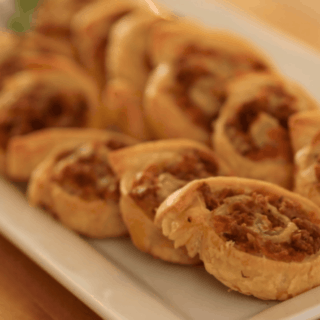 Sausage and Cheese Pinwheels
A delicious Puff Pastry Appetizer idea that is perfect for holiday entertaining!
Ingredients
2 hot Italian Sausage links, cooked and crumbled
1 tsp (5 ml) of Italian seasoning
2/3 cup (160 ml) of Italian Blend Cheese
1 egg, well beaten
Instructions
Preheat Oven to 400F (200C)
Roll out pastry on to a floured surface. Roll over pastry to assure panel seems are tightly sealed so it won't break apart.
Brush egg wash across short side of pastry 1 inch (2.5cm) from the end this will be to seal the seam once we roll up our pinwheels.
Sprinkle cheese across pastry. Sprinkle Italian Seasoning on top of cheese. Add crumbled cooked hot Italian sausage.
Roll pastry into a log being careful to roll tightly so filling does not spill out. Seal tightly at ends.
Slice into ½ inch (13 mm) rounds, place on parchment lined cookie sheet and bake 12-15 mins until golden brown and puffed up.
Nutrition Information:
Yield:

18
Serving Size:

1
Amount Per Serving:
Calories:

40
Total Fat:

3g
Saturated Fat:

1g
Trans Fat:

0g
Unsaturated Fat:

2g
Cholesterol:

17mg
Sodium:

76mg
Carbohydrates:

1g
Fiber:

0g
Sugar:

0g
Protein:

2g