Baked Brie in Puff Pastry
Learn how to make my Baked Brie in Puff Pastry Recipe and elegant appetizer recipe for holiday parties. You can select different fillings to pair with your brie, bake them in puff pastry and arrange a beautiful platter with baguette toasts fresh grapes, figs, nuts, and dried fruits.
For an even easier take on Baked Brie, try my Baked Brie in a Skillet with Fig Jam recipe.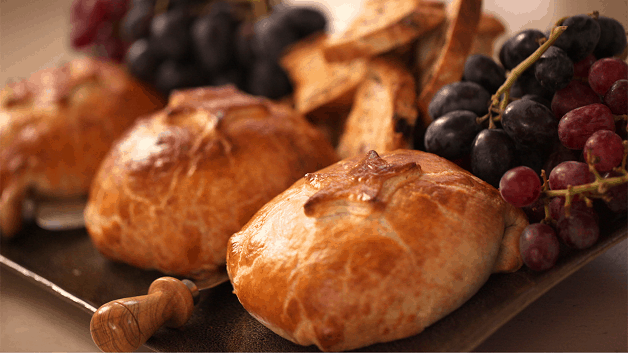 Brie in Puff Pastry is a classic holiday appetizer idea. I also love it because it can feed a crowd. It's a simple recipe that requires minimum effort but will surely deliver impressive results (my kind of recipe!)
Subscribe for weekly recipes
and new videos!
Watch My Video Demo of This Recipe Below!
SUBSCRIBE TO MY YOUTUBE CHANNEL FOR MORE RECIPE VIDEOS!
In this video, I made the baked brie three different ways: honey and walnut, apricot jam, and mission fig. I think it's great to have an assortment of flavors to create a more interesting platter.
Step 1: Prep the Cheese and the Puff Pastry
Start with three brie wheels, around 4.5-5 inches in diameter. Unwrap them from the outer packing making sure to remove any stickers or wrapping from the cheese. Then, roll out one sheet of puff pastry for each brie wheel.
Tip: I like to use the sheets from Trader Joe's that comes flat and unfolded. It's also really great for my Tarte au Soleil recipe and Goat Cheese Tarletttes too so you may want to stock up! I've found that the pastry sheets that are folded into thirds, end up falling apart and losing the cheese!
Do you remove the rind from brie before baking?
Nope! The rind on brie cheese is totally edible and adds texture and flavor to the cheese.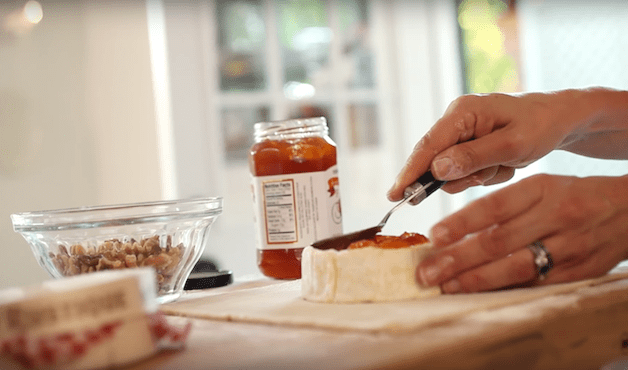 Step 2: Top the Brie and Wrap
After your puff pastry is ready for wrapping, place each wheel in the center of one sheet of pastry. Top each wheel with whatever filling you choose.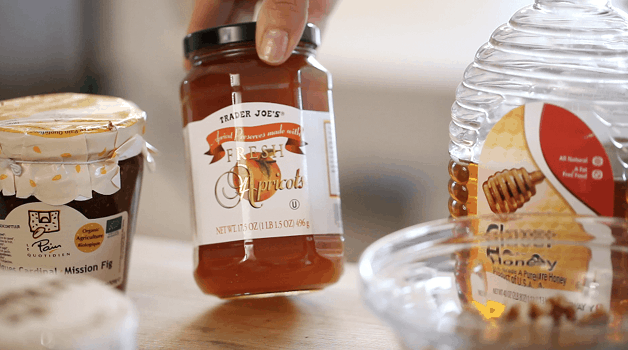 You can top your cheese with all kinds of sweet and savory fillings. Fig jam, honey, and apricot jam are my favorites, but really get creative! Dried cranberries or cranberry jam would also be great for Christmas or Thanksgiving.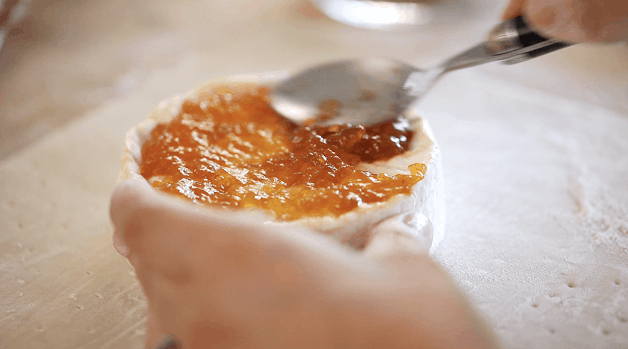 Spread about a tablespoon of the filling on top of each wheel and flip the wheel so it is facing jam-side down.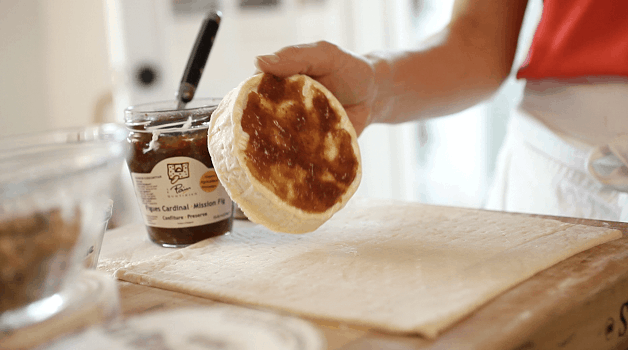 Then place the puffed pastry on top, flip it over and wrap it up like a present.

Repeat the process with the apricot jam and honey and walnuts. Place each wheel on a baking sheet.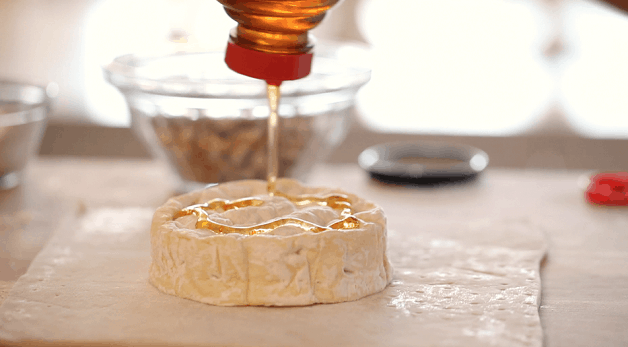 You can then top your Baked Brie with decorative shapes to suit the holiday theme. I like to use stars for Christmas but you could also use leaves or grapes for Thanksgiving.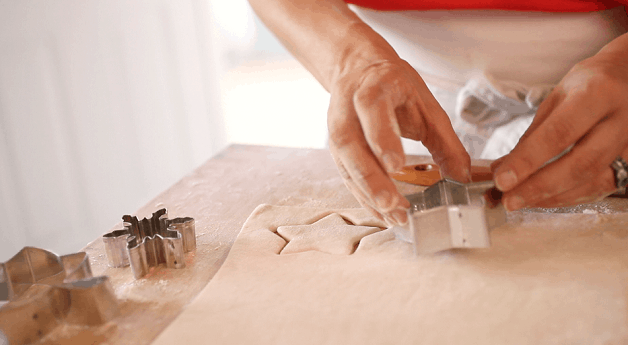 Once you place your shape on top of the brie, whisk one egg and lightly brush all over the brie package. This creates a beautiful browned brie package and makes quite the presentation!
Step 3: Bake the Brie Wheels
Place the baking sheet in a 400F (200C) degree oven for about 20-25 minutes. Just long enough to puff the pastry and turn it golden brown, and melt the cheese inside.
TIP: It really helps to place your cheese that's been wrapped in puff pastry, in the freezer for 30 minutes before baking. This will help the brie firm up so it doesn't ooze out while baking. It will also help firm up the puff pastry so it puffs up nicely. No need to defrost first.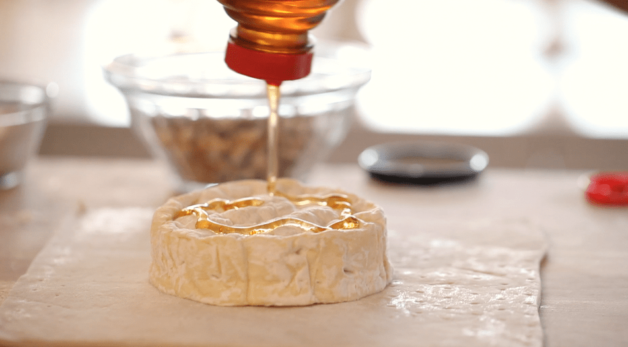 The best part is this can all be made the day before and rest in your fridge. Then right before baking pop in the freezer! Then all you have to do is pop in your oven and bake!
FINAL TIP: It's crucial you let the baked brie rest for 15 minutes once it comes out of the oven. This will allow the cheese to set back up a bit. Otherwise if piping hot it will ooze of out the puff pastry.
What do you eat with baked brie?
I like to serve an assortment of fresh grapes and raisin toasts which I think complement the cheese well while balancing out the richness of the cheese.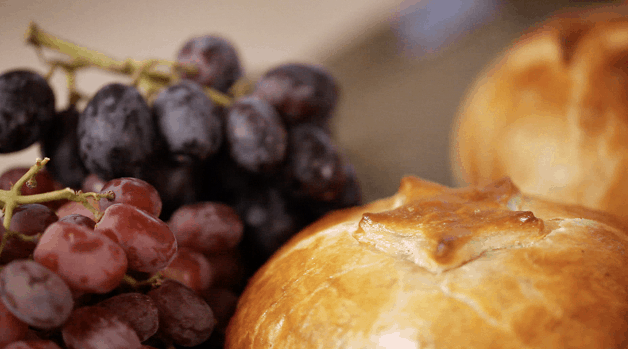 Here are some other ideas for foods to serve with baked brie:
figs
apples
pears
small toasts
raisin bread
multi-grain crackers
berries
cherries
sun-dried tomatoes
MORE GREAT APPETIZER RECIPES!
PLEASE LET ME KNOW IF YOU MAKE THIS RECIPE
BY LEAVING A RATING AND REVIEW BELOW!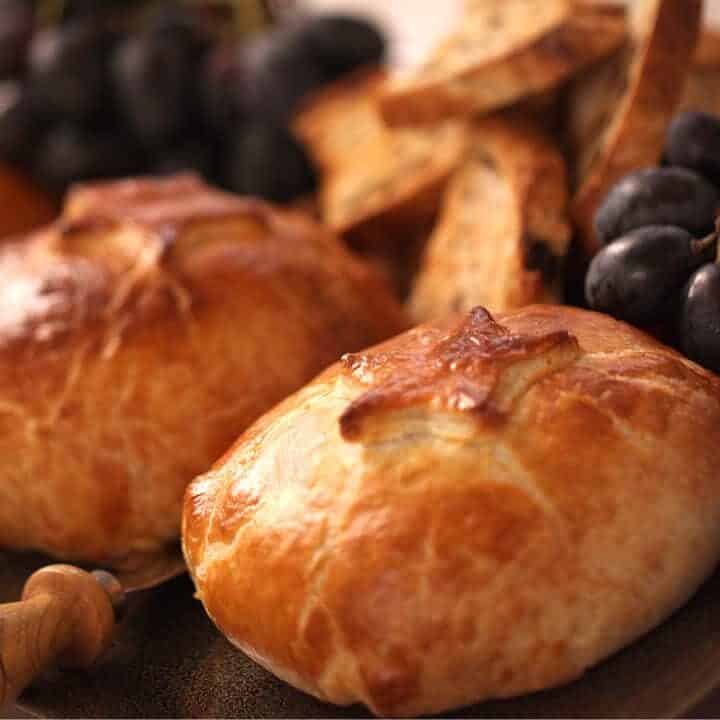 Brie in Puff Pastry
Learn how to make my Baked Brie in Puff Pastry Recipe and elegant appetizer platter for holiday parties. Includes video tutorial!
Ingredients
(3) wheels of brie (about 4" round)
2 tablespoon (30 ml) fig jam
2 tablespoon (30 ml) apricot jam
2 tablespoon (30 ml) chopped walnuts
1 tablespoon (15 ml) honey
4 sheets of puff pastry
1 egg
Instructions
Unwrap brie and remove any stickers. Place fig jam on one and wrap in puff pastry, seam side down. Repeat the same with Apricot jam and 2nd wheel of brie. For third wheel spread honey on brie and top with chopped walnuts. Wrap in puff pastry, seam side down.
Use 4th sheet of puff pastry to cut out decorative shapes (leaves, stars, Christmas trees) with a cookie cutter. Place shapes on top of brie packages. Then brush the tops with a beaten egg.
Bake at 400F (200C) degrees for 15-20 minutes, until the pastry is puffed and golden brown.
Allow the baked brie to rest for 15 minutes before cutting into it or the brie will not be set and will ooze out!
Arrange your baked brie on a platter and serve with raisin toasts, grapes and nuts.
Notes
After your brie is wrapped in the pastry, pop it in the freezer for 30 minutes. This will prevent the cheese from oozing out to much as it bakes!
Allow to cool for 15-25 minutes mins! Otherwise brie will run out and make a big mess! Ideally, serve these at room temperature. Place on platter garnished with grapes and toasted raisin bread.
Here are some other ideas for foods to serve with baked brie:
figs
apples
pears
small toasts
raisin bread
multi-grain crackers
berries
cherries
sun-dried tomatoes
Nutrition Information:
Yield:

15
Serving Size:

1
Amount Per Serving:
Calories:

70
Total Fat:

4g
Saturated Fat:

1g
Trans Fat:

0g
Unsaturated Fat:

3g
Cholesterol:

14mg
Sodium:

37mg
Carbohydrates:

7g
Fiber:

0g
Sugar:

3g
Protein:

1g