Easy Salted Carmel Puddings, the perfect make-ahead dessert recipe for weekend entertaining! They are rich and creamy with just the right about of buttery, salty sweetness.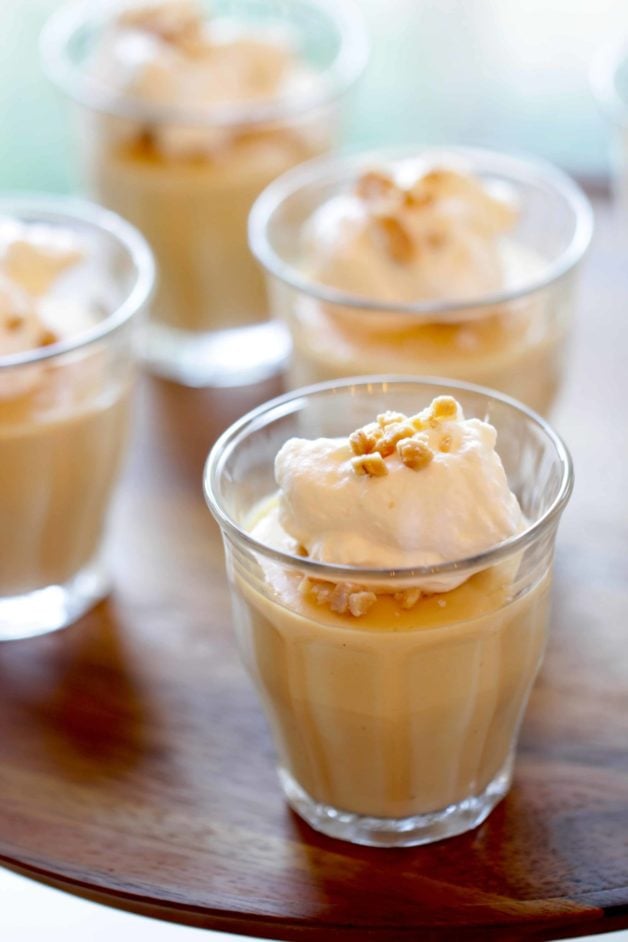 Inspiration for this Recipe
This past summer we took the kids to Southwest France for the annual family reunion with my husband's family. One of the things I'm always charmed by in this region of France is the salt marshes or "Marais Salant" as they are called.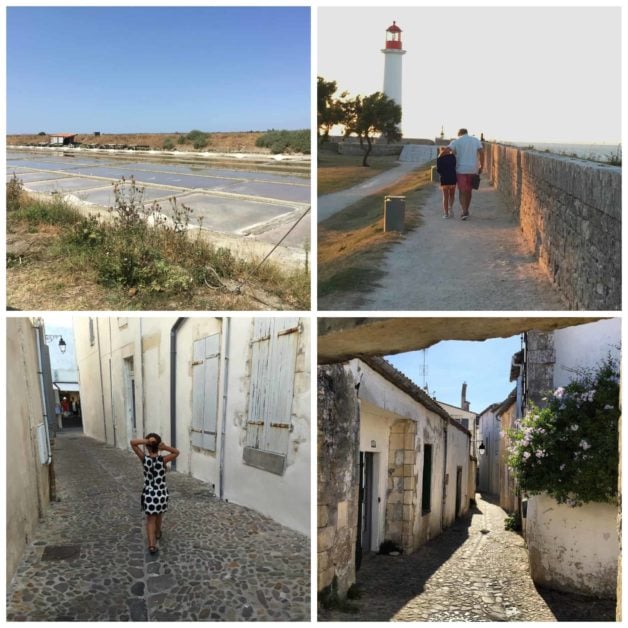 Subscribe for weekly recipes
and new videos!
Buying Salt Locally
They are such a curious sight and produce the most wonderful salt. In fact, while biking the bike paths of Ile de Re (the only way to get around the island!) we happened upon a little "Auto-Boutique", where you could help yourself to the local salt products and just leave the money in the basket!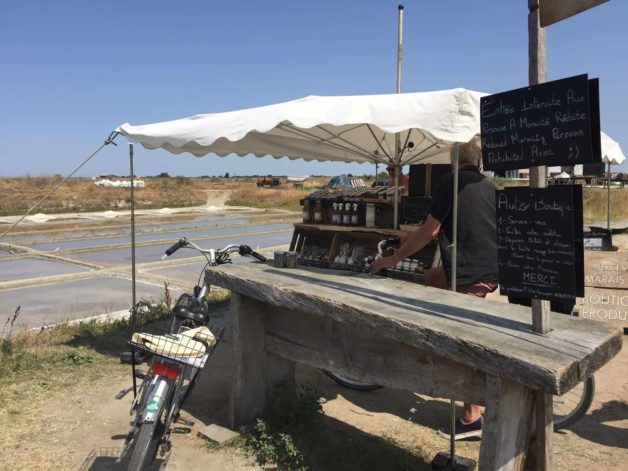 Of course, I love the fact that the sign above warns "This is not a place for people with "reduced morality". A gentle deterrent I suppose for those less trustworthy tourists?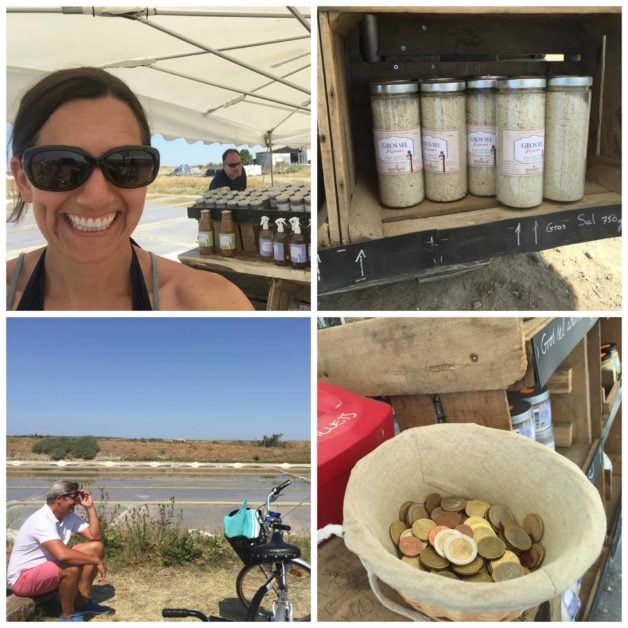 The French Do Salted Caramel Best:
With all this salt (and butter!) around, it's no wonder the French have dreamed up all types of delicious salted caramel desserts! Craving this wonderful flavor combination once I got home, I dreamed up one of my own. I hope you enjoy it as much as I do and it transports you to the lovely region of Southwest France.
How do you make salted caramel?
Salted caramel is so easy to make and so much better tasting when it's homemade! You'll begin by melting some plain white sugar in a large saucepan.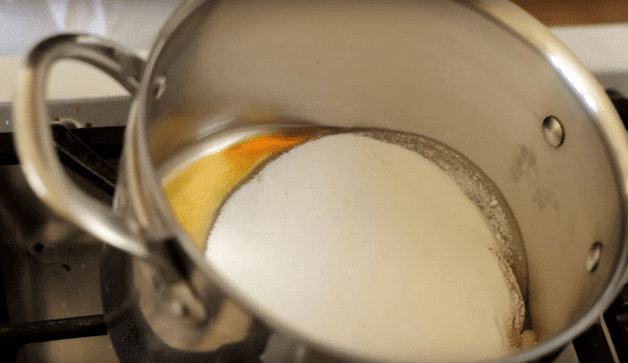 As it melts it will liquefy and then turn an amber brown. At that stage, you'll add in your heavy cream. It will boil violently like a witches brew! This is why you want to use a high-profile pot so that it doesn't boil over. Once it settles down you'll add the butter and sea salt. Et voila! Salted caramel.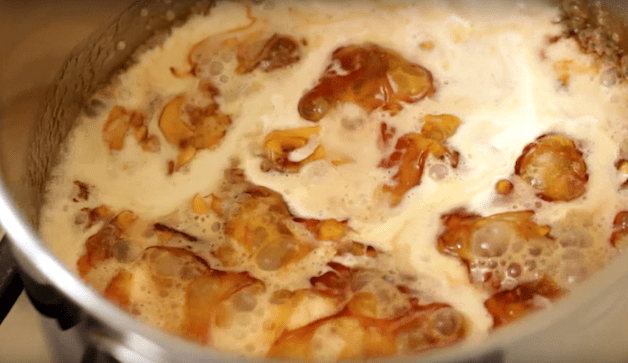 More Salted Caramel Recipes
You can use this salted caramel as the base for my Salted Caramel Ice Cream or drizzle it over my Apple Cinnamon Crepes!
How do you make salted caramel pudding?
You'll first make the salted caramel and allow it to cool and then make the pudding base. The base is an easy technique of simmering milk with a vanilla pod and its paste until fragrant.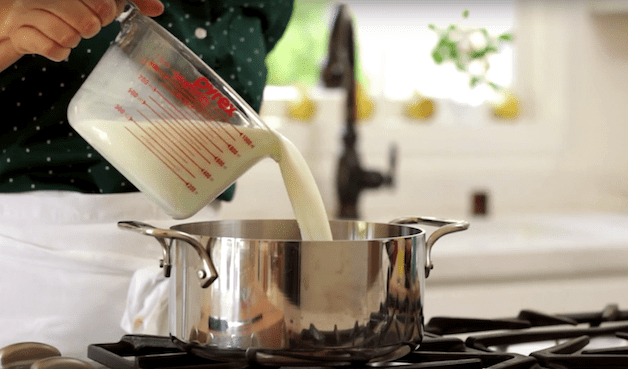 Then you'll drain the milk to remove the vanilla pod and whisk the milk together with egg yolks and cornstarch. Then you'll heat this new mixture until thickened, add the salted caramel to combine, pour into some heat-safe glasses and then refrigerate until firm.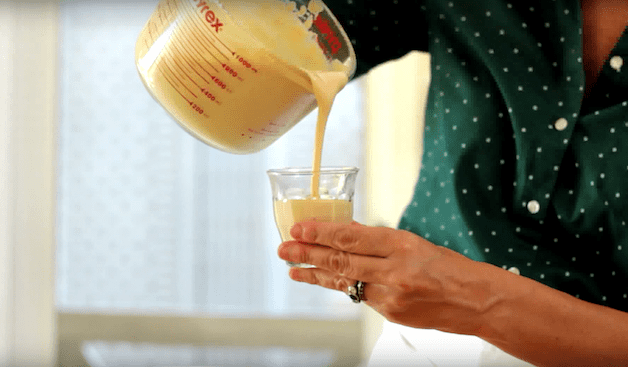 Can you make salted caramel puddings ahead of time?
Yes! This is truly the best part of this recipe, it's even better if you make it ahead of time. The flavors will become more pronounced and it will set up and firm up in the fridge. Then all you have to do is serve! (My kind of dessert!)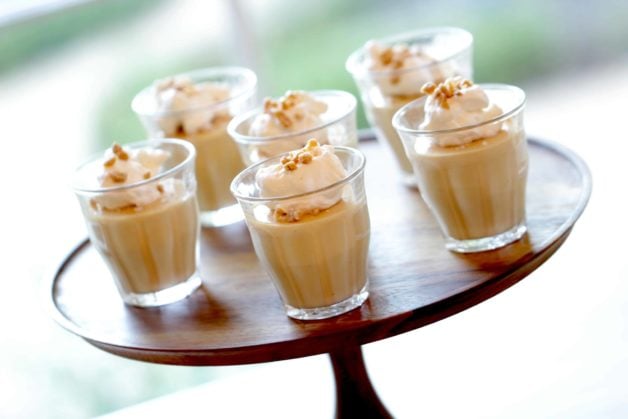 Please let me know if you make this Recipe
by leaving a rating and review below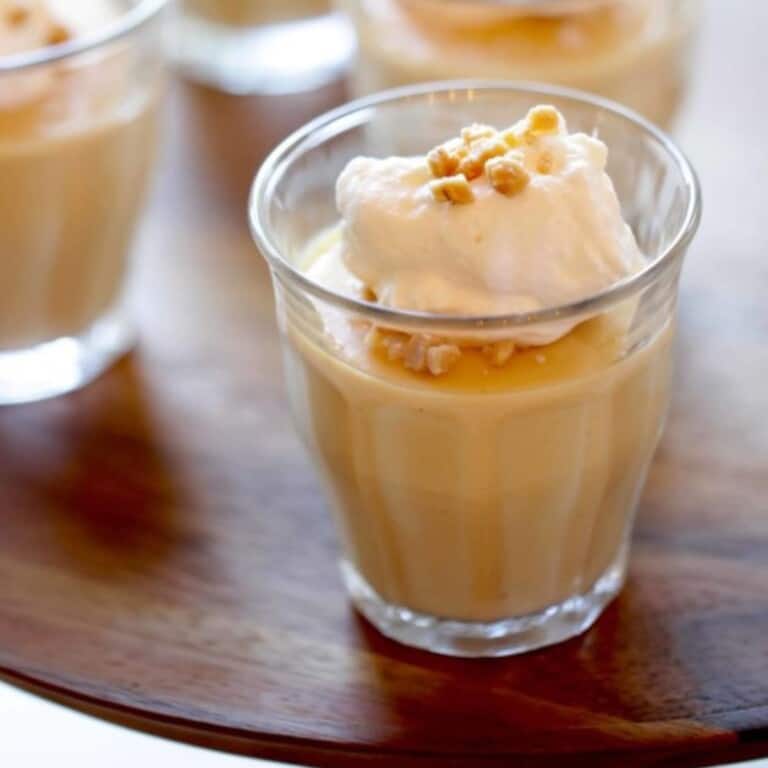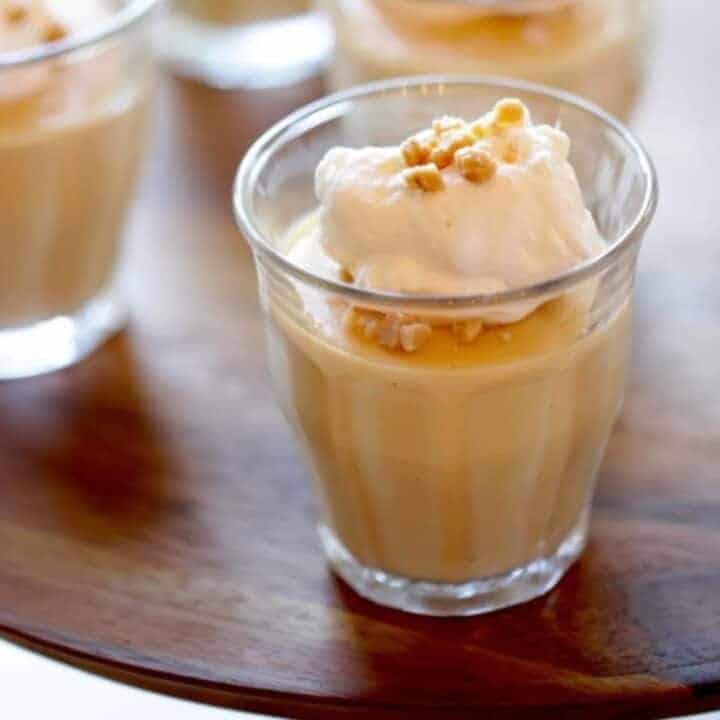 Salted Caramel Puddings
Total Time:
3 hours
15 minutes
Easy Salted Carmel Puddings, the perfect make-ahead dessert idea for weekend entertaining!
Ingredients
For Salted Caramel:
1 cup (200 g) Sugar
½ cup (120 ml) of heavy cream or whipping cream, warmed
¼ teaspoon (1.25 ml) fleur de sel sea salt
2 tablespoon (30 g) butter
½ teaspoon (2.5 ml) vanilla
For Puddings:
5 egg yolks
⅓ cup (35 g) cornstarch (cornflour)
2 cups (475 ml) milk
1 cup (240 ml) heavy cream
1 vanilla bean
2 tablespoon (30 g) unsalted butter
For Garnish:
1 cup (240 ml) heavy Cream
1 tablespoon (6 g) powdered sugar
½ teaspoon (5 ml) vanilla
Toffee Bits
Instructions
In a large saucepot add the sugar and heat on medium-high swirling the sugar until it turns a deep amber and is completely dissolved. This will take 7-10 mins. DO NOT WALK AWAY! It will burn very quickly if not careful and must be swirled in order to prevent burning.
Once caramel appears, add ½ cup of warmed heavy cream, TURN OFF FLAME. Allow for boiling to settle, and then whisk to combine. Add ¼ teaspoon Fleur de Sel salt and 2 tablespoon of butter. Whisk until smooth and transfer to a Pyrex pitcher to cool.
Then in a large heat-safe mixing bowl, add egg yolks and cornstarch, whisk until a smooth paste forms and set aside.
In a large saucepot add milk, cream and vanilla bean paste scraped from the bean, and the bean itself. Simmer until foamy.
Drain cream mixture through a sieve into a large heat-safe container, to catch bits of vanilla pod.
Then slowly pour a small amount of the hot cream mixture into the egg yolk mixture and whisk to temper the eggs and prevent them from scrambling, continue to add the rest of the cream mixture whisking all the while until fully combined.
Transfer this mixture into a cleaned out pot and heat on medium-high, whisking all the while until thickened to a light pudding consistency but is still pourable. This will happen quickly as soon as it starts to thicken so don't walk away!
Remove from the heat (since it will continue to thicken if left on the hot burner)
Add 2 tablespoon (30 g) of butter and whisk until smooth. Add the caramel and whisk until smooth.
Pour into heat-safe ramekins, leave uncovered. And refrigerate for at least 2 hours or overnight.
Top puddings with a sprinkle of fleur de sel, a dollop of homemade whipped cream and toffee bits.
Notes
Makes 4-8 (depending on size of ramekins)
Nutrition Information:
Yield:

4
Serving Size:

1
Amount Per Serving:
Calories:

233
Total Fat:

22g
Saturated Fat:

12g
Trans Fat:

1g
Unsaturated Fat:

8g
Cholesterol:

279mg
Sodium:

213mg
Carbohydrates:

5g
Fiber:

0g
Sugar:

4g
Protein:

4g