Apple Cinnamon Crepe Recipe with Salted Caramel Sauce
If the thought of making an Apple Pie this year feels like a bit too much work, consider making these Apple Cinnamon crepes instead!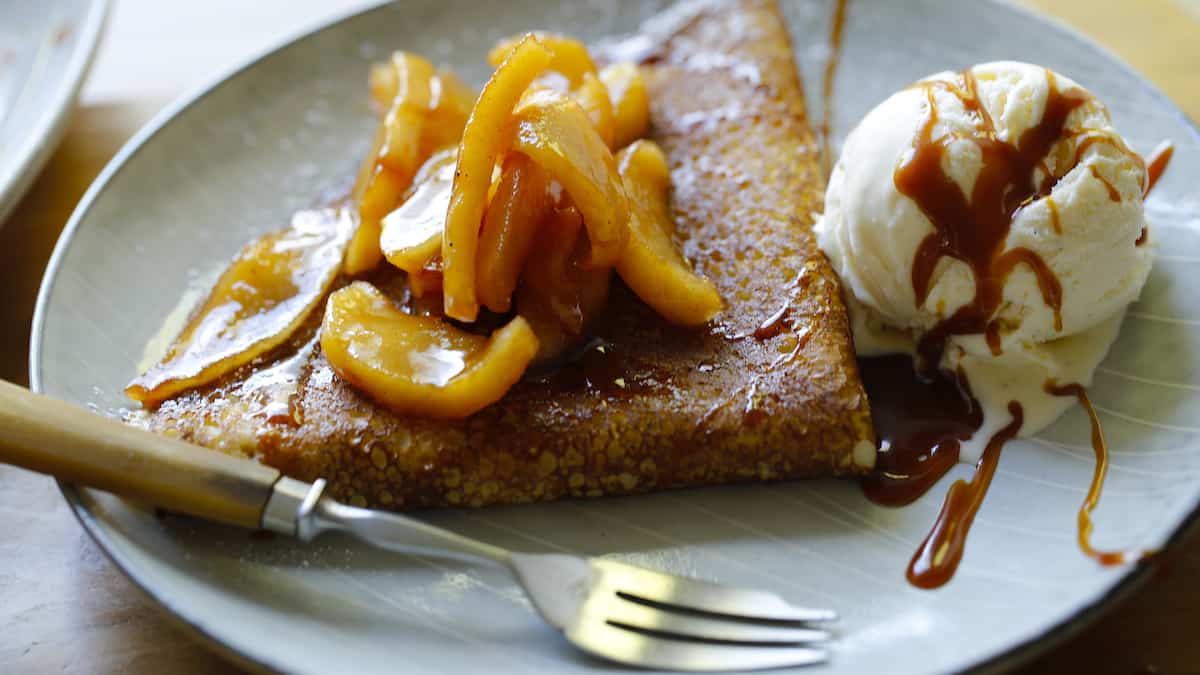 Not only are crepes easier, than pie in my opinion, but the apple filling for these crepes has all the familiar flavors of apple pie you crave such as the syrupy cinnamon apples, the caramel sauce, and when mixed with the starchy crepes and vanilla ice cream, you'll never miss that apple pie!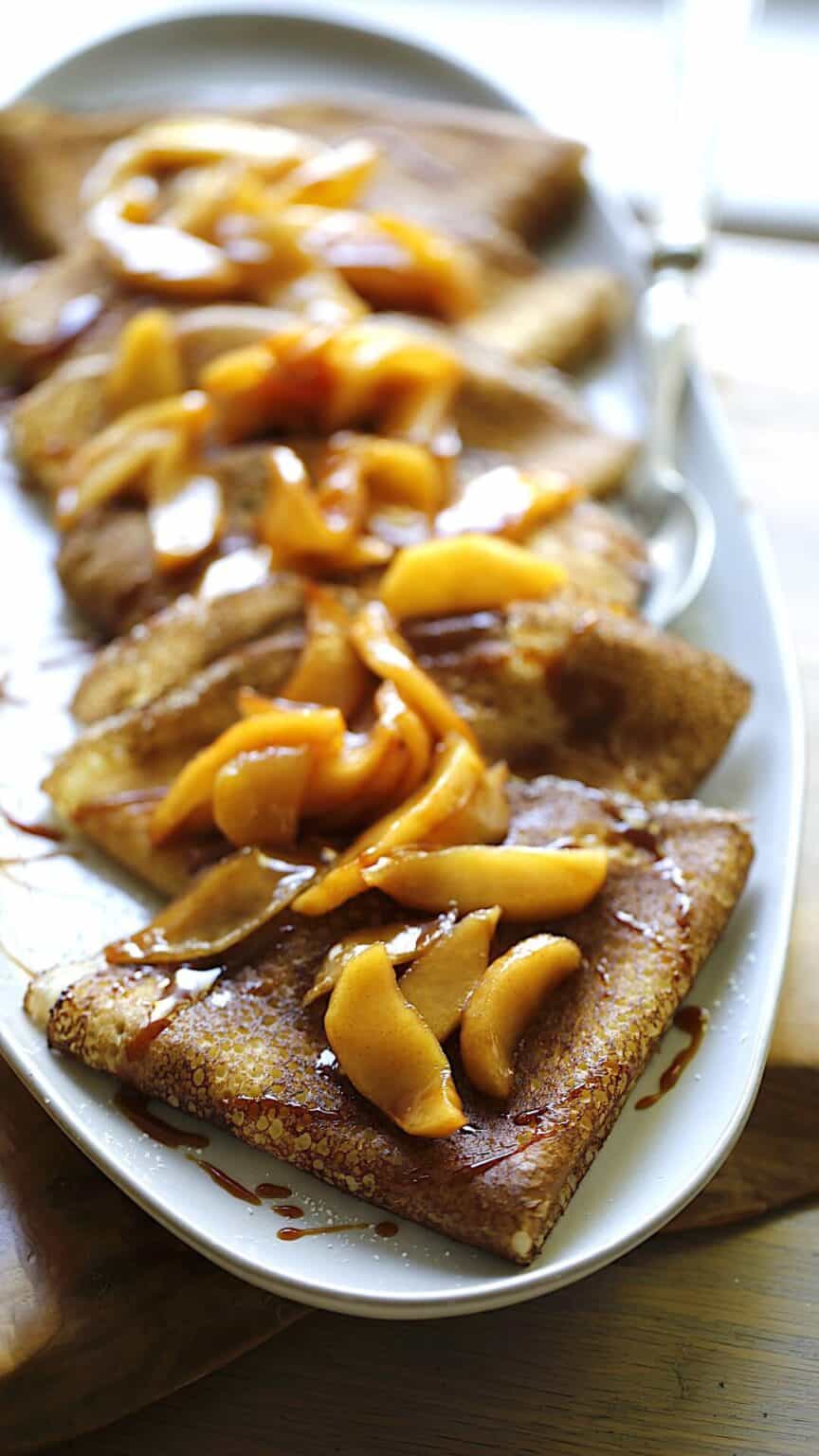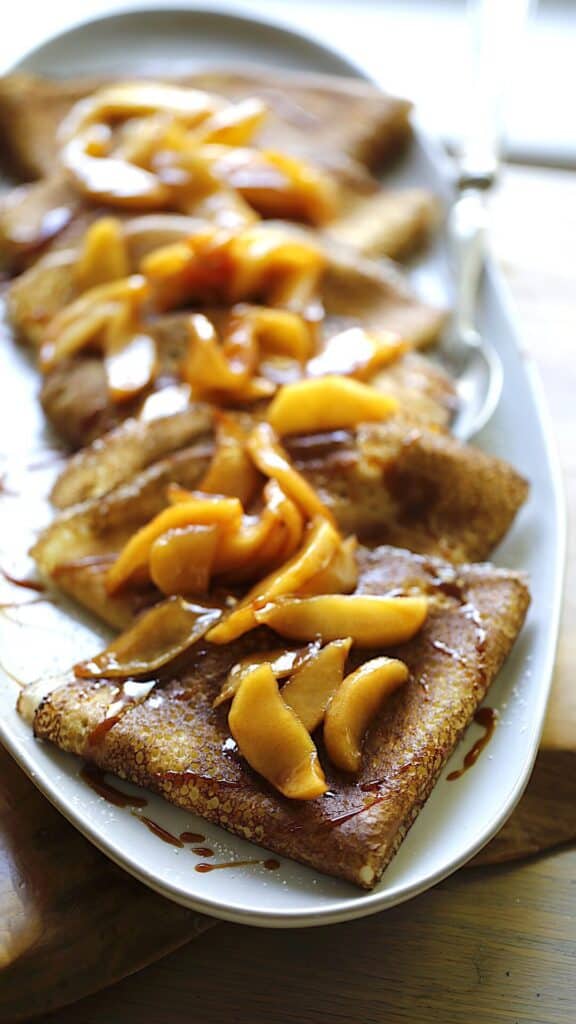 Looking for more easy Thanksgiving dessert recipes? Try my Easy Pear Tart, No-Bake Pumpkin Mousse or my decadent Pecan Bars with Shortbread Crust.
Watch My Apple Crepe Video Below!
How To Host a Zoom Thanksgiving
If the quarantine has left you separated from your loved ones, here are my tips for making a zoom Thanksgiving meaningful and fun!
Designate a Host for your virtual

Thanksgiving

. This person will set up all the email invites to make sure guests have the proper links. They will also help older relatives figure out how to download

zoom

in order to make sure the technology is working properly.
Agree to Make a Common Menu The host will pick the recipes, by scouring the internet for easy, small serving recipes that each family can make the day off. Or by asking each guest to contribute their favorite recipe they can share with the group. Having everyone enjoy the same menu, will create a sense of shared experience" and fun cocktail chatter about how each of the dishes came out and taste. Prizes like digital gift cards can be awarded to the best-looking dishes!
Designate an "event moderator". We've all been on

Zoom

calls where everyone is talking over each other and no one can get a word in edgewise, this is not enjoyable! Instead, the moderator will be in charge of encouraging "turn-taking", utilizing the mute button when not speaking, and generally keeping order in the house!
Designate a sommelier! This person can be in charge of sending a nice bottle of wine that pairs well with the chosen menu. Look for wine merchants that ship nationwide and be sure to send your bottles at least 2 weeks in advance to allow for shipping and receiving.
Dress for the Occasion! The day of encourage guests to get dressed up! As is they were attending in person. The host can send a selection of fun autumn-themed virtual backgrounds guests can choose from to set a festive mood!
Designate a person to be in charge of the "entertainment" or "run of show", otherwise it could be a big gabfest with no structure. The "run of show" may involve each person sharing what they are grateful for, or sharing favorite memories of past Thanksgivings, or children can share art projects that were sent to the parents to create with them in advance. More tips for entertaining the kids on a Zoom chat!
Foster Hope The host can send each guest some

Thanksgiving

cards or stationary where each guest can write down what they hope for next year's

Thanksgiving

. Guests will mail these "letters" to the host who will keep them to read at the following

Thanksgiving

!
Basic Crepe Recipe
This crepe recipe is as easy as it gets! It uses pantry staples and once you master crepes at home, you'll be making them all the time! Personally, I think they are even easier than pancakes!
This recipe will make 6 crepes, in a 10" (25 cm) pan. For a larger quantity, you can easily double this recipe, or use my previous crepe recipe that will make 8 crepes. For a savory crepe recipe try my Chicken and Mushroom Crepes with creamy bechamel sauce!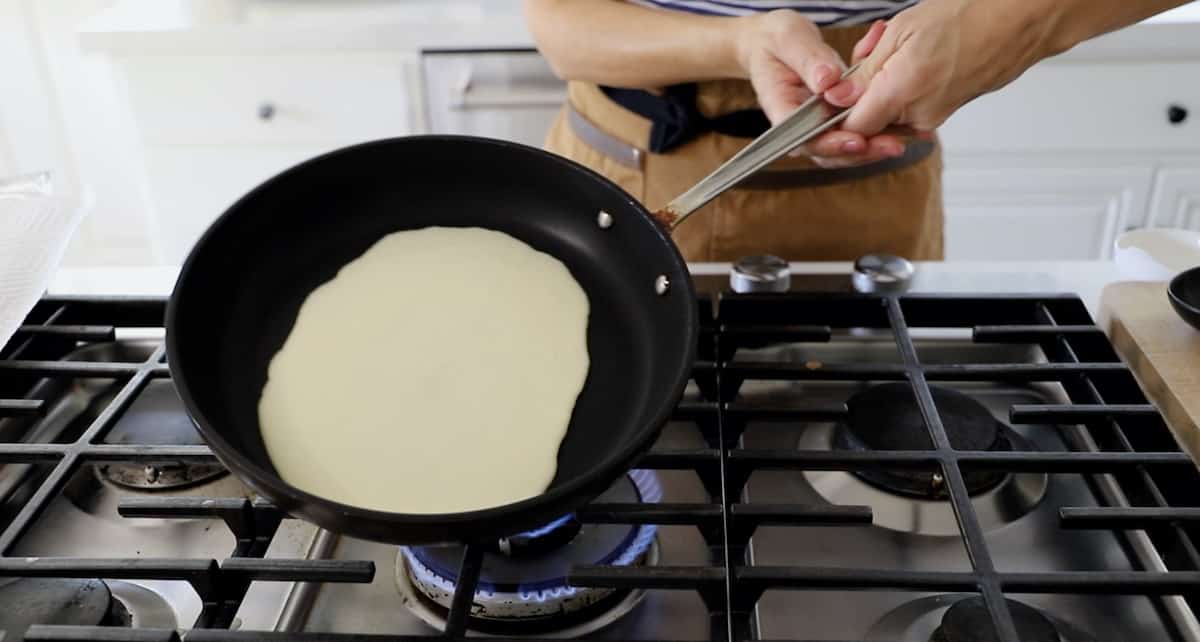 How to Make a Lump-Free Crepe
The secret to a smooth crepe batter is to mix the dry ingredients with the milk first, get it to a nice frothy and smooth consistency before adding the egg and the butter. This will also assure lump-free crepes once they are cooked.
Use a Non-Stick Pan and Grease Often
The other secret to beautiful golden brown crepes is a non-stick pan. I find a deeper skillet will work better than those special crepe pans, they tend to not be as non-stick and for some reason tend to burn the edges quickly! And will a basic non-stick skillet you can use for other things! My favorite is the 10" non-stick pan by All-Clad. (This link goes to Amazon where I am compensated on products sold with no cost to the consumer)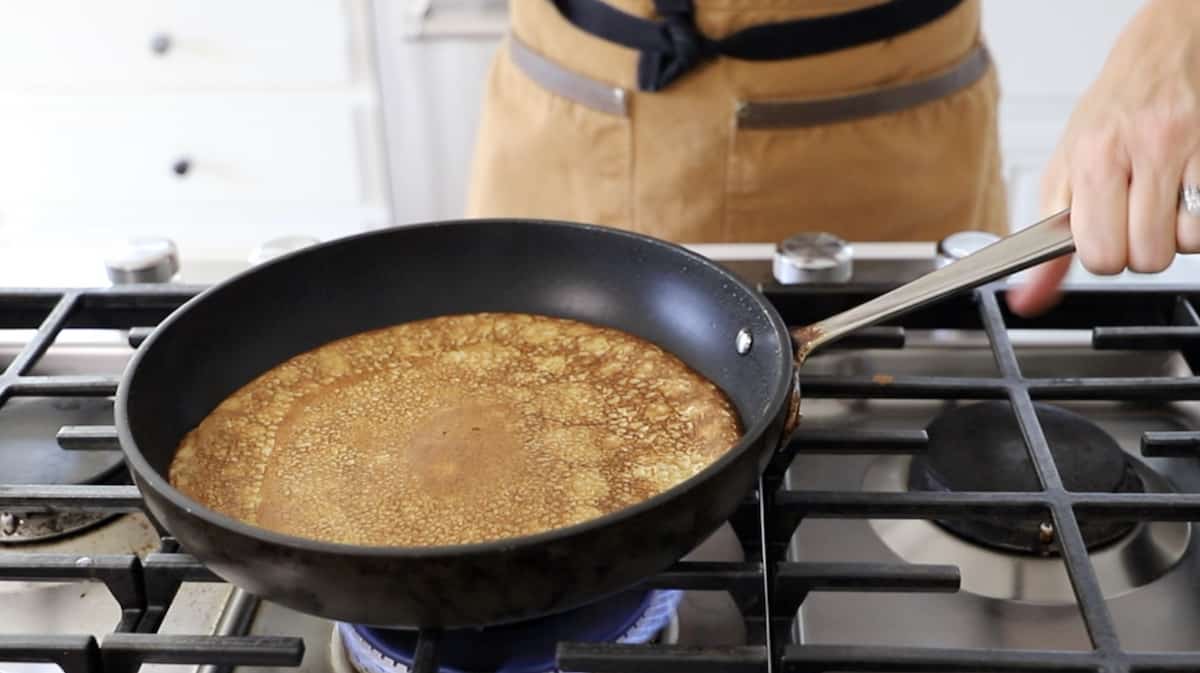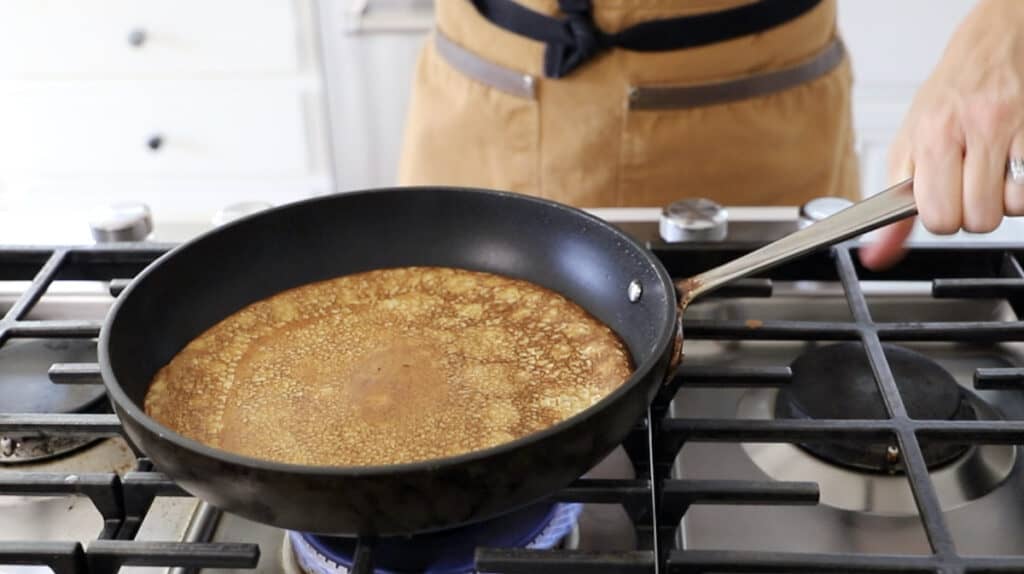 It's also important to grease the skillet in between making each crepe, with grapeseed oil or vegetable oil, and a paper towel. This will also guarantee a nice golden brown color on your crepes.
How To Store Crepes
As your crepes are cooked, slide them off on a large piece of paper towel, lined with aluminum foil. Stack them all going the same way to prevent them from sticking together. Then once they are cooled, wrap them up in the paper towel, then the foil, and refrigerate until it's time to serve.
To reheat the crepes, keep them wrapped in the paper towel and microwave the stack for 1-minute or until warmed through.
Making the Salted Caramel Sauce
If you've never made your own salted caramel sauce you are in for a treat! So much more flavorful, and less sweet than the store-bought variety! It also uses only four ingredients, most of which you probably already have on hand!
Tips for Making Salted Caramel Sauce
Use a high-profile pot Once you add the cream it will boil up and a high-profile pot will prevent it from boiling over!
Use a Wide Pot Having a larger surface area at the bottom of your pot will allow the sugar to be distributed in a thin layer, this will melt the sugar faster!
Keep it Moving While the sugar is melting, help it along by swirling your pot and lifting it off the flame as needed to prevent burning. Otherwise "stationary" melting caramel will burn quickly!
Do Not Touch It As the sugar is melting, don't try to help it along by sticking a spoon in or whisking to stir it. It will just stick to your spoon and create a "sugar mass" that will be harder to melt.
Don't Skimp on the Salt add ⅛ of a teaspoon to begin and taste it! Adding more if desired. It's the combination of the sweet and salty that makes salted caramel sauce so delicious!
Once you master homemade caramel, you can also enjoy it in some Salted Caramel Puddings or my rich and decadent Salted Caramel Ice Cream.
Apple Filling For Crepes
The apple filling is best made right before serving. You'll get the best flavor and texture that way. The apples don't need to cook long, about 10-13 minutes in total, depending upon how crisp you like them. Since they don't cook very long, you'll be better with an apple that is on the sweet side as opposed to a tart apple like a Granny Smith.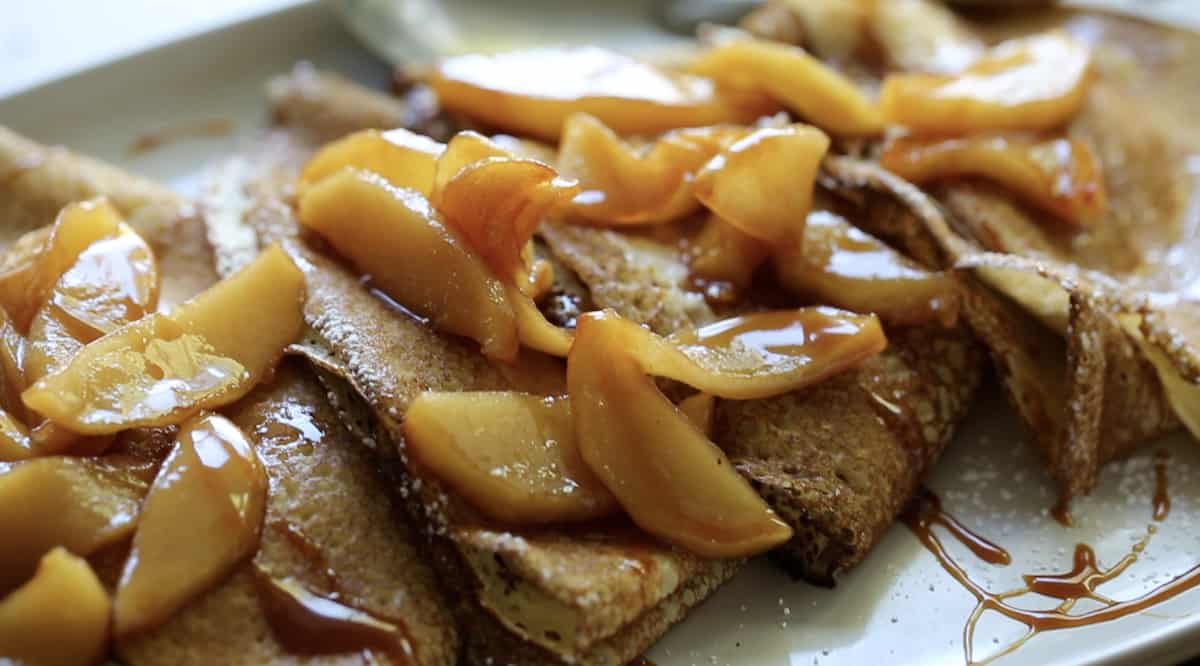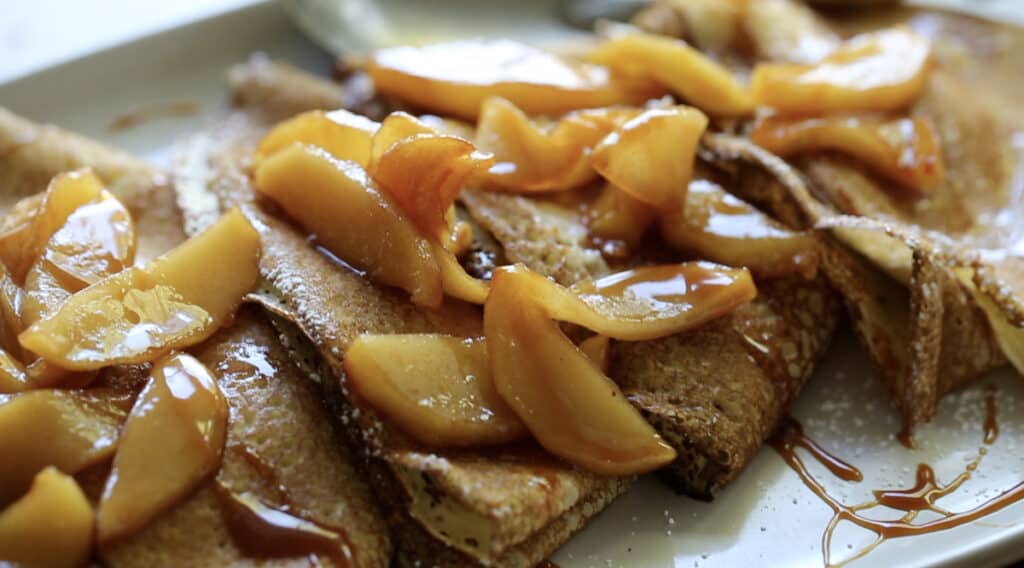 Best Varieties of Sweet Apples
Gala Apples
Fuji Apples
Honeycrisp
Envy Apples
Caramelizing the Apples
Making the apple filling is a two-step process. The first step, steam them and makes them tender, but the last step, makes them carmelized, sweet, and syrupy! And it's the easiest trick of all.
Turn off the flame
Leave them covered
Keep them resting on the burner
Do not touch them for 5-minutes
The residual heat from the burner and pan, will carmelize the apples and give them that dark, syrupy shine that will not only look beautiful on your crepes but will be so delicious too!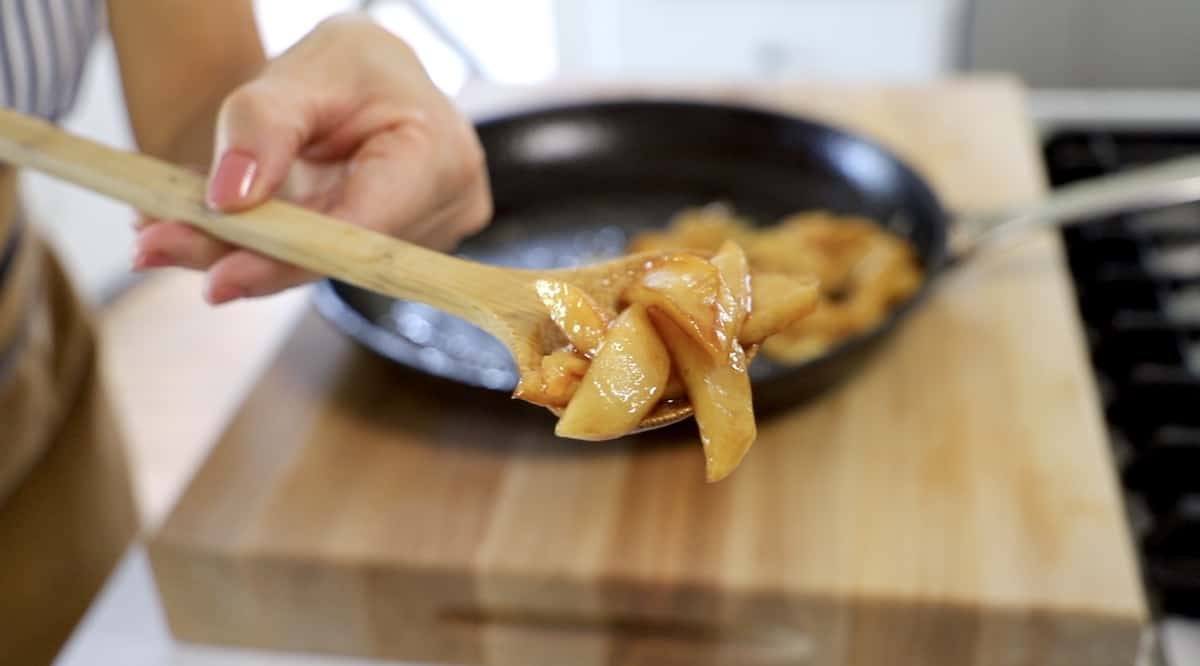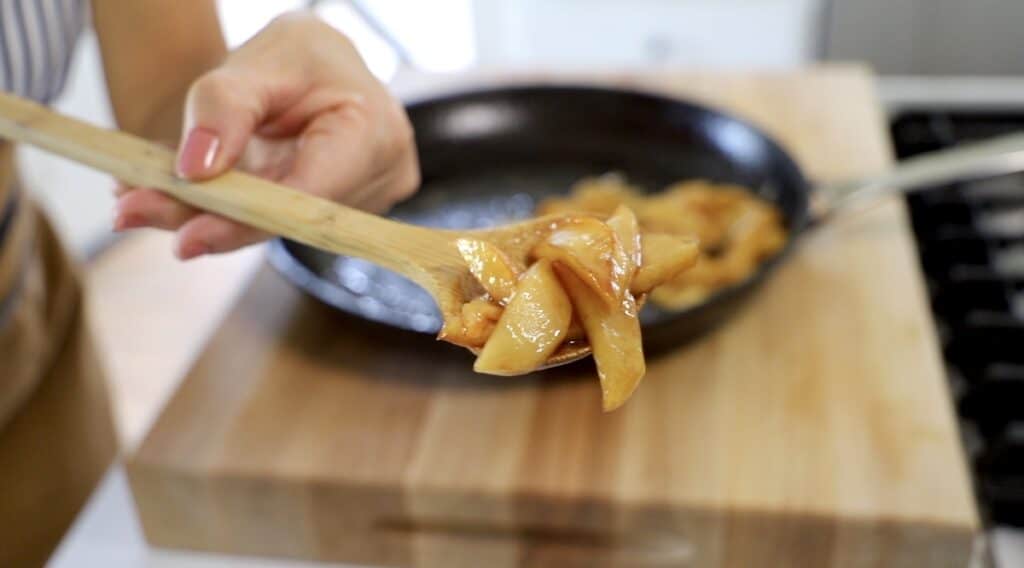 How-To Serve the Apple Crepes
Option#1
In serving this dessert you have two options. Personally, I like the "Ta Da" moment placing them on a platter, and serve family-style. Especially for a special occasion like Thanksgiving, a little table theater is always a fun pay off for the cook and the guests!
Simply fold your crepes in half, then in quarters, line them up stacked by staggered against each other, running down an oblong or rectangular platter, with their points facing the same direction. At this stage, you can dust them with a little powdered sugar which looks pretty too. Then spoon the apple filling on top, going down the middle of the crepes.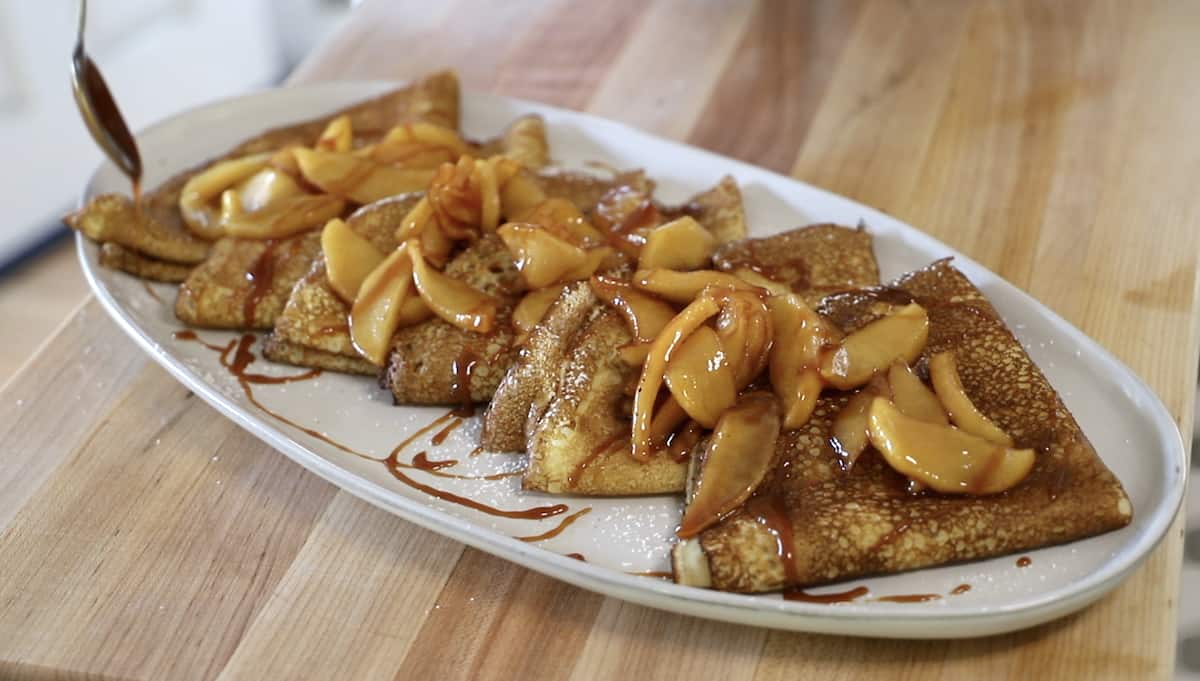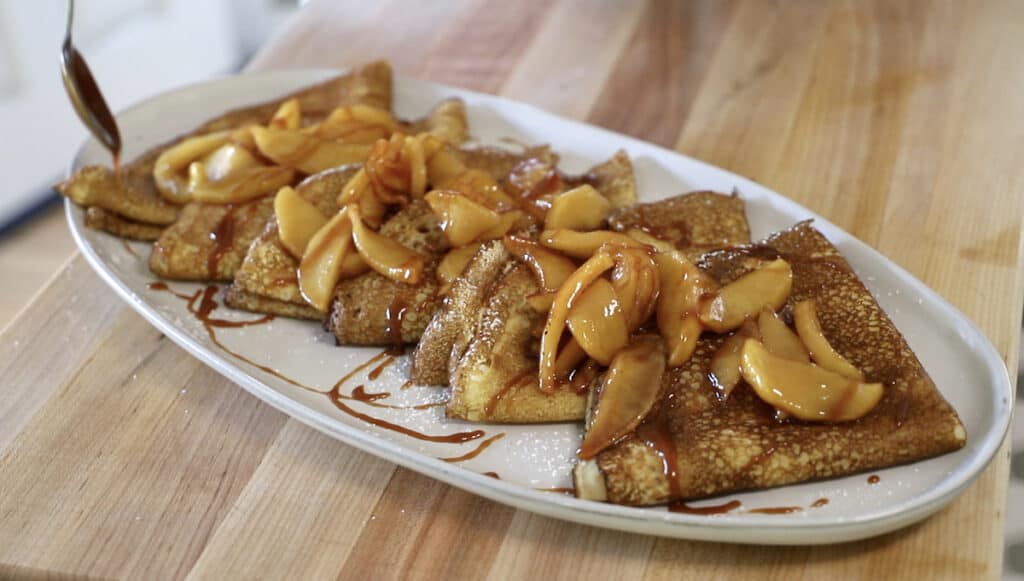 And for the finishing touch, drizzle the caramel sauce on top, adding a little to the plate as well, which is a nice touch. But don't use all the caramel sauce, since you'll want to reserve it to bring to the table to drizzle over the vanilla ice cream.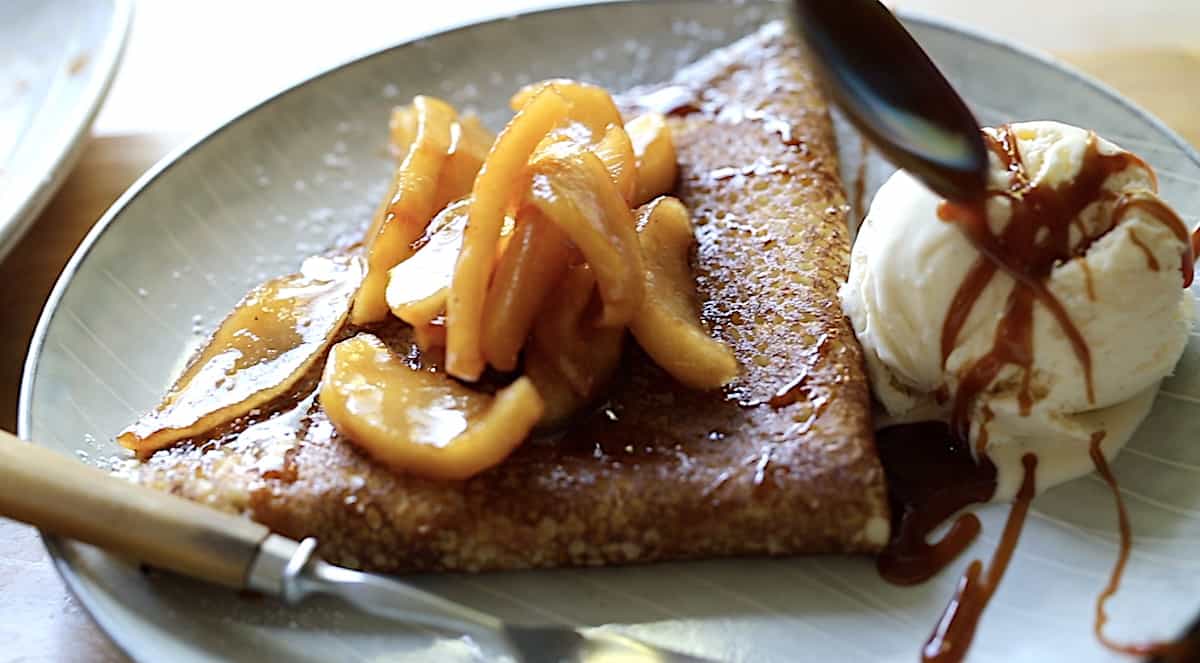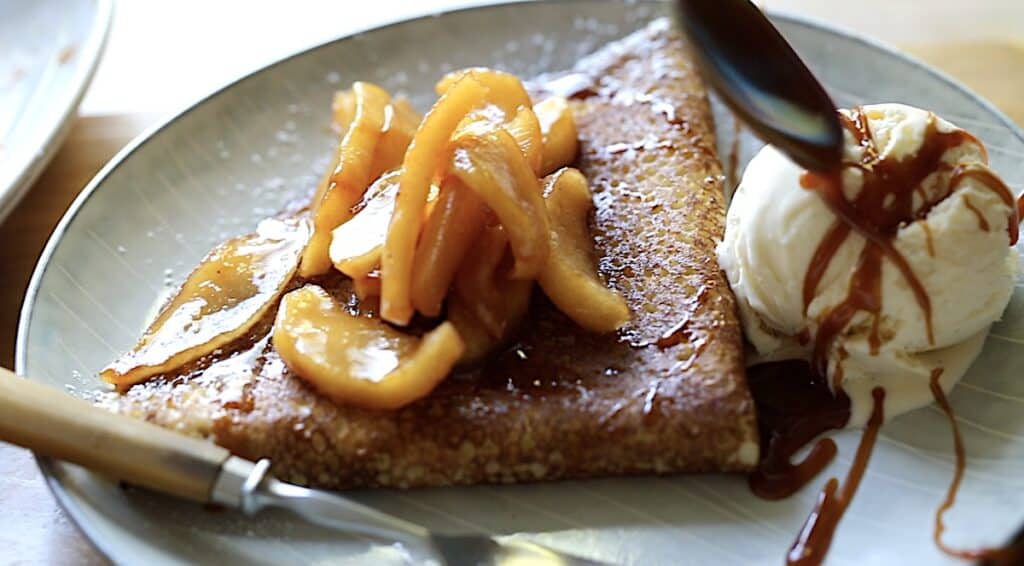 Option#2
The other option is to plate each dish, restaurant-style, with a crepe, a spoonful of apples, a scoop of ice cream, and a drizzle of caramel sauce. The smaller amount of people you are serving, the easier this option will be! Unless of course, you have many hands in the kitchen to help and you can set up an assembly line of helpers to fold, spoon, scoop, drizzle, and serve!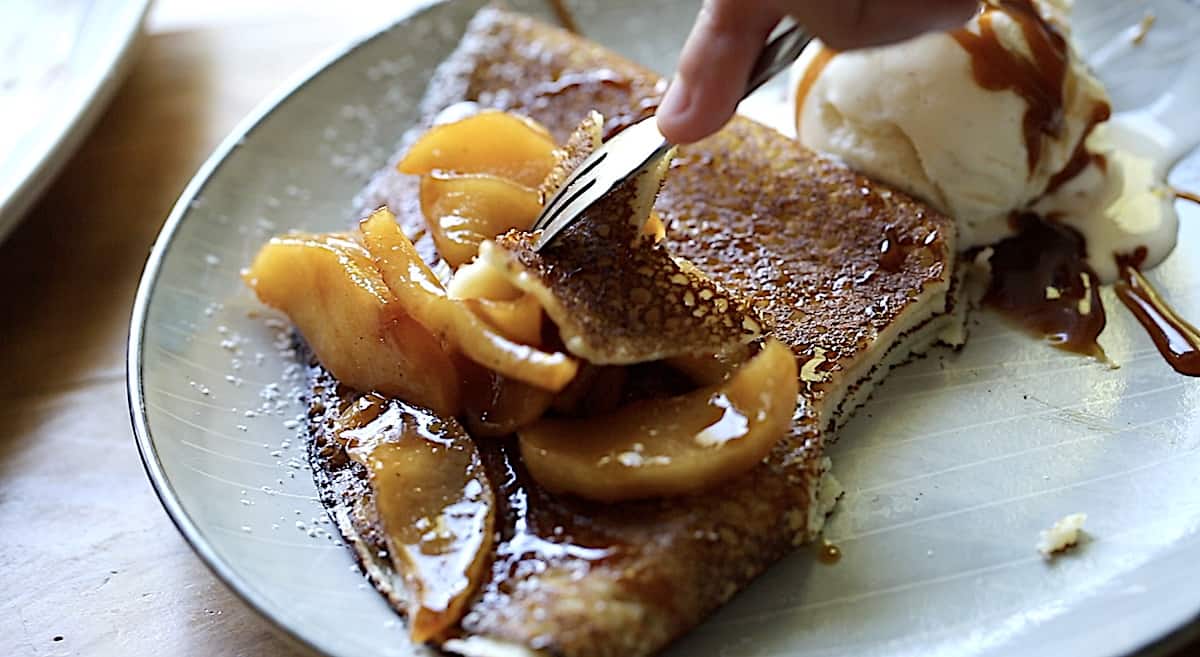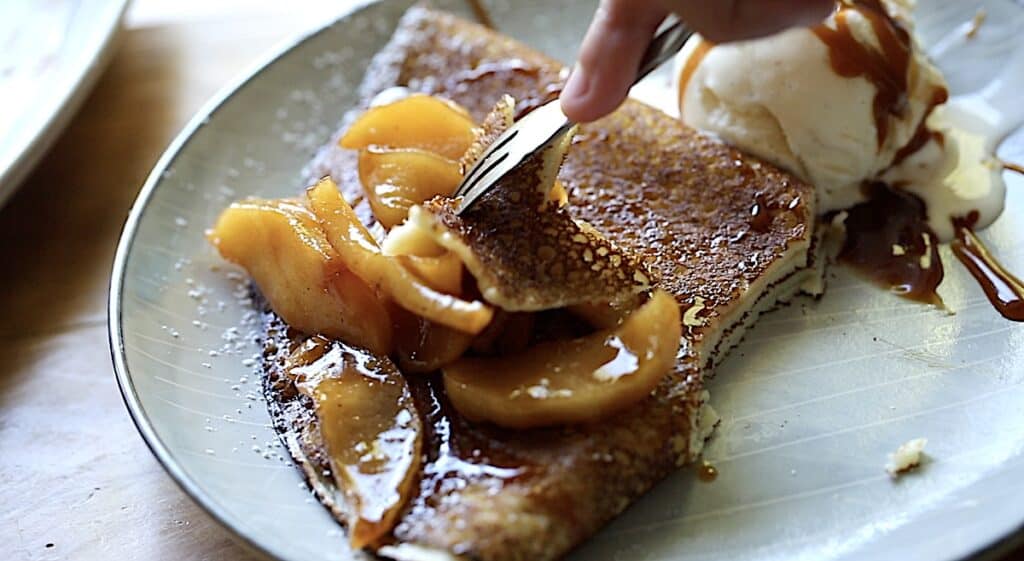 A Final Word About Ice Cream
This dessert really benefits from good quality, vanilla ice cream. Look for ice cream that's labeled French Vanilla. It will give you the best texture and color. French vanilla is more custardy, richer, and creamier in texture. You only need a scoop per person, and the extra money is well spent!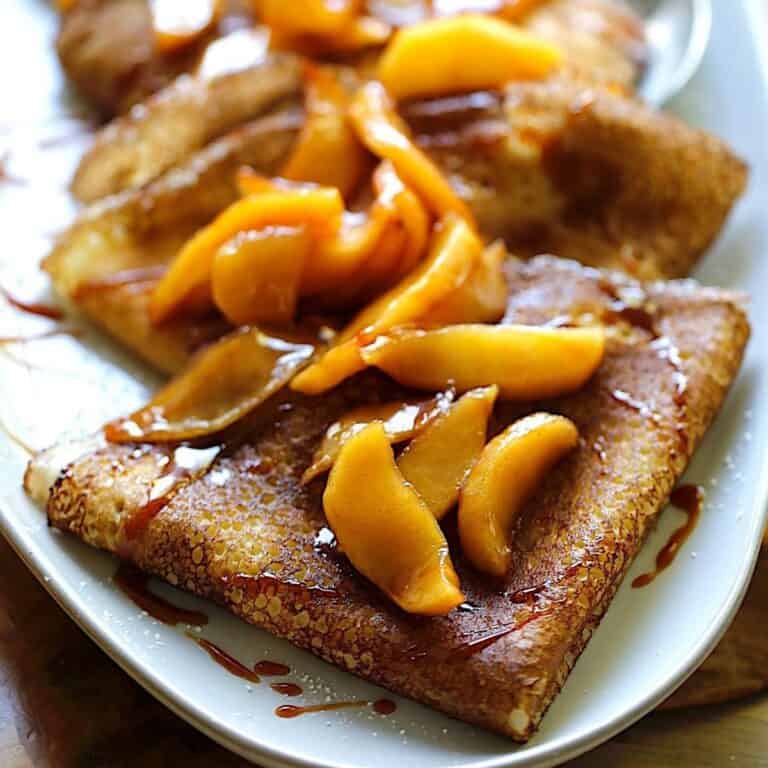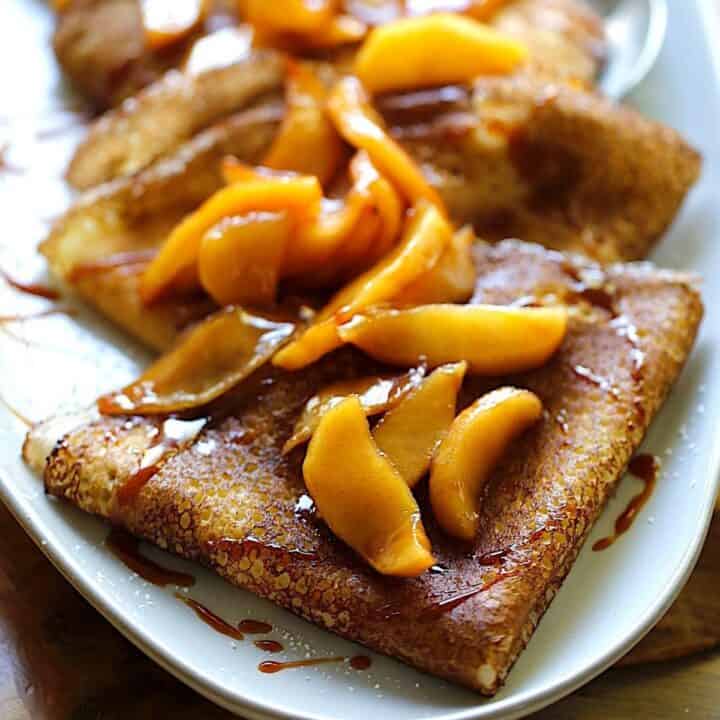 Apple Cinnamon Crepe Recipe with Salted Caramel Sauce
Total Time:
1 hour
10 minutes
If the thought of making an Apple Pie this year feels like a bit too much work, consider making these Apple Cinnamon crepes instead! Not only are crepes easier, than pie in my opinion, but the apple filling for these crepes has all the familiar flavors of apple pie you crave such as the syrupy cinnamon apples, and the caramel sauce. When mixed with the starchy crepes and vanilla ice cream, you'll never miss that apple pie!
Ingredients
FOR CREPES:
¾ cup (90g) of flour
2 tablespoon (25g) sugar
Pinch of salt
1 ⅓ cup (320ml) of milk
1 egg
2 tablespoon (30g) butter, melted and cooled
Oil for greasing
Powdered sugar for dusting
FOR CARAMEL SAUCE:
⅔ (130g) sugar
⅔ (160ml) heavy cream, warmed
1 tablespoon (15g) butter
⅛ teaspoon (a large pinch) salt
FOR APPLES:
1 ½ cups (225g) of Gala apples, peeled and sliced to ¼" thickness
2 tablespoon (30g) butter
2 tablespoon (25g) sugar
¼ teaspoon (1.25ml) cinnamon
1 ½ tablespoon (45ml) water
Pinch of salt
Instructions
For the crepes, whisk together the flour, the sugar, and the salt. Add the milk and whisk until smooth. Then add the egg and the butter and whisk until smooth.

Grease a 10" pan with oil, distributing it well with a paper towel on bottom and sides. Heat pan on medium-high heat. Once it's very hot, then add 1 ladle of batter and swirl around until it coats the bottom of the pan. Allow to cook until the edges turn golden brown.

Then slide a thin metal spatula under the crepe, grab it with your fingertips and flip it quickly. Allow to cook for :30-50 on the underside. Slide it off onto a paper towel, lined with aluminum foil. Continue to cook the crepes, stacking them all in the same direction (top up) to avoid sticking. Allow crepes to cool, then wrap in paper towel and foil and refrigerate until ready to serve.

For the caramel heat the sugar in a high profile saucepot, until it starts to become translucent around the edges and then it will start to turn amber brown. Then swirl it and lift the pot up off the flame to avoid burning, continuing to swirl until all the sugar is melted. Keep on a low flame.

Add the warm heavy cream, it will bubble over and look like a magic potion! It will settle down as you whisk and then swirl in the butter, whisking to combine. Then add the salt. Transfer to a heat-safe pitcher, cover, and refrigerate until ready to serve.

For the apples, heat the butter in a large non-stick pan until melted. Add the sugar and the cinnamon, whisk until combined. Add the apples, the lemon juice, and the water. Stir to coat the apples, then cover and simmer for 5-8 minutes, shaking the pan periodically to move the apples around.

Then turn off the flame and keep the apples covered, untouched for 5 minutes. This will continue the caramelization process!

Before serving microwave the stack of crepes in their paper towel for 1-1:30 minutes until warm. Then microwave the caramel sauce for 1:00.

To serve fold the crepe in half, then in quarters, forming a triangle. Place the crepe at the top of an oblong platter, staggering the folded crepes lengthwise splayed out on top of each other. Dust with powdered sugar, spoon the apples on top of the crepes, down the center. Drizzle with the caramel sauce.

Serve each guest, a crepe, a spoonful of apples and a scoop of vanilla ice cream. Drizzle the ice cream with more caramel sauce.
Nutrition Information:
Yield:

6
Serving Size:

1
Amount Per Serving:
Calories:

236
Total Fat:

6g
Saturated Fat:

2g
Trans Fat:

0g
Unsaturated Fat:

3g
Cholesterol:

41mg
Sodium:

87mg
Carbohydrates:

41g
Fiber:

1g
Sugar:

24g
Protein:

5g