Beth's Foolproof Apple Pie Recipe
Learn how to become a true "pie-boss" with a Foolproof Apple Pie Recipe. At its core apple pie should be simple, but there are so many things that can go wrong with it! From tough crusts to mushy apples, runny centers, and soggy bottoms.
If any of these issues have happened to you, then it's time to hit "reset on your go-to apple pie recipe" and give it a makeover! Seriously, your Apple Pie will be the talk of the table thanks to these Top Ten Apple Pie-making tips!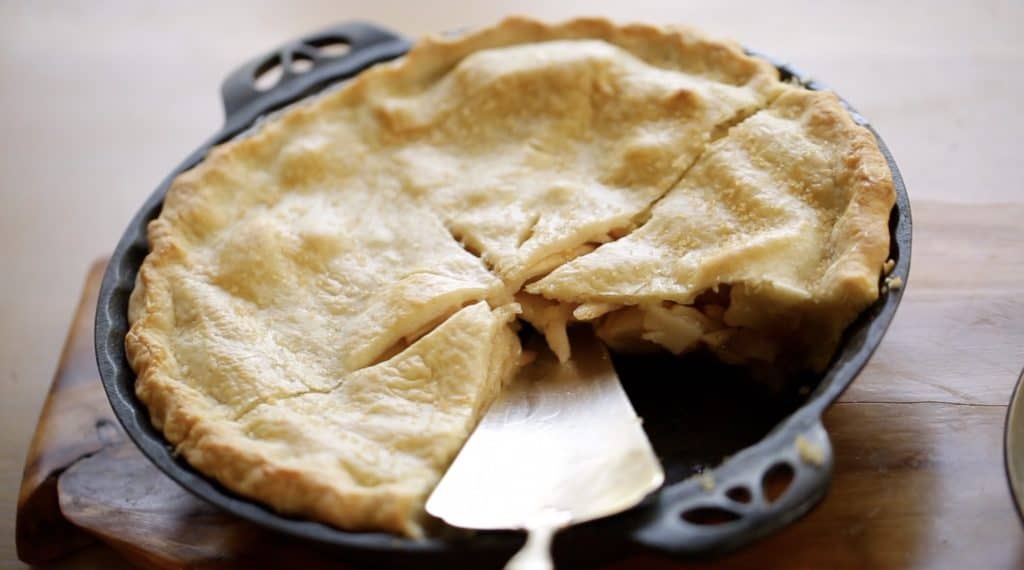 Shop the Look:
I also think this pie looks extra special in this 11" cast-iron pie plate. There's something so sweet and homey about it. It also provides even heat for a nice crisp crust!
The Crust:
Apple pie can go really right, or really wrong! I find it all starts with a great homemade pie crust. But make sure it is well-chilled before it hits the oven. This is one of the first tips that are crucial for a well-shaped and flakey pie crust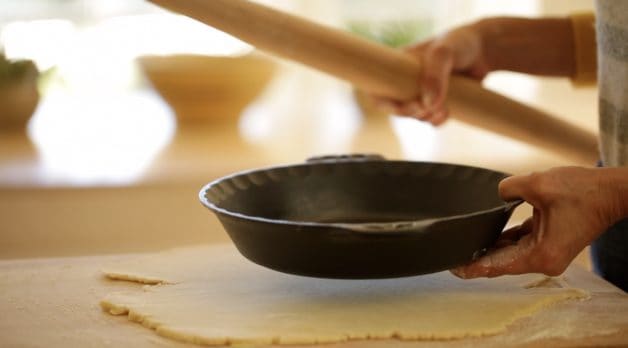 Tip#1: Refrigerate pie dough for at least 3 hours
After the dough is made, separate it into 2 balls, and wrap it in parchment paper.
The magic number for pie dough refrigeration is really 3 hours, or overnight is even better!
A well-chilled dough will prevent the dough from shrinking in the oven and becoming too misshapen.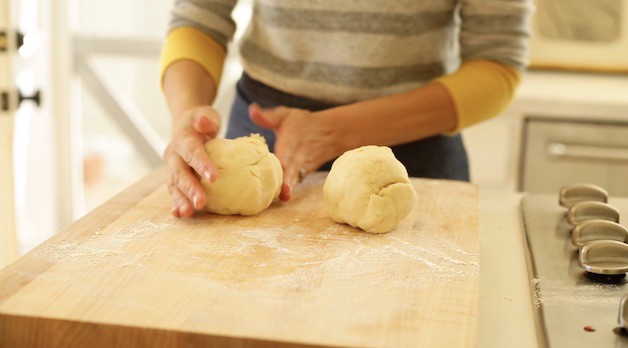 Tip#2: Use the Right Apples
The most popular apple for apple pie is a Granny Smith Apple.
Granny Smith apples are the best apples for apple pie because they are tart and won't omit too much juice when baked.
This will help avoid "soggy bottom syndrome" when baked.
But if you are in a pinch and need another alternative I think Gala apples work really well too for this pie and for my Apple Cinnamon Pastries or my French Apple Tart too!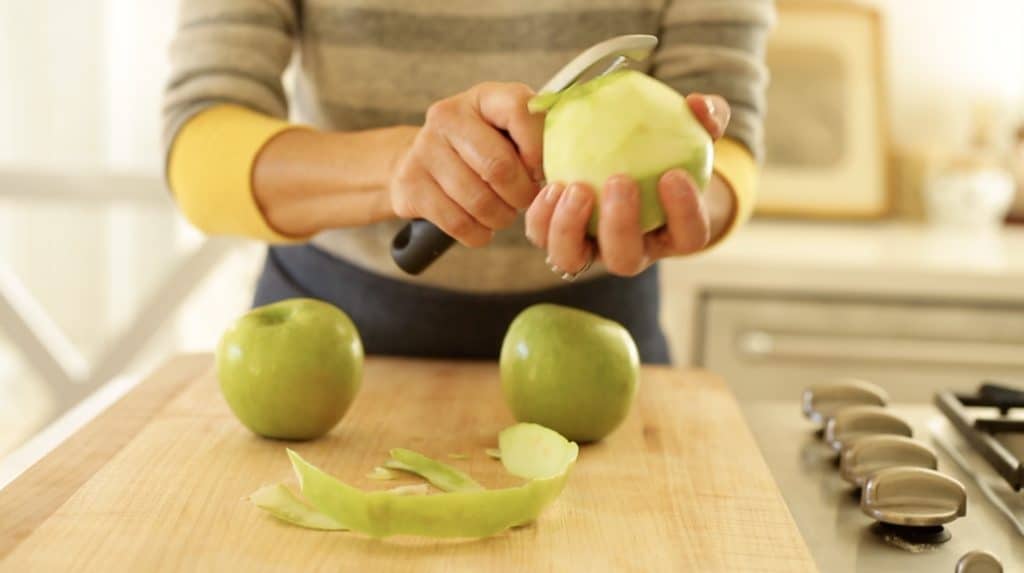 Tip#3: How Do You Make Apple Pie Not Runny?
There are a lot of choices for thickeners that will prevent your apple pie from being runny. Flour. Tapioca. Cornstarch.
But I find the most foolproof method is cornstarch. This will prevent your apple pie from being runny, while also allowing it to set properly.
Toss it in with the apples while preparing the filling and it will create the most delicious apple filling that has just the right amount of syrupy texture.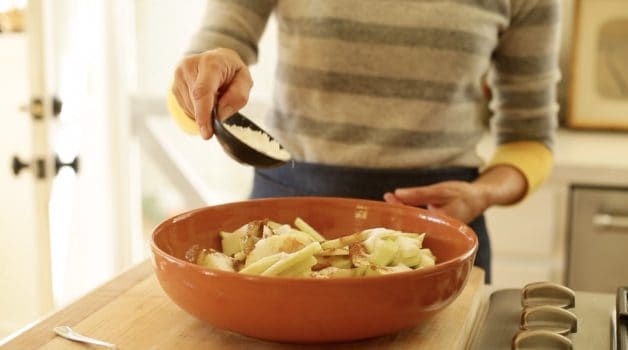 Cornstarch Helps with the Slicing:
Cornstarch also helps your pie set so you get a clean slice with structure and not a "flopsy, mopsy" pie slice with apples spilling out of it. The cornstarch will keep your apples intact!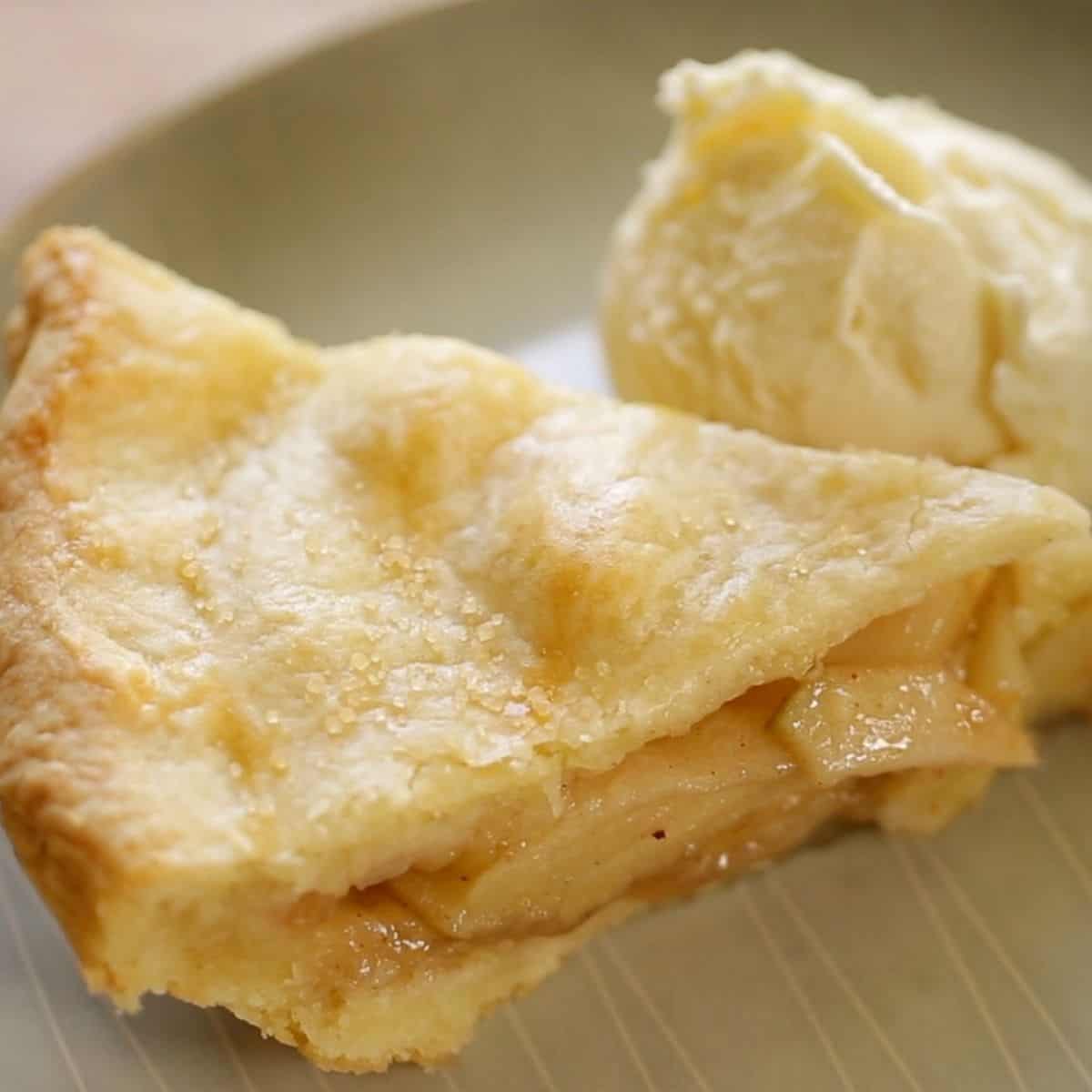 Tip#4: The Best Way to Avoid a Soggy Bottom Pie
Adding a little cornstarch to the bottom of your crust, before filling the pie with apples, will create a barrier to moisture and will ensure a crisp bottom crust!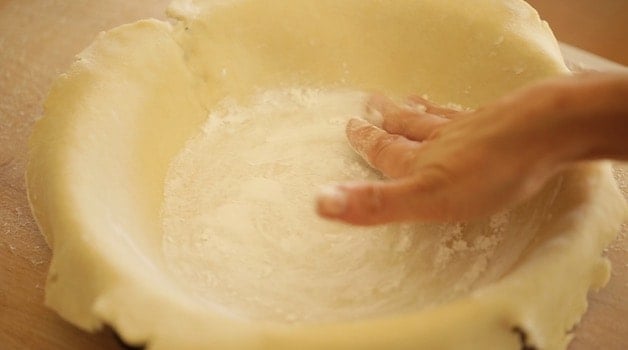 It's the simplest trick that I learned from my Aunt Nancy, the "original" pie boss of my family!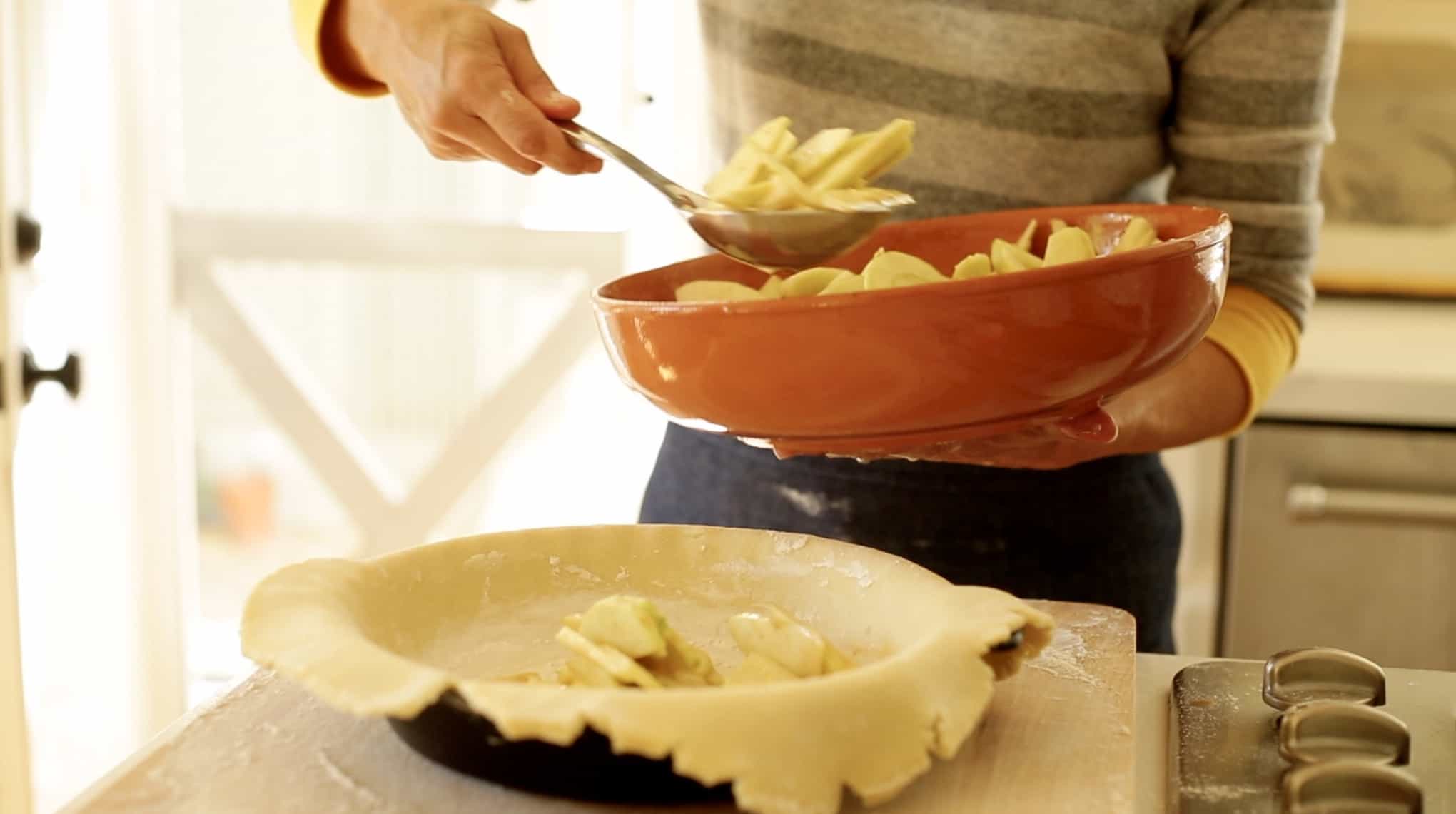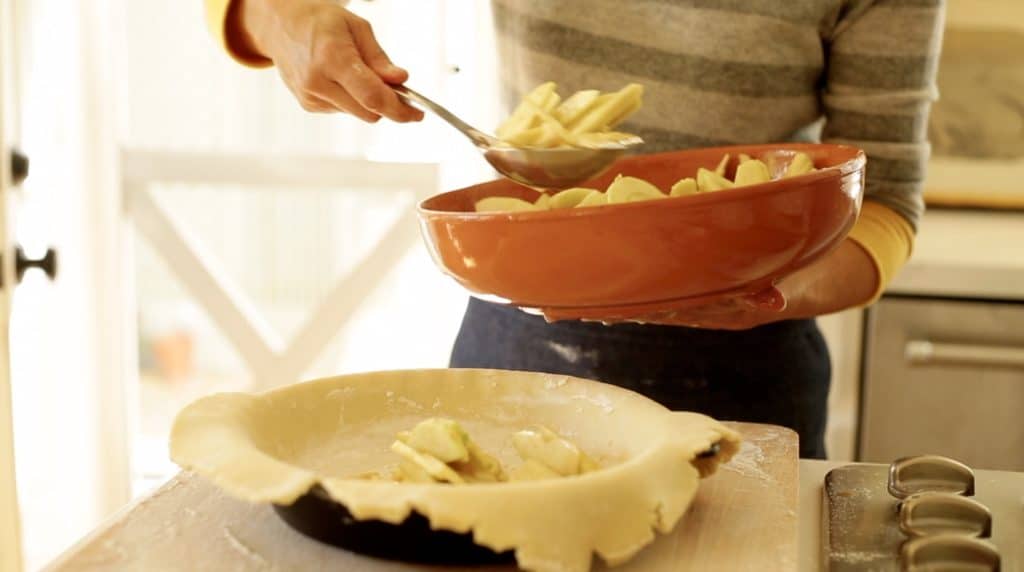 Don't Forget the Butter:
The other thing that helps the center become syrupy instead of runny is the butter!
You'll add at least 1 tablespoon of butter diced into cubes on top of your apples just before adding the second crust.
Once your crust is secured on top, trim the edges so they are even all around, then tuck them under into the pie plate and then crimp.
This will prevent any of those delicious juices from seeping out!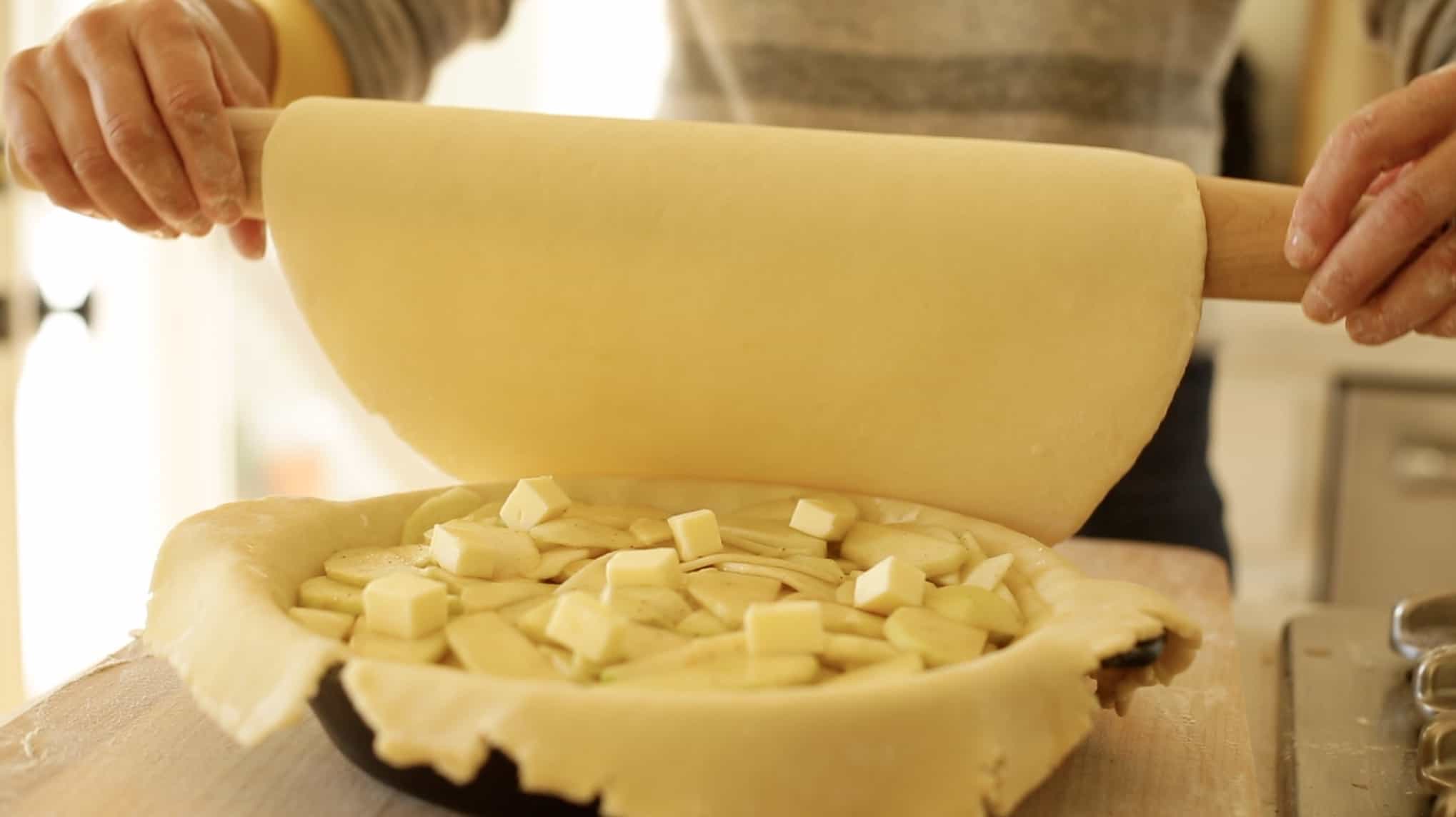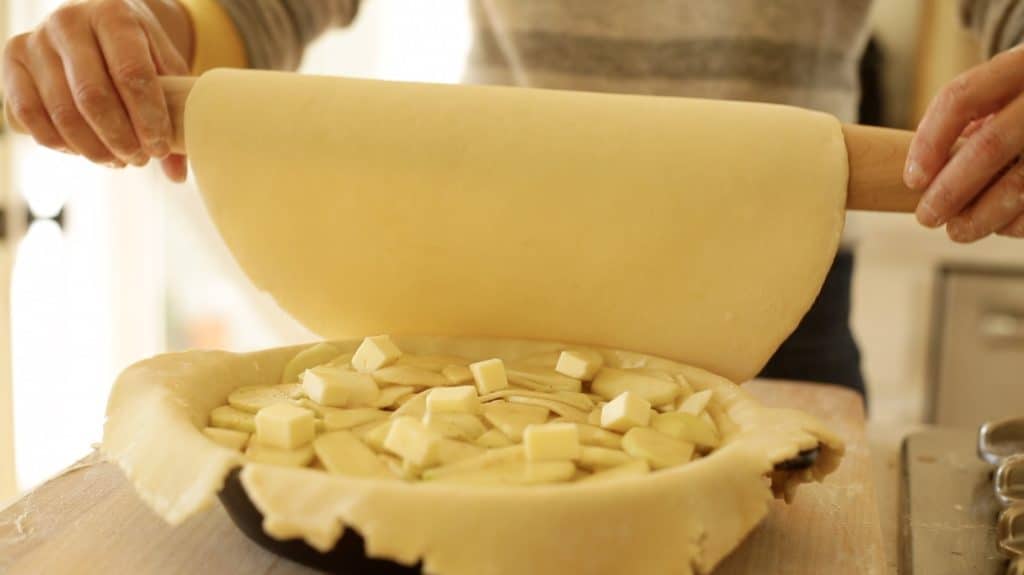 Tip#5: Place Pie in Freezer
Once the pie is fully crimped it also helps to pop it in the freezer for 10 minutes to firm up the dough.
You want your pie dough to be very cold before it hits the hot oven.
This will help keep its shape!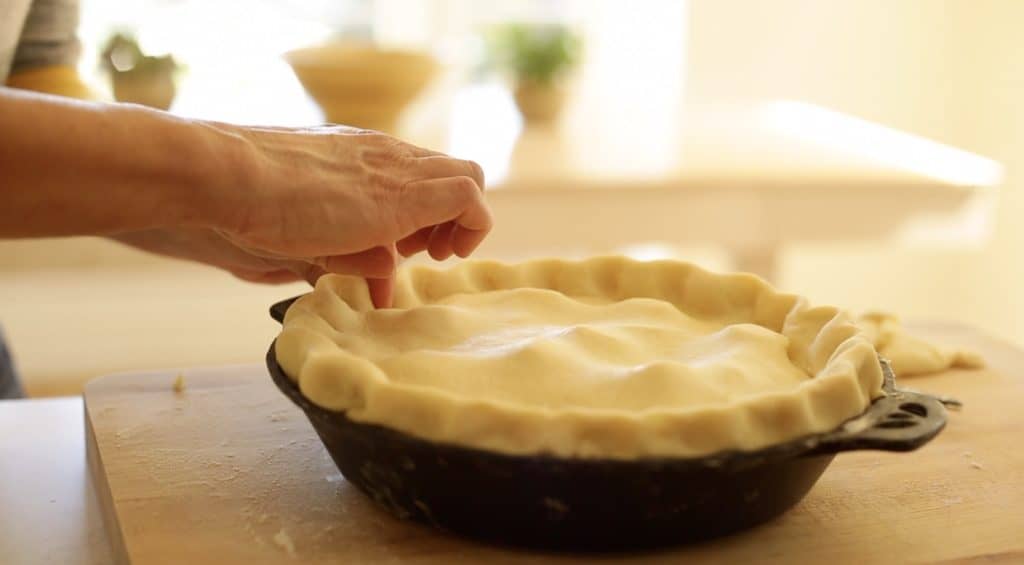 Tip#6: Use Egg White Not Egg Wash
For a beautifully even golden-brown crust, use egg white instead of egg wash (yolk mixed with water) or a full egg. The egg white doesn't burn like the yolk can and creates a really nice even color to your pie crust.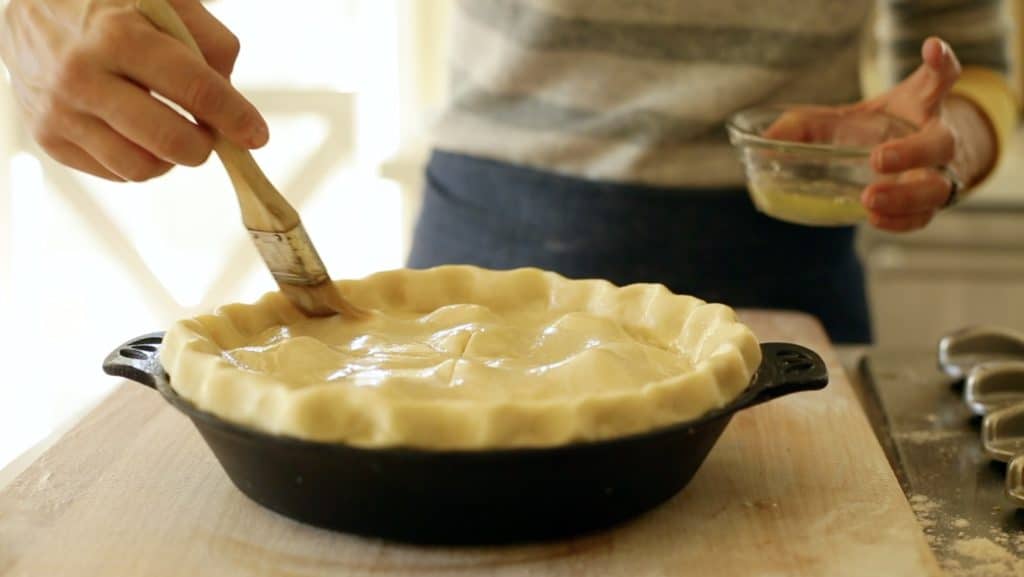 Tip#7: Bake at 375F
This is the perfect temperature for slow, even browning, and provides the ideal heat to cook the apples to a tender consistency.
At this temperature, there's no need to cover the crust with a pie shield, since it's high enough to set the crust but low enough to not burn the edges.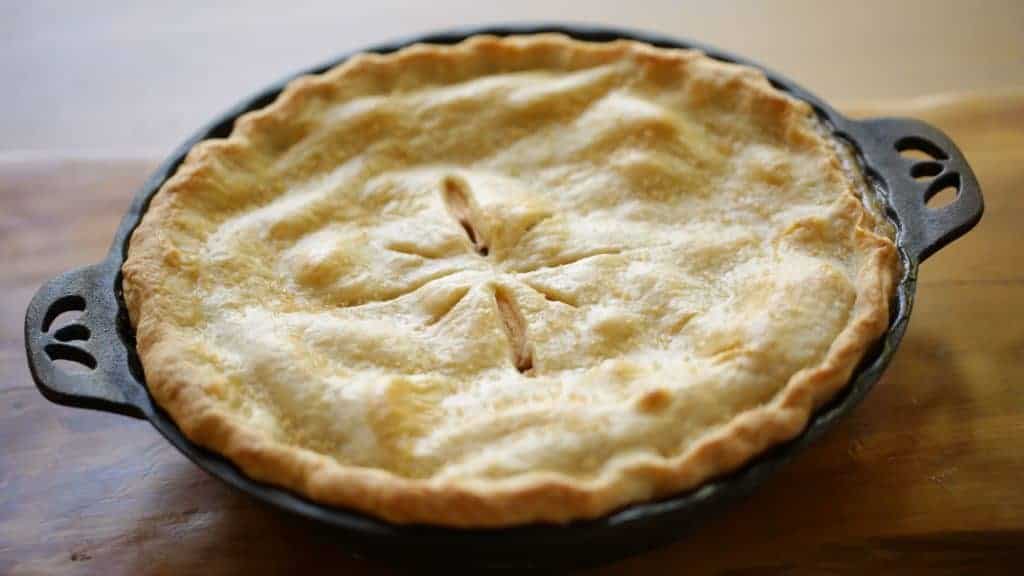 Tip#8: Add Sugar Later in the Baking
Add a sprinkling of Turbinado sugar at the 35-minute mark for even browning.
If you add the sugar too soon, it will start to burn before the rest of the pie is baked through.
Adding the sugar mid-way assures you will get a lovely crunch on top of your crust along with a beautiful golden brown color.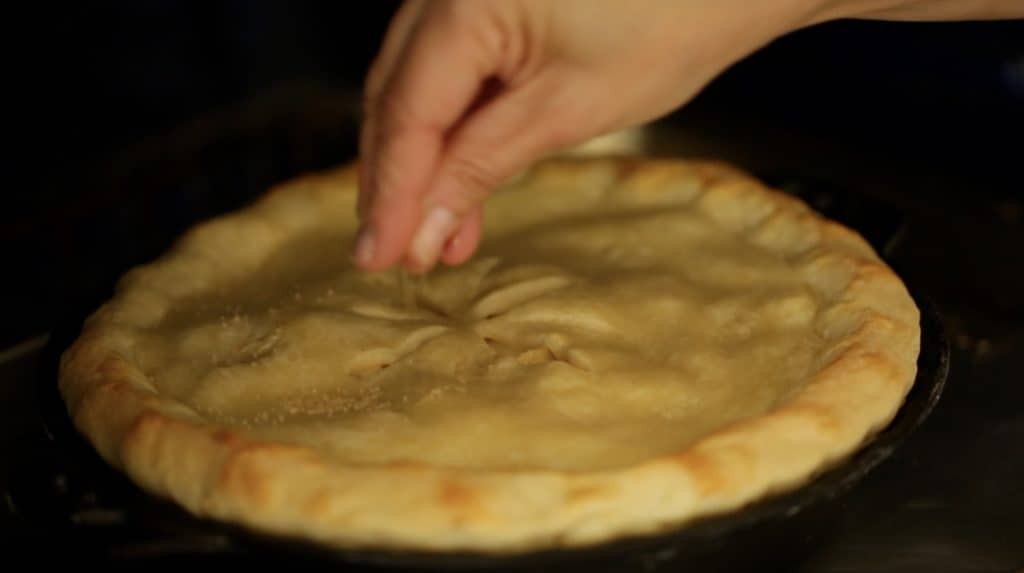 Tip#9: Wait for the Juices to Appear
Do not remove from the oven until you see the juices bubbling.
This means the cornstarch is activating and creating a syrupy congealed filling, so be patient and let it do its thing!
If you remove it too early, your pie will be dry inside.
Tip#10: Bake 1 Day Ahead
It's best to bake this pie the day before you plan to serve it. This allows time for the pie to set and for those juices to congeal.
How to Store the Pie:
Let it rest at room temperature on your countertop, if it's only one day ahead it's best not to refrigerate it.
Once it's cooled completely, cover with just a sheet of foil on top.
But be sure it's completely cool. Otherwise, condensation will form under the foil and create a soggy top crust.
How To Reheat the Pie:
Then to reheat before serving, place it in a 300F oven for just 15 minutes and serve with vanilla ice cream!
By following these 10 tips you'll be rewarded with a fantastic Apple Pie recipe that will be the talk of the table!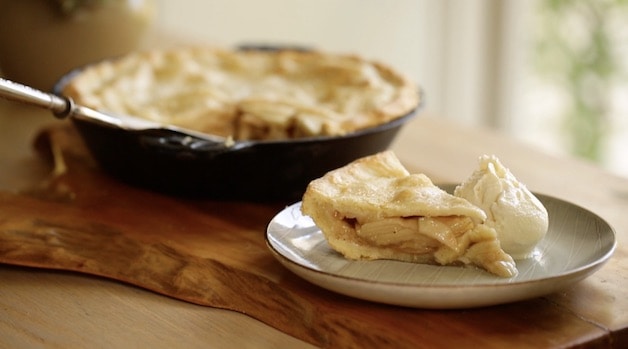 If You Enjoyed this Recipe,
Please leave a rating and a review Below!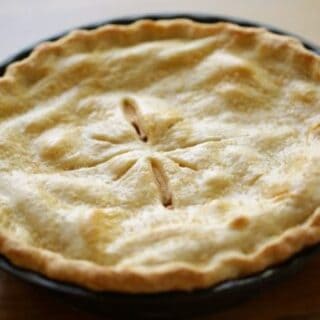 Beth's Foolproof Apple Pie Recipe
Prep Time:
1 hour
30 minutes
Total Time:
2 hours
25 minutes
The Best Apple Pie Recipe that will create a light and flakey crust and warm syrupy center.
Ingredients
 Crust:
2 ½ cups (300g) all-purpose flour
3 tablespoon (38g) sugar
½ teaspoon (2.5ml) salt
1 cup (240g) butter, diced
½ cup (120ml) ice water
Filling:
7 cups (1050g) sliced Granny Smith apples
¾ cup (150g) white sugar
½ teaspoon (2.5ml) cinnamon
¼ teaspoon (1.25ml) nutmeg
1 tablespoon (15ml) fresh lemon juice
2 tablespoon (15g) cornstarch + 2 teaspoon (10ml) for sprinkling
1 tablespoon (15g) butter, diced
Garnish:
1 Egg white
A sprinkle of raw turbinado sugar
Instructions
Place flour, sugar salt in a food processor and pulse until combined. Add butter and pulse until a coarse meal forms. Add water and pulse until a dough forms.
Divide dough into 2 equal-sized balls, flatten it into disks and wrap in parchment paper. Refrigerate for 3 hours or overnight.
For the filling, combine apples, sugar, cinnamon, nutmeg, lemon juice, and cornstarch. Toss to combine.
Preheat oven to 375F (190C)
Select an 11" inch Pie Plate.
Roll out 1st dough ball into a large circle, using your pie plate as a guide. The circle should be at least 3 inches wider than the bottom of your pie plate to accommodate a deep-dish pie. Fit dough into the bottom of the plate. Sprinkle the bottom of the crust with 2 teaspoon of cornstarch to coat the bottom and serve as a "moisture barrier". Add filling. Pack filling down to an even layer making sure there are no large air pockets.
Cut the 1 tablespoon of butter into quarters, tuck the butter on top of the apples, distributing it well.
Roll out 2nd dough to an equal-sized circle. Place on top of the pie, adjust so circles roughly line up, then trim dough with kitchen shears all the way around pie so only a 1-inch overhang remains. Fold edges under ½ inch (13mm). Crimp the dough to seal.
Place pie in the freezer for 5-10 minutes to firm up. Before baking cut 4 large slits and 4 small slits (in between the large slits) in a start-burst pattern in the center of the pie to allow steam to escape. Lightly brush the top of pie and crust with egg whites. Place pie on a cookie sheet.
Bake pie for 35 mins, then sprinkle turbinado sugar on top. And continue baking for 20-25mins more until the pie is golden brown and juices are bubbling.
Notes
THE 10 FOOLPROOF TIPS!
TIP#1: Refrigerate dough at least 3 hours to avoid shrinkage while baking
TIP#2: Use cornstarch as your thickener. Better than flour!
TIP#3: Use the right apples. Granny smith! Otherwise too much juice, too watery
TIP#4: Sprinkle the bottom of the crust before adding apples to avoid soggy bottom syndrome
TIP#5: Freeze pie 5-10 mins before baking to also avoid shrinkage
TIP#6: Brush very lightly with egg white (not yolk!) for best color, before baking
TIP#7: Bake at 375F. Perfect temp for slow, even browning and ability to cook the apples. And at this temp no need to cover the crust with a pie shield
TIP#8: Add a sprinkling of Tubinado sugar at 35 mins mark for even browning
TIP#9: Do not remove from oven until you see the juices bubbling (this means the cornstarch is activating and creating a syrupy congealed filling) so let it do its thing!
TIP#10: Make pie the day before serving to allow to rest 24 hours to set. This will allow pie to fully set and congeal. To serve, place in a 300F oven for 15 minutes to serve warm, top with vanilla ice cream.
Nutrition Information:
Yield:

8
Serving Size:

1
Amount Per Serving:
Calories:

204
Total Fat:

1g
Saturated Fat:

0g
Trans Fat:

0g
Unsaturated Fat:

0g
Cholesterol:

0mg
Sodium:

9mg
Carbohydrates:

44g
Fiber:

4g
Sugar:

10g
Protein:

5g