Learn how to make my cherry pie recipe that is as beautiful as it is delicious! A great finish to any summer meal, there's just something so comforting about a homemade pie!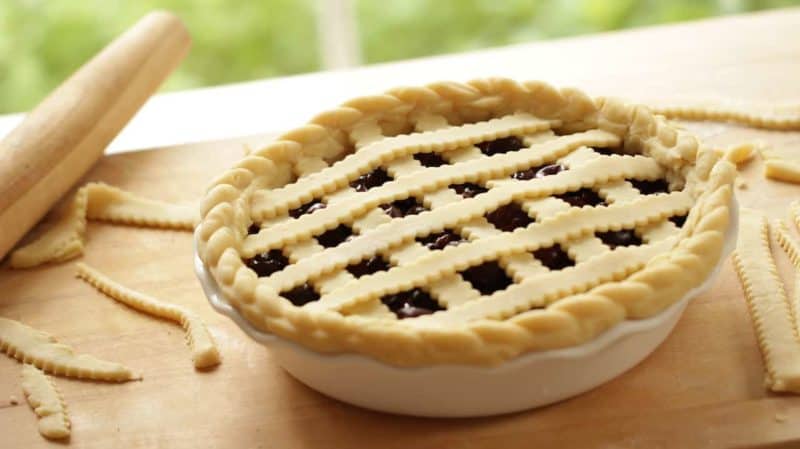 In fact, it's a pastime that is close to my heart, as baking pies was my first job in high school. The experience ignited a lifelong passion for baking that has never quit. You can read more about that experience in a blog post I wrote for the Inspired Home Website.
Watch a Video Demo of This Recipe Below!
Subscribe for weekly recipes
and new videos!
How do you make a homemade pie crust?
I think the best way to make a homemade pie crust is in a food processor.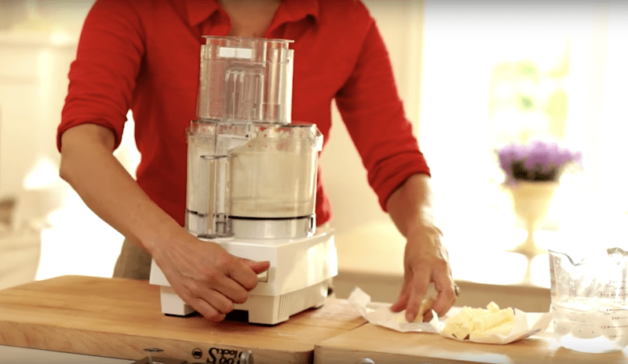 You'll begin by pulsing together the dry ingredients, then slowly adding the butter until a coarse meal forms, then add your ice water until a dough forms.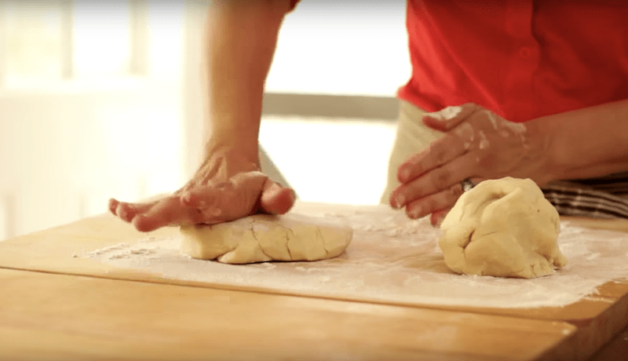 Roll it into a ball, flatten it into a disc, and wrap it in parchment paper.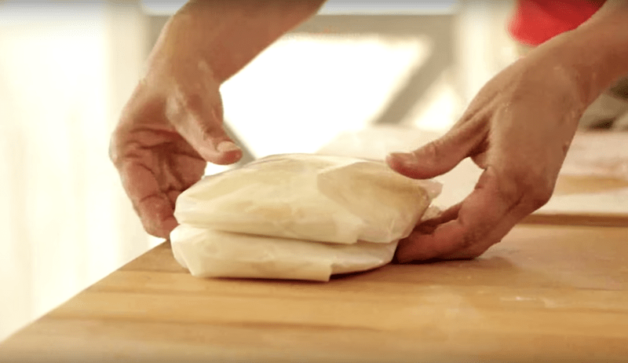 Then refrigerate for at least an hour or until ready to use. Refrigerating the dough will prevent it from shrinking while it bakes.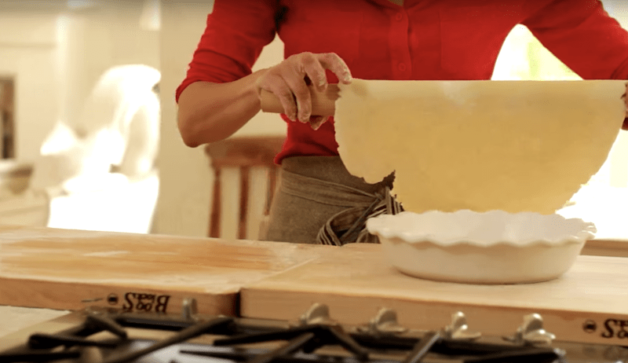 What kind of cherries are used in a cherry pie?
Personally, I feel the best cherries to use in a cherry pie are frozen cherries. Since they are already pitted (that alone saves a ton of time!) and their water retention from being frozen releases when baking and combines with the cornstarch and sugar to make a delicious, syrupy sauce!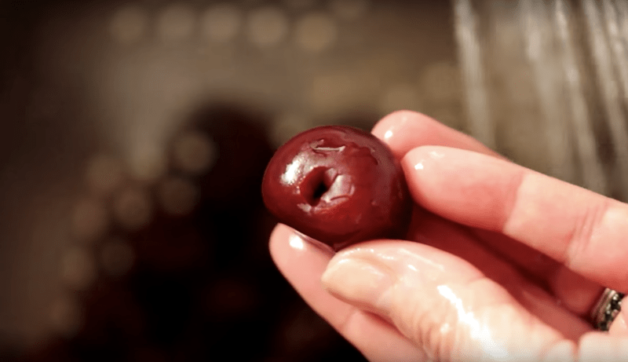 What thickens pie filling?
It's really the magic of cornstarch that thickens pie filling. I personally feel it's better than flour for this purpose. For this recipe, you'll need at least ⅓ of a cup of cornstarch for the magic to work.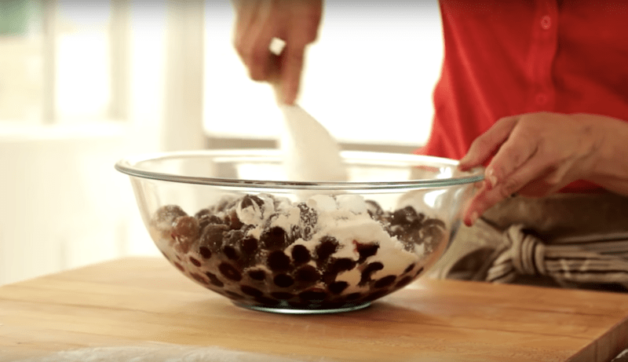 A few gadgets that really up your "Pie Game" come from one of my favorite companies Talisman Designs. For a great looking "professional crust" I highly recommend their Pastry Wheel Decorator
It's great for summer pies or fall pies, especially for my Pumpkin Pie with Marshmallow Topping Recipe at Thanksgiving!
And to make the beautiful lattice pattern in a jiffy I highly recommend their Pie Cutter. It will save you a TON of time! And then to protect your beautiful designs treat yourself to their adjustable Pie Shield. Totally worth the extra step!
So if you've ever been intimated by a homemade pie with a lattice top, don't be! Below you can watch my step-by-step tutorial to see just how easy it can really be.
MORE GREAT PIE RECIPES!
Please let me know if you make this Cherry Pie Recipe
by leaving a rating and review below!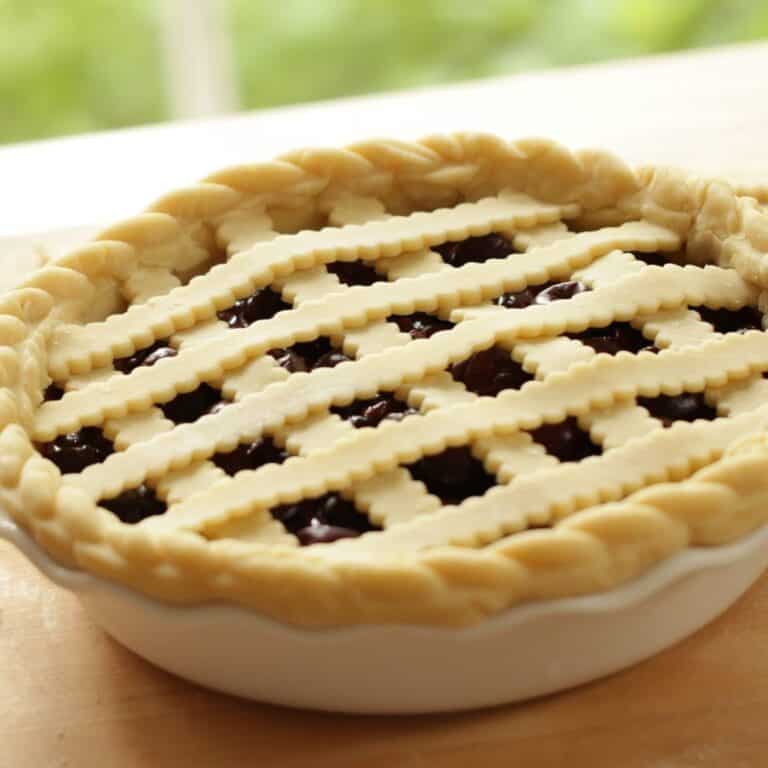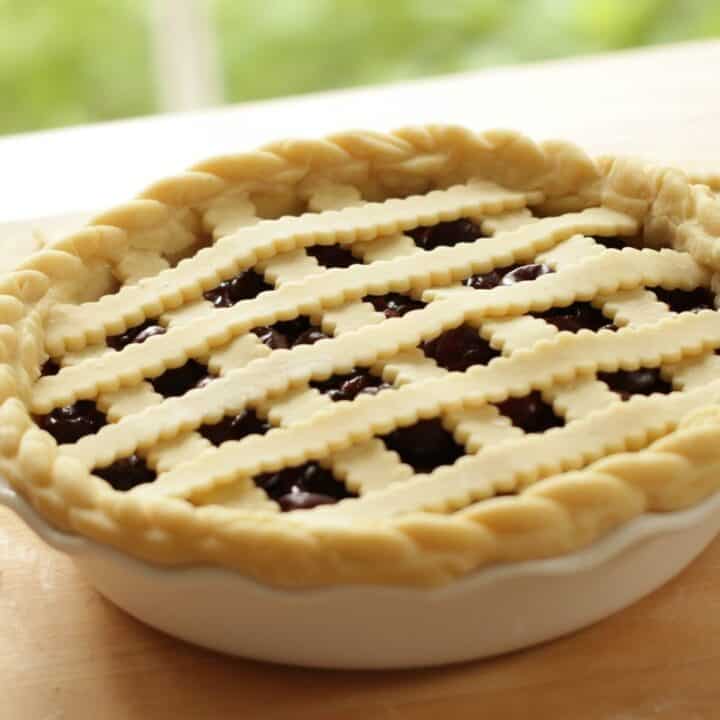 Cherry Pie
Prep Time:
1 hour
30 minutes
Total Time:
2 hours
30 minutes
A wonderful summer pie recipe that is as beautiful as it is delicious!
Ingredients
FOR THE CRUST:
2 ½ cups (300 g) flour
1 teaspoon (5 ml) salt
3 tablespoon (64 g)sugar
1 cup (240 g) unsalted butter
⅓ cup (80 ml) ice water
FOR THE FILLING:
2 ½ lbs (1130g) frozen cherries, rinsed and thawed
⅓ cup (35g) cornstarch
⅓ cup (65 g) sugar
pinch of salt
Instructions
In a food processor, combine the flour, sugar, and salt and pulse until combined.
Then slowly add the butter, pulsing all the while, until you get a coarse meal. Then slowly add the ice water, and pulse until a dough ball forms.
Turn your dough out onto a floured surface into 2 equal sized balls. Flatten into disks, wrap in wax paper and pop in the fridge for at least 1 hour.
To create your filling. Combine cherries, cornstarch and sugar. Toss to coat well and allow to rest for 10 minutes. This will allow the cherries to emit more liquid and drain further.
Roll our the first disk of dough into a large circle, transfer and fit into a 9" (23 cm) pie plate, you should have about 1-2 inch over hang.
Spoon the cherry mixture into the crust, leaving any remaining liquid in the bowl. Don't add that or you will end up with a soggy pie. Then brush the sides of the pie crust with some lightly beaten egg.
Roll out your second dough into a large circle the same size as your pie. Slice the lattice strips and starting from the center, place the longest strip first, pressing the ends into the crust at the rim, the egg wash will secure it, and then work to the outer edges with smaller strips. You should get 5-6 strips across your pie.
Then do the same thing the opposite way to form a lattice pattern.
Trim the edge of the overhang, with some kitchen shears, so it is a uniform length., about a ½ inch overhang
Then fold over the overhang towards the center of the pie, crimping the dough together all around your pie to create a uniform crust. Trimming off edges that are too fat, and adding to the parts that feel to thin
Then to make a decorative edge you can use the the Pastry Wheel Decorator, from Talisman Designs or make your own crimped design with your hands.
Place the pie in the freezer for 10 mins to harden up the pastry.
Lightly brush the chilled pie with a beaten egg, to assure a golden crust and shiny surface once baked.
Add a pie shield to protect the crust while baking, and leave it in place for the duration of the baking time.
Bake at 425F (218C) for 15 mins just to quickly bake the crust and set it, then reduce the oven to 350F(176C) and go for another 45 mins
Allow it to cool completely, and then serve with a big scoop of vanilla ice cream!