These air fryer hand pies are a quick and easy way to treat yourself to a warm slice of pie, without all the work that comes with making a whole pie! Not that a homemade pie isn't worth the effort! But sometimes we just don't have that kind of time when a craving hits!
Sweet fresh blueberries combine with lemon zest and blueberry jam to create the ultimate quick and easy summer dessert idea!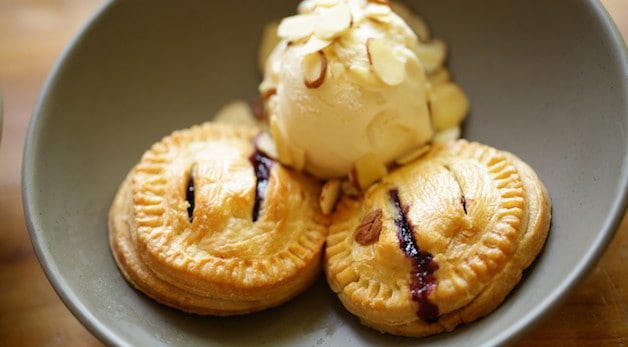 For this recipe, I used the Philips Air Fryer model HD9630 and I must say, it is fantastic! It's one of my favorite air fryer recipes!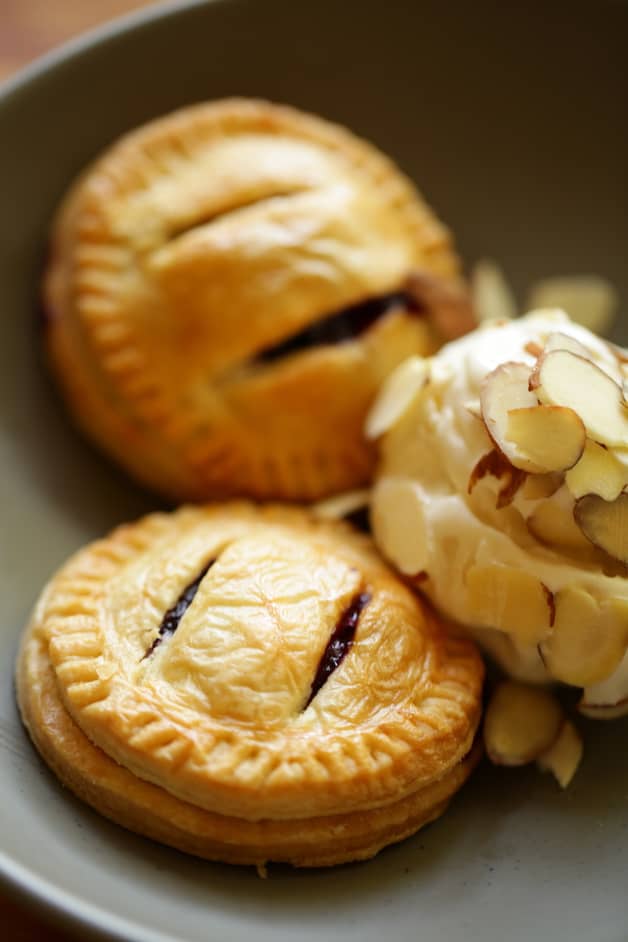 In fact, I replaced my microwave with it! Since I use my air fryer way more than my microwave, and when counter space is at a premium there just wasn't room for both!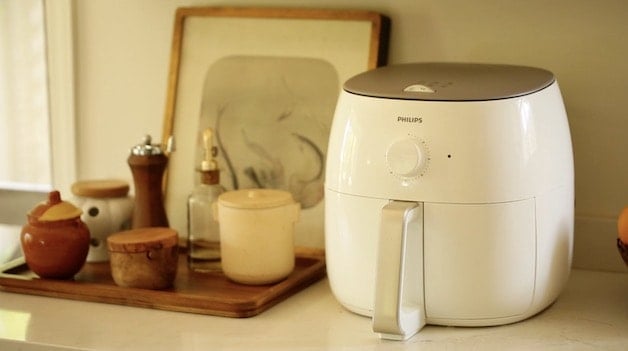 The Philipps air fryer is so easy to use, a roomy basket for frying, and the pieces come apart for easy cleaning!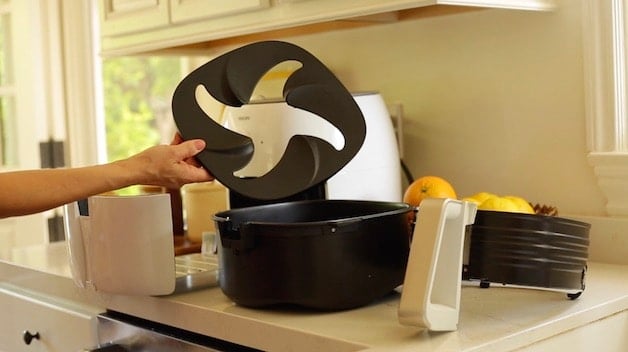 The thing that makes the air fryer hand pie so appealing is the fact that you can use store-bought pie dough. Now normally, I'm not the "store-bought-pie-dough" kind of gal. I always prefer to make my own pie crusts.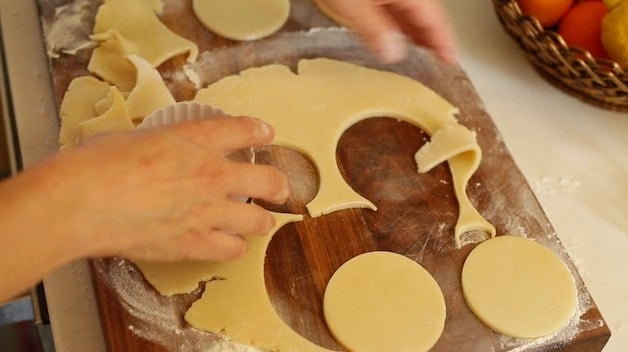 But in this instance when ease and speed are the name of the game, you can't beat Trader Joe's store-bought pie dough. If you're going the "store-bought-pie-dough" route this is the way to go!
I was seriously skeptical at first, having had a lot of bad, store-bought-dough, but this one is seriously good folks!
TIP:
The only weird thing about the TJs pie dough is that it's typically all cracked once you open the box?! But not to worry, just mush it all together, roll it into a ball, and flatten it into a disk. Then let it sit in the fridge for 30 minutes and you can roll it out just like homemade dough.
WATCH A VIDEO DEMO OF THIS RECIPE BELOW!
Subscribe to my
YouTube Channel
for more recipe videos!
(it's free!)
STEP #1: Spread Jam
After you cut out 3" circles of dough, brush the bottom circle with egg white. This will help seal the hand pie before baking.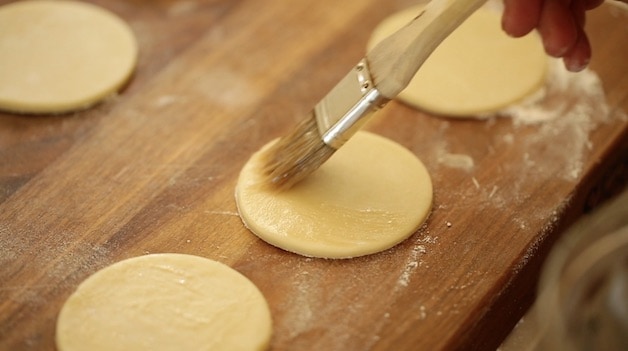 Dollop a tablespoon of blueberry jam in the center. Or really any flavor jam you prefer. That's what is so great about this recipe, you can use so many different flavors of jam and fruit.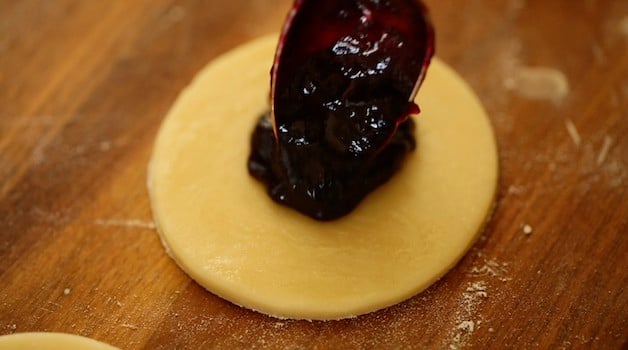 STEP #2: Add Fruit
Place 4 fresh blueberries on top of the blueberry jam. I love using blueberries because you don't need to peel them or cut them. I also think the tartness of the fresh fruit balances out the sweetness of the jam.

STEP #3: Add Lemon Zest
Then grate some fresh lemon zest over the jam and fruit. I think it adds great unexpected freshness to these little hand pies.

STEP #4: Create a Decorative Seal
Then take a fork that has been dipped in flour and press it down all along the perimeter of the hand pie. This not only seals it, but creates a decorative edge as well.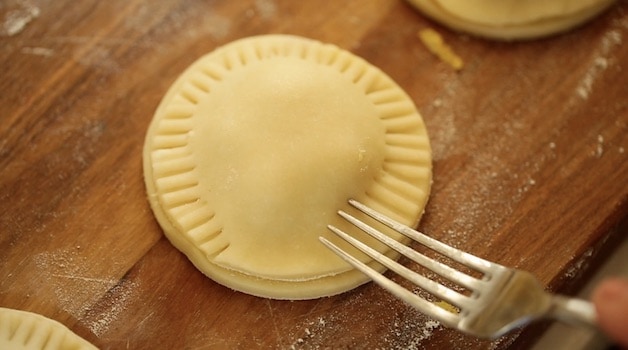 STEP #5: Create Steam Vents
Slice 2 slits in the hand pies to create steam ventilation. This will also create a place for the berry juice to ooze out which creates a nice homey look to the hand pies after they are baked.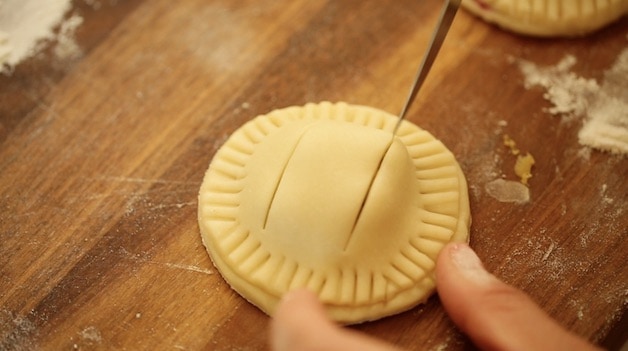 STEP #6: Brush Tops
Then brush each hand pie with egg white all over the tops. This will create a nice shinny finish and won't burn as easily as if you use a full egg with the yolk intact.

MAKE AHEAD TIP:
At this stage you could place these on a baking sheet lined with parchment paper and freeze. Once frozen, transfer to a ziplock bag. Then all you have to do s pop them in the air fryer any time you want a slice of warm pie!
STEP #7: Place in Air Fryer
Transfer the hand pies to the air fryer basket with a spatula that has been dipped in flour.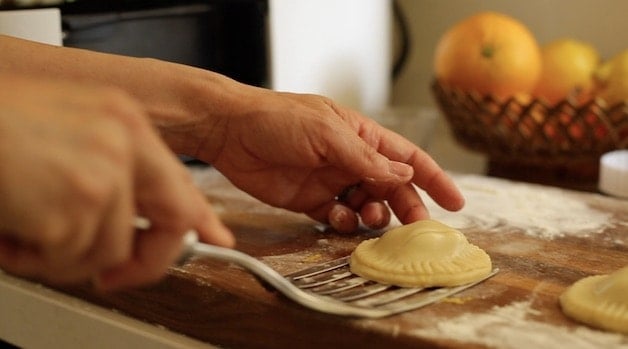 Don't crowd the pies or they'll stick together and bake that way. Best to allow room for circulation.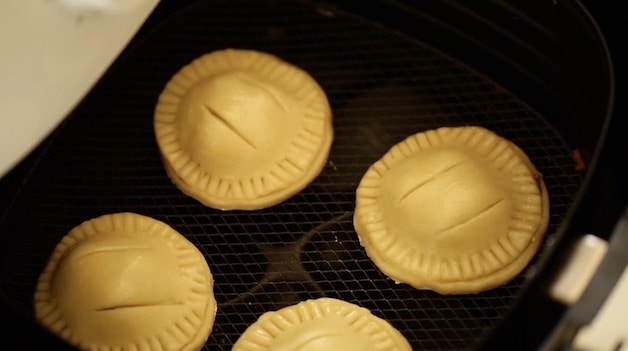 STEP #8: FRY!
Set your air fryer to 400F and then air fry them for 8-10 minutes until golden brown and berry juice starts to appear.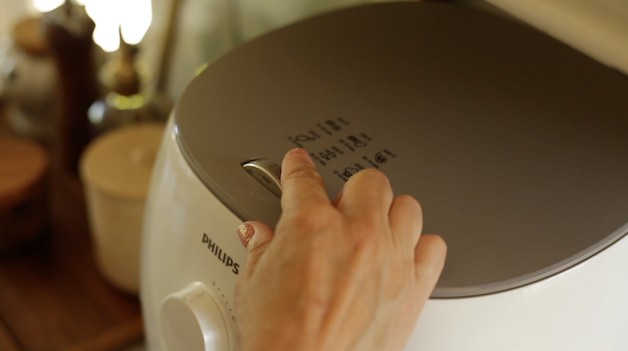 Serve these blueberry hand pies with a scoop of vanilla ice cream topped with raw almonds.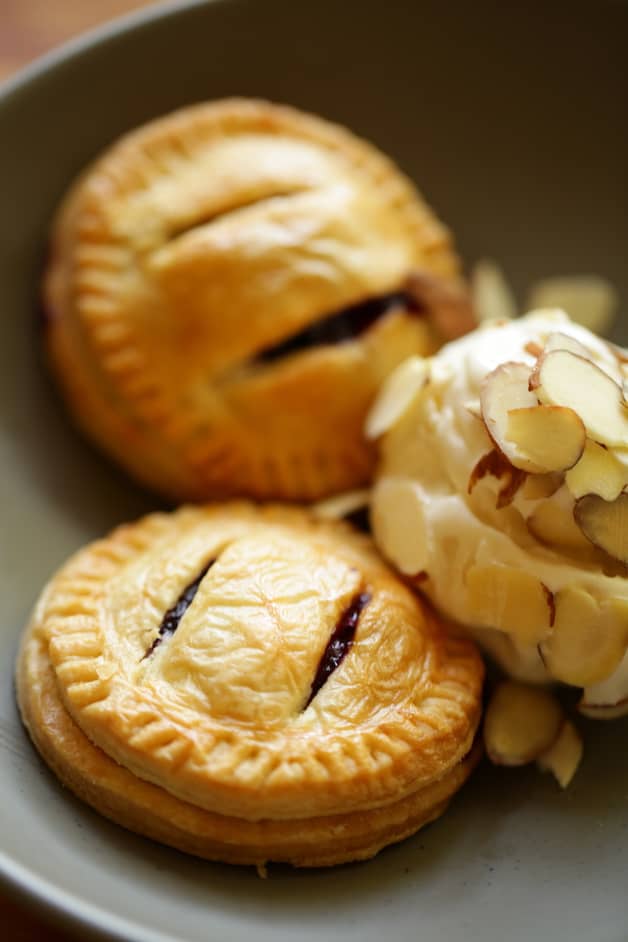 SHOP THIS RECIPE:
I love my Philips Air Fryer. It's much roomier than the one I had before and you can't beat the chic design and white color. In fact, I recently got rid of my microwave (gulp) to make room for my air fryer! I'm so smitten with it.
MORE AIR FRYER RECIPES!
Please let me know if you make these hand pies by leaving a rating and review below!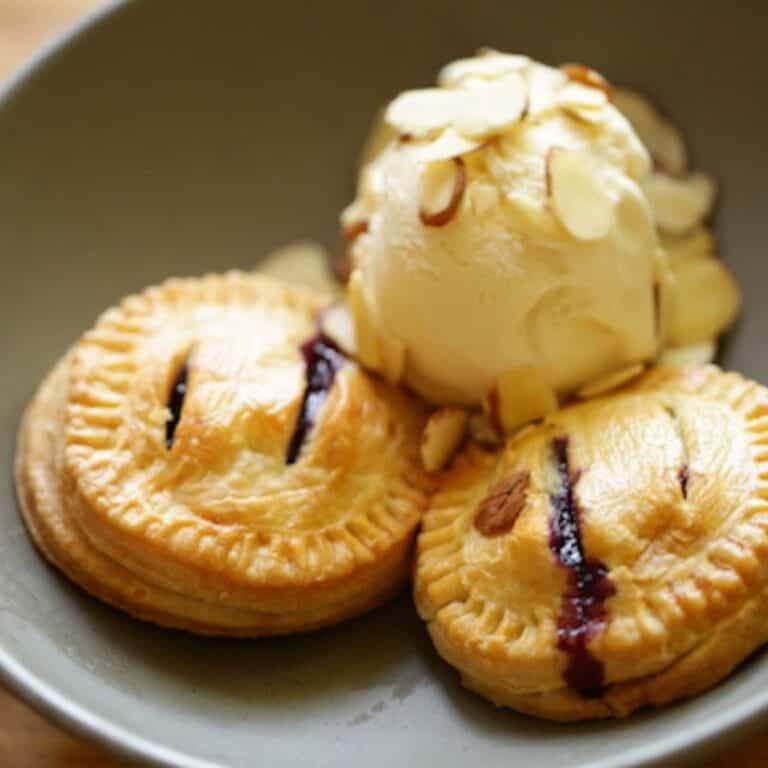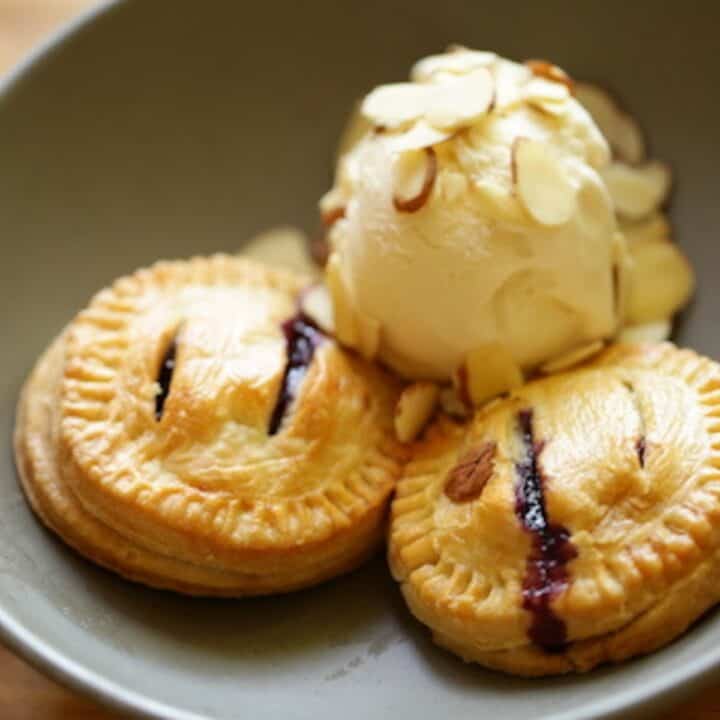 Air Fryer Blueberry Hand Pies
These air fryer blueberry hand pies are so easy to make and so delicious too! A perfect easy treat for when you want a warm slice of pie without the hassle of making a whole pie.
Ingredients
1 box Store-Bought Pie Dough
¼ cup (60 ml) blueberry jam
16 Fresh Blueberries
1 teaspoon (5 ml) lemon zest
1 egg white
4 scoops of vanilla ice cream
¼ cup (40 g) raw, sliced almonds
Instructions
Roll out dough to ¼-inch (6cm) thick. Cut out 8 3-inch (7.6 cm) circles. Brush the bottom circle with egg white.
Dollop 1 tablespoon (15 ml) of jam in the center of each circle. Add 4 blueberries on top of jam. Place second circle of dough on top. Press to seal together. Then take a fork dipped in flour and press down all the way around the circle creating a decorative circle. Brush the tops with more egg white.
Cut 2 slits on the top of each pie. Transfer to the air fryer with a spatula dipped in flour.
Fry at 350F (175C) for 10 mins. Serve with vanilla ice cream and raw sliced almonds.
Notes
For store-bought pie dough I think Trader Joe's brand is the best! Weirdly it's usually all cracked and broken once you open the box, but just bring to room temp, roll it into a ball, flatten into a disk. Refrigerate for 30 minutes and then roll out as needed. So buttery and flakey!
Nutrition Information:
Yield:

4
Serving Size:

1
Amount Per Serving:
Calories:

436
Total Fat:

25g
Saturated Fat:

10g
Trans Fat:

0g
Unsaturated Fat:

13g
Cholesterol:

29mg
Sodium:

301mg
Carbohydrates:

48g
Fiber:

2g
Sugar:

15g
Protein:

6g